8 Hairstyles for Long Hair in 2023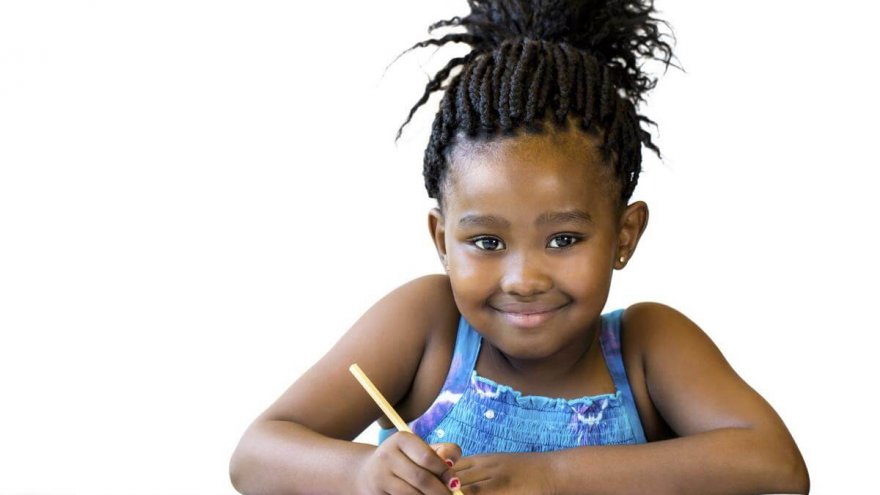 Braids? Ponytails? Buns? Curly hair? Straight hair? Short hair or long hair? Where does one begin to choose a hairstyle for her little girl? Hairstyles are constantly changing, so keeping up is hard sometimes. It used to be simple many years ago, you would simply brush their hair put a barrette or two in and they go to school. But thanks to fashion models, children models, and how hairstyles have changed in the recent decades it's a whole different ball game now.
Luckily for Moms and Dads, brushing their hair and using a ponytail will never go out of style. Everyone with children, especially girls, goes through the challenge of getting them ready in the mornings. The brushing and detangling can be hard enough to bring them to tears, but then you have to make sure that they like the hairstyle you've given them. Keep in mind that your child is unique, so why not give them a hairstyle that shows their uniqueness? Easier said than done, but the eight creative hairstyle ideas below can get you started, and save some tears from falling (yours or theirs).
Low Updo
The low updo is really much simpler than you think, and easy to do. Afterall, the tousled look is in, all you're going to do is create it a little differently.
Start with three ponytails, space them about an inch apart or a little less depending on the thickness of the hair.
Then pull their hair halfway through the ponytails to create loops. (You can do this first by not making a complete ponytail, only halfway to make the loop).
Once you get your three loops in the hair, grab both sides of each loop to encircle the hair tie and use bobby pins to keep them in place. That's it!
Ballerina Chignon
Unless you've been living under a rock if you have access to media or magazines you've heard of this style. Although it may sound more complicated it really isn't, just ask any ballerina out there, as this is their often used hairstyle to keep hair out of their face.
Start by pulling all of her hair into a low hanging ponytail, including bangs, all the hair off of her face.
Then proceed to separate the hair above the ponytail and loop it into the opening.
After that, flip up the ponytail and put it through that same opening, hold in place with bobby pins.
This works great for the summer to when you don't want hair hanging down your back when it's hot or humid outside.
Add a bow to it, and bam, all done!
Beware, in some little girls this could bring out the dream of being a ballerina when they grow up!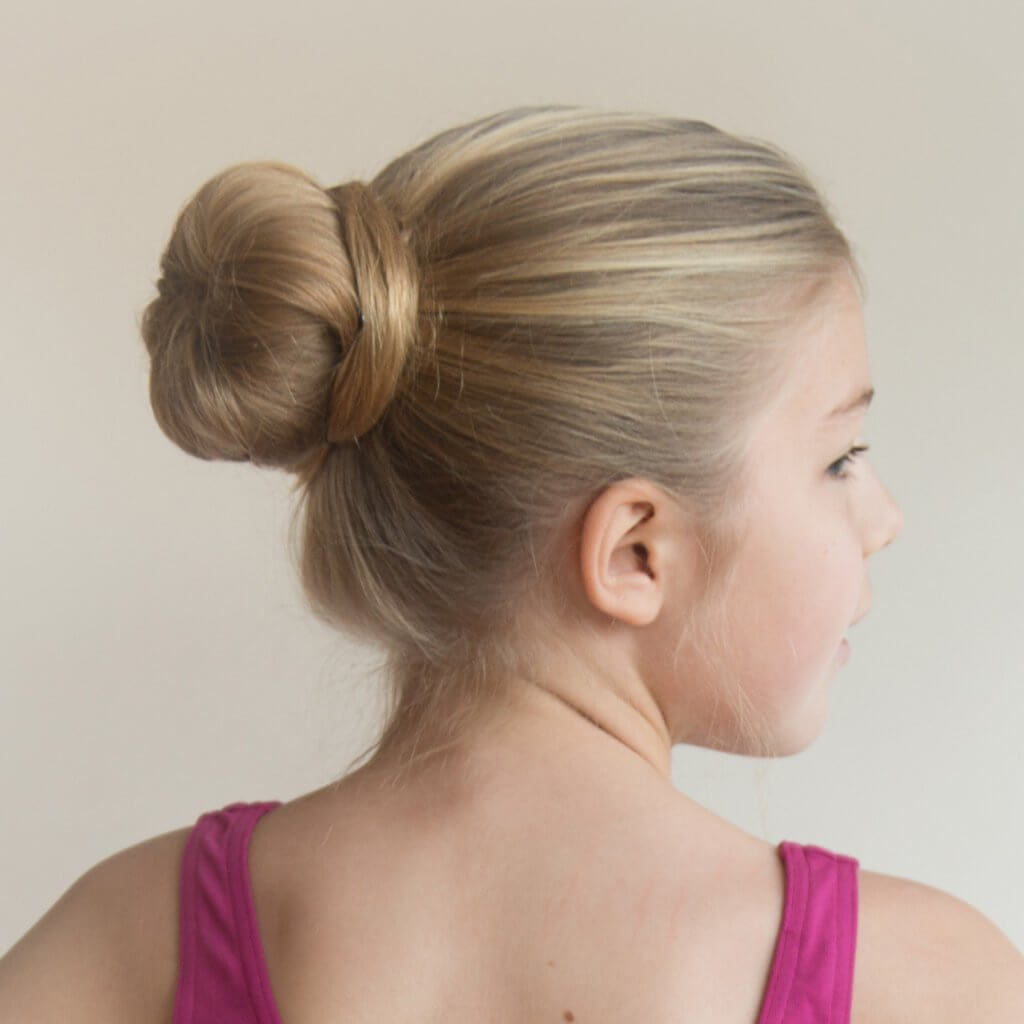 Messy PiggyTail Bun
Who doesn't love pigtails? Part the hair down the middle and put in two ponytails and done right? Well, yes, you can still do that but the messy piggytail bun is much more popular with the children.
Start off like you would if making to pigtails, part the hair down the middle and put to ponytails in, but make them high ponytails as opposed to the low hanging ones. Again, pull hair through halfway to create two loops, can be done first if you wanted. Once you create your two loops, pull the individual hair pieces so they encircle the elastic hair ties and keep in place with bobby pins. Decorate with bows or ribbons for the finished look.
Double Braid or Single Braid
If you know how to braid, this will be just as simple as putting in a ponytail. There are variations of these styles, but these are the basics and great for those just learning the art of braiding.
Gather the hair to be braided into a ponytail, then braid said hair, attaching a little bow or barrette to the bottom of it.
Done with a single braid.
For double braid, the same concept is used, twice. But what about the girls you see with one braid on the side? Simple, separate the hair on the side that you want to braid, make a thin braid, and attached bows, clips, barrettes to the bottom. See, simple!
Big Braid Plus Little Braids Wrapped Around
This one may work better with damp hair, but dry hair should be fine too. It's basically, one large braid with a smaller one weaved through it or wrapped around it.
Start off like normal brushing hair into a higher ponytail, not a low one.
Take one small section of the ponytail, braid it, and clip it off to the side from the main braid, do this two times so you have two braids off the side.
Once you finish the main braid, take the two smaller ones and make them a dutch braid, which means to cross them backward instead of normal.
You don't have to do this, but it looks neat. To make it easier, just wrap the other braids around the big braid or even weave them through the main one. All done!
Flower Braid
This one is known to be popular with the girls, and it is another simple one, even if it sounds complicated.
Start by brushing hair into a half-up style with a half ponytail in the back, of course.
Separate the hair above the elastic hair tie, and loop the ponytail through the opening you created. Afterward, braid their and attached an elastic hair tie to the bottom, or barrette if you'd like.
Then just wrap the braid around the top where it's attached with the hair tie, turning it into what looks like a braided flower, don't forget to keep it in place with the bobby pins.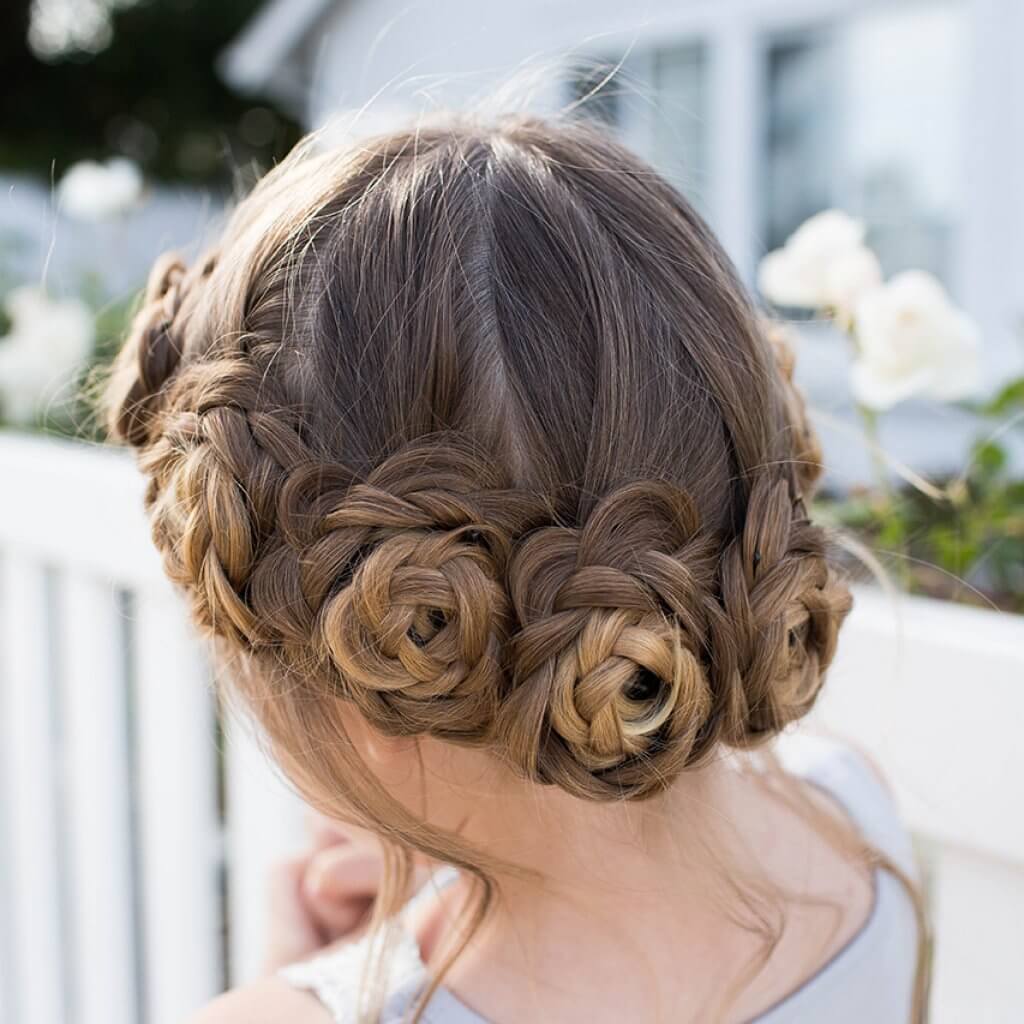 Twisted Bangs
Probably one of the simplest to do, especially if your little one is growing bangs.
Part the hair in a diagonal fashion in the front.
Twist her bangs halfway down and at an angle.
Attach bobby pins to keep them in place and put the rest into a high ponytail.
It'll look precious, and she'll still have her bangs hanging down.
Bubbly Braid With Rainbow Elastics
Bangs down, with a pony/braid in the back, and those of you that remember the 80's sitcom 'Saved By The Bell' will appreciate the vintage flashback.
Part the hair, keeping the bangs up front, and the rest of the hair brushed into a high ponytail attached with a colorful elastic tie. You can skip this step but it can help keep little hairs in place, add some smoothing cream to the ponytail.
Don't forget you can braid it as well. Once done with that, just keep adding colorful elastic ties every inch until you run out of hair.
At the bottom, attach with another tie or barrette or even a bow. Other ideas would be to curl the end of the pony/braid and leave loose.
Then add a bow to the top if you want to. Welcome to the '80s!
These eight hairstyles will work for different lengths of hair with a little variation if needed. Shorter hairstyles may be a little harder, but medium and long hair will hold all these styles perfectly. One of the best perks of these, aside from your daughter looking adorable, is that if she has straight hair, the braided styles will give away to wavy hair the next day. Little girls love when that happens!
Most Read