Home Made Organic Snack Ideas for Every Occasion
Making healthy, organic snacks at home is a great way to ensure that you and your family are eating healthy, even when you're on the go. If your family is like ours, between work, school, soccer practice, and all of the other day-to-day obligations, the temptation to grab a box of individually wrapped snacks from the store is strong. The problem is that those types of snacks contain a lot of ingredients that I'd rather we avoided, or at very least only had in extreme moderation.
From preservatives, dyes, excessive sugars, and a lot of other things that I don't even know what they are, the lack of nutritional value is only the tip of the iceberg. Thankfully, we live in an informational age, and with the internet at our fingertips we have access to a collection of healthier alternatives. So, whether you're running across town before the bank closes, cheering from the bleachers, or just cuddling up on the couch for movie night, feel free to dig into these healthy, guilt free, junk-food alternatives.
Homemade Organic Popcorn
What would movie night be without popcorn? Or even just a great snack to make when you're in the stands of your kid's sporting event. The only problem is the ingredients in regular, store bought popcorn. Butter that isn't really butter, way too much sodium, and if you choose one that has a specialty flavor, who knows what else.
With ½ cup of organic popcorn kernels and a paper bag you can make your own right at home. Just add the kernels to the bag and fold the edge of the bag over a few times to lock it in. Then toss it in the microwave for 3 minutes or until you hear the kernels stop popping. Once you take it out, pour it into a bowl and then melt a tablespoon of butter and drizzle it over top. You can add some sea salt to it for flavor, or get creative with different ingredients.
Apple and Banana Chips
If you walk into our house you're going to find 2 fruits; apples and bananas. Both are great sources of energy and make a perfect snack at any time of the day. Sadly, both are also rather fragile fruit, prone to bruising and ugly brown spots when you take them with you.
The perfect solution? Apple and banana chips. While owning a dehydrator is certainly efficient for making dried fruit snacks, it isn't necessary. All you need is an oven, some cookie sheets, and parchment paper.
For the apples, I suggest coring them to make life a little easier. Then slice them thin and put them on some cookie sheets that are lined with parchment paper. You can sprinkle some cinnamon on top for an added flavor kick if you'd like. Heat your oven up to 200 degrees and pop them in. Bake them for 2 hours and flip them half way through. When they're done just take them out and let them cool on a wire rack. The bananas are made in a similar way.
Slice your bananas into thin slices, dip them in fresh lemon juice, and place them in a single layer on cookie sheets that you've sprayed with non-stick cooking spray. Bake at 200 degrees for 2 hours as well, flipping halfway through. Be careful when you flip them though as they will be soft. Once done, carefully remove them onto a wire rack to dry. Now you're all set to add a healthy snack into lunch boxes or bag them up for a day of running errands.
Tandoori Roasted Chickpeas
When it comes to healthy, homemade snacks, 2 things are right in my wheelhouse; large quantity, and low price. If you add in some healthy spices for a bonus, all the better!
Enter the Tandoori roasted chickpeas. You'll need a couple cups of dried garbanzo beans, and 1 tablespoon of coconut oil, and 1 teaspoon each of cumin, coriander, ground ginger, turmeric, salt, and cayenne pepper. Simply soak the beans in water overnight, drain, rinse, then pat them dry. Mix your dry seasonings together in a bowl.
Then coat the beans lightly with the coconut oil and sprinkle the seasoning over the beans. Place them on a lined cookie sheet into the oven set at 400 degrees for 30 minutes or until they're slightly crisp, and there you have it!
Strawberry Popsicles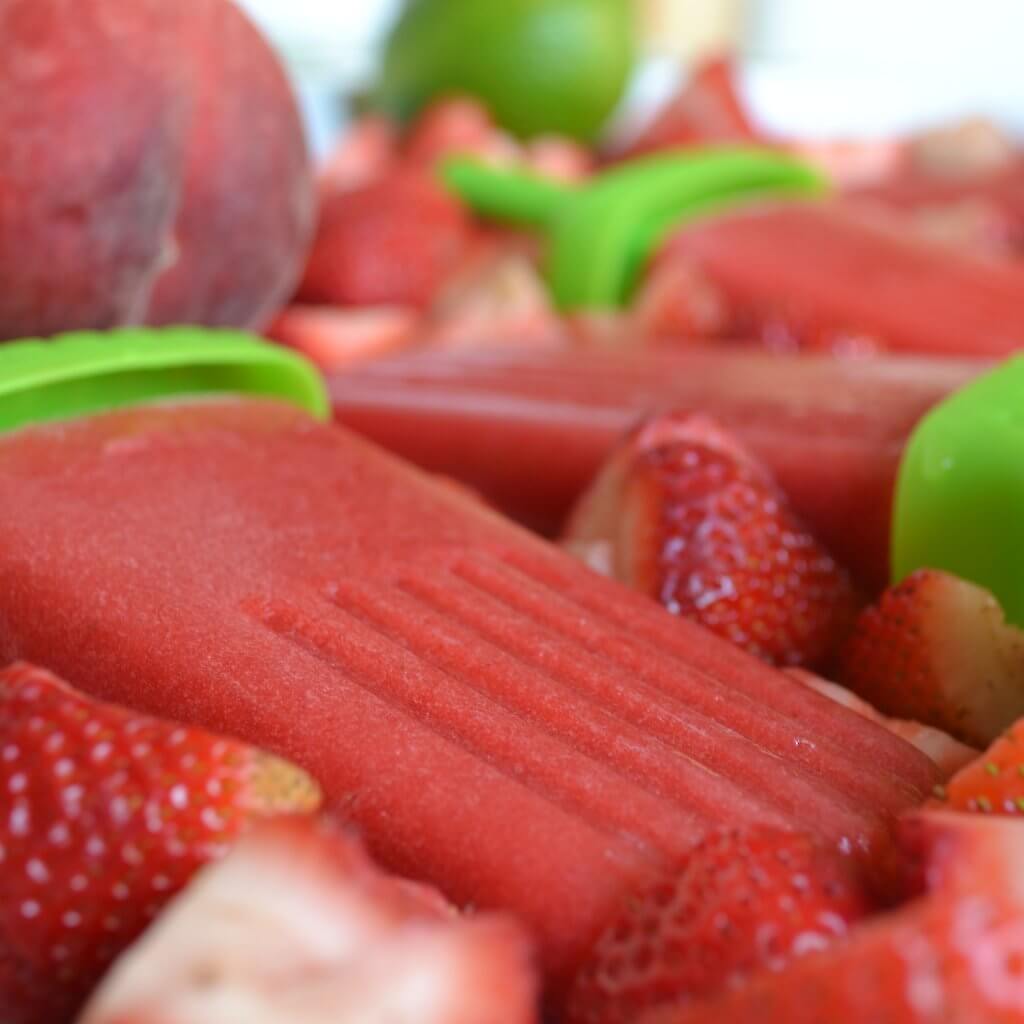 If you have kids, when the weather warms up chances are they're eventually going to raid the freezer for a frozen treat. Rather than store-bought popsicles with their compliment of dyes, sugars, and other additives, offer your children a healthier, homemade option.
Just take 3 cups of fresh strawberries, halved and hulled, ½ cup of honey or agave syrup, and 3 tablespoons of fresh lemon juice and toss it all in a blender or food processor. Blend it up until it's smooth and pour the puree into popsicle molds.
After at least 4 hours in the freezer your kids will be ready to enjoy this simple summertime snack, and you won't have to feel guilty when they ask for seconds!
Organic Trail Mix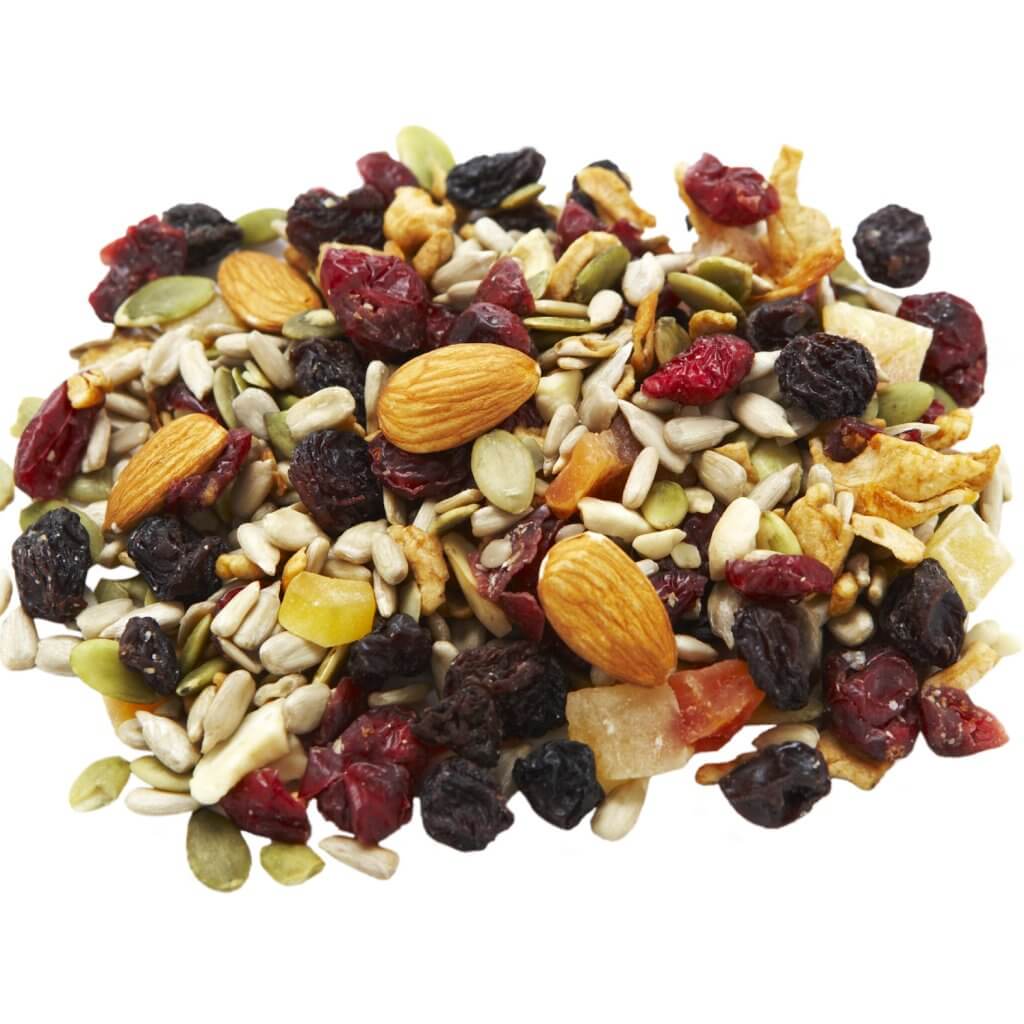 What list of healthy snacks that you can make at home would be complete without mentioning a trail mix? Long favored by hikers, outdoor enthusiasts, and general adventurers, more and more people are keeping trail mix handy at home for a quick snack that's packed with good amounts of protein and energy.
Most of the ones you buy in the store have sulphites added in them rather than the trace amounts that naturally occur in some fruits. Additionally, because of either baking or the irradiation process, many store-bought trail mixes contain nuts that are devoid of much of their nutrients.
For this reason, I recommend raw organic ingredients whenever possible. Making trail mix is a fairly straightforward process, and once you see how much your family will love it, chances are you'll make it one of your household's go-to snacks. All you need is ¼ cup each of European almonds, walnuts, hazelnuts, and cashews.
Then take 3 tablespoons each of pumpkin seeds, raisins, dried cranberries, and semi-sweet chocolate chips, and 2 tablespoons each of dried goji berries, and sunflower seeds. Finally, add ¼ teaspoon of unrefined sea salt. Mix it all together and there you have it. Store it in an airtight container for lasting freshness.
Organic Strawberry Fruit Snacks
Most of us have a sweet tooth every now and then, and if we don't, our children sure do. But just because you're craving a sweet snack it doesn't mean that you have to grab some boxed snack off of your grocery store shelf. You can make some right at home using organic ingredients in no time.
For this one, just slice a package of hulled, fresh, organic strawberries into sections and lay them on a cookie sheet that's been lined with parchment paper. Then sprinkle 2-3 tablespoons of organic sugar on top. Fire your oven up to 200 degrees and put the strawberries in for 2-3 hours, or until they're dehydrated but also still chewy. Take them out and transfer to a cooling rack. Once cool, just enjoy!
Maple Cinnamon Glazed Pecans
I'm a pecan nut, pun intended. I'm not aware of anything in the world that includes pecans that I am not a fan of. Unfortunately for me, most of those things tend to be pies, ice creams, or cinnamon swirl cakes.
That's not to say that I still don't enjoy them from time to time, but there is a little bit of guilt associated with it that I'd rather avoid, if possible. Luckily for me, there is a way! This snack will be a crowd pleaser wherever you decide to unveil it, and with a hint of sweetness, people will forget that it isn't a pie!
All you need is 2 cups of organic pecan kernels, 2 teaspoons of organic pure maple syrup, 1 teaspoon each of organic ground cinnamon and vanilla powder, and 1 tablespoon of melted organic virgin coconut oil. Then simply toss the pecans, coconut oil, and the maple syrup into a bowl mix well to coat the pecans. Afterwards, add the cinnamon and vanilla and mix well again, coating the pecans.
Add the mixture to a frying pan over low-medium heat for 3-4 minutes or until lightly toasted and fragrant. Be sure to stir up the pecans as they toast to prevent any burning. After it cools completely you're all set!
Organic Tortilla Chips
There are times in life that call for a crunchy chip. Sports games, movie nights, or just the perfect bowl of salsa, some things just seem right with a bowl of chips. But that doesn't mean you need to cave and grab a bag of chips off of the shelf at the store.
Making your own healthier, organic tortilla chips at home is so easy that you may never buy another bag again. Just pick up a package of organic corn tortillas and cut them into 6ths, (like a pizza). Then spread them out on a cookie sheet that you've sprayed with a non-stick cooking spray.
Heat your oven up to 400 degrees and pop them in for about 6 minutes. After the times up, flip them over and spray them with cooking spray and add your favorite seasoning or dried spices. You can use rosemary, basil, or even just sea salt. After you've done that, put them back in the oven for another 6 minutes before taking them out and letting them cool. Then you're ready to rock any super bowl party or backyard cook-out!
Organic Avocado Tzatziki Dip
Since you've already made the chips, why not go ahead and make a dip with an organic twist? This Greek-style party pleaser is easy to make and as guilt-free as they come.
Using organic ingredients, take 2 small, peeled, pitted avocados and cut them into cubes. Then get 1/2 – 2/3 cup of plain Greek yogurt, ½ of a cucumber, (seeded, peeled, and then diced), 2-3 tablespoons of chopped, fresh cilantro, 1 minced clove of garlic, the juice of ½ of a lime, ¼ teaspoon of salt, and ¼ teaspoon of red pepper flakes. Put the avocado cubes into a bowl and use the back of a fork to mash them up. Then dump in the rest of the ingredients and mix them up well.
Take a taste and adjust your seasoning to your liking. Place it in the refrigerator for about an hour before you serve it, this will allow the flavors to all combine. Then pick your favorite chips or vegetable slices and enjoy!
Organic Pear Smoothie
Is all of this talk about snacks making you thirsty? If so, you have to try this refreshing recipe for a cool drink that's also packed with vitamins. Be sure to use organic ingredients to keep out any unwanted GMOs or pesticides.
All you need to do is take 2 cups of organic pears, peel them and core them, and then chop them up. Add 1 banana, (peeled, of course), 2 cups of orange juice, 1 cup of vanilla yogurt, and 2 cups worth of ice cubes. Put the pears, orange juice, and banana into the blender and blend until its smooth.
Then, add the ice cubes and the yogurt and mix it up until it's creamy. After that, you're all set to enjoy a guilt-free smoothie that your whole family will enjoy, and you'll enjoy the fact that they're getting the benefits of a homemade organic smoothie rather than a store-bought one with a bunch of unnecessary additives.
Eating fresh, organic snacks has a long list of benefits. By eating nutritious and delicious snacks, you can help cut cravings for junk food and keep your energy levels up at the same time.
For any of these recipes, feel free to double them or simply make more than one serving. That way you'll have plenty on hand when hungry strikes and you're tempted to reach for a snack that is high in sugars, bad fats, and preservatives that will only do more damage to your body than good.
Most Read