How to Celebrate your Child's Birthday on a Budget
Your child is getting ready for another birthday and this year he or she would like a party.
Your budget is tight because you and your significant other had some unplanned expenses and you are wondering how to pull off this party. Many families struggle with money issues when they are raising children. The average family is below the middle-class level so it's hard for these families to make ends meet. There are many good ideas for planning birthday parties and inexpensive ones at that. Parents can check Pinterest online for birthday party ideas and find birthdays party favors at stores like "The Dollar Tree" where every item in the store is a dollar. Many party stores have sprung up in strip malls that have inexpensive party favors for kids.
It's important to think about the timing of the party. Many parents plan parties in the afternoon after lunch and before dinner. This way you keep the food budget low and can get away with healthy snacks, juice, water, and some cake. Kids are not expecting to eat a full meal because they just ate lunch.
It's a great idea to start looking for birthday items early when you can find some good sales. This also prevents parents from running around at the last minute and being stressed out. The last thing you want to do is destroy your child's party because you are cranky from exhaustion.
Some parents are sending invitations electronically to save money, however, not all families have smartphones or computers so you could also make the invitations and have your child help you with this project. Electronic invitations are a good idea, although if one of your child's friend doesn't receive the invite, there might be some hurt feelings.
Parents could also have a double party if one of your child's close friends in school or around your neighborhood is having a birthday.
Parents can split the bill and work together and the only thing parents have to think about that is extra is two cakes. One cake for each child that is the birthday child.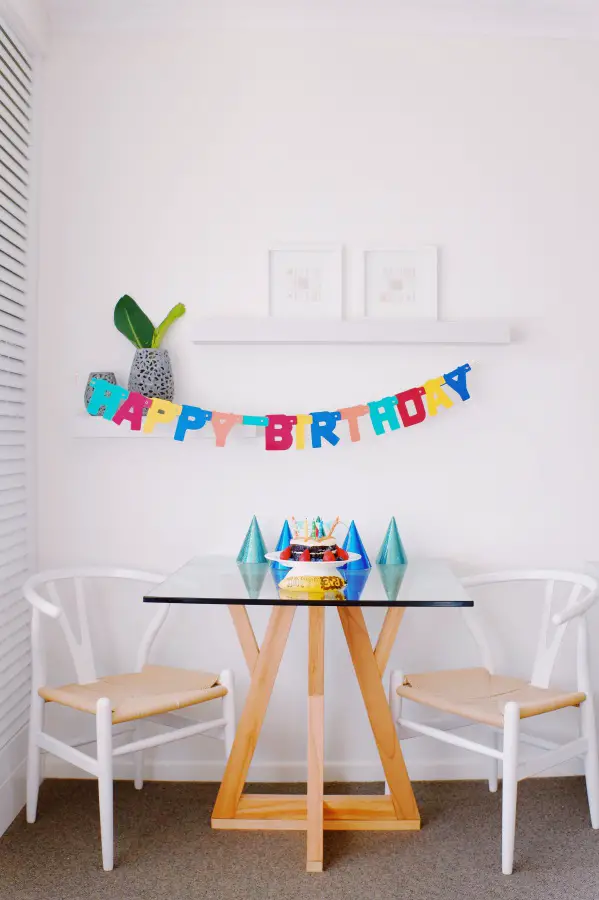 Shop sensibly because some stores mark up their prices higher than other stores. You can definitely find the same bags of chips, candy, bottles of juice and favors at "The Dollar Tree" and pay the dollar. Major chains of grocery stores are going to charge you as much as three times the amount for certain items so shop wisely.
Check out your community to see if they have birthday party specials or someone who is important that might want to come to your child's party and speak to them. Maybe you have a friend who is a fireman or works at an animal shelter and you could ask if they are interested in coming over to the child's party. Kids can learn a lot from people in different professions and this is a nice added touch for a party.
Don't bother having a large party for a child who is turning one. You could take your child to the park and have your significant other and maybe a few grandparents over for cake. Your baby is not going to really understand what is going on but will smile and laugh and you can still capture pictures of the child eating their cake.
Choose a theme for your child if you decide to do a surprise party. If the child asks for a party, ask the child what theme they would like for their birthday. This is where Pinterest comes in handy for DIY ideas for kids as well. The kids could also participate in making something at the party. You can also get a pinata, they go over very well at a party for smaller kids in school.
Parents can also surf the web because sometimes you might find something that is more reasonable online than at the store. Every store that sells birthday items are also online and this allows you to save a trip and order in bulk.
You can also choose to make the cake instead of buying an expensive birthday cake. You can also find cake mixes at "The Dollar Tree", however; all major grocery stores have cake mixes anywhere from .98 cents to a few dollars. You can also find the recipe for homemade frosting on the side of almost all cake boxes. In addition, it might be less expensive to buy the frosting in the can. Many well-known companies put out great frosting with decorations included on top of the lid of the can of frosting.
Check to see if you have supplies around the house for decorations or to assist you in creating the decorations for the birthday party. Before you go out for supplies, make a list and you will be surprised that you probably have some craft items lying around that will help you get started. Many moms have a craft box when they have kids and you probably have popsicle sticks, felt, glue, scissors, and stickers to start designing the theme you have chosen for the party.
Some parents don't like having kids birthday parties at their house because it's a pain to clean up when you are tired. You can find places like a bowling alley, fast food place, pizza parlors for kids that will do all the work for you. There are many places to have a party. Ice skating establishments, roller skating palaces, trampoline establishments etc. These establishments have many ideas for parties and tell them the budget you are working with. It's their job to help you get everything in order and all you have to do is tell them your time of arrival.
Some parents are crafty and take all the candy from various parties and save it to make their pinata. The kids forget about the goody bags and candy when they get home from parties so just recycle and create your own pinata for your child's party.
Kids are known to have great imaginations so write down the interesting games you hear your kids playing and implement the games into your child's party. A treasure hunt is always a hit and you can use an idea your child came up with for the treasure hunt. Maybe they are interested in fossils or stones. Look for some stones and see if you can find any fossils in them. Most gravel pits or driveways have fossils in the stones that are interesting. If that mission doesn't work, paint the stones colors and say you are going on a jewel hunt for stones and make enough lists with the right colors for the children to find. Parents can also find trinkets that are sold in sets so they can divide them up and put them in the goody bags as well. The trinkets are priced reasonably for purchase.
If you are worried because you can't afford entertainment, play good old games from the past. There are a variety of children's outdoor games that everyone has played when they were growing up. Don't overdo it but a few games like tag, musical chairs and charades won't hurt. This will help keep the entertainment budget low.
Don't forget to check your local library for party ideas. There are many books, DVDs and many videos that might help you with a theme. You could also read them a story if they are small enough. Preschoolers love stories but remember their attention span is limited so keep the sugar levels down. A story also helps kids unwind as they wait for their parents to pick them up as the party is ending.
Most Read