Stacking toys are so much more than a toy that becomes a way for toddlers to have a repeated movement ingrained in their brains. Stacking toys pave the way for critical thinking, reasoning, logic, and encourage motor skills as well as visual learning. They've been around, seemingly, forever. But, it's for a good reason. Toddlers are eager to learn and keen on their sensory skills as well, and stacking cups can offer them a steady influx of improvement in the way of their touch, sight, and hearing senses.
Each time a child takes a stack apart, they're learning how to deconstruct. By being faced with putting their stacking tower back together, suddenly they're exposed to problem-solving and critical thinking. As they slowly begin to stack each section back up, toddlers are also slowly increasing their capacity for reasoning and learning how objects fit together in size order for the most stability.
Through trial and error, they learn what works and what doesn't, which demonstrates for them how important it is to keep trying. And, of course, when they've finally succeeded in stacking their tower correctly, they're rewarded with the feeling of satisfaction knowing they've just done something on their own for the first time. Even though it appears to be a simple process, stacking cups offer so much more than meets the eye.
Listed below are some of the best stacking cups you can find out there, including some that will look familiar to many of us. Others have a modern twist on them but offer just as much learning if not more. It's a great toy for a toddler to have and something they won't get bored with too easily!
Our Top 3 Picks
Brilliant Basics Rock-a-Stack

Our rating
Encourages Curiosity
Price:

See Here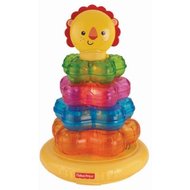 Light-Up Lion Stacker

Our rating
Sparkly Lights
Price:

See Here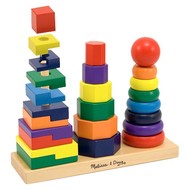 Melissa & Doug Geometric Stacker

Our rating
High Quality Wood
Price:

See Here
Fisher-Price Rock-a-Stack
Fisher-Price Light-Up Lion Stacker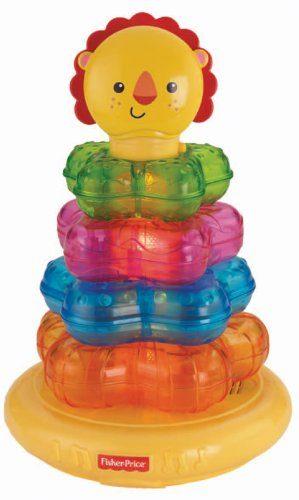 Age Range: 6 months to 3 years old
Melissa & Doug Geometric Stacker
First Years Stacking Up Cups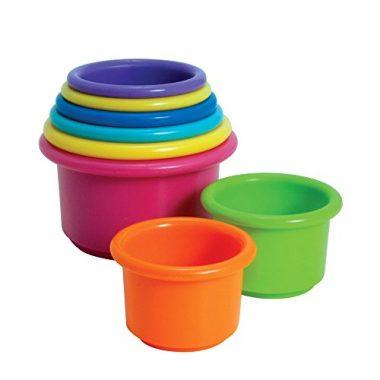 Age Range: 6 months to 3 years old
Fisher-Price Stack & Roll Cups
Fisher-Price Stack and Explore Blocks
Green Toys My First Stacker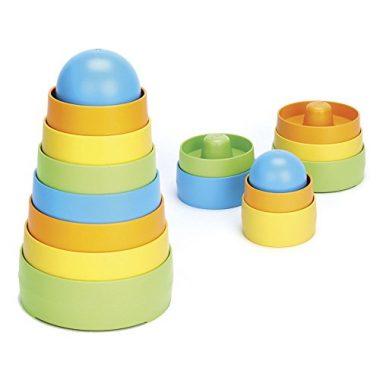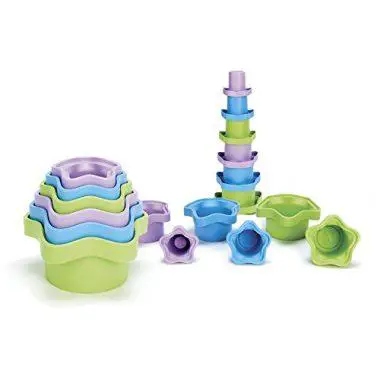 Age Range: 6 months to 5 years old
Fat Brain Toys Tobbles Neo
Age Range: 2 to 5 years old
Rainbow Stacking & Nesting Cups Baby Building Set
Criteria Used in Evaluation of the Best Stacking Toys
Creating the list of the 10 Awesome Stacking toys was not easy. Stacking toys are some of the simplest and classically designed toys on the market. Constructing a list of awesome ones was difficult to create a criterion for. So we decided the best way was to base the list of the reviews of customers who kids were using and playing with the toys along with best constructed stacking toys. The list only includes stacking toys that were rated with 4 stars or more. This ensures that only the best toys made the first list.
Then the stacking toys on the list were reviewed based on the construction of the toys. Our panel of experts wants to make sure that only the best toys with the safest ratings make our lists. The toys with the safest designs that were constructed of solid materials used safe plastics and woods are listed. This list is composed of the 10 best stacking toys that our team reviewed.
Benefits of Stacking Toys
Stacking toys are great classic toys that offer both mental and physical developmental benefits. When young children are introduced and play with stacking toys it is a great way to encourage the development of their gross and fine motor skills along with improving their visual perception. When babies grasp and stack the pieces of a stacking toy it works the muscles in their hands and builds the body control of their gross motor system. This lays a great foundation for physical development along with developing the skills needed for learning to write and grasp.
When babies are introduced to stacking toys they learn to nest or stack the pieces. This builds their visual perception. Visual perception is the understanding of how they control their motor skills. As they build visual perception allows them to easily stack and nest objects with ease. This is a process that occurs pretty quickly and naturally but needs to be refined as babies grow. Stacking toys are a great way to encourage babies to development both physically and mentally through playtime.
Developing fine motor skills with stacking toys
The development of fine motor skills is important for babies. Using stacking toys is a great way to encourage and develop the skill with playtime activities. Developing fine motor skills is as easy as playing and grasping toys for babies, but the better skill-building comes when you introduce stacking and nesting. Stacking and nesting are a great way to encourage babies to develop strong fine motor skills.
Stacking toys have to be carefully placed on top of each other with balance and precision. This is a great way to work their fingers and hand-eye coordination. Stacking toys feature different sizes and usually need to be stacking from largest to smallest to successful create the structure. This uses all the skills that are needed to be practiced for great fine motor skill development. Stacking toys are a great way to develop fine motor skills.
Encouraging creative play with stacking toys
Stacking toys are a great way to encourage creative play. These types of toys usually come in multiple pieces that are colorful and designed to be played with open-ended. This creates an environment for babies and children to explore with toys. This allows them to explore how they can be placed together to create different designs and how those designs can be made into objects.
Creative play is important to the development of children. It fosters both physical and mental development and inspires a child to explore the world around them. The best way to encourage creative play is through open-ended playtime. This allows them to be able to express themselves and creates a fun stress-free environment. Stacking toys are a great creative toy that allows for endless amounts of fun.
What Determined the Best Stacking Toys for Young Kids in Our List
When we embarked on this endeavor, we were quite at a loss as to what parameter to consider in our selection process. Given the fact that these types of playthings don't really offer much of a differentiating value to begin with further complicates the selection process. Honestly, stacking toys are some of the simplest playthings you can every get. You only have a set of rings plus a rod in the middle to insert the rings through. So, how complicated can it be? That's when we decided to look at how the different products have fared in the market using the consumer satisfaction metrics. We knew that most of you will also do the same thing. As such, we pegged our cutoff score at 4.4 so that any product that fails to meet this score automatically was stricken off the list of 10 awesome stacking toys in 2017.
Once we had all the products that met this particular criterion, we then proceeded to determining just what the product has that people find really interesting. We looked at the various features that have been built into the design of the toy. Of particular significance was the developmental appropriateness of these features to the age group upon which the toy is intended for. Since majority of the users of these types of playthings are babies, we looked for other features that could very well help in the sensory development of very young children. If the toy was primarily intended for toddlers, then we also looked for characteristics that are appropriate for toddlers.
Safety is another area that we had to concern ourselves of. Some products required the use of batteries and as such it was imperative for us to ascertain electrical safety. The materials used in the construction or manufacture of the product were also evaluated. Most of these are made of plastic. It is crucial to ascertain that these do not contain physiologically harmful substances such as phthalates, PVC, or even BPA. This is especially true if the child who is going to play with it still has the tendency to put everything held by his or her hands straight into the mouth.
Lastly, the company's reputation was factored into the equation to give you an overall sense of product quality. Moreover, reputable companies can provide guarantees to their products.
Benefits of Stacking Toys for Kids
There are experts who say that stacking toys and mathematicians are an inseparable duo. While not everyone will agree to such a statement, there is agreement that these types of toys can really be beneficial to young kids especially in terms of their sensorimotor development, their beginning ability for abstractions, and even the laying of the foundation for their language development. Stacking, stringing, and sorting are important for toddler development, too, as these have been shown to help in the development of his or her cognitive abilities. In fact, stacking toys and blocks have developmental benefits throughout the different stages of a child's life, making them truly one of the most versatile playthings we can ever provide for our kids. Here are some of the benefits of stacking toys for kids.
Develops the fine motor skills of babies – Holding and stacking the different pieces require control of the different muscle groups that make up the hands. This lays the groundwork for the refinement of their motor skills which will enable them to hold writing instruments and other objects with relative ease.
Improves the spatial and visual perception of kids – When kids stack or nest an object, they have to coordinate the cues provided by their vision and integrate these with the information obtained from their understanding of space so that their motor movements will be so precise that they can easily stack one object over another. All of these neural processes occur in a flash. Getting children play with stackers can help speed up these neural processes, paving the way for more complex cognitive processes.
Helps stabilize the core muscles – Babies who are already able to sit up while playing stackers are able to strengthen and stabilize their core muscles. This is a fundamental requirement for learning how to stand up and walk.
Aids in language development – Many of us equate language development with a kid's ability to talk. However, vocabulary also helps with language development as it gives the necessary tools for children to communicate something. Without words, messages would be more difficult to convey and to decipher.
Encourages creative play – There are certain stackers that are designed specifically for open-ended play. These can help enhance the creative play of children as they can literally do anything with the stacking toys.
The Bottom Line
Stacking, nesting, and sorting toys are important kinds of toys especially among babies and toddlers as these provide the necessary foundation for their sensorimotor development and early problem solving skills. These 10 awesome stacking toys in 2017 will help you in ensuring the optimum development of your tots.
FAQ
Frequently Asked Questions
Q: Why are stacking toys important to the development of babies?
A: Stacking toys are a great way to develop fine and gross motor skills. This is important to their skill development and learning. It develops so many different parts of their brain at once and it is a simple playtime toy.
Q: What stacking toys are safe for one-year-olds?
A: Stacking toys that are safe for one-year-olds feature large pieces with colorful designs. The classic stacking toys are usually the safest designed for younger kids. They feature easy to grasp pieces and stack on a pole. This makes it easy and fun to keep them engaged.
Q: Why are toys made from wood?
A: Toys are made from wood because they are found to be safer. They don't have the harmful chemicals that plastic toys are made from. It is more likely that wooden toys are more chemical-free than any plastic molded toy. Wooden toys are also great for creativity. They usually don't have batteries or software to work. This helps children develop their imagination and supports cognitive development.
Q: Where can I find the stacking toys listed on the 10 Awesome Stacking Toys list?
A: The toys listed on the 10 Awesome Stacking Toys list can be found by clicking the link "Check Price on Amazon" below each product name and picture. This link will take you directly to the product on Amazon where it can be purchased and sent to a location of your choice.
Q: Why is a stacking toy a classic design?
A: The stacking toy is described as a classic toy design because it was created in the 1960's or early has been used by many families as the first toy in over 40 million homes. It is a simple toy that includes pieces that can be stacked on a pole connected to a base or stacked together independently according to size. This develops fine motor skills and hand-eye coordination along with teaching colors and size. It is a classic design that has been used over and over with simple twists.
Q: Are stacking toys good toys for sitting babies?
A: Stacking toys are good for babies that are sitting or learning to sit. Introducing play time when babies are sitting develops their core and trunk muscles while allowing them to explore with their hands as well. Sitting alone can be boring and may cause them to not to want to continue to sit. Having toys in front of them encourages the development of both fine and gross motor skills.