Dive right into some sunny afternoon fun with these backyard pools! Building a permanent pool in the yard can be a costly and lengthy endeavor. If you aren't ready for that kind of commitment but still want your family to enjoy splashing around, consider one of these alternatives! We've got elaborate play centers, inflatable pools for infants and beyond, and sturdy metal pool structures, all listed below on our guide to the Top Ten Kids Swimming Pools of 2019!
Our Top 3 Picks
BlastZone Pirate Bay

Our rating
Water slide and shooter
Price:

See Here
Little Tikes Slam and Curve

Our rating
"Rock climbing" wall
Price:

See Here
Intex Sandy Shark

Our rating
Fun shark theme
Price:

See Here
Blast Zone Pirate Bay Inflatable Bounce & Water Park
Age Range: At least 3 years old
Little Tikes Slam 'n Curve Slide
Age Range: 5 to 10 years old
Intex Sandy Shark Spray Pool
Age Range: At least 2 years old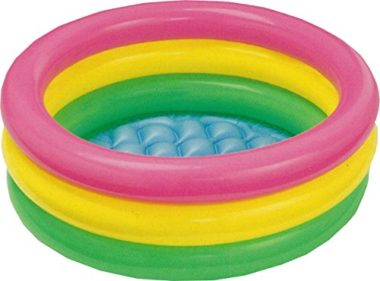 Age Range: 1 to 3 years old
Step2 Play and Shade Pool
Age Range: At least 2 years old
Intex 15ft X 48in Metal Frame Set
Age Range: 1 to 3 years old
Intex Rainbow Ring Inflatable Play Center
Age Range: At least 2 years old
Intex Dinoland Inflatable Play Center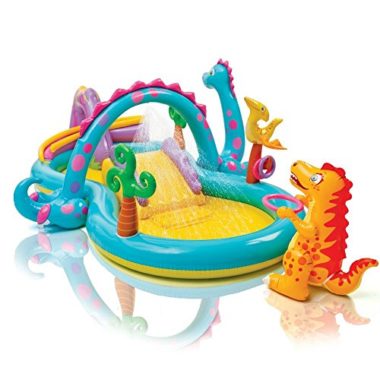 Age Range: 1 to 2 years old
Age Range: 1 to 3 years old
Intex Mandarin Swim Center Family Pool
Age Range: At least 2 years old
Criteria Used in Evaluation of The Best Kids Pools 
Kids love the water and are drawn to pools even at an early age.  So, one thing a parent can do is to get the child a kiddie pool of their very own. While choosing the 10 best kids swimming pools for our list there were certain things we wanted to cover and also wanted to show the advantages of purchasing a kids swimming pool.
Motor Skills
Just splashing around in the water can help a child strengthen their muscles in their arms and their legs.  In fact, it has been determined that movement inside of a pool is a great form or exercise and even physical therapy. Water can actually make movements seem effortless but actually does cause some resistance without any impact.  This is something that is beneficial to a young child who is still strengthening their young muscles and also learning proper coordination.  Pool fun can help them to sharpen their motor skills without them feeling as if they are being made to work out or exercise.
Water Safety
As stated above and important to stress, kids are drawn to water.  So, the best thing a parent can do is to help the child to see that water can be fun, but it also can be dangerous.  A child who is taught at an early age what to do and what not to do while in a kiddie pool will learn about water safety. This is a valuable lesson that a kid can learn.  A child can also learn how to swim and even how float in the water as well, again learning more about being water-safe while having fun.
Social Interaction
Even if it's  just spending some quality time with their parents, a kid's swimming pool is a good way for a child to learn social interaction. When they become older and start interacting with other kids,  hanging out at the pool or the beach can be a venue to encourage that interaction.  Also, it's a way for kids to get out and have outdoor activities.  So, a kid's swimming pool could very well put a child on a path of having a fun-filled hobby that will lead to interaction with their peers and fun family quality time.
Safe and Non-Toxic
We took the time to chose only safe, non-toxic types of kiddie pools for this list.  Why? Because we know the importance of making play time safe as well.  No parent wants to think of their child being exposed to harmful chemicals which can be found in certain types of plastic products.  So, when choosing the pools on our list, we found the ones we knew were nontoxic to provide extra peace of mind.
What Determined the Top Kiddie Pools in Our List
Children's pools are made of a nonporous material that allows it to hold water. However, a great majority of these pools are made of vinyl or polyvinyl chloride which is greatly shunned upon by safety-conscious individuals because of the potential toxic effects it can have on kids. The few kiddie pools that utilize thermoplastic polyurethane as its main component are more expensive than their PVC counterparts but provide the necessary safety profile that many parents and consumers look for. It is therefore crucial for our team of researchers to look for the safest swimming pools for kids without necessarily creating a gaping hole in the wallet of mom or dad.
Safety is a major concern whenever swimming is involved. As such, we made sure that our list of the top 10 kiddie swim pools are made of highly safe and non-toxic materials. We also had to make sure that they are durable and come with a variety of safety features to help minimize injuries among young children. We also had to look at the ease of setting up, maintenance, and storage as these are major issues with which parents have to contend.
If there are other built-in features to the pool, then our researchers had to carefully evaluate them to determine their developmental appropriateness to the age of children as specified in the manufacturer's recommended age group. We had to make sure that children will not only have fun playing with water but also can derive other developmental benefits. Those types of pools were included on our list.
We also read the comments as well as feedback of consumers who have already tried the product. We tried to understand what these folks were saying so we can also get a general idea as to the usefulness of the product and whether it is a good buy or not. We know that these comments are subjective in nature and, as such, we had to carefully evaluate each one and compare it to the rest of the customer reviews for any particular pool.
Choosing the best pool for kids was not easy, especially because almost every kiddie pool we could find is made of PVC materials. Nevertheless, we do hope that our list of the top 10 kiddie pools gives you an idea of what you can consider giving to your kid or somebody else's kid as a gift.
Kiddie Swimming Pools and Children's Safety
According to the Centers for Disease Control and Prevention, young children between the ages of 1 and 4 years old are at highest risk for drowning with a majority of the deaths occurring in backyard swimming pools, the kind that you inflate, fill with water, and let your young kids have all the fun they want to. Between 2005 and 2014, 20 percent of all people who die because of accidental drowning are kids no older than 14 years old. Additionally, for every child who loses his or her life because of accidental drowning, another five children are treated in emergency rooms for injuries sustained secondary to non-fatal submersion incidents. While these incidents are non-fatal, they can cause brain damage severe enough to lead to long-term physical disabilities and cognitive impairments. Children who are victims of near-drowning are at risk for the permanent loss of fundamental physiological functioning, learning disabilities, and/or memory problems. These can have serious implications in the overall development of children, especially the younger ones.
Here are some other very interesting yet very serious concerns about accidental drowning among children.
There are around 350 children below the age of 5 years who die each year because of accidental drowning.
A great number of these incidents occur in the summer months from June to August and often in backyard swimming pools.
More than 2,500 children receive emergency medical treatment for near-drowning every year.
The healthcare costs associated with hospitalizations can easily reach up to $2,000 if the child is able to recuperate well from his or her injuries; up to $80,000 if the child suffers severe brain damage even reaching to $150,000 in very severe cases of brain damage.
The majority of the victims were under the supervision of either Mmm or dad or even both at the time of the accident.
The majority of the cases of accidental drowning in children occur in very familiar surroundings with the family pool accounting for 65 percent of the cases and the remainder occurring in pools owned by persons known to the family either as relatives or as friends.
These statistics simply show just how risky it is to leave our young children unattended. The report on accidental drowning victims being under the supervision of parents or at least one of them does not explain why. However, experts say that this can be best explained by the fact that almost half of those cases reported having seen their children last in the house with about 23 percent having been seen last in the yard. This simply means that parents are not really having their eyes glued onto their children. Parents can also get distracted so that they no longer focus on what their children are doing. Perhaps one of the most intriguing explanations is the belief of parents that the house is the safest place for kids to be. Nothing can go wrong especially if mom or dad is around. Unfortunately, it doesn't take long for drowning to exert its full effect on the human body, especially that of a young child. Young children have been reported to have accidentally drowned within the same length of time that mom went inside the house and answered the phone. By the time mom returned, baby is already floating in his or her pool.
The survival of children after a drowning incident is closely associated with the length of time that they are submerged. The longer they stay submerged, the greater the risk of developing serious brain damage, and the greater the risk for loss of life as well. This is because not enough oxygen is supplied to the brain leading to irreversible ischemic changes. If the child survives the incident, there is a strong likelihood that there will be learning disabilities which can hamper the child's overall development. In such cases, he or she will require the assistance of a specialist as well as the special care and attention of mom and dad as well as other members of his or her family.
Does this mean it's not a good idea to introduce our young kids to the joys of swimming? Not necessarily so. Just heed what child-care experts have always been telling us, vigilance is the key to making sure our kids are safe with and around the different things that we provide to them. For example, we can look at the following tips whenever we are going to buy an inflatable pool for our children.
Make sure that the water level of the pool is just right for the age of your child. Sometimes a hard plastic wading pool is recommended as this can provide the same sensory experience derived by children from swimming pools.
Before you allow your child to take a dip in his or her pool, make sure that you have read and fully understood the manufacturer's instructions especially related to the safe use of the product. Many parents believe that kiddie pools are simple inflate-and-use devices and that there is no longer any need to read some fine print on the manual that comes with the package. Perhaps, partly to blame, are the manufacturers themselves because they often print safety protocols and guidelines in very fine print that you would need a magnifying glass to read. The point is for us parents to really sit down and take the time to read the manual before allowing our kids to use the pool.
You may want to choose a pool that has grab handle bars on its interior wall sidings so that the child will have something to hold onto in case he or she loses his or her balance.
One of the best ways we can help keep our children safe while swimming is to teach them how to swim. If you cannot teach them yourself, you can always enroll them in a swimming class. Experts agree that this is one of the best ways prevent drowning among children. The earlier you can teach your child to swim, the better he or she will be in keeping himself or herself safe from drowning.
Of course, our undivided attention whenever our kids are in the water is paramount. Our quick reflexes and decision-making skills can help save the life of our precious little ones while also helping ensure they don't get emotionally, cognitively, psychologically, and physically scarred for the rest of their lives.
The Bottom Line
In preparation for the summer months, you might want to get your kid one of the best kiddie pools you can ever give. Be sure you understand the safety concerns related to the use of these types of kiddie fixtures.
FAQs
Frequently Asked Questions
Q: What are the perimeters of a kiddie pool?
A: The first sign that a pool is designed by use of a kid is the fun themes that are involved. The pool will have bright colors, have fun-filled imaginative activities perhaps included. There will also be the fact that these are compacted and be labeled for use by children.  Also, as shown above there are many different types.  Some are designed for infants, some for toddlers, some for older kids. Here are some basic principles that do govern most kiddie pool models.
They are put up by the individual who bought it not a pool manufacturer
They are more compact and not as deep as standard pools
They don't require filter units or pump
Q: Should an adult monitor a child while they are in the kiddie pool?
A: This goes without saying with infants and toddlers when placing them in kiddie pools.  It is also recommended for older kids as well especially the ones who aren't in the company of another child such as a friend or sibling.  Remember, it only takes few inches of water and a matter of seconds  for a child to drown, so it's not a good idea to leave them on their own while they are in a kiddie pool or a even bathtub for that matter.  This is an important thing for a parent to follow when a child is under the age of 5 years old.
Q: How often should the kiddie pool be drained?
A: Kiddie pools aren't like standard adult pools.  These are far more compacted and it's recommended for the very small ones, especially the toddler pools, that these be drained after every use.    It is never good idea to leave standing water.  This can develop algae and bacteria, and also will attract insects such as mosquitoes.  So, after each use, the pool should be emptied of water which can be done with a toddler pool over the sink in the kitchen or dumped on the back lawn.  Another reason this is essential is that with standing water remaining in the pool, a child could go near the kiddie pool unattended which could be disastrous in its consequences.
Q: Is it really necessary to drain the larger kiddie pools frequently especially in the hot summer months?
A: It could seem like quite a task to drain a larger kiddie pool such as a few listed here after every use.  Especially during the heat of summer, so these can be drained once a week, but no longer than that.  Remember, unlike standard-size pools, kiddie pools, regardless of size, don't have pumps or filters to remove bacteria or debris. Also, once the pool is drained it will be important to properly clean it.
Q: How should a kiddie pool be cleaned?
A: each time the pool is properly drained, it should also be cleaned as well.  With the small portable kind for toddlers, make sure that it is cleaned before deflating.  Take a damp cloth and wipe the inside of the pool completely.  Once this is done, take a bucket of  cleaning solution which is one part bleach and five parts water then scrub down the pool to remove any spots of dirt. Rinse off the pool, then let air dry, then deflate it if it is a small infant pool or refill it if is a larger-size kiddie pool.  These are some basic guidelines and the best course of action is to do more research online about how to clean a kiddie pool properly.
Q: Is there an easy way to find where an inflatable kids swimming pool is leaking?
A: No doubt about it, leaks in inflatable pools can be a challenge, especially slow leaks.  Even having a leak patch or a pool repair kit is only half the problem, the other half and most difficult can be finding where the leak is located.  There are two methods that can be used to help determine where the leak is located.  The first one is ideal for smaller kids swimming pools and that is fill a bathtub with water.  Then, place the inflated kiddie pool into the tub and the area where the leak is located will start to form air bubbles. Take note of the spot, remove the pool from the tub, dry if off, then place the patch securely over the leak.  The method ideal for any size inflatable pool is to take an empty spray bottle, fill it half-way with water, then add a liquid-type  soap.  Spray this mixture onto the inflatable pool, then observe where the soap starts to create bubbles. This is where the leak is located.  Again, dry off the pool then patch it using a pool patch.  If a pool patch isn't available at the moment, then a small piece of duct tape can be used as a temporary solution until a permanent patch or pool repair kit can be obtained.   The duct tape should never be considered a permanent solution because it doesn't block the leak completely. Instructions on repairing a leak also will be on pool patch kits and also can be found online.
Q: Should my child learn to swim and at what age is good to start teaching them?
A: It is probably a very good idea to have your child learn to swim, especially if you are someone who has their own built-in pool or have friends who do.  At the very least, a child should learn how to relax their body in the water and also to let the water lift them while floating with the current, which is actually the first step in learning the swim.  As for what age is recommended that a child learn, according to the American Academy of Pediatrics, kids could start learning at the age of 4 and older.  However, there are some who feel that kids could learn as early a 6 months old while in the company of a parent holding them during the process.  This would depend though on the child's physical development and emotional as well.  Keep in mind though that even in teaching a child at an early age to swim, supervision by a parent is always necessary to avoid any unforeseen accidents such as slipping.
Related Posts