Parents remember the glory days of playing outside from the moment the sun rose until when the street lights came on. Unfortunately, in today's world, children are so involved with electronics and they don't necessarily get the same outdoor experience that we did back in the day. It's important for children to spend time outdoors, not only because it's fun but because it's good for their health and overall development. When out soaking up all of the sun, they're gaining that vitamin D which is important for the body. It's also proven that vitamin D makes people happier. While they're running, playing and exercising, your children are reducing stress and strengthening their muscles.
Our Top 3 Picks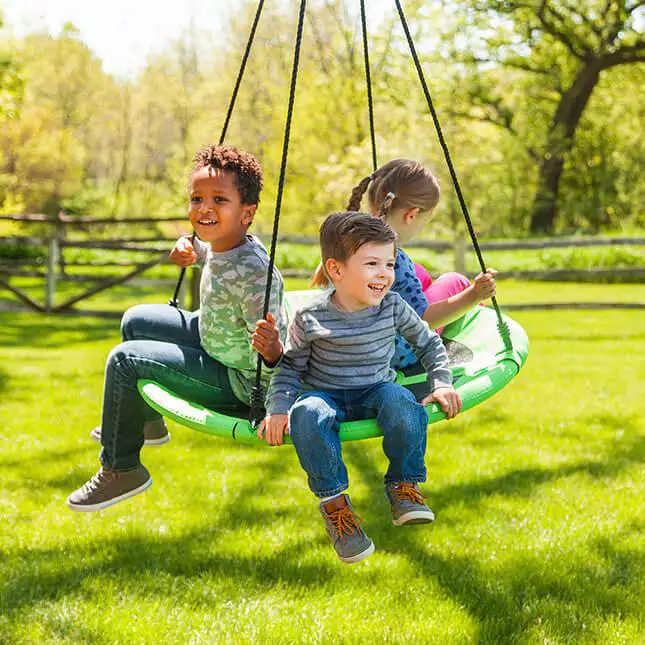 Large Swing-A-Ring

Our rating
Holds up to 330lbs
Price:

See Here
Tikes Jump N Slide

Our rating
Active Outdoor Play
Price:

See Here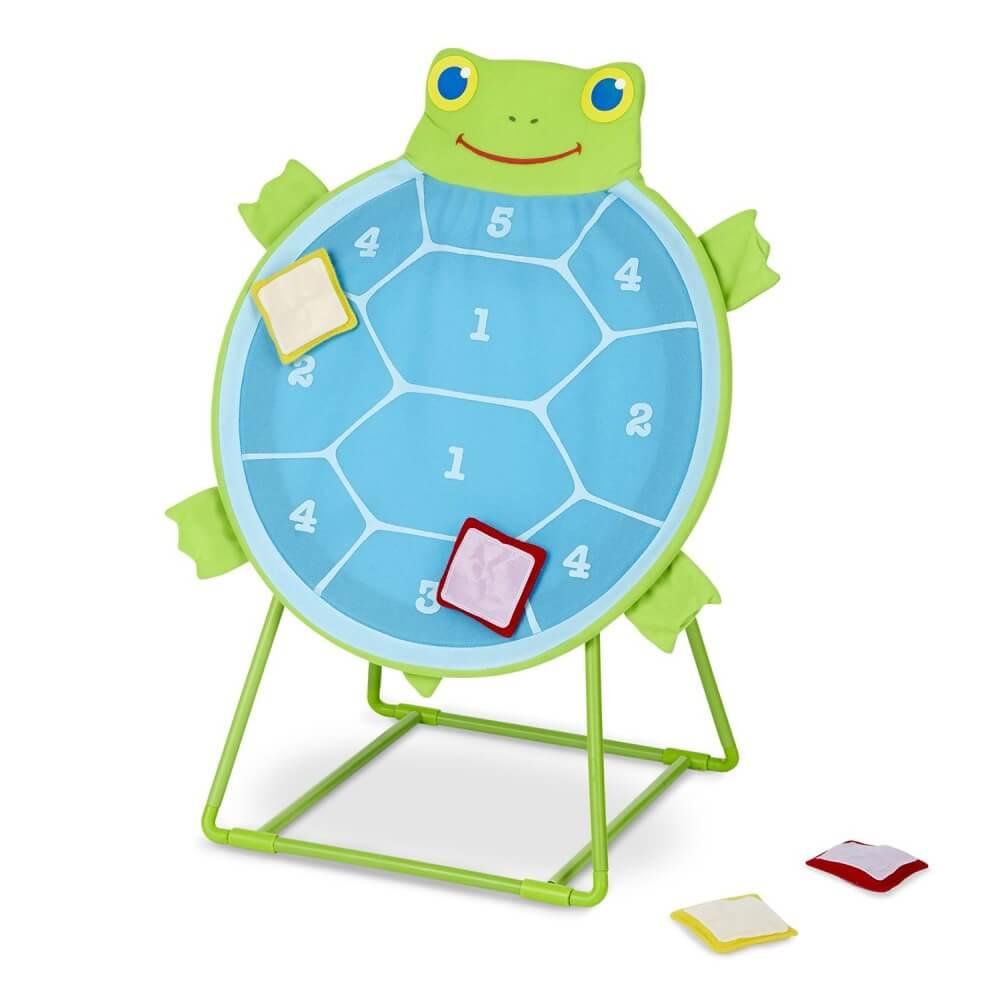 Dilly Dally Turtle

Our rating
1-2 Players
Price:

See Here
Champion Sports Parachute 6-Foot
All Around Playtime Patio with Canopy Playhouse
Step2 Finding Dory Swim & Swirl Water Table
Banzai Sprinkle and Splash Play Mat
Step2 Game Time Sports Climber And Slide
Little Tikes 3′ Trampoline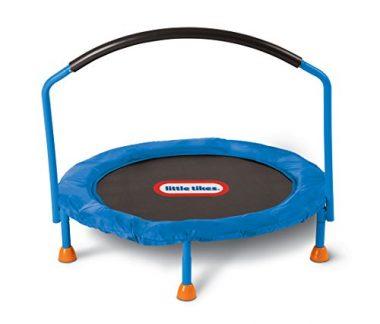 Sunny Patch Seaside Sidekicks Sand Baking Set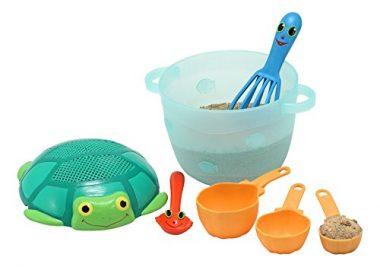 Little Tikes Cape Cottage
Step2 Play and Shade Pool
Criteria Used in Evaluation of the Best Outdoor Toys for Toddlers
When we started creating our list, we took many things into consideration. For starters, we thought to ourselves: Do these toys help the development of your child? We undertook careful research and found our answers when it came to our main questions. We believe that no matter what young age or gender your child is, there is a toy on our list that they will love.
Safety
A top priority for us was safety. While parents still should always keep an eye on their child, most of the products that we have listed are perfect for pretend play. It is also recommended that when looking for a toy for their child that parents also take a look at the recommended age for the toy before purchasing to make sure that it's age appropriate. We also suggest that parents inspect the toy for sharp edges or damage before giving the toy to your child before play time. While it's not likely that your product will get damaged during delivery, it is possible that it can happen.
We also added several toys to our list that can be easily stored and come with tons of storage themselves. Some of these even fold down and some pack nice and neat in a bag. Whatever the method of the organization, this is sure to help make your home clutter-free guaranteed.
Development
Another thing we took into consideration was to make sure the each of the toys on our list would stimulate your child's development. Giving your children toys that encourage cooperative and social play promote the development of their social skills. If you give your child bright colored toys, toys that have texture or toys with sounds and buttons, it will help increase your child's sensory development.
We also aimed to make sure that plenty of the products helped increase your child's fine-motor skills. As your child's fine-motor skills improve, so will their hand-eye coordination and balance skills. Pretend play is also crucial to your little tot's development. When you allow your child to use their imagination in an unconfined space, it also helps build their confidence. It will even expand their problem-solving and critical-thinking skills as well.
Suitability for outdoors
When we sat down and began to create our list of the best outdoor toys, the toys chosen needed to be suitable for the outdoors. We made sure that each toy on our list could withstand any condition that Mother Nature could surprise us with. We wanted toys that could provide shade which is a huge plus as they ensure longer outside time on those hot summer days.
We love our toys and some even offer a perfect outdoor play to help your child stay cool when the sun is hot, hot, hot. There are also several toys on our list that are extremely lightweight, which makes it easier for parents to move them. Even though many of these toys can withstand the rain, we recommend bringing them inside during severe weather just to ensure that they will last longer. By doing this, it also prevents rust. Children shouldn't play with toys that have accumulated rust as it is a definite safety hazard. Several of these toys are also versatile so your child can play with them indoors as well, so even if there is a rainy day, your child will still be able to play with their favorite toy.
Toys that allow toddlers to play and pretend outdoors
Toys that encourage toddlers to play outdoors and use pretend play help their development. They need their gross- and fine-motor skills challenged while also encouraging their imagination. Playing outdoors allows toddlers to explore nature around them while running, jumping, and navigating the different terrain. This encourages balance and gross-motor skills. Adding toys to encourage fun outdoor play also allows them to explore their imagination while refining their skills.
Many backyard toys are specially designed to encourage and promote the skills that toddlers already have while also giving them new skill sets as well. It is important for physical and mental development for toddlers to play outside while also inspiring their imaginations as well. Water play, pretend role-playing, and using games to exhaust their energy are added benefits of outdoor play.
We know it can be hard to pick toys for a toddler. We created this list with toys that are designed to help toddlers be challenged physically and mentally while also inspiring their imaginations, allowing them to share experiences with others, and give skills that help reach developmental milestones.
The toys on this list are researched for their price, features, and age range. We also review safety ratings for each toy and we want to make sure that anything on the list is the best and safest for the toddler using them. We review parent's feedback for many toys and only select toys that their toddlers are currently using and enjoying. We always consider those things when adding to the list. We feel confident with the toys selected on our list. Each toy has an appropriate age rating and encourages the development of a toddler.
Helping toddlers pretend
When toddlers play through pretend it encourages their imaginations while stimulating both their physical and intellectual development. It also teaches reason and problem-solving techniques. When a child is faced with a question or feeling during pretend to play, it helps how they would deal with the issue in real life. It helps them create empathy and a way to sort out their feelings. When others join in on the play, it gives them a new layer of complexity. It helps to define roles, helps with communication between peers, and develops stronger social skills.
Imaginative play or pretend play introduces the ability to make-believe. This allows a toddler to learn to be something and is a huge concept for someone in this age group to master. It helps them pretend through play with encourages their social skills and gives them the curiosity to explore the world
How toys encourage gross- and fine-motor skills
Playing with your toddler and demonstrating a gross- or fine-motor skill through an activity or toy is one of the best ways to encourage your toddler's development. When using toys like a pretend lawn mower or a table where they are able to dump water from a cup into a funnel is a great way to practice and encourage fine-motor skills. Playing that encourages the development of fine- and gross-motor skills are crucial to their development. Using toys to practice and perfect the control of their coordination is a great way to develop the skill set.
Toys that encourage the movement of arms, legs, and head are toys that help build gross-motor skills. Toys that encourage the use of their hands, feet, fingers, and toes help development are fine-motor skills. Finding toys that build both at the same time is great. When selecting a toy from our list you will see in the benefits section with the highlighted skill set for each toy.
Playing Outdoors with Toddlers
Toddlers play to continue mastering their newly found sense of independence as they are no longer totally dependent on mum and dad for some of their needs. Toddlers also need to play to strengthen their muscles and help develop their flexibility, balance, and coordination so they will be better prepared once they reach preschool and school age.
Why Is it Important?
It is important for toddlers to enjoy playtime in an area where they can run, jump, and stretch their muscles while at the same time refining their fine-motor skills. That is why playing outdoors is so much fun for toddlers. They get to live out their fantasies in a wide open space. Best of all, they can share these experiences with fellow toddlers and, of course, their mum and dad and their siblings.
Outdoor playtime activities can thus, be an excellent way to bond with your toddlers. You can foster their sense of independence and autonomy while at the same making sure that they are safe. If they trip and hurt themselves, you can always assure them that it is perfectly all right and that there is nothing to be ashamed of. Your presence, while they are playing outdoors, means a lot to them. They feel you value their personhood and as such won't necessarily interfere with their playtime. But they also know that if they need you, you will be there to support them. Of course, you and the rest of the family can join your little one in playing outdoors. And how else can you foster great family bond than playing with toys that are built to be enjoyed outdoors?
FAQs
Frequently Asked Questions
Q: What is the best way to encourage toddlers to play outdoors?
A: Toddlers are mastering their new-found sense of independence with their ability to walk, run, jump, and play. Being outside allows toddlers to explore new things while developing their sense of smell, sight, and muscles. When playing and pretending outside, they are able to explore the natural world around them while practicing balance and coordination. Encouraging outdoor play helps toddlers become more successful preschool and school-age children.
Q: How do you know if the toys are challenging toddlers physically?
A: Toddlers are physically challenged when using their coordination skills, fine- and gross-motor skills. When a toddler is developing, it is at a rapid rate. Being able to encourage toddlers to pour water into a funnel, kick a ball into a goal, and balance while completing an activity are many great ways to challenge them physically. You will see them building and refining the skill set each time they use the toys. They will soon master the skill and move on to something more challenging. It is important to encourage and play alongside with them.
Q: How do you know if the toys are challenging toddlers mentally?
A: Understanding logic and self-control are two of the biggest challenges for a toddler. As a parent, it is your job to help them learn and experience these challenges. Using toys that encourage logic and self-control is a good way to help them develop these skills. When you see your child acting out pretend play or sharing during playtime, this displays mental growth for a toddler. When you see them meet and exceed a challenge you know they being mentally challenged.
Q: How do I know if the toys are safe for my toddler's age group?
A: To make sure that the toy is safe for a toddler's age group you must check the label of the toy. By law, each toy manufactured must have a label that states the age group that the toy is safe to be used by. This label must be clear and easy to find. So make sure to check over each toy before purchasing. If purchasing the toy online, most retailers will include the age rating in the details of the item.
Q: How do I find the toys listed on the list above?
A: The easiest way to find the toys listed on the list above is to use a search engine on the Internet. Simply type the name of the toy that interests you in the search engine and it will return the results of where the toy is sold. Many major retailers have websites and many can tell you where the toy is located if you are interested in buying it physically and they often make it very easy to buy right there online.
Q: How do I know if my toddler has outgrown his current toys and is ready for something new?
A: You will know that your toddler is ready for a new set of challenges or toys when the current toys are no longer being given their attention. Often toddlers will no longer play with a toy or their attention span with the toy will lessen when they are ready to move on. Sometimes more times than not, more is less. Try either removing the current toys for a couple of days or having a rotation of toys. When you see them losing interest, also try to re-engage with them, maybe even showing them a new feature with the toy or playing with it in a different way. When the table is no longer engaging, you could switch the water for sand.