We've scoured the market and asked a great number of parents asking about what they consider to be the best outdoor toys for toddlers. There were those who said that play tents and houses make perfect outdoor play sets for tots since these stimulate imagination and creativity. There are also those that say sports-related toys such as basketball hoops and even trampolines make for a great toy for the outdoors since these facilitate optimum physical growth and development. And then there are those who prefer toys that mimic outdoor gadgets and tools to be just perfect. Considering all of these inputs and combining them with our own meticulous research, we've come up with 16 of the best outdoor toys for toddlers in 2017.
Our Top 3 Picks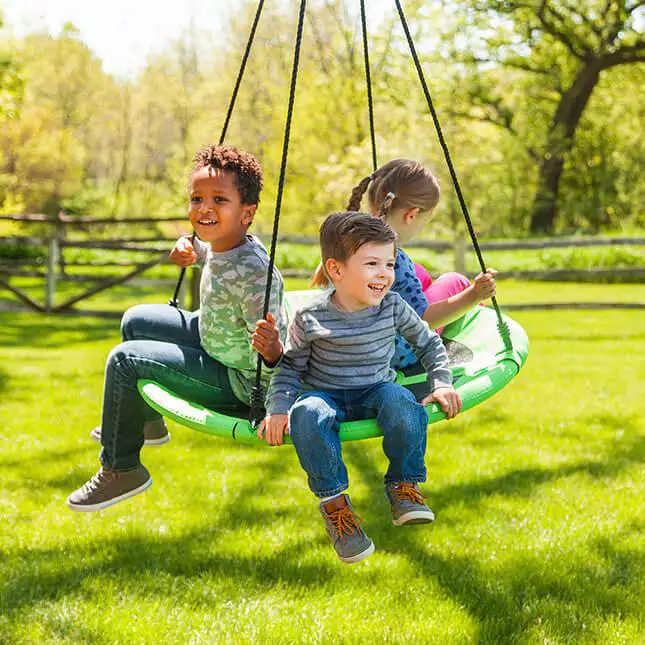 Large Swing-A-Ring

Our rating
Holds up to 330lbs
Price:

See Here

Tikes Jump N Slide

Our rating
Active Outdoor Play
Price:

See Here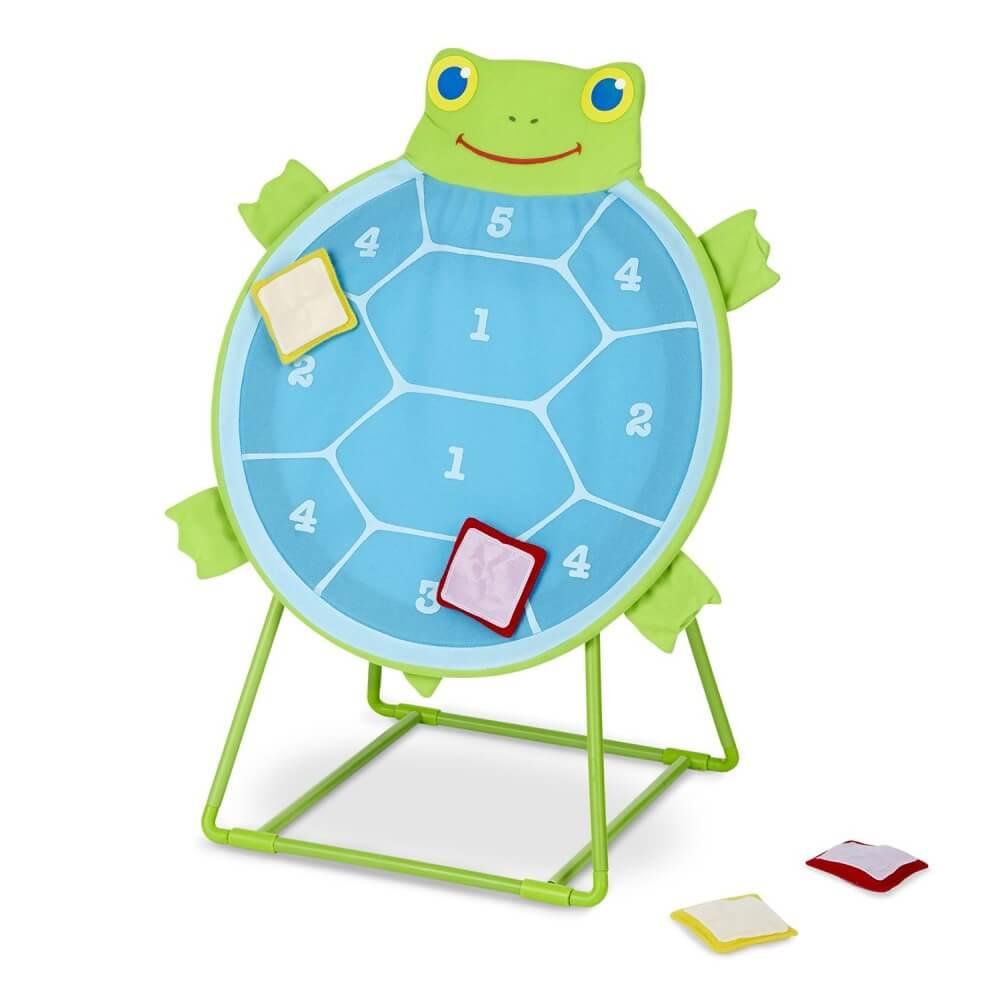 Dilly Dally Turtle

Our rating
1-2 Players
Price:

See Here

Leading the pack is the Jump 'n Slide Bouncer of Little Tikes for the simple reason that it already addresses most of the things that were considered to be essential by both child development experts and parents especially in terms of aiding the optimum physical, mental, emotional, and social development of young children aged 18 months to 3 years old. Not far behind are 15 others that truly epitomize what toddler play is all about especially when taken in the light of their development.
Dilly Dally Turtle Target
2-in-1 Snug 'n Secure Swing
Little Tikes 3′ Trampoline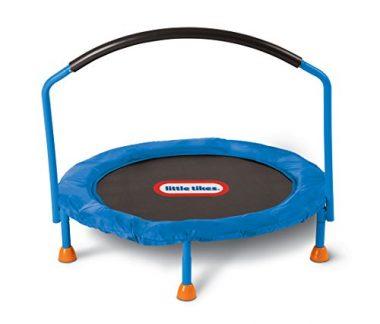 Easy Score Basketball Set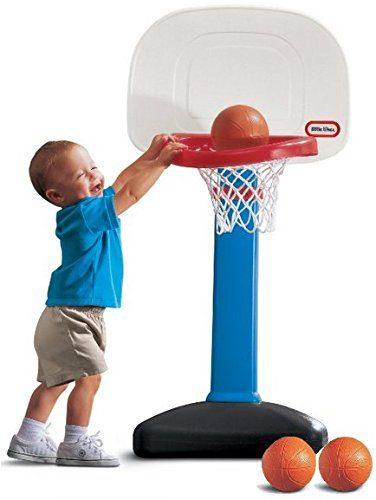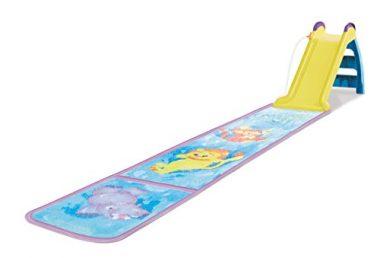 Play Tent Princess Castle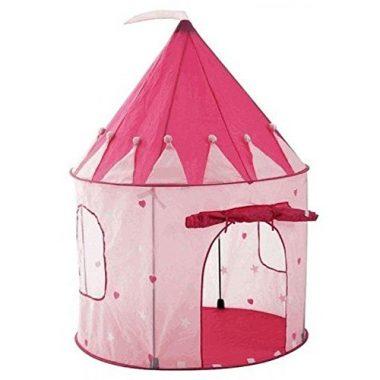 Kidoozie Foam Pogo Jumper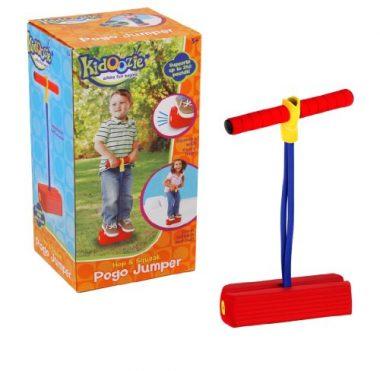 Click N' Play Pack of 200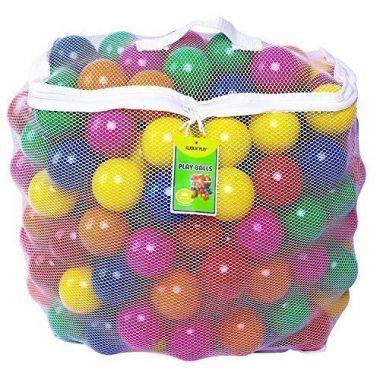 Sunny Patch Seaside Sidekicks Sand Baking Set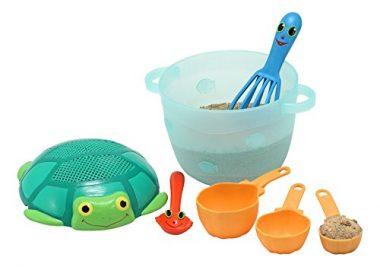 Spiralin' Seas Waterpark Play Table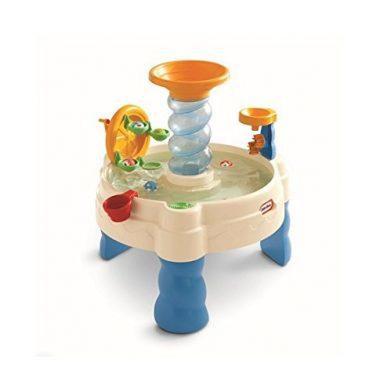 Sportstastic Activity Center
Little Tikes Cape Cottage
Little Tikes Gas 'n Go Mower
Sunny Patch TM Blossom Bright Watering Can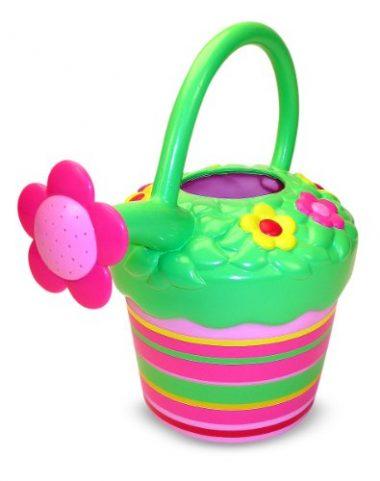 Step2 Play and Shade Pool
Criteria Used to Evaluate the list of the 16 Best Toys for Toddlers
Toys that allow toddlers to play and pretend outdoors
Toys that encourage toddlers to play outdoors and use pretend play help their development.  They need their gross and fine motor skills challenged while also encouraging their imagination. Playing outdoors allows toddlers to explore nature around them while running, jumping, and navigating the different terrain. This encourages balance and gross motor skills. Adding toy[G30] s to encourage fun outdoor play also allows them to explore their imagination while practicing refining their skills.
Many outdoor are specially designed to encourage and promote the skills that toddlers already have while also giving them new skill sets as well. It is important for physical and mental development for toddlers to play outside while also inspiring their imaginations as well. Water play, pretend role-playing, and using games to exhaust their energy is added benefits of outdoor play.
We know it can be hard to pick toys for a toddler. We created this list with toys that are designed to help toddlers be challenged physically and mentally while also inspiring their imaginations, allowing them to share experiences with others, and give skills that help reach developmental milestones.
The toys on this list are researched for their price, features, and age range. We also review safety ratings for each toy and we want to make sure that anything on the list is the best and safest for the toddler using them. We review parent's feedback from many toys and only select toys that their toddlers are currently using and enjoying. We always put that into consideration when adding them to the list. We feel confident with the toys selected on our list. Each toy has an appreciate age rating and encourages the development of a toddler.
Helping toddlers pretend
When toddlers play through pretend it encourages their imagination while encouraging both their physical and intellectual development. It also teaches reason and problem-solving techniques. When a child is faced with a question or feeling during pretend to play it helps how they would deal with the issue in real life. It helps them create empathy and a way to make out their feelings. When others join in on the play it gives them a new layer of complexity. It helps define roles, helps with communication between peers, and develops stronger social skills.
Imaginative play or pretend play introduces the ability to make-believe. This allows a toddler to learn to be something and is a huge concept for someone in this age group to master. It helps them pretend through play with encourages their social skills and gives them the curiosity to explore the world
How toys encourage gross and fine motor skills
Playing with your toddler and demonstrating a gross or fine motor skill through an activity or toy is one of the best ways to encourage your toddler's development. When using toys like a pretend lawn mower or a water table where they are able to dump water from a cup into a funnel is a great way to practice and encourage fine motor skills. Playing that encourages the development of fine and gross motor skills are crucial to their development. Using toys to practice and perfect the control of their coordination is a great way to develop the skill set.
Toys that encourage the movement of arms, legs, and head are toys that help build gross motor skills. Toys that encourage the use of their hands, feet, fingers, and toes help development in fine motor skills. Finding toys that build both at the same time are great. When selecting a toy from our list you will see in the benefits section with the highlighted skill set for each toy is.
Playing Outdoors with Toddlers
Toddlers play to continue mastering their newly-found sense of independence as they are no longer totally dependent on mum and dad for some of their needs. Toddlers also need to play to strengthen their muscles and help develop their flexibility, balance, and coordination so they will be better prepared once they reach preschool and school age.
Why Is it Important?
It is important for toddlers to enjoy playtime in an area where they can run, jump, and stretch their muscles while at the same time refining their fine motor skills. That is why playing outdoors is so much fun for toddlers. They get to live out their fantasies in a wide open space. Best of all, they can share these experiences with fellow toddlers and, of course, their mum and dad and their siblings.
Outdoor playtime activities can thus, be an excellent way to bond with your toddlers. You can foster their sense of independence and autonomy while at the same making sure that they are safe. If they trip and hurt themselves, you can always assure them that it is perfectly all right and that there is nothing to be ashamed of. Your presence while they are playing outdoors means a lot to them. They feel you value their personhood and as such won't necessarily interfere with their playtime. But they also know that if they need you, you will be there to support them. Of course, you and the rest of the family can join your little one in playing outdoors. And how else can you foster great family bond than playing with toys that are built to be enjoyed outdoors?
How We Came Up with Our List of the 16 Best Outdoor Toys for Toddlers
We know how frustrating it can be sometimes to be inundated with so many choices making it quite difficult to decide. If you can only narrow down your selection to those outdoor toys that are really designed to foster the growth and developmental milestones of your toddler, then it would be a lot easier to choose.
We understand what you need and as such we have come up with our list of 16 amazing toys to be used outdoors. We researched on the features, cost, and safety of these toys as we know you only want the best and the safest for your little tyke. We took into consideration the feedback and rave reviews of delighted parents who were once confused like you. Now, all you have to do is to take a look at our list and we are pretty confident you would agree to at least one of our top 16 picks.
FAQ
Frequently Asked Questions
Q: What is the best way to encourage toddlers outdoors?
A: Toddlers are mastering their new found sense of independence with their ability to walk, run, jump, and play. Being outside allows toddlers to explore new things while developing their sense of smell, sight, and muscles. When playing and pretending outside they are able to explore the natural world around them while practicing balance and coordination. Encouraging outdoor play helps toddlers become more successful preschool and school-age children.
Q: How do you know if the toys are challenging toddlers physically?
A: Toddlers a physically challenged when using their coordination skills, fine and motor skills. When a toddler is developing it is at a rapid rate. Being able to Encourage toddlers to pour water into a funnel, kick a ball into a goal, and balance while completing an activity are many great ways to challenge them physically. You will see them building and refine the skill set each time they are using the toys. They will soon master the skill and move on to something more challenging. It is important to encourage and play alongside with them.
Questions: How do you know if the toys are challenging toddlers mentally?
A: Understanding logic and self-control is one of the biggest challenges for a toddler. As a parent, it is your job to help them learn and experience with these challenges. Using toys that encourage logic and self-control is a good way to help them develop these skills. When you see your child acting out pretend play or sharing during playtime this displays mental growth for a toddler. When you see them meet and exceed a challenge you know they being mentally challenged.
Q: How do I know if the toys are safe for my toddler's age group?
A: To make sure that the toy is safe for a toddler's age group you must check the label of the toy. By law, each toy manufactured must have a label that states the age group that the toy is safe to be used by. This label must be clear and easy to find. So make sure to check over each toy before purchasing. If purchasing the toy online most retailers will include the age rating in the details of the item.
Q: How do I find the toys listed on the list above?
A: The easiest way to find the toys listed on the list above is to use a search engine on the internet. Simply type the name of the toy that you are interested in the search engine and it will return the results of where the toy is sold. Many major retailers have websites and many can tell you where the toy is located in interested in buying it physically and they often make it very easy to buy right there online.
Q: How do I know if my toddler has outgrown his current toys and is ready for something new?
A: You will know that your toddler is ready for a new set of challenges or toys when the current toys are no longer being given their attention. Often toddlers will no longer play with a toy or their attention span with the toy will lessen when they are ready to move on. Sometimes more times than not, more is less. Try either removing the current toys for a couple of days or having a rotation of toys. When you see them losing interest also try and re-engage with them, maybe even showing them a new feature with the toy or playing with it in a different way. When the water table is no longer engaging, you could switch the water for sand.