There are a lot of ways in which we can spend quality time with our kids. Whether it is reading a book together, watching our favorite films, or even doing things together such as gardening and cooking, we are inherently teaching a lot of valuable life lessons to our kids. One of the most hilarious, most fun, and most engaging games that we've ever encountered is Hasbro's Pie Face Game.
It is not really a very sophisticated or a technology-intensive game but the Pie Face Game effectively brings the tons of joy and laughter that is often associated with a classic pie throwing in classic parlor games right in the confines of our homes. Everyone will simply be rolling on the floor unable to contain their laughter as a handful of pie gets splat right on the face of the unlucky one. The one positive thing about the classic, traditional pie throwing game is that you'll know you're the next target by whoever is holding the pie. But, in the Pie Face Game, this element has been removed which adds up to the excitement, suspense, and the almost instantaneous roar of laughter that will fill the whole neighborhood.
Pie Face Game Review And Details
Design and Features
As the name suggests, the Pie Face Game from Hasbro is a classic pie throwing game built specifically for the home. It's great for creating wonderful memories of the fun and laughter that everyone in your family will be sharing. It's also a great party game, something that will have everyone rolling on their tummies and taking out their smartphones for that much-awaited event when the plastic hand-shaped pie thrower suddenly springs from its tension and splats a good handful of cream on the face of whoever is in the platform. Social media pages will be burning with likes and shares as everyone simply loves a good laugh.
You wouldn't believe just how simple the Hasbro Pie Face Game is. Out of the box you get a pie throwing base complete with two turn handles on the side, a hand-shaped pie thrower, a cardboard cutout with a slot for the head (Hasbro calls it the splash guard mask), a chin piece, a sponge, and a spinner numbered 2 to 5. You will first need to assemble the throwing platform by slotting the pie throwing arm into its designated location. Next, attach the chin rest into its forward slot and the splash guard mask immediately behind it. Take out the spinner and get everyone ready for the most exciting, most fun, and most suspenseful game in your lives. However, we do strongly advise to get your video camera ready as this can be a really great entertainment to watch over and over.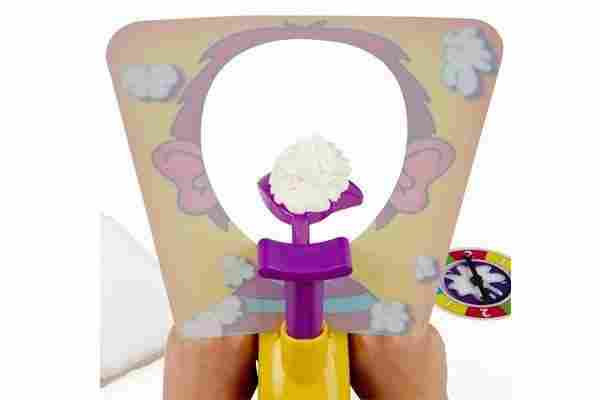 To play the Hasbro Pie Face Game everyone take turns placing their heads in the slot of the splash guard mask, resting their chins on the chin rest. If you come to think of it, it's like those famous figures we see in carnivals and theme parks where the face has been purposely removed so that the face of a real person can be slotted in. So you get your face in the body of a famous character. The Hasbro Pie Face Game's splash guard mask is just like that except that it only includes an image of the face and upper chest of a child. Now, get some whipped cream and place as much as you like onto the pie throwing arm. An alternative is to wet the sponge that comes with the package and place it on the pie thrower. Once everything is set, spin the spinner and take note of the number where the arrow points. This is the number of times that you will have to crank or turn the two handles on the sides of the pie thrower base. So, if you spun 5, then you will have to turn the handle 5 times indicated by 5 clicks. Technically, you will be counting the number of clicks corresponding to the number on the spinner. If, you have completed the clicks without triggering the pie throwing arm, you get a point. Do take note, however, that with each turn or click you make on the Hasbro Pie Face Game thrower base, you are actually inching closer and closer to the pie smacking right on your face. Then, other players take their turn slotting their heads through the splash guard mask, spinning the dial, and cranking the handle. No one knows when the arm will throw its whipped cream. That's why it's so suspensefully agonizing yet totally hilarious once it rips. The first player to reach 25 points wins and gets to become the king of the Hasbro Pie Face Game challenge. Well, at least, that's the idea.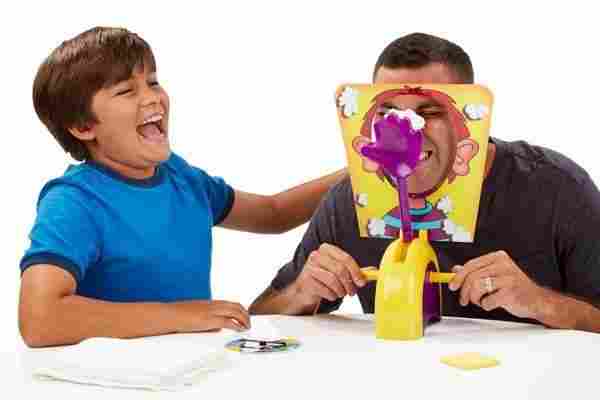 What We Think
We have seen a lot of videos of families playing the Hasbro Pie Face Game on YouTube as well as other popular video sharing platforms. And we can really honestly say that the genuineness of the laughter that these folks and their children are sharing is proof of the product's usefulness. We searched Amazon and found that more than 1,500 out of 2,200 plus of its reviewers gave it 5 stars with an average rating of 4.4 stars. Walmart rates it 4.7 stars with 700 reviewers out of 900 plus giving it a perfect 5. Other online commerce platforms also rate the Hasbro Pie Face Game exceptionally well. It also won the Toy of the Year Award in 2016. With all of these accolades you should not really be surprised if we are going to urge you to consider this for your family. It is a toy but it doesn't mean that only 5 year old kids will enjoy it. Everyone who needs a good laugh can really benefit from the Hasbro Pie Face Game.
Nonetheless, in keeping with our commitment to give you a really comprehensive review of children's toys, we'll let you in on what we think are the real benefits of the Hasbro Pie Face Game.
Optimizes the many health benefits of laughter.
We all have heard healthcare experts telling us that a good laugh may actually be the only prescription we will ever need to help us get through some of our health problems such as reduced immune functioning, high blood sugar levels, tense muscles, pain, and even stress. While there are no randomized clinical trials that will point to the causal relationship between laughter and a variety of observable physiologic changes, there are volumes upon volumes of non-experimental research studies that point to the inescapable fact that laughter can bring a variety of benefits. Of course, other factors may still play in the occurrence of these changes but having a good laugh is surely a fun way to mitigate one's health concerns.
What is clearly understood is the effect of laughter on the release of endorphins from the brain. These substances are responsible for making us feel happy, feeling good about ourselves, and have a more positive outlook in life. Additionally, these same substances are known for alleviating certain types of pain. In a way, laughter acts like an addicting drug that tends to block the neural pathways that allow us to perceive pain. Because these pain pathways have been blocked, we don't perceive pain. Of course, this only occurs if the pain is not so great as to occupy the entire pain pathway. Regardless, the mere fact that laughter helps release these endorphins that act on that part of our brain that makes us feel better is sufficient evidence of its usefulness as an alternative therapeutic modality.
Part of the benefits of laughter is in the improved delivery of oxygen to the tissues. When we laugh, we stretch our muscles including the smooth muscles inside our blood vessels. This helps propel oxygen-rich blood more efficiently, bringing with it nutrients as well as other essential substances for optimum cellular functioning. It is for this reason that some experts liken laughter to be an excellent workout. It helps us feel more relaxed and may even have the capacity to help us achieve our weight loss goals.
Of course, children don't need all of these benefits but the fact remains, laughter can improve their sense of well-being as well as help them feel more relaxed and calmer because of the improvement in tissue oxygenation. They don't easily get sick as well as laughter has been shown to improve the functioning of the immune system. You know what this means. They're not going to go to the doctor very frequently. No added expenses on your part, too.
Great for improving family and social relationships.
Sharing a good laugh with the family and friends can definitely strengthen social relationships. Just seeing a family member or even a best friend get splatted on the face with a whipped cream or even a wet sponge is sure to bring people a lot closer together. For kids, the benefits are tremendous especially when it comes to the establishment of healthy social relationships. They will understand that even a very simple game of pie throwing can elicit warmth from everyone. Children learn to understand that, when the going gets tough, they can always turn to some form of laughter to help strengthen their social support system. Obviously, it's a lot saner to laugh with your friends or family rather than to laugh on your own.
Introduces the concept of risk-taking among kids.
Every decision that we make has risk. Even the mere act of deciding whether to play the Hasbro Pie Face Game or not can have its risks. If we join, we risk getting splatted on the face with a great amount of whipped cream. We also risk appearing a fool in front of our family and our friends. And if we do decide to have the game streamed on live video, we risk becoming the laughing stock of whoever gets to see it. Now, if we decide not to participate in the game, we risk losing all the health benefits of a good laugh. Sure, we can decide to be simple spectators instead and still get a great laugh but nothing compares to really experiencing it first-hand. Kids have to learn that every decision has risks. However, it is in taking risks that allows us to enjoy life a lot better. Younger kids may not understand this yet but it sure lays the foundation for the realities of life.
Helps in the development of healthier and more positive self-concept.
Because of the endorphins that are helped release by laughter, kids will surely have a much healthier and more positive self-concept. He or she will learn that even Mom and Dad, big brother or sister, and friends or acquaintances are not immune from making fun of themselves. This helps them feel more normal. The sense of wellbeing and happiness brought about by these endorphins greatly contribute to the formation of a healthier self-concept. Children learn to understand how they react to such hilarious activity. They learn to differentiate positive emotions from negative ones.
Can help enhance reflexes.
While it is possible to just close your eyes while turning the handle of the Hasbro Pie Face Game so that the pie won't get plastered onto your eyes, it's a more challenging prospect to have your eyes wide open and then close it as soon as the pie thrower is triggered. We know the movement is rather fast which actually makes it ideal for training purposes if you want to sharpen your reflexes,
Pros
Pure fun and enjoyment for the whole family as well as groups of friends.
Easy to assemble with very minimal number of parts.
Excellent reviews from customers.
Cons
The spinner and the splash guard mask are rather flimsy. We think Hasbro should try coming up with a sturdier material for these.
You can view a video of this game in full action here:
The Verdict
For endless laughter which can bring a host of health benefits for everyone, getting the Hasbro Pie Face Game is actually a no-brainer. It can be a great gift item, too.
You May Also Like
17 Top Board Games For Kids
15 Top Wooden Puzzles For Kids
Like What You See? Please Rate This Post And Let Us Know What You Think!
[rating_form id="1″]