10 Best Push Toys Toddlers Will Love In 2019
last updated
Jun 01, 2019
Your baby's first steps are one of the most precious moments to witness as a parent. Even prior to becoming a toddler they have a long road ahead of them before they perfect the art of walking. It takes babies some time to work their way from lying down to sitting, sitting to crawling, from crawling to standing, and then from standing to walking. For those babies who are already pretty steady with their balance, push along toys are a wonderful way to keep your child stimulated and excited to get up and stroll around the room or yard. Many push toys not only help offer assistance with balance, but they are also an additional interactive activity for your busy bee.
In a Hurry? The test winner after 32 hrs of research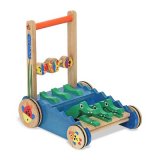 Chomp and Clack Alligator - Wooden
Why is it better?
Constructed of wood with excellent craftsmanship
Engaging activities when pushing walker or sitting to play
Boosts gross and fine motor skills
Stimulates hand-eye coordination
Encourages exploration of world around them
In a
Hurry? Editors choice: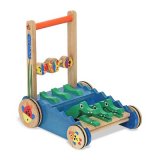 Test Winner: Chomp and Clack Alligator - Wooden
19
Researched Sources
32
Hours Researching
17
Products Evaluated
Physical Development
Safety
Durability
By Default
10 Best Push Toys Reviewed
1

. Chomp and Clack Alligator - Wooden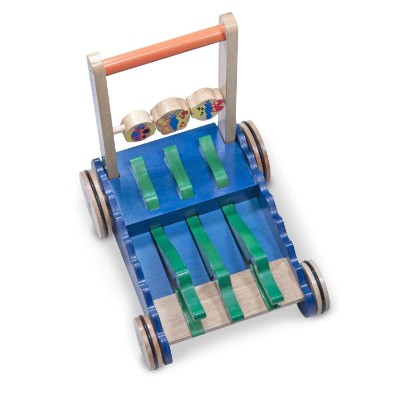 Constructed of wood with excellent craftsmanship
Engaging activities when pushing walker or sitting to play
Boosts gross and fine motor skills
Stimulates hand-eye coordination
Encourages exploration of world around them
Can tilt backward if all weight is pressed on handle
Wheels have low clearance, best used on carpet without throw rugs
Made of premium quality wood and completed with a superb glossy, kid-safe finish, the Melissa & Doug Deluxe Chomp and Clack Alligator is an exceptionally built push toy that integrates a couple of learning activities for your young tot. Standing a full 15 inches tall from the surface of the floor to the topmost edge of the handle, the Chomp and Clack feature a wide and sturdy slightly squarish base with larger rear wheels than at the front. This gives the Chomp and Clack superior maneuverability and stability.
Read more
Physical Development
This push toy is interactive and entertaining at the same time, providing your toddler with plenty of motivation to be active and push around their toy. The alligators on the front have mouths that make a "clack clack" sound when pushed, encouraging them to walk around and actively engage in walking. They'll have a blast when this toy is stationary as well, as it offers features a toddler can use when not being mobile as well!
Safety
The base also has a very low center of gravity which further improves its overall stability. The fascinating thing about the Chomp and Clack is that whenever your kid pushes it, three adorable alligators alternately open and shut their long snouts creating a chomping motion and a clacking sound.
Durability
There's a horizontal bar just above and towards the back of the alligators which serve as a holder for the spinners. The three spinners are adorned with colorful insects like a butterfly, a ladybug, and a dragonfly. The wheels are also adorned with colorful fishes. These may not have fancy lights and sounds but the Chomp and Clack is perhaps more useful than its electronic counterparts since it gives children the leeway to imagine whatever they like whenever they take the Alligator for a stroll.
2

. Radio Flyer Classic Walker Wagon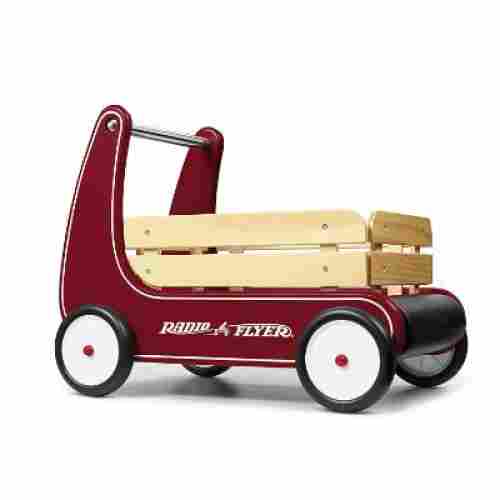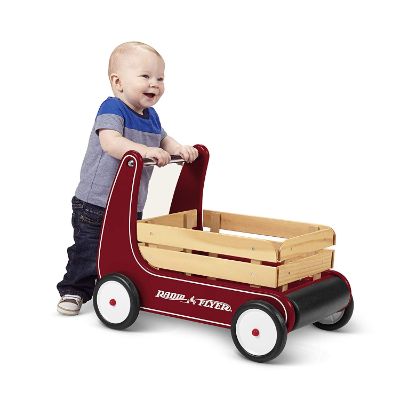 Push toy designed to help beginning walkers build confidence
Constructed body of the pusher from natural wood
Wooden side stakes removable
Features furniture friendly design with bumpers
Promotes the development of gross motor skills
Paint chips away from body easily
Does not come assembled, some assembly required when receiving
From a classic company comes a classily designed push toy that your little one will love. It is a versatile and safe push toy that is designed just like one of their wagons. It will soon become one of their favorite toys. It features wheels that are push resistant that help them gain the balance and confidence to go from being a tiptoeing little one to a full walker with practice and some time.
Read more
Physical Development
When children first begin to walk they tiptoe and start to build those leg muscles. As those leg muscles begin to develop and get stronger you will notice that they start to begin to walk on the flat of their foot. This pusher little ones a sturdy place to be able to hold on to learn to use those legs. As they build that confidence walking slowly behind this pusher then before you know it they will be walking solo.
Safety
Featuring push resistant wheels the classic wagon walker gives the little one just the right amount of resistant to be able to push it, but yet gives them the stability that they are looking for. The stability gives them the confidence to stand behind the walker and learn to slowly take a few steps. When they are not pushing it around they can also use the wagon to safely store a few of their favorite toys.
Durability
The construction of this push toy has been meant for durability. Like all the other toys that have been made by this company, they are meant to stand the test of time. The natural solid wood construction makes the pusher super durable and it even features bumpers that make it furniture friendly. Those bumpers will protect your little one and the items around your home when they are first learning to use the pusher to practice walking.
3

. Little Tikes Shopping Cart - Yellow/Red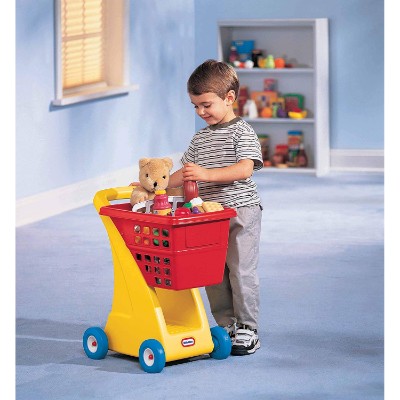 Features deep basket shopping cart with storage below basket and seat that folds down
Resembles real shopping cart
Encourages gross motor skills development
Stimulates social development skill
Boosts fine motor skills development
Easy to push wheels are not suitable for earlier walkers
Assembly required, easiest with two adults
It may look like a miniaturized shopping cart but this one from Little Tikes has been dubbed as one of the bestselling in toy shopping carts. The body of the Little Tikes Shopping Cart is shaped like the dorsal fin of a Great White, with its tip forming the handlebar and the base serving as the chassis for its 4 small, yet equally wide wheels. As we already know about the products from Little Tikes, there is not much to be had for additional learning for kids. Instead, they will have to use their imagination to come up with fantastic plays involving the shopping cart.
Read more
Physical Development
Just when you thought you've seen it all, we present you with a toddler-sized shopping cart. It may not look like fun but think about it from a toddler's point of view: Now they can be just like their mom, shopping for anything they want and be responsible for their own shopping cart! This push toy gives them a grown-up feel while encouraging them to move around and turn their room into a supermarket; it's especially great if they have pretend-play food to go with it.
Safety
Since there are no added frills, this toy is great and safe for little ones. The Little Tikes Shopping Cart is a very effective way to encourage toddlers to master the art of walking while also giving them the chance to play some pretend activities involving the cart.
Duurability
The good thing is that it does come with a variety of innovations like additional storage space just underneath the deep basket. This can serve as your kid's secret storage compartment to keep all of his or her precious belongings. The basket itself comes with a fold-down seat, just like the shopping carts in grocery stores and supermarkets. Taking Teddy along for a ride should not be a problem. There are no fancy light shows and no fun songs or music pieces to hear. The Little Tikes shopping cart is plain and simple shopping cart intended primarily for make believe play.
4

. Fisher-Price Brilliant Basics Corn Popper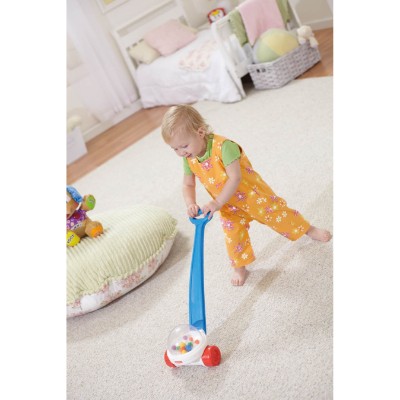 Features clear plastic dome with popping balls as toy is pushed along
Designed to provide sturdiness for beginning walkers
Encourages gross motor skill development
Boosts cognitive development
Stimulates sensory skill development
Best used on carpet to turn wheels and better activation the popping
Wheels offer no traction, hard plastic design
In a classic carrot-on-a-stick kind of philosophy, the Brilliant Basics Corn Popper is considered one of the most effective tools for enticing young children to start and master walking. Designed like a lawn mower or even a vacuum cleaner less the noise of the motor, the Corn Popper features a crystal clear dome on its head unit that is filled with colorful balls of different sizes.
Read more
Physical Development
As your tot walks, a mechanism on the Corn Popper rotates, sending these colorful balls against the inner surface of the plastic dome. This creates a fun popping sound while they are also swirling like a mild tornado. The different colors of the balls are helpful in enhancing visual tracking for your child as his or her eyes will be fixed on one or two colored balls at the same time.
Safety
The handle and arm of the Corn Popper can be adjusted at an angle so it can be pushed by any size of kid. The 2 large wheels allow for ease of pushing although it is not as stable as a 4-wheeled push toy. Nonetheless, the Corn Popper is a great instrument for beginning walkers.
Durability
The Corn Popper is a classic push toy that's been around for many, many years. It seems like it's everyone's first motion-activated toy and for good reason! The noise that the Corn Popper makes is entertaining to toddlers and really helps to encourage them to move around. It's easily pushed and turns into something they'll find rewarding each time they hear that funny "pop" sound.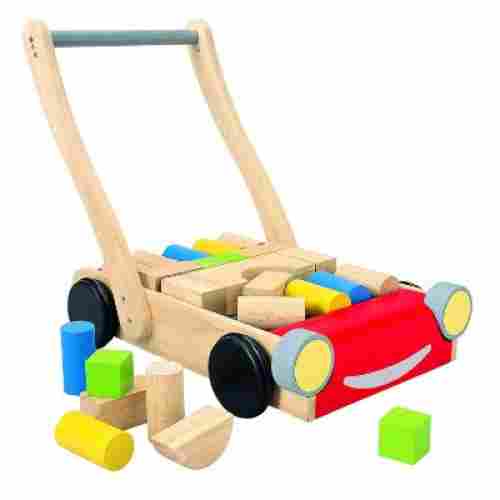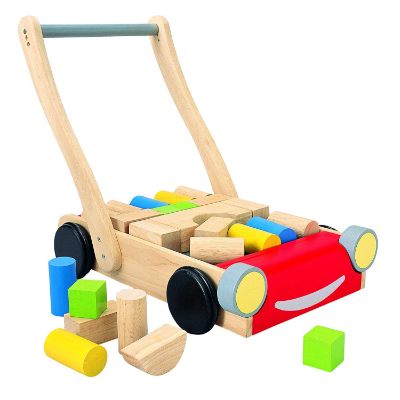 Designed to aid your little one is taking their first steps
Traditional design with adjustable handle for different heights
Stiff handlebar constructed for stability and adds safety
Included with the set is 24 natural wood blocks with bright colors
Best suited for little one between the ages of 10 months old and 3 years old
Lightweight design of cart allows it to easily tip over if height adjustment is not correct
Wheels only allow the pusher to go forward in one direction
Pusher walker designed to assist your little one that is learning to take their first steps to build confidence and provide them with a stable item to push around as they build their skill set. It has been constructed from organic wood that has been harvested from rubberwood. The pusher features a natural wood look on the cart but included with the set are 24 brightly colored blocks. Each of the blocks has been created from the same naturally harvested wood.
Read more
Physical Development
Walking is a gross motor skill that is the skill of all skills. It does take the little ones different amounts of time to perfect this skill, but it is something that they will love to do once they do. Walkers or pushers like this one are designed to help build the confidence and leg muscles to be able to walk. This pusher also features an adjustable handle. The adjustable handle allows it to be adjusted to fit different heights. Each child is different so why shouldn't the height of their walking toy be?
Safety
The adjustable handle has also been created to add stability and safety to the walker toy. When the handle is adjusted at the level that your child means it allows the toy to provide a more stable base for them to walk behind. The adjustment on the handle is ideal for children that are learning to walk at an early age.
Durability
Wooden toys gaining more popularity over the years and these organically created walker toys are as well. The wooden design adds a new level of durability to the toys. It provides kids with a natural product that has been constructed from materials that are naturally harvested and created by someone with their own two hands. This gives the pusher a look that parents love and functionality that little ones just love.
6

. Fisher-Price Bright Beginnings Activity Walker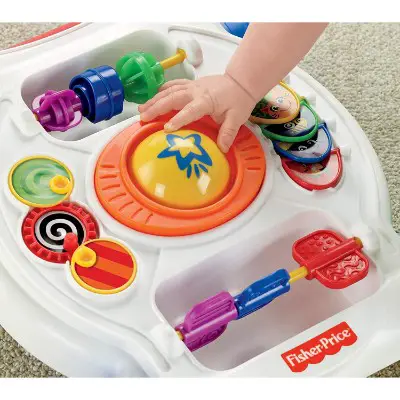 Activity center and walker all in one
Folds up and down for sitters and walkers, plus adds portability
Encourage fine motor skill development
Boosts gross motor skill development
Promotes cognitive development skills
Wheels do not offer traction, constructed of hard plastic, best used on carpet
Unfolding and fold requires two hands, can be difficult at first
If you want a more engaging experience for your toddler while mastering ambulation, Fisher Price's Bright Beginnings Activity Walker is a great push toy to start. It features the characteristic learning activity "islands" of the company, enabling kids to be really motivated with each step that they take.
Read more
Physical Development
It's foldable so that it can lay flat for your child to play with on the floor, and as they get older they can use the walking feature to improve their balance and motion skills. For instance, they can play with spinning panels or even flip doors and slide a variety of colored beads. They can even turn several gear-like elements on the Bright Beginnings, all the while developing their psychomotor skills. And if they're already bored with the small stuff, they can always turn their attention to a colorful ball right in the center of the activity walker. These components of the Bright Beginnings aid in the cognitive development of children as these provide the necessary elements for color recognition and cause-effect relationships.
Safety
The only thing that is missing and one that is quite uncharacteristic of Fisher-Price is the sound element which is often presented through kids' songs, fun phrases, and other wonderful melodies. Nevertheless, the Bright Beginnings is a superb push toy for young children who happen to have just discovered the joys and freedoms of walking. Regardless, this toy is perfectly safe for toddlers and youngsters alike.
Durability
If you're looking for a toy that's a great investment and will actually grow with your child, then the Fisher-Price Bright Beginnings Activity Walker is perfect for them. It's full of fun little games and activities that will keep them entertained, whether they're exploring this toy on the floor and stationary, or standing up while moving.
7

. VTech Sit-to-Stand Learning Walker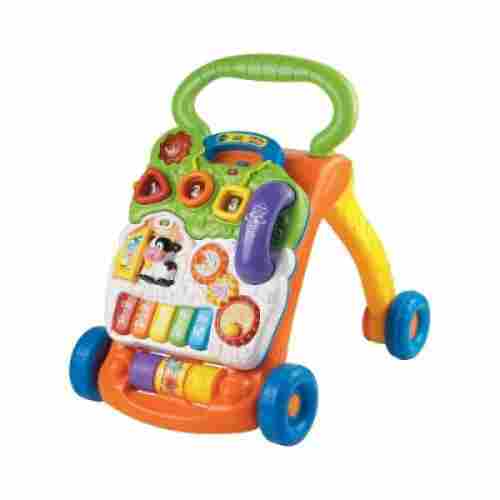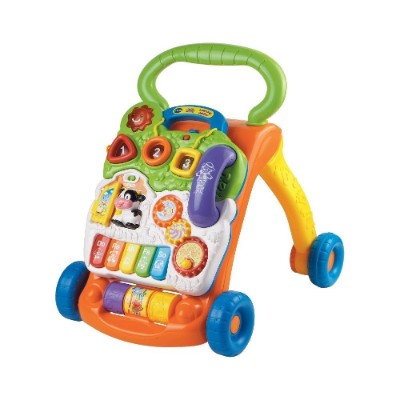 Stimulates motor skills
Teaches animals, shapes, and other various subjects
Helps perfect balance
Versatile, this can be used indoors and outdoors
Long lasting
This is only meant for toddlers who have started walking
The little phone it comes with can become unattached and might get lost
The VTech sit-to-stand learning walker is perfect for little ones just learning to get up and go!
Read more
Physical Development
If you have a busy toddler who is still learning the wonders of walking and moving along their feet, this Vtech push along toy is perfect to help your baby learn their feet and perfect their balance. Not only will this walker help along with teaching your toddler to get on their feet, but it's also an on the go activity center.
Safety
We love this product because not only does it help boost your child's fine motor skills, but it also helps your baby get on their feet and practice balance. This vetch push along toy is also beneficial to your tiny toddler as it will be able to teach them several other developmental skills than just walking.
Durability
This push along toy can also teach your baby their colors, different animals, and shapes. It also plays catchy tunes that your baby will be able to bounce and clap along with. It will be endless hours of fun for your active little one.
8

. Fisher-Price 3-in-1 Sit, Stride & Ride Lion Toy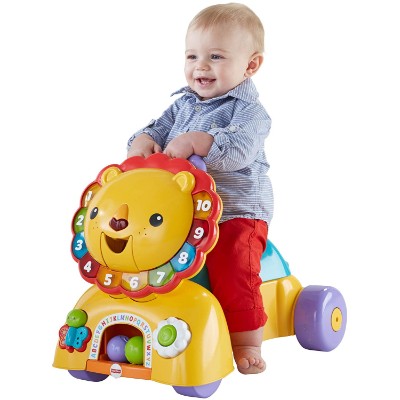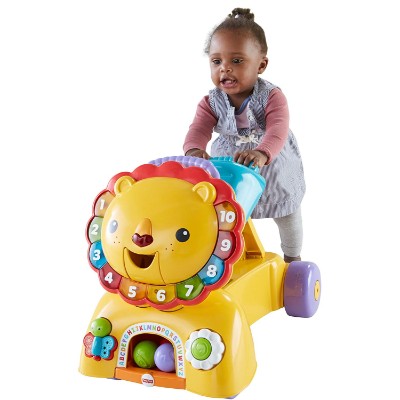 Features three fun ways to play; interactive activity center, walk behind toy and ride on
Teaches numbers one through ten with interactive and light up activity center
Encourages gross motor skill development
Boosts fine motor skills
Stimulates cognitive development
Handle for walker can be low for taller toddlers
Wheels are made of hard plastic, does not work well on carpet
Carrying on the tradition of Fisher-Price toys, the Sit, Stride, and Ride Lion Toy is an inimitable push toy that babies and toddlers can definitely grow with. The Fisher-Price Lion allows toddlers to play with it in three different ways. First, they can simply sit down and play with all the light-up buttons that initiate a series of fun phrases and kiddie songs to go along with spinners and other interactive elements.
Read more
Physical Development
This toy will help their hand-eye coordination and provide them with hours of musical fun, all while they're building leg strength and improving muscle function. They can fill our Lion's mouth or even press its nose. Second, toddlers can push the Fisher-Price Lion by popping the seat to serve as the handle. Enticing your toddler to master the art of ambulation are fun songs and encouraging phrases. Third, your toddler can sit on Lion's back, turning it into a ride-on toy.
Safety
Even when riding on the back of the lion, this toy is safe for little ones. Again, there are songs and phrases that accompany each ride. Our Lion's mane is adorned with numbers and colors that light up for added learning. There's a lot of fun to be had with this friendly lion, making it one of the best learning push toys for toddlers.
Durability
If you hadn't guessed already, this Lion is a one of a kind toy that gives kids three different options for play time. Its open mouth becomes a game of ball-toss that can be repeated as the balls roll out of the bottom, its mane becomes an interactive game of karaoke and sing-along, and lastly, it can be folded up to become a walker!
9

. Hape Dancing Butterflies Toddler - Wooden
Wooden constructed classic push toy with butterflies that spin
Features water based safe paint and wood from an environmentally-friendly sustainable forest
Encourages gross motor skills
Boosts balancing skills when learning to take first steps
Stimulates cause and effect development
Wooden stick attached to base can become loose
Does not roll well on hard surfaces, needs traction to spin
Hape is back with its take on a classic push toy that's guaranteed to bring lots of fun for toddlers who are busy mastering the science and art of ambulation. The Dancing Butterflies comes with two large wheels that are connected to a mechanism that spins the top which attaches 3 beautiful and colorful butterflies.
Read more
Physical Development
The Dancing Butterflies comes with two large wheels that are connected to a mechanism that spins the top which attaches 3 beautiful and colorful butterflies. As your toddler pushes the sturdy handle, the wheels turn which also rotates the butterfly-spinning mechanism. The result is a visual spectacle that requires no additional light-up shows or even fancy music and sounds.
Safety
It's a plain old imaginative play that is at work here every time your tot takes the Dancing Butterflies for a spin. Like all Hape toys, the Dancing Butterflies is eco-friendly and is made of only the safest materials that you can find for kids.
Durability
This stunning toy is very similar in concept to the Corn Popper in the sense that when motion is applied, the toy springs into action. The Hape Dancing Butterflies push toy features several colorful butterflies that spring into motion the second that your toddler does, which will keep them mesmerized and interested. It's colorful and bright, which helps to hold the interest of your toddler as they improve their walking skills and balance.
10

. Bright Starts Giggling Gourmet Shop 'n Cook Walker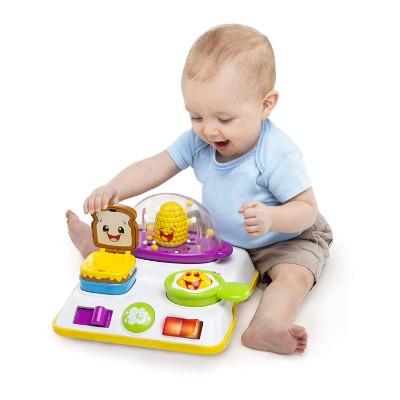 Features four different ways to play and interact
Offers sit and play activities along with standing and walking encouragement
Encourages gross motor skills
Boosts fine motor skills
Stimulates imagination and creativity development
Cart handle can be low for taller toddler
Adult assembly required when received
The Giggling Gourmet is a wonderful push toy for toddlers to enhance their psychomotor skills while also encouraging them to use their imagination. The shopping- and cooking- themed push toy comes with a very wide wheelbase for optimum stability while pushing it and interactive elements for additional learning.
Read more
Physical Development
Every time your tot walks, corn kernels will be popping inside the clear plastic dome. Pressing the light-up button will emit sizzling cooking sounds. There's also an egg roller for the perfect sunny side up. A shape sorter is also built into the compartment of the Giggling Gourmet. These interactive elements are guaranteed to help motivate your tot to walk, strengthening his or her muscles while establishing coordination and balance.
Safety
The toy itself is shaped like the same shopping carts that mom and dad use but features a removable stove top that actually makes real cooking sounds. Kids can use it in the stationary position to pretend they're cooking up a gourmet meal and when they're done, simply remove the top and they have a shopping cart all ready to use to find their next meal.
Durability
This crazy toy is a pretend kitchen and a walker push toy all wrapped into one awesome purchase. It'll do wonders for their imaginative play and is something they'll play with for hours while improving their reasoning and deduction skills to find all the interactive features.
Criteria Used for Evaluation
Physical Development
Push and pull toys are regarded as one of the best types of playthings that children need if they are still learning how to walk. In fact, many believe that pushing and pulling are essential for toddler development. However, these types of toys are not only important because of their ability to help young children learn how to walk and master the art of ambulating, they are also important because of the many other benefits that they provide. Here are some of the more important benefits of push and pull toys for toddlers.
Safety
Since toddlers are still on the road to mastering the essentials of walking, there is a slim chance that they will meet an accident and hurt themselves. As such, our first priority was to look for playthings that are very safe to push or even to pull. This means they need to have a very stable platform, a wide wheelbase, and some other mechanism that will help prevent the plaything from being toppled over. We also factored in the other uses or inherent benefits of these toys.
Durability
When selecting the best ten push along toys for your toddlers was overall a simple task. We knew that these specific toys had to be sturdy or come with a balancing base as well as being age appropriate for your toddlers. Our researchers had a lengthy list to look at when it came to finding out which of the products are the best products for our list. We reviewed different balancing sticks and interactive activities.
Most Important Criteria
(According to our experts opinion)
Experts Opinion
Editors Opinion
Users Opinion
By Default

Parents, did you know?
Push toys are important for young toddlers to master the different steps needed to walk. It's also important for their enhancement of coordination and balance while also providing for a host of other developmental benefits. That's why we believe you and your tot will be better off with these 10 best push toys for toddlers in 2019.
Parents, did you know?
The toys are interactive to give toddlers positive feedback when completing the action. This helps them build a sense of independence, builds their self-confidence, helps them learn problem-solving skills, and fosters their creativity all through playing with interactive push toys. These toys help them play and learn while enhancing their developmental skills and working towards becoming an independent toddler.
Parents, did you know?
Aids in the development of a sense of autonomy – One of the inherent developmental tasks of toddlers is the development of a sense of autonomy, of being an independent entity separate from mommy and daddy. Just imagine how they will feel if they can stand on their own without relying on mom or dad and using only sturdy push toys. The same can be said if they are already walking. They know that they can literally stand on their own.
Parents, did you know?
Helps boost confidence – Being able to walk without clinging to mom and dad gives a substantial boost in the self-confidence of toddlers. It gives them a sense of accomplishment and something that they can proudly say they did it on their own.
Parents, did you know?
Encourages use of problem-solving skills – Playing with push toys often mean having to use some rudimentary form of problem solving. Unless children will be playing in a large open space, they will have to solve the question of how to move a push toy against an object or obstacle. Should they go over it or move around it?
Parents, did you know?
Fosters creativity and imagination – There are many push toys that come with various designs such as animals and vehicles. These can be excellent tools for encouraging toddlers to play pretend or make-believe. These types of play can help children use their imagination to the fullest extent.
Other Factors to Consider

Social Development
As much as possible, we looked for playthings that did not only cater to the psychomotor development of children of this age but also their cognitive, emotional, and social aspects. Towards the end, we had to streamline our selection further by choosing only those with at least 4.4 stars based on current customer satisfaction scoring systems. This was then compared to the genera sentiments of consumers who already have a first-hand experience with the product.
Frequently Asked Questions
q:

Where can the toys on the 10 Best Push Toys Toddlers Will Love be found and purchased?

a:

All of the toys that are on the list of the 10 Best Push Toys Toddlers Will Love can be found and purchased by clicking the link below the toy's picture. The link will take you to Amazon where the toy will be available to be purchased and delivered to a location of your choice.
q:

Are all the toys listed on the list safe for toddlers?

a:

All of the toys suggested on the list are safe for toddlers of varying ages. The push toys listed on this list offer a varying age skill set. Below each toy description is the manufacturer's safety rating. This rating is to use also for the developmental skill level and age range that the toy focuses on. If you ever have any questions about the toys and if they are safe for your toddler please contact the manufacturer directly.
q:

Do all push toys make noises?

a:

Most push toys do make noise or have some type of interactive feature. The noise making and interactive features are made to encourage toddlers to play and use the toys. When it makes noise or offers a type of interaction it is a positive encouragement to do the behavior again. This allows them to practice walking and developing gross motor skills with encouragement.
q:

How do push toys help toddlers walk?

a:

All push toys help toddlers balance and steady themselves as they develop the skill set needed to learn to walk. The toys are made to encourage them to develop their gross-motor skills.
q:

When should I introduce push toys to my baby/toddler?

a:

It is a good idea to introduce push toys when your baby or toddler is able to steadily sit by themselves and crawl. Once they are able to sit and hold themselves up and crawl with confidence they may be ready to start to pull up on things. This is the best time to introduce push toys.
q:

When should my toddler start walking?

a:

All babies and toddlers develop at their own pace. Please remember this and if you have any concerns talk to your doctor about their development. Most babies often take their first steps between 9 months old and their first birthday. Don't worry if they have not, some don't walk until they are almost 17 months old.
q:

Will a push toy or walker inhibit my child's ability to walk?

a:

There's emerging research that push toys can hinder and slow the development of children who are not yet ready to walk. The assistance push toys provide allow for babies to develop irregular walking patterns and might actually slow down their ability to walk correctly. The best way to learn is through trial and error, so we suggest allowing your infant to be steady on their feet before you purchase a push toy for them. Failure and falling are merely pit stops on their road to success; they can't learn from their mistakes if they never make them. Toddlers who can already walk straight will love push toys for the sake of the stimulation and activities they provide, rather than leaning on them as a crutch while they learn to toddle about.