Your baby's first steps is one of the most precious moments to witness as a parent. Even prior to becoming a toddler they have a long road ahead of them before they perfect the art of walking. It takes babies some time to work their way from lying down to sitting, sitting to crawling, from crawling to standing, and then from standing to walking.
For those babies who are already pretty steady with their balance, push along toys are a wonderful way to keep your child stimulated and excited to get up and stroll around the room or yard. Many push toys not only help offer assistance with balance, but they are also an additional interactive activity for your busy bee.
Our Top 3 Picks
Melissa & Doug Chomp and Clack

Our rating
High Quality Wood Construction
Price:

See Here
Hape Wonder Walker

Our rating
Fine Motor Skills Development
Price:

See Here
Little Tikes Shopping Cart

Our rating
Stimulates Make-believe Play
Price:

See Here
Chomp and Clack Alligator Wooden Push Toy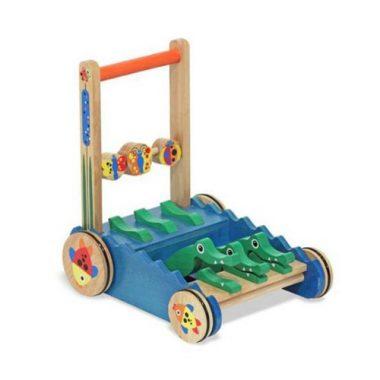 Hape Wonder Walker Push and Pull Toddler Walking Toy
Little Tikes Shopping Cart – Yellow/Red
Fisher-Price Brilliant Basics Corn Popper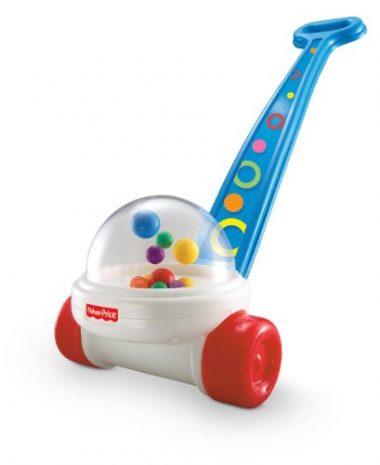 Fisher-Price Learn with Me Zebra Walker
Fisher-Price Bright Beginnings Activity Walker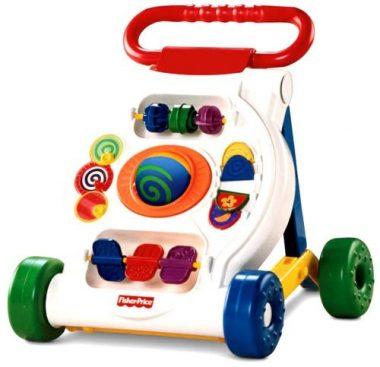 VTech Sit-to-Stand Learning Walker, Blue
Fisher-Price 3-in-1 Sit, Stride & Ride Lion Toy
Hape Dancing Butterflies Toddler Wooden Push and Pull Toy
Bright Starts Giggling Gourmet Shop 'n Cook Walker
Criteria Used in Evaluation of The Best Toddler Push Toys
When selecting the best ten push along toys for your toddlers was overall a simple task. We knew that these specific toys had to be sturdy or come with a balancing base as well as being age appropriate for your toddlers. Our researchers had a lengthy list to look at when it came to finding out which of the products are the best products for our list. We reviewed different balancing sticks and interactive activities.
Once we came up with our list, we looked at ratings, reviews, and of course safety. Each of the toys on our list are also age-appropriate for your toddler and many also encourage other activities. We wanted to make sure we found would help stimulate your toddler's cognitive development as well as their fine motor skills. We are sure that our top ten push along toys were also constructed of the best toys of the market and meet all our criteria standards.
Benefits promoting gross-motor-skill development
Encouraging and promoting the gross-motor-skill development of your toddler means you're helping them build balance and coordination while helping them develop their body awareness. While you're promoting your toddlers gross-motor-skill-development you help them build their balance skills and their coordination skills through open play.
Parents and caregivers know that toddlers learn easily through play. When parents offer them toys that educate and help encourage the skills that you are working on it will engage your tiny tot and help them foster their interest while making learning a little bit more fun. Offering your toddler push behind toys or balancing sticks builds their balancing/coordination skills and it also help teaches them about body awareness.
For young toddlers, body awareness in young children is a part of their gross-motor-skill-development. It also falls under the fine-motor-skill development as well. Body awareness is when toddlers learn how their body parts move and how they can use parts to make movements or help move objects.
This is an extremely huge part of your toddler's developmental levels throughout their years. Having toys like these encourages and promote gross-skill development skills will build their balance and coordination skills as well while also teaching them all about body awareness at the same time.
When children have toys that encourage gross and fine motor skills, they are fun, interactive toys that your toddler can learn and experience skill-building. These toys offer a variety of different types of interactive activities that your child can learn through playing. When babies and toddlers play their always learning. If you offer toys that target a developmental skill set it will allow them to master that skill with positive interaction and encouragement. This will make it fun for not only them but rewarding for you as well. It's a great feeling to see your child learning something new and building their developmental skill sets every day.
Interactive push toys for toddlers
Interactive push toys for toddlers are great to help them learn how to take their first steps and master the skill set needed to walk. Encouraging toddlers to learn how to walk with interactive toys helps give them the foundation they need to master other development skills as well. They provide benefits that will be important as they grow.
The toys are interactive to give toddlers positive feedback when completing the action. This helps them build a sense of independence, builds their self-confidence, helps them learn problem-solving skills, and fosters their creativity all through playing with interactive push toys. These toys help them play and learn while enhancing their developmental skills and working towards becoming an independent toddler.
What Determined the Leading Toddler Push Toys in Our List
Since toddlers are still on the road to mastering the essentials of walking, there is a slim chance that they will meet an accident and hurt themselves. As such, our first priority was to look for playthings that are very safe to push or even to pull. This means they need to have a very stable platform, a wide wheelbase, and some other mechanism that will help prevent the plaything from being toppled over. We also factored in the other uses or inherent benefits of these toys. As much as possible, we looked for playthings that did not only cater to the psychomotor development of children of this age but also their cognitive, emotional, and social aspects. Towards the end, we had to streamline our selection further by choosing only those with at least 4.4 stars based on current customer satisfaction scoring systems. This was then compared to the genera sentiments of consumers who already have a first-hand experience with the product.
Benefits of Push and Pull Toys for Toddlers
Push and pull toys are regarded as one of the best types of playthings that children need if they are still learning how to walk. In fact, many believe that pushing and pulling are essential for toddler development. However, these types of toys are not only important because of their ability to help young children learn how to walk and master the art of ambulating, they are also important because of the many other benefits that they provide. Here are some of the more important benefits of push and pull toys for toddlers.
Aids in the development of a sense of autonomy – One of the inherent developmental tasks of toddlers is the development of a sense of autonomy, of being an independent entity separate from mommy and daddy. Just imagine how they will feel if they can stand on their own without relying on mom or dad and using only sturdy push toys. The same can be said if they are already walking. They know that they can literally stand on their own.
Helps boost confidence – Being able to walk without clinging to mom and dad gives a substantial boost in the self-confidence of toddlers. It gives them a sense of accomplishment and something that they can proudly say they did it on their own.
Encourages use of problem-solving skills – Playing with push toys often mean having to use some rudimentary form of problem solving. Unless children will be playing in a large open space, they will have to solve the question of how to move a push toy against an object or obstacle. Should they go over it or move around it?
Fosters creativity and imagination – There are many push toys that come with various designs such as animals and vehicles. These can be excellent tools for encouraging toddlers to play pretend or make-believe. These types of play can help children use their imagination to the fullest extent.
The Bottom Line
Push toys are important for young toddlers to master the different steps needed to walk. It's also important for their enhancement of coordination and balance while also providing for a host of other developmental benefits. That's why we believe you and your tot will be better off with these 10 best push toys for toddlers in 2019.
You May Also Like
FAQ
Frequently Asked Questions
Q: Where can the toys on the 10 Best Push Toys Toddlers Will Love be found and purchased?
A: All of the toys that are on the list of the 10 Best Push Toys Toddlers Will Love can be found and purchased by clicking the link below the toy's picture. The link will take you to Amazon where the toy will be available to be purchased and delivered to a location of your choice.
Q: Are all the toys listed on the list safe for toddlers?
A: All of the toys suggested on the list are safe for toddlers of varying ages. The push toys listed on this list offer a varying age skill set. Below each toy description is the manufacturer's safety rating. This rating is to use also for the developmental skill level and age range that the toy focuses on. If you ever have any questions about the toys and if they are safe for your toddler please contact the manufacturer directly.
Q: Do all push toys make noises?
A: Most push toys do make noise or have some type of interactive feature. The noise making and interactive features are made to encourage toddlers to play and use the toys. When it makes noise or offers a type of interaction it is a positive encouragement to do the behavior again. This allows them to practice walking and developing gross motor skills with encouragement.
Q: How do push toys help toddlers walk?
A: All push toys help toddlers balance and steady themselves as they develop the skill set needed to learn to walk. The toys are made to encourage them to develop their gross-motor skills.
Q: When should I introduce push toys to my baby/toddler?
A: It is a good idea to introduce push toys when your baby or toddler is able to steadily sit by themselves and crawl. Once they are able to sit and hold themselves up and crawl with confidence they may be ready to start to pull up on things. This is the best time to introduce push toys.
Q: When should my toddler start walking?
A: All babies and toddlers develop at their own pace. Please remember this and if you have any concerns talk to your doctor about their development. Most babies often take their first steps between 9 months old and their first birthday. Don't worry if they have not, some don't walk until they are almost 17 months old.
Q: Will a push toy or walker inhibit my child's ability to walk?
A: There's emerging research that push toys can hinder and slow the development of children who are not yet ready to walk. The assistance push toys provide allow for babies to develop irregular walking patterns and might actually slow down their ability to walk correctly. The best way to learn is through trial and error, so we suggest allowing your infant to be steady on their feet before you purchase a push toy for them. Failure and falling are merely pit stops on their road to success; they can't learn from their mistakes if they never make them. Toddlers who can already walk straight will love push toys for the sake of the stimulation and activities they provide, rather than leaning on them as a crutch while they learn to toddle about.