In the Marvel Universe, one of the most lovable, albeit often maligned superhero, is Spider-Man. Maybe it is because he is a teenager, closer in age to children, which makes him more of a role model for youngsters, compared to other superheroes who are already in their prime. If you have a child who happens to be a loyal follower of Spidey or Peter Parker and his courageous, though often misunderstood, exploits, it will be wise to get him or her one of our 10 best Spider-Man toys for kids in 2019. Whether your child will be web-slinging or jumping off rooftops real soon, these toys are guaranteed to help nurture the free-spirited imagination of your child.
Our Top 3 Picks
Spider-Man Titan Hero Series

Our rating
Ages 4 and Up
Price:

See Here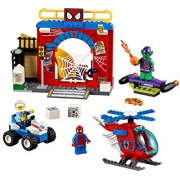 LEGO Juniors Spider-Man Hideout

Our rating
137 Pieces
Price:

See Here
Hedstrom Spiderman Hopper Ball

Our rating
Coordination & Balance
Price:

See Here
Our Picks for the Best Spider-Man Toys
Age Range: At least 6 months old
Hero Series Spider-Man 12-Inch Figure
Age Range: At least 4 years old
LEGO Marvel Super Heroes 76057
Age Range: 4 to 7 years old
Delta Children Multi-Bin Spider-Man Toy Organizer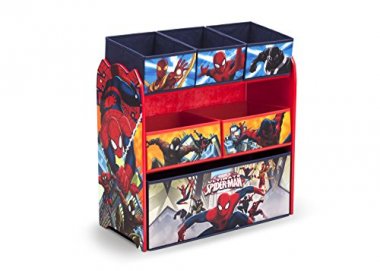 Age Range: At least 3 years old
SwimWays Marvel Spider-Man Dive Characters
Age Range: 2 to 6 years old
Spider-Man Web-Bike Workshop
Age Range: 2 to 5 years old
Ultimate Spider-Man Hero Mask
Age Range: At least 5 years old
Marvel Spider-Man Activity Table Set
Age Range: 4 to 15 years old
Reversible Red To Black Classic Costume
Age Range: 3 to 10 years old
Spider-Man Marvel Hero FX Glove
Age Range: At least 2 years old
Criteria Used in Evaluation of the Best Spider-Man Toys
The 10 best Spider-Man toys on this list are selected by our panel of experts. They focused on the character and the features the character offers with his crime-fighting web-slinging persona. Each of the toys was reviewed to make sure that they receive nothing but the top ratings. The goal is to include nothing that received less than a 4-star review.
Once a list of toys was selected by our panel of experts including parents, toy experts, and child psychologists, then it was time to get the list down to the top 10. We reviewed the toys for developmental appropriateness, age range, level of engagement, safety aspects, and quality. We make sure that each of the toys meet this strict criterion and then pick the best of the best. We created this list to supply nothing but the best Spider-Man-themed toys on the market.
Benefits of playing with action figures
There are many benefits to playing with action figures when you are a child. This type of play inspires children's imaginations while learning and encouraging developmental skills. One of the best benefits of playing with action figures is the use of their imagination. When playing, children create a scene for the characters to engage in, which allows children to play through the whole scenario. This teaches vocalization and helps them express themselves within a social experience.
Action figures also encourage children to learn lessons between right and wrong. When they play out action scenes, there usually are good guys and bad guys. This teaches them what is wrong and how people are able to help others from making the wrong choices. The skill is always great to have as they grow into teenagers. Playing with action figures also encourages and promotes both the use of gross- and fine-motor skills.
Role models and the influence on childhood development
Having a good role model influences a child's development by not only teaching them right from wrong but encouraging them to develop their imagination as well. When action figures are used as role models for a child, it gives many different mediums to learn from. When using a long-standing character like Spider-Man, there are movies, books, comic books, and TV shows that give the child a good idea of the character's personality and how they deal with scenarios they are presented with.
Using a role model to help influence their development is great when the model serves as a great example. When children learn from a good example, it influences the way they make decisions and how they present themselves to others.
What Determined the Most Amazing Spider-Man Playthings on Our List
Coming up with the best Spider-Man toys was quite a challenge as there are a host of types of playthings. However, since our focus is mainly on the Spider-Man character, then it is imperative that some of the playthings are the most famous web-slinger himself or, at least, about him. But of course, we didn't stop there. We also had to look at the product rating and include only Spider-Man sets and playthings that have no less than 4 stars. If it has hundreds of reviews but only managed to obtain 3.5 stars, then it was placed in our second tier. We had to do this to come up with a more objective list of Spidey playthings that we know your children will love.
Once we have a shortlist of the products, we deliberated on the final top 10 by examining the developmental appropriateness of each item to the recommended age range of the product. Unfortunately, there were some products that failed miserably in this aspect and as such, we were left with no choice but to strike them off our list. We determined what area of child development is addressed by the toy so we can evaluate its effectiveness as well as appropriateness. If the product only addresses a single aspect of child development, we ticked the item off our list and proceeded with the rest.
Toys too must be safe as they are of the highest quality. It would be foolish for us to recommend a product that will pose a threat to the safety of your children. As such, while we strived to look for quality indicators, we focused also on the safety signals of these products. Any certification or documentation that will serve as proof of the safety of the plaything was considered. We also made a correlation between the product and the toy manufacturer's reputation. We believe that the better the company reputation, the safer and higher quality the product.
Characters, Role Models, and Kids' Development
Just as we have role models that serve as our guides, children also require role models for their optimum growth and development. While mom and dad are naturally kids' first role models, they do tend to find other figures that can serve as additional sources of who they want to be. Young kids often idolize the characters they see on movies or even computer games. For them, these fictional characters are very influential in their growth and development. They see in these characters certain traits that they don't normally see from other people, even from their parents. For these kids, these fictional characters represent their concept of the ideal.
Unfortunately, as children grow older, they slowly begin to bridge the gap between fiction and non-fiction. They start to question Superman's ability to fly or even Spider-Man's unique strength for his body frame. They are now able to differentiate what's real and what's not. This often entails a lot of cognitive processing whereby information from the fictional world is compared to what is present in the real world. Children then begin to experiment whether the things about their fictional character role models are indeed true or not. It is through the process of problem-solving and of searching for the answers that kids eventually learn to distinguish fact from fiction.
As such, it is alright to allow kids to idolize fictional characters like Spider-Man. However, it is essentially up to us to help guide them to slowly understand and appreciate the difference between what's real and what's fiction.
The Bottom Line
You may not be a fan of Spider-Man but we're sure your kid is. Don't deprive them the chance of acting out their fantasies while developing their potentials. With the 10 best Spider-Man toys for kids, you'll be paving the way for the slow realization by your kid of the importance of role modeling and his or her own development.
FAQs
Frequently Asked Questions
Q: Who created Spider-Man?
A: Spider-Man was a published superhero by Marvel Comics. He is a fictional crime-fighting action superhero who first appeared in American comic books in 1962. He was created by Stan Lee and Steve Ditko. He was one of the first action heroes that appeared to be a solo act. He is still one of the most popular superheroes to this day.
Q: Why is Spider-Man a good role model for children?
A: Spider-Man is a good role model for children because he is a superhero who is family-friendly. He is inspiring to children because of his good-heartedness, bravery and his superhuman skill set. Even though he is out fighting crime and saving lives, his family is still very important to him. Many superheroes have been created over the years, but none focus on the importance of family and extended family quite like the story of Spider-Man does.
Q: Who selects the toys on the list for the 10 Best Spider-Man toys?
A: The toys that are selected for the 10 Best Spider-Man list are selected by a panel of experts that we hire to work for our team. The experts are parents of children, toy experts working in the field currently, and child psychologist. It is important to have a great team that is well-rounded and offers many different views on the toys. These people are selected to make sure that nothing but the best-rated, best quality, and highest safety rating toys appear on our lists.
Q: Why do action figure stimulate creative/imaginative play in kids?
A: Action figures stimulate creative/imaginative play in kids by inspiring them to role-play as the character. Inspiring a child's imagination is important to their development. When you inspire their imagination with figure figures, you give them a medium to express themselves and also explore their environment. A child who is able to express their imagination is happier, more alert, and helps them become a more adjusted adult.
Q: Where can I find the Spider-Man toys on this list?
A: You are able to find toys on this list in local stores as well as online. To be able to locate these toys the best way is to complete a search on a search engine on the Internet. This will give you a list of both local stores and stores that are online that offer the toys. This also allows you to be able to review the toy and the price before buying.
Q: When was Spider-Man created and how long has he been around?
A: Spider-Man was created and made in the first appearance in a Marvel comic book in August 1962. That makes the character of Spider-Man to have been around for over 55 years. He was created with teenagers in mind but has left a long-lasting impression on all ages. His family-friendly crime-fighting action hero personality is unlike any other superhero.
Q: What lessons can the Spider-Man character teach my child?
A: Spider-Man, being a high school kid in real life, has feelings, struggles, and joys, just like any child has. The real-life persona makes him extremely relatable to kids, and they use the toys to emulate his actions. Kids are encouraged to imitate him, and parents see him as a good role model. Since this character's inception, he has been learning and growing and becoming a leader. The stories about Spider-Man's adventures show him learning how to take responsibility for his actions. He also learns to use the tools at his disposal to get done what he needs to. A leader does not need to have all the tools before he can start becoming effective at problem-solving.
Q: My son wants to collect Spider-Man toys, but there are so many of them. Where do I start?
A: Spider-Man is a great character to collect and emulate. Start with the toys that your son enjoys the most. Does he like clothing and helmets? Or the action figures? Maybe he's enamored with the building blocks. Start with what he likes and let him get the toys he wants from those categories. Then he can branch out into maybe cars or the movie characters. There are many choices.
You May Also Like
10 Best Minecraft Toys For Kids
10 Best Batman Toys For Kids