10 Best Toys to Make Bathtime Fun for Your Toddler
last updated
Aug 23, 2019
Whether your child loves it or hates it, bath time is a nighttime activity that every child have to go through. While for some parents it can be a battle trying to get their child into the tub, for others, it's a wonderful time of imaginative play in a new environment.
For those children who can't' stand bath time, parents can try making it a little bit more exciting with additions like toys. Bath toys can take up the complete fun factor and make your child even forget that they're having a bath. Some bath toys can even be educational as well as fun. Water play for children helps increase your child's creativity and helps encourages your child to express a new type of imaginative play that they normally wouldn't get outside of the bath.
In a Hurry? The test winner after 31 hrs of research
Munchkin Float and Play Bubbles
Why is it better?
Spins & Rattles
Boosts hand eye coordination skill
Boosts Movement skill
Perfect size for little hands
Drys quickly
In a
Hurry? Editors choice:
Test Winner: Munchkin Float and Play Bubbles
52
Researched Sources
31
Hours Researching
15
Products Evaluated
Safety
Educational Value
Entertainment Value
Compatibility
By Default
10 Best Bath Toys Reviewed
1

. Munchkin Float and Play Bubbles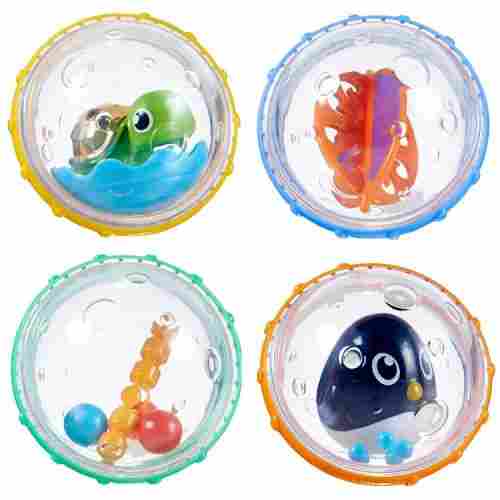 Spins & Rattles
Boosts hand eye coordination skill
Boosts Movement skill
Perfect size for little hands
Drys quickly
Some moisture may get into the center
Some customers thought they were getting 4, and received only 2
We love this product because it helps make bath time more fun for your toddler. Not only do these floats, but each bubble has a unique character that your child will love to play and splash with.
Read more
Safety
If your little one gets excited over anything that spins or makes a little noise they will love these floating bubbles. These bath bubbles all come with a unique character inside, spin, and are perfect for your toddlers to grab with their little hands.
Educational Value
These floating bubbles are perfect to help teach your child how to grasp, reach and shake giving them that boost of learning that hand-eye coordination skill.
Entertainment Value
These bath toys are perfect for teaching your child hand-eye coordination. Not only will they make bath time a little bit more fun for your busy toddler, but they'll get excited over each bubble spinning and rattling along while they splash throughout their bath time. These bubbles also move and float on their own which will also help your baby's movement when trying to reach for whatever bubble creature their heart desires.
Compatibility
These munchkin float toys float in any type of water. This is a great way for your child to learn sensory play as well. Having a different style of play enhances your child's ability to feel and learn about textures. These munchkin float toys can even be pushed or used outside of the water as learning to crawl toys also.
2

. Magnet Boat Set by 3 Bees & Me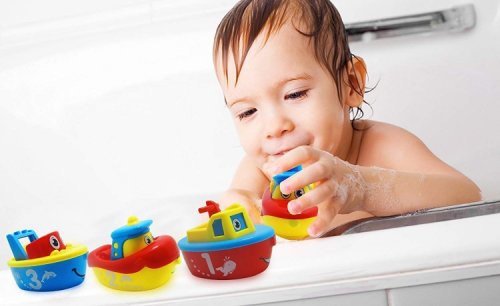 BPA free
Increases number recognition
Stimulates imagination
Highly durable and lightweight
Magnets could be made stronger
Not only will your little one be having fun while they play with these bath boats but they will also be stimulating their imagination and increasing their knowledge of numbers. With the toys being composed of a BPA free plastic and soft rounded edges, they are completely safe to play for hours on end.
Read more
Safety
Composed of a BPA free plastic, these boats are highly durable and are built to survive countless bath time adventures. With the boats being BPA free you can take comfort knowing that your child will be safe if these toys end up in their mouth.
Educational Value
Each boat is designed with a number. Increase your child's counting and number recognition by developing games around the number. For instance, have your link the odd numbers together or have them link the boats together in order. Each boat is made of soft rounded edges, thus eliminating the risk of your child being hurt by sharp objects.
Entertainment Value
Children eighteen months and up can enjoy the 3 Bees & Me Magnet Boat Set. This set includes four different colored boats. Each boat has the ability to float and is designed with a magnet that allows it to connect to the others. Whether your child links the boats together or plays with them individually, their imagination will be busy at work.
Compatibility
Great for teaching your child about things that sink and things that float. These boats come in a set of four and are great if you're taking your child to the park where there is a pond, river, beach, pool or for bathtub. They are easy to store and travel with as well.
3

. Green Toys Rescue Boat with Helicopter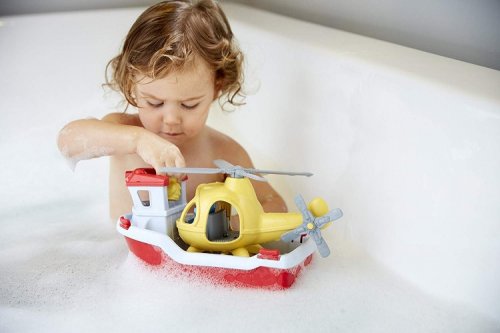 The Rescue Boat with Helicopter is made of 100 percent recycled plastic so it should be very comforting to learn that you are contributing to the welfare of the environment.
Read more
Safety
Included with the rescue boat is a helicopter, so they'll have the best of both worlds -- Both in the water and in the air. Your toddler will love performing specialized rescue missions while his or her boat dodges huge bubble walls and awaits the helicopter to swoop in and aid with the rescue.
Educational Value
This toy encourages imaginative play by taking a toy that could be played with outside the bath and making it waterproof. The addition of a fairly detailed, realistic-looking helicopter and two shipmates make this toy a home run for toddlers who don't like taking baths.
Entertainment Value
Every toddler is fascinated by toys that are able to float in the bath; it's what makes bath time fun! This cute little rescue boat comes with two passengers that also float along with their ship and will give your child a great base for imaginative play. A big allure of taking baths for toddlers is the fact that they get to play with their water-based toys and this one does double-duty in that department.
Compatibility
Another boat for our top ten list this toy comes with accessories and a helicopter. Your child will be able to play with this boat in or out of the tub. It's also dishwasher safe so that if needed parents can clean this toy easily.
4

. Yookidoo Submarine Spray Station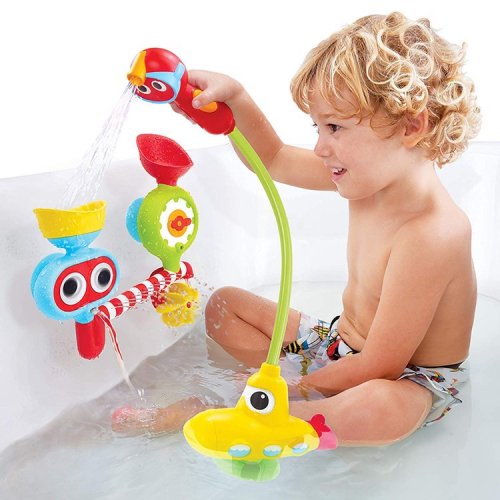 Helps to develop hand eye coordination and fine motor skills
Stimulates visual and tactile sensory
Fits perfectly in toddler hands and is easy to grip
Conserves on water usage in view of the fact that it does not have connect to a running faucet
Requires batteries and battery pack could become corroded due to water damage, and the screw to access the batteries is very tiny
The entire system is truly amazing especially in teaching your kids cause-and-effect relationships. It is also excellent for fostering independent play and tons of opportunities for toddler exploration.
Read more
Safety
The submarine is attached to suction on the floor of the bathtub and draws water to the hand spray. Your toddler can use this to fill the water circulation system and see a wonderful chain reaction of nothing less than magical effects.
Educational Value
This vibrantly colored bath toy has been specially designed for small hands to hold and grip. The Submarine Spray Station Bath Toy by Yookidoo provides kids with many different ways to play and learn all at once. Kids will enjoy using the spray gun as they work on hand-eye coordination and develop fine motor skills. Furthermore, this Spray Station bath toy helps in visual and tactile sensory stimulation with its bold colors and moving parts. Kids can learn about simple physics when playing with this toy as teaches kids about action and reaction.
Entertainment Value
Composed of 3 main components – the yellow submarine, a hand shower, and a bathtub-attached water circulation pumping system – the Submarine Spray Station Bath Toy from Yookidoo is one fantastic way to stimulate your toddler's understanding of cause-and-effect systems and help develop his or her fine motor and hand-eye coordination skills.
Compatibility
This spray submarine set will help keep your child occupied during bath time. Not only is it compatible with the tub but it can be used as a shower as well. This is a great tool for parents to use for older children who might be ready from that transition period of bathtubs to showering.
5

. Munchkin Wind Up Swimming Penguin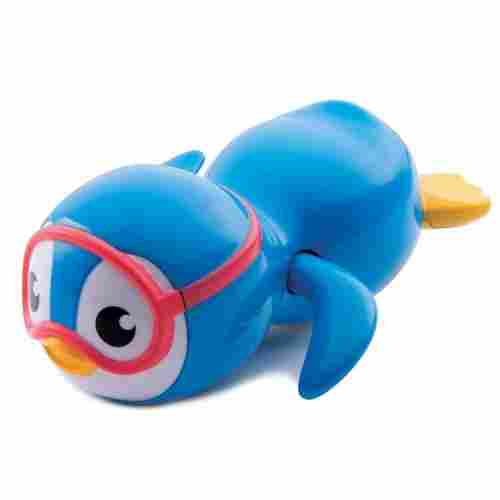 Awesome low price
Cute design
Swims in a realistic way
Virtually effortless as far as toys go
Paint might fall off and chip
No way to clean the inside other than to tip the water out
This is a good, simple toy for kids who might need a little extra motivation to take a bath. The adorable look of this penguin makes it such a warm and inviting toy and one that kids are sure to love for some time.
Read more
Safety
This toy is easy to use for toddlers and safe to be in the back and your child is going to love watching him swim back and forth between bubbles. It doesn't have any small pieces or requires any effort at all which makes it well worth the price -- Which is well under ten bucks!
Educational Value
As silly as it may sound, this little swimming penguin serves as good motivation for your little one. His arms move in a realistic way to push him to swim through the water and it's a great way to show your kids the basics of swimming without exposing them to anything scary.
Entertainment Value
This penguin is probably the cutest thing we've ever seen as far as toys go. It's so simple in concept but such a fun idea to make the time spent in the bath fly by. This tiny little blue penguin actually has the capability to swim and by simply winding him up, your child will be set for unlimited entertainment while taking a soak.
Compatibility
This cute little penguin is the perfect water companion. Your little one will be able to splash around and take this little guy out on all of their water adventures. Great for swimming underwater and enhancing your child's creativity and imagination skills through pretend play.
6

. Disney Baby Squirt Toys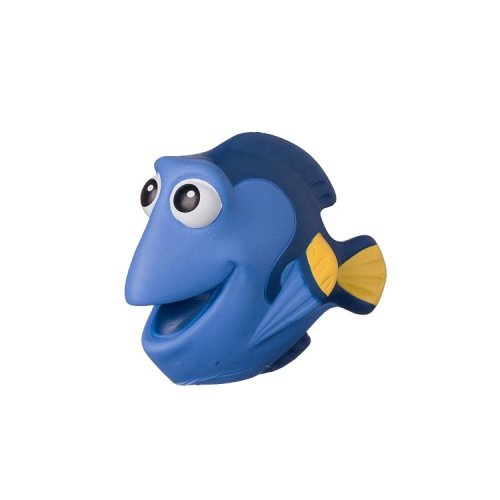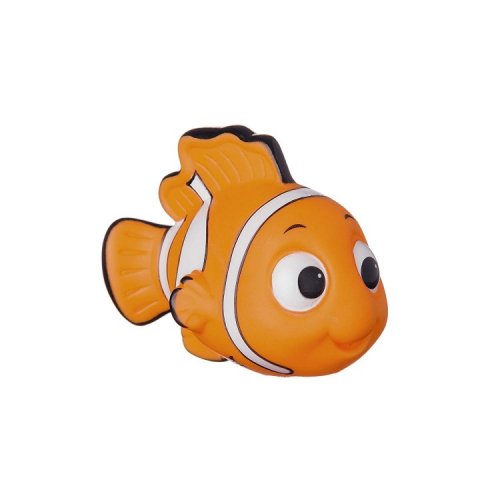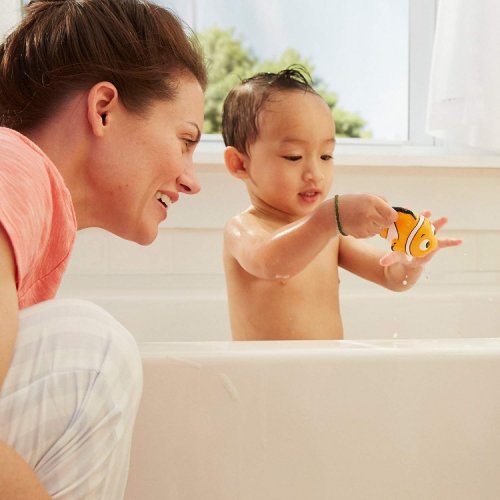 Increases fine motor skills
Designed to fit perfectly in a toddler's hand
Stimulates imagination
Each toy is brightly colored to stimulate sensory development
Difficult to dry out the inside of the toys completely
With each toy being sized perfectly to fit tiny hands, your little one can enjoy playing with their characters independently.
Read more
Safety
All of the squirt toys are designed with bright colors to stimulate your child's sensory skills and get them excited to play. No matter which set you choose, your child will have a blast making their favorite Disney characters squirt water.
Educational Value
All of the toys are designed to fit perfectly into tiny hands. They're lightweight so your little one will have no problem grasping them. Their fine motor skills will increase as they grasp the toys and make them squirt out water. This set of bath toys encourages your toddler to use their imagination as they engage in pretend play with the Disney characters.
Entertainment Value
With the Disney Squirt toys, your little one may never want to leave the bath. When purchasing you can choose between three different Disney themed squirt toy sets. Each set includes three squirt toys. The Finding Nemo themed set includes a Dori, Nemo, and Squirt character. With the Mickey set you will receive a Pluto, Mickey, and beach ball squirt toy. The little mermaid set includes Sebastian, Flounder, and Ariel.
Compatibility
These Finding Nemo critters are perfect little squirt guns for your child to enjoy with during some water play. They are great to travel with on the go, take to the park or enjoy outside time as well. If you have an infant, they are also a perfect teething toy for them as well.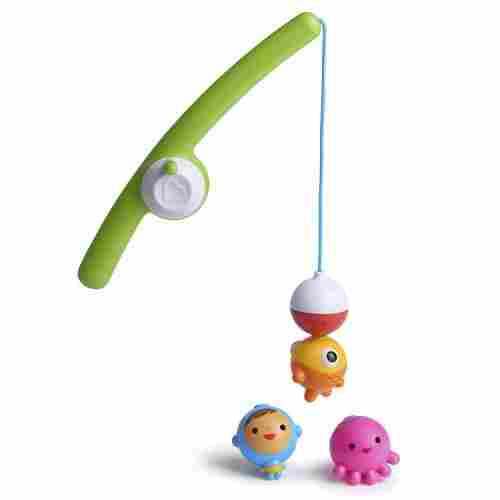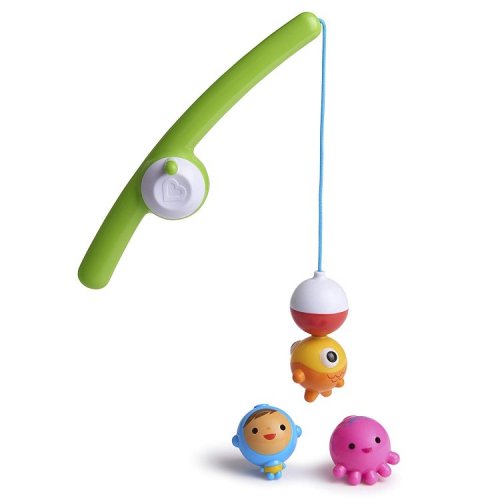 Safe for toddlers
Easy to play with
Airtight and easy to clean
Long-lasting fun
The reel only clicks and does not actually work
It seems that at some age or another, kids are enamored with the idea of fishing and catching fish. This is a fun game to make them feel like their parents if you're a fishing family, but it's also just fun on its own to give kids a unique and different game.
Read more
Safety
The fish themselves are airtight spheres so that no wonder can get inside, potentially causing mildew or mold further down the line. All of the components of this set are easy to clean and safe for kids, and especially fun for toddlers and will improve various skills.
Educational Value
This bath time toy is helpful to improve hand-eye coordination amongst toddlers because as they search for cute bobbing "fish", they'll also be making the connection between mental and physical ability in order to catch them. This will also improve their visual learning skill as they scan the bath for the easiest catch.
Entertainment Value
How cool is this kid-proof fishing toy? It's absolutely perfect for the bath because kids will already be in the water when they use it! The Munchkin Fishin' Bath Toy works solely on the basis of magnets and makes "going fishing" super easy with a strongly magnetized hood and baby fish. The tiny fish characters bob slightly underneath the water so as to not make it too difficult for children to catch, all while looking adorable and enticing.
Compatibility
A great way to teach your child how to fish is with this pretend play fishing pole. This will not only keep your child occupied during bath time but it's also a great outside activity for your little one to enjoy as well. All parents will need is a pool to through these little critters in and your child will be practicing how to fish in no time.
8

. Boon Building Pipes Toy Set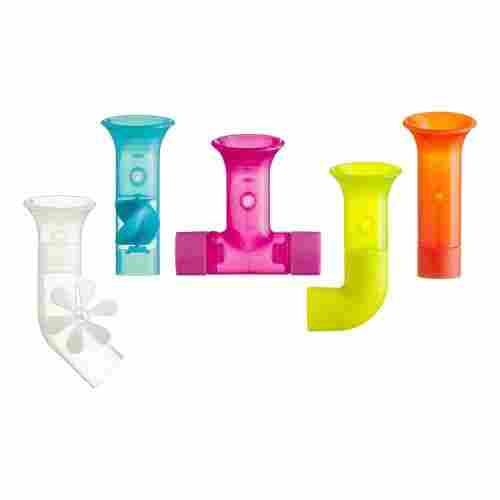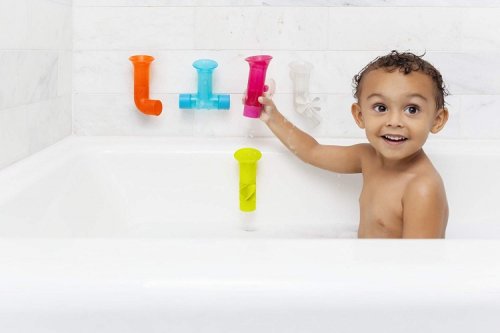 Can be used individually or together to create an interesting water chain
Each pipe is uniquely shaped so that your toddler will not grow bored with this bath set
Fits perfectly into small hands and are very safe for toddlers as they are BPA free
Teaches kids about cause and effect and color recognition
Does not require a running faucet which will help to conserve water
Opening to some of the pipes are very small and it may be tough get water in and out
It is a very interesting way to introduce your kids to the world of plumbing and how pipes can bring water from one point to the next. It also provides an opportunity for experimentation and exploration.
Read more
Safety
Toddlers will have a great time as they learn all about cause and effect, as well as color recognition with these non-toxic BPA free water tubes. Clean up is almost effortless with these colorful bath pipes as they are hollow inside.
Educational Value
Who would have ever thought that playing with water pipes can be so much fun? The 5-piece Water Pipes Bath Toy from Boon Pipes can help stimulate your toddler's curiosity and problem-solving skills. He or she can stack one pipe over the other to see its effects on water flow. Or, your toddler can opt to use them individually and see how each pipe will create a different water flow. Each pipe comes with a mechanical element to help create a water effect.
Entertainment Value
This five-piece set comes in five different colors, clear, blue, pink, yellow and orange. Each of the pipes are translucent so that your toddler can enjoy watching the bath water flow through them. The Building Bath Pipes Toy Set by Boon each come with suction to easily adhere to your bathtub or tiled wall
Compatibility
Playing with pipes is a great way to show your child how water flows. This set comes with five different ways so that your child will be able to learn about cause and effect. It is great for all ages but recommended for children ages 12months and up.
9

. Letters and Numbers with Toy Organizer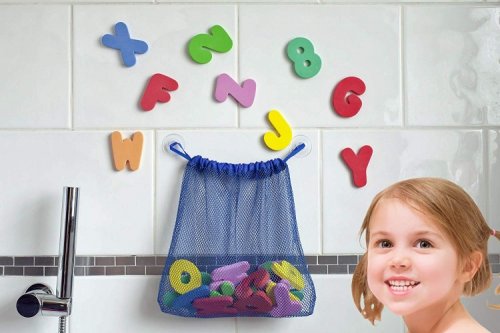 Comes with mesh toy organizer for easy storage and mobility
Made with high quality non toxic BPA free materials
Enhances creativity as toddlers are able to create different words
Vibrant, bold colors stimulate visual sensory
Foam pieces promote tactile sensory stimulation
Toy contains small parts and should always be used under the supervision of a parent
This is one great way to play word games or simply to augment the linguistic and numerical skills of your toddler. These can stick to the bathroom wall so you can have a fun learning session even in the bathtub.
Read more
Safety
The letters and numbers are made of eco-friendly and non-toxic materials. The 36-piece set is sold together with a toy organizer.
Educational Value
This 36-piece bath toys from Freddie and Sebbie is a great way to learn the alphabet and numbers while enjoying bathtime. Your toddler can brush up on his or her vocabulary by spelling words that your toddlers are familiar with. Your toddler can also create letter combinations to form words as well as help master the recognition of a different number.
Entertainment Value
This set is great for teaching your toddler the alphabet, numbers, and colors making it one of the most perfect toys to get them ready for preschool or kindergarten. These letters and numbers are incredibly strong as they are handmade with very durable quality. In addition to that, this 36 Piece Bath Letters and Numbers with Toy Organizer by Freddie and Sebbie are eco-friendly as they are made from non-toxic materials. Measuring 2.1" x 2.9", these letters and numbers are easy for small hands to hold and grasp.
Compatibility
These letters and numbers will stick on to any tub. This is also a great way for your children to learn how to spell and count. These letters come with a carrying case so if you happen to be traveling this will be easy to take on the go with.
10

. aGreatLife My First Stacking Cups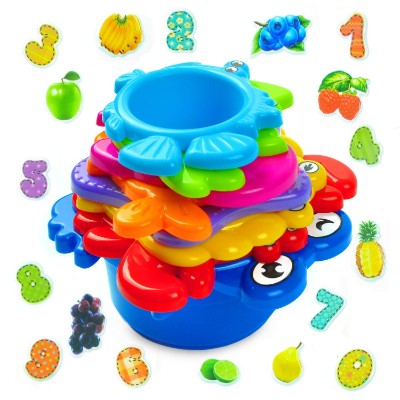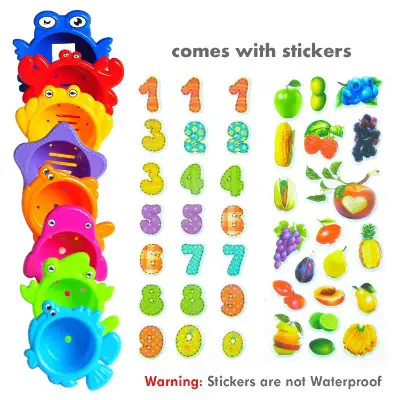 Easy to use
Completely safe and non-toxic
Teaches critical thinking skills
Fun colors make them attractive
Kids may lose interest easily
The durability of these stacking cups makes them the perfect bath time pastime for toddlers. They'll be learning and gaining valuable skills in hand-eye coordination, while you can be sure they're playing with a safe, long-lasting toy.
Read more
Safety
Kids will love watching the water drain out through the various slots in the cups while figuring out which ones to stack and what fits where. Each cup has a corresponding color and will teach kids about various shapes, sizes, and the basic geometry of fitting like-things together.
Educational Value
These stacking cups are eye-catching as well as educational which makes them the perfect critical-thinking gift for your child to play with inside the bath. Each cup is created to look like some kind of cute monster and they can all be interlocked together, teaching your child about shapes and colors in the process.
Entertainment Value
Stacking cups are almost every child's first bath time toy, whether they were actual cups or simply just containers that fit into one another. These stacking cups are such a modern-day version and will keep your little one entertained for quite some time. Toddlers love to be interactive and play with things that can keep them busy, and stacking cups is one of those toys.
Compatibility
Perfect for teaching little ones how to stack cups these stacking cups will keep your little one occupied in or out of the tub. They are bright and colorful and perfect for tiny hands. Your child will be entertained for hours with these stacking cups. Great for all ages and any occasion.
Criteria Used for Evaluation
Safety
For many parents especially when it comes to bath or any kind of water play – safety is a number one concern. Many of the toys above on our list are 100% BPA free. We took the safety and well-being of children very seriously when it came to water play. Many of the toys on our list above are also led free and phthalates free. Therefore, some of these are the most sustainable, eco-friendly toys listed above even made of materials like recycled milk jugs.
Educational Value
Children can learn a variety of things when playing with the water toys that are suggested above. These toys teach children simple physics as they learn about action and reaction or cause and effect while they watch water travel through them. Several of these toys on our list are great for developing fine motor skills, hand-eye coordination as well as visual, auditory, and tactile sensory stimulation.
These water toys promote STEM learning, STEM learning is known as science, technology, engineering, and math, due to the nature of them.
Entertainment Value
We've come up with 10 of the most amazing toys to help make bath time more fun for your toddler. This list is the result of nothing but careful research on customer feedback, product reviews, and sales data.
We also made interesting discoveries as to what these toys can really do in terms of helping your toddler achieve his or her full growth and developmental potential. Not only will bath time be fun for your toddlers, but it will be an excellent opportunity for them to play and master their developmental tasks in a new environment.
Compatibility
Having a bath toy is a great way for children to enjoy bath time a little bit longer. This is also a great tool for parents to have especially if their child is having a little bit of difficulty getting into the water.
Many of the bath toys you have could also be substituted as regular toys or even pool or beach toys for your child to enjoy anytime their near the water. This is great for parents as they'll be able to get the value that they purchased out of their child's enjoyment.
Most Important Criteria
(According to our experts opinion)
Experts Opinion
Editors Opinion
Users Opinion
By Default

Parents, did you know?
All parents will need to clean water toys is soap and water. Many of these toys can even go into the dishwasher which will save a lot of time and energy on your part. The most important factor in cleaning your children's water toys is the very last part: allowing them to dry. Be very sure that there is no moisture left on the toy to prevent mold or mildew from growing.
Parents, did you know?
It's extremely important for parents to always read the labels of toys or to even go as far as to contact the manufacturer the toy is from to find out if a toy is 100% non-toxic. Toxins such as led, BPA, and phthalates can be extremely harmful to the health of your toddler as they have a huge impact on their neurological development.
Parents, did you know?
On our list above parents will find that all of these bath toys are almost effortless to keep clean and sanitized. When coming up with our list this was a huge factor in determining which toys should be considered. We viewed if mold and mildew could easily build up inside or on the surface of these water toys if they weren't properly cleaned. However, cleaning these toys efficiently takes up very little time and no effort at all.
Parents, did you know?
As a parent, you, definitely do not want something as simple as a bath toy to bring harm to your toddler. In order to properly prevent mold and mildew from building up, you must keep your toddler's bath toys clean and dry when not in use. Never allow wet toys to simply soak in the bathtub for long periods of time without being used, for the fact that most environments are a breeding ground for mold and mildew.
Parents, did you know?
Moreover, plugging any holes that the bath toy may have will prevent water from entering and causing mold to grow. Toys such as rubber duckies and balls that squirt water usually have a hole in the bottom. You could simply use a small amount of hot glue to plug them, although after doing so, the toy may not be enjoyable to your kid. However, preventing mold is what is most important.
Other Factors to Consider
Durability
Every toy on our list is made from durable materials so whenever you do clean and sanitize them, parents won't have to worry about them becoming weaker. The toys listed above are made to stand up against the frequent use and water submersion.
Support
Mold and mildew can be very harmful to your toddlers' health. Mildew is commonly identified as a gray or white patch that is on a moist area, usually the surface. Mold is usually black or green in color and is often the effect of a large infestation. Mold and mildew have been known to cause coughing and wheezing, throat irritation, skin irritation, respiratory problems and more. These things could potentially result in staph infections and intestinal illnesses.
Frequently Asked Questions
q:

How can I properly clean and sanitize my kid's bath toys?

a:

Cleaning your toddler's toys could potentially save them from mold-related illness. There are quite a few ways to properly clean and sanitize bath toys.

Boil the toys. Boil the toys in clean, hot water for at least 10 minutes. Use a kitchen utensil such as tongs to hold and squeeze out any nasty residue that may be inside. Let the toys air dry completely as this is the best way to ensure that no bacteria has been transferred.

Bleach the toys. This is not the most environmentally friendly way to clean toys, but it will get the job done. Soaking bathtub toys overnight in a bleach bath is a great way to get rid of mold and to sanitize them. Mix a solution that contains one gallon of water and ¾ cup of bleach. After the toys have soaked overnight, you should rinse them repeatedly with hot water and allow them to air dry.

Use the dishwasher. Many of the bathtub toys listed above are dishwasher safe. Putting bath toys in the dishwasher is a fast, efficient way to sanitize toys and kill bacteria.
q:

What is the best way to clean the Crayola Bathtub Crayons by Play Visions out of the bathtub and off of the tile?

a:

Depending on the type of material that your bathtub or tile is made out of, cleaning the Crayola Bathtub Crayons by Play Visions is relatively easy.

Many verified parent reviews have suggested simply using liquid soap, similar to dish detergent, to remove stains from your bathtub. To remove stains from your tile, it may take some elbow grease, as using the bathroom tile cleaner Scrubbing Bubbles is recommended.
q:

Is the Green Toys Submarine motorized?

a:

No, the Green Toys Submarine is not motorized. One of the best features about this toy is that it does not require batteries. It is awesome that this toy does not require batteries because you will not have to deal with a battery pack becoming faulty due to being submerged into water. This toy does have a propeller which can easily be spun by your toddler's finger. This is great for developing fine-motor skills and hand-eye coordination.
q:

Can real basketballs be used to play with the Floating Hoops Basketball Game by Intex?

a:

No, real basketballs cannot be used to play with the Intex Floating Hoops Basketball Game. This is in light of the fact that the ball it comes with measures around six inches in diameter. The circumference of a real basketball is about 30 inches. However, there are many other small-sized balls that you could use to play with this Floating Hoops Basketball Game in addition to the one that is included with it.