Whether your child loves it or hates it, bath time is a nighttime activity that every child have to go through. While for some parents it can be a battle trying to get their child into the tub, for others, it's a wonderful time of imaginative play in a new environment. For those children who can't' stand bath time, parents can try making it a little bit more exciting with additions like toys. Bath toys can take up the complete fun factor and make your child even forget that they're having a bath. Some bath toys can even be educational as well as fun. Water play for children helps increase your child's creativity and helps encourages your child to express a new type of imaginative play that they normally wouldn't get outside of the bath. It may even help reintroduce your child to water and make bath time a little less of a battle every night.
Our Top 3 Picks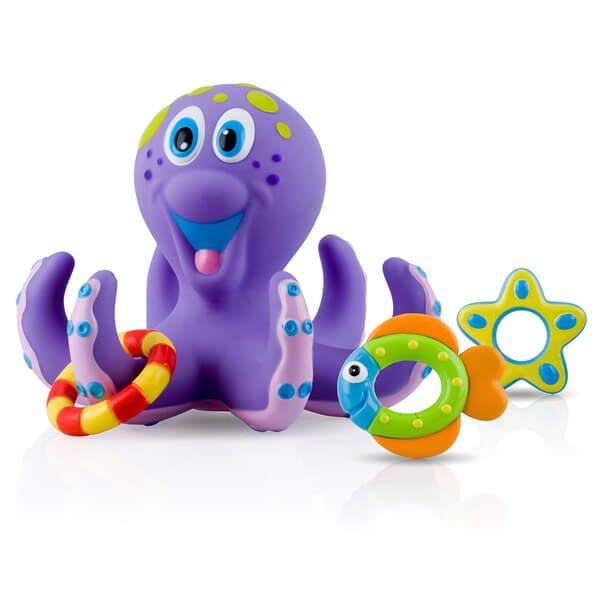 Nuby Octopus

Our rating
Hand-Eye Coordination Development
Price:

See Here
Zig Zag Kid Interactive Frog

Our rating
Interactive Bath Toys
Price:

See Here
Yookidoo Flow N Fill Spout

Our rating
Different Waterplay Options
Price:

See Here
Our Picks Of The Top Bath Toys For Toddlers
Munchkin Float and Play Bubbles Bath Toy, 4 Count
3 Bees & Me Magnet Boat Set
Green Toys Rescue Boat with Helicopter
Yookidoo Submarine Spray Station Bath Toy
Munchkin Wind Up Swimming Penguin
Disney Baby Bath Squirt Toys
Munchkin Fishin' Bath Toy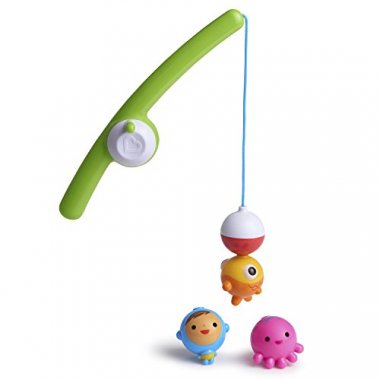 Boon Building Bath Pipes Toy Set
36-Piece Bath Letters and Numbers with Toy Organizer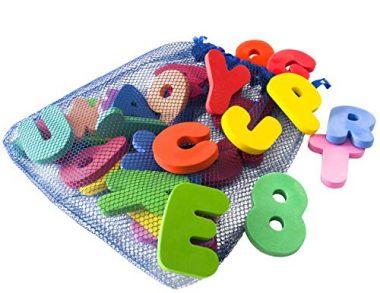 aGreatLife My First Stacking Cups
Criteria Used in Evaluation of The Best Bathtub Toys for Toddlers
Safety
For many parents especially when it comes to bath or any kind of water play – safety is a number one concern. Many of the toys above on our list are 100% BPA free. We took the safety and well-being of children very seriously when it came to water play. Many of the toys on our list above are also led free and phthalates free. Therefore, some of these are the most sustainable, eco-friendly toys listed above even made of materials like recycled milk jugs.
Cleanliness
It's extremely important for parents to always read the labels of toys or to even go as far as to contact the manufacturer the toy is from to find out if a toy is 100% non-toxic. Toxins such as led, BPA, and phthalates can be extremely harmful to the health of your toddler as they have a huge impact on their neurological development.
On our list above parents will find that all of these bath toys are almost effortless to keep clean and sanitized. When coming up with our list this was a huge factor in determining which toys should be considered. We viewed if mold and mildew could easily build up inside or on the surface of these water toys if they weren't properly cleaned. However, cleaning these toys efficiently takes up very little time and no effort at all.
All parents will need to clean water toys is soap and water. Many of these toys can even go into the dishwasher which will save a lot of time and energy on your part. The most important factor in cleaning your children's water toys is the very last part: allowing them to dry. Be very sure that there is no moisture left on the toy to prevent mold or mildew from growing.
Every toy on our list is made from durable materials so whenever you do clean and sanitize them, parents won't have to worry about them becoming weaker. The toys listed above are made to stand up against the frequent use and water submersion.
Educational
Children can learn a variety of things when playing with the water toys that are suggested above. These toys teach children simple physics as they learn about action and reaction or cause and effect while they watch water travel through them. Several of these toys on our list are great for developing fine motor skills, hand-eye coordination as well as visual, auditory, and tactile sensory stimulation.
These water toys promote STEM learning, STEM learning is known as science, technology, engineering, and math, due to the nature of them.
What Determined Our Top Picks

We've come up with 10 of the most amazing toys to help make bath time more fun for your toddler. This list is the result of nothing but careful research on customer feedback, product reviews, and sales data. We also made interesting discoveries as to what these toys can really do in terms of helping your toddler achieve his or her full growth and developmental potential. Not only will bath time be fun for your toddlers, but it will be an excellent opportunity for them to play and master their developmental tasks in a new environment.
FAQ
Frequently Asked Questions
Q: What are the dangers of mold and mildew?
A: Mold and mildew can be very harmful to your toddlers' health. Mildew is commonly identified as a gray or white patch that is on a moist area, usually the surface. Mold is usually black or green in color and is often the effect of a large infestation. Mold and mildew have been known to cause coughing and wheezing, throat irritation, skin irritation, respiratory problems and more. These things could potentially result in staph infections and intestinal illnesses.
Q: What is the best way to prevent mold and mildew from building up inside bathtub toys?
A: As a parent, you, definitely do not want something as simple as a bath toy to bring harm to your toddler. In order to properly prevent mold and mildew from building up, you must keep your toddler's bath toys clean and dry when not in use. Never allow wet toys to simply soak in the bathtub for long periods of time without being used, for the fact that moist environments are a breeding ground for mold and mildew.
Moreover, plugging any holes that the bath toy may have will prevent water from entering and causing mold to grow. Toys such as rubber duckies and balls that squirt water usually have a hole in the bottom. You could simply use a small amount of hot glue to plug them, although after doing so, the toy may not be enjoyable to your kid. However, preventing mold is what is most important.
Q: How can I properly clean and sanitize my kid's bath toys?
A: Cleaning your toddler's toys could potentially save them from a mold-related illness. There are quite a few ways to properly clean and sanitize bath toys.
Boil the toys. Boil the toys in clean, hot water for at least 10 minutes. Use a kitchen utensil such as tongs to hold and squeeze out any nasty residue that may be inside. Let the toys air dry completely as this is the best way to ensure that no bacteria has been transferred.
Bleach the toys. This is not the most environmentally friendly way to clean toys, but it will get the job done. Soaking bathtub toys overnight in a bleach bath is a great way to get rid of mold and to sanitize them. Mix a solution that contains one gallon of water and ¾ cup of bleach. After the toys have soaked overnight, you should rinse them repeatedly with hot water and allow them to air dry.
Use the dishwasher. Many of the bathtub toys listed above are dishwasher safe. Putting bath toys in the dishwasher is a fast, efficient way to sanitize toys and kill bacteria.
Q: What is the best way to clean the Crayola Bathtub Crayons by Play Visions out of the bathtub and off of the tile?
A: Depending on the type of material that your bathtub or tile is made out of, cleaning the Crayola Bathtub Crayons by Play Visions is relatively easy. Many verified parent reviews have suggested simply using a Soft Scrub liquid soap, similar to dish detergent, to remove stains from your bathtub. To remove stains from your tile, it may take some elbow grease, as using the bathroom tile cleaner Scrubbing Bubbles is recommended.
Q: Is the Green Toys Submarine motorized?
A: No, the Green Toys Submarine is not motorized. One of the best features about this toy is that it does not require batteries. It is awesome that this toy does not require batteries because you will not have to deal with a battery pack becoming faulty due to being submerged into water. This toy does have a propeller which can easily be spun by your toddler's finger. This is great for developing fine-motor skills and hand-eye coordination.
Q: Can real basketballs be used to play with the Floating Hoops Basketball Game by Intex?
A: No, real basketballs cannot be used to play with the Intex Floating Hoops Basketball Game. This is in light of the fact that the ball it comes with measures around six inches in diameter. The circumference of a real basketball is about 30 inches. However, there are many other small-sized balls that you could use to play with this Floating Hoops Basketball Game in addition to the one that is included with it.