10 Best Toddler Boys & Girls Halloween Costumes in 2019
last updated
Sep 19, 2019
It's spooky time! Every time the calendar gets closer and closer to October parents have to start planning their child's Halloween costumes! Autumn is a fan favorite with its beautiful colors, cinnamon spices, and the two holidays we get to enjoy what better way than to dress up your child as their favorite character for one of those special holidays!
If you have a little one between 12 months and three years it can be both exciting and overwhelming trying to pick and choose the perfect toddler Halloween costume for your little one. If you take a closer look at our list below, we are sure that you will find a costumed character that your little one will love!
In a Hurry? The test winner after 2 hrs of research
Deluxe Police Dress Up Set
Why is it better?
Includes shirt, pants, hat, belt, whistle, gun holster, and walkie-talkie
Made of 100% polyester
Machine-washable on gentle cycle
Size: 24 months and Up
In a
Hurry? Editors choice:
Test Winner: Deluxe Police Dress Up Set
4
Researched Sources
200
Reviews Considered
2
Hours Researching
10
Products Evaluated
Design
Materials
Entertainment Value
Accessories
By Default
10 Best Toddler Halloween Costumes Reviewed
1

. Deluxe Police Dress Up Set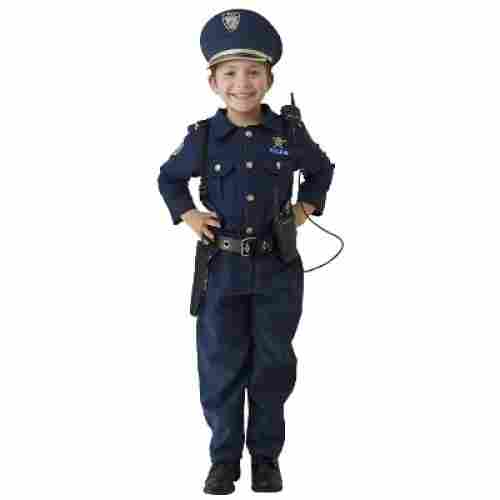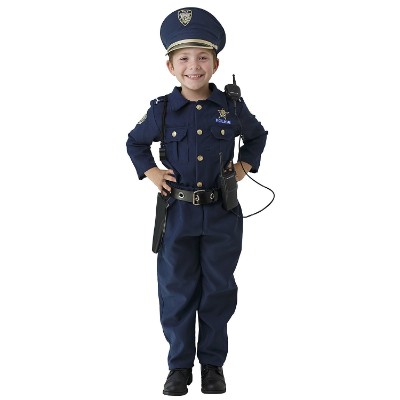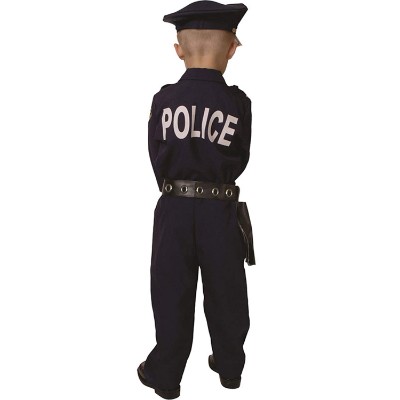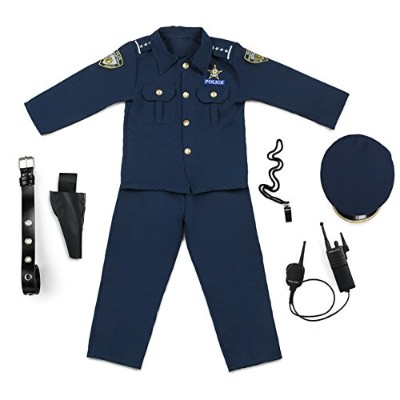 Includes shirt, pants, hat, belt, whistle, gun holster, and walkie-talkie
Made of 100% polyester
Machine-washable on gentle cycle
Size: 24 months and Up
Buttons may detach. Warning-choking hazard
Inseam on pants can come apart easily
There are few professions that children glorify more than that of being a police officer. Almost every little boy or girl longs to be the hero and bust the bad guys at least once or twice during their childhood. With the Dress Up America Deluxe Police Dress Up Costume Set, they will have all of the tools they will need to look and feel the part.
Read more
Design
This costume is full of realistic elements so don't be surprised if people stop on the street or want to take pictures of your kiddo.
Materials
This costume is made of 100% polyester that is easily machine-washable and naturally resistant to wrinkles and hydrophobic. It is composed of thin material but is roomy enough to support wearing extra clothes underneath if you live in cold climates. The shirt, pants, and belt are all separate pieces making potty time a breeze!
Entertainment Value
This costume is so realistic that your child may try to join your local police force instead of trick or treating!
Accessories
It features fun patches and accessories that will have your little one feeling like a real police officer in no time.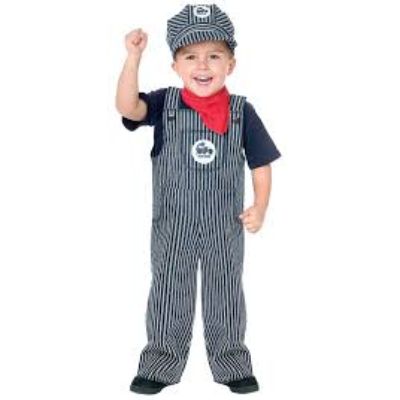 Fun train engineer custom
Toddler size with toddler features they will love
Comes in three sizes; small, large, and x-large
Included with the set is; overalls, neckerchief, and hat
Constructed from cotton and polyester blended materials
Overall leg length is very long
Fabric material is very thin
A costume for your toddler can often be a struggle to find. They change their mind several times and before you know it they no longer love the costume you already bought them. Well, this timeless classic costume offers a design that is easy to love and with most toddlers loving trains is easy to get them to wear. It costume features all the items that they need to dress the part right in the set. It comes with the overalls, the neckerchief, and the hat. The classic design is awesome and will be a timeless costume in any house.
Read more
Design
Featuring the classic striped design that all train engineers wear. The light blue stripes with the white background are the classic look that all kids know is associated with the train engineer now dressing up like one will be their new favorite thing to do. Between the hat and the overalls, we aren't sure which one is the cuter piece of the costume.
Materials
Each piece of the costume has been constructed from a fabric blend. The overalls are constructed from 60% cotton and 40% polyester blended fabric. The hat to the set has also been made from the same 60% cotton and 40% polyester blended fabric. This is a durable and easy to wash blend that makes life easy when it comes to cleaning up after a fun night. The neckerchief is made from a 100% polyester fabric making it durable and keeps its shape well.
Entertainment Value
Nothing says fun like a train engineer. Toddlers are usually obsessed with trains at this age and making their obsession become their reality it awesome with this costume. Cartoon characters come and go, but train engineers always stay the same. It is a timeless costume that will bring a smile to everyone's face.
Accessories
A hat and a neckerchief! A train engineer needs nothing more than that to get through their day. This simple costume with only three parts is the perfect combination for moving toddlers. The bright red neckerchief is cute and easy to put on and the hat is as simple as it sounds.
3

. Baby Animals Onesie by Tonwhar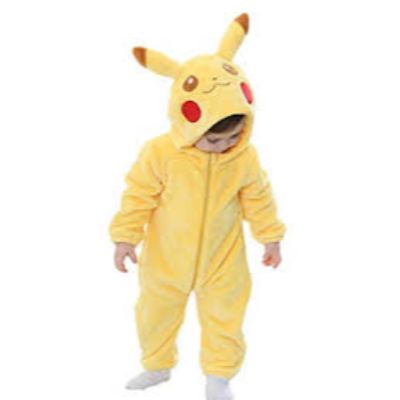 Constructed from high quality flannel material
Material is breathable, durable, soft, and comfortable
Easy to clean, machine washable and hand to dry
Unisex design great for homes with multiple kids
Onesie design, simple one piece design with lots of character
Runs small in size
Hood part of the one piece costume runs large
A great costume that is a one piece design making it easy to be able to dress and undress toddlers. A night out of the town is hard enough for toddlers let anyone having a custom with multiple pieces, layers, and accessories. This design is super cute and easy to get them into and back out. The best part is if it is a cooler night the one-piece design is great for keeping them warm. There are many designs and popular characters to select from. There is something for everyone.
Read more
Design
This costume is the type of costumes that can be worn in multiple ways and offers a fit that has some flexibility in the styles. Each of the toddler costumes has the same simple one-piece design, but that does not take away from the cutesy factor. They are all super cute designs that will have your toddler turning heads and everyone asking where you got their costume.
Materials
Each of the different designs of these baby animal costumes features the same great fabric. It's a blend of high-quality flannel materials that is easy to keep clean and is super soft. The fabric also is breathable ensuring that your little one is not sweating under that cutest. The flannel material also offers a level of softness that is ideal for kids their age.
Entertainment Value
Nothing is cutest than a little one all dressed up in the sweetest little animal costume that you have ever seen. When people see your toddler in this suit they can't help from smiling. It is a great costume that is comfortable for them to wear and cute enough for you to make sure your little one is the center of attention.
Accessories
The one-piece design of this costume is a onesie design with long sleeves and pants along with a hood. It does not feature any accessories besides being the cutest, softest toddler costume. It is a perfect costume for little ones that need something simple, but adorable.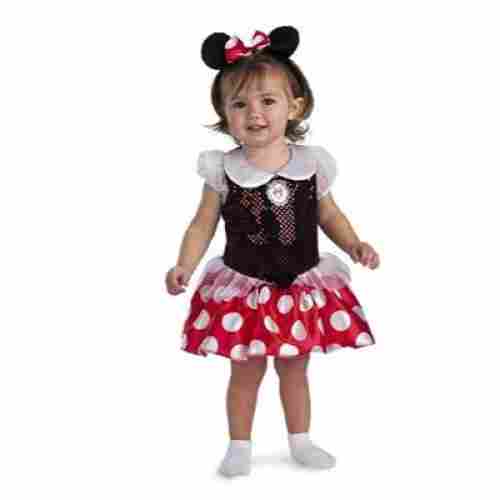 Comfortable, mostly polyester outfit
Has mouse ears with bow
Includes sequined undergarment to cover diaper
Oval pin of Minnie on front as an added feature
Has sewn closures instead of snaps for easy diaper changes
Sizes can be a problem for larger babies (costume is not very roomy)
Among the many Disney characters, no one is more lovable than the meek and dainty Minnie Mouse. Always taking the backseat in favor of her partner, Mickey, who is obviously more popular, Minnie Mouse nonetheless is the epitome of unparalleled support for her life partner. And this is a role that we can help our children to learn when we give them the Minnie Mouse Halloween costume for infants and toddlers.
Read more
Design
Here is one for the girls! Never going out of style is Minnie Mouse. So popular with small children and such a wonderful role model to adore. Everyone will recognize this cute costume and love the adorable photos that can be had. Including a sequined undergarment to cover a diaper and mouse ears with a bow, your little Minnie Mouse will steal the show at a party or just out for treats.
Materials
The Minnie dress comes with the classic red with white polka dot skirt made of premium quality 100% polyester. The upper dress is made up of different fabric materials. The front panel is made of a mixture of 79% polyester and the remaining percentage composed of metallic elements. The back panel of the dress is made of high-grade polyester while the sleeves are woven with 100% nylon. The overlay for the skirt is also made of nylon
Entertainment Value
She's no Spiderman or even Wonder Woman, but we believe Minnie is one of the most iconic female characters that little girls of today can really learn from. She is loyal, fun, always smiling, and very supportive of Mickey. These are the qualities we would definitely like our toddlers to learn.
Accessories
Of course, it wouldn't be Minnie without her signature mouse ears complete with a red and white polka dot ribbon, the same design of the skirt.
5

. Rubie's Classic Child's Jedi Knight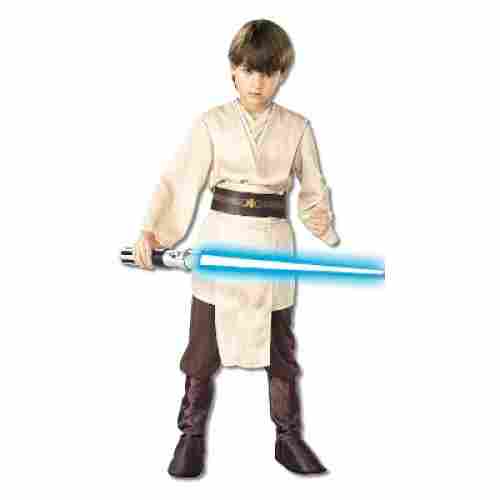 100% polyester material
Includes three pieces: top, pants, and belt
Officially licensed costume
Size: 36 months-4 years
Costume coloring may not match package picture
Size runs big
The force is strong with Rubie's Star Wars Classic Child's Deluxe Jedi Knight toddler boy halloween costumes. Girls and boys alike can don this suit and instantly transform from a Padawan into a Jedi Knight.
Read more
Design
The pants are designed with attached shoe covers that give the illusion of thigh-high boots while still allowing for more practical footwear. The top and pants sections are separated which allow for quick dressing and undressing.
Materials
The thin polyester material of this costume is ideal for layering as it is roomy enough to support extra clothing underneath or even an extra cape on top.
Entertainment Value
Add a lightsaber in the style and color of your choosing and it will be difficult to talk your kiddo into taking this outfit off! The sizing tends to run a bit large but that is actually a boon for this tunic-style costume as it provides a more forgiving fit and actually appears more authentic if it hangs a bit haphazard.
Accessories
Give your child the tools they need to fight against the Empire and use the force to take on Darth Vader this Halloween!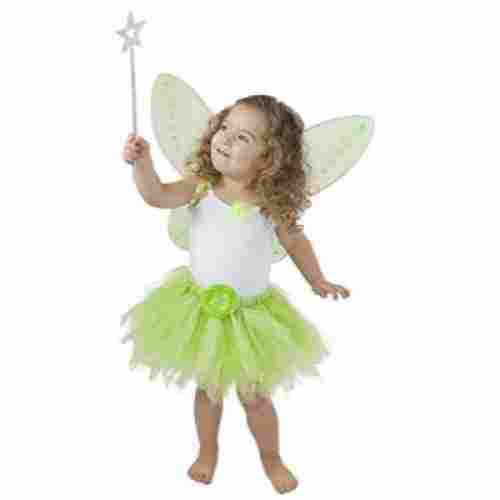 The skirt is made of soft tulle
Elastic bands allow costume to grow with your child
Includes tutu, wings, wands, and headband
Size: 24 month-5 years
Top not included
Wings may tear with repeated use
Fairies of all shapes and sizes are an iconic character that every little girl aspires to be and Peter Pan's companion, Tinkerbell, is definitely the most well-known and beloved of all fairies.
Read more
Design
All three of the wearable pieces are designed with elastic bands, providing a snug fit that will grow as your child does, meaning this costume will be around for playdates, Halloween parties, and dress-up time for years to come.
Materials
The fairy wings and matching headband are designed with elastic straps that will stretch as your child grows, giving this costume ample play time before it is outgrown. The wings are delicate and intricately designed. The skirt is made of a soft tulle material that is not scratchy and the included wand will have your little Tinkerbell on cloud nine!
Entertainment Value
With the Butterfly Craze Tinkerbell Costume, your little one will be able to step into the magical world of Neverland as she uses the wand to sprinkle fairy dust to her heart's content.
Accesories
This set included everything your little one will need to transform into a magical fairy at an even more magical price point.
7

. Superman Romper With Removable Cape
Snap closures on inner leg
Removable cape
Extra soft, fine material
Very warm (good for colder areas)
Hand wash only and air dry
Closures sometimes come open
Get your kid ready to save Lois Lane, Metropolis, and the world as the newest, noblest, and most lovable Superman ever to fly the skies of Earth. If you're looking for Halloween costumes for infants and toddlers that are really heroic, we'd recommend the Superman Romper Costume with Removable Cape
Read more
Design
With a removable cape and closures on the legs that can be opened quickly for bathroom issues, this Superman costume is a real winner. Made of extra thick material that will not scratch tender skin, this outfit is a plus in cool or cold areas. The jumpsuit is quite roomy and comes in a variety of sizes to fit most toddler sizes and shapes.
Materials
As the fabric used in the romper is quite delicate, it should only be washed by hand using cold water and dried on a clothesline. No bleaching is recommended.
Entertainment Value
Nevertheless, your child will be more than ready to take on Lex Luthor and even General Zod with this piece of superhero uniform.
Accessories
The long-sleeved romper comes with the iconic Superman logo across the chest. It comes with a yellow belt plus a detachable cape. The only thing missing now is the chiseled appearance of Superman's physique
8

. Aeromax Jr. Astronaut Suit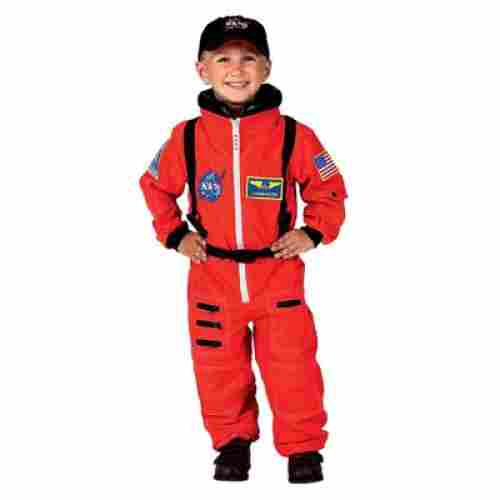 100% polyester material
Real working zippers and pockets
Includes full body suit and official NASA cap
Size:6 months-6 years
The material may fray or wear from repeated use
Boots and space helmet not included
That's one small step for costumes and one giant leap for your little one's imagination. The Areomax Jr. Astronaut Suit is such a realistic, high-quality costume that it is featured by NASA, the Smithsonian Institute, and other science and children's museums across the globe.
Read more
Design
The only way to get a space suit that is more authentic looking than this costume would be to actually go to space! The detailing is incredibly realistic from the padded collar and waist harness straps to the embroidered NASA patches.
Materials
The thin polyester material is roomy enough to support extra clothing layers and is entirely machine washable.
Entertainment Value
Girls and boys alike will delight in being able to step into the shoes of such notable astronauts as John Glenn, Neil Armstrong, Sally Ride, and Mae Jemison.
Accessories
The comfortable and easy-to-open design of this lightweight costume makes it ideal for everything from Halloween parties to pretend play. Houston, we definitely do NOT have a problem.
9

. InCharacter Baby Dinky Dragon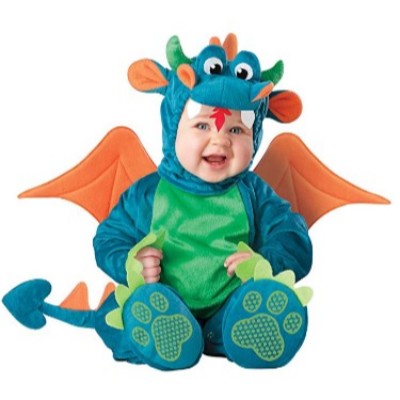 Machine washable
Features snaps for easy changing purposes
Four sizes available
Adorable velcro dragon hood and snap-on wings
Non-slip grips on the bottom of the feet
No way to attach booties to pant legs
Runs a little large
Not all dragons have to be mean and scary. In fact, there's no way this one could be because it's your tot and how could they play anything but "precious" when they're sporting an adorable hood and tail?
Read more
Design
This InCharacter Dragon costume comes in four sizes, is machine washable, and features a lined zipper jumpsuit with snap leg closures to make diaper changes extra easy.
Materials
The costume is comfortable, colorful, visually stimulating, and toddlers will love feeling fierce and strong like the dragons of lore. The grips on the bottom of the feet are a nice touch if you have an active one that might be slipping around indoors.
Entertainment Value
The costume can be disassembled and worn with whatever pieces your little one feels safest and most comfortable in. The hood, booties, and wings all detach for easy storage, and the snaps under the legs mean changing is hassle-free.
Accessories
The hood is a snap and velcro closure and fits comfortably on baby's head. If they're going to be running around indoors, they can use the included booties with grips on the bottom to keep them from slipping.
10

. Disguise Baby's Disney Frozen Olaf
Officially licensed Disney costume
Comes with soft detachable Olaf headpiece
Jumpsuit is plush and warm
Well-structured snowman shell will hold shape
Can be hand-washed to remove stains
Headpiece might be a little large/long on smaller toddlers
Olaf himself might not want to be all that toasty, but your child is certain to be cozy in this cute Frozen get-up. The costume is a jumpsuit with a giant plush center shaped like a snowman, and a soft headpiece featuring Olaf's signature smile.
Read more
Design
Suit your toddler up to role-play as their favorite silly snowman. This costume is ultra plush and made of thicker polyester material, meaning kids will stay warm along your candy quest.
Materials
The costume is 100% polyester and can be hand-washed. It runs a little large but the material is thick and soft, so kids will stay warm while you're out on the trick-or-treating route.
Entertainment Value
This lovable character is a fan favorite amongst anyone who's seen Disney's recent hit. Olaf's kind heart and goofy logic leave toddlers in stitches.
Accessories
Comes with a headpiece including relatable design features from this beloved snowman.
Criteria Used for Evaluation
Design
When coming up with our list of the best costumes there were a lot of things we had to consider. Parents don't need another thing to have to worry about and finding the perfect costume for their toddler shouldn't be one of those things! We tasked our researchers to help find the best costumes everything from the beloved Disney characters to Paw Patrol. We're sure that you will find something on our list that will save you a headache from not only the endless hours of research but also a costume that your little one will look absolutely darling in.
Materials
Most, if not all, of these costumes here CAN NOT be machine washed because of the additional embellishments to the costume. Added padding and decorations make machine-washable not advisable. Hand-washing and air-drying is highly recommended to extend the life and repeated use of the costume. Even though drying in a machine wouldn't necessarily harm the padding or added decorations, it could however, shrink the costume rendering into a smaller side and your child won't be able to wear it again.
Entertainment Value
Selecting a wardrobe is easy. Choosing a costume, on the other hand, is a bit trickier. This we found the hard way when we decided to embark on a mission of bringing you the world's 10 best toddler Halloween costumes.
First, it wouldn't be a costume if it does not observe fidelity to the role that it is supposed to portray. For instance, if the costume is that of a police officer, then you would expect the look, design, and style will mimic the uniform of a law enforcement officer.
As such, we considered design fidelity as an important parameter in our search for the top infant and toddler costumes. Closely related to the design is the fabric material that was used. As much as possible, we would like these pieces of specialty clothing to be comfortable for toddlers to wear
Accessories
We believe that if the texture of the costume is not smooth or is uncomfortable, kids may feel irritated wearing it, and they won't be able to bring out their best and play the role that they are supposed to be portraying. Another consideration was the safety of the materials used. While we don't have anything against synthetics, it is a must that there are no additional chemicals used in the final manufacturing process which could undermine the overall safety of the specialty clothing.
Most Important Criteria
(According to our experts opinion)
Experts Opinion
Editors Opinion
Users Opinion
By Default

Parents should know
The company's reputation or trustworthiness was also factored in the process. Any awards or recognition obtained either by the company or by the product were considered as excellent bonus points. These just show that the company is dedicated and really committed to producing only high-quality and safe products for the kids of today.
Lastly, we listened to the most meticulous critics of all parents.
Parents should know
We read through the hundreds of reviews as well as feedback looking for a compelling reason why a particular toddler Halloween costume should not be included in our list.
In the end, our efforts paid off. We were able to share with you our best toddler Halloween costumes.
You May Also Like
10 Best Baby Costumes
Other Factors to Consider
Frequently Asked Questions
q:

What is under the skirt of the Minnie Mouse costume?

a:

There is a sequined undergarment for this Minnie Mouse costume to cover baby's diaper.
q:

Does the Minnie Mouse costume have closures that are easy to undo for diaper changes?

a:

Not really. It has sewn closures which makes it hard to put on and take off for numerous diaper changes. Snaps would have worked better for a costume like this for a toddler.
q:

Can these costumes be machine-washed?

a:

Most of them cannot be machine-washed because of added features like sequins, sound chips, and padding. Hand-washing with a mild detergent is recommended and set out to air dry.
q:

Does the Star Wars Yoda Costume include a hood?

a:

Yes, it includes a hood and a headpiece.