As parents, we are always trying to find new ways to entertain our children. It's even better when we can find a way to do so while promoting healthy activity. One sure fire way to get your kiddos playing outside is to have an awesome swing set! Deciding which swing set, however, can be a very daunting task. There are so many different things that you need to take into consideration. You need to make sure that whatever swing set you pick is right for the age of your children and that it is big enough to accommodate however many children will be playing at once. What types of features are important to you and your kids is something else you'll need to think about. Swing sets come with all sorts of different types of features and some that are good for one family, may not be right for another. Every swing set has a different set of features and we have included swing sets from all across the spectrum to fit the needs of any family! You don't want to jump the gun on a bigger purchase and end up with something that doesn't work well for your family. That's why we have put together this awesome list of the top 10 swings for kids! We took into consideration several important factors including price, materials, features, and user reviews to bring you a list full of swings that you and your kiddos are sure to love!
Our Top 3 Picks
Lifetime Monkey Bar

Our rating
Soft
Price:

See Here
Lifetime Heavy Duty

Our rating
Soft
Price:

See Here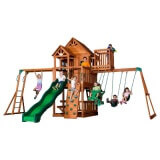 Backyard Discovery

Our rating
Soft
Price:

See Here
Swing-N-Slide Jamboree Fort
Gorilla Playsets Nantucket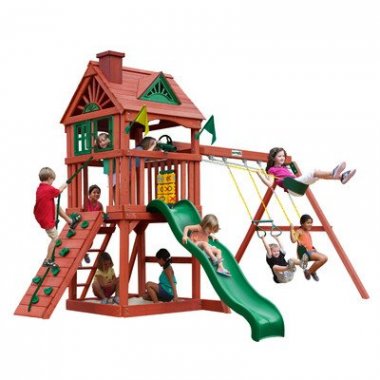 Gorilla Playsets Blue Ridge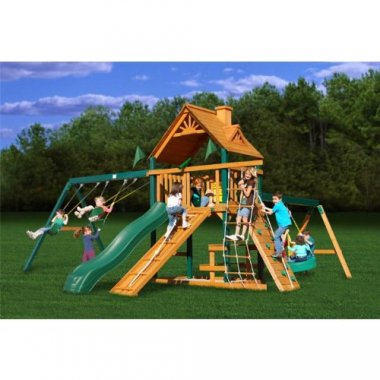 Flexible Flyer World of Fun
Sportspower Mountain View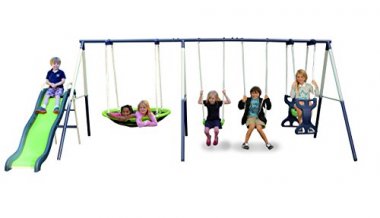 Step2 Naturally Playful Playhouse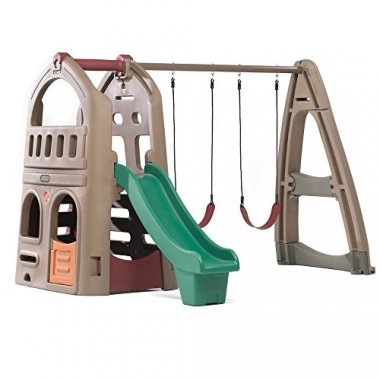 Flexible Flyer Triple Fun
Backyard Discovery Skyfort II
Lifetime Heavy Duty A-Frame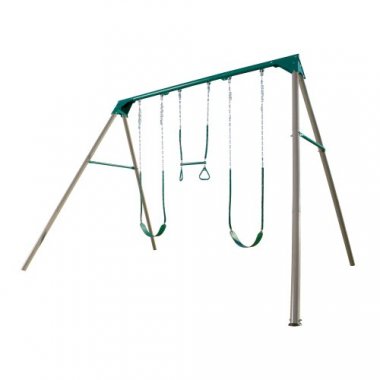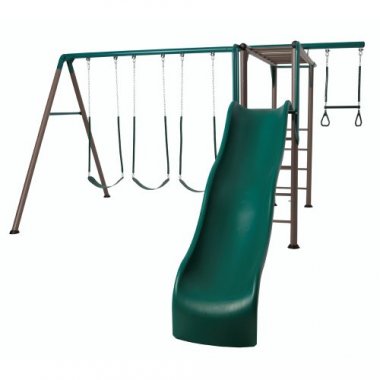 One of the most important things you want to consider when choosing a swing set for your children is safety! Nothing could be more important than protecting our little ones. There are some universal things to keep in mind no matter which swing set you pick though.
Follow Recommendations
Always follow the manufacturer's recommendations for age. Each product is designed with a different age and maturity level in mind and not following those guidelines can cause dangerous accidents.
Buy New
You should always buy your swing set new so that you know that it meets the current safety regulations and can register it in case of recalls.
Follow Assembly Instructions
In order to ensure that your swing set is properly installed, follow the instructions very carefully and don't skip over anything. The last thing you want is an accident to be caused by unsafe or improper assembly.
Consider Spatial Restrictions
One thing that a lot of people tend to forget about is how much space around the swing set will be needed to keep everyone safe. The swing set doesn't just need to fit into the space it's going in, but it needs to have an adequate amount of room around it as well. Most swing sets will come with recommendations about placement in the instructions.
Fall Protection
Something else you should consider is what your swing set is on top of. Ideally, you want something under the swing set that will protect your child and minimize the impact. There are several options of what you can use for this. Sand or pea gravel will work and are relatively inexpensive, but there are safer options. Mulch and wood chips are fairly good options that should last a little longer and won't blow away in the wind. An added benefit is that they won't invite in unwanted cats and therefore are more sanitary. The safest option though would probably be some form of rubber. From shredded rubber to rubber mats or poured rubber, you have plenty of options that can aid in keeping your precious little ones from harm. If you choose a loose fill material, you'll want to make sure that it is a minimum of 6" deep, but depending on the material and height of equipment, you may want it deeper than that.
Enforce Safety Rules
Make sure your kids know how to be safe. Don't allow them to push or grab and make sure they are old enough and mature enough to use the equipment safely. Make sure your children know that they should never kneel or stand on swings and that they should be holding on with both hands while swinging. They should also get off of swings only once the swing is no longer moving. Children should also maintain a safe distance from the swings when other children are using them. It would be very unfortunate to have a child hit by another child swinging and could cause serious injury to both children.
Supervise
One of the most obvious things you can do to ensure safe use of your swing set, is to supervise it's use. You should always be close by and watching to make sure that no injuries occur. It is especially important to supervise very young children. Often times, younger children will need your assistance to even use the swing set, so keep that in mind as well.
Check

for

Hazards
You should always check your child's play space for potential hazards. This could be anything from fallen sticks to insects. Common things to look out for are wasp nests and ant hills. You'll also want to look over the swing set for any loose pieces or rust. Just keep your eyes out for anything that could pose a potential risk for your children.
As long as you follow these simple guidelines, you should have no issues in keeping your little ones safe while they use their awesome new swing set!
Criteria for Evaluation
Price
We know that not everybody is made of money, and were careful to take that into consideration when putting together this list. We included swing sets that would work for a range of budgets, but most importantly, we made sure that each and every swing set that made the list had a good value for the cost. With an investment like this, we want to make sure you know exactly what you're getting. We are confident that there is a good swing for families of all budgets on our list.
Materials
What a swing set is made out of makes a huge difference in attractiveness, durability, and longevity. We made sure to include this in our evaluation criteria when putting this list together. Steel and wood are what most swing sets are made out of and you want to make sure to consider which one is better for your family when choosing which set to purchase. Steel has the advantage of no chance of peeling or rotting like some wood products will. However, high-quality wood products like the ones on our list will stand up against these risks as well, especially if properly maintained. One of the cool things about the wooden swing sets is that they often are able to be customized and they always have a stunning appearance adding a nice affect in any backyard.
Features
Something that you should definitely consider is the number of features that you want, and which specific features are important to you and your kids. We thought about this, and included swing sets with all sorts of different features and activities on the list. You may want something space saving and simple that might have less features. However, if you have the money for it, and a lot of kids to entertain, you may want to consider one of the swing sets on the list that's packed with all sorts of different options. There is everything from slides and monkey bars to play forts and flying saucers. Think about what your child's favorite activity at the park is and make sure to snag a swing set that has that option for them!
User Reviews
Nobody knows better than the consumers about which products are best. We search through hundreds of reviews for every product before deciding if it makes the list or not. We took in consideration the bad and the good and chose products that were well loved by the adults who make the purchases and the children who use the swing sets. This gives us the most confidence that we can provide a list of swing sets that is guaranteed to be loved by all.
FAQ
Are swing sets safe for toddlers?
Whether or not a swing set is safe for a younger child such as a toddler depends on the swing set. There are many swing sets that are perfectly safe for even very small children. Just make sure that you follow the manufacturer's recommendations as well as the safety guidelines listed above. You know your child better than anyone, so if anything makes you feel uneasy or unsafe, listen to your gut.
How long will assembly take?
The amount of time that assembly takes will greatly vary from swing set to swing set. The smaller, simpler swing sets may only take a few hours. However, the bigger, more complex swing sets will certainly take longer. Some swing sets may even take many hours split up over several days to complete. Think about this ahead of time when purchasing swing sets for special occasions such as birthdays or holidays. You don't want to give a 4-year-old a swing set on their birthday that won't be ready for another week. That could be very disappointing for children, so it's a good idea to purchase the swing set well in advance if giving it as a gift.
Can I assemble the swing set on my own?
Sure! You can certainly put most swing sets together on your own without any help. However, that is going to be highly dependent on you. If you are not in good shape or have anything that limits your physical ability, you will definitely want to get some help. You may want to consider getting some help anyways, as assembling alone will definitely increase the time the project takes. Doing this alone can be very time-consuming and tedious. You also have the option of hiring a professional to assemble your swing set. This should cut down on time and stress. It will, of course, be more expensive to have a professional do it. However, many people agree that it is well-worth the extra cost to have peace of mind that the swing set is built properly and efficiently. Many of the swing sets on our list offer the option to pay for professional assembly at purchase.
Will

I need tools to put my swing set together?
It will, again, depend on which swing set you purchase. Most swing sets will require you to have at least some basic tools, with some requiring you to even have a drill. Take that into consideration when you choose your swing set and make sure you are prepared when it arrives. Another benefit to having a professional assemble your swing set, would be that they would have their own tools giving you one less thing to worry about.
Can I customize my swing set?
Depending on which swing set you choose, you will likely be able to customize it to some extent. Often times, you can switch out the placement of certain features or leave a feature off if you don't like it or don't have space for it. For example, some of the swing sets come with a teeter totter located at the end of the set that you have the option of leaving off. Wooden playsets could be stained or painted the color of your choice as well. Just make sure that if you decide to deviate from the original design that you know what you are doing and don't take any unnecessary risks. Safety is the most important thing to consider.
What kind of care does my swing set require?
Check with your swing set manufacturer to determine what kind of care is needed for your particular swing set. Some swing sets take practically no maintenance at all, while others will require special care. Some wooden swing sets will need to be stained and/or coated every so often. It's a good idea to do that once a year. You should always regularly look over your swing set for signs of damage or wear. Sand down any rough or sharp edges on wooden pieces, and consider tightening bolts every so often to prevent them from loosening after lots of use. If you do not care for your swing set properly, it can increase risk of accidents and injuries as well as shorten the amount of time you are able to use your swing set.
Do I have to anchor my swing set to the ground?
This is something you will need to check with your specific swing set manufacturer. Most of these swing sets do not require anchoring them to the ground. However, many of them may benefit from it. Anchoring can increase safety, stability, and durability. Some swing sets come with anchors, while some do not. If your swing set does not come with anchors, you can purchase them separately if you want to or need to anchor your swing set.
What if I need replacement parts for my swing set?
Almost all swing set manufacturers sell individual replacement parts for their swing sets. If you should need something, just call the manufacturer and let them know.
Is it worth the investment if my children are already older?
Absolutely! There are all sorts of swing sets to meet all sorts of needs. We have several swing sets on the list that can appropriately accommodate older children and even adults. It's never too late to invest in a great swing set.
Can my swing set be moved to a new location after installation?
This will really depend on the size and construction of your swing set. Most of the large swing sets would be very difficult, almost impossible, to deconstruct, move and reconstruct. You'll want to think about how long you plan to be at your current residence when deciding which set may be best for you and your family. However, there are some swing sets that it would be completely reasonable and doable to deconstruct and then reconstruct in a new location.
What is the best age to buy my child their first swing set?
Really, any age is a great age to buy a swing set. Even if you only have an infant, they will grow into the swing set and any of it's features. You can even purchase a special infant/toddler swing to add to your swing set until your child can use the regular swings. The younger your children are when you first buy, the longer they will be able to use and enjoy your purchase.
Can I use the swing set with my children?
To find the answer to this question, please refer to your particular swing set's recommendations. Many swing sets can safely accommodate most adults. However, there are also lots of swing sets made for only children to use safely. Be smart and safe and if you aren't sure, you can always call and ask the swing set's manufacturer.
Do I have to use something such as sand underneath my swing set?
Well, no, technically it is not a requirement. However, it is best practice and much safer to put something underneath the swing set to help minimize fall impacts. Your child is much less likely to be seriously injured if they have something to land on that will help absorb their fall.