10 Top Books For 4 Year Old Kids In 2019
last updated
May 18, 2019
We know that a four-year-old is at that early stage of wanting to read on their own but can't quite yet. Most four-year old's can point out pictures and be able to match certain scenes and repeat words that sound familiar to them. We also know that their attention span isn't exactly long and if you want your four-year-old to be active reader parents are going to want a book that's short, simple, but still engaging to them as well.
In a Hurry? The test winner after 38 hrs of research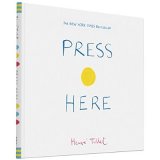 Press Here Book
Why is it better?
Imaginative
Interactive
Develops fine motor skills
Author is an acclaimed artist
In a
Hurry? Editors choice: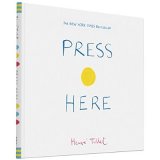 Test Winner: Press Here Book
19
Researched Sources
38
Hours Researching
10
Products Evaluated
Educational Value
Entertainment Value
Creativity
By Default
10 Best Books for 4-Year-Olds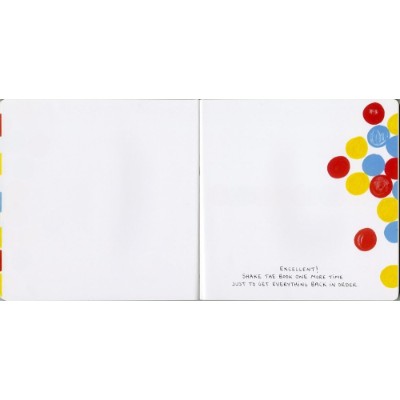 Imaginative
Interactive
Develops fine motor skills
Author is an acclaimed artist
Pages are thin
Story may become repetitive to adults
Press Here is an exceptionally fun, delightfully engaging, and ridiculously simple piece of bound loose leaves that do nothing to really teach children how to read. Or, so it would seem! A closer look reveals that the book is actually a marvelous piece which teaches kids about the value of following directions.
Read more
Educational Value
Press Here is an interactive experience your child will love. Much of Pre-K revolves around teaching children basic skills, especially social and academic skills. One of the most important fundamentals children need to learn is how to follow directions. The rest of their academic career will be a series of classes in which they must follow verbal cues in class as well as instructions on homework and tests. Press Here helps to build that skill by breaking it down into fun, easy activities that children can complete on each page.
Entertainment Value
When kids are asked to 'press' on a yellow button and perform a variety of 'commands' they are essentially exercising their ability to follow instructions. And this is a very fundamental skill needed in reading. The great thing about the book is that it contains lots of pictures that help enhance a kid's creative and imaginative abilities while the yellow dots provide for superb interaction.
Creativity
More than a book, Press Here is an experience! The pages aren't filled with characters and shiny pictures. Instead there are simple dots and words that encourage the imagination. What happens next depends on the reader. Each page is part of an interactive experience. This book not only entertains, pressing the dots builds fine motor skills. Truly an amazing reading experience that your kid will enjoy.
2

. Where the Wild Things Are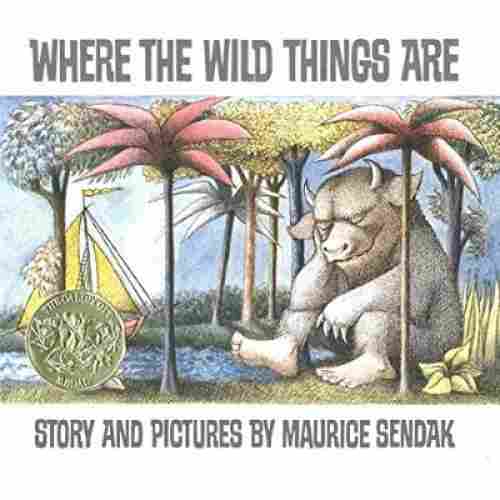 Imaginative
Classic story
Rhythmic
Quality illustrations
References to character as "ugly"
Everyone knows preschoolers have wild imaginations and they really love exploring new things. That's who Max truly is and he is living his heart out in Where the Wild Things Are. It's a book that venerates every young child's dream of living in a wild rumpus, complete with images of 'wild things' with misplaced anatomies that can truly fuel a child's imagination.
Read more
Educational Value
Each page of this Maurice Sendak masterpiece opens up a new world of discovery and excitement that even adults who read it with their kids will never fail to find themselves smiling at the delivery of the content. It's priceless and is a great way to win any kid's heart and admiration, with exceptional chances of him or her getting more passionate about reading books and other pieces of literature.
Entertainment Value
This imaginative classic is full of silly, memorable illustrations and lovable characters. The story centers around Max, who is bursting at the seams with creativity and a love of adventure. The book teaches a gentle lesson to children that imagination can be a powerful and beautiful tool, but also that we must be aware of our behavior and when certain actions are or are not appropriate. The story is beautifully written, with a vocabulary that is accessible to children but a style that even adults relate to and appreciate.
Creativity
The comic relief provided by Where the Wild Things Are cannot be overlooked at it simply transports any kid to a wonderland where imaginations come alive – the wilder the imagination, the better it is. It thus, provides for an amazing tool for building the foundation for creativity and language development.
Durable material
Consistent phrases
Sized for small hands
Edited by Dr. Seuss
Abridged version
Does not rhyme
Moms and their kids have a special bond that no earthly riches or dads can ever take away or replace. This is the message that P. D. Eastman hopes to convey in the simplified picture board book Are You My Mother? and dutifully edited by no other than the master of children's stories, Dr. Seuss himself.
Read more
Educational Value
This book is both heartwarming and effective in helping children exercise some basic skills. The little bird's adventure to find its mother allows children to identify animals and categorize them: is the dog the bird's mother? Probably not, because dogs give birth to puppies, not birds. Children understand this basic concept and can apply it throughout this vibrant story, full of recognizable vocabulary and Dr. Seuss' iconic, colorful art. Children will finish the story with a newfound appreciation for their own mom after watching the baby bird look so diligently for its mama.
Entertainment Value
Right after hatching, a baby bird goes to great lengths searching for its mom because she wasn't there when the hatchling first saw light. It met a kitten, a dog, and a hen, as well as a Snort, each time asking "Are you my mother?" It's a simple yet endearing story of the special bond between moms and their kids and one that will simply reverberate through time and across generations of moms and kids.
Creativity
Dr. Seuss packs his stories with lovable and relatable characters. Reading is a wonderful exercise in stretching children's imagination and also in helping them to learn empathy and other social skills. Reading is a form of guided role-playing in a way, and it allows children to view the world from other characters' perspectives, thus expanding their own.
4

. Harold and the Purple Crayon
Encourages imagination
Introduces concepts of reality vs fantasy
Helps expand vocabulary and reading skills
Bedtime story
Board book version is condensed and makes for a less enjoyable reading experience
Simplistic story style may be boring for more advanced children
One night, for no reason, in particular, Harold decides to go for a walk. He takes his trusty purple crayon with him of course. This simple writing tool quickly becomes the conduit through which an entire adventure full of silly twists and surprises soon blossoms.
Read more
Educational Value
The simplistic storytelling style can help expand their vocabulary while also providing a great basis for pre-reading challenges as you can help your little one read. Harold's journey shows the depths that imagination can truly create when giving just a little bit of incentive.
Entertainment Value
He travels through forests, sails over oceans, and even fights his way past dragons, all of which sprung from his own imagination and eventually deposited him home, safely in his bed. This timeless and beloved classic will find a home on your little one's shelf only long enough for the wait between one bedtime and the next as this will story is guaranteed to be a storytime favorite!
Creativity
With the help of his favorite purple crayon, Harold is off on a whole assortment of adventures. This book subtly teaches children about the avenues that art opens up to us and how rich and vibrant an experience it can be to indulge in and encourage your own imagination! Kids will drift off to sleep with full, exciting dreams playing out in their heads as they watch Harold express his own creative endeavors.
5

. We're Going on a Bear Hunt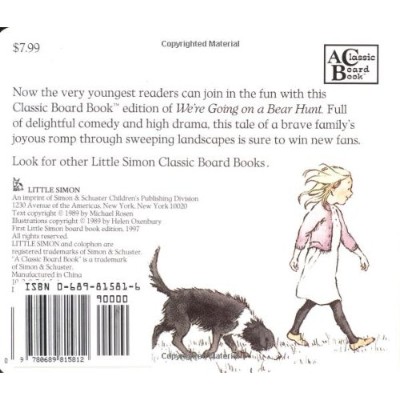 Durable material
Encourages audience participation
Rhythmic wording
Quality illustrations
Repetitive
May be scary for young children
Thinking of inviting your 4 year old on a traditional bear hunt? Trek over hills and through dense forests, crossing shallow rivers, and taking on a fantastic view? We're Going on a Bear Hunt is a wonderfully written piece about the adventures of a father and his 4 kids who go on an adventure over hills and mountains in search of that elusive bear.
Read more
Educational Value
This book has been a favorite for years. It's a great read aloud story about a family that goes on a bear hunt and all that happens on the way. Each new development has an action that the audience can take. Since it's so interactive, it is a great choice for keeping the short attention of kids.
Entertainment Value
Children will love the little, fuzzy bear that comes with the package so they get to really visualize the mammal running after them from across the river. It's a lot less threatening than having a real bear chase you in the woods.
Creativity
It's simple and is just perfect for reading aloud to kids who will be glued to their seats as mom or dad will be injecting some life into how they say the lines. The watercolor paintings on the pages of the kid's read aloud book give children additional information to use to work out their imaginative capabilities.
Award winner
Great illustrations
Engaging
Part of a series
Paperback cover
Suspenseful parts
Corduroy is a classic toy-comes-alive story that is sure to generate warm feelings about how kids are also always on the search for that one true friend. Corduroy, our lovable teddy bear in a department store, inadvertently loses one of its buttons one day.
Read more
Educational Value
This story brings out the not so secret wish that a child's loved toy come to life. While everyone is gone, Corduroy comes out to play. This book introduces him through amazing illustrations and great writing. The book explores the bear's desire to be loved and his need to remain hidden in a way that keeps the interest of even young children.
Entertainment Value
As soon as the department store closes for the night, Corduroy goes on a search for his missing button and is taken on a journey of a world that's well beyond his teddy bear shelf.
Creativity
The adventures and misadventures of Corduroy brings him to different corners of the department store, each one providing new wonderful discoveries. While he didn't really find his button, he was nevertheless, he was eventually bought by a little girl, brought home, and eventually became his friend.
7

. Cloudy With a Chance of Meatballs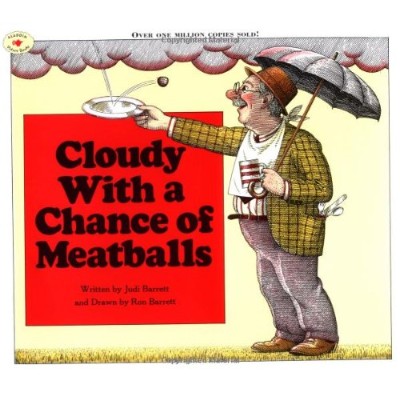 Award winner
Imaginative
Great illustrations
Accompanying movie
Story differs from movie
Detailed photos may not be clear on kindle
We've all been amused by the film Cloudy with a Chance of Meatballs. Now, get ready to amuse your 4 year old by reading to him or her the same story that revolves around the most famous question of young kids, "what if?" It's a grand tale of getting introduced to causal relationships, predictions, and even divergent thinking.
Read more
Educational Value
This story doesn't follow a traditional narrative structure in that the main characters are not involved in the conflict or climax of the story. Rather, Grandpa tells his two grandchildren about a mythical town called Chewandswallow where no one buys food because three times a day, it falls from the sky! The story is about how anything, even good things, can become troublesome in excess. But the delivery of that message is creative and silly so kids will enjoy it.
Entertainment Value
The town of Chewandswallow is full of some pretty ridiculous happenings. Kids will get a kick out of the various kinds of food falling from the sky. And the stakes continue to climb as the food the weather delivers becomes harder to manage until eventually the town can't cope and they must sail away to live in a new land, where they have to buy food from the supermarket (which they find very odd). The pictures are cute and the words are easy for kids to grasp and one day read themselves.
Creativity
This book is unique in many ways. Its structure is quirky, as is the premise of its story. It will encourage children to think of the world differently and to continue to lean into that childlike desire to constantly ask "but what if?" Kids love kooky scenarios that don't make logical sense and this book plays beautifully to that.
8

. Richard Scarry's What Do People Do All Day?
Detailed illustrations
Accompanying series
Highlights neighborhood heroes
Encourages imagination
1950's era gender roles
New edition
What Do People Do All Day? is an entertaining picture book that introduces young kids to the different things that people in the neighborhood do every single day. It's the written version to Sesame Street's famous "Who are the people in your neighborhood?" song, teaching kids to learn more about the people that they meet each day. It's Busytown, after all, and everyone has to be busy with something.
Read more
Educational Value
What Do People Do All Day? is a great read for young children as they get introduced to occupations and professions. This can help generate appreciation and understanding of the world around them.
Entertainment Value
While reading your kid will enjoy learning about all the jobs that helpers in their neighborhood do. This makes it a great choice as a conversation starter about job interests.
Creativity
This book can be used in multiple ways. While it can certainly be ready straight through, it can also be a fun "hidden object/character" activity. The illustrations are busy (as if befitting of Busytown), with lots and lots going on all at once. Help your children to notice and appreciate the details by making a game of finding the different characters and activities happening throughout.
9

. Harper Collins If You Give A Mouse A Cookie
Amazing illustrations
Award winner
Accompanying series
Rhythmic words
Repetitive
Negative view on helping
If You Give a Mouse a Cookie is a great introduction to the idea of using divergent thinking where endless possibilities are worked up even before they happen. Kids get to follow the adventures of Mouse who happens to have requests after requests which an energetic young boy happily obliges.
Read more
Educational Value
If You Give a Mouse a Cookie brings rhythmic text to young readers while introducing in them the idea of divergent thinking and cause-effect relationships. It's a fun way to start thinking outside the box and begin a life asking about 'what ifs'. That extra educational component won it a place on the Common Core standards list.
Entertainment Value
This story is told in a rhythmic way that allows children to understand what's always coming next and yet still be surprised and delighted by it. Mouse's escalating demands are inventive and hilarious while still making sense in the context of the story. The little boy's mounting exasperation is relatable and funny. And the colorful, warm artwork that accompanies this tale will keep children engaged as well.
Creativity
This story is repetitive in nature but still allows children some room to discover and exercise their creativity. It introduces the ideas of divergent thinking as well as cause and effect. Since the pattern is easily established and understood, kids can focus on imagining what it is that the mouse might ask for next. Mouse is oblivious and the little boy is earnest, making them a delightful pair to read along with.
10

. How to Babysit a Grandpa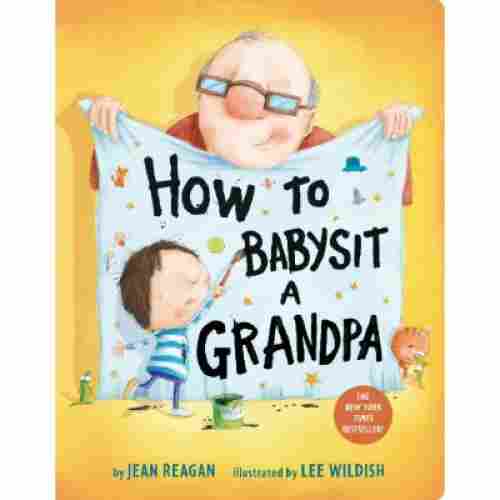 Full of age-appropriate humor
One of a series of humorous 'How To" books
Beautifully rendered digital illustrations
Helps children process concerns by being put into a caregiver-esque role
May appeal more to the grandparent than to the child
Implies gender as 'grandson' and contains stereotypical views of grandfathers
What should you do when you grandpa is coming over to visit? Why hide of course! And don't forget the olives and the ketchup as these are some of the best snacks to provide! Jean Reagan presents another laugh-out-loud classic with How to Babysit a Grandpa.
Read more
Educational Value
Designed in a How-to style, this book will educate your little one on all the best things to do with their grandfather when he comes over to babysit. Whether it's eating olives on your fingers or talking him for a walk (don't forget the sunscreen!), this delightful tale is full of laughter from beginning to end and will have your little one rolling on the floor so much that he won't even notice that you have gone.
Entertainment Value
This story isn't going to win any awards for presenting your preschooler with a poignant morality lesson. It will, however, win your kiddo's best choice award for the funniest book ever! This story is the perfect way for grandfathers to occupy their little ones during storytime. Several reviewers also recommended this book and its companion, 'How to Babysit a Grandma' as fantastic pregnancy announcement gifts.
Creativity
This hilarious, role-reversing tale is the perfect companion to a sleepover at grandpa's house. It can help strengthen familiar bonds as they pour over each silly scene looking for the hidden details that can make this book so much fun!
Criteria Used for Evaluation
Educational Value
While we already have mentioned earlier, a majority of four-year old's cannot read on their own. It's very rare to find a child that's this age who can already read with amazing understanding and pronunciation. While it is rare, we know that it does exist, and some children are simply gifted. We also want to remind parents that if your child isn't reading on their own at this age to not feel defeated or discouraged since the development of a four-year-old progress at a steady pace. Most children this age, aren't ready to read independently yet.
Entertainment Value
Playtime is serious business in the world of four-year old's. Many parents often forget that play time is crucially important for children as at that young of an age, younger children learn through play, whether it's through a book or a sensory object. Whether or not a book would be considered fun was extremely important when coming up with our list of criteria for our top ten books. When searching for the best books for this age group we needed to make sure that each book passed the fun test. Each of these books on our top ten list are interactive, had humorous story lines that we know your little one will enjoy, and rhymed.
Creativity
If you want to encourage your kid to read some more, you will have to give him or her the right motivation. He or she may not know how to interact with the story that you've read but you can always ask questions to direct him or her into wanting to know more about the story. Sooner or later, your child will be the one who will be so eager to ask questions. Remember that one of the most remarkable characteristics of 4 year olds is their curiosity. They are naturally curious about things and about how different events and objects work in the real world. That's why many child psychology experts look at them as little explorers as they are always filled with fascination. It is this fascination for things that are new, novel, and unique that usually keeps them very interested.
Most Important Criteria
(According to our experts opinion)
Experts Opinion
Editors Opinion
Users Opinion
By Default

Parents, Did you Know?
Reading with a 4-year-old kid is something that all parents should spend time doing especially if they want to see their kids to grow up a well-read person. And even if he or she is not going to be a bookworm, the mere fact that kids can read is often enough to see them through the rest of their lives. Let these 15 best books for 4-year-olds be your starting point in realizing your child's true language and speech development.
Parents, Did you Know?
Many of the stories in our book have lessons to be learned – some of these can even have a hidden meaning throughout the storyline but your child will learn from these sweet stories. Whether they're being taught kindness, or teamwork, reading along is a powerful educational tool and will overall help your child in the future. We encourage parents to keep the conversation going about what they just read with their child even after the story has ended. Talking with your children about lessons that they've just heard and learned is a great way to help them not only retain information but for your child to be able to relate to it and have a better understanding of it in their lives.
Other Factors to Consider

Value
Many of these authors on this list are recognizable from even parents' childhoods. There are some that you might not be familiar with, but our research team carefully researched each of the authors that we chose and found that they all represented the same kind of talent that inspires a love of reading in young children. Each one of the authors on our list also has other books you can enjoy while discovering the ones you already have with your children. The odds are if you like one book from a specific author you may like others that they have written, and we know your child will too.
Age Range
Parents tend to forget that when buying for a child they need to remember not only their developmental age range but also the age group that their child fits in. Since our goal is for your child to develop a lifelong love of reading, it's best to set them up to be successful when starting out. Each book that your four-year-old has should be challenging enough but also shouldn't bore them or make them feel discouraged. If any of the books on our list are too easy for your four-year-old, ask some follow up questions or have them suggest alternate endings. Not only does this get them engaged and talking about what their reading but it's also a creative way of showing that every story can have a different ending.
Frequently Asked Questions
q:

Are these good choices for reluctant readers?

a:

Yes. While it's true that every child has personal preferences, many of the titles on this list are great for reluctant readers. If your child isn't enthusiastic about story time, try a book that is interactive.
q:

Can I use these books to teach my child to read?

a:

You can. The best way to encourage early literacy is by having fun while reading and doing it consistently. Pointing out sight words while reading is another great way to help them learn to recognize them.
q:

Is it safe to buy a 4 year old a paperback book?

a:

That depends entirely on the child. While a 4 year old isn't likely to put a book in their mouth the same way a baby or toddler would, they may still not be able to treat a book gently. We suggest demonstrating proper book care when giving a more fragile copy to your child.
q:

Are these books appropriate for children who are either younger or older?

a:

Absolutely. When reading these to younger children, keep their shorter attention span in mind. For an older audience you can encourage them to explore concepts shared in the story and/or ask them to read it aloud.
q:

Why are some of the books on this list abridged versions?

a:

There are many reasons a publisher releases an abridged version. Those include the desire to print in a new format such as a board book.