Finding the best cereal for your baby that both tastes good and also is good for them can be hard. More people are researching organic products to buy for their children. This is a choice that is simply healthier for them and also easy than ever with all the products on the market. Keeping your baby as healthy as possible is always the goal as parents so finding the best products with the healthiest available options is the ideal situation.
One of the main advantages of going to organic cereals is that these types of cereals are best for their metabolisms. Organic cereals help their metabolisms function better and smoother for better results. Babies have weaker immune systems than adults and eating a traditional diet that can be high in pesticides, preservatives and processed ingredients can weaken the immune system even more. Organic diets help promote a strong immune system and give them the best possible diet by providing the healthiest ingredients.
Many non-organic cereals on the market also contain pesticides and potentially other dangerous toxins. Even when these ingredients are present in very small quantities, they can still potentially affect babies' development. Organic cereals are packed with even more nutritional value than other regular cereals. The quality of organic cereals can even be noticed in the taste.
Below is a quality list of the best organic baby cereals available on the market.
Our Top 3 Picks
Earth's Best Organic Baby Food

Our rating
Pack of 12
Price:

See Here
Gerber Graduates Puffs Cereal Snack

Our rating
Non GMO
Price:

See Here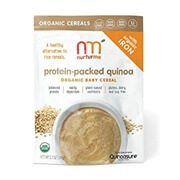 NurturMe Protein Packed Cereal

Our rating
Healthy Alternative
Price:

See Here
Our Picks Of The Top Baby Cereals
Happy Baby Probiotic Pack of 6
Nature's Path Rice Puffs 6 Ounce
NurturMe Organic Infant Cereals Quinoa + Banana
Envirokidz Organic Gluten-Free Cereal
Barbara's Bakery Organic Honest O's Cereal
Baby Organic Probiotic Cereal
Organic Single-Grain Oatmeal
Happy Baby Organic Superfood Puffs
Earth's Best Organic Infant Whole Grain
Criteria Used to Evaluate the Best Organic Baby Cereals
Different foods should be introduced to babies and different times during their development. There are some foods that might not be appropriate for certain age groups. As parents, it's up to us to make some of the most important decisions regarding the food our child eats. Food habits, tastes, and preferences happen early on in a child's life. So, many choose to start them off with the freshest and healthiest options that are available.
Our list features all organic products. But, a lot of you might wonder if organic really is better for you? Organically grown produce is better for your health, our children's' health and the environment. Organic farmers cannot use chemical herbicides or pesticides that are toxic.
There is a list of produce that has been known to contain the highest levels of pesticides. Thus, it's important to purchase these crops in their organic forms. These fruits and vegetables are:
Hot peppers
Potatoes
Sweet bell peppers
Tomatoes
Celery
Grapes
Cherries
Pears
Apples
Nectarines
Spinach
Strawberries
Throughout this list, you might have seen us mention about the different baby food stages. While shopping for food for you baby, you will encounter these a lot. So, it's important to know what they mean and what each stage stands for.
Stage 1: This stage is suited best for babies that are aged 4 to 6 months. The foods in this stage are mostly limited to purees that are made with a single ingredient. They do not contain any complicated or lumpy textures, nor do they contain dairy, eggs, or meat.
Stage 2: This stage is for babies aged 6 to 8 months. The foods in this stage are based on grain, vegetable, and fruit blends. There might be two to four ingredients and the texture is more likely to be varied at this stage.
Stage 3: This stage is for babies aged 8 to 10 months and older. The foods in this stage start to get more complex with various foods and textures now incorporated. They may contain eggs, meat, and dairy. It is possible that the food might also contain soft chunks.
What Determined the Best Organic Cereal-Based Foods for Babies
In choosing the top baby cereals, we had to make sure that the product is sourced from organic ingredients. We know that organic food products are safer than those that have been grown or cultivated in the traditional way. These should thus, be free from any trace of harmful chemicals or substances that may have been used in its production. So, we had to carefully check the reputation and trustworthiness of the company. This is crucial because it is very easy to put a label of "organic" on any product even though, in reality, it is not really 100 percent chemical-free. The only way we can ascertain the validity of these claims is by comparing them to the overall manufacturing practices of the company as well as their level of trustworthiness.
We tried looking at the feedback and reviews of consumers but found them to be of little help. This is perhaps because of our really limited knowledge on appropriate infant nutrition. Nevertheless, we did try to understand what other parents are saying about the different baby cereals especially their observations on their children's development. This is very important for us because we would really like to know if the food that we give to our babies is really helpful in ensuring their optimum development and growth. As such, when factored together, we were able to shortlist the top 10 organic baby cereals. Hopefully, you will find something that your baby will like.
Solid Foods for Very Young Kids
Nutrition for infants is a very tricky issue especially for those of us who don't have a degree in nutrition and dietetics or even in child developmental nutrition. The first six months of life is relatively easy when it comes to nutrition because mom's breast milk is all children need. There's no need for measuring and mixing as well as adding supplements and all that stuff simply because breast milk already provides babies complete nutrition. Once he or she grows, however, your baby will need more nutrients which milk alone may be insufficient to supply. As such, you will need solid foods for infants and one of the best foods for such age group are cereals.
Before we go into detail about baby cereals, let us first tackle one of the most common questions by parents-–When can babies start eating solid foods? Well, there are no clear-cut lines as the exact age but it all depends on your baby's developmental maturity.
Typically, a baby is ready for solid food if he or she:
· Can control his or her head in a steady and upright position;
· Can sit very well without the need for support;
· Has doubled his or her birth weight;
· Exhibits chewing motions;
· Shows an increasing appetite; and
· Displays curiosity about what mom and dad and the siblings are eating.
Why Baby Cand Not the Same Food That the Family Eats?
Some cultures don't necessarily believe in separate baby food and feed infants food that is prepared and cooked for the entire family. Remember, that this is the first time that your baby will eat solid foods. That is why it is essential to introduce food items one at a time, helping build the palate of your child through the discernment of different tastes, aromas, and textures.
For example, if you give your baby your adult mashed potatoes complete with salt, butter, black pepper, and even milk, you are technically introducing so many flavors at the same time. Young kids won't be able to differentiate salty from sour, sweet from bitter. What they will learn is the flavor of  "mashed potatoes." In addition, if your baby develops an adverse reaction to the food, a blend of different things will make it hard to figure out initially what he or she might be allergic to.
It is for these reasons that baby cereals are deemed the best for introducing solid foods to babies. By the time your baby has mastered the taste and texture if his or her food, then he or she can be given another flavor and texture until such time that he or she can already discern the difference.
The Bottom Line
Taking care of your baby's nutrition is essential to seeing them grow healthy, strong, smart, and emotionally balanced. With our top 10 baby cereals, we hope we are able to help you decide on which infant food to introduce your baby too.
FAQs
Frequently Asked Questions
Q: Why do these prices vary so much?
A: These prices are either set by the manufacturers or Amazon (in the case of the links we provide). So, we have no control over how much an item costs. You might be able to find lower prices on other sites online or even in stores.
Q: What is so great about organic foods?
A: Organic food needs to meet USDA's strict regulations in order to use the organically certified sticker on the product. This ensures that the product that you are purchasing has already been through thorough examinations. They will not be sprayed with chemical pesticides, nor will they contain any artificial preservatives, colors, or flavors.
Q: What if my baby doesn't like some of these flavors?
A: We have tried our hardest to include a wide range of products that will suit most, if not all, babies. Even the pickiest of eaters will find something to their liking on our list.
Q: How do I know if the product is good for my child?
A: All the products on our list are organic. As mentioned before, they will have met a set of strict rules that are administered by USDA. This means that the products on this list will be good for your child. None of them have any preservatives nor do they have any artificial colorings. Some of the products are even gluten-free and kosher.
Q: How come some of the products aren't "traditional" baby cereals?
A: As the world moves more and more toward organic food, the style of food is also constantly changing. We decided to include a range of products that are not traditionally considered cereals. This way, we can cater our list to a range of customers, who might all find something to their liking.
Q: How come all the products say that some babies might not like it?
A: We can't claim to know all babies and their likings. But, we can let you know that some of these products might not be suitable for picky eaters. Each child has different taste buds and preferences for what they like. Most times, you will have to do a bit of trial and error to find their favorites.