First graders require a different set of toys to help them make more meaningful associations between their lives and the things that are being taught in school. Toys, during this stage, take on a more supportive role to the continuing development of the different skills of children.
It is therefore very important to choose toys that will provide a more fun and enjoyable way of augmenting the learning activities in school. Keep in mind that toys are not designed to replace formal education but rather as tools for making the learning of concepts easier and more fun.
We are now more than proud to present to you our 20 best toys for 6 year old boys.
Our Top 3 Picks
Ultra 4-Rocket

Our rating
Flies up to 200 ft.
Price:

See Here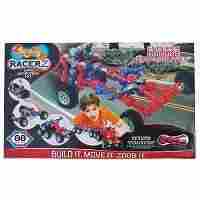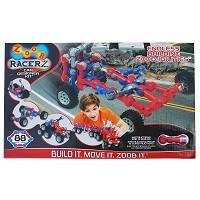 ZOOB RacerZ

Our rating
76 ZOOB Pieces
Price:

See Here

Blaster Gun

Our rating
Eco-friendly Material
Price:

See Here

20 Best Toys for 6 Year Old Boys
The Original Stomp Rocket: Ultra 4-Rocket Kit by Stomp Rocket

Kids will always be fascinated with anything that shoots and flies. Brownie points if you find gifts like The Original Stomp Rocket. It comes with 4 foam-tipped rockets that shoot skywards up to 200 feet high up into the air. There are no complicated gizmos; just plain old leg power.
Benefits – The Original Stomp Rocket promotes science, technology, engineering, and math (STEM) development. A Stomp Rocket Stompin' Science book (sold separately) explains how parents and teachers can use the Stomp Rocket to teach kids about trajectory, force, and other scientific topics.
What We Like about It – It's a very great way to strengthen leg muscles , as well as help develop muscle coordination as kids attempt to land on the launch pad with all their might. It may look easy but one miscalculated step and the rocket may only reach a few feet off the ground.
Pros
Travels well
Few parts to assemble
Provides opportunities for kids to learn and play together
No batteries required
Cons
It's tempting for kids to misuse the launcher in an effort to make the rocket fly higher which may result in damage or premature wear and tear
Small parts may pose a choking hazard for younger siblings
Car Designer by ZOOB

When it comes to toys for boys, cars are always at the top. With the ZOOB Car Designer, any kid with fascination for cars can actually enjoy building a toy replica of 4 different vehicles including 3 cars and a 12-wheel car transporter. The 76-piece set is no ordinary construction toy as it comes in a very unique design. The kit comes complete with an instruction guide.
Benefits – This kit is great for both independent or interactive play. The many pieces allow for ample creative opportunities. Little builders can use their imaginations to construct everything from motorcades to monsters. Or, they can practice their direction-following skills by studying the instruction guides.
What We Like about It – This construction toy is something that is beneficial in helping a 6 year old boy develop his creative problem solving skills as well as counterfactual reasoning skills. While the kit comes with a guide, the endless possibilities of joining the different pieces together simply means kids can actually create anything.
Pros
Contains everything required to build three different cars that can be played with simultaneously
Includes tires made from durable rubber
The pieces are engineered to move even after being put together
Perfect for boys who like things that move and morph
Cons
Some children may have difficulty following the instruction guides
Not all pieces interlock
Big League Blaster Gun with Foam Darts and Dartboard by Newisland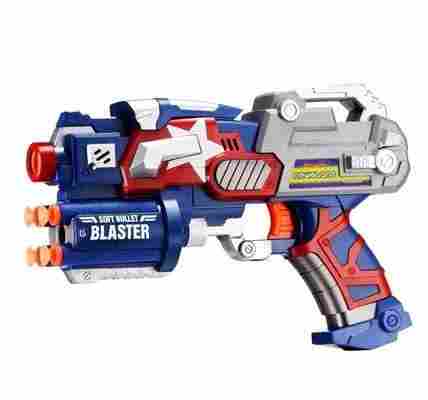 If not cars and flying objects, little boys are always fascinated by things that shoot. The Big League Blaster Gun understands this preference and as such has made it sure that the darts are made of safe materials. Ten colorful darts can be shot up to distances of 30 feet often depending on the angle upon which the blaster has been aimed. The simple operation of the blaster gun is perfect for young kids.
Benefits – The darts will stick to any smooth surface, so boys can seek out or create different kinds of targets. Invite a few friends over, and friendly competition is sure to ensue. Young superheroes can be well-equipped as they engage in dramatic play, and the fact that the Blaster Gun comes in Captain America colors is just an added bonus.
What We Like about It – It's made of one solid plastic so it should be shatter-proof. Additionally, it teaches kids about concentration and focus as well as excellent control of finger coordination. Makes for great imaginative play as well.
Pros
Blaster gun is made from durable, eco-friendly materials
No batteries required
Lightweight
Easy to load dart ammo
Foam darts are compatible with most Nerf guns
Cons
Can be hard to aim
Dartboard is made from paper (printed on back of box)
Doinkit Darts Magnetic Dart Board by Marky Sparky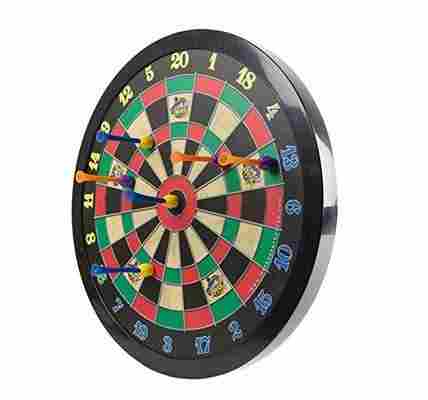 For children who would like to venture into the world of darts, then giving them the Doinkit Darts Magnetic Dart Board will be one of the best gifts for a 6 year old boy. The magnetic dart board is made of high grade Neodymium allowing for excellent magnetic attraction with the similarly magnetic-tipped darts.
Benefits – This dart set lends itself to many opportunities for learning and socializing. Because it is safe, appropriate for ages six and up, and able to play in a variety ways by simply varying throw distances or point-keeping systems, the Doinkit Darts Magnetic Dart Board can provide unlimited entertainment for kids and adults alike. Or, turn it into a math or science lesson by demonstrating trajectory, magnetic strength, force of impact, and scorekeeping methods.
What We Like about It – It is lightweight and is a good learning tool for appreciating magnetism. Furthermore, it teaches about focus and concentration including mastery of the different muscle movements of the wrist and the arm. This teaches young boys about accuracy.
Pros
Magnet-tipped darts are much safer than traditional darts.
Dartboard is easy to hang
Strong magnetism ensures that the darts stick firmly on impact
Dartboard is ideally sized with a 16" diameter
Cons
The feel and weight of the magnetized darts are different than traditional ones and make them slightly harder to throw with precision.
N-Strike Blazin' Bow Blaster by Nerf

For fans of the Avenger Hawkeye, starting one's training with the N-Strike Blazin' Bow Blaster is a must. The bow has a beautifully-sculpted body with an integrated foam arrow holder in the upper third of the bow. The blaster has a wingspan of about 20 inches making it ideal for kids 6 years of age. The arrows can be blasted up to 40 feet. You can check out other cool nerf guns here.
Benefits – Archery practice–even with a toy bow–can do wonders for eye/arm/hand coordination. Boys will quickly learn that it takes focus, stillness, proper form, and persistence to consistently hit that bullseye. Additionally, the Blazin' Bow Blaster is a perfect aid for dramatic playtime. After all, a bow is a necessary component in a boy's transformation from first-grader to Robin Hood, Legolas, or Hawkeye.
What We Like about It – It is ideal for teaching kids about accurate arrow shot placement. Unlike bullets that typically follow a straighter path of trajectory, arrows will be slightly curved. This teaches kids about concentration, focus, and waiting for the right time to release the arrow. This makes for an excellent imaginative play.
Pros
Mimics the action of a real bow
Bow string is easy to pull back
Lightweight
Boys will dig the fierce factor of the black and orange flame design
Cons
The wings of the darts can tear easily
Arrow holder can damage arrows if they are removed too roughly
Trex Dinosaur 3D Puzzle Walking Wooden Robot T-Rex Toy
This isn't just any ordinary puzzle toy; this one actually moves like a real robot! Just clap your hands to activate the walking mechanism, and you won't believe your eyes as it marches across the floor like a real T-Rex. It also emits a terrifying roar that will delight your little boy to no end. Its three-dimensional design gives it a fascinating, intricate appearance, and parents love that this is a toy they can work on collaboratively with their kids. The pieces are easy to assemble and put together.
Benefits – This toy is a great way for your child to flex the part of their brain that deals with dimension and space. Because they have to attach the pieces to individual notches to create that 3D effect, they'll be learning how to think and visualize from different angles. This type of thinking is more abstract in nature, which is often required later in life in fields like science, philosophy, and art.
What We Like about It – This toy is made with non-toxic and eco-friendly wood, so you can feel good about your purchase.
Pros
Sound activated movement
Roaring sound
Encourages abstract thinking
Great activity for bonding
Cons
GeoFlux 3-D Kinetic Sculpture & Interactive Spring Toy
Affordable, entertaining, and an Amazon's Choice item, this offbeat toy packs a lot of punch when it comes to keeping your kids occupied. Don't be fooled by the small package; once opened, watch it spring magically to life within seconds! Made of high-quality stainless steel, this fun product can be twirled, spun, and rolled across all kinds of materials, including your arm. It's one-of-a-kind design is interwoven continuously, creating a truly indestructible and safe toy that can be played with over and over again.
Benefits – Although you wouldn't quite know it at first glance, this unique toy operates based on simple scientific principles that are important to your child's education. Gravity and friction keep this coil twirling along any surface, whether it's your arm or a string of rope. This is a great opportunity for you to discuss these basic concepts while playing with your child with this peculiar but fascinating toy.
What We Like about It – Parents say that this is an excellent ice-breaker toy for birthday parties, summer camps, and other social gatherings where kids may be shyer than usual.
Pros
Educational
Safe
High-quality stainless steel
Affordable
Cons
May be too big for child's arm
Play 22 Toy Truck
Toy Truck Transport Car Carrier – Toy truck Includes 6 Toy Cars and Accessories – Toy Trucks Fits 28 Toy Car Slots – Great car toys Gift For Boys and Girls – Original – By Play22
When it comes to fast cars, every little boy is always fascinated with them… That's why the Play22 Toy Truck Transport Car Carrier is such a cool gift! It comes with six miniature cars that resemble the Hot Wheels cars and also comes with various road cones and caution bars, so your child can turn any space into a raceway. He'll love playing with these on his own or with a friend.
Benefits – Just in case this isn't the first set of cars your child has, this transport truck definitely has room. It's a great starter toy but also makes for a great addition to an existing miniature car collection.
What We Like about It – This is a simple toy that encourages a lot of imaginative play. Whether your child pretends he's a pro racer zooming down the track, or a cool street racer who never loses a race, these cars allow him the freedom to do so.
Pros
Makes transporting cars easy
Comes with roadblocks
Allows kids to add to the collection
Serves as storage for all accessories as well
Cons
Hot Wheels brand cars might not fit
(Hey! Want More Like This? Then Read: The Best Kids Watches This Year)
LEGO Creator Sea Plane by LEGO

Imagine a seaplane that can be transformed into a catamaran before being transformed yet again into a swamp boat. What you now have is not the latest member of the Transformers but rather LEGO Creator's newest addition to its line – the Sea Plane. With 53 building blocks, kids will surely never run out of ideas on how to build another vehicle using these blocks.
Benefits – There are many reasons for LEGO's designation as a "classic" toy. Here are just a few of the LEGO-building aids for fine motor skill development. It introduces young children to the concepts of geometry, symmetry, and scale. It enables them to turn their imaginative ideas into something tangible. The LEGO Creator Seaplane brings all these benefits and more in one small box.
What We Like about It – Any building toy is great for developing problem solving skills, self-regulation, creative thinking, and critical thinking skills. And with the LEGO trademark, what's not to like?
Pros
Can serve as either a great starter set for a LEGO newbie or as a fabulous addition to an existing LEGO empire
All three models can be built fairly quickly
Swampboat model can hold a minifigure (not included)
Features realistic propeller
Finished sizes of the the constructed swampboat, sea plane, and catamaran fit little hands perfectly
Cons
Swampboat and catamaran models don't actually float
Contains many small pieces (not recommended for kids with young siblings or tender-footed parents)
1/14 Scale Ferrari LaFerrari Radio Remote Control Model Car by RASTAR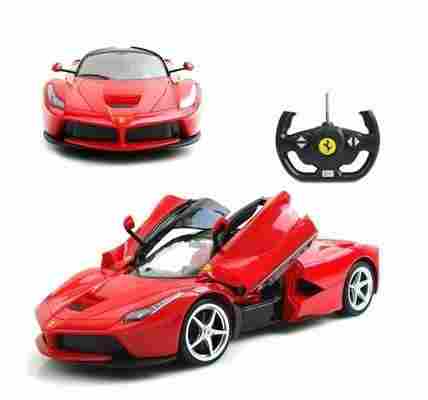 Let your kid feel the power of the prancing horse right in his hands and you will understand why the Ferrari LaFerrari RC Model Car is something 6 year old boys will surely adore. The 1/14 scale model car is beautifully detailed right down to the 5-spoke wheels, the streamlined body, and the characteristic sexiness of the front grille and side mirror. It comes with fully operational headlights and rear lights. It features a spring suspension system that are independent of each other. You can check out our full line up of remote controlled cars here.
Benefits – There are many reasons for LEGO's designation as a "classic" toy. Here are just a few of the LEGO-building aids for fine motor skill development. It introduces young children to the concepts of geometry, symmetry, and scale. It enables them to turn their imaginative ideas into something tangible. The LEGO Creator Seaplane brings all these benefits and more in one small box.
What We Like about It – It's hard not to love the prancing horse. Almost everybody wants to have a piece of this Italian supercar. For kids, this means countless hours of imaginative play while at the same time teaching about dexterity and fine motor control.
Pros
Can serve as either a great starter set for a LEGO newbie or as a fabulous addition to an existing LEGO empire
All three models can be built fairly quickly
Swampboat model can hold a minifigure (not included)
Features realistic propeller
Finished sizes of the the constructed swampboat, sea plane, and catamaran fit little hands perfectly
Cons
Swampboat and catamaran models don't actually float
Contains many small pieces (not recommended for kids with young siblings or tender-footed parents)
Super Stadium Baseball Game by International Playthings

If you are looking for gifts for 6 year old boys who happen to be fans of the Yankees, then look no more. Just give them the Super Stadium Baseball Game and they can command their own players right in the comfort of their own rooms. The game is a cross between a pinball arcade and a mini baseball where kids place the batter's hand either left or right depending on where they want the ball to fly. The fully magnetized infield allows for great ball movement.
Benefits – Young baseball fans can recreate their favorite plays while honing concentration and coordination skills. With all the different controls, they can change both the speed and trajectory of the balls they pitch. The magnetized baseball infield provides for ball movement. With all these cool features, boys may just start loving the mechanics as much as the game.
What We Like about It – It's all about the correct timing of the swing; only this time, it's about when to push the button to activate the batter. This requires excellent hand-eye coordination, lightning-quick reflexes, and truly immersive play. Also great for competitive play.
Pros
Brings a real baseball game to life with everything from a score pad to a spring-loaded bat
No batteries required
Instructions and score sheet included
Single or multi-player
Cons
Ball pitcher can be tricky to maneuver
Draw Like a Pro Artist Studio by ALEX Toys

Have you seen a kid getting so frustrated flipping the tracing paper back and forth simply because the lines are skewed? If your child is like that, then better get him the Draw Like a Pro Artist Studio by Alex Toys. Images on the rotating slide are projected onto a backlit platform to be traced. It's pretty much like the ViewMaster we've all come to love during our time except that this time, the images are not viewed, they are projected and traced. The kit comes with 124 slides, 10 sheets of paper, and 6 markers. For more like this, check out our best art sets for kids this year.
Benefits – If your six-year-old is more the art lover than pinball enthusiast, the Draw Like a Pro Artist Studio is a wonderful alternative that will whet eye-finger coordination and those fine motor skills just as well. The aspiring young artist in your life will appreciate the endless creative possibilities the Studio provides. Knowing how to operate a projector and slides is a special skill to have, too!
What We Like about It – This is a unique way to help 6 year old boys create more definitive lines. It enhances their fine motor skills while at the same time fostering creativity in the application of finishing touches.
Pros
Provides a different method for drawing
Includes projector, slides, paper, and markers
Slide images are adjustable
Has built-in drawer for storing markers, paper, etc.
Video instructions and ideas are available on www.alextoys.com
Cons
Requires AA batteries (not included)
Evviva Sciences Ant Farm W/ LED Light
[easyazon_cta align="none" identifier="B00BGRIFUI" key="small-light" locale="US" tag="newmykid-20" title="Dickie Toys 48" Mega Crane Playset" ]
This Ant Farm is recommended for children ages eight and up, but with parental supervision, it would be the perfect gift for any science and bug-loving six-year-old! Boys are often fascinated with bug life, which is why having bugs of your own is so cool to them. This ant farm allows kids to easily peer into their controlled environment and watch as ants create amazing tunnels and shelters. This kit includes everything except the live ants.
Benefits – Just by observing ants in their natural habitats, kids will learn important things such as how they survive in the wild, how they build homes, and what they eat. It's a great way to teach kids about bug life!
What We Like about It – It's challenging to find science-related toys and experiments that are safe for kids age six and that they'll easily understand, which is why this kit is so perfect. It doesn't take much and by simply observing, they'll be learning.
Pros
Features an LED light for easy viewing
Thick, solid materials
Comes with a magnifying glass
An e-book is included
Cons
Toysmith Get Outside GO! Pro-Ball Set, Pack of 3

Three of the most popular sports are included in this versatile set; one soccer ball, basketball and football offer hours of physical exercise both indoors and out. This is because each one is made of a durable yet soft plastic material that is safe for young children and won't damage the house. Let your little boy have a chance to mirror his favorite athletes with these kid-friendly and colorful sport balls. They're perfect for spending some one-on-one time with your kid in the backyard on a sunny day.
Benefits – It's common knowledge that young children learn by doing, and they especially love activities where they an easily grip an object or toy themselves. These balls were designed specifically for your child's six-year-old hands, in order to give them the best play experience possible. Smaller children can grasp, clutch, and throw these balls with ease. This increases their independence through physical play, and encourages them to literally, "take matters into their own hands."
What We Like about It – We like that these are made with 100% non-toxic plastic, making it safer for your little one to play with.
Pros
Soft plastic material
Small size for children's hands
Amazon's Choice
Set of three
Cons
They come inflated, so they can pop with overuse
Minecraft Core Player Survival Pack Action Figure by Minecraft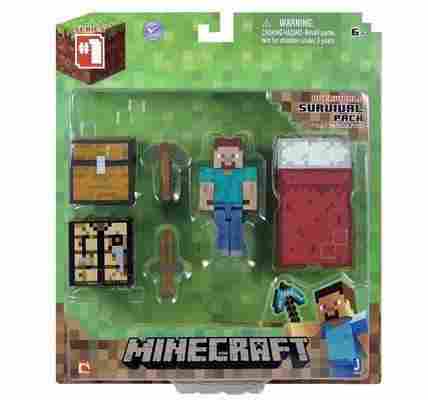 Every kid loves to play Minecraft either on their PCs or even on mobile devices. You can now add dimensionality in their playtime by giving them the Minecraft Core Player Survival Pack Action Figure. The action figure comes with several accessories like a workbench, sword, and a pick axe. There's also a bed and chest.
Benefits – Minecraft fanatics rejoice! The fully operational Steve figure looks like he stepped out of the video game. Role play is made all the more realistic with an action figure and accessories in hand. For those wanting to start a collection of some kind, this set can provide a good starting point.
What We Like about It – This is just one character which means you will have to invest in several characters to make the whole Minecraft play more unique and engaging. Great for imaginative play as well.
Pros
Features true-to-the-game details
Mini weapons can be stored in the chest
Sturdy design
Great collection-starter
Can be used with Minecraft LEGO sets
Cons
Contains a few small parts which can pose a choking hazard
Action figure's arms can pop off easily
N-Sports Vortex Aero Howler Football by Nerf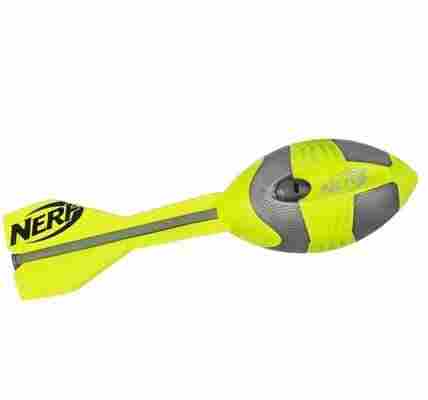 Who's the next Brett Favre or Joe Montana? If you have kids who dream of making it big in the NFL someday, then he really needs to practice making those passes. This can be easily facilitated using the N-Sports Vortex Aero Howler Football. It's designed with a hand grip to help kids hold it firmly as they make those long distance passes. The tail stabilizes it on its flight making for more accurate and longer passes. Best of all, it howls in flight.
Benefits – The Aero Howler brings an audible incentive to the playing field. Little boys will hurl it with all their might to see who can get the biggest howl. But it's not just their throw that will improve; their grip, form, and determination are also likely to gain ground.
What We Like about It – The football is great for strengthening arm muscles as well as hand grip. It teaches kids about accurate shot placement as well as the physics of flight.
Pros
Uniquely designed
Fun for both children and adults
Kids love to hear it howl mid-flight
Bright color makes it easy to track as it's thrown
Great travel toy
Cons
Takes a good arm to get it to fly far
Discovery Magic Set by Melissa & Doug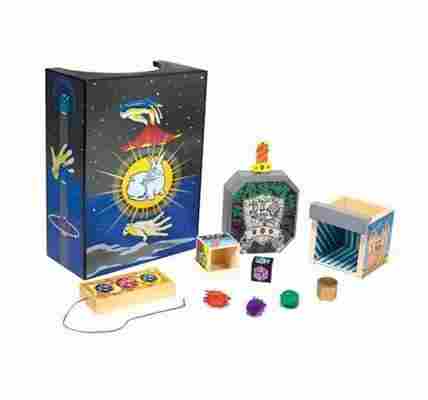 Performing magic take a tremendously long period of time to master a single trick. Kids who are fascinated with magic can do well to start early with the Discovery Magic Set which already includes 4 magic tricks that are easy to master. These include the Sword in the Stone trick, the Chamber of Illusion act, the Magic Jewel Box phenomenon, and the Color-changing String spectacle.
Benefits – Sometimes the best confidence-booster is an enthusiastic audience. The Melissa & Doug Discovery Magic Set affords the perfect opportunity to let a kid shine. Once he masters the art of illusion with careful study and practice, he can thrill a crowd with his magical moxie–and hopefully be ready to answer lots of questions.
What We Like about It – It's a unique way to boost kids' self-confidence as they learn to follow instructions to the letter. Seeing themselves performing simple magic tricks can do a lot of wonderful things to their psyche.
Pros
Made from solid wood
Tricks are simple to learn
Kids love the "wow" factor
Comes with everything needed to perform four different magical tricks
Cons
Not suitable for younger siblings
Neo Tracks Twister Tracks by Mindscope

Kids would love to build their own highways. With the Neo Tracks twister Tracks, they can now build a dedicated highway for their small motorized toy cars. the system comes with a total of 258 pieces that are flexible enough to be contorted into different road configurations.
Benefits – This track system helps toy cars go the extra mile. Boys will love driving their cars on these colorful tracks. Their own wheels will be turning as they plan out different routes in their minds and invent wild traffic scenarios.
What We Like about It – The toy is beneficial in stimulating creativity and imagination. The different colors of the tracks can also reinforce mastery as well as for brain development.
Pros
Includes accessories a motorized car
Easy to assemble
Brightly colored
Compatible with other Twister Tracks
Cons
The suspension bridge accessory does not work very well
Ulysses Delta Kite by StuffKidsLove

Spanning 1.5-meter wide and standing 0.8-meter tall, the Ulysses Delta Kite is the last that you will ever buy for your 6 year old boy. It's made of highly durable and ultra-lightweight materials that are also mold- and rust- proof. It comes with a 60-meter flying line and a convenient storage and carrying bag. It also comes with spare parts and a very useful instructional guide.
Benefits – Kites are simple yet fascinating. Learning how to handle the line just right requires focus. Figuring out how to hand it off to the wind requires effort and practice, too. But the end result is a high-flying beauty that makes kids dreams soar along with it.
What We Like about It – It teaches young boys about the value of following instructions and helps teach simple principles in physics. Also excellent in enhancing gross motor skills.
Pros
Pre-assembled
Beautifully designed
Kite sail and keel is made of parachute-grade material
Comes with free loss replacement
Cons
Only one color/design available
DIMY Compact Watreproof Binocular
[easyazon_cta align="none" identifier="B011MIZMSS" key="small-light" locale="US" tag="newmykid-20" title="Nerf Sports Dude Perfect PerfectShot Hoops" ]
For the nature-lover, binoculars are the perfect gift for kids who love to explore. They're easy to take on any camping or day trip and allow kids to view the world in a way they haven't seen it before. These binoculars are made to be kid-friendly and allow for optimal viewing, which means they'll be able to easily focus on and observe the world around them.
Benefits – One of the great selling points of these binoculars, in particular, is the fact that they're kid-proof. Even if they're dropped, they're scratch-proof as well as coated in rubber to prevent damage or breaking.
What We Like about It – When it comes to "toys", many parents don't think of gifts that can allow their children to explore rather than something they can play with. Binoculars offer a different way of seeing things and will help kids come out of their comfort zone a little bit to observe nature in action.
Pros
Easy manual focus
Kid-proof
Comfortable eyepieces
8x zoom
Various different color options
Cons
Focusing on anything past 100 yards might be challenging
Toys are very important tools in children's development. As such it is very important to look for toys that are developmentally-appropriate for 6 year old boys. The selection can truly be staggering. It is for this reason that we came up with the list of the 20 best toys for 6 year old boys.
The toys in our list were shortlisted from thousands of products that were given as gifts or presents by parents and other caregivers to children of this age. Individually, we studied the developmental appropriateness, quality of workmanship, and overall safety profile. We also looked into the reputation and trustworthiness of the toy manufacturer. Cost considerations were also factored-in in coming up with the shortlist.
Criteria Used to Evaluate Toys for 6-Year-Old Boys
First-Grade Boys, Their Development, and Their Toys
The developmental milestones of children by the time they reach first grade are simply astounding. They are already capable of understanding of how certain things work in the real world. They also know that different people will already have different opinions. Children at this stage also learn that rules may be relative – it may apply only to particular situations. They can also start expressing their feelings in greater detail. The most appropriate toys for them should be those that help facilitate the expression of their thoughts as well as help build their understanding of how things work. Moreover, toys that employ some rules may help strengthen their idea of rule-based activities.
Physically, the fine motor skills of 6 year old boys are exemplary. Toys that work best at this stage are those that allow them to write, draw, jump, hop, skip, and run. Additionally, toys that help establish balance and coordination are also helpful.
6 year old boys now start planning their role play. Make-believe play still makes up a great portion of their playtime activities but it is now becoming more structured, often with a goal in mind. They now have a better idea of how the real world operates and this is reflected in their drawings and their interpretations of the different activities they are going to perform. It is therefore important to provide toys that are as realistically close to the actual thing or object to help them make the association.
In addition to these, the language and speech of 6 year olds are already well-developed. They can begin writing and learning the rules of grammar. This helps them communicate better with their peers which becomes the foundation for excellent emotional and social health. This makes toys that help facilitate the development of these skills very important.
Entertainment and Educational Value
Our evaluators considered attention spans and creative abilities of first-grade boys in their consideration of the toys listed above. The ones that made our list are multi-purpose: they can be played with in different ways (thus stretching out the novelty factor)–alone or with friends–as well as used to teach social skills or put into practice things they are learning at school. This is important for those who want to get as much value as possible from their toy purchases.
Boosting Brainpower and Boy power
The selected toys encourage doing, thinking and moving. First-graders are still rookies in their educational career and are learning how to balance school, home, and perhaps even sports activities. Well-suited toys can help bolster the both motor skills and communicative skills of six-year-olds without adding to the pressure of structured learning requirements because they are able to play at their leisure.
The CDC (Centers for Disease Control and Prevention) recommends that six- to eight-year-olds engage in a minimum of one hour of physical exertion each day. The CDC also suggests that parents make time to play with their kids and restrict TV watching/use of electronic devices to two hours or less. Age-appropriate toys help families meet those recommendations.
Social Interaction
In the first-grade, children are working on social skills such as practicing patience, being assertive, admitting mistakes, coming up with solutions, performing tasks without adult supervision, and expressing emotion (without becoming emotional). Group play is an opportunistic time to sharpen these important life skills.
Young boys in particular tend to learn the most about social interaction while physically doing something with others. While girls love to connect by huddling around conversation, most boys would rather huddle around a football. Post-kindergarten boys thrive on action: whether trying to outdo one another through competition or forming a pack to accomplish a feat as a team, they like to channel their energy into movement. They enjoy competition and the chance to prove proficiency and prowess. When boys race cars, play darts, have shooting contests, or throw a ball around with their buddies, they are doing more than just entertaining themselves. They are taking turns, trying to win learning how to lose, holding each other accountable to rules (or making a case for doing away with them), and, most of all, developing friendships.
Choosing the best toys for 6 year old boys can really be a challenging feat especially if you take into consideration the fact that there are literally thousands of toys in the market. It is with optimism, nevertheless, that our list of the 20 best will be of excellent use in your search for the perfect gift for your six year old.
FAQ
Frequently Asked Questions
Q: My six-year-old is crazy about LEGOs! How can I get him plugged in with other kids who share his passion?
A: Many libraries offer LEGO Clubs that meet one or more times each month and provide the opportunity for like-minded kids to build, create, and explore ideas together. Check with your local library to see if they have one your son can join. If not, ask the librarian what it would take to get a club going, or consider hosting one in your home. LEGO also offers a free magazine subscription for the LEGO fan in your life.
Q: What are some fun accessories that I can buy to go with the Big League Blaster Gun?
A: Amazon sells refill dart packs (starting at $7.99), soft bullet targets (starting at $8.99), and a tactical vest kit ($19.99).
Q: My son is on the autism spectrum and therefore has a different timeline for developmental milestones. What are your toy recommendations for him?
A: Manufacturers such as Calm Focused and Tangle Creations offer some great toy options for kids with sensory and focus challenges. Please check out this list for our specific recommendations for children on the autism spectrum.
Q: Is the Nerf N-Strike Bow Blaster easy enough for my just-turned-six-year-old to pull back?
A: Yes, kids as young as five should have no problem pulling it back.
Q: Does the RASTAR Ferrari come in other colors?
A: It comes in red and yellow. You can message the Amazon seller to specify color choice.
Q: What is the average amount people spend on gifts for children?
A: It's hard to nail down a precise dollar amount, but experts on gift-giving etiquette seem to agree that $20 to $25 per child is an appropriate range in most cases.
Consider the following before you start shopping:
The closer you are to the child, the more likely you are (and want!) to spend.
Look at your budget and consider setting aside some funds to be used strictly for presents throughout the year.
What feels right to you? Sometimes it's just worth spending a few extra dollars on a gift that you absolutely know will be well-loved, is a perfect fit for that super special kiddo in your life, or is likely to help him/her in some way. On the other hand, if you aren't completely familiar with a child's personality and unique needs, it's probably not the best idea to break the budget by buying something that's popular, but expensive. Just because everyone else has it doesn't mean that it's right for the particular kid for whom you're shopping.
Bottom line: It's not the cost, but rather the correctness of the gift that makes the difference.
Other Age Ranges
1 Years Old
2 Years Old
3 Years Old
4 Years Old
5 Years Old
7 Years Old
8 Years Old
9 Years Old
10 Years Old
11 Years Old
12 Years Old