Three, two, one–-blast off! If you have a young science enthusiast, getting your child their own rocket to launch is the perfect toy for them! Your children can imagine flying into the sky and off into space, making them eager to learn what's out there! Not only are these rockets exciting to use, but they also help introduce your science enthusiast to more scientific concepts in ways that are exciting and educational.
These toys also help provide different ways for your child to experience flight. Some of these rockets launch with a jump onto a launch pad while others need a combination of water, air pressure, and other forces to help launch them into the sky. Using toys like these provides opportunities for your children to experience and explore aerodynamics, physics and an endless world of science. Your child will also learn life skills such as trial and error as they determine the best way to get their rocket flying high into the sky. Toys like these fall into the category of STEM toys, which is a short term for Science, Technology, Engineering, and Mathematics. STEM toys foster scientific thinking, including reasoning and problem-solving skills. Having skills like these will help your child's success when learning about science in school and it may even help spark an interest in these fields as a future career.
Rocket toys can be a fun solo activity or they can be used cooperatively. You can even encourage some friendly competition as your children to see who can get their rocket to fly the highest. These toys are ideal, of course, for outdoor play only, giving your children a chance to get away from those screens and enjoy the sunshine and great outdoors. If you look below you will find our list of the best rockets for kids–and even toddlers–that are highly rated and affordable.
Our Top 3 Picks
The Original Stomp Rocket Jr. Glow

Our rating
Suitable for Preschoolers
Price:

See Here
The Original Stomp Rocket Ultra

Our rating
Encourages Physical & Mental Activity
Price:

See Here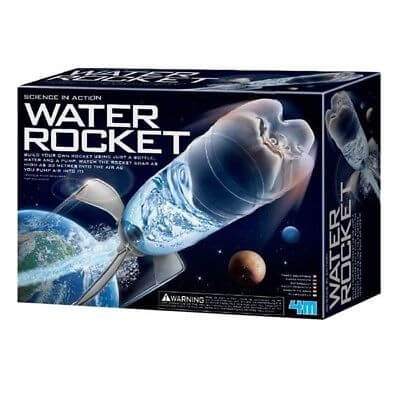 4M Water Rocket Kit

Our rating
Fun Way to Learn Physics
Price:

See Here
The Best Rockets for Kids and Toddlers Reviewed
Stomp Jr. Glow Refill Pack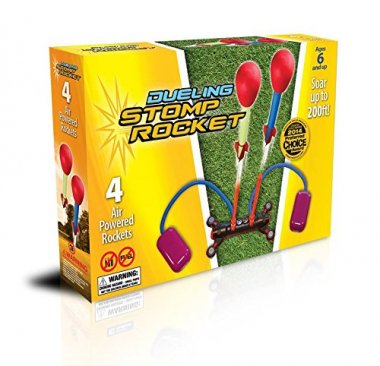 As Seen On TV Slingshot LED Helicopters
Estes Tandem X Flying Model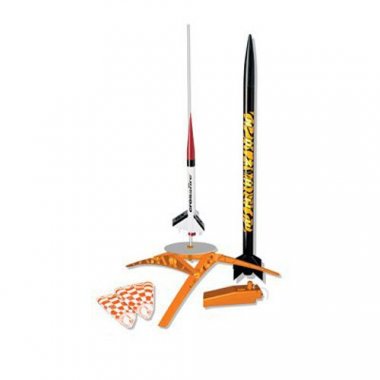 Hands-On Labs Fly High Kit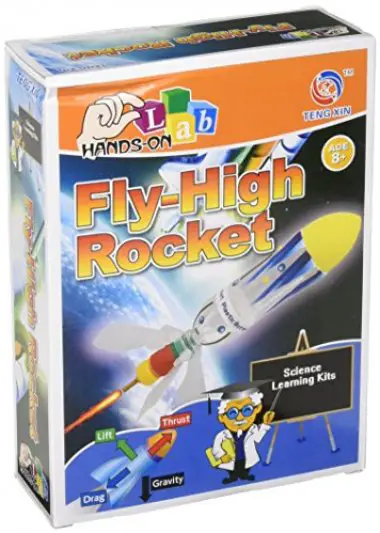 Criteria Used in Evaluation of the Best Spaceship & Rockets Toys for Kids
When determining the best rockets, we took several things into consideration. First, the toys need to be fun and engaging so that they will appeal to children. Second, we considered kid-friendly use, determining if it was something that a child could assemble easily on their own, or if it was something more complex with detailed directions that they might need some assistance with. We also took into consideration the educational aspects of each rocket on our list, and whether they will help further your child's development. Finally, we considered the most important necessity of each rocket, which is safety.
Your child will enjoy any of the rockets we suggested on our list. They'll allow your child to launch rockets into the air in several ways making each launch more exciting than the last. They're reusable, so your child will also be able to enjoy these again and again. Of course, the actual height each one of these rockets reaches depends on the launch itself.
The toys we suggested on this list are also very easy to use. The simplest ones just attach to a tube and all your child has to do is stomp on the launch pad and it will send them flying into the sky. These toys can be assembled quickly and can be used by your child with minimal supervision, which helps give your child a sense of independence. That being said, there are some rockets on our list that require a combination of water pressure and air. These ones, in particular, are a little more complex and your child might need your assistance setting up. These kits do come with clear directions, easy enough for you and your child to follow along with.
We also included traditional model rocket kits. These special kits include detailed, step-by-step directions and even diagrams for older children to follow. They still might need some assistance but depending on their age, might also be able to follow along on their own. When launching a rocket, it is recommended that adult supervision is provided.
Toys like rockets provide a fun experience and they're also educational. They help introduce your child to important scientific ideas and the inner workings of a rocket. These toys will help your child exercise their reasoning and problem-solving skills as they try to find the best way to get the most height out of each launch. STEM toys like rockets teach children science in a way that doesn't feel "educational." Hands-on learning is the best way to learn and retain information. Exposing your child to science at a young age will help them academically and it might even get them interested in either a scientific or engineering career.
Safety, of course, is also critical. The rockets on this list are safe to use, though some recommend adult supervision. The simplest ones that launch by jumping on an air pad, can be used with minimal supervision. They are either made of foam or have a foam tip, which protects your child in the case of an accidental launch. Other ones that launch with water pressure or with an engine require more supervision and are geared for older children. Model rockets are designed to be launched from a distance, so your children are safely away from the small engine blast. The amount of supervision depends on the age and maturity of your child; a good rule of thumb would be to work with them through their initial launch, and once your child has a good grasp of the fundamentals, let them work with less supervision.
FAQ
Frequently Asked Questions
Q: Which rockets are best for young children?
A: The best rockets for young children are the ones that are easiest to use and assemble. Ones that launch with just a simple launch pad that the child jumps on would be most appropriate. They are easy to use and fun. The toys on this list that utilize jumping for launch include the Original Stomp Rocket Jr. Glow, the Original Stomp Rocket Ultra, the Original Stomp Rocket Dueling, the Blast Pad Missile Launcher, and the Original Geospace Jump Rocket.
Q: Which rockets are best for older children?
A: Older children, depending on their maturity, can try using a more complex method for launching their rockets. There are water rocket kits, which utilize water and air pressure for a higher blast off. Children age 10 and older might be ready for a model rocket kit. These need to be assembled and require an engine for lift-off. Supervision is recommended for children up to the age of 12. Water rockets on the list include the 4M Water Rocket Kit and the Hands-On Lab Fly-High Rocket. Model rockets include the Estes Tandem-X Flying Model Rocket Launch Set, and the Estes Alpha III Flying Model Rocket Kit.
Q: Does the kit include everything I need?
A: Rockets that launch with just air pressure comes with everything you need right out of the box. These kits include a launcher, rocket(s), and a launchpad. Ones that launch with air and water pressure require a bicycle pump, which is not included. They may also require a recycled soda bottle, which may not be included. Model rockets require an engine, which is sold separately, as well as batteries for the launcher.
Q: Which rockets fly the highest?
A: Model rockets fly the highest because they require an engine. Once assembled, they can often fly as high as 1,000 feet or more. Water rockets can also fly relatively high, due to being powered by a combination of water and air pressure.
Q: Can the rockets be used indoors?
A: The rockets on this list can all be used outdoors, and that's typically the best way to really experience their height. A couple are suitable for indoor use as well, especially if you have high ceilings. The Original Stomp Rocket Jr. Glow is made of soft foam, making it safe for indoor launches. The Geospace Jump Rocket Mini Set has foam tips, which also make it safe for indoor play.
Q: How difficult is the rocket to assemble?
A: Rockets that launch with just air pressure from a launchpad are the simplest to assemble. You can just put together the launch pad and you'll be ready for launch. Water rockets are a bit more complex, as they require a launch pad and a bicycle pump to provide air pressure. The most difficult to assemble are the model rockets. With those kits, the rockets need to be put together, then the launch pad needs to be set up in order to fire them. All kits come with clear, detailed directions, though.