10 Best Running Shoes for Kids and Toddlers Reviewed in 2019
last updated
Jun 26, 2019
Whether your child is learning how to walk, or, simply running around, having a proper running shoe is wonderful for children to have. When having proper running shoes, children will avoid future medical issues. We came up with our list of the top ten shoes that we think are the best of the best making sure that each of the items on our list had nothing but the highest rating. We came up with a wide selection so that there's something for everyone. Whether you have an aspiring athlete or just a little one who's running around that needs to be chased after we have something for everyone on our list below. Here are the best running shoes for kids and toddlers, so your family can enjoy active play as safely and comfortably as possible.
In a Hurry? The test winner after 50 hrs of research
Nike Revolution 4 PSV
Why is it better?
Breathable fabric
Lightweight running shoe
Easy to slip on and off
Foam support in the midsole
46 different color combinations
In a
Hurry? Editors choice:
Test Winner: Nike Revolution 4 PSV
22
Researched Sources
50
Hours Researching
15
Products Evaluated
Design
Comfort
Value
By Default
10 Best Running Shoes for Kids and Toddlers Reviewed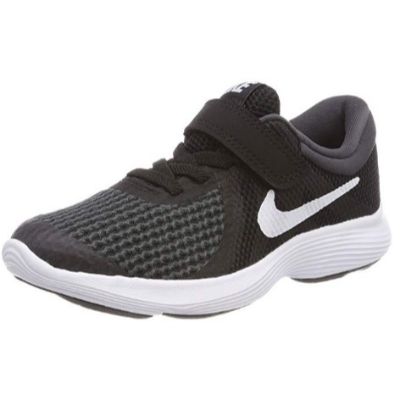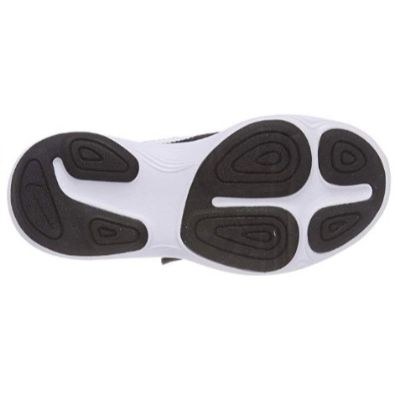 Breathable fabric
Lightweight running shoe
Easy to slip on and off
Foam support in the midsole
46 different color combinations
Not great for rainy weather; will absorb and retain water
The Nike Revolution 3 (TDV) Running Shoes are bright with a snug but breathable fit. These shoes feature a rubber sole with deep flex grooves that help to foster natural motion.
Read more
Design
The midsole provides light cushioning without being rigid and painful on feet with lower arches. The full-length midsole is made of foam and assists in this department as well, with its own flex grooves. A hook-and-loop closure means they're easy to put on and take off, and a Velcro strip across the top of the shoe helps to hold it snugly in place, specifically around the ankle. (Shoes fitting too loosely or tightly at the top can cause rolled ankles and sprains.) This sleek shoe model comes in 46 different color combinations, from vivid neons to stark primaries to basic blacks. Strap your own runners on; your little one will be off and flying in these.
Comfort
This shoe provides subtle support via the full-length foam midsole, while still being lightweight and breathable. No clunky sneakers here; these manage to avoid the usual heaviness with their airy mesh design, so your kid can play for hours and still be comfortable.
Value
They're stylish but also help to support a natural motion for healthy running and play. They're super-light and breathable, so kids won't put up a fuss about putting them on, too.
2

. Nike Kids Revolution 3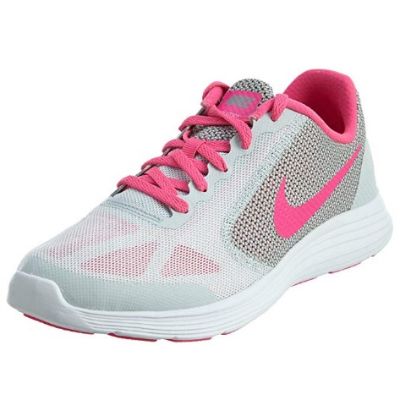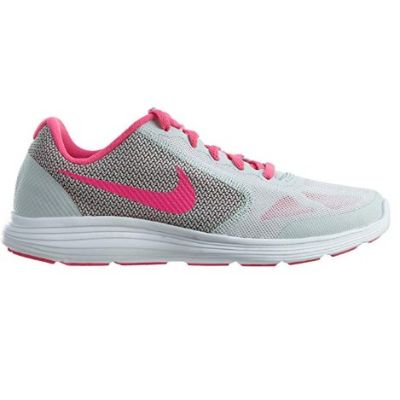 Fit wide feet well
Lots of colors to choose from
No-sew mesh overlay is airy
Subtle foam support
Durable rubber sole
Breathable, lightweight, comfortable, and durable, these Nike Revolution 3 (GS) are great for kids in warmer climates, as they allow some breathing room.
Read more
Design
The foam midsole provides a very subtle, lightweight cushioning for the foot, and various grooves have been carefully laid in the rubber sole to keep traction and to encourage natural movement. These shoes are lace-up only and come in 51 different color combinations. They run a little small, true to Nike's usual sizing, so order up a half size or full size if you need to, and avoid extra thick socks. These are so weightless and comfortable, your little one will have happy feet even after hours of running around in them.
Comfort
These durable mesh shoes are lightweight and don't trap the foot or sweat. Their grooves and construction encourage people to run in the way that is most natural and healthy to their body, rather than forcing them off-course.
Value
It's durable while still being pretty flexible. Kids can run in these and not worry about rigid structure and material causing them to trip or sprain something. Plus all of the color combinations make it easy to customize the shoe to your style.
3

. Skechers Air Bungee Strap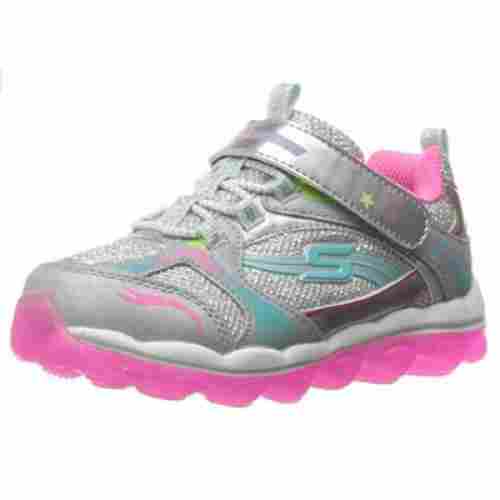 Memory foam footbed provides support and comfort
Velcro strap enables children to easily put on and take off these shoes themselves
Air pillow pockets provide more bounce to each step
The padded tongue will not irritate or itch your child's skin
Shoes do not light up
Shoes may run small
Running fast isn't just for boys. The Skechers Kids Air Bungee Strap Sneaker is designed for little girls who love to run and play. The star design on the rubber soles not only looks cool but will allow your child's feet to grip easily to any terrain as they run and play.
Read more
Design
The air pillow pockets add a little more bounce to every step. The footbed is composed of gel infused memory foam which provides support and a luxurious level of comfort to your child's feet. The tongue is padded and the inside of the shoes is lined with a soft fabric, thus neither will irritate your child's skin. These shoes come in a variety of colors and designs for girls between the ages of 1 and 12. Go crazy, and choose a pair with glitter soles.
Comfort
These shoes will allow you to spend a few extra minutes on yourself in the morning as they are designed with a velcro strap. The strap makes it easy for children to put their shoes on and take them off by themselves. The strap also adjusts to your child's foot, so they can wear these sneakers as they grow.
Value
The gel infused memory foam will allow your child to play for hours as it provides comfort and support. The soft lining and padded tongue increase the comfort of the shoe and will not irritate your child's skin.
4

. Saucony Boys' Baby Ride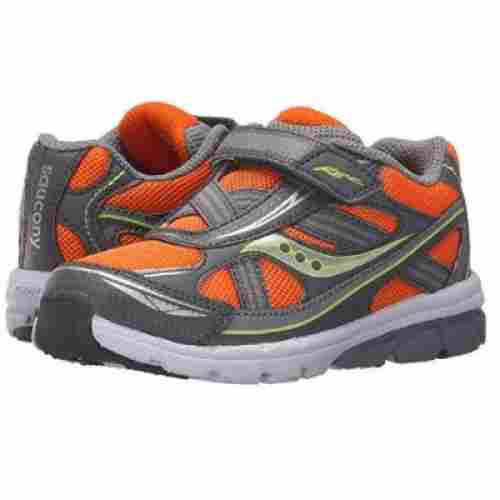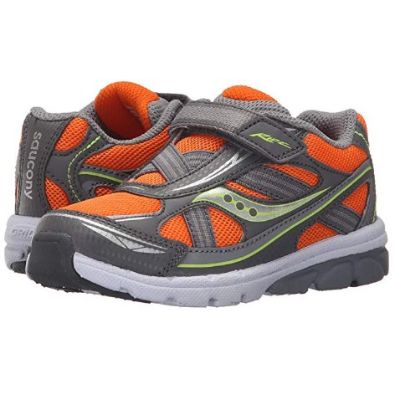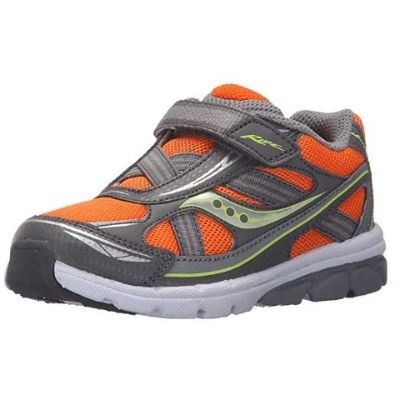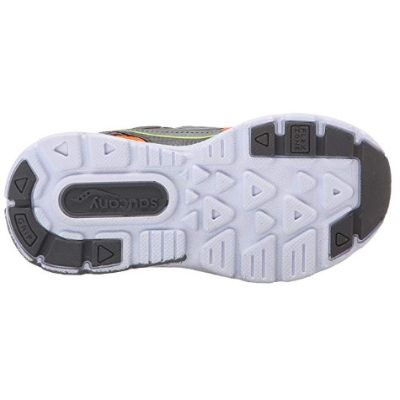 Durable shoes.
Velcro strap for holding the shoe onto the foot.
Elastic bands on the top of the shoe keep shoe nestled on the foot.
Many positive reviews from buyers
Shoes are flexible, so shoes don't feel rigid on the feet
May run small
Velcro strap seems to break easily
These shoes are made for really little kids, and since all kids have different sized feet, they may not fit all in the same way. Saucony is a big name brand, though and they keep on putting out great shoes.
Read more
Design
The name of the game for these sneakers is that they are flexible, so baby's feet will be given room in the shoe to grow properly and to grip the floor so he can walk properly. The soles give a good grip on the floor so that traction is good and your child's step is stable. This shoe comes in exciting colors, and there are a variety of colors included in the same shoe that gives it an interesting look. Every kid in your child's class will have his eye on these great looking sneakers and will be envious of the comfort and agile moves your child can come up with as he plays. There are no laces to tie, so it's easy on/easy off when it comes to putting on the shoes and taking them off.
Comfort
For boys, it's all about running, playing, and as they grow, competing. This Saucony Baby Ride Sneaker is a great shoe to start with when your boy is ready for shoes. They are very flexible, which is what we like best about it. Flexibility helps your child's foot grow and move properly. Since the sole is rubber, there will be lots of traction for running around like an agile wild man. This helps your kid do all the playing kids are supposed to do, using his imagination, telling stories, and competing with others. The Saucony Baby Sneakers will help your little boy get the start he needs for all of his play, games, and competitions. Imagine your boy in college football, basketball, and baseball.
Value
The lightweight mesh helps your child's feet stay cool, the whole shoe is lightweight making running and jumping easier and making walking a cinch. Your child will have confidence in placing his feet firmly on the ground so he can keep playing all the way home. The durability factor helps these shoes last a bit longer. With any luck, your child will have use of these sneakers for much more than one or two months.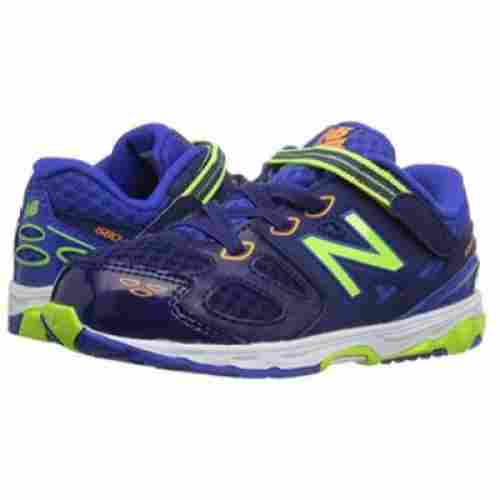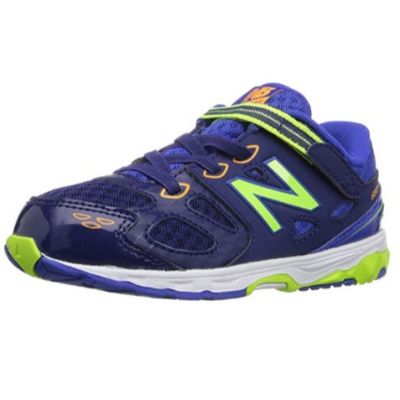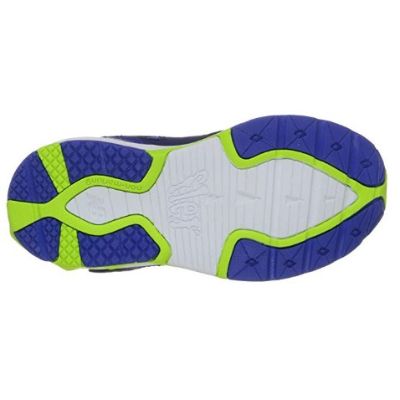 EVA midsole cushions the footfall
Inner mesh lining to keep feet cool.
Rubber sole for traction
Soles will not mark floors
Many of the styles are made in the USA
There are no cleaning instructions
Buyers are saying wonderful things about this beautifully colorful shoe. The colors are bold and vibrant. So many kids love the look of this shoe. Children with wide feet are finding these New Balance KA680 Running Shoes fit really well and feel comfortable and secure.
Read more
Design
The midsole of these shoes is made of EVA for comfort and shock absorption. You never know when your baby will improve her walking skills for running, so these shoes could provide a wonderful transition. And if your child has sweaty feet, the liner will help with breathability because of the mesh lining. And the upper on this shoe is mesh and synthetic, so it's lightweight for easy movement. Your kids will enjoy their shoes so much that they will want another pair when they outgrow their current shoes. It's the comfort that counts for little kids and they will want to wear these lovely shoes on a daily basis because their feet will feel so good. New Balance has been around since 1906 and is based in Boston. People have been trusting New Balance with their feet and their kid's feet for over 100 years, and this company makes great shoes for people and kids who are active. New Balance has many styles of shoes that are mostly made in the USA. They also have factories in the UK.
Comfort
Kids play. That is their 'work.' It's what kids are supposed to do in order to learn about the world around them. In order to do this, after learning to walk, kids need shoes to protect their feet from harm. So while they are running and playing they need a shoe that fits properly. New Balance has, in part, made a name for itself by producing both narrow and extra wide shoes that some other companies don't produce. This helps parents who are frustrated because they can't find a shoe that fits their kids. This New Balance shoe is very popular. Your child will look great in these shoes and their feet will be protected and comfortable. They can run, play, jump, and have fun because of the cushioned midsole, the mesh upper, and the mesh inner surface that keeps feet cool.
Value
It's great that these shoes are mainly made in the USA. Kids feet feel comfortable so their play doesn't get interrupted by pain and soreness. They can play in peace and have fun with parents and other kids. Plus the great colors and functional styling of the shoe make it great for casual wear, too. You will love the easy on/easy off fit so you can get on your way quickly, and the velcro closure with the elastic laces help the shoe fit snugly to your child's foot. You and your child will love these great shoes from New Balance.
6

. Saucony Jazz Hook & Loop
Man-Made
Long lasting
Easy to take on & off
Lightweight
Variety of styles
Some customers had an issue with sizing
These Saucony Baby Jazz running shoes are man-made and made with a synthetic sole. Whether your child is walking or running this shoe is lightweight and perfect for any type of athlete.
Read more
Design
This shoe has a slip back feature and is a bit of a retro style. This shoe is wonderful if your little one wants to match their personality as it comes in an extremely wide variety of styles that they can choose from.
Comfort
Saucony running shoes are durable. They withhold any type of physical activity and won't tear after longtime use. Made with a cushioning mesh, they are 100% lightweight meaning that your child's feet won't be soaked with sweat no matter how long they wear them for.
Value
We love these shoes because they're perfect for your athlete. They have a unique style to them and come in a variety of colors to match your child's favorite. They're lightweight which is perfect especially if your child is wearing them for a long period of time.
7

. Dadawen Mesh Lightweight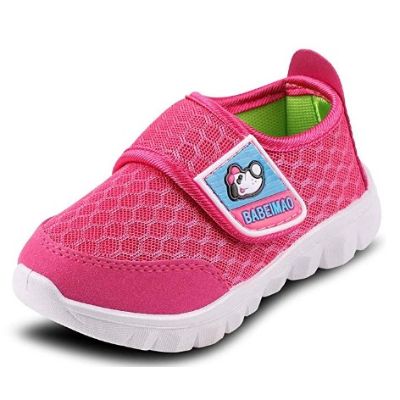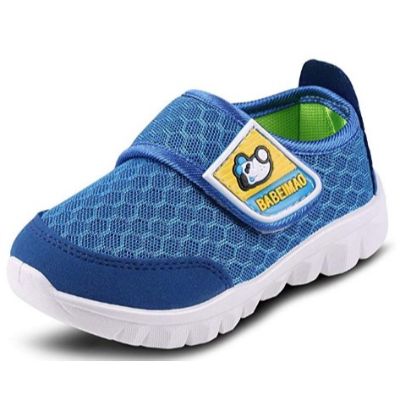 Ideal for the Summer as the mesh fabric provides breathability
Your child's toes will be protected with the anti-collision toe cap
Highly affordable
Machine wash safe
Some buyers have problems with the stitching failing
Walking, jogging, biking, your little one can do it all while wearing the Dadawen Baby's Running shoe. The honeycomb mesh fabric allows air to circulate in and out of the shoe which will leave your baby's feet feeling fresh all day.
Read more
Design
The breathability of the material will also keep odors from building up inside of the sneaker. Not only does the mesh provide a comfortable fit but it is lightweight and will not hinder your baby's mobility. The material makes this an ideal shoe for the summer. They're super easy to clean as they can be thrown in the washing machine. The combination of athletic and leisure in the design gives this shoe an overall modern look that will look nice with any outfit. This running shoe is available in 12 different color patterns that are sure to please any boy or girl.
Comfort
The suede toe cap at the front of the shoe will keep your baby's toes free from injury. No matter how rough playtime gets these shoes will stay on as the velcro strap provides a snug fit. The soles are made of highly durable rubber. It's no secret that children grow fast. With these shoes being priced between ten and fourteen dollars, you won't have to stress when your little one grows out of them and it's time to buy another pair in the next size.
Value
The mesh fabric provides the wearer with a ton of benefits. For instance, it will not hinder mobility as it is lightweight and the breathability of the fabric will keep feet feeling fresh all day.
8

. Stride Rite Made 2 Play Artin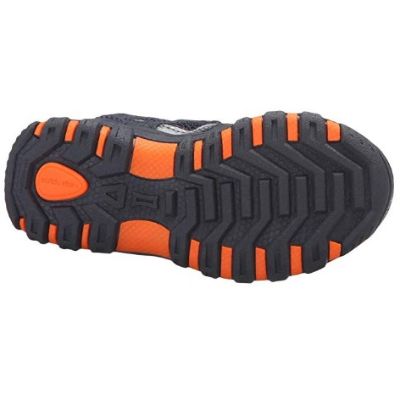 Machine wash, air dry
Antimicrobial lining so they don't smell
Mesh upper with leather overlay
Breathable
Easy on/easy off
Some buyers say they don't wear well
Kids and parents seem to love these shoes in the reviews so we give it a thumbs up. These are made for child fun and comfort with the bright bold colors and the memory foam footbed.
Read more
Design
How great is the love the kids have for these super comfy sneakers? They can run, jump, and play hard and long and still have the energy to spare at the end of the day because the sneaker is well constructed and comfortable. Plus, the sneakers stand up to muck and grime, chocolate, mud piles, and a whole host of other dirt creations that kids can get stuck in. Just wash and air dry and you're good to go. Plus, many parents love not only how sturdy these shoes are, but that they have really good wide sizes that fit their kids' feet. Kids with wide feet often have trouble fitting into shoes, and Stride Rite seems to have come up with a solution to this problem, based on great buyer reviews.
Comfort
As a parent, you will love these well-fitting easy keepers. They support your kids' feet well with great traction for active play. Your child can wear these shoes just about anywhere. Going to a church or school function? These are great for that. Maybe it's a trip to a playground or a gym. These shoes work for that. They can be worn to any activity that is less than formal and your child will be able to fit right in. The colors are great neutrals that you can wear with anything. As a Mom, your triumph is the great ways you can wash these sneakers. Just hose off or machine wash and then set out to dry. These shoes are built well with foot support and comfort in mind.
Value
These shoes seem to be light and easy to wear. Kids just pull on and pull off for a quick out the door getaway. They come in some great colors that kids like. They wear well outside but also are nice enough to wear to a gathering that requires more formal clothes. Kids enjoy these shoes, and they have a rubber sole that is tractable so children don't slip and fall. Stride Rite has made one of the most comfortable and supportive shoes for kids that is a great go-just-about-anywhere sneaker.
9

. Hawkwell Mesh Athletic Lightweight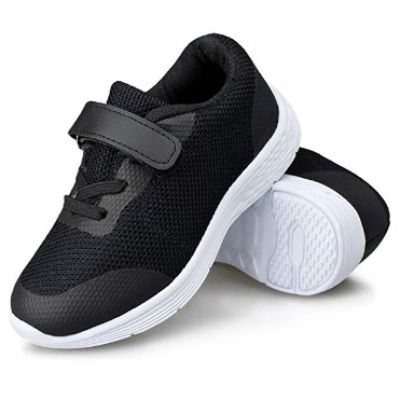 Most buyers say these shoes fit true to size
Cute and fashionable
Comfortable for most kids
Flexible sole made of Phylon
Durable for rough play
Tie laces, so not great for kids who can't tie their shoes yet
May be a little noisy
These Hawkwell Casuals are super breathable layered mesh. The colors are trendy and fashionable, and your child will feel comfy in them in any situation, inside or out.
Read more
Design
The soles are phylon, made from EVA material and quite flexible for easy movement. The outsoles are non-marking, so they are no problem in school. These might be a bit slippery on a wood floor, but otherwise, they work well. Kids will have fun in these because they are great for playing, jumping, running, and games outside. Inside, your kids will be able to play in play areas in school, comfortably walk the hallways to and from class, visit the library, and go just about everywhere a kid is supposed to go in school. Kids are finding these shoes fun and trendy.
Comfort
Your child is going to love walking and running in these lightweight shoes, and she will be wearing something trendy and cool besides. The shoe is great for playtime and comfortable to wear inside and out. The look is casual, so these shoes can be worn for family or school gatherings. You child won't even have to change shoes after school. The Phylon sole is tractionable outside so there shouldn't be any slipping and sliding. Phylon is a bit like rubber in that way. Comfort is the main thing with these shoes, as they are soft for comfort. And that means your child won't complain about pain or pinching. The best way to achieve this is to get shoes that fit her.
Value
This shoe is about comfort and bold, blazing colors, which most kids really like. The soft, flexible construction makes this a top rated shoe. Buyers love that they buy these at a good price and still have a durable shoe. There are some really cool neon colors in the shoe selection and others that are so cheerful that it would be almost impossible not to have a good time. Your child could end up to the envy of all of her classmates wearing these handsome sneakers because they are very stylish and trendy.
10

. CIOR Aqua Breathable Slip-on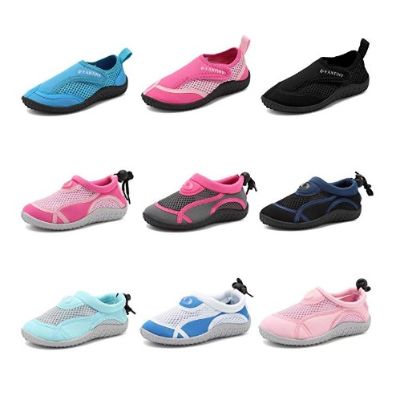 Waterproof
Slip-resistant
Durable
Variety of styles
Some customers had issues with sizing and shoe being too loose
This shoe is perfect for your little one if they don't quite know how to tie their own shoes yet.
Read more
Design
These shoes are lace-less, so they are easy for your children to slip on and off. This shoe is also a cross-over of a sneaker and a water shoe as well.
Comfort
This shoe is perfect for any kind of young athlete or if you're planning on going to the beach or pool. They're lightweight, durable and can also be easily washed! A parent's dream shoe! They are made with a breathable mesh which makes it so that these shoes will be nice and comfortable for your little one no matter how long they wear them throughout the day.
Value
We love this product because not only is it a sneaker but it's also a water shoe. It's perfect especially if you're planning on doing a lot of summer activities that require water, but you don't necessarily want your child to take of their shoes. We love that this shoe is versatile and perfect for any occasion.
Criteria Used for Evaluation
Design
When choosing running shoes for our kid's list, we try to choose manufacturers that are popular with buyers and have good reputations. We also added a few kid shoemakers that might be new to you but have been getting good buyer reviews. And their customer service needs to be good to great. If we find a company that does not serve its customers well, we can't add its shoes to the list. When possible, we check their website to see if it is user-friendly and to check out the praise and complaints. Of course, most buyers won't contact the company if they are happy. They just use their product and go on with life. So no complaints are a good thing.
Comfort
Reviews by buyers are important, and we try to choose the best kids' shoes online with the highest number of good reviews. The more reviews an item has, the more popular that item is and the more people there are who have purchased the shoe. We look for a high percentage of four- and five-star reviews and a low number of negative reviews. The more people who are happy with the product, the better the product. And this is good for you, our readers because we have done all the research for you. And there is a long research process for every item on our list.
We do try to choose shoes that are easy to take care of. Many of our shoes can just be thrown in the washer and dryer. That is a great convenience because some shoes out there are tough to clean if they get muddy. The mesh uppers and the rubber-soled shoes are usually machine washable. In some shoes, the inner lining comes out so those can be washed to get sweat and bacteria out of the lining. And you do have to admit that these are shoes for little feet so hand washing them would not be that big a task. In this case, every shoe is a winner.
Value
For your children: the development of their legs, feet, and bones is extremely important. We know that a child who is 6 or 7 isn't going to have the same strength as an adult. However, their muscles are going stronger so they need a shoe that will be able to support them. By the time your child reaches this age, they're no longer flip-flopping all over the place from learning how to walk and run. Shoes are needed to help support their feet as their feet continue to grow.
Your choice of shoes for your children can help their feet grow or hinder it. For toddlers, their shoes should have flexibility, comfort and good traction at the bottoms. There should be a firm fit with some room for growth for their feet. Parents should also make sure there is about a thumb's width from the end of the toe to the tip of the shoe when it comes to sizing.
Most Important Criteria
(According to our experts opinion)
Experts Opinion
Editors Opinion
Users Opinion
By Default

Parents, Did You Know?
Make sure that the running shoes that you purchase for the kids are a good fit. Shoes that are not a good fit, too big or too small, can aggravate their feet and make them very sore.
Parents, Did You Know?
Never buy shoes that you feel like they need a 'break-in' period. All running shoes should be comfortable from day one.
Other Factors to Consider

Effectiveness
We also want to make choosing shoes as easy for parents as possible, so we have tried to choose shoes that have the basics of what developing feet need, but without all the bells and whistles that add to the cost. So there are no shoes on the list with flashing lights or outrageous styles. We did add a few more stylish shoes, but we mostly chose functional shoes that look good.
And we didn't forget the fun. There are several shoes that have great color choices so that your kids will want to wear them. Remember that your kids' feet are always growing during this time. They are toddlers and younger kids. They will only be wearing the shoes for two to four months, so they don't need expensive flashy shoes.
Safety
We do want your child's shoes to be safe, so we do our best to choose shoes that will help your kid's feet develop normally during this stage of their growth. It's so important. We also want to keep the chances of your kid falling down to a minimum, so we picked mostly shoes with rubber soles for good traction. We want them to be able to turn on a dime without twisting an ankle. However, parents also have to do their part to make sure they have chosen a shoe that fits well. With ankle twisting, it's the fit that counts. Remember that your child's feet will grow and you will be buying new shoes as soon as the foot grows too big for the current shoe.
Frequently Asked Questions
q:

How can I make sure my son's shoes fit?

a:

There are several ways you can check. The best way is to have his foot measured by a professional. Get the width of his foot measured, too. If you already have the shoes, have your son wiggle his toes. You can also use your thumb at the end of his big toe. Make sure there is room to fit the width of your thumb in the space. Also, check to make sure his heel fits in the heel of the shoe without twisting. Put your little finger inside behind his heel.
q:

Is it good to buy my daughter a size bigger so I don't have to buy shoes so often?

a:

Buying larger shoes for your daughter to save money is not the best idea. Kids feet grow, and there is nothing we can do about that. Kids wearing shoes too large for them may be prone to tripping. It's best to get shoes that fit your daughter because shoes that fit are best at helping her feet develop properly and help her walk properly. Failing in that department can cause problems with her gait later in life, not to mention back pain or leg pain.
q:

How often should I buy shoes for my 2-year-old?

a:

Kids feet are constantly growing, and they have growth spurts. If you replace your child's shoes every three to four months, you should be good. So three times for the next year or two. As your kid gets older, he will not grow as quickly.
q:

Which is better, the Velcro strap or tying the laces?

a:

The answer depends more on what you are looking for in a shoe. Most people seem to like the Velcro closures, also called hook-and-loop closures, for kids because they are easier to close. The laces you have to tie, so they are great for kids learning to tie their shoes. The laces generally take longer, so if you need speed, the Velcro strap works better. Just strap and go.
q:

I am so thrilled that my daughter has started walking. When should I buy her first pair of shoes?

a:

Now would be a good time. Usually one to two weeks after walking. Or if she has been going outside since her feet need to be protected.
q:

I'm a new mom and I'm finding this to be all so confusing. How do I know a good shoe when I see one?

a:

First, congratulations! Second, don't worry about buying shoes until your baby is walking, usually around 18 months of age. Until then, barefoot is best. When he or she does start walking, buy baby shoes. Flexible and supportive shoes are best because your baby's feet are still growing and will grow until about 17 years of age. So choose a shoe that is flexible, supportive, a good fit, not too tight and not too big. Do not buy shoes a size or even a half size larger as it could cause foot problems later on. The shoes should be made of breathable and durable materials. Rubber soles are good, an entire shoe made of rubber is not.