Wrestling is great for kids. It provides them with exercise and a competitiveness that allows them to build their self-esteem and confidence. One of the best things for a parent of a wrestler is that wrestling does not require a lot of equipment. The equipment that they do wear needs to be up to standards though and also give them the competitive edge that they are looking for. It also needs to provide them with the support that they need to be as safe as possible.
As wrestling has become more popular over the years especially with children, it is even more important that they are provided with the best equipment possible when they are engaging in the sport. It is a sport that requires strength, agility, and endurance. When they are competing at that level of physical activity, it is important that they have the best shoes possible.
When wrestling, a wrestler's traction on the mat is determined by the shoes that they are wearing. The shoes can either help their effectiveness as a wrestler or hinder them, making them become fatigued much faster than their opponent because they have to work harder to get the upper hand. Because shoes are so important to a wrestler, we have come up a list that provides you with the best wrestling shoes on the market. We have researched and compiled this list to ensure that your little wrestler has the best shoes possible for their big match.
Our Top 3 Picks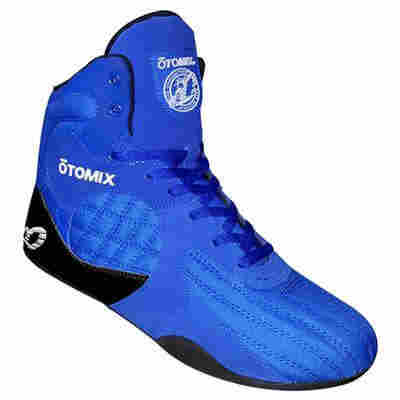 Otomix Royal Blue Stingray

Our rating
Great Ankle Support
Price:

See Here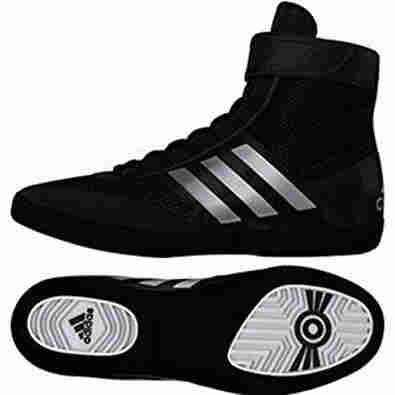 Adidas Combat Speed.5

Our rating
Breathable Mesh Upper
Price:

See Here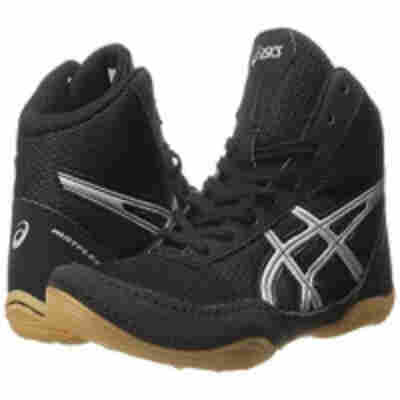 ASICS Matflex 5 GS

Our rating
Rubber sole
Price:

See Here

Our Picks of the Best Wrestling Shoes for Kids in 2018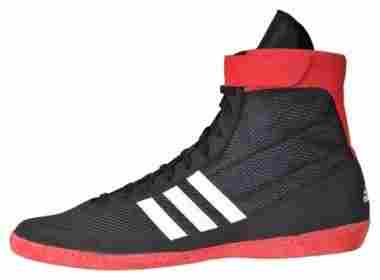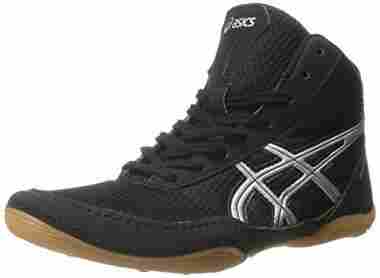 Otomix Extreme Trainer Pro
Adidas Adizero Wrestling XIV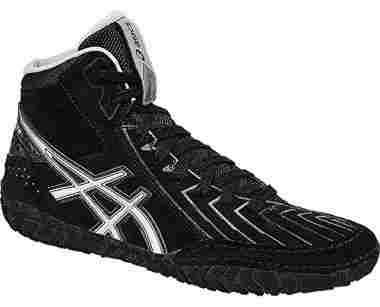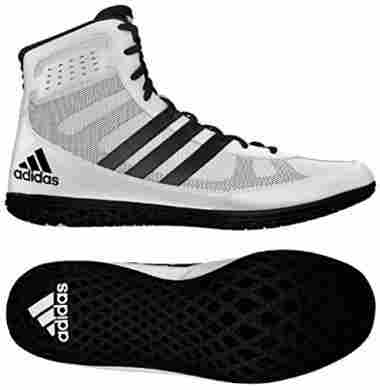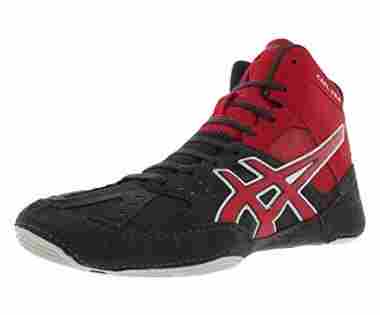 Criteria Used in Evaluation of the Best Wrestling Shoes for Kids on Our List
Fit and Feel
This was our most important criterion, since wrestling shoes have to stay on the feet for hours at a time. In addition, each pair of shoes and pair of feet are different in shape, texture and condition. Paying attention to the unique features of your child's feet is extremely important as he or she begins a sport that is notoriously tough on the feet. Flat feet, for example, may need the extra flexibility and the cushioning of a reinforced split sole. Feet with high arches may be better off with a flat unisole in order to keep them more stable on the mat.
However, the real judge in the "fit and feel" contest is your child. After all, they will be the ones wearing the shoes, so they will have to decide whether it feels good, bad, right or wrong. Granted, shoes do need a bit of breaking in, but high-quality wrestling shoes should begin to accommodate and mold around your child's feet from the very first practice. We should disclose that unisoles may take a bit longer to break in, but wearing them at home (on soft or smooth surfaces) and at the gym can help break them in faster.
Since the right fit and feel is so subjective, we included a variety of shoes with different textures, stretch levels and reinforcements. However, shoe shopping–from sports to everyday wear–is a process of trial and error when it comes to children.
Durability
Any sports shoe has to be durable, but wrestling is particularly tough on the soles and sides of the shoes since there's so much squatting and pushing off the mat. A shoe has to stretch and move with the feet through all those movements hour after hour, practice after practice. That's why we made sure to only include shoes that were built to last, regardless of the material or texture. Many of our picks are leather and suede, which are proven materials for wrestling shoes at the professional level. However, synthetic materials work just as well, as long as they're performance-grade synthetics from trusted companies like Adidas and Asics.
Durability, by the way, can extend to features that look like mere decoration. A good example is the 3 stripe design by Adidas, which are referred to as a TPU overlay. TPU stands for thermoplastic polyurethane, a polyurethane plastic notable for its elasticity and resistance to oil, grease and abrasions. These properties enhance a shoe's durability, which is why they're a lot more than just a cool design.
Innovative Features
This criterion can encompass quite a few areas, including trendy, fashionable elements like colors and patterns. While we didn't forget about looks, we chose to focus more on innovations that help children develop into strong and skilled wrestlers. Hence, innovative features should address issues such as increased comfort, enhanced breathability and greater range of motion without sacrificing grip.
For example, the Cael V6.0 by Asics are lined on the insides with a Comfordry mesh, which works like an absorbent layer to pull sweat away from the socks. That means cooler and drier feet, which can make a world of difference during long practices. Innovations like these are proven features among college and professional wrestlers, so we know they can help your child no matter what level they're at.
FAQs
Frequently Asked Questions
Q: Are weightlifting shoes the same as wrestling shoes?
A: The general answer is no, mainly because weightlifting shoes are specifically developed for extreme lifting movements that put tons of pressure on the feet. The focus with weightlifting shoes is to keep the lifter stable on the ground, while providing extra heel support (many of them have raised heels). Wrestling shoes, on the other hand, tend to have thin, flat unisoles or split soles that focus on grip and flexibility.
Having said that, a few companies such as Otomix makes shoes that can be used for both purposes. We chose to go with Otomix because the materials, construction and design are clearly appropriate for wrestling. Furthermore, their shoes have been approved by countless wrestlers and coaches, as well as athletes in other combat sports such as kickboxing and mixed martial arts (MMA). Regardless of which brand shoes you choose for your child, make sure to look for the following elements: enhanced ankle support, flexible sole and superior grip/traction. Once those requirements are met, you can choose based on your child's personal needs and preferences, such as material, dry-fit lining, reinforced side panels, etc.
Q: What is the size adjustment if I'm buying these for a girl?
A: The good news is that quite a few brands nowadays, including Otomix, have female sizes. Still, the vast majority of wrestling shoemakers only have male sizes, so it can be rather challenging to find the right fit for girls. In the case of Adidas wrestling shoes we know for sure that Adidas advises going down one to one and a half sizes down from the male size. For wide feet, especially, you may want to go down one full size.
Desired wiggle room in the toe box is another factor in how much to size down. This is really dependent on the "feel" your child wants from a shoe. If she prefers a tight, fitted feel, then perhaps she should go one to one and a half sizes down. If she maneuvers better with more room in the toe area, you may want to go down by one or a half size. Unfortunately, it is a bit of trial and error with girls, but a great source of information is your child's wrestling coach. Coaches, after all, have extensive knowledge on shoe specifications and how they fit on young wrestlers. They can also recommend shoes that develop your child's strengths, while helping her through some of her weaknesses.
Q: Are leather shoes more durable than synthetic ones?
A: There was a time when the answer would have been "yes," but synthetic materials nowadays are extremely durable and functional, thanks to advances in science and technology. In fact, many companies develop specialized synthetic materials which they call "performance fabrics." These materials address specific needs such as enhanced grip and traction, superior breathability and a lighter feel on the feet. Lightness, in particular, is a common reason for choosing synthetic, or mostly synthetic shoes. However, some wrestlers perform better with heavier, more "grounded" shoes, so it's really a matter of preference.
Durability was one of the criteria for our list, so you can be sure that all our choices are tough, well-built shoes that are made to last. However, our list does represent a wide variety of materials, colors and designs in order to your appeal to your child's individual tastes.
Q: Which is better–unisole or split soles?
A: Ah, the unisole or split sole debate! While wrestlers love to argue the pros and cons of sole construction, the basic answer to this question is: it depends on your child's needs and preferences. To clarify, a unisole is a one-piece sole that goes from heel to toe, while a split sole is made of two distinct pieces. The unisole's primary purpose is grip, which can be helpful for beginning wrestlers who are still working on strength and stance. Superior grip is especially important for pushing off the mat, since even the strongest wrestler can slip and fall without sufficient traction.
The split sole, however, may give a greater range of movement due to the increased flexibility. In addition, the split sole design can accommodate integrated features such as an EVA midsole, like you see in the Adidas Mat Wizard 3. These kinds of features can help alleviate pressure on certain areas of the feet. So it's really a matter of what your teen needs from a wrestling shoe, and how they feel on his or her feet during practice.
Q: Should I buy a size up for a teen?
A: This isn't necessarily a bad idea depending on your teen's age. On average, girls feet stop growing at around the age of 14, while foot growth for boys usually stops around age 16. So it's understandable that parents think of sizing up, depending on what age their kids start wrestling. The downside to sizing up is that the shoe may not fit securely, which can definitely lead to injuries. While a bit of wiggle room in the toe area can be helpful to some teens, loose shoes may compromise ankle stability, and that's the last thing you want.
Sizing up by a half size is probably safer, though we recommend you speak with your child's coach before making a final decision. You can also speak with a podiatrist, who can examine your teen's feet and make recommendations based on factors such as the shape and size of the toes, and previous injuries to the feet or ankle areas. The other option is to buy a half to full size up as a spare, which brings us to the next question.
Q: Should I buy more than one pair at a time?
A: You certainly don't have to, although many parents do. In the beginning, one pair would be wise, just in case your child decides not to continue wrestling past the first season. Once they're sure about going back for season two, we recommend two pairs–one for practice and one for competition. Whether they should be the exact same pair is largely up to your child, though many children do get used to a certain fit and feel. Overall, we recommend sticking with shoes that at least have a similar build and design, so that your child isn't thrown off between practices and competitions. You can also choose to buy a fitted pair, and a half or full size up to have as a spare. Foot growth seems to happen practically overnight for some children, so thinking ahead may save you the aggravation of trying to secure shoes right before a tournament.