10 Best Toys & Gift Ideas for 8-Year-Old Girls in 2019
last updated
Jun 20, 2019
Kids have exited their younger years and are starting to develop their own very distinct likes, dislikes, and opinions. They're still often excited by new things, but toys and games that once held their interest now might seem "babyish" in their eyes. This is never meant to be insulting--what they're trying to express is that they've outgrown the skillset that toy or task is concentrated on, and now want something to challenge them. That's a good thing, we promise. Children are sponges and they're always looking to learn, even when they aren't fully aware of it. There is a wide range of games and products on the market that can and will challenge this age range in the best way possible. These gifts, games, and gadgets are a surefire way to put the fun in functional hobbies.
In a Hurry? The test winner after 35 hrs of research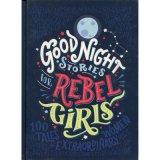 Good Night Stories for Rebel Girls
Why is it better?
Includes 100 stories about 100 special women through time
Filled with beautiful illustrations from over 60 female artists
Hardcover for maximum durability
FSC-certified using eco-friendly soy and vegetable-based inks
In a
Hurry? Editors choice: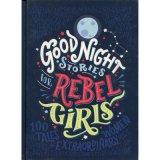 Test Winner: Good Night Stories for Rebel Girls
27
Researched Sources
35
Hours Researching
23
Products Evaluated
Design
Educational Value
Effectiveness
By Default
10 Best Toys & Gift Ideas for 8-Year-Old Girls Reviewed
1

. Good Night Stories for Rebel Girls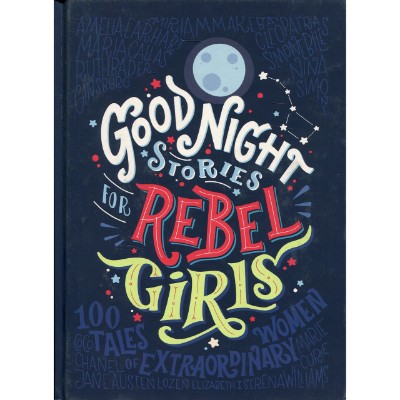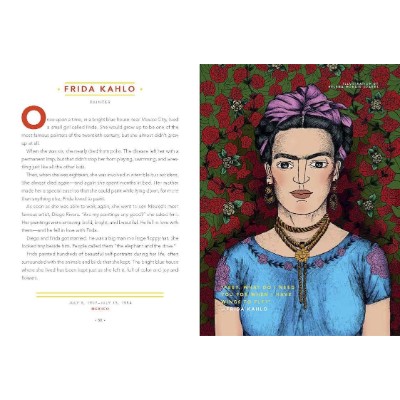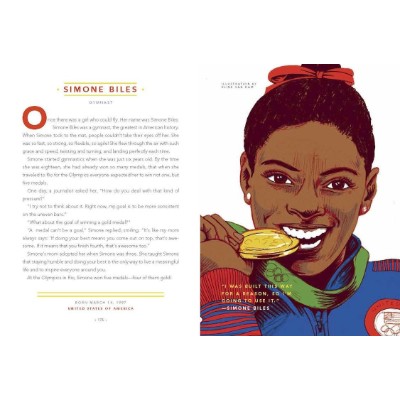 Includes 100 stories about 100 special women through time
Filled with beautiful illustrations from over 60 female artists
Hardcover for maximum durability
FSC-certified using eco-friendly soy and vegetable-based inks
Some of the stories are very short and may lack enough interesting information to keep your child interested
A few reviewers reported that they had a reaction to the vegetable dyes used as ink
Geri Stengel of Forbes Magazine fame called this book, "A must-have for the nightstand of every girl or young woman you know." And we can't help but agree. Good Night Stories for Rebel Girls has the distinction of being the most crowdfunded original book of all time, and the reason for all the love is clear.
Read more
Design
This delightful novel is stuffed full of stories of strong women, proud women, rule breakers and path pavers. The kind of role models that your little girl can truly look up to as an inspiration. Teach your daring darling how to overcome any obstacle that life throws in her path, just as Frida Kahlo overcame polio to become a world-renowned painter. Turn your princess into a queen while regaling her with the story of Queen Elizabeth the First. Help your daughter learn ways to handle stress in her life, whether it's a test she fears failing or bullies at school, just like how Simone Biles pushed through the pressures to succeed and won five Olympic gold medals for gymnastics. Accompanied by beautiful illustrations from over 60 female artists across the world, these bedtime stories are sure to inspire your little one to the greatest that she, and you, know that she can be!
Educational Value
The short, one-page stories featured in this book are the perfect length for bedtime stories or for your little girl to read on her own. The women in this book have advanced our civilization and knowledge in ways that are incalculable and these stories are presented in easy-to-understand chunks that help your little one digest the lessons that she can be, and do, anything that she puts her mind too. These stories do not focus on physical attraction but instead reinforce kindness, patience, and confidence which are excellent lessons for any child, not just girls!
Effectiveness
This book makes a great gift for your 8-year-old who may be struggling to find her place between childhood and adolescence by giving her examples of female role models who strove to be different.
2

. American Girl Ultimate Crafting Kit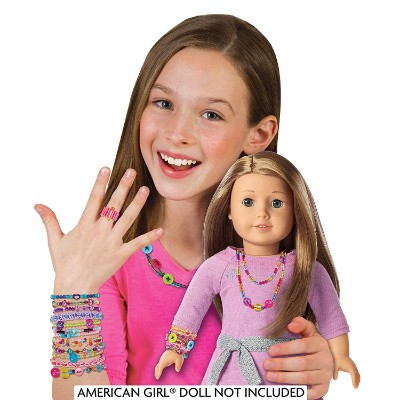 Fun to play alone or with a group
Develops dexterity and creativity
Can create hours of fun
Comes with a design guide
There are over 1,000 + pieces in the kit, some items can easily be lost
Tiny beads can be harmful if swallowed or put in noses
One of the best gifts you can give an 8-year-old girl is the Ultimate Crafting Kit. It comes with more than a thousand pieces of craft materials like mini bottles, buttons, embroidery floss, pearls, and earring hooks.
Read more
Design
It also includes a variety of beads such as wooden beads, iridescent donut beads, mini start beads, round beads, cube beads, and cylinder beads. There are also large bottles, jump rings, spools, mini clothespins, elastic cord, and even twine as well as many others.
Educational Value
Your little girl can become the ultimate crafter with this kit. This amazing gift encourages creativity and self-expression along with hand-eye coordination. She can create dozens of designs and let her imagination soar. Once done crafting, she can gift her creations to friends and family.
Effectiveness
The sheer number of craft materials can spell endless hours of creative and imaginative play. It is also excellent for creating an opportunity for 8-year-old girls to create something they can give to their friends.
3

. Temporary Hair Chalk Pens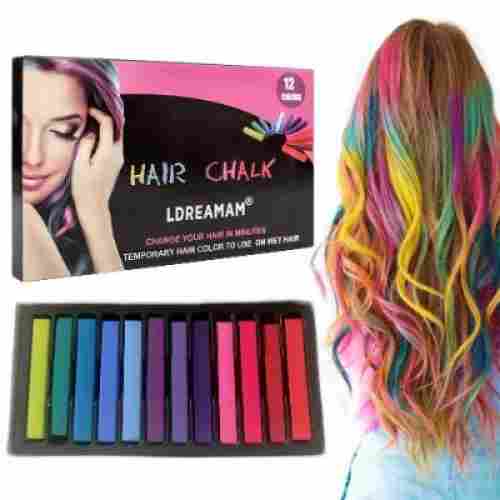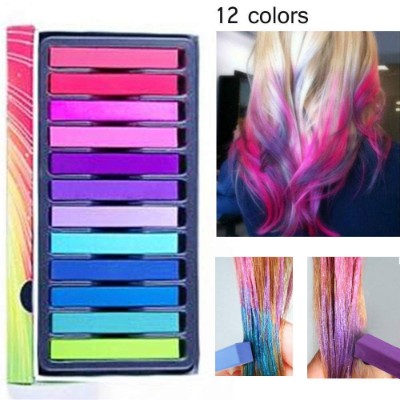 Use with caution around clothing as makeup may stain some fabrics
Rain may wash chalk out of hair
Made with nontoxic, nonallergenic, and environmentally friendly materials
Water-soluble and temporary, each application lasts up to three days
Simple to use individually or mix & blend to make new colors
Suitable for all hair colors
Eight is a hard age. Too old to hang out with the kids but too young for the teenagers to want anything to do with you. It is an age of exploration, of your previous daughter breaking out of the shell of her childhood and finding her own voice.
Read more
Design
Wild clothing changes, haircuts, and jewelry abound and you may struggle with letting your child have her independence while still steering clear of any irreparable changes to her appearance. With LDreamam's Temporary Hair Chalk Pens, your child is free to explore her self-expression with a dozen different colors. Simply wet her hair, run the chalk pens through the portion that you would like to color, and set with a hairdryer. Each application will last up to three days and wash out with shampoo and water! The bright, vibrant colors will show up spectacularly on all hair colors and types and can even be blended together for a more personalized look!
Educational Value
Hair chalks are an ideal way to try out a new hair coloring without resorting to permanent or even semi-permanent dyes which can lead to hair damage. These chalk pens are made of non-toxic and environmentally friendly materials that are easy to apply and even easier to clean. Use them daily or break them out at your little one's next slumber party, the uses are endless!
Effectiveness
A perfect and temporary way to let your budding adolescent explore her individuality without worrying about permanent consequences!
4

. Science Club Microscope and Journal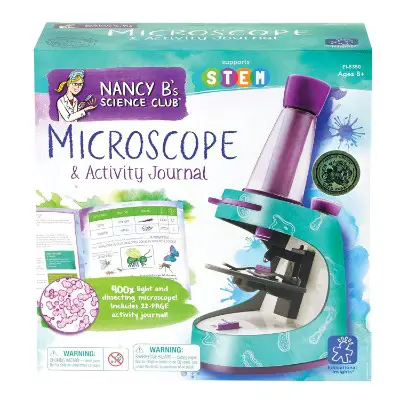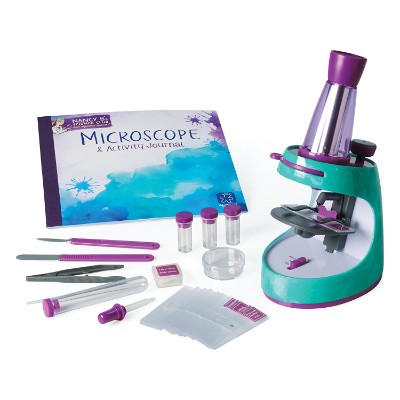 Promotes STEM-based learning
Suitable for 30x-400x magnification
Includes 26-piece tool set including pre-fabricated slides
Use the 22-page journal to keep track of your scientific journey
Requires three AAA batteries (not included)
Some reviewers report that the sharpness of each magnified image may not be very clear
You can probably remember playing with a microscope when you were a child. Seeing insect wings and feathers blown up to giant proportions can, at the very least, be an interesting and entertaining experience. Now you can share that same feeling with your daughter using the Science Club Microscope and Activity Journal.
Read more
Design
This scientific kit comes with everything your future chemist needs to explore the hidden and tiny world all around her. It includes both pre-fabricated slides featuring objects like peacock feathers and insects as well as blank slides she can use to further her exploration of the microscopic world. Collection vials and tweezers provide all the scientific tools she'll need to set out on her very own journey of exploration. Then document that journey with the activity journal as she learns the scientific method. This is the perfect gift for any child with a knack for the sciences!
Educational Value
This microscope features a two-in-one light source and is capable of producing magnification levels between 30 and 400 times the original size. An easy-to-use focusing knob brings the tiniest details into sharp, mind-boggling focus. The activity journal not only provides a place for your little bio-engineer to record her own scientific musings but also includes pages of information relating to commonly found objects such as dust mites. This kit is also a great way to introduce the concept of STEM learning which may spark your child's interest in the fields of science, technology, engineering, or mathematics--paving the way for the future.
Effectiveness
This all-in-one microscope and scientific toolset is the perfect gift for the budding scientist in your life!
5

. Newcosplay Unicorn Onesie
Made using soft and warm polyester blend materials
The loose-fitting design allows for unrestricted movement and maximum comfort
Button-up style closure allows for quick and easy take-off/put-on
Highly detailed hood and tail encourages imaginative play
Hand washing is recommended in order to avoid fading
Sizing can run small, we recommend purchasing at least one size up
Part costume, part pajamas, and all fun! The NEWCOSPLAY Kids Unicorn Onesie is exactly what your little girl needs this winter! Crafted from warm and plushy materials, its easy on-and-off design makes it a breeze to get your little one ready for bed and will keep her warm all winter long!
Read more
Design
Each design features a highly detailed hood and tail to let your little one truly embody her favorite mythical animal. These pajamas also make ideal Halloween costumes, especially in colder parts of the country. The loose-fitting design allows for easy layering and keeps the seams from tearing or splitting as she runs and plays!
Educational Value
The high-quality fabric helps keep this onesie looking as good as the day you got it, despite months of use. The button-up front will give your little one a fine-motor skill workout that allows the self-independence to dress. The rear zippered closure provides quick access in case of emergencies. Wrist and ankle cuffs keep the loose-fitting material from slipping under her feet while she walks and the delightful unicorn is available in several colorings and styles.
Effectiveness
Who wouldn't want to race downstairs Christmas morning to open presents dressed as an adorable unicorn!?!
6

. Scratch Art Rainbow Mini Notes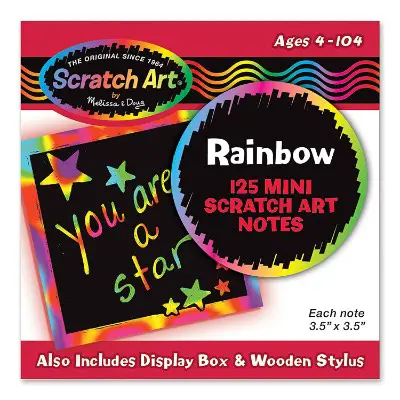 Easy way to make notes, small pictures
Bright, neon colors concealed beneath the black matte finish
Comes with stylus, but the finish is made to be scratched away with relative ease
Helps improve literacy and art skills
Each note can only be used once, not erasable or reusable
If you have a girl who loves vibrant colors and crafting, this great scratch art kit from Melissa & Doug is the perfect addition to your daughter's art supplies.
Read more
Design
These simple mini notes will work perfectly for their little notes to you and their friends, or work perfectly for doodling and design. Give them the sort of bright color that you associate with their smiling face, and give them a great way to practice spelling and drawing on their own.
Educational Value
Beyond the beautiful neon background hiding beneath the blackboard-like matte finish on the cards, these great scratch art notes will provide your daughter with a way to make quick notes for herself or for her friends. She will be practicing her literacy skills without realizing it and making great art for her room or for the refrigerator.
Effectiveness
This product gives them a great way to communicate and work on their art skills, with the added benefit of bright and vibrant colors no matter what they choose to create.
7

. Alex DIY Friends Forever Bracelet Kit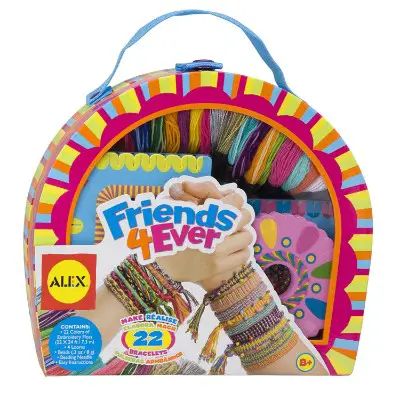 Can make 22 beautiful bracelets.
Comes with an instruction book and a neat carrying case.
The jewelry holds together really well
Beads ate durable and good sized
Teaches the kids how to craft bracelets on their own
Pieces can be easily lost
One of the developmental milestones of 8-year-old girls is the growing importance of friendships. You can help them value these by giving them the Do-it-Yourself Wear Friend 4 Ever Jewelry.
Read more
Design
The kit comes with a variety of color-coded looms, a number of beads, embroidery floss in 22 different colors, and a beading needle. It also comes with a carrying case and an instruction book.
Educational Value
The Friends 4 Ever Jewelry kit lets your 8-year-old girl explore her creative side. Once she gets used to the weaving wheels she won't need the instruction book anymore. She'll be distracted for hours creating her own unique designs. She can use her creations to accessorize her wardrobe or gift to friends and family. She can also learn how to instruct others by teaching them how to use the looms.
Effectiveness
It's great for fostering social relationships and encouraging cooperative play. It can be a wonderful activity for those weekend little girls' party that your 8-year-old girl is craving for.
8

. Your Décor Color Your Own Water Bottle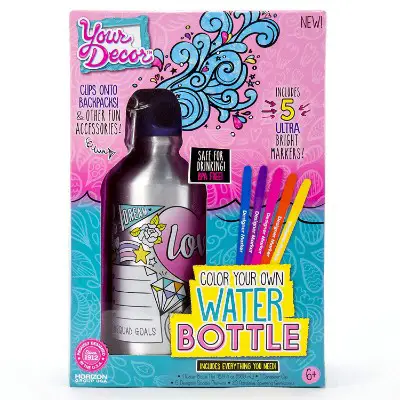 BPA-free water bottle is simple and built to last
Easy to use screw-in top
Includes five vibrant colors to get her started with her coloring and design
Also includes twenty adhesive gemstones for extra flair
Great for birthday parties or sleepovers
Is designed for coloring in, not so much for creating her own drawings
Your daughter has an eye for design as concerns her personal items: she is constantly drawing on the covers of her notebooks and backpacks, possibly to the distress of you and her teachers.
Read more
Design
This great water bottle from Just My Style is the perfect way to help curb her doodling, to find an appropriate and enjoyable outlet for all that flair. The BPA-free water bottle comes complete with everything she'll need to color up her life in a constructive way, and will secretly encourage her to drink more water in the meantime.
Educational Value
Get her drinking more water and give her a safe place to exercise her doodle muscles with this great gift idea. The kit comes with five bright coloring markers to help her brighten up her hydration routine.
Effectiveness
This product is a fun and interactive way for your daughter to spruce up her personal water bottle, as well as a great way to get her to want a water bottle at all.
9

. L.O.L. Surprise! Pearl Surprise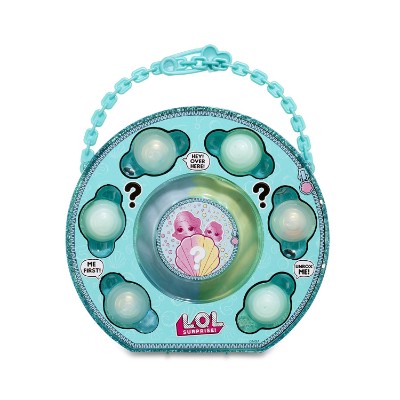 ix fun mystery accessories
Two surprise dolls
Magical fizzing shell reveal
Shell display case and carrying case
Water-friendly; just don't fill shell up past the dotted line
Some customers received defective packages missing one accessory ball
Surprise contents mean you may end up with repeat purchases
A wave of "surprise" toys has hit the market, and LOL Dolls are one such example. Kids love the excitement of collecting dolls, cards, and figurines, and not quite knowing what they might inside the mystery packaging. This LOL Surprise Pearl Edition Doll Set does a good job of giving kids multiple things to unwrap and "ooh" and "ahh" over.
Read more
Design
After removing the packaging protecting the shell itself, there are six "pearl surprise" balls inside, each of which contains an outfit or accessory compatible with all LOL Dolls in this line. The main event is a foaming seashell that dissolves in water to reveal your child's new friend--and her little sister! The dolls are small, but the carrying case is a good size for travel and makes toting the set along on trips or outings easy, clean, and stylish. The carrying case also acts as a shell-shaped doll stand for display purposes if the set is going to be a more stationary fixture.
Educational Value
Imaginative play is a key part of child development. This little package encourages creative play as well as things like matching and categorical abilities as children try to put together fun outfits and accessories for their dolls.
Effectiveness
The doll comes with a little sister, which makes cooperative play an option, and also sets a sweet example of family and female bonding. The shell acts as a display and carrying case for all of the tiny pieces as well, so this is a great travel kit for the car, plane, or simply when trying to distract while out at dinner.
10

. Easy-To-Do Crochet Kit
Yarn is cheap and easily replaceable at local crafts stores
Children can easily create useful items like: coasters, handbags, placemats and belts.
This kit teaches children lifelong skills on how to craft your own scarves, hats, and gloves
Vibrant colors to work with in the kit stimulating visual sensory
Yarn is cheap and easily replaceable at local crafts stores
Children can easily create useful items like: coasters, handbags, placemats and belts
Similar to knitting except for the fact that knitting requires 2 knitting needles, crocheting is one of the few traditional hobbies that survive to this very day.
Read more
Design
With the Crochet Art Kit, your young girl will now be introduced to this wonderful hobby. It comes with crochet hooks, a plastic needle, and yarn in 7 different colors.
Educational Value
I wish I had one of these kits growing up! The art of crochet has never gone out of style. This wonderful bonding experience is perfect to share with your little one. While little ones learn how to crochet, they'll be working on dexterity, hand-eye coordination, and self-expression.
Effectiveness
Like knitting, crocheting is a wonderful pastime or hobby. It helps foster creativity and imagination, improves dexterity, and enhance hand-eye coordination as well as fine motor skills. It's also great for developing spatial intelligence.
Criteria Used for Evaluation
Design
Little girls grow up so quickly, it can be difficult to keep up. And during that time their taste in toys changes just as fast. As parents, we want to make the best choices when it comes to picking out the right toys for the right age. The toys we pick should help guide children through their developmental stages. Our team researched a plethora of toys and found the top 10 for 8-year-old girls. These toys are age-appropriate and developmentally appropriate as well. When picking these top 10 toys for 8-year-old girls, we took customer reviews and feedback into consideration. Our team didn't just review toys with age-appropriate listings, they dug into the toy's safety and the manufacturer's reputations as well.
Entertainment Value
Eight-year-old girls love to have fun. It's easier to have them play than it is for them to do their homework. The toys from our list encourage young girls to engage in fun and interactive activities while developing skills that will help them throughout their lives. They learn that activities like creative thinking and exercise can be fun. Riding bikes and scooters encourage little girls to go outside and work out those developing muscles. Drawing and coloring teach them how to artistically express themselves. Playing with age-appropriate electronic devices and microscopes helps them to discover the beauty of science.

Effectiveness
Toys are the instruments of learning among children, including 8-year-old girls. As such, it is crucial to choose the best one that is highly relevant for your young girl. Unfortunately, it is not easy to make a shortlist from the tens of thousands of toys and gift suggestions on the market. It is, for this reason, we have decided to help you by coming up with our list of the 10 best toys for 8-year-old girls.
First, we had to scrutinize every toy and gift item we could ever find on the market. We had to make sure that each of these toys is of value to the continuing development of an 8-year-old girl. We also had to make sure that the quality and safety of the design does not, in any way, undermine the development of children. We then had to be reassured that the toys we have selected are backed with rave reviews and positive feedback from other consumers, most especially parents who have been in the same situation as you are. Lastly, the toy maker's reputation had to be factored in as well. This is how we came up with our list of the best toys. Hopefully, you will agree to some, if not all, of these toys and gift suggestions in our list.
Most Important Criteria
(According to our experts opinion)
Experts Opinion
Editors Opinion
Users Opinion
By Default

Parents, Did You Know?
Girls at 8 years old are starting to become very creative. Remember when purchasing a gift that it is great to allow them to express that creative side that they are developing.
Parents, Did You Know?
Interactive gifts are always appreciated at this age. When selecting a gift make sure that it fits the personality of the child. A fun interactive toy is something that will always catch their attention.
Other Factors to Consider

Social Development
One of the most striking developments in an 8-year-old girl is her increasing social skills, especially in the development of friendships with fellow 8-year-olds who may share the same interests as hers. However, not only are they particularly interested in building friendships, but also they are now more aware of their roles in the world.
Unfortunately, this is where much of the confusion lies because, despite their shows of bravado, they are still quite helpless against external influences. It is, therefore, crucial to helping an 8-year-old girl make sense of her friends as well as her role in the wider community. Playing games that children love can help them express their thoughts and communicate to them what they need to learn. This is where developmentally appropriate toys can really come in.

Physical Development
Because 8-year-olds will already put emphasis on their friendships, you can expect an 8-year-old girl to be more active in group activities or even physical activities and sports that call for cooperation. They are now more than capable of doing this because their muscle strength and endurance can already help them to engage in more physically demanding activities. This is also the time when the competitive spirit of 8-year-olds begins to really show especially against peers.
Frequently Asked Questions
q:

What do 8-year-old girls like to do for fun?

a:

Lots of crafts and drawing. They also enjoy playing with dolls and dollhouses, baking treats, having tea parties and riding their bikes and scooters.
q:

What do 8-year old girls like for their birthday?

a:

No matter what you decide to buy for your 8-year-old girl, "Toys should be thought of as developmental learning tools," according to Vicki Panaccione, Ph.D., from the Better Parenting Institute. Her toys should be fun of course, but also safe, stimulating and age-appropriate. A few things to keep in mind when buying her a nice toy is to keep it simple and that not all games are educational.

Try not to buy toys that do too much for a kid. When a toy talks or sings too much, or when kids are directed to press buttons at certain times, it takes away the child's use of their own imagination.
q:

How should I encourage an 8-year-old girl to exercise?

a:

The best way to encourage a behavior is to model it. Try to encourage participation in activities by showing her why they are good. And never underestimate the power of peer pressure. Having friends that engage in similar activities can also encourage activity.
q:

Does playing with a Barbie Doll make girls want to be thin?

a:

A thin Barbie or any other thin doll can create body shape dissatisfaction for young girls. Girls exposed to extremely thin dolls may cause them to have lower body esteem. Young girls who are exposed too early to a thin doll can give them an unrealistic thin body image that contributes to an increased risk of eating disorders in their future. Older girls are not as negatively affected by thin Barbies or thin dolls in general. To read more about this study, the full article can be purchased online.
q:

Why not just let my kid watch TV, especially during bad weather?

a:

It is tempting to allow our kids to watch TV all day long if it keeps them quiet, especially during rainy days when they can't go outside and play their usual games. But, watching too much television increases obesity and reduces mental activity. There are other activities that young girls can do that encourage them to be more active, especially during bad weather. They can craft, paint, draw, and even put a LEGO project together. Watching TV is not terrible, but it's the amount of time being spent not moving that needs to be monitored.
q:

Can toys help reduce relational aggression in 8-year-old girls?

a:

Some girls appear to be mean girls, while other girls appear to be mellow. Have you ever heard your daughter or another little girl say that they'll stop being another person's friend or that they can't come to their party unless they do this favor for her? This is an example of relational aggression. It is common in young girls because they are trying to understand appropriate social skills. However, relational aggression is supposed to subside as she learns how to behave.

Buying her toys in the hope that she promises to behave isn't going to make the problem go away. But making sure she is practicing good social skills with the help of toys is a different approach. Little 8-year-old girls can practice good social skills by playing games with other kids her age. She can engage with others by participating in a group project like painting, drawing and building toys together. The more engaging activities she participates in at an early age, the better behaved she'll be as she grows.
q:

Are video games and electronic toys good for an 8-year-old girl?

a:

Yes, it's ok for an 8 year old to play video games and electronic toys that are appropriate for her age. However, these types of toys are considered passive learning styles because they do not help a young girl become physically engaged. They can gain weight because they are inactive while playing or they can suffer from hearing loss due to loud electronic toys. Toys that only require a child to not do anything but watch can interfere with children's ability ] to think independently. This doesn't mean that you shouldn't allow your daughter to play with these toys at all but that they should be allowed to do it in moderation.

We live in an electronic age, and assuming that anyone can keep a kid away from a computer is farfetched. But what we can do is help them learn how to healthily live around a personal computer and other electronics. A good step one is to purchase video games and electronics that are age-appropriate. Another important step is to limit screen time to one to two hours per day.