The world of the Breyer model horse is a magical one for many young girls who aren't able to have a horse of their own. Many kids enjoy these realistic resin horses for many years, creating their own collections. The best time for girls to start playing with horses is when they are young and their skills in imaginative play are getting honed. Kids love imagining with horses. They are galloping home to the finish line, riding next to a stream, or relaxing with grooming brush in hand. Most horses love to be brushed and it can be very therapeutic. It seems that Breyer has aimed its products and marketing at girls over the years, and that's ok because girls and horses are a natural fit. But there are boys who collect these horses, too. They would just rather have the real thing. Breyer has farm sets and now some construction toys are coming out, so boys can feel more included. The great thing about the models is that they are so realistic looking that kids can play with them all day and not get bored. There are playsets, gift sets, crafting and art sets, fantasy sets, and many other sets so kids can do a variety of activities. Many kids enter their Breyer models in shows and compete against others' models. We know. It's a mind-blowing concept because the horses can't move!
The shows are based on how the model looks and if it has any flaws. That is a whole different sense of things than just playing on the floor with toys. As girls grow and mature, they sometimes want to get involved in more complex activities, and these events allow them to meet new kids and make friends. Breyer has many different sizes of horses. There are the Traditional sized models scaled 9:1. That is where Breyer started way back in 1950 with its first model horse, #57, the Western Horse. It came complete with a removable saddle and attached chain reins. The classic models are smaller, about 1:12 in scale and they have several other lines. Breyer models are made from resin and are all hand painted so that each is slightly different. Thanks to Breyer, the model horse fancy has moved like lightning with collectors clamoring for more. Breyer hasn't limited itself to just horses. They make dogs, dinosaurs, and many farm animals as well. There are also horse accessories, barns, trucks and trailers, model horse clubs, activity sets, and even a magazine for collectors. The world of Breyer is huge and welcoming, so feel free to dig in.
Best Breyer Horses and Horse Toys for Kids 2018
Breyer Ella Horse Color Change Surprise Bath Toy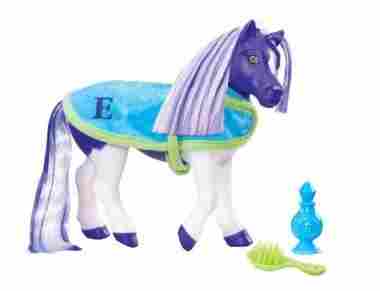 Breyer Classics Wild Blue: Book and Horse Toy Set
BREYER Classics Stable Cleaning Accessories Toy
Breyer Classics Bay Appaloosa Mustang Horse Toy
Breyer Misty & Stormy Model & Book Set
Breyer Paint Your Own Horse Craft Activity Set
Breyer Traditional Big Chex to Cash Horse Toy Model
Breyer Traditional Gypsy Vanner Horse Toy Model
Breyer Classic Horse Cruiser Vehicle Blue
Breyer Traditional Brookside Pink Magnum – Welsh Pony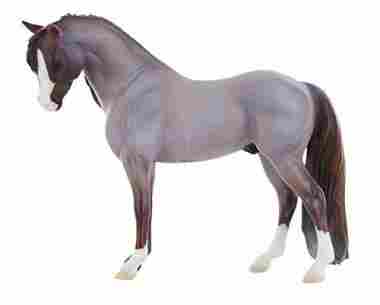 Breyer English Horse and Rider – Horse and Doll Set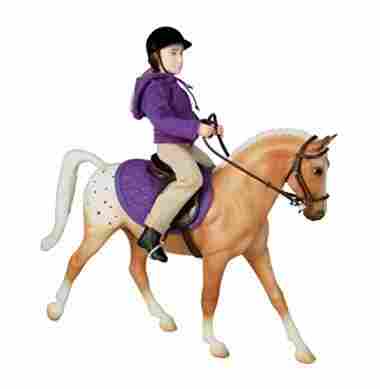 Breyer Classics Kaitlyn Cowgirl – Rider for Classics Toy Horses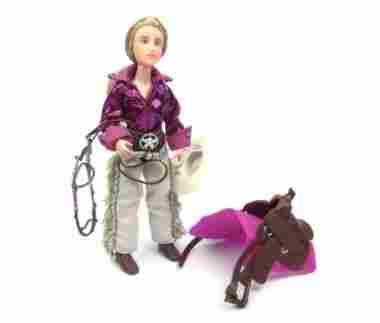 Breyer Dapples and Dots Horse Toy Model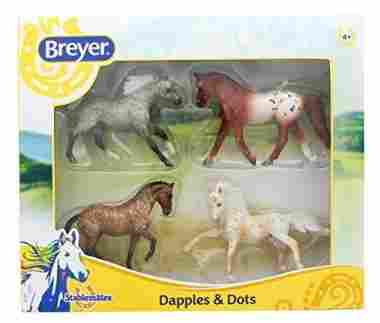 Breyer Buckskin Paint – Classics Toy Horse
Breyer Traditional Wood Corral Fencing Accessory Toy
Criteria Used in Evaluation of the Best Breyer Horses and Horse Toys
We reviewed many, many Breyer models to choose the best of the models offered by Amazon. These models received high praise from buyers because of the quality that the Breyer company has consistently offered over many years. The sculptors are skilled and, in some cases, famous artisans whose main focus is detailing horses. Their main mission is to be realistic and artistic in carving their models that are then made into molds. The Breyer horses are made out of durable resin.
Breyer makes its horses to be safe for older kids. They are not safe for toddlers as many sets have small pieces. The horses are safe for playing for older children, perhaps 8 and older. These are beautiful models, and they have a huge following of collectors that just display them. There are people who own hundreds of these models and they prize every one of them. But if that's not your focus, that's ok. Then let the kids play because playing is their 'work.'
Kids start imitating their parents and people they come in contact with very early in their lives. As they grow, their roleplay becomes more complex, and that's where Breyer horse models come in. As kids get older they learn vocabulary and their conversations are more complicated, which is a good thing as it helps kids learn how to have conversations with their friends, teachers, and parents. This helps build cognitive thought and problem-solving. With horse models, kids learn how to take care of horses and other pets and farm animals. They learn about horses anatomy, the names of the accessories, and how to groom and train them. Even just naming the horses they own can help them strengthen their decision-making abilities. If they want to get really knowledgeable about horses, they can learn about training and showing. There are plenty of resources out there for them, and Breyer has different clubs and communities that kids can become part of when they are old enough. There are even huge conventions where crowds of people get together to share their knowledge and passion for model horses, and Breyer introduces new models at these events.
Breyer offers several levels of showing model horses including children's, youth, and open classes. These are held in child-safe environments and are designed to teach kids how to present their horses as belonging to certain breeds, correctly tacking up horses in different roles, and presenting in a relevant scene while providing a narrative to go with it. Children learn to research and also presentation skills, relationship building and care of both model horses and real horses. They get to have fun meeting other kids and engaging in friendly competitions where they learn the rules of sportsmanship.
FAQ
Frequently Asked Questions
Q: How do I find out more about Breyer model horse shows?
A: You can go to Breyer's website at https://www.breyerhorses.com/showing
Q: My 8-year-old daughter is crazy about horses and wants to start collecting the models. Where should she begin?
A: First, she should decide if she wants to just play with the horses or collect them as models to display. Horses that have been played with and are nicked or chipped in any way lose their value quickly. For just playing, let her choose her favorite in an appropriate size for her. Maybe a horse and rider set or a grouping or horses with a barn.
If she wants to collect the horses and display them in her room or in a designated space, she should choose a model she loves and admires it. She can leave the model in the box if she wants it to retain more value, or take it out and display her horses in a row on a shelf. Just remember that if they tip over or fall to the floor, they could get broken or rubbed. Then they lose some of their value.
Q: Does Breyer offer models that are decorated for Christmas?
A: Absolutely! Breyer offers a couple of lines of Christmas decorated horses. A new one comes out every year. And they have Christmas carousel horses made from fine porcelain and painted in gorgeous detail.
Q: What are some famous horses that Breyer has modeled?
A: There are definitely too many to list. The most famous ones are probably the racehorses that have won the Kentucky Derby. Secretariat is probably the most popular racehorse, but some others are Cigar, Zenyatta, Lonesome Glory, a steeplechaser, and American Pharoah. They have modeled horses that are the characters of books such as The Black Stallion, and TV shows like My Friend Flicka.
Q: Why does my model horse have a hole in its nose? It looks like an error.
A: The hole in the nose is a breathing hole and is not an error. All of the models have them because they are made of plastic. Air needs to flow in and out so that the horse does not expand in hot weather and over time cause the model to become deformed.
Q: How do I know that I have a genuine Breyer model.
A: Except for some of the early Breyer models, there is a marking on the inside of a front leg. There are several markings as they have changed a few times over the years. The earliest one was the letter C in a circle and the words Breyer-Reeves printed around it. There have been many knock-offs in retail stores that are much lighter in weight than the real Breyers and made with thin, cheap plastic. After some experience, you should have no trouble telling real from a fake.