10 Best Breyer Horses & Horse Toys for Kids in 2019
last updated
Jul 20, 2019
In 1950s Chicago, Breyer Molding Company created a horse by special order for the F.W. Woolworth Company. It was meant to be a normal order filled–nothing special. But that singular request changed the track of Breyer forever. The horse figurine, initially intended to adorn a clock, was such a hit, people began writing and calling into the company to ask if they could order just the horse. And so Breyer Molding Company realized exactly what it was they ought to be doing.
The Breyer Horse is a standard in the toy industry. The company prides itself on creating horse figurines that are authentic, high-quality, detailed, and relevant. What started out as one classic model (the #57 Western Horse) has expanded into something of an empire. Breyer is touted by equestrians and amateur horse enthusiasts alike.
In a Hurry? The test winner after 12 hrs of research
Classic Cruiser Vehicle Blue
Why is it better?
Comes with a mare, foal, goat, a border collie, donkey, and kitty
There is a base to build on, making this building more sturdy
The building is detailed with a hanging sign, Breyer sign on the door, and flowers in the planter.
The numerous pieces give lots of opportunities for play.
The horses come from the Stablemates line, 1:32 scale
In a
Hurry? Editors choice:
Test Winner: Classic Cruiser Vehicle Blue
13
Researched Sources
12
Hours Researching
16
Products Evaluated
Educational Value
Materials
Creativity
By Default
10 Best Breyer Horses & Horse Toys Reviewed
1

. Classic Cruiser Vehicle Blue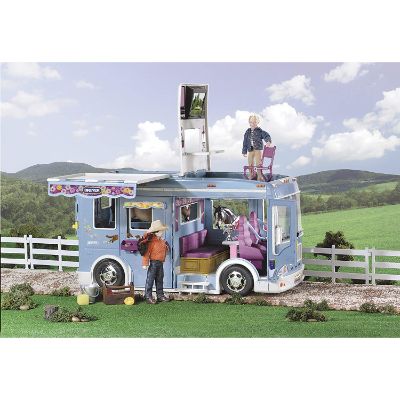 Comes with a mare, foal, goat, a border collie, donkey, and kitty
There is a base to build on, making this building more sturdy
The building is detailed with a hanging sign, Breyer sign on the door, and flowers in the planter.
The numerous pieces give lots of opportunities for play.
The horses come from the Stablemates line, 1:32 scale
Does not come with a veterinarian.
The Breyer Classic Horse Cruiser Vehicle has everything you need to take care of your miniature horse pals! With two pens in the back, you can easily transport your horses between stables. There are two seats up front for when your dolls hit the road and want to gab or crank up the tunes. The rear seat in the back folds out into a bed and there's a pop-up table as well as fold-down stairs and hubcaps.
Read more
Educational Value
Your child will be able to enhance his development as he grows up by playing with toy sets like this veterinarian's office. He gets to build the office and barn, put up the fencing, and play with the animals. There will be lots of muscle movement and eye-hand coordination to build on physical reactions to eye movements. Of course, it's also fun, and your child will be busy for hours playing on the floor or table.
Materials
It comes with six animals, and that is more than most sets. All of the animals are painted with cute detail and are not attached to the building, so they are easy to play with. There will be lots of stories told by your kids when they play with the vet set. The vet building has a hanging sign and lots of doors that open and close, including a sliding barn door. The roof flips up so your child can play inside of the barn. There are pieces you find in a vet's office, including a blanket, bandages, and an operating table.
Creativity
Kids love miniatures, and this is a mini vet's office with mini horses and mini pets. Children can pretend to treat sick animals, move them around and make up stories. Maybe those stories will turn into books when they grow up.
Part of the Breyer classics book series
Model is of scale 1:12
Encourages children to read and role play
Improves communication skills
Hand-painted, unique model
Some buyers were unhappy with the book.
Breyer's Horse and Book sets feature classic, beautiful horses along with child-appropriate novels about them. This is a great gift for children who love to read or children you might be encouraging to take more of an interest in literature. There are four different sets to choose from. The included horses are all 1:12 size and hand-painted. They come in a clear-paned package too if you intend to use this more as a display piece!
Read more
Educational Value
Your child will be able to read for hours when she picks up this book and then plays along with the model. Her communications skills can be improved along with creative and cognitive functions. Your daughter can learn new horse-related vocabulary words, learn about how to take care of horses and how they live in the wild. It will help give parents a little quiet time if they need it while their kid is engrossed in reading a book. What better pastime is there when you spend it on a model horse?
Materials
We love the concept of the book and the horse model together so that kids can role play the book with the model. And they will. It's one of the things kids do best. The horse is a beautiful sculpted, artistic piece.
Creativity
This is the story of a wild Appaloosa filly that is the color of rain. She lives with her wild horse family. This is her story about the trials and tribulations of getting captured by rustlers. We love this idea because kids who read the book can play with the horse and imitate what they read in the book. It's a great way for them to role play and turns on their imagination as well. And that helps with the creative process. The model is a beautiful gray with appy spots, is from the Duchess mold that was included in the Black Beauty Family set.
3

. Ella Color Change Surprise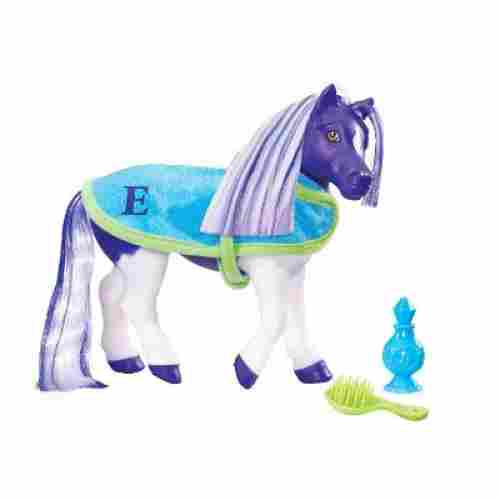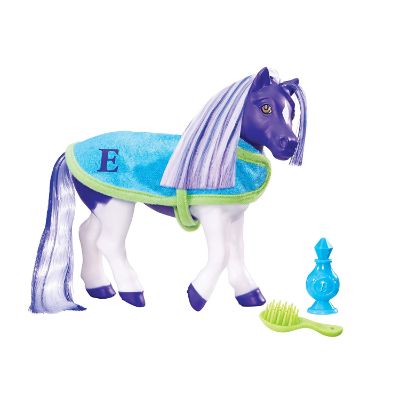 This cute toy changes color when wet to give your child hours of play time.
The set comes with a bathrobe, brush, and atomizer spray bottle.
This toy has become a favorite bath toy for many little girls.
Provides fun and imaginative play for little kids
Only one drainage hole, so some buyers drill a hole or two in the hooves
Wade out into the water with this magic color-changing pony! Breyer's Ella the Horse Bath Toy is the perfect companion for kids as they clean up in the tub. This set includes Ella, an 8" horse, along with the following accessories: a terry cloth bathrobe, atomizer spray bottle, and brush. You can groom her hair and she really changes color in the water!
Read more
Educational Value
Your daughter will love playing with her new Breyer horse. She will have someone to love, nurture and grow with. Children go through phases of growth, and your daughter will be playing with the pony as she learns to role play and grows her imagination and cognitive skills. She'll be telling stories, playing in her own imaginary barn, and riding out in the woods, perhaps. She also gets to learn about how to take care of a horse, perhaps in preparation for getting a real horse. Breyer's wettable horse makes bath time fun instead of a struggle, as some kids just don't love bath time. Now your child will look forward to giving her very own horse a bath.
Materials
It's like all that mud just washes right off and suddenly she's not purple anymore, she's a beautiful pink! And because this cute pony wants to remain clean and warm, she has a beautiful robe blanket that she can wear until she's dry. Plus, your little one can make her even more beautiful by brushing her long mane and tail. When she dries off, the horse's colors turn back to purple. Your daughter will love brushing Ella's mane and tail and even cuddling with her. What a great new friend your daughter's new pony will be!
Creativity
Breyers has focused on beautiful and realistic models for a long time, and it's nice that Breyer is making fun toys for the little kids. Your child's new model will be fun and colorful and will help little girls to transition into.
4

. Paint Your Own Horse Craft Activity
1:24 scale in Paddock Pals line
Comes with easy to follow instructions
Has paints, brushes, and everything you need to complete the horse
Even beginner artists will find this a satisfying activity
Some people had problems with breakage, but Breyer is good about working with customers that have these problems.
Have an artiste and a horse enthusiast? If your little one marvels at the beautiful hand-painted ponies and horses produced by Breyer, here's their chance to pain their very own! This kit includes two 6" x 4" horse figures, three brushes, and six paints that are all common tones in the coloring of popular horses. Instructional cards help to get young painters started and then they can be as creative as they would like!
Read more
Educational Value
The activity sets from Breyer allows children to make their own horses based on what they imagine and can create. This is just one more way that this company allows kids to let their imaginations flourish. Plus they get to practice fine motor skills and hand to eye skills that they may not get with just the models alone. Lots of kids find spending the afternoon doing arts and crafts fun and exciting and there are two models, so they can share if they want.
Materials
There are two horses in this set from the Paddock Pals line. They are just slightly smaller than the Classics. Even young kids can follow the detailed instructions with the colorful pictures that show you how to create your own model horse. It comes with two models, six paints, and three brushes. And kids have so much fun because these models become personalized.
Creativity
Activity sets are great because they help kids gain confidence when they learn how to do something well and increase their sense of creativity. The horses are the right size for kids to be able to hold them. And painting is fun for many kids, so they will have some fun times painting by themselves or with friends.
5

. Misty & Stormy Model & Book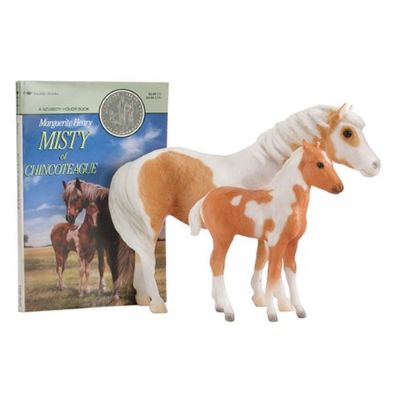 Traditional size, 1:9
Beautiful palomino pinto coloring
Sturdy and durable
May bring back your loving memories of this book.
Painting and coloring may vary
The Breyer Original Misty & Stormy Book Set includes not one, but two miniature horse figurines and a paperback novel that stars them! These are 1:9 scale toys, with Misty standing around 6.75" tall and Stormy coming in at 5.5" tall. Additionally, this Margaret Henry book is a Newberry Prize winner.
Read more
Educational Value
Along with the benefits of playing out the roles in this lovely story, your child will learn about the real island of Chincoteague and the beautiful ponies that arrived there from a Spanish galleon. This book is fiction but based on the truth of American history. Of course, your daughter can make up her own stories using the model and her foal. How cute are they? Your child can now have her own island pony model and will bring her out to play with over and over again.
Materials
This is Misty we're talking about. What's not to love? The story is written by the author who actually owned the pony and wrote books about her and her descendants. That the book and models come together is a plus for your child so she can play along as she reads. Oodles of fun.
Creativity
This first pony of Ms. Henry's was a descendant of the ponies who lived on the island. While Marguerite owned her pony, she foaled, and Stormy was the result. The book is paired with the models to improve children's reading experience by adding imagination and sense of touch.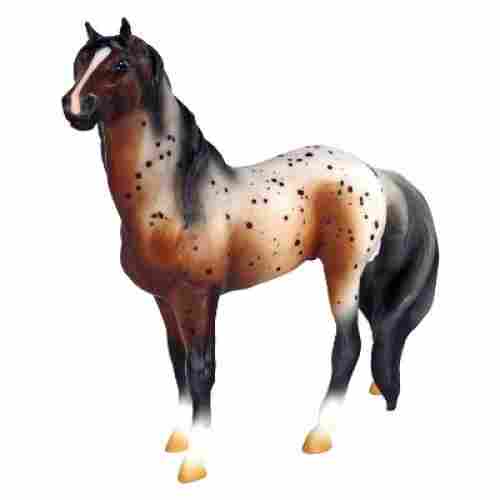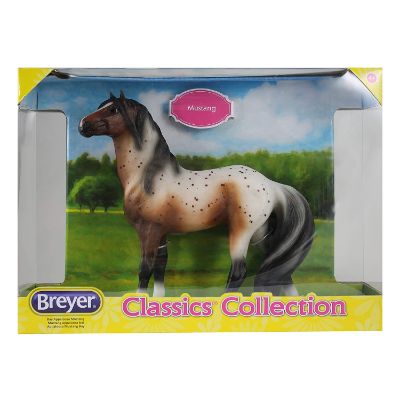 This is a beautifully painted model of an Appy stallion.
Love the stance of this Mustang, one of pride as he looks over his herd.
Many opportunities for role-playing for your child.
Painted in eye whites, which is the desired detail in Breyer horses
Some buyers were unhappy with the paint job, but these are individually painted.
Classic in size, the model of this Mustang is colored in an appaloosa style with black mane and tail, making it a bay appaloosa. The mold for this model horse was first used to make a dun-colored Kiger mustang called Mesteno.
Read more
Educational Value
The Classic size Breyer models are great for younger kids to play with, but many horse model fans collect them as well as the larger, traditional models. They are hand painted with the same care that the larger models are, and do make great items for any person who collects model horses. They offer numerous ways to play by imitation and creatively, so your child's mind can expand in the areas of creative and cognitive thinking.
Materials
The word mustang is slang for mesteno, which is the Spanish word for "unclaimed sheep." And the word mustang is slang for mesteno. The Kiger mustangs are found only in southeastern Oregon in the United States. This lovely model is a variation in color of the original. It's quite beautiful, and like all Breyer models are hand painted, so your horse will be unique. Mustangs have adventures in the wild that we don't even know about, so your child can make up her own stories.
Creativity
The proud stance of this mustang stallion is very representative of the stallions in the wild. The coloring is exquisite, and as a toy for a child, it's the right size to play with all afternoon.
7

. Black Semi-Leopard Appaloosa
1:12 accurate scale model
Beautifully hand-painted
Most realistic of Breyer's junior lines
Paint doesn't chip or scratch easily
Careful color detailing on the black semi-leopard coat
Some of the models aren't well balanced and may have trouble standing on their own
Breyer's Classic Semi-Leopard Appaloosa is a 1:12 hand-painted horse toy. This is their most realistic junior line, with toys truly modeled to reflect the real-life beauty of the horses that inspired them. The Appaloosa is known for its spotted coat, a unique feature among horses, and this beautiful black Semi-Leopard is a stunny little piece!
Read more
Educational Value
These hand-painted horse replicas are great for imaginative role-playing. Their authenticity will help children build a more vivid creative world. Role-playing games help children develop a great deal of skills, including problem-solving, an understanding of social interactions, and a greater sense of empathy.
Materials
These horses are perfect for horse-savvy children, who are unimpressed by bland, inauthentic horse figurines. This exquisite Appaloosa has a black semi-leopard pattern on its coat, which it is uniquely known for. These horses make excellent trail mounts. With beautiful paint detailing, careful molding, and an accurately proportioned size, this Breyer classic is sure to win over the hearts of young equestrians everywhere.
Creativity
This horse is a lovely replica and built to scale. The paint detailing is all done by hand and it shows; the figurine really is lovely to look at, and just as fun to play with! It's probably not made to withstand rough toddler play, but children 5 and up can get some serious longevity out of the quality.
8

. Traditional Gypsy Vanner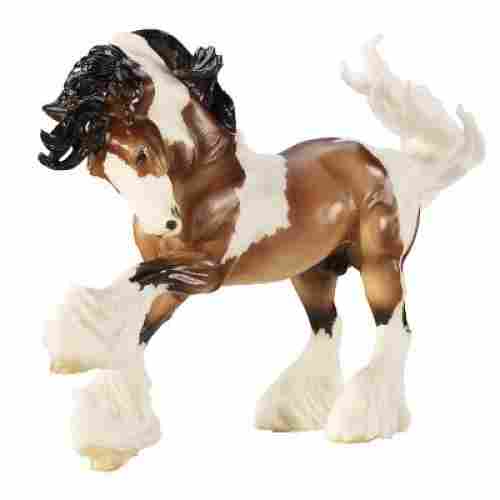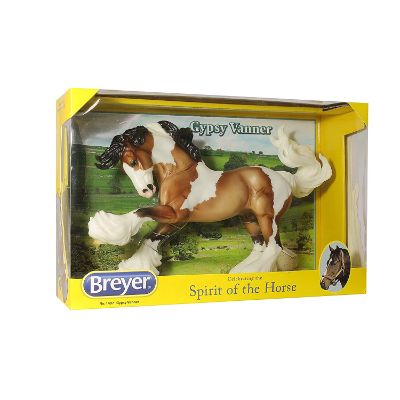 The design of the toy captures the beauty and strength of a real Gypsy
Serves as a toy or display piece
Sturdy and Stable
Stimulates your child's imagination
With the toy being hand painted, some reviewers have noticed small flaws in the design of their horse
Gypsy horses are known for their beauty and strength. Breyer found a way to display both of those qualities in their Gypsy Horse toy model. Designed with heavy feathering on the feet and a full mane, this 8.75-inch toy model stays true to the look of a real Gypsy Vanner.
Read more
Educational Value
The attention to detail in the making of this toy provides children with a sense of realism. Even though all four legs are not resting on the ground, this horse is very sturdy and will not fall over on its own. The playful expression and pose of this horse will stimulate your child's imagination and encourage them to engage in pretend play.
Materials
These horses come in a variety of colors including a skewbald pattern like the one on this toy. Combinations of red, brown, and white make up a skewbald pattern. The horse's pose makes it great as a toy or display piece. The combination of the fine craftsmanship of the horse and the joy radiating from its pose allow it to provide a touch of elegance to any room it is in.
Creativity
Even though this horse is plastic, it is so well designed that beauty exudes from it. The attention to detail is highly appreciated since real Gypsy Vanner's are known for their beauty.
9

. Stablemates Dapples and Dots Set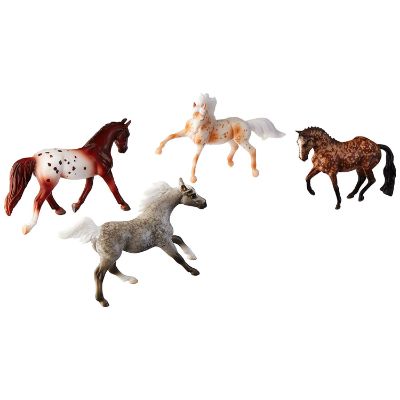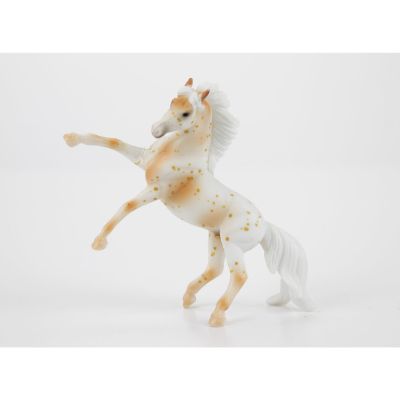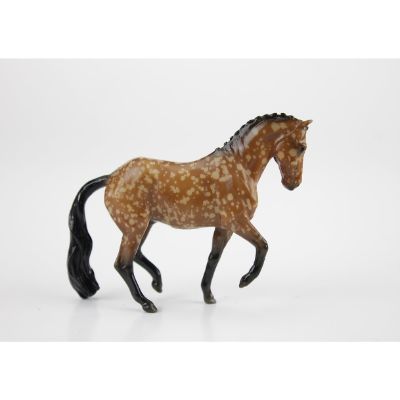 4 beautiful horse figurines in a set
Hand-painted
Detail-oriented work
Multiple set themes to choose from
Not as durable as some other toys out there
Small (wont' fit dolls for riding)
The Dapples and Dots 4-Horse Stablemates Set includes multicolor horse figures (1:32 scale). There are six similarly themed sets to choose from, but the Dapples and Dots specifically features a Chestnut Black Appaloosa, a Palomino Semi-Leopard Appaloosa, a Dapple Gray Arabian, and a Dapple Bay Warmblood. These are all hand-painted and beautifully crafted.
Read more
Materials
Like most Breyer horse toys, this set is made out of plastic. But also in the Breyer tradition, all pieces involved are beautifully sculpted and are hand-painted. These little guys are smaller than your average horse toy, making them great for travel! Kids love having their toys along for the adventure.
Creativity
These are a great, realistic little toy. They're created on a 1:31 scale and with great attention to detail both in the sculpting process as well as the hand-painting. If you want a unique little gift, this is a surefire winner.
Educational Value
These toys are durable and easy to play with. As long as your little one enjoys using their imagination, they'll be plenty entertained. These horses are too small to fit most dolls but they could be used potentially for action figures or all on their own! They fit right in your pocket for easy play-on-the-go.
10

. Stable Cleaning Accessories
Set has seven pieces for barn cleaning
Realistic looking barn tools
Sized 1:12 in scale so it's just right for the Classic line of models
Encourages imaginary play and role-playing
Some thought the tools were a little too big
Every barn full of horses needs tools. This is an extension of role modeling the horse owner's responsibility for taking care of their horse. This set includes barn tools necessary for cleaning up horses' stalls and putting new bedding down to make them comfortable.
Read more
Educational Value
The tools added to any Breyer set of horses or a barn, add detail that is quite realistic. It makes for a better play experience. Your child will enjoy hours of playtime with her horses and tools, and could really feel the experience of taking care of her horse. Her imagination will be working overtime as she creates play scenarios and stories that involve her horses. She will be thrilled to have her horseplay the hero as he saves her from disaster and vise versa.
Materials
It's an icky job, but it's got to be done if you want to keep a horse. The tools are very realistic looking and will encourage imaginative play. This set is in the 1:12 scale, so will fit with the classic sized horses. Your child will have fun with this set as he learns the jobs that are associated with horse ownership.
Creativity
This set is very realistic looking, and will add hours to playtime for your child. She can clean up the barn if she wants, or hire someone to do it. Her Breyer model will enjoy having a shiny clean stall, and your daughter will feel like she accomplished something. What could be better?
Criteria Used for Evaluation
Educational Value
These creative play sessions helps build cognitive thought and problem-solving skills. With horse models, kids learn how to take care of horses and other pets and farm animals. They learn about horses' anatomy, the names of the accessories, and how to groom and train them. Even just naming the horses they own can help them strengthen their decision-making abilities.
Materials
We reviewed many, many Breyer models to choose the best of the models offered by Amazon. These models received high praise from buyers because of the quality that the Breyer company has consistently offered over many years. The sculptors are skilled and, in some cases, famous artisans whose main focus is detailing horses. Their main mission is to be realistic and artistic in carving their models that are then made into molds. The Breyer horses are made out of durable resin.
Creativity
Kids start imitating their parents and people they come in contact with very early in their lives. As they grow, their role-play becomes more complex, and that's where Breyer horse models come in. As kids get older, they learn vocabulary and their conversations are more complicated, which is a good thing as it helps kids learn how to have conversations with their friends, teachers, and parents.
Most Important Criteria
(According to our experts opinion)
Experts Opinion
Editors Opinion
Users Opinion
By Default

Parents, Did You Know?
If they want to get really knowledgeable about horses, they can learn about training and showing. There are plenty of resources out there for them, and Breyer has different clubs and communities that kids can become part of when they are old enough. There are even huge conventions at which crowds of people get together to share their knowledge and passion for model horses, and Breyer introduces new models at these events.
Parents, Did You Know?
Breyer offers several levels of showing model horses including children's, youth, and open classes. These are held in child-safe environments and are designed to teach kids how to present their horses as belonging to certain breeds, correctly tacking up horses in different roles, and presenting in a relevant scene while providing a narrative to go with it. Children learn research and presentation skills, relationship building and care of both model horses and real horses. They get to have fun meeting other kids and engaging in friendly competitions where they learn the rules of sportsmanship.
Other Factors to Consider
Age Range
Breyer makes its horses safe for older kids. They are not safe for toddlers as many sets have small pieces. The horses are safe for playing for older children, perhaps 8 and older. These are beautiful models, and they have a huge following of collectors that just display them. There are people who own hundreds of these models and they prize every one of them. But if that's not your focus, that's ok. Then let the kids play because playing is their "work."
Frequently Asked Questions
q:

How do I find out more about Breyer model horse shows?
q:

My 8-year-old daughter is crazy about horses and wants to start collecting the models. Where should she begin?

a:

First, she should decide if she wants to just play with the horses or collect them as models to display. Horses that have been played with and are nicked or chipped in any way lose their value quickly. For just playing, let her choose her favorite in an appropriate size for her. Maybe a horse and rider set or a grouping or horses with a barn.

If she wants to collect the horses and display them in her room or in a designated space, she should choose a model she loves and admires. She can leave the model in the box if she wants it to retain more value, or take it out and display her horses in a row on a shelf. Just remember that if they tip over or fall to the floor, they could get broken or rubbed. Then they lose some of their value.
q:

Does Breyer offer models that are decorated for Christmas?

a:

Absolutely! Breyer offers a couple of lines of Christmas-decorated horses. A new one comes out every year. And they have Christmas carousel horses made from fine porcelain and painted in gorgeous detail.
q:

What are some famous horses that Breyer has modeled?

a:

There are definitely too many to list all of them. The most famous ones are probably the racehorses that have won the Kentucky Derby. Secretariat is probably the most popular racehorse, but some others are Cigar, Zenyatta, Lonesome Glory, a steeplechaser, and American Pharoah. They have modeled horses that are the characters of books such as The Black Stallion, Misty of Chincoteague and TV shows like My Friend Flicka.
q:

Why does my model horse have a hole in its nose? It looks like an error.

a:

The hole in the nose is a breathing hole and is not an error. All of the models have them because they are made of plastic. Air needs to flow in and out so that the horse does not expand in hot weather and over time cause the model to become deformed.
q:

How do I know that I have a genuine Breyer model?

a:

Except for some of the early Breyer models, there is a marking on the inside of a front leg. There are several markings as they have changed a few times over the years. The earliest one was the letter C in a circle and the words Breyer-Reeves printed around it. There have been many knock-offs in retail stores that are much lighter in weight than the real Breyers and made with thin, cheap plastic. After some experience, you should have no trouble telling real from a fake.