If you hear "Leonardo, Michelangelo, Raphael, and Donatello" and immediately think of four over-sized turtles eating pizza with a sewer rat–good news, you're not alone. The Teenage Mutant Ninja Turtles sprung onto the scene in 1984 when Mirage Studios published their very first TMNT comic book. Since then, the franchise has boomed, gaining a widespread fanbase across the world. The first animated series ran for nine years between 1987 and 1996, with three reboots following, as well as a live-action movie. The Teenage Mutant Ninja Turtles are a ragtag gang of anthropomorphic turtles that live in the sewer system of New York City with their rat sensei, who has trained them in the art of ninjitsu. Together, they fight crime and keep the city safe while hiding from the public eye, and eating A LOT of pizza. Their sassy pal April (alternately a former lab assistant and television news reporter) helps take care of the work they can't do in public, and together the team manages to be both quirky and sentimental. Children go crazy for their turtle pals, so if you're on the hunt for some new gear for your little Ninja Turtle lover, take a look at our list of Top 10 Teenage Mutant Ninja Turtle Toys.
Our Top 3 Picks
MONOPOLY TMNT Edition

Our rating
6 Metal Tokens
Price:

See Here

Mattel TMNT UNO Card Game

Our rating
112 cards & Instructions
Price:

See Here

TMNT Deluxe Role Play Shell

Our rating
Transforms Into Shield
Price:

See Here

The Best Ninja Turtle Toys Reviewed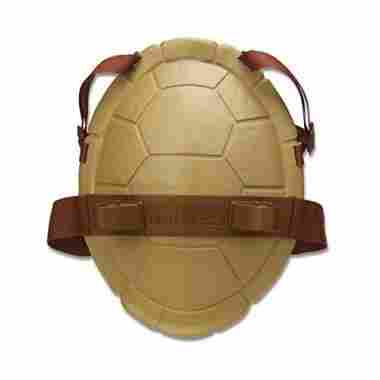 starkma Superhero TMNT Cartoon Costume Cape With Mask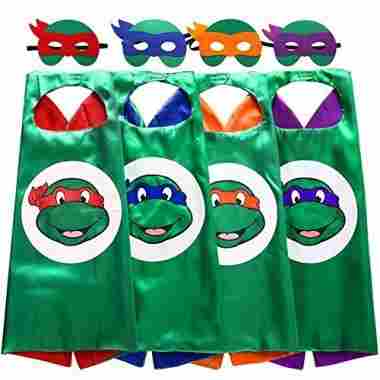 Nickelodeon Pillowtime Leonardo Pal Pillow
Playhut Ninja Turtle Shell Raiser Vehicle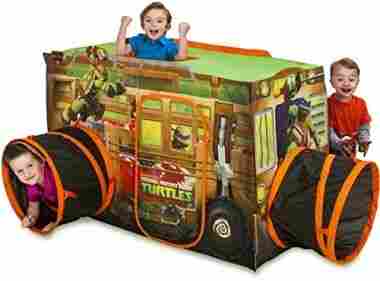 TMNT Puzzle in a Lunch Box
Micro Michelangelo's Skate Park to Turtle Playset
TMNT Licensed Bowling Set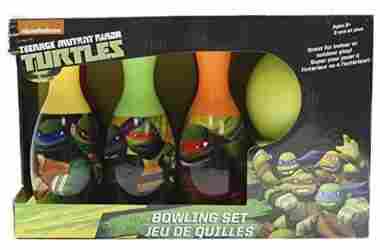 Criteria Used in Evaluation of the Best Ninja Turtle Toys
Follows Teenage Mutant Ninja Turtles Theme
The Teenage Mutant Ninja Turtles story follows the four teenage mutants dedicated to hiding their turtle secret and to protect their home, New York City, from evil. The stories portrayed in the movies, television show, video games, and comics provide lessons on leadership, sticking to your values, perseverance in achieving goals and developing abilities, the importance of collaborating as a team, and learning how to balance playful fun and taking things seriously. Most of the games on the list incorporate official Teenage Mutant Ninja Turtles art and illustrations. There is a toy on the list for every Ninja Turtles fan whether they're more creative, adventurous, or strategic.
Imaginative Play
Many of the toys on our list incorporate imaginative play into their designs. The Ninja Turtles capes and masks set, role-play shell and shell raiser vehicle, for example, provide an awesome path for children to role play and pretend to be their favorite Ninja Turtle. The stuffed turtle toy and mini action figures provide an opportunity for kids to bring an inanimate object to life through narration and actions while creating a new plot. Imaginative play is extremely beneficial for children to participate in as it helps in the development of many important skills.
Additionally, through imaginative play, children work through different potential scenarios that inform them about the dynamics of human relationships and how things work in the real world. It is a wonderful form of play to do alone or as a social experience with other peers or family members.
When collaborating with others during imaginative role-play, whether it be using action figures or themselves, children are able to learn to listen better and think quickly to respond to each other in a way that makes sense for the plot they are creating. Imagination is truly infinite in nature. Although the toys on this list are all Teenage Mutant Ninja Turtles themed, they do not necessarily limit a child to only creating Ninja Turtles related narratives. Just because a Teenage Mutant Ninja Turtle action figure or stuffed toy appears as Donatello or Leonardo, for example, doesn't mean that it can't be brought to life as a human dad in a game of "house" or as an alien-fighting space cadet. Exercising the imagination is a great way for children to lay the foundation for other creative skills which can be of wonderful assistance in many realms of real life.
Skill Development
Just as the Ninja Turtle toys that assist children in developing skills associated with imaginative play, there are many other potential skills and abilities that are enhanced through playing with the toys on this list. The Teenage Mutant Ninja Turtles edition of UNO helps children work on pattern recognition and categorization skills. The Ninja Turtles puzzle in a lunchbox set enhances fine-motor skills, pattern recognition, and spatial reasoning. We could go on and on. The My Kids Need That team is focused on reviewing and sharing products for kids that are of course fun but also incorporate developmental benefits such as those we just discussed. We believe that all the toys your child plays with can and should provide assistance in healthy growth and development. Every experience a human has affected them in one way or another, so we choose to provide parents with lists such as these that ensure a positive influence on your child.
Safety
All of the content on the Born Cute website prioritizes a safe experience for children. We will never recommend any toy or product for kids that contains unsafe materials or inherent risks for use by children. That being said, every toy on this list is absolutely safe for children to use, depending on the age range specified by the manufacturer. None of the action figures are going to contain sharp edges for example, and none of the toys incorporating fabrics in their design are going to contain harmful chemicals. Our research involves checking the potential for foreign import issues, potential recalls, the risk for toxic ingredients, and any certifications for safety required for certain types of toys or products. If parental supervision is suggested or required, we make sure to make that clear in our review. We love your kids, and our ultimate goal is for them to have fun, learn, and remain safe based on our recommendations.
FAQs
Frequently Asked Questions
Q: Are these toys suitable for my 3-year-old child?
A: Most of the toys are not appropriate or recommended for most 3 year olds. However, the capes and masks costume set, pillow time pillow pal, and shell raiser vehicle are safe and age-appropriate for 3 year olds.
Q: Are any of these toys electronic?
A: None of the toys included on this list involve screens. We compiled this list so kids can expand upon the Teenage Mutant Ninja Turtles plots provided in movies, TV shows, video games, and comics.