For children, stuffed animals are the most universally accepted and appreciated toys around. They can also be referred to as stuffies or loveys and can come in all shapes, sizes, colors, and forms to suit any favorite animal, age and culture. Millions of these tiny friends are created annually to fill the demand for comfort toys for children around the world. Some stuffed animals are so beloved that children and even adults can't bear to part with an enduring and endearing stuffed friend-–your child may pass down their stuffed animals one day to their own children
By passing these lovable critters from generation to generation, some of these stuffed animals may become collectors' items. Stuffed animals also have many talents, but they are mostly admired for the companionship and comfort that they bring for children of various ages. Having these plushies can provide comfort, security, reassurance, and familiarity while they gentle ease any stress and anxiety your child might be feeling. One function that these special friends have is that they give kids the ability to seek comfort on their own without needing mom or dad by their side. Plush and stuffed animals help encourage your children by beginning to pretend play and they provide your child an animal to care for through using their imagination.
Having a stuffed animal around can also help develop social skills as your child may interact with their stuffed animals by having secret conversations through pretend play. Their language skills are improved as they will sit and talk to them and care for someone other than themselves. Empathy and compassion are also instilled in children by using stuffed animals as their targets. These toys grow up with your child because they are so versatile for telling stories, role-playing, and simply just by having your child care for them.
Benefits and skills obtained simply by having one of these furry friends are enormous and important when it comes to your child's development. For this page, we featured many popular stuffed animal items that your child will want to add to their furry friend collection. Whether you are contemplating getting your child a special gift for a special occasion, an everyday item, or just want to add a unique character to your child's collection, we came up with the most popular, highly rated, unique stuffed animals that your child will love.
Our Top 3 Picks
GUND Teddy Bear

Our rating
Surface-Washable
Price:

See Here
Aurora Lil Benny Phant

Our rating
Huggable Body
Price:

See Here
EpicKids Stuffed Penguin

Our rating
Easy To Clean
Price:

See Here
Aurora World Sweet and Softer Ping Panda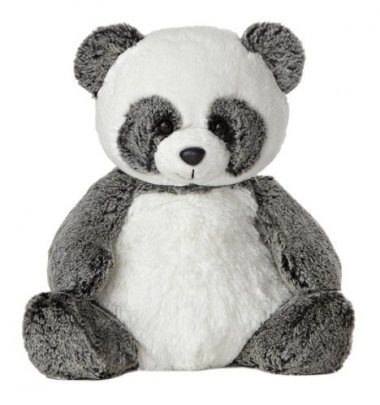 Chocolate Bear Stuffed Animal
Age Range: At least 1 year old
Aurora World Lil Benny Phant
Age Range: 3 to 15 years old
Age Range: At least 1 month old
Age Range: At least 1 month old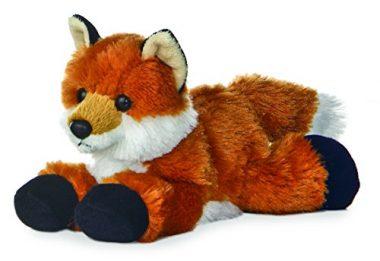 Age Range: At least 6 months old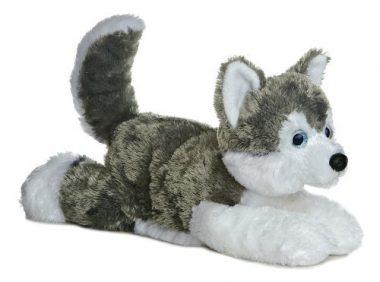 Age Range: 3 to 15 years old
Wild Republic Cuddlekins Wolf
Age Range: At least 3 years old
Age Range: At least 6 months old
Criteria Used to Evaluate the Best Stuffed Animals
One of the first things we always do when coming up with our list is to research each toy thoroughly and the manufacturers that they come from. We researched a lot of products to come up with the best ones to offer to you. These plush toys are consistent considering their purposes. These animals aim to help aid your child when they're seeking comfort and assist them in learning about various phases in life like language, speaking to others, forming relationships, dealing with emotions, and interaction.
We chose each furry friend on our list with safety in mind also. We selected a variety of toys for various age groups. Babies and toddlers under the age of 3 need embroidered eyes and facial features. Older toddlers, who know not to swallow small pieces can have sewn-on or glued-on eyes and noses. We also try to choose toys that are durable so your child won't be able to destroy them when they might play a little on the rough side.
As parents and anyone who loves stuffed animals, we want animal friends that children will like and ask questions about so they can learn about different habitats and the likes and dislikes of the animal that's their current favorite. When your child grows a little bit older, their questions are going to increase. Kids can grow up with their stuffed animals and spend many hours of playtime with them creating endless hours of fun while they're learning about their new friend.
We reviewed each manufacturer's reputation. We wanted to make sure that every company on our list has a high number of good reviews, few complaints, and customers eager to buy again from. them We made sure that every company had a good reputation for safety so that parents can worry less about the possibility of their child getting hurt from playing with their favorite animal friend.
How We Chose the Top Plush Toy Animals on Our List
We asked the moms and ladies on our team if they can come up with the top 10 really plush and huggable toys for kids for this year's gift-giving season. Our dedicated researchers went to work and in just a couple of days, they were able to present to us a tentative list of the top 30. We then had to scrutinize which of these 30 will make the final cut.
To get to the 30, our team focused on the strength of each fluffy, comfy, and super-soft cuddables' ratings. We believe that all things being equal, we had to look closely at the number of people who have high regard for these toys. We had to scrutinize every remark or feedback from very satisfied parents who report that their kids–-and teens-–actually adore the plush stuffed toys given to them.
We then considered the manufacture of the product as it must be made of kid-safe, nontoxic materials. If there's certification coming from reputable agencies or organizations, then we considered these, too. If there is some kind of award or recognition given to the product, then we knew that it should receive a point from us.
Our team also tried to look at the developmental appropriateness of the products. However, given that almost every single one of these plush stuffed animals essentially has the same developmental benefit to kids, we had to look at the recommended age of the product and determine whether it really is appropriate for a certain age of children. For example, if the product was intended for young babies, then it should not have tiny removable parts that babies might choke on.
The result of all of these activities? Our top 10 stuffed animals for kids in 2019.
Stuffed Toys and Children's Development
Stuffed toys are beneficial in the development of kids particularly in terms of their sensorimotor skills, their cognitive abilities, and their social and emotional growth.
For very young children such as babies and infants, stuffed toys can play an important role in their sensorimotor development. Plush toys that come with different patterns, colors, and textures can all help the brain recognize and interpret these sensory signals to be integrated into formal knowledge when the right time comes.
Stuffed toys are not only beneficial for the psychomotor development of young children. They are important in the development of their beginning emotions. For example, while babies cannot verbalize how good "soft" feel, they can nevertheless show this appreciation through their behavior. You can see them smiling while hugging and cuddling their "soft" stuffed animals. It is their way of telling you that the plush toy makes them very happy.
For older children, stuffed toys can provide an excellent tool for role-playing. You can see them playing the role of parents for these toys, giving them a bath, preparing meals for them, and even grooming and dressing them. For us adults, it may all seem kids' play but these role-playing activities help motivate children to use their imagination as well as creativity. Studies show that the more opportunities children get to use their imagination, the greater is the chance of them expanding on their cognitive abilities, most especially their divergent cognition.
Divergent thinking is one of the foundations for logical, scientific, and critical thinking. This kind of cognitive ability is what differentiates highly successful individuals from those who aren't as successful. That is why stimulating a kid's imagination is crucial to the development of his or her divergent-thinking capabilities which, in turn, fuels his or her critical and logical thinking.
As we have already said, children use their stuffed toys for pretend play. This greatly improves their social skills. They are also able to build more lasting friendships as well as establish new ones when they are given the opportunity to explore different scenarios using pretend play or role play.
The Bottom Line
This Christmas, get your child a stuffed animal he or she will care for. You will find that our top 10 stuffed animals are all highly recommended by parents like you. All you need now is to choose one. Or, you can just get all 10.
FAQ
Frequently Asked Questions
Q: How do I clean a stuffed animal?
A: There are several answers to your question. The best answer is to contact the manufacturer.  The label may have cleaning information on it. Some stuffed toys can be put into the washer, but some should not be machine washed. These can often be surface washed or cleaned with a lint roller.
Q: How do I know the stuffie I want to purchase for my child is safe?
A: Well, we never know for sure because of possible manufacturing mistakes. So parents need to examine any toy they purchase to see if there are any problems. But, depending on where the toys are sold, there should be standard safety standards that each must meet.  There are tests for thread safety, toxins, a pull test for the eyes and nose, and others.  You can contact the manufacturer for specific tests. There is also a link for US toy safety in the resources below.
Q: How are stuffed toys made?
A: This depends on the manufacturer and whether or not the stuffies are handmade. There are many sources online that describe the process, but it's somewhat different for each company.
The general process is product development and submission of a design to a manufacturer, the creation of samples for the client, ordering and testing raw materials, cutting fabric, silk screening, sewing, and more.
Q: My daughter is 3 years old. Shouldn't I be buying more educational or electronic toys for her?
A: Of course the types of toys you purchase is totally up to you. Many experts in child development have suggested that babies and young children will be more attracted to a soft toy that they can hug and play with than any hard educational toys. Educational toys may not be relatable at a young age.
The truth about stuffed animals is that kids relate to them, are comforted by them, and there are lots of learning opportunities with stuffed toys, more than are first apparent. And in many cases, stuffed animals are much more reasonably priced than building blocks or electronics. As children grow older, by all means, add in more educational toys, but kids of all ages love their plushies.
Q: How can I find out if my child's stuffed animal has been recalled?
A: You can go to the Consumer Product Safety Commission website to find recalled toys at  https://www.cpsc.gov/.
Q:  How can I have a conversation with my son about his plushie puppy if he can't talk back?
A: You don't have to wait until your son grows up to converse with him. True, he may not talk back, but he can hear and even see your lips moving at an early age. Talk to him, anyway. Show him his plushie puppy and speak to him about what is a puppy, what is a dog, what dogs do, how to groom the dog, and anything about dogs.
Include vocabulary words about the puppy's world, like food, water, chew, toy, tail, nails, mouth, etc.  Even little babies seek out stimulation within their worlds. Their mission is to grow, learn, and mature. Parents engaging their kids by talking to them and showing them how to do things is one of the best ways they can support that mission of learning, even if they can't speak back yet.