Best Gifts for 13-Year-Old Girls in 2019
last updated
Jun 04, 2019
Parents will marvel at how quickly it happened but at age 13, their daughter is officially a teenager. This stage is interesting for them and also for their parents. It can be a difficult age to shop for since some 13-year-olds have eschewed most toys but are still too young for more adult options. One thing that most 13-year-old girls have in common at this age is that they want to receive a gift that is cool and also popular among her friends. So, we want to make sure that you know what is hot in today's market for new teenaged girls.
In a Hurry? The test winner after 42 hrs of research
Bit Coding Robot
Why is it better?
Pocket-sized programmable robot named Bit
Comes fully assembled
Two ways of input–online drag-and-drop coding or marker strokes
Features LED lights, stickers and covers to customize its look
Enhances STEAM-learning opportunities
In a
Hurry? Editors choice:
Test Winner: Bit Coding Robot
28
Researched Sources
42
Hours Researching
23
Products Evaluated
Social Development
Materials
Design
By Default
10 Best Gifts for 13-Year-Old Girls Reviewed
Pocket-sized programmable robot named Bit
Comes fully assembled
Two ways of input–online drag-and-drop coding or marker strokes
Features LED lights, stickers and covers to customize its look
Enhances STEAM-learning opportunities
Calibrating takes some patience and time
On/off button is fragile
Meet the coolest little robot named Bit. It is a pocket-sized robot that was created especially for early STEAM-building exercises. The robot comes fully assembled and ready to go.
Read more
Social Development
Using this robot and performing STEAM-related activities will bring out the creative side in your 13-year-old girl. The output of the robot can be completed in many ways, but the possibilities are truly endless. Building their skills while also developing their minds is an easy task with Bit.
Materials
Bit features LED lighting and a protective shell on the outside that has been constructed from strong polycarbonate, and an online activity library that the kids just love. Inside the box with Bit comes an activity packet with STEAM challenges, four markers that have the color code, two different skins, and character stickers to customize the robot, and a USB charger. This robot is sure to make any 13-year-old girl's day a brighter one.
Design
There are two different ways of using the robot. The code input determines how the robot will operate. Both outputs have the same general result, but one type is input with strokes of a marker and the other input is completed online within the programming editor using drag-and-drop coding.
2

. Personalized Name Necklace 18k Gold
Custom name plated necklace
Selectable font and style
Constructed from 18k gold-plated stainless steel
Attached necklace chain is 16 inches with 2-inch extension available
Creates a special gift giving moment
Clasp is very small and hard to connect
Chain is very thin
Gifting a customized necklace is always a nice way to make someone feel special, especially that 13-year-old girl for whom you don't know what to buy. The necklace is made from stainless steel and has been plated with 18k gold. The nameplate is customized and the font can even be selected as well.
Read more
Social Development
Customized gifts take gift-giving to a new level. It allows people to give thoughtful gifts that allow the recipient to have a special connection with both the gift and the giver.
Materials
Once you have selected the font and the name, the plate is crafted and attached to a 16-inch chain which can be extended by 2 inches. This beautiful necklace is a perfect and memorable gift.
Design
Very nice necklace and a great gift to give to any 13-year-old girl who is hard to buy for.
3

. Shany Cosmetics All in One Makeup Kit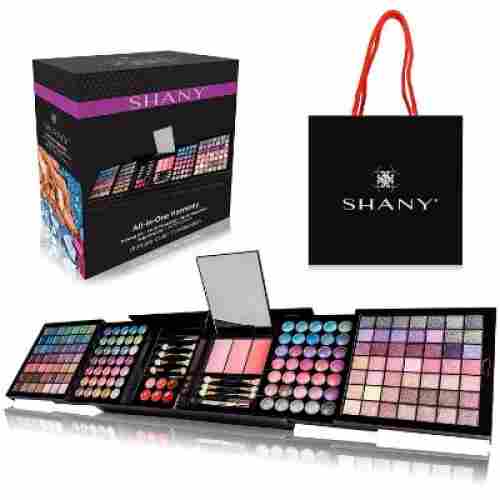 Loads of color options for blush, eye shadows, and lip color.
Compact stylish case.
Designed like a real professional kit.
Designed for the professional dancer in mind
Products not tested on animals
Promotes early use of make up.
Makeup easily comes off, would not last all day
Your little girl has really grown up to be a stunning young lady. Just a few more years and boys and men will already be swooning at the sight of your princess. One of the essential tasks that young ladies must be able to learn early on is how to put on a makeup.
Read more
Social Development
While we don't really recommend heavy makeup unless you're playing in a Kabuki style of dramatic play, we don't see anything wrong with learning how to enhance one's natural beauty. As such, you can give your thirteen-year-old girl the SHANY All in one Makeup Kit. Promotes creativity, individuality, and a touch of glamour. With a wide variety of colors and pigments there is sure to be a makeup combination for everyone. Promotes confidence and fun whether for a day of dress up with her girlfriends or a touch up for a day out with the family. Your teen is sure to exhume a beaming sense of pride as she is able to transform herself into a pop star diva.
Materials
The kit was especially designed for professional dancers as well as makeup enthusiasts, although we do believe it should make for a great introductory set for thirteen-year-olds. SHANY Cosmetics is highly regarded for making excellent beauty products. This should help dispel any doubts as to the quality of their All in One Makeup Kit.
Design
It already comes with almost all of the things that any professional makeup artist will ever need, from eye shadow to blushes to powders and lipsticks, and to the different tools and accessories to apply these products. The unique container is designed like the professional makeup kit so your young lady will really have the greatest makeup experience of her life.
4

. Emori All About Nails 50-Piece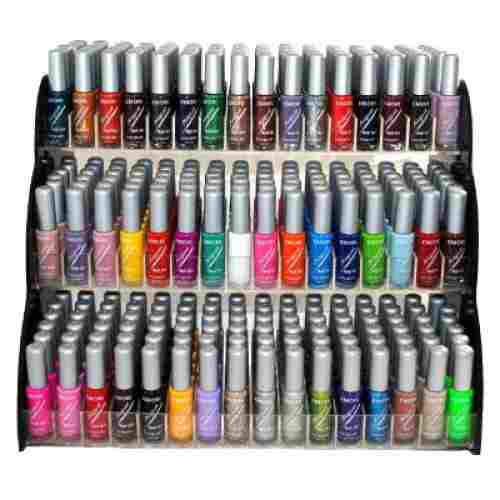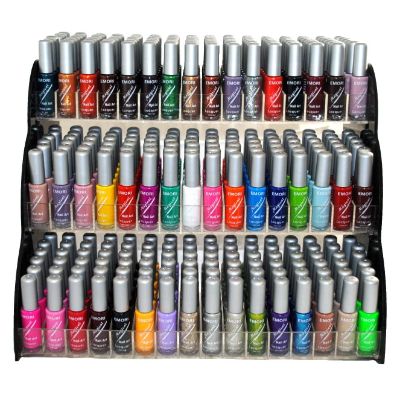 Contains loads of color options.
Each brush is precision designed for exact control of lines.
Promotes creativity.
Allows for personal expression.
Fun for birthday parties and sleepovers.
May contain harsh chemicals
May cause staining to fabric surfaces.
If you have already given your young lady a makeup kit on her 12th birthday, why not include a nail care kit this year? And for that, we recommend the All About Nails Combo Set. It's a 50-color set of 0.28 ounces of high-quality nail lacquer or nail coloring. Each bottle comes with a superbly designed brush applicator to help your kid take full control of its application.
Read more
Social Development
This nail kit will help inspire creative and unique nail art sure to wow your teen. It offers tons of color choices as well as angle precision brushes for perfect lines and designs. This product also allows girls to learn about color combinations as they tap into their creative side and mix and match different colors and shapes. This gift is perfect for keeping girls occupied with their friends for a sleepover as well as give your teen a chance to have to most envied nails in school.
Materials
With so many colors, your young lady can create beautiful art forms with her nails although don't expect to see butterflies, flowers, and very intricate artworks as the brush applicators are usually wide-tipped, not the usual pinpoint tip that you see in nail art brushes. Nevertheless, the artistic possibilities can be endless. All of the colors are also quick drying and offer a formula that is long-wearing without the use of UV lamps or any special drying tools.
Design
What's certain is that your young lady will be able to improve her overall aesthetics by using colors that match her mood of the day as well as her getup. The combo set already comes with pads of nail polish remover so you don't have to buy separately. Unfortunately, you'll have to buy a separate bag or organizer for the entire combo set as it doesn't come with a display rack.
5

. Fashion Angels Project Runway Portfolio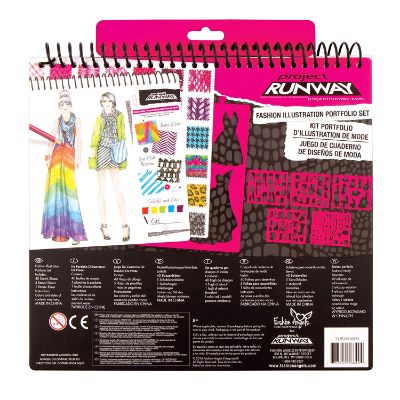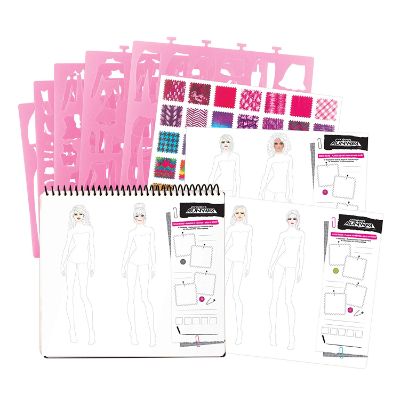 40 preprinted sketch pages
Hundred of mix-and-match opportunities
Includes fabric samples for inspiration
Stencils are to-scale for sketch pages and make design easy
Bound portfolio for your fashion designer to keep all their work together
Sketch pages are a little flimsy
Have a budding fashionista? This Fashion Angels Project Runway Portfolio is a great way for girls who are interested in fashion and style to express themselves and explore their own creative design abilities.
Read more
Social Development
Removable stencils make shapes and scaled size easy. Kids can choose between dozens of different shirts, skirts, pants, shoes, and accessories to glam up their models. The tools are great for intermediate or advanced artists to expand upon, and perfect for beginners who love putting fashion together but are still new to the world of fine art and sketching. The set includes 40 preprinted sketch pages with fabric swatches and stencils.
Materials
Kids can creatively interact with patterns, color, and their preferred aesthetic with this kit. It provides pre-printed models and stencils so even beginners can whip up some pretty impressive designs.
Design
It can be frustrating for kids who are just starting out with a skill when their abilities don't yet match their taste. This sketchpad makes it easy for children to explore and enjoy high-quality designs, even if they're just diving into the world of fashion and illustration.
6

. Crave Naturals Glide Thru Brush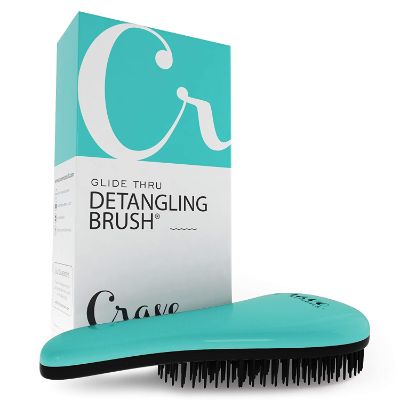 Sleek style, pretty purple
Ergonomic handle
It has conical shaped bristles for minimal tearing and pulling.
Blunt ends provide a massage type effect.
Available in five different colored handles
May take longer to brush through long, thick hair.
Bristles are weak and flimsy, making it harder to get through thick hair
If you already have the BAB2000 CeramxXtreme Hair Dryer, we recommend getting the Glide Thru DetabglingBursh as well to really make your 13-year-old girl's hair grooming chores more complete. With its sleek and super ergonomic body and handle the Glide Thru should be a very wonderful hair detangling brush to use.
Read more
Social Development
Your daughter will be the belle of the ball with the best hair because of this wonderful brush. The Unique design of the bristles is exceptionally useful. The ergonomic handling and sleek design is also excellent. With this particular feature, you can be sure your thirteen-year-old will feel much more relaxed after using the Glide Thru.
Materials
Instead of the typical rounded edges of the bristles in other types of hair brush, the Glide Thru features a conical bristle which effectively separates individual hair strands, untangling them if you will. This conical design of the bristles also allows for gentle brushing strokes without necessarily pulling or even yanking on your young lady's hair. The blunt ends of the conical bristles also help provide a massaging effect. Many of the customer feedback we've read actually used the Glide Thru not as a hair brush but rather as a head massager.
Design
This sleek and stylish brush is perfect for a girl with sensitive hair. The unique conical bristles make for minimum tearing and pulling. This brush is also gentle on the wrist as it has an ergonomic handle. This brush is a perfect and luxurious gift for any girl's comfort. Its compact size makes it perfect for purses and backpacks so the brush can go anywhere.
7

. Bose SoundLinkColor Bluetooth Speaker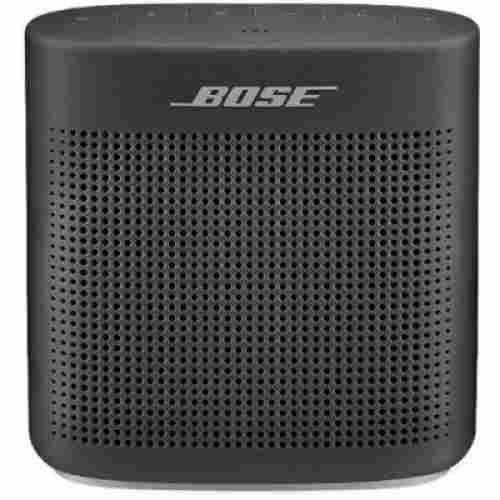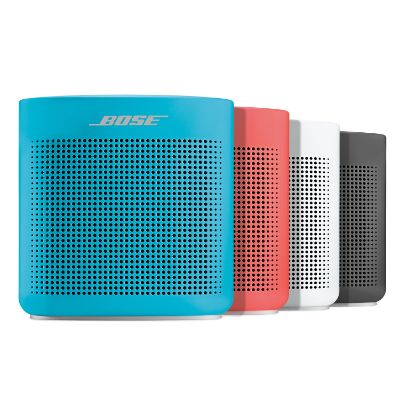 Available in Many Colors.
High Quality Audio Equipment.
Bluetooth for Easy Use on all Other Devices with Bluetooth Technology.
Voice Activated Bluetooth Pairing.
Compact Size for Easy Travel.
Batteries Can't be Replaced.
Designed for a room, not a large area, the sound is not powerful enough
Music is a very important part of life. It's a great stress buster and also a means of expressing one's thoughts and feelings. If music is your 13 year old girl's life, then you need to present her with the SoundLinkColor Bluetooth Speaker. Available in a full spectrum of vibrant colors, there's surely one model for your kid.
Read more
Social Development
This compact speaker makes travel super easy, perfect for fitting into purses and backpacks allowing for music anywhere. This speaker comes in a variety of colors so you're guaranteed to find one your girl will love. Its full Bluetooth connectivity simply means your kid won't have to frazzle about not being able to bring her set of cables to connect the SoundLink to any of her music devices, be it a tablet, a smartphone, or any other device that has Bluetooth technology.
Materials
Additionally, Bose is one of the leading manufacturers of high-quality audio equipment that you can be sure the music listening experience of your child will simply be phenomenal. Clear and crisp sound. Rich, deep bass. It's like having the stereo sound system of a concert hall packed in one very convenient box. What's more is that the Bluetooth pairing can be activated using voice-activated prompts. It's a truly ingenious way of controlling the entire music experience. The SoundLink is also very compact such that it can fit conveniently in your kid's bag or even purse. If she's wearing baggy pants, it can even fit in those oversized pockets. It's truly a remarkable piece of acoustic engineering.
Design
The Bose name is highly trusted and well known for its quality sound technology. This product contains Bluetooth technology making music on the go from your phone a breeze. Bose is a brand that's trustworthy to deliver superb quality audio products. The SoundLink never fails in this respect.
8

. How to Cook What You Want to Eat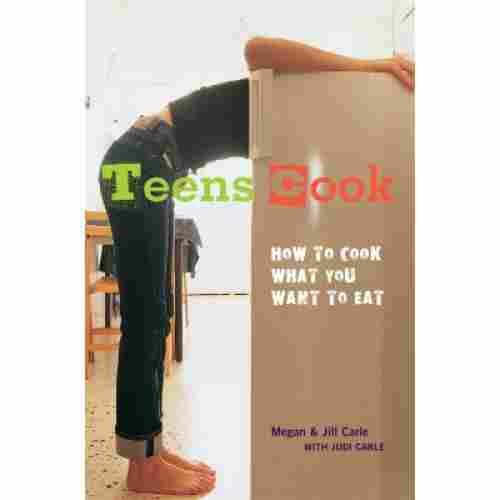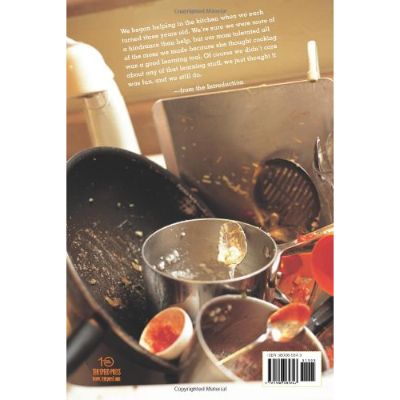 Easy to Follow Recipes.
More than 75 Recipes.
Written by Teens for Teens.
Contains Helpful Hints for Vegan Diets.
Recipes use common and easy to find ingredients
Not Many Meals, Mostly Appetizers.
Instructions are wordy and can be hard for first time cooks without assistants
Girls are quite picky eaters compared to boys. They will only eat what they think they want to eat. As such, Megan and Jill Carle wrote the Teens Cook: How to Cook What You Want to Eat to help young teens learn the basics of cooking.
Read more
Social Development
They don't have to be the next Master Chef, though. Nonetheless, the Teens Cook provides an easy-to-follow guide on how to cook more than 75 recipes that have been included in the book. It's actually written specifically for teens by, guess what, teens themselves. Consider it as a natural sharing among teenage girls, helping each one out. What's good about the book is that it's written in a style that teens can really relate to.
Materials
The mere fact that the writers of the Teens Cook are teenagers themselves, young readers can relate to the content a lot easier. Hopefully, this will help cultivate an inner passion for cooking. This book also contains helpful diet tips and healthy vegan lifestyle choices. This book is perfect to inspire quality time spent as a family.
Design
It includes some of the basic terms used in the culinary scene including some helpful tips on certain issues like vegan diets and avoiding kitchen disasters. This book is great for promoting a healthy lifestyle for your teen. With recipes made by teens for teens, this book is an easy introduction to the world of culinary arts. It utilizes introductory cooking terms, simple to follow.
9

. Klutz Friendship Bracelets Craft Kit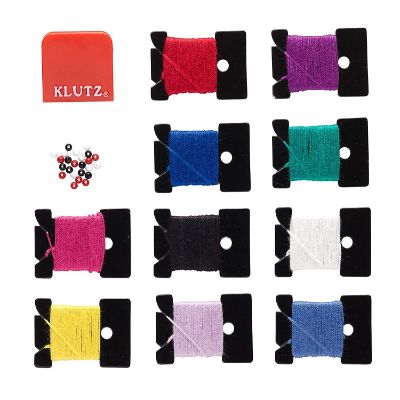 10 different colored flosses
Beads
Clip to hold ends together during work
58 page instructional booklet
Makes at least 12 bracelets for closest BFFs
10+ designs to learn and create
Some customers received "Fancy Friendship Bracelets" product instead
Harder patterns require some serious detail and patience
Kids love sharing special secrets with their BFF's. Give them a way to create and play together which results in a crafty piece of jewelry they can wear as a constant reminder of how lucky and loved they truly are.
Read more
Social Development
The Klutz Friendship Bracelet Craft Kit allows your child and their friends to make a minimum of twelve bracelets total, but possibly many more depending on the number of resources they use in each bracelet. These friendship bracelet patterns will promote increased dexterity and direction following while bringing kids closer to their best friends and giving them something to always remember each other by.
Materials
It includes ten colored embroidery flosses, beads, and a plastic Klutz clip to tie the ends together while they work. A 58-page instructional manual helps kids learn the basics and some intermediate designs as well with crystal clear instructions.
Design
Friendship bracelets have been a staple in kids' bonding for who knows how long. This kit is great for beginners to advanced jewelry makers and the projects can be completed alone or with friends.
10

. BaBylissPRO Porcelain Ceramic Dryer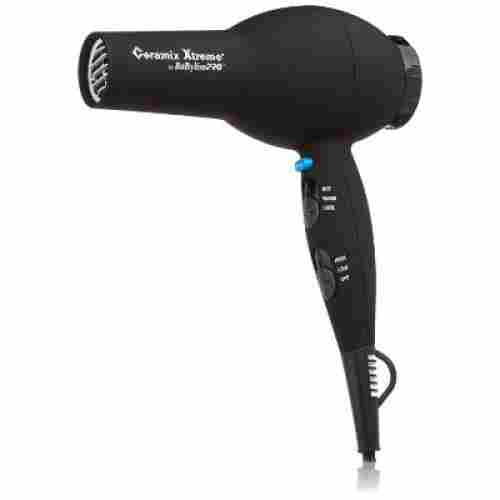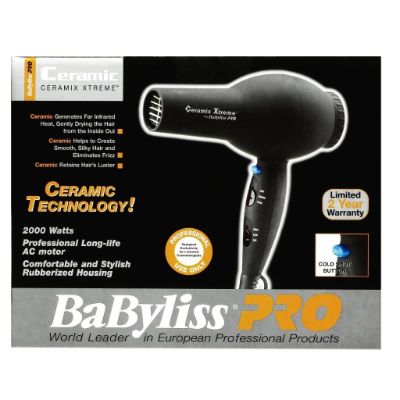 Drying in half the time.
6 speed and heat settings.
Infrared technology allows for extra gentle drying.
Has a cool setting.
Narrow barrel design.
Could cause serious injury without proper care.
Switches are smooth plastic, hard to press
One of the most time-consuming aspects of grooming among ladies is drying the hair. For men, this is not really a problem since their hair is naturally shorter. Regrettably, if your 13-year-old girl is planning to become the next Rapunzel, then drying her hair can become a 4-hour ordeal. However, with the BAB2000 CeramixXtreme Dryer, your child no longer has to wait this long as its 6-speed and heat settings can really shave a lot of time off hair drying.
Read more
Social Development
This gift allows for speedy drying time which is sure to improve the quality of any teens life during those hours spent getting ready for school. With the ability to dry in half the time there is a guarantee for less bathroom time.
Materials
The heat is generated by the BAB2000 signature infrared technology which helps ensure even and extra-gentle drying. This translates to more hair volume while retaining the softness and sheen of naturally air-dried hair. Part of the effectiveness of the BAB2000 CeramixXtreme is its narrow barrel design which effectively compresses the air giving it superb pressure for faster and more efficient drying. The barrel is also fitted with a nozzle which aids in increasing air compression and improved drying. Cleaning is also easy as the CeramixXtreme comes with a removable filter. It also features a sliding control button instead of the toggle type. It also has a dedicated "cold" button just above the handle for those air drying needs that require cold air, not hot nor warm.
Design
The BAB2000 CeramixXtreme's unique hair drying technology allows you to cut the time it needs to completely dry your hair in half. So, if you've been accustomed to drying your hair for a full hour, you can do it within 30 minutes.
Criteria Used for Evaluation

Social Development
The social development of 13 year old girls are more pronounced than do boys. They are more prone to body image disturbances especially when they have acne and freckles that they become the butt of jokes in school. Girls are also more concerned about their looks and would desperately need reassurances that they look beautiful. You can give gifts that can enhance their natural beauty. More importantly, however, is your guidance and reassurance for them.
Materials
We also examined the different aspects of the product particularly its overall design, the quality and safety of the materials used, and the quality and sturdiness of its construction, whenever applicable. If the product carries a certain recognition or even an award of some sort because of its design or utility, then we factored this, too. Part of this evaluation is the understanding of the company's current level of trustworthiness or credibility, especially among its customers. We know a well-established and well-respected company will do everything it can to provide only products that are of the highest possible quality and safety, otherwise, they lose their credibility.
Design
Each of these products was then evaluated for its developmental appropriateness. While these are not necessarily toys, every single product must have a unique benefit to pre-teenaged girls especially in terms of helping them get through the stage of adolescence and successfully transition into adulthood. We had to correlate the developmental needs of young ladies of this age with the different features of the product. We had to ensure that a product feature can really translate into developmental benefits, otherwise, we scrapped the product off our list.
Most Important Criteria
(According to our experts opinion)
Experts Opinion
Editors Opinion
Users Opinion
By Default

Parents, Did You Know?
This list contains cozy gift ideas for the fashionista, supplies for the artist, and tools for the Instagram star in your life. Some of these gifts are helpful for sensory work as well as building social skills. Most of the items on this list come in a variety of styles and colors, allowing for a wider range of mix and match options. You will see your princess' personality come to life as she discovers her confidence as a blossoming woman.
Parents, Did You Know?
We had to take a more semi-objective approach in the list that we've made. As there are literally thousands of possible gift items for thirteen-year-old young teenagers, we had to narrow the selection field down to at least several tens. We based this primarily on the rating score of these products and how well they are received by consumers. This allowed us to reduce the number of products that we had to scrutinize individually.
Other Factors to Consider

Physical Development
Young teenage girls will already show remarkable physical development including the growth and development of the breasts and other secondary sex characteristics. They become naturally more active. Unfortunately, they also tend to have plenty of skin problems because of the sudden surge of hormones coupled with poor hygiene which may be the indirect result of engaging in increased physical activities.
Frequently Asked Questions
q:

How do I find the best gift for my teen?

a:

With so many products on the market, it can be a bit overwhelming trying to find the perfect gift, especially for a young girl trying to find her way in the world. With a variety of options catering to many interests, this list has something for everyone. This list allows exploration into some really colorful worlds such as photography, hairdressing, fashion, and the world of social media.
q:

Do these gifts contain choking hazards for small children?

a:

There are some items on this list that contain choking hazards for small children. Most of the kits recommended in this article should be handled with care as they come with small tools, beads, etc.

While these fun additions will allow and inspire a sense of individuality and style to your teen's life they may pose a choking hazard to smaller children. If you have smaller children in the house getting into everything there are recommendations on this list, such as clothes/shoes guaranteed to thrill your teen and keep smaller parts away from young children.
q:

What if I am unhappy about my purchase? Do these gifts come with a warranty?

a:

All of these items on this list can be purchased through Amazon, while Amazon itself is not accountable for all returns and refunds they do have a support center that will help walk through the process of getting your money back. Individually, there are companies selling products through Amazon which have their own warranties and terms/conditions.
q:

Will this gift help promote creativity? Will they be challenging and promote education building?

a:

These gifts offer and promote a wide range of interests and skills. They allow your teen to dip her toes into a world of color exploration. With a wide variety of colorful cosmetic options, your teen will have countless options to mix and match colors and designs. There are other gifts that will encourage a healthy lifestyle for the active teen always on the move.

The iPad is a great gift as it can double as, not only as a cool and thoughtful gift, but also a learning aid with all the educational apps available at your fingertips. The iPad allows your teen to stay in touch wherever you are, assuming there's a Wi-Fi connection.
q:

Are these gifts eco friendly?

a:

While it is unavoidable to completely remove every harsh chemical and inorganic substance from all of these products, most of the cosmetic companies on this list offer products that are washable and made from safe non-toxic materials.
q:

Can I use technology with other devices?

a:

Yes, most tech-related items on this list have Bluetooth technology that allows you to connect and pair to multiple devices so music can be played and moments can be captured and share, anywhere anytime
q:

What are some of the best gifts for 13-year-old girls that like to craft?

a:

When buying a gift for a 13-year-old girl that likes to craft it is always a good idea to buy items that feature everything they need one kit. Build your own birdhouses and makeup kits allow them to express themselves in the creative ways they are looking for.
q:

What types of gifts are good for getting my 13-year-old girl to engage and spend bonding time with me?

a:

When waiting to buy a gift for a 13-year-old girl that allows you to engage and spend time with them it is suggested that you purchase a gift that they will need 'help' with. General hair accessories or a nail polish set is good for spending bonding time together.
q:

How do I purchase the products listed on the Best Toys and Gifts for 13-year-old girls?

a:

Each product has a link directly to Amazon below the picture of the item. You can click on this link and it will take you to the product where it can be purchased directly.
q:

How do I pick the perfect gift for my 13-year-old daughter?

a:

It can be hard to select a gift for a 13-year-old girl. We suggest always starting with a list of what defines them, their likes and dislikes. Then review our list, take out 5 of the top items that strike you like items that they would love. Lastly, think of their current wants, then select an item from your list that would satisfy your budget with their want.