Outdoor adventures are much more fun when you're wearing a pair of light-up shoes. Place a pair on your little one's feet and watch their eyes light up in excitement as they head for the door. Motivated to make the lights flash, they will be busy running, jumping, and playing. They will have a blast without realizing they are reducing their stress levels and strengthening their muscles. While your child will be the one wearing the shoes, you will also benefit from them. The shoes will make it easier for you to spot your child on a crowded playground or as the sun begins to set. With such cool shoes, other kids will be flocking to your child with the hopes of being able to play together. We've compiled a list of the 10 best light-up shoes for kids. Whether your child is a boy or girl, a toddler or a school-age child, there's a light-up shoe for them on this list. Get ready for these shoes to become their favorite pair and a constant in their wardrobe.
The Best Toddler and Kids' Light-Up Shoes Reviewed
Skechers Hypno Flash Tremblers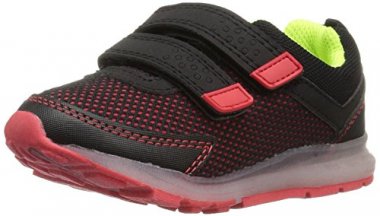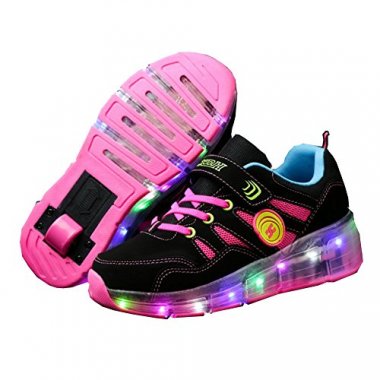 Outee Light-Up Rain Boots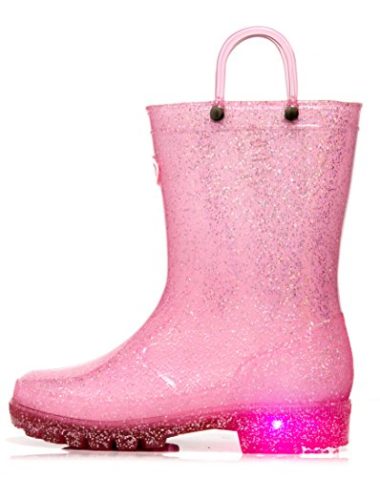 Nsasy Shoes Wheel Roller Skate Shoes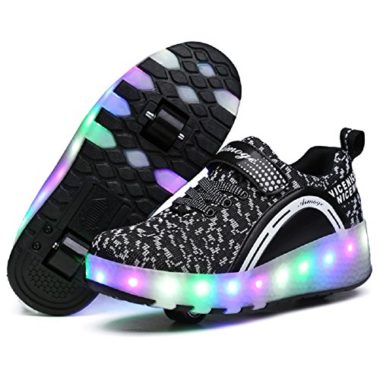 Criteria Used In Evaluation of the Best Toddler and Kids' Light-Up Shoes
Almost all kids love light-up shoes at one point or another. There comes a moment in time when kids run up to their parents and plead for a pair of awesome sneakers that light up as they walk or run. The strobing lights are mesmerizing, and children love the feeling they get streaking across the yard in a pulsing flash.
Despite their popularity, not all light-up shoes are the same. Parents should be aware that there are knock-off brands of light-up shoes. Knock-off light-up shoes may pose a risk to those wearing them. Knock-offs often try to get around regulations which can result in faulty products reaching the market. Children deserve only the best and safest shoes possible.
Our list includes only the best-made, safest and highest-rated shoes in today's current marketplace. Our shoes are not only fashionable, but they are comfortable and made to fit well. Quality shoes are available in different widths to help accommodate all types of foot sizes. Good shoes also protect children's feet because they play and run on them all day long.
The best shoes have the highest ratings. Ratings are the best word-of-mouth referrals people have. People who ordered these shoes are allowed to give a rating, and our list includes the highest-rated and most-popular shoes. Parents usually give high ratings to shoes that are breathable, lightweight, flexible and that fit correctly.
Buying the right shoe size is essential. The right size helps decrease foot problems that would otherwise arise like blisters, calluses, and corns. Kids love to run and play, but foot problems will prevent them from playing regularly.
Kids also need to wear socks with their shoes. Even if the uppers are advertised as breathable, kids should still wear socks if possible. Socks help prevent the build up of bacteria by absorbing sweat. Bacteria are known to release gases that cause foot odor and other health issues. Socks also act as barriers that keep feet from rubbing against the shoe and causing sores.
The shoes on our list are safe to use, but they can't do all the work. It is vital to replace shoes once the child outgrows them, even if they aren't worn out. Wearing overly loose or tight footwear can lead to long-term problems. But as long as parents buy shoes that fit their kid's feet correctly, they shouldn't have to worry about their kid's feet getting hurt from regular play.
Kids like to play in the dark, so light-up shoes help keep them visible. The strobing lights are bright enough to be seen across the yard in low-light situations but aren't harmful. But inside the home, there are still dark areas and corners where kids blend in. The flashing lights can be the difference between dodging a kiddo or tripping over them as they dash across your path. It might not be foolproof, but it helps to see them coming.
FAQ
Frequently Asked Questions
Q: How should I buy shoes for kids?
A: We don't recommend hand-me-downs. While the stitching may be serviceable, the soles are often worn unevenly and molded to the previous user's foot. It doesn't take much for a shoe to feel strange. There is also an issue with fungus and bacteria on used footwear. The older the sneaker, the longer mold and bacteria colonies have to become established.
Q: How do parents know which type of shoes is best for their kids?
A: Kids should wear sneakers instead of fashion shoes. Fashion shoes look nice but are not built for optimum safety and comfort. Real sneakers keep kids feet safe and allow them to run and keep up with the other kids at school.
Q: What is considered a proper kid's shoe?
A: The shoe needs to be wide enough and long enough for kids' feet to fit comfortably. There also needs to be plenty of padding to absorb impact without impeding their walking. Going to a children's shoe store is the best option to find the right shoe size for kids.
Q: What are minimalist shoes?
A: Many believe that kids should not wear shoes when they play. Toddlers especially shouldn't wear shoes because they are learning how to walk and shoes impede their walking abilities. Minimalist shoes are shoes that barely protect kids' feet. But they can still feel every pebble and piece of gravel they step on while wearing minimalist shoes. Minimalist shoes don't protect kids feet from glass or other sharp objects. That's why some parents don't like minimalist shoes because they don't provide enough protection for their kid's feet.
Q: When should kids wear minimalist shoes?
A: Minimalist shoes are better worn inside the home or in the car. They can be worn like socks with tread. Kids feet should be kept dry at all times to keep them from getting sick. But it's almost impossible to make kids keep their socks on. Minimalist shoes have straps that help keep them fastened on kids' feet.
Q: When is the right time to start buying shoes for toddlers?
A: Many people recommend different times to buy kids' shoes. Some parents start putting shoes on newborn infants. Other parents don't start putting shoes on their kids until they start to walk during their toddler phase. The choice is really up to each families' preference.