10 Best Toddler & Kids' Light-Up Shoes Rated in 2019
last updated
Jul 01, 2019
Outdoor adventures are much more fun when you're wearing a pair of light-up shoes. Place a pair on your little one's feet and watch their eyes light up in excitement as they head for the door. Motivated to make the lights flash, they will be busy running, jumping, and playing. The shoes will make it easier for you to spot your child on a crowded playground or as the sun begins to set. With such cool shoes, other kids will be flocking to your child with the hopes of being able to play together. We've compiled a list of the best light-up shoes for kids. Whether your child is a boy or girl, a toddler or a school-age child, there's a light-up shoe for them on this list. Get ready for these shoes to become their favorite pair of footwear and a constant item in their daily wardrobe.
In a Hurry? The test winner after 38 hrs of research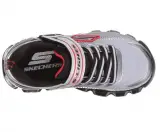 Skechers Flashpod Gore
Why is it better?
An on/off switch for the lights
Seams are made to last
Kids are comfortable in their sneakers
Great for learning how to tie shoes
In a
Hurry? Editors choice: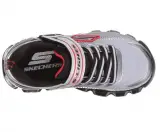 Test Winner: Skechers Flashpod Gore
18
Researched Sources
38
Hours Researching
14
Products Evaluated
Comfort
Ease of Use
Durability
Style
By Default
In Depth Review Top 10
Skechers Flashpod Gore
Skechers Hypno Flash Tremblers
Carter's Record-B Boy's
Ufatansy LED Flashing
Frozen Light-Up Runner
Skechers Litebeams
Stride Rite Leepz
SLEVEL LED USB Flashing
Outee Light-Up Rain Boots
Nsasy Shoes Wheel Roller Skate Shoes
Table of contents
Criteria Used for Evaluation
Other Factors to Consider
Frequently Asked Questions
Sources
10 Best Toddler & Kids' Light-Up Shoes Reviewed
1

. Skechers Flashpod Gore
An on/off switch for the lights
Seams are made to last
Kids are comfortable in their sneakers
Great for learning how to tie shoes
The fashionable Skechers Flashpod Gore Shoes light-up brightly when an amount of force is applied. The wonderful white LEDs are visible in the day and light up the night so beautifully.
Read more
Quality stitching keeps the durable seams together for extended wear. The best part is that these shoes come with an on/off switch. School dress codes banning lights are no problem for these accurately sized Skechers. These shoes are built to stand the test of any three-year-old and last longer than most shoe models do. The lights are easy to set off and are bright enough to turn heads, but they won't hurt anyone's eyes to look at them. The on/off switch ensures the lights only flash when you want them to, so you save on battery power by having such a switch when they are not in use.
Comfort
Sketchers shoes are well-known for their superb comfort and style for the user. These are super cozy to make the child really want to wear them for comfort as well as the light-up function that delights them.
Ease of use
The on/off switch makes these a great choice for home or school since the child can just flip the switch to be in obeyance of school policy. It will also teach them how to be responsible in only having them on when the lights are most beneficial.
Durability
Most people that have ever had a pair of Skechers shoes will tell you that they are long-lasting and tough. This is one type of footwear that you can count on using for several years of good reliable use.
Style
The solid white lights are somewhat different from other featured models here that use multicolored lights or ones of varied colors. These will certainly be seen at night for the color and the brightness.
2

. Skechers Hypno Flash Tremblers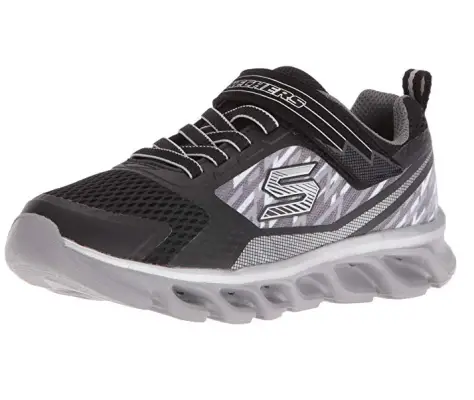 Lightweight materials for faster running
Great arch support
Does not leave skid marks
Lights are long lasting
Comes with a Velcro strap
Made from high-quality synthetic and natural fibers, the upper of this child's Skechers shoe is comfy and breathable. The marvelous rubber sole provides excellent cushioning and support.
Read more
Velcro strap on top ensures a consistently tight fit while the full range of sizes allows for lots of room to grow. These shoes offer comfort and style to any little boy. Rubber soles ensure a good grip on surfaces as your child zooms around like a strobing champion of awesome. While lightweight materials ensure even faster running than with other shoes, the simple closure ties it all together and offers kids confidence as they prepare to tie laces.
Comfort
Your child will be very comfortable in these shoes since they are well-cushioned and breathable. This is important for kids' footwear since they exhaust themselves so much with activities and can build up a sweat easily.
Ease of use
Little kids should start off with Velcro straps for closures on their feet before they learn how to tie shoes. Besides being easier, Velcro is a safer option for toddlers and small children to prevent tripping from untied laces.
Durability
Built to last at least a few years of regular use, this Sketcher model gives the support and durability that kids need in footwear. The rubber soles provide them great traction to perform better and quicker.
Style
The ultra-bright lights offer long-lasting illumination in any environment. The non-marking outsole also means these shoes won't leave streaks when your little angel zooms across the room on hardwood and tile floors.
3

. Carter's Record-B Boy's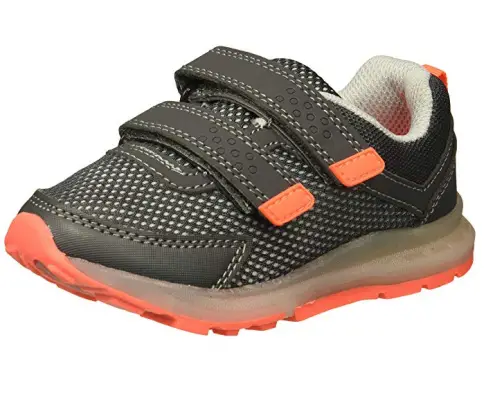 Breathable mesh reduces foot odor.
Kids love the bright red lights.
Synthetic materials ensure long-lasting wear.
Velcro closure is easy for kids to secure shoes.
The company offers a wide variety of sizes.
The mesh upper of this stylish Carter's Record-B Boys' Shoe is all about increasing breathability and decreasing weight.
Read more
Playtime in the water isn't going to ruin these shoes! The soles offer red lighting that activates when the child applies pressure to the heel. Synthetic soles and Velcro straps hold up well over time. They also come in a variety of toddler and child sizes. Mesh uppers ensure shoes dry quickly after getting wet. Synthetic materials are safe and resist corrosion along with wear. Velcro closures allow kids too young for laces to still put on their shoes. These are the perfect shoes for a little explorer or sporty kid. The red lights stand out and look great from near and far.
Comfort
These shoes keep feet cool while kids run around all day since the uppers are constructed of a breathable and light mesh fabric. For the most active kids, this could come in handy to prevent overheating.
Ease of use
When there is a spill or these get wet, the synthetic materials dry quickly. Corrosion will not be a problem either with these sturdy materials, plus the Velcro straps make it easy for kids to dress themselves at an early age.
Durability
The red lights on the soles of this footwear are not hindered or deterred by water or perspiration, as they will work regardless. This is a tough shoe to damage even with rugged and continuous wear.
Style
The strong mesh upper, double Velcro straps, and durable rubber soles of these incredible shoes combine with the bright eye-catching neon colors of the fabric to give kids a shoe model to be proud of wearing.

Multicolor LED lights
Great for boys and girls
Wheel in heels
Multiple detail styles
Velcro strap and laces
Multi-color strobe lighting is just the tip of the iceberg with these UFatansy LED Flashing cool wheelies.
Read more
Laces and a Velcro strap at the top provide a snug fit, while a single, rear-mounted wheel offers smooth sliding on level surfaces. They are even available in a variety of detail styles for the ultimate in personal expression. Great for boys and girls looking to stand out and show off their style, these terrific shoes have a great combination of features that help them make a splash. The strobing lights offer a dazzling display of different colors, and the heel-embedded wheel is perfect for cruising around in style. Laces and a Velcro strap provide stable footing, walking, or rolling. Kids can light-up and roll around in style with these shoes.
Comfort
Both girls and boys will love the comfort they feel in the extra support that these amazing shoes offer the feet. They can walk or run with added security in knowing that the footwear is stable.
Ease of use
These incredible shoes are just as easy to wear as any other ones on this list, but the double closure could pose a problem for some kids. If they have not yet mastered shoelaces yet, then they might try to just close these with the Velcro strap at the top.
Durability
The most durable part of this product is the double closure and security to keep the shoes on the foot. The flexible laces hold the shoe on the foot, and the added Velcro strap at the ankle gives extra support in that area.
Style
Not only do these wonderful sneakers have multi-colored lights all around the outer soles, but there is also a wheel in each bottom heel to allow the child to skate on smooth surfaces.
5

. Frozen Light-Up Runner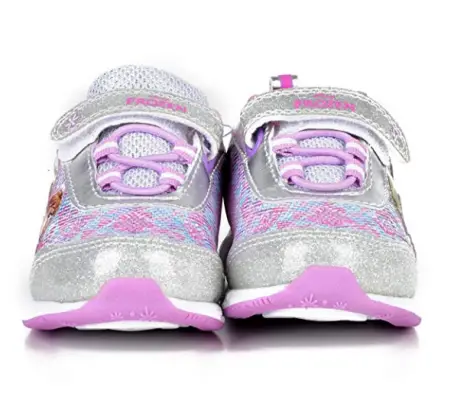 Bottoms are skid-resistant
Velcro strap makes it easy to dress
Tongue and insole are padded
Light-up accents & character graphics.
Velcro could be made more durable
With the Frozen Light-Up Runner, your little girl can sport their favorite sister princess duo. The pearlized iridescent design and the character graphics give this shoe a cool overall look that little girls will love.
Read more
The light-up accents will have your child excited to move their feet continuously just to watch the light show. These shoes come in a variety of sizes, so children of all ages can enjoy them. Equipped with a Velcro strap, small kids can easily put these shoes on themselves. A padded tongue and insole provide a comfortable fit for your little one's feet. The bottom of the shoe is designed with an Olaf graphic that will leave a fabulous imprint of the well-loved snowman in surfaces such as sand, dirt, or snow.
Comfort
A strong shoe is a comfortable shoe that gives the user the support and stability they need from good footwear. This fantastic shoe model not only looks amazing, but it is also quite supportive for wearing long periods.
Ease of use
The Velcro strap makes it easy for young children to put on their shoes by themselves. Having the stretchy strips where the laces usually go allows the foot to go in and out easily but does not pose a problem when dressing for little kids.
Durability
The skid-resistant bottoms will provide your child with the traction they need to remain stable when walking, running, and jumping. They can depend on the durable materials when they are wet or soft surfaces with these soles.
Style
The iridescent design, Olaf imprint, character graphics, and light-up accent make these sneakers stylish and super-cool. Little girls will be thrilled to have a pair of these to wear everywhere they go.
High-quality construction
Super lightweight
Flexible and breathable
Anti-marking soles
Simple on/off button
Can slip easily on some surfaces
These light-up shoes are a perfect example of why Skechers remains a top name brand year after year. Litebeams have super lightweight foam soles and mesh uppers, making them very popular sneakers with kids and parents.
Read more
Their wonderful construction makes them soft, supportive and flexible. The bright lights quickly shine when you apply slight pressure to the heel. Shoe streaks are nothing but a memory with the anti-marking soles. Comfortable and resilient, Skechers sneakers are some of the lightest out there. The breathable mesh upper reduces sweat build-up while the sole provides flexible support. Parents love that they hold up to regular and rugged use, they never leave marks on hard-surfaced floors, and the lights can be turned off during school hours. High quality and lightweight construction make these attractive.
Comfort
The lightweight materials of the mesh and lighter rubber combine to make one incredible shoe for children. Of course, kids will love the flashy colors and lights, but they will also enjoy that these are not heavy on their feet.
Ease of use
It is always best for kids' shoes to begin with stretchable bands for the closures instead of shoelaces, as this model does. It is not only safer to do so, but it is much easier for the child to dress themselves.
Durability
You can trust that this footwear will not mark up floors and will last for several years of use before the child outgrows the size. The strong sole will give the child the support needed for any type of activity or sport.
Style
Kids love the long-lasting lights and the bright colors that are incorporated into this footwear product. It is certainly one model that would be hard to miss anywhere with the neon hues that get your attention fast.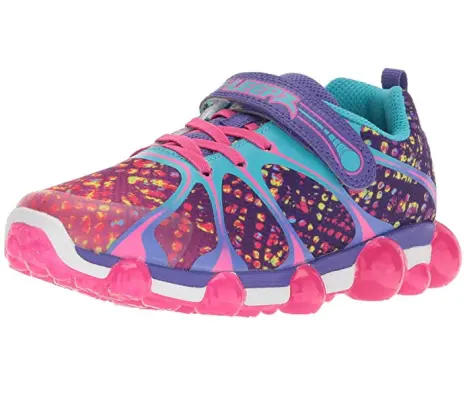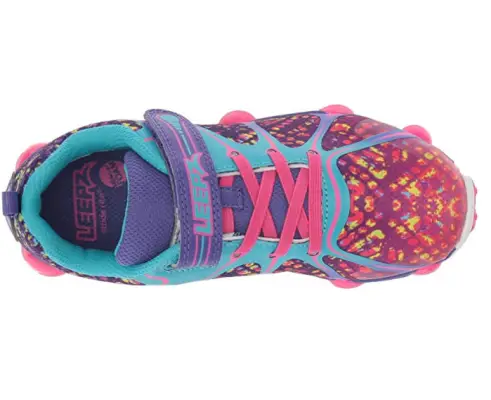 Bright neon colors
Leather and textile construction
Rubber outsole is mark-free
Bungee laces keep the shoes snug
The batteries are not rechargeable
With colors straight out of Nickelodeon, the Leapz Sneakers are perfect for kids looking to explore the world. The leather and textile construction look great and hold up well over time.
Read more
The rubber sole is comfortable and won't leave streaks on tile or wood. Hook-and-loop closures ensure shoes slip on and off quickly, while elastic bungee lacing provides a consistently snug fit. These colors are bright and wild, just like the little explorers who will be excited to wear them. Flashing lights improve the feel of these knobby sneakers, as the bungee laces hold everything together while little ones discover their marvelous world. These are some of the coolest looking light-up shoes available.
Comfort
With bungee bands for laces, kids will get a snug and secure fit every time they put this footwear model on. There is no need to tighten anything but to just secure the Velcro on the top of the ankle.
Ease of use
The stretchy bands instead of shoelaces will be a welcome for little kids just learning how to dress themselves. The Velcro strap at the top of the shoe is also easy to maneuver for the youngster just learning the ropes of shoe dressing.
Durability
The added construction on the outer soles will make this model last longer, and the stretchable lacing adds stability in the footing. Kids should be able to get a few years of wear from these splendid shoes, depending on their quickness of growth.
Style
With aesthetics harkening back to 90's children shows, the Leapz footwear stands out from the crowd. The bubblegum-colored features on the upper and the soles are enchanting to look at and fun to touch.
8

. SLEVEL LED USB Flashing

Eleven different light settings
USB remote included
Rechargeable and long-lasting
Multiple LED lights
Light-up the night with eleven different flashing, light patterns on this footwear model at the touch of a button.
Read more
Or go incognito and keep the lights off to conserve battery for an all-out flash-extravaganza later on. The ability to charge via USB means these lights last far longer than other models. A USB remote control comes with each pair to make these rechargeable and programmable sneakers amazing. The lights remain bright for as long as the shoes are in good shape. They are great for kids who want something that stands out yet still meets school dress codes. Control the color and pattern of your lights with a USB controller!
Comfort
Synthetic leather and cloth combine to create breathable and durable footwear that is comfortable. These are softer fabrics than sneakers are usually made of, so they are much more comfortable for the child to wear.
Ease of use
The included USB remote makes them adjustable on the fly, so there is no need to take them off. Added to this aspect are the three Velcro straps for closure that permits children to dress themselves with their own footwear.
Durability
Since the lights are rechargeable, they will last longer in their performance. The shoe material itself is very durable and tough also because they are made of leather and cloth fabrics that can endure rough treatment from kids.
Style
The wonderful bright LED lights on the outsoles of these marvelous shoes are rechargeable to make them last longer. The gorgeous wing pattern on the side and the triple Velcro straps add to the excellence of this amazing product.
9

. Outee Light-Up Rain Boots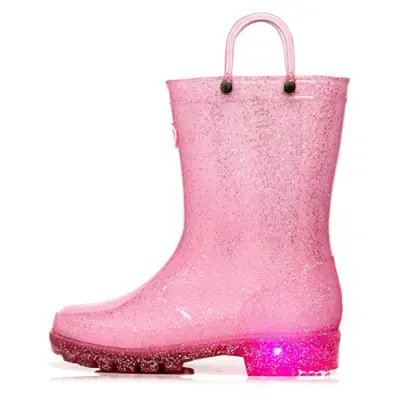 Waterproof design
Easy on & off handles
Lightweight and comfortable
Heel lights are bright
Could arrive with an odor and need to be aired out
Who said light-up shoes have to be sneakers? With the Outee Toddler Rain Boots, your child can light up as they splash in puddles.
Read more
These boots are 100% waterproof, so your child's feet are guaranteed to stay dry on the wettest days. The lightweight jelly material makes it easy for your child to play in the rain without their feet feeling weighed down. These glittery boots are available in several different colors and sizes. The tops of the boots are designed with handles that make it super-easy for children to pull their boots on and take them off. The heels of the boots light up so brightly that they can easily be seen when it's dark and gloomy outside or when the rain is extremely heavy.
Comfort
The durable, waterproof material will keep your child's feet fully dry no matter how hard it is raining or how big the puddle is that they jump in. they will also find the soft flexible substance easy to wear and very comforting on their feet.
Ease of use
Kids can easily dress themselves in these wonderful boots since there is a handle to help them. since they are lightweight, children can step and walk easier with them on, much like regular shoes.
Durability
Don't underestimate the soft jelly-like substance that these incredible child's boots are made. It is a flexible material with give to make wearing them versatile and comfortable.
Style
Unlike all of the other featured footwear in this informative buying guide, this model is not sneakers but boots. The heels light up to make them super-fun to wear and walk in, plus they have handles at the top for ease in getting them on and off.
10

. Nsasy Shoes Wheel Roller Skate Shoes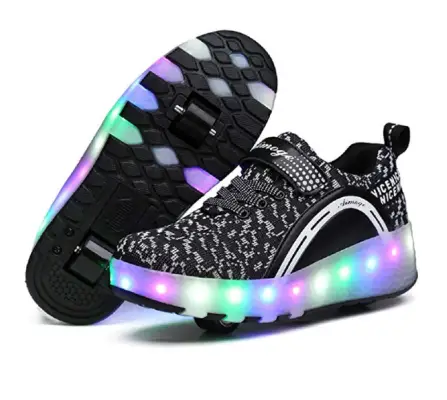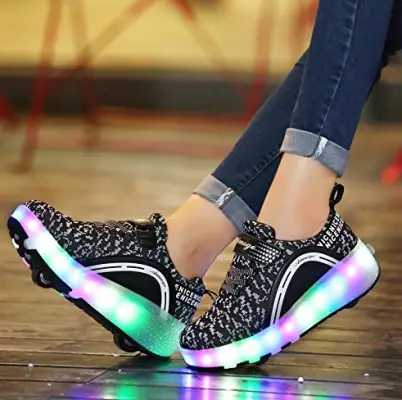 Designed with a light switch
Rubber soles are highly durable
Your child can walk or skate
Available in a variety of colors
Batteries cannot be changed
Shoes cannot get wet
Why walk when you can skate to your destination? The Nsasy roller shoes are designed with two wheels in the bottom of each shoe, thus allowing this model to transform into roller skates.
Read more
When your little one is ready to skate, they can easily press the button on the heels and the rollers will automatically pop out. To make these shoes even more cool, the bottoms light up with the incorporated, colorful LED lights. Located on the inside of the shoe is a light switch that makes it possible for your child to turn the lights off and on. It doesn't matter if your child is a boy or a girl, these shoes are available in a variety of colors and sizes that will please them both. The soles are composed of rubber, thus giving them the ability to survive countless skating adventures and mishaps.
Comfort
On the back of the heel, your child can place their finger inside the loop and pull to make it easier to pull on their shoes. This is just a simple addition to the shoes, but it can make the difference in great comfort for so many users.
Ease of use
The wheels stay locked in the shoes until your child is ready to glide, so they will not hinder their ability to walk. Buttons on the footwear activate the lights and the wheels, plus the heel loop aids with dressing.
Durability
The strong outer soles of this marvelous shoe model will last a long time since there are the two wheels and the durable rubber surface for using the shoes as regular sneakers.
Style
The combination of the LED lights and the wheels make these shoes super-cool. The wheels easily pop into the shoe, so your child will never have a problem with walking.
Criteria Used for Evaluation
Comfort
Kids love to run and play, but foot problems will prevent them from playing regularly. Having the proper shoe size and shape will give children the best comfort that you can buy. Kids also need to wear socks with their shoes. Even if the uppers are advertised as breathable, kids should still wear socks if possible. Socks help prevent the build-up of bacteria by absorbing sweat. Bacteria are known to release gases that cause foot odor and other health issues. Socks also act as barriers that keep feet from rubbing against the shoe and causing sores.
Ease of Use
The light-up qualities of these products are the most exciting part of the shoes. To use this aspect, all they have to do is walk in them to activate the lights. The more they walk, the more the lights are activated to shine. The shoes on our list are safe and easy to use, but they can't do all the work. It is vital to replace shoes once the child outgrows them, even if they aren't worn out. Wearing overly loose or tight footwear can lead to long-term problems. But as long as parents buy shoes that fit their kid's feet correctly, they shouldn't have to worry about their kid's feet getting hurt from regular play.
Durability
Our list includes only the best-made, sturdiest, safest, and highest-rated shoes in today's current marketplace. These featured shoes are not only fashionable, but they are comfortable and made to fit well. You can expect them to last at least a few years to get good use out of them before the child outgrows the size and fit. Quality shoes are available in different widths to help accommodate all types of foot sizes. Good shoes also protect children's feet because they play and run on them all day long.
Style
Almost all kids love light-up shoes at one point or another. There comes a moment in time when kids run up to their parents and plead for a pair of awesome sneakers that light up as they walk or run. The strobing lights are mesmerizing, and children love the feeling they get streaking across the yard in a pulsing flash. Knock-off light-up shoes may pose a risk to those wearing them. Knock-offs often try to get around regulations which can result in faulty products reaching the market. Children deserve only the best and safest shoes possible.
Most Important Criteria
(According to our experts opinion)
Experts Opinion
Editors Opinion
Users Opinion
By Default

Parents, Did you Know?
Buying the right shoe size is essential. The right size helps decrease foot problems that would otherwise arise like blisters, calluses, and corns.
Parents, Did you Know?
Despite their popularity, not all light-up shoes are the same. Parents should be aware that there are knock-off brands of light-up shoes.
Other Factors to Consider

Brand
The best shoes with these brand names have the highest ratings. Ratings are the best word-of-mouth referrals people have and it is always the most well-known names that top most people's list for favorites. Sketchers and Stride Rite are two highlighted brands that anyone would recognize. These two shoe manufacturers have several items featured in this buying guide. Our list of these products includes the highest-rated and most popular shoes of this category. Parents usually give high ratings to shoes that are breathable, lightweight, flexible with a suitable fit.
Safety
Kids like to play in the dark, so light-up shoes help keep them visible. The strobing lights are bright enough to be seen across the yard in low-light situations but aren't harmful. But inside the home, there are still dark areas and corners where kids blend in. The flashing lights can be the difference between dodging kiddo or tripping over them as they dash across your path. It might not be foolproof, but it helps to see them coming.
Frequently Asked Questions
q:

How and when should I buy shoes for kids?

a:

We don't recommend hand-me-downs, so new shoe models are always best for kids. When you consider how fast the feet of children grow, it is certainly wise to keep up with that growth with new shoes very often. While the stitching may be serviceable, the soles are often worn unevenly and molded to the previous user's foot. It doesn't take much for a shoe to feel strange. There is also an issue with fungus and bacteria on used footwear. The older the sneaker, the longer mold and bacteria colonies have to become established.
q:

How do parents know which type of shoes is best for their kids?

a:

Kids should wear sneakers instead of fashion shoes. Fashion shoes look nice but are not built for optimum safety and comfort. Real sneakers keep kids' feet safe and allow them to run and keep up with the other kids at school. Ensure that there is a good support for the type of foot your child has. Know what type of arch they have and if they need special shoes for them to walk straight without pronation. Pronation is the act of the heel and foot turning one way or another, either outward or inward. This could cause serious problems for kids early in life.
q:

What is considered a proper kid's shoe?

a:

The shoe needs to be wide enough and long enough for kids' feet to fit comfortably. There also needs to be plenty of padding to absorb impact without impeding their walking. Going to a children's shoe store is the best option to find the right shoe size for kids where their feet can be adequately measured by someone who deals with just shoes.
q:

What are minimalist shoes?

a:

Many believe that kids should not wear shoes when they play. Toddlers especially shouldn't wear shoes because they are learning how to walk, and shoes impede their walking abilities. Minimalist shoes are shoes that barely protect kids' feet. But they can still feel every pebble and piece of gravel they step on while wearing minimalist shoes. Minimalist shoes don't protect kids' feet from glass or other sharp objects. That's why some parents don't like minimalist shoes because they don't provide enough protection for their kid's feet.
q:

When should kids wear minimalist shoes?

a:

Minimalist shoes are better worn inside the home or in the car. They can be worn like socks with tread. Kids feet should be kept dry at all times to keep them from getting sick. But it's almost impossible to make kids keep their socks on. Minimalist shoes have straps that help keep them fastened on kids' feet.
q:

When is the right time to start buying shoes for toddlers?

a:

Many people recommend different times to buy kids' shoes. Some parents start putting shoes on newborn infants. Other parents don't start putting shoes on their kids until they start to walk during their toddler phase. The choice is really up to each families' preference. It is a good guide though that if your child is taking their first steps, then you should provide them with a stable baby shoe to give the support and foot guidance they need to walk properly. Visiting a kids' shoe store is a good first step in learning what your child needs on their feet. If you wait too long to put shoes on the child, they will not want to wear shoes because they will not be used to having something on their feet. If for nothing else, put shoes on them to train them in the feeling of footwear.