There are very few things in life cuter than a little kid in rain boots! Also known as galoshes, dickersons, gumshoes, rubbers, or overshoes, rain boots are a staple clothing accessory used by children and adults across the world. While records of their creation have been lost, many stories of the inception of rain boots date back to an Englishman named Radley. He suffered from terrible rheumatism and was searching for a way to keep his feet dry when he stumbled across a text by Julius Caesar that referred to a cloth overshoe called a gallicae. It was from this ancient design that the first rain boots were inspired. Rain boots are designed to fit much larger than traditional shoes as some are meant to slip quickly on and off on top of what your child is already wearing. They are also typically at least mid-calf to knee-high, depending on the boots particular style and need. There are two basic types of galoshes. The first is an oversized shoe made of thick rubber with a deep and heavy sole. These are the types of boots you would typically see used for industrial needs. The other style is the more familiar cute kid boots made of a thinner and more flexible material. This slipper-like style is perfect for keeping your little one's feet and clothing dry during the wet spring and fall months and can even help in the snow.
Maintaining dry feet can be essential to stave off colds during the wet months. Our feet work as temperature regulators for our entire body so walking around in wet socks and/or shoes can cause our entire core temperature to drop. This, in turn, creates a breeding ground for bacteria which can quickly become the spring sniffles. Having wet socks can also contribute to foot odor which can ruin otherwise fine, and expensive, shoes.
We have gathered a number of rain boots in a variety of styles and designs from across the internet. Some are suitable to wear on their own while most are designed to slip quickly on and off over top of your child's standard sneakers. Whether you are looking for a way to keep your little one healthier or just waiting to take pictures as they splash through puddles in a pair of cutesy galoshes, we hope that one of our 15 Best Rain Boots for Toddlers will be the right fit for your little one!
15 Best Rain Boots for Toddlers Reviewed 
1. Bogs Classic High Waterproof
Well, it might be a mouthful but we assure you, these boots are pretty legit as far as hopping around in the rain goes.
Expand to see more
Your child will be totally happy with the fact that they've got everything you look for in a pair of boots: They're insulated and lined with super soft material, made of rubber neoprene that's completely waterproof, and they've got excellent tread on the bottom to prevent slipping. Not to mention, they come in a super fun design that any kid will love… Because who doesn't love polar bears?

Benefits
These boots feature built-in handles on the sides that enable the boots to be pulled on easily. They're streamlined and not clunky in the least, providing your child with a ton of comfort as well.

What We Like About It
They really are cute, but it's all the different materials used that we really love. The outside is half rubber neoprene which increases traction and keeps the boots waterproof, while the top half and the interior is all insulation to provide warmth and comfort.
Pros
Cute design
Fully insulated
Neoprene rubber keeps the boots waterproof
Excellent tread design
Easy to put on
Cons
It can hug the calves a bit tightly making it challenging to pull off
2. Crocs Kids' Handle It
You had to know that Crocs would make the list at some point and ever since they took the world by storm with their all-purpose clogs, their boots have been held to the same high standard.
Expand to see more
These come in nine various colors to suit every child's favorite and while there's nothing to make them stylish per say, the colors are vibrant enough to do the job on their own. The side handles make them easy to pull on as well as tug off, and they feature the same great and comfortable fit as the original Crocs, the "Croslite footbed".

Benefits
Crocs usually think of everything when it comes to making a satisfying pair of shoes, and they've included some cool features with these boots. One of which is the reflective logo on the back that ensures people will see your child in the rain, even if it's getting dark out.

What We Like About It
These boots are simple but they're highly effective in the rain and really, any type of weather. They're fully waterproof and textured to increase traction.
Pros
Waterproof
They come from a reputable brand
The price isn't bad for Crocs
Nine different colors
Easy to get on and off
Cons
They're somewhat of a boring-looking boot design
3. Western Chief Girls Waterproof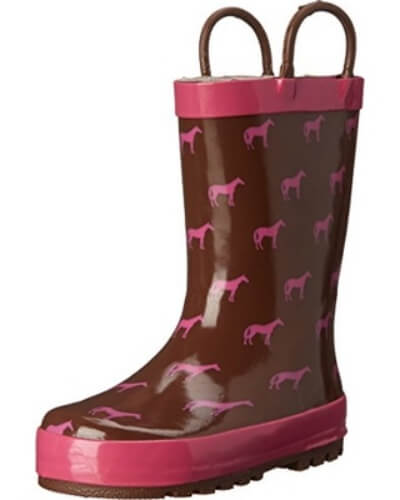 This is a more traditional version of rain boots and one that any girl would love. The handles on the sides are a little more pronounced and traditional, but that makes them super easy to pull on.
Expand to see more
The tread on these boots is incredible and will do wonders to prevent slipping and sliding, which makes them great from Spring all the way through the Fall. They also come in 24 different designs, which is nearly unheard of for rain boots… Talk about options!

Benefits
The insole is removable in these boots which allows your child to customize their own level of comfort. This also allows them to become more of an all-weather boot.

What We Like About It
The easy-on, easy-off handles eliminates the stress that can often accompany rain boots. While minor, you never want your child to struggle when it comes to something as simple as putting their shoes on or taking them off!
Pros
Efficient side handles
Twenty-four different styles
Excellent tread on the bottom
Removable insole
Cons
The traditional design might take a bit to break in
4. Kamik Stomp Camo
Whoa, 11 different styles for this rain boot! If there's one thing we know about, it's how un-cool it can be for a boy to wear rain boots. Kamik knows that too, which is why they've designed these unisex boots in a simple but mature way.
Expand to see more
There's no frills and no fuss, just an option for various colors and an amazing tread design that's perfect for different terrains as well. These are the kind of boots you'll want if your child loves walking about in the words or running around on the field after a rainstorm.

Benefits
These boots are pretty hardcore when it comes to outdoor activities as is obvious by the heavy, deliberate tread that runs along the bottom. However, these boots also feature a moisture-wicking lined interior that will keep your child's feet warm and dry as well.

What We Like About It
If your family is big on camping or even hiking, look no further. Kamik boots are built durable and made to last through all kinds of trekking.
Pros
Heavy-duty tread
Lined interior
Perfect for outdoor activities
Built to last
Waterproof
Cons
The sizing isn't as exact as some other brands
5. LONECONE Rubber Fun Patterns
Here's another pair of rain boots that are designed in a traditional style but are super stylish. These are great for parents who are looking for a basic pair of rain boots but are looking for boots that their kids will actually want to wear.
Expand to see more
They feature easy pull-on handles but also come in ten different unique and fun designs that kids will absolutely adore. They're perfect for walks in the rain or even splashing in puddles - They're so waterproof, no one will even know!

Benefits
These boots are made BPA-free which is a huge bonus when it comes to kids products. Since they'll be wearing these boots often, it's great to know that LONECONE has put safety first.

What We Like About It
The designs used on these boots is so much more than just a basic theme. It's been carefully chosen by LONECONE and comes from independent artists in Idaho, so you'll be supporting the local art scene as well.
Pros
Supports local artwork
Waterproof
Fun for kids to wear
Decent tread on the bottom
BPA-free
Cons
They're a bit heavier than some other boots
6. Kamik Raindrops
Kamik is also known for their basic rain boots which are much more kid-friendly if your child isn't really into splashing around in mud puddles. These boots are more simplified by having a somewhat elegant touch, which makes them perfect for older kids.
Expand to see more
They come in five different colors and are great for kids from ages four to 12. The buckle on the side adds a flair of style while the slightly raised heel makes them a bit more wearable with any type of outfit without looking too much like rain boots.

Benefits
You'll get the same promise of an incredible tread with these boots as you would with other Kamik boots, without the harsh appearance of an "outdoorsy" boot design. They're cute, fun, and great for wearing to school or events.

What We Like About It
The sizing of these boots is super specific which is really reassuring to parents. We always recommend sizing up at least a half size, though, just in case.
Pros
Five different colors to choose from
Elegant design
Great tread on the bottom
Snug fit
Great for older kids
Cons
The fit can be a bit narrow
7. Oakiwear Easy-On Handles
Toddlers can have the perfect pair of rain boots, too, you know! These would make a great starter pair because they're comfortable, come in 13 different styles, are comfortable to wear without being too heavy and provide pull-on handles.
Expand to see more
They'll give toddlers a sense of independence while they pull on their first pair of big-kid rain boots and, of course, they'll look great doing it! Oakiwear has designed a great pair of traditional rain boots here that any toddler will surely fall in love with.

Benefits
There's not much to fuss about when it comes to these boots since they're simple and uncomplicated. That makes them perfect for toddlers who are just getting used to wearing boots for the rain, snow, etc.

What We Like About It
These are the type of boots that kids can have fun in. The outside is full rubber which means they can splash away with no fear of water seeping through or into their shoes.
Pros
Easy sizing
Plenty of colors to choose from
Super easy to pull on and take off
Good tread on the bottom
Very easy to wash if they get dirty
Cons
They're fairly stiff and don't provide much flexibility which some kids might dislike
8. Ska Doo Assorted Colors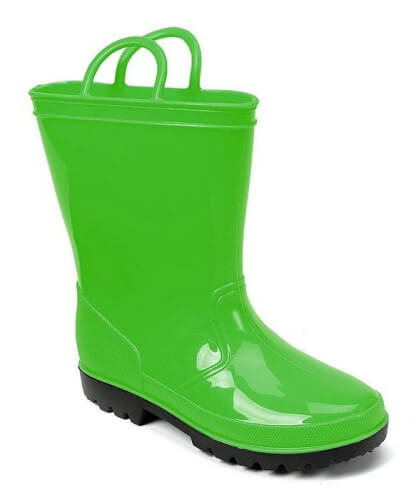 We've thrown the word "traditional" around quite a bit, but these Ska Do Kids Toddler rain boots really embody it perfectly. The shiny nature of the rubber used on these boots gives that vintage feel which is super cute on toddlers.
Expand to see more
These boots are made very well, fully waterproof, and will allow your kids the freedom to run around in the rain without worrying about getting soaked… From the knees down, that is!

Benefits
Unlike other rubber rain boots, these have some flexibility to them and aren't super stiff. That comes as a relief to kids who hate the restrictive feeling of rain boots because of stiff material and can allow for longer wear time.

What We Like About It
These boots are just so simple and we love it. There's no need to overcomplicate rain boots, and these would go with just about any outfit and be loved by any kid who has a favorite color.
Pros
Flexible fit
Good sizing options
Easy to clean
There's a decent amount of room inside
Cons
They can have a strong rubber smell initially
9. LONECONE Easy-On Handles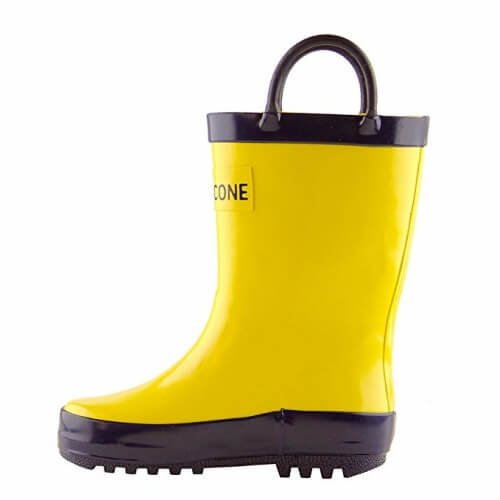 Unlike LONECONE's other rain boots, these are comparably much more simplified and are good for older kids. They're still very comfortable and come with easy-on handles for quick use, they're just not as busy in the design.
Expand to see more
The treading is still the same and provides superior traction to prevent any potential slipping and will easily fit over any type of pants. They're a great option for older kids who might not be keen on rain boots for fear of them being uncomfortable.

Benefits
The cotton lining in these boots does wonders in the way of keeping your child's feet warm and dry. They're great for every season and will last a significantly long time.

What We Like About It
These boots will go with just about any outfit which is one of the features that make them perfect for older kids. They're stylish but functional as well!
Pros
Several colors to choose from
Not super flashy
Great traction
The sizing is accurate
They have an excellent cotton lining inside
Cons
They can rip easily due to excess wear and tear
10. Stephen Joseph Girls
How adorable are these rain boots? We could totally picture any little girl loving these as her first pair of official rain boots, and that's exactly what they're designed for.
Expand to see more
These boots provide a comfortable fit and come in so many different designs that your little one won't be able to make up her mind. They provide good traction for being a start pair of rain boots and gives kids the freedom to splash around while preventing water from seeping in and ruining the day.

Benefits
If you have a hard time convincing your little girl how great rain boots can be, give these Stephen Joseph's a try. We're sure that she'll fall in love with at least one of these fun patterns and will eventually fall in love with her boots, too!

What We Like About It
These boots have highly detailed themes that will captivate any child and be the main motivator for wearing them. They're fun, waterproof, and everything you're looking for in a basic rain boot.
Pros
Many different designs and themes
Comfortable fit
Proper sizing
Bright and vibrant
Cons
They don't have any type of easy-on handles
11. Hatley Girls' Printed
Hatley is a well-known brand that has a solid reputation for providing kids with great outerwear. These boots are a great addition to any child's collection because they're made incredibly well and feature a whopping 22 different designs to choose from.
Expand to see more
In addition, you can also purchase the full raincoat set as well, which will correspond to the specific boot style you choose. This is the perfect way to encourage your little girl to wear proper rain gear to
keep her warm
, dry, and healthy through the rainy months.
Benefits
These boots feature slip-resistant soles which is something not often seen in boots made for kids. It's reassuring for both them and you as a parent knowing that their chance of slipping is drastically decreased due to the design of these boots.
What We Like About It
We totally dig the fact that you can pick out an entire matching raincoat, boot, and umbrella set. Hatley really found a brilliant way to encourage kids to wear their rain gear and we're totally behind it.
Pros
Matching outfit to correspond with boots
Solid and comfortable fit
Reputable children's brand
Slip-resistant bottom
Cotton lining
Cons
They don't have side handles for easy pull-on
12. NORTY Solid & Printed
We feature plenty of unisex rain boots on this list but the NORTY boots are definitely something special. They come in a ton of different styles which makes the super versatile for any child's tastes, but what really allows them to stand apart is the tread.
Expand to see more
The bottom of these boots features a design that's similar to a high-traction sneaker, which makes them comfortable as well as efficient. They'll be able to wear these when it's not raining as well and will be perfectly comfortable all day long.

Benefits
If for some reason you or your child are not happy with their new NORTY rain boots, the company offers a 30-day, no questions asked return policy. As long as you return them unworn, there's no issue and you'll be free to find another pair that you like better.

What We Like About It
The interesting concept design of these rain boots is what really caught our attention. They're just one of those pairs of boots that simply looks comfortable and, according to all the feedback, they really are.
Pros
Completely waterproof with a cotton lining
Sneaker-like tread for added comfort
They feature a lug sole for increased traction
Many different designs to choose from
Unisex
Cons
The colors might look slightly different in real life
13. Chillipop Pull Handles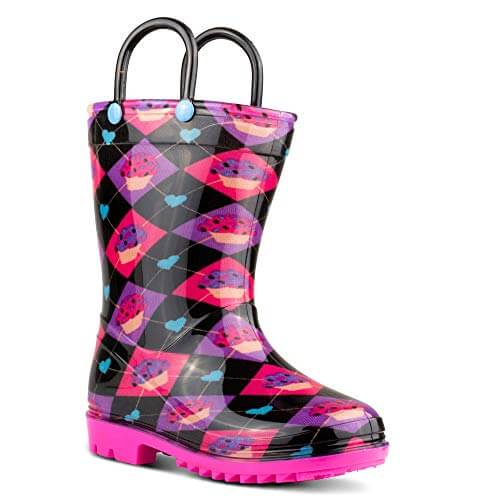 With a name like Chillipop, we're sure we've captured your interest already. These boots truly have it all - They're stylish, fun, and definitely, something kids won't mind wearing in the least.
Expand to see more
They're actually designed for active play and all-day wear, which is something that many other rain boots won't offer. They provide a flexible fit that's comfortable for your child and won't constantly be a reminder that they're wearing a pair of stiff rain boots. The trick is in the design of these boots; they're a little bit more snug around the ankles to provide proper support similar to high-top sneakers rather than the wide openings that most rain boots leave.

Benefits
Your child will be free to play around all day in these without a care in the world because they'll be such a comfortable fit. They also come in some pretty rad designs which will make your child feel super cool while they're wearing them too.

What We Like About It
The care that Chillipop puts into designing their boots is quite obvious which is what we look for when we find the best products. These boots have been designed to be activewear and keep up with kids who have endless energy.
Pros
Anti-slip soles
Built for play
Completely waterproof
Surprisingly comfortable all day long
They come in various fun designs
Cons
The handles can be ripped off if they're pulled on too hard
14. Crocs Bump It
Crocs are obviously no stranger to our list here and if you haven't heard by now, they're excellent in the way of comfort and providing a secure fit.
Expand to see more
These boots, in particular, are great as far as all-day wear goes because they're designed slightly different from most Croc shoes. They're tailored to fit toddlers extremely well which is why they have such a kid-friendly look to them. They're incredibly easy to walk around in and provide a bit of structure that some rain boots often lack.

Benefits
If you're looking for a pair of rain boots that are crazy easy for your child to put on by him or herself, look no further. These boots have built-in handles that make it easy to pull them on and even take them off.

What We Like About It
The vintage look of these rain boots makes them appealing but not too flashy. They're cute for toddlers and are really easy to wear which will make them feel comfortable going out and having fun in the rain.
Pros
Easy to pull on
Full rubber design
Vintage look
Great for toddlers as a starter rain boot
They come in several different colors
Cons
The handles can rip if they're pulled too hard
15. Kidorable Dora the Explorer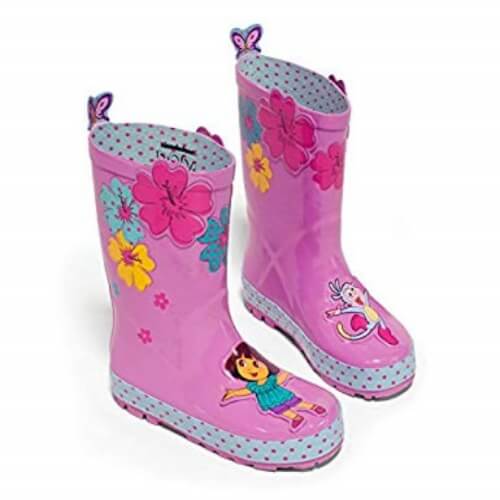 These boots by Nickelodeon seriously could not be any cuter. Any parent who's familiar with the popular television show "Dora the Explorer" knows how adventurous Dora and her partner, Boots (no pun intended) was.
Expand to see more
These boots are the perfect nod to that and a great way to encourage any child to do their own exploring, even if it's raining. They have a special feature as well that just adds to the authenticity and it's in the form of a unique pull-on tab. In the back, kids will find a special little butterfly that will help them pull their new boots on, no help needed!

Benefits
These are the only boots on the list to give a big nod to a very popular television show and Nickelodeon has designed these with great quality in mind. To take it a step further, they also offer the additional purchase option of a matching raincoat and umbrella.

What We Like About It
When you hear Nickelodeon, you don't often think of buying merchandise that can function as a pair of every day rain boots for your child. These have been designed to be adorable and fun, but also highly functional and good quality which is exactly why we had to include them.
Pros
Well textured treads
Fun theme
They come with the option for additional rain gear
Cute butterfly pull-on tab is helpful
Waterproof and high-quality
Cons
You might have to go a size up for proper sizing with socks on, tights, etc.
Criteria Used in the Evaluation of the Best Rain Boots for Toddlers
There are plenty of things to consider when purchasing a pair of boots, or any shoes really, for your child. Things such as proper fit, comfortability, price, reputation, durability, and long-lasting materials are only some of the things you think about when faced with a purchase such as this. These are the exact same things that were on our minds when we decided to begin our research for this list, and we didn't stop until every single thing on it was answered. Whether it's boots, toys, or maternity products, we're determined to find the very best of each category to ensure that it's right for you and your family. Therefore, we've included brands that have solid reputations as well as some that you may not have heard of but should familiarize yourself with. This list contains options for everyone in every way, from various styles to fits. We made sure to include boots that would please more than one taste because we know how challenging it can be to encourage your child to wear them on a regular basis.
Additional Factors to Consider: Comfort
It's hard to imagine that a pair of boots solely made out of rubber can be comfortable at all, but you'd be surprised! All of these boots have been certified effective in providing your child with both padding and support so they'll be able to walk easily in their boots. Rain boots, in particular, can often be stiff and difficult to break in. We know that kids don't have this kind of patience but also don't want to be stuck wearing boots that will hurt or irritate their feet. That's why we've made sure to carefully go through each option and figure out which will make your child forget they're even wearing them. As far as support goes, it's especially important to find boots that provide plenty of this because they are being used in wet weather. Rain boots should be designed to both grip and protect feet and lower legs from becoming soaked, and this criterion was extremely high on our list. When it comes to high boots, the more support you have around your ankles, the better!
Grip and Traction
Comfort is important but so is traction. Similar to snow boots, rain boots must have the necessary grip in order to help kids avoid slipping and sliding while walking. This is something to consider if they're wearing their boots to school, since they'll be going directly from a wet environment to a dry one, often with hard, slippery floors. Rain boots can drastically reduce their risk of slipping while changing terrain and give them much-needed grip that will prevent sudden sliding which can lead to a fall.
Warmth and Protection
You wouldn't normally associate rain boots with "warmth" either, because that's more of a winter boot idea. Luckily, rain boots nowadays feature some sort of insulation–granted, it's not as hefty as winter boots, but it still offers some solace on a chilly day. This is a great feature to have simply because, in order to keep your child's feet dry, a boot must be well-insulated, to begin with. Therefore, if a pair of rain boots is insulated, you can draw the conclusion that they'll also offer some sense of warmth as well. In addition, a child's feet should always be protected from moisture because feet are vulnerable. The benefit of having good foot protection is that you'll never need to worry about your child facing things such as a fungus, irritation, or rash from excess moisture seeping in. Proper insulation and protection is an absolute must.
Affordability
We all ask ourselves the same question: How much is too much to spend on a pair of rain boots? They're not a necessary item, but they're also not something useless that should be purchased cheaply. In order to answer this question, we had to compare many brands to see what you would be getting for your money and how much those features were averaging. We narrowed it down to every pair of boots that we thought were well worth the money, with varying options depending on style and what your child is comfortable in. Rain boots should always be a good investment but definitely shouldn't break the bank, which is the median we tried to stay within to provide you with the best options possible.
Style and Appearance
In case you haven't heard yet, rain boots are in! It's been a constant ebb and flow with boots such as these and now they're worn simply for fashion purposes as well as during bad weather. Kids' rain boots are designed to be stylish and cute for girls, and tough and rugged for boys. You also have unisex boots that are made with all different types of styles, making it easy for an indecisive child to decide on a pair. In addition to colors and designs, you'll notice that you have plenty of options as far as how to pull them on as well. Some of these boots feature small handles on the side while others can just easily be pulled on without. Some of these boots even have various tread designs running along the sides to add to the style factor. There's definitely something for everyone here!
FAQ
Frequently Asked Questions
Q: Why should I go with rain boots rather than just buying all-weather or winter boots?
A: While that's a solid option, rain boots are specifically designed to have flexible wear. They're comfortable and lightweight enough to be worn throughout the year and even when it's not raining as opposed to winter boots, which can feel clunky, get very hot, and often just be uncomfortable when it's not snowing.
Q: Does it matter whether you get handles on the sides to help pull them on?
A: That depends on how easily your child wears boots! If they tend to have trouble and struggle with their shoes, then it can't hurt to have that extra option for them.
Q: What should I look for as far as treading on the bottom?
A: All of the boots listed here have great grip, however, some are better than others. We'd recommend paying attention to the tread first and foremost, but also consider the style and level of comfort that your child needs in addition.
Q: Could these be worn in all types of weather?
A: In the case of a child's safety, specific boots should be worn for specific weather. For example, winter boots should be worn in winter, fleece or faux fur-lined boots for the fall, etc. While rain boots can absolutely be worn when it's not raining, we wouldn't recommend using them to replace heavy-duty weather boots.
Q: What's the difference between girl's, boy's, and unisex boots?
A: Girl's boots often run in smaller sizes compared to boy's, and unisex boots have more of a "one size fits all" fit to them.
Q: What is the average life of a pair of rain boots?
A: How quickly your child's boots will wear out depends a lot on how frequently they are worn and how roughly they are handled. Typically the first part of a boot to break will be the handles used to slide them on as children are prone to overpulling which will weaken the material over time. In general, most shoes should be replaced once every one to two years. It is unlikely that the tread will wear down completely during this time but much more likely that your child's feet will outgrow them before too long.
Q: Do I need to worry about my child slipping while wearing galoshes?
A: On average, no. Most, if not all, rain boots available on the market today feature a wide, deep tread designed to help toddlers and early walkers maintain their balance even when walking on slick or uneven surfaces. This tread can actually help your child stabilize themselves which can lead to better balance and more walking confidence.

Sources
The Perfect Rain Boot,

Online Article

,

Apr 28, 2017

,
The Real Benefits of Buying Rain Boots for Your Kids,

Online Article

,

Apr 10, 2015

,
Rain Boots Are Not Just for the Rain,

Online Article

,

Jan 26, 2017

,