As hiking has become more popular as a family activity it is important that everyone in the family has the proper footwear. Kids' hiking gear is just as important as an adult so you want to make sure that the fit is current and that the performance level of the boot is made for the task. Finding the right hiking boot for the kids can be hard. Their growing feet can be a challenge to get into boots. We have created the list of the Best Kids Hiking Boots that will prepare their feet to take on anything.
10 Best Kids' Hiking Boots
1. Timberland Whiteledge Waterproof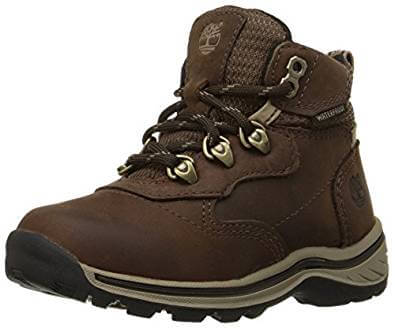 Made of suede leather and durable rubber, Whiteledge Waterproof Hiking Boots are the top product in this category with the most reviews from online customers. The shaft is 3.25-inches from the arch, and they have strong laces and sturdy d-hooks.
Expand to see more
They have a padded ankle and collar for the utmost comfort and cushioning, plus a nylon supportive shank. The construction is waterproof and seam-sealed and contains a textile lining that is moisture-wicking. These terrific boots feature the Timberland logo on the heel and tongue and contain an EVA footbed for unbelievable cushioning and support. the outsoles are non-marking and heavily-grooved for amazing traction. These Whiteledge Boots have the same quality features as the adult version of the same boot, so you can outfit the whole family in the same style.
Benefits
The padding in the ankle and the collar will be much appreciated on the long hikes and walks. Kids' feet will be cushioned against the bumps and knocks along the way with these.
What We Like About It
Not only are the high-quality materials waterproof, but they are also seam-sealed to ensure they will not allow moisture in the boots. Your child's feet will stay very dry and warm in these fabulous boots.
Cost and Value
This model has a below-average price. The durable
waterproof materials
, padded collar, and ankle, and strong lacing construction make them worth the cost.
Construction is waterproof and seam-sealed
Contains a textile lining that is moisture-wicking
Has a padded collar and ankle
Includes a nylon supportive shank
Outsoles are non-marking and heavily-grooved
Toe part can be narrow
A few kids were not comfortable with these on
2. Timberland Pawtuckaway Waterproof
The Pawtuckaway Waterproof Hiking Boot has the highest review rating from consumers online. It includes a footbed of EVA foam for the best comfort and cushioning and a sock liner that is removable.
Expand to see more
The footbed and mesh lining are climate-controlled, and the outsole is sturdy rubber with fabulous hiking traction. Featuring a sturdy shaft and a collar that is padded for great support, these splendid boots for hiking are offered in toddler and big kid sizes. Made of full-grain dual-texture waterproof leather, they include an overlay that is protective for the toe. These trustworthy boots have the rustproof brassy hardware for the lacing and are seam-sealed for waterproofing.

Benefits
These strong boots have the best hardware for the lacing component of the footwear. The lacing is durable and thick, and the brass loops are secured well for much rugged abuse.

What We Like About It
The footbed and mesh lining of these sturdy boots provide climate control for the feet. This means that kids will not have to worry about moisture build-up from sweat or being cold from freezing temperatures.

Cost and Value
These great boots cost less than average for this category of footwear. They are valued for their strong hardware, wonderful traction, and superior padding for wonderful comfort.
Has a sock liner that is removable
Footbed and mesh lining are climate-controlled
Made of waterproof leather and rubber materials
Has rustproof brassy hardware
Is seam-sealed for waterproofing
These may not be waterproof when submerged in water
Can run a little narrow in the toes
3. Merrell Capra Mid Waterproof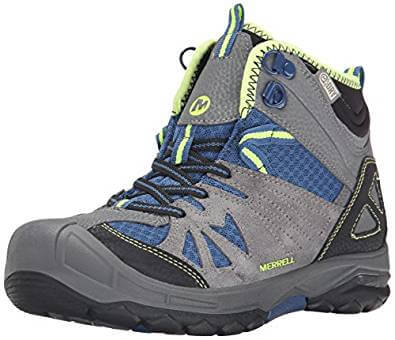 The rubber outsole of this waterproof hiking boot from Merrell has fantastic grip and gives great traction over both dry and wet surfaces. Debris is kept out of the boot with the bellow-type tongue, and the footwear comes in five wonderful color combinations.
Expand to see more
Sizes are toddler, big kid, and little kid that are made of a mesh and suede leather upper for breathability and durability. The shaft from the arch is 4.5-inches, and the strong rubber sole has fabulous grooved traction.

Benefits
The unique thing about these amazing hiking boots is the tongue. It is like a bellows in its shape, which will keep out debris along the trail that is kicked up or falling from the air.

What We Like About It
Most of these hiking boots do not come with a good selection of colors from which a child can choose. This model does have five great choices for color combinations to please even the smallest hiker.

Cost and Value
There is a range for the price for this model, so we took the highest possible price for the category comparison. That makes it the highest-priced item on the list. The outstanding features that give it its terrific value are the bellow-style tongue, the grooved traction, and the color choices kids can select.

Rubber outsole has a fantastic grip
Contains a bellow-type tongue
Offered in five wonderful color combinations
Made of a mesh and suede leather
Has a strong rubber sole with great traction
Hard to stay tied for some kids
Problems with sizes being too small
4. Timberland Euro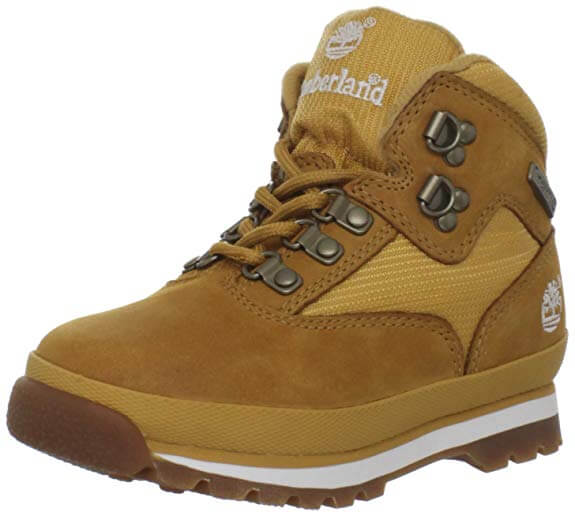 The Timberland Euro Hiker Boot is flexible, lightweight, and non-marking. It has a footbed cover and lining of crushed nylon for the best in
comfort and warmth
. The hardware is rust-proof and durable, and the company is a global leader in high-quality footwear. Made of leather and rubber, this fabulous boot has a sole that is heavily grooved for superior traction.
Expand to see more
The laces are strong with dependable d-hooks for lacing, and the shaft is four-inches from the arch. The heel is .75-inches, and the platform is .5-inches in height. Offered in eight various colors for boys and girls, children can choose from big kid, little kid, or toddler sizes. These are high-cut boots with an arching tongue, and the Timberland logo is embroidered on the tongue

Benefits
The whole family can be outfitted with this wonderful model of boots. They are offered in sizes from toddler to big kid, plus there are eight choices of colors. There is even a bright pink boot choice just for girls.

What We Like About It
The hardware on a hiking boot must be top-notch because that is what holds the lacings in place and keeps the boot on the foot. The hardware for this fantastic boot is durable and rust-proof for ideal performance.

Cost and Value
Priced above the average, these Timberland boots are great because of the lightweight construction, varying color choices, and the grooved sole for excellent traction.

Flexible, lightweight, and non-marking
Has a footbed cover and lining of crushed nylon
Sole is heavily grooved for superior traction
Offered in eight various colors
Is a high-cut boot with an arching tongue
Some said these are not waterproof
A few remarks about the shoelaces being disappointing
5. Hi-Tec Tucano Waterproof Junior Light
Made of waterproof mesh and suede leather and durable rubber, the Tucano Waterproof Junior Light Hiking Boot from Hi-Tec has strong eyelets in the material for the reliable lacing. The traction is supreme because of the flexible grooves, and these are offered in little kid big kid, and toddler sizes.
Expand to see more
The lifespan of the boots is increased because of the big sock liner, and they include a molded vinyl midsole for optimal cushioning. Featured is a fabulous heel-locking system for a comfortable snug fit, while
extra protection
comes from the toe bumper that is abrasion-resistant. The rubber outsole is multi-directional traction, so kids can have great grip on all surfaces and footholds.
Benefits
Multi-directional traction allows the wearer of the boot much flexibility in pivoting and turning the foot for different directions. Whether the surfaces are rough or smooth, these grand boots will not let you down.
What We Like About It
Toes take plenty of abuse when hiking or walking outdoors. These fantastic boots have a toe bumper on them to prevent the toes from being injured or crushed while kids are busy exploring.
Cost and Value
These are the second-highest in price among these products. The heel-locking system, strong eyelets, and sock liner make these wonderful and worthy of the higher price.
Has strong eyelets for reliable lacing
Has flexible grooves for traction
Includes a molded vinyl midsole
Features a fabulous heel-locking system
Rubber outsole is multi-directional traction
Did not last long for some kids with regular use
A few remarks about being heavy and clunky
6. Northside Caldera Junior
The Northside Caldera Junior Hiking Boot is constructed of breathable mesh, suede leather, and rubber and has long-wearing performance because of the outsole traction. Included are a heel loop for ease in putting on and taking off and a protective toe-cap.

Expand to see more
These exceptional hiking boots for kids feature a molded midsole and a heel stabilizer and are perfect for all seasons of hiking and exploring. They offer superior ankle support, and the shaft is 3.5-inches from the arch. They are only available in little kid sizes. These have a closure that is quick to lace up and includes a padded tongue and collar. For the best in comfort,
water-resistance
, and durability, try these Caldera boots for your little one.
Benefits
Breathable materials used in constructing hiking boots are wonderful, especially if they are used all during the year. This will keep feet warm or cool when the temperatures are extreme.
What We Like About It
Having extra cushion in hiking boots can make all the difference in the world in your outdoor experience. These have padding on the collar and the tongue to make them extra comfy.
Cost and Value
These great boots are the second-lowest in price on this list. They are highly valued for their padded tongue and collar, protective toe-cap, and rugged dependable materials.
Perfect for all seasons of hiking and exploring
Offers superior ankle support
Has a closure that is quick to lace up
Includes a padded tongue and collar
Comfortable, water-resistant, and durable
Product was coming apart after minimal use for some children
Sizes tend to run small
7. Hi-Tec Unisex Hillside Waterproof Jr
With a sturdy long-lasting rubber outsole with fantastic traction and a sock liner that is cushioned and removable, these Unisex Hillside Waterproof Jr Hiking Boots from Hi-Tec are offered in great brown and gray models.
Expand to see more
The heel is 1.5-inches high and the shaft is four-inches from the arch. Made of waterproof leather and rubber materials, they are available in toddler, little kid, and big kid sizes. Because they are unisex, both girls and boys of all ages will love wearing these boots.
Benefits
Traction for hiking boots is one of the most important features. This model from Hi-Tec has excellent traction with the well-defined grooves in the outsole of long-lasting rubber.
What We Like About It
Some hiking boots only claim to be water-resistant, but these are waterproof, like most of the selections here. This is important because while hiking, you are sure to come across water puddles and rain that cannot be avoided.
Cost and Value
These are average in price and get their remarkable value from the strong
waterproof materials
, amazing flexible traction, and cushioned comfortable sock liner.
Has a sturdy long-lasting rubber outsole
Sock liner is cushioned and removable
Made of waterproof leather and rubber
Offered in neutral brown and gray colors
Comes in toddler, little kid, and big kid sizes
Issues with sizes
May take a while to break these in
8. Timberland Back Road Hiking Boot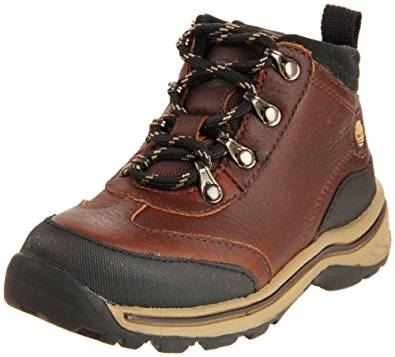 The Timberland Back Road Hiking Boot has an outsole that is non-marking and has superior traction. Because the soles are heavily-grooved, kids can trust the outstanding grip that comes with the durable rubber soles.
Expand to see more
The collar is padded on this full-height hiking boot that offers sturdy heel and toe protection. Extra padding means extra comfort, especially for those long hikes and walks that can take up most of the day before resting. The hardware for lacing is all strong metal pieces on these high-quality boots made of durable leather and rubber materials.

Benefits
Some companies use d-hooks or eyelets for their lacings to hook onto the boots, but this model has strong metal pieces anchored in the boots well for the most secure lacing ever.

What We Like About It
While these do not claim to be waterproof, they are quite rugged. The high-quality materials used in making them ensures that they can really take the punishing treatment of the great outdoors.

Cost and Value
Costing less than the average price of these items, these Timberland boots are well-padded with strong laces and constructed of durable long-lasting materials.

Outsole is non-marking and has superior traction
Is a full-height hiking boot with padding
Has sturdy heel and toe protection
Hardware for lacing is strong metal
Made of durable leather and rubber
Some said these are not waterproof
Trouble with sizes
9. Littleplum Kids Waterproof
Combining the comfort of a sneaker with the functionality of a snow boot is what this winter boot brings to the table. The boot features a rubber sole for great traction and it wonderful for those energetic feet. With the rubber sole, it also provides anti-skid protection that works well in both dry and wet conditions.
Expand to see more
The uppers of the boot are constructed from a mesh and suede. This design is ideal for durability and allowing the feet to breathe. Inside the boot, there is a comfortable lining at contains a breathable lining that is odor resistant. The lining is great for kids who insist on wearing their boots day in and day out plus it is able to keep their feet warm with the cashmere style lining that provides the ideal warmth. Supporting their feet and ankles is always a concern and this high top waterproof boot addresses that perfectly with a breathable upper and great ankle support for any season wear. The waterproof upper along with the great traction that the rubber sole provides and the continued lining throughout the inside of the boot makes this a great choice for those little ones that loving playing outside in all conditions.

Benefits
The boots are able to provide all the benefits of a rubber breathable shoe in a waterproof design that keeps their feet warm and dry. These boots will give those children that love playing outside year round the support and warmth that they need to stay outside as long as they want. The design supports their feet and ankles while allowing their feet to breath and keeping them warm at the same time.

What We Like About It
The design and look of this boot is wonderful. It provides all the comfort of a sneaker in a waterproof form. They are easy to get on and take off which is great for the little ones learning how to become more self-reliant.

Cost and Value
These boots are on the lower price range, but still provide all the support and waterproofing that hiking boots need.

Snow/hiking boot that is waterproof
Features an anti-skid rubber sole for traction in wet and dry conditions
Provides great ankle and foot support
Inside is a cashmere style lining for warmth
Breathable waterproof design that is ideal for any condition
Sizes of the boot run big
Lining of the tongue must be tucked right to prevent leaking water into the boot
10. Merrell Hilltop Quick Close Waterproof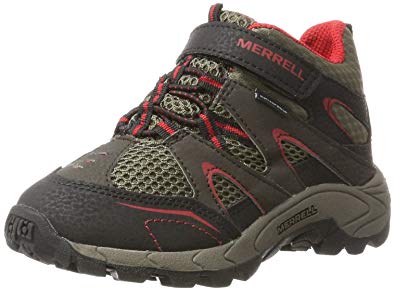 Hiking boots can be a challenge for any kid to get on and off. The designs of these hiking boots are simple enough to protect and support their feet without all those strings and laces. With a closure system that uses a Velcro strap across the upper and a bungee string that brings the body of the boot together the design is great for kids.
Expand to see more
It stays on tight and provides great support when they need it most. The upper part of the boot is constructed from 100 % leather materials that are accompanied by a textile material that is durable and strong. Together the textile materials and the leather used are the perfect combinations for kids hiking boot that is waterproof and durable. The sole is constructed from a flexible rubber that is non-marking. It provides the support that the kids need on the trail and also absorbs the pressure of the rough terrain. The closure system, waterproof design, and super traction rubber sole come together to create a great hiking boot for any kid that hits the trail regularly.

Benefits
The Velcro closure system that is used in the design on this boot is wonderful. It provides an easy way for the kids to get the boots on and be able to take them off. Loop and hook closure systems that are used on these boots also allows kids to securely fasten the boot for a great fit.

What We Like About It
Great boot for hiking or everyday use. The waterproof design with the Velcro closure system makes it a good to shoe for every event.

Cost and Value
These boots are in the average price range for the market. Their reliable qualities are the strong materials, the waterproof upper and super traction make them a great buy.
Waterproof hiking boot for kids
Features traction controlled rubber sole
Upper constructed from leather and textile fabrics
Easy on and off with Velcro
Provides secure closure system for ideal fit
Shoe runs very narrowly
Upper of the boot is stiff from the textile fabric design
Criteria Used in Evaluation of the Best Kids' Hiking Boots
Top-rated and most-purchased
Being the best online means having the most reviews and the best ratings from customers. We select the products that meet these criteria for every buying guide to bring you the absolute best of each category we feature. Customers have overwhelmingly chosen these items with their highly positive feedback as the top products that they would purchase again. because of their huge satisfaction rate, we showcase them here for your enjoyable shopping experience. We realize that like us, you only want the utmost best for yourself and your family, so we have taken the guesswork and trouble out of finding the products that will please you the most. According to consumers, the best hiking boot for kids is the Timberland Pawtuckaway Waterproof Boot, and the most reviewed item is the Timberland Whiteledge Waterproof Boot. We do feature two other Timberland products, as well as several from Hi-Tec. These two manufacturers seem to be the industry leaders in creating the best and mostly-bought hiking boots for children.
Durability
Hiking boots for kids must be durable second to comfort. If they do not last for at least one year of outdoor adventures, then parents will be dissatisfied and repurchasing this footwear again too soon. They must be durable in every part from the soles to the toes and heels to make them worthy of the cost. Since all of these hiking boots are from some of the best makers of footwear, they will last a long time. These great boots have outstanding craftsmanship in the stitching, selection of materials used, and manufacturing. You can count on the sturdiness of these products as they will stand up to the wear and tear from children and perform quite well.
Comfort
The most important feature for a shoe is the comfort, especially hiking boots for kids. These all have high levels of comfort because of the breathability, extra padding, and high-quality materials used. Children's boots must be well-ventilated for them to not retain sweat and moisture buildup from high-powered walks and long hiking excursions. These boots are remarkably breathable and supportive of the various parts of the foot. The toes of some of the models have extra protection to prevent crushing or damage to the toes. Only the best materials were used in the construction of these kids' boots to make them dependable and durable to wear for an extended period of time.
Traction
All of these wonderful boots have the best traction because of the highly-grooved rubber outsoles. The more grooved the soles, the better the traction. This is very similar to the tires on a car. The Hi-Tec models use a feature called Multi-Directional Traction (MDT) which is superior traction for such footwear. It allows the foot the freedom to pivot and change directions quickly and will work well on almost any surface material. Whether these boots are used on the dry, wet, or rocky ground, they will perform splendidly because of the outstanding traction that manufacturers have developed in the strong rubber soles.
Cost and Value
The average cost of these hiking boots for kids is from $25 to $204 with the average being $85. The highest priced product is from Merrell and the lowest one is from Hi-Tec. Hi-Tec also has the most average-priced item on this list. The prices vary greatly from model to model and from maker to maker based on the material used and the features of the boots.
FAQ
Frequently Asked Questions
Q: Are these boots really heavy to lift with the legs and walk in?
A: Some parents did complain that a few of these models were heavy for their children to lift with their feet and walk in, but that was not a common remark among parents in the reviews. Parents tend to purchase shoes in a larger than needed size, so that may have contributed to the heaviness that was experienced with a few kids. These boots will be heavier than regular shoes or even common rain boots, so children will need to break them in before going out on long trips or walks. They should practice not only just wearing them but also putting them on and taking them off if they are old enough to do so. If they get used to wearing them around the house or in the backyard, then an outing of several hours will not be so hard on their legs and feet. Like any other sport or activity, you must start off small and work up to the full use of the item. Hiking boots are no exception.
Q: How is the traction for these boots?
A: Each of these models has the best traction for multiple surfaces. As you will notice, hiking boots have plenty of flexible treads to catch on both smooth and rough surfaces to prevent falls and slips in sometimes rocky, muddy, or wooded areas. Traction is the best quality of boots, especially hiking boots, second to comfort. Boots must be comfortable and have great traction above all other features for them to be of good quality.
Q: Are these warm enough to be good for winter? Or should they be just used for milder weather?
A: Yes, each of these would provide a good layer of protection from the cold, especially the ones with the extra lining and padding in them. If the boots cover the ankles, then the pants legs can be tucked in the tops to hold in the warmth of the legs. The durable, thick materials of the rubber and leather give a great protective layer against the elements. The mesh and leather upper parts of the boots are breathable, so they will not be too hot to wear or moisture-retaining in the warmer months. Some customers reported that their kids wore these boots all year-long to protect their feet during adventures, hiking, and nature walks.
Q: Where exactly can these boots be used? Are they good for all terrains?
A: Many customers' children used these boots every day for exploring purposes or to just go outdoors to play. Puddle jumping can be enjoyed to the maximum with a good strong pair of boots. Any of these should do well in all sorts of terrains because they have wonderful traction, strong materials, and most are waterproof. Kids can use these in heavily-wooded areas, or places where there are plenty of rocks and mountains. Grassy areas or plains are ideal for hiking boots, as well as flat smooth surfaces where more traction is needed. Almost any place kids can think of going for an adventure would be a perfect place to use their hiking boots. They protect the feet better than any other type of boot or shoe ever could.
Q: Are these boots unisex or just for boys?
A: Any of these models can be worn by girls or boys. There are not models specific to either in this category. A few of the items have colors that would appeal to both sexes, but the majority of the selections have just basic dark colors that would be suitable for both boys and girls.
Q: Are these boots all waterproof or just water-resistant?
A: They are all waterproof, except for the Timberland Euro Boots and the Northside Caldera Junior Boots. The Euro boots are neither water-resistant nor waterproof. They are just a rugged outdoor boot that does not claim to be repellant to water. The Caldera model is water-resistant but not waterproof. This means that they could be worn in the rain and could stand to be worn while splashing in puddles, but they cannot be submerged in water or stand in water for long periods of time. Some buyers did note that even with the waterproof products, their kids did sometimes experience wetness of the feet. For most of these times, though, it is believed that the boots were submerged in water, but it is unclear for how long.
Sources
Choosing the Right Hiking Boots for Your Kids,

Online Article

,

Mar 31, 2014

,
5 Tips for Choosing Hiking Boots,

Online Article

,
,
Hiking with Infants, Toddlers and Kids,

Online Article

,
,