Purchasing sneakers for kids can be a trying experience for parents because of the multitude of choices available and the sometimes picky preferences of the child. Trying to get these to match in perfect unison for a purchased pair of sneakers that the child will like and wear can be quite a challenge. Because there are so many hundreds of styles and companies that offer sneakers online, we have selected the best products in this category that customers have purchased and loved the most. These featured items have the most reviews from online consumers, as well as the highest ratings and positive feedback.
Because it is a list of the best, you will see some of the top name brands, such as Adidas, Skechers, PUMA, Keds, and New Balance listed. These are the manufacturers that are making not only the most excellent kids' sneakers currently, but the items that children like the most and want to wear. These fabulous sneakers are for everyday use, walking, and running as all-purpose shoes that kids can use dependably all day long. They are comfortable, breathable, lightweight, stylish, and durable for long-time wear. Some of these have terrific color choices, while others such as the Keds School Days II Sneaker are being required in schools for the uniform of girls. Several of these shoes have an extra Velcro strap to secure the tied lacings and give added support for the ankle. Most of these sneakers have laces that tie, but a few of them have full Velcro closures for easy access in putting them on and taking them off. This is important, especially for the infant and toddler sizes.
The majority of these items are offered in the little kid and big sizes, but a few of them have choices for toddlers and infants. We do note the size categories for each product in the descriptive summary sections. This buying guide is informative and concise to give you the most information in the smallest amount of space to enhance your shopping experience. We are proud to showcase the best products that footwear manufacturers have to offer for your kid's pleasure and comfort. Here are the best sneakers for kids in 2019.
10 Best Sneakers for Kids Reviewed
1. Adidas Kids' Superstar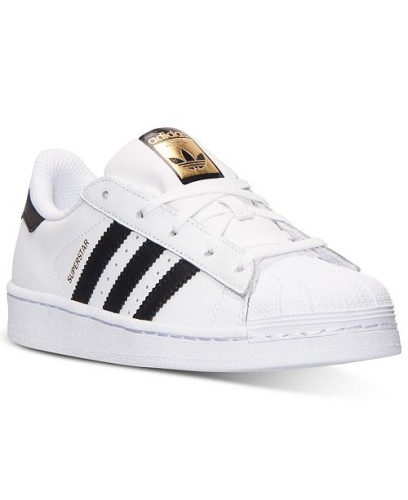 With over 1,100 reviews from customers online, these adidas Kids' Superstar Sneakers are the most reviewed items of this category. They are available in over thirty color combinations with the Superstar logo and feature a rounded toe box and strong durable laces.
Expand to see more
Made of leather with a rubber sole, they have a low-top drop to the toe, making them very comfortable for every day, all day wear. The leather upper is very smooth, flexible, and easy to keep clean. All available colors have the three-strip famous branding in various colors, so you know that you are getting, wearing, and enjoying the best in kids' footwear.

Benefits
You know when you buy brand name items, you are getting dependable high-quality products. This is true of the adidas brand that is known and loved around the world. These Superstar sneakers are proof of that top-quality for which they are known.

What We Like About It
The colors that are available for this shoe product are impressive. Children will not be able to pick a favorite and might have to pick several pairs to be completely satisfied.

Cost and Value
These are the highest in price of all the sneakers listed in this guide. The adidas brand commands a higher price than most because of the name recognition. These have the added features of a huge color selection and durable, well-made construction.

Pros
Available in over thirty color combinations
Features a rounded toe box
Includes strong durable laces
Leather upper is smooth and flexible
Has the three-strip famous branding
Cons
Can be heavy and wide for some wearers
A few people experienced some stitching coming undone
2. Keds School Days II
Offered in toddler, little kid, and big kid options, these Keds School Days II Sneakers are made of premium leather for the upper with durable rubber soles. They have a lining of soft comfortable terry cloth and a durably padded collar.
Expand to see more
Made just for girls
, these splendid sneakers are available in solid white black and white, and black and navy. The shoes lace up for a stable secure fit and offer steady safe stepping you can depend on. Included is a footbed of memory foam for the best support and comfort. These sneakers are a requirement of private schools around the country for girls with their uniforms.
Benefits
Comfort is the main feature of these sneakers. With the terry cloth lining, padded collar, and memory foam inner soles, kids will be comfortable all day in these with no foot issues.
What We Like About It
Just for girls, these shoes are very popular and a requirement for some school uniforms. The fashionable trendy look makes them the shoes to wear and be seen in for young girls.
Cost and Value
These terrific sneakers are at the low end of the price range of these items. The premium leather, terry cloth lining, and memory foam insoles make them a much-valued product.
Pros
Has a lining of soft comfortable terry cloth
Includes a durably padded collar
Shoes lace up for a stable secure fit
Contains a footbed of memory foam
Offers steady safe stepping
Cons
May damage easily in the toe part
Some said these are heavy to wear
3. Skechers Girls Pepsters Colorbeam
Featuring the Skechers logo on the side and top Velcro strap, these Girls' Pepsters Colorbeam Sneakers are available in three vibrant color splash themes that kids will love. Offered in sizes for big kids, little kids, and toddlers, they are made of synthetic and textile materials with all-rubber soles for best traction and grip.
Expand to see more
Included is a heel pull for easy access and gripping ability and a midsole that is ridged for added traction.
The Velcro closure is brilliantly sparkled and is paired with wide neon-colored shoelaces that are sturdy and long-lasting. For fun fashion that is comfortable to wear, these Skechers Pepsters are perfect for girls of all ages.

Benefits
No matter what age your little girl is or the size of her feet, these sneakers are offered in a perfect size just for her. Whether she is a toddler, big kid, or little kid, she will look great in a pair of these comfortable colorful shoes.

What We Like About It
The color splash themes of these sneakers are a delightful rainbow of colors your child will love to wear. The three different variations available are amazing combinations of cool colors.

Cost and Value
This average-costing shoe has the fantastic features of exciting rainbow color schemes, solid rubber soles, and a Velcro strap closure with wide neon laces.
Pros
Has all-rubber soles for best traction
Includes a heel pull for gripping ability
Features a Velcro closure for security
Has wide neon-colored shoelaces
Midsole is ridged for added traction
Cons
Problems with sizing
The traction is more for walking and not running according to a few buyers
4. K-Swiss Classic VN
The K-Swiss Kids' Classic VN Sneaker is for both boys and girls and is made of leather and synthetic materials. It has a rubber sole and an outsole that is molded rubber and a soft cushiony collar lining. This is a good all-purpose shoe for everyday wear that offers great comfort and stability.
Expand to see more
It includes a toe of three-pieces for strength and longevity and a low-top shaft from heel to toe. The laces are durable with sturdy d-rings on leather straps of the five-stripe branding. It is offered in solid black, solid white, and iridescent and white and available in infant, toddler, big kid, and little kid sizes.

Benefits
Dependability and comfort are the top features of these sneakers. They have strong laces, sturdy d-rings, leather and solid rubber materials, and heavy-duty construction.

What We Like About It
Almost any size of a child can wear these comfortable all-purpose sneakers. They are available in many sizes and are suitable for any outfit because of the neutral colors.

Cost and Value
Costing less than the average, these K-Swiss sneakers are highly valued for the sturdy construction and the wide selection of sizes for toddlers to big kids.
Pros
Has a rubber sole and molded rubber outsole
All-purpose shoe for everyday wear
Shaft is low-top from heel to toe
Has a soft cushioned collar lining
Laces are durable with sturdy d-rings
Cons
Sizes may run a bit larger
Some said these show wear and tear soon
5. adidas Originals Boys' Stan Smith J
Only offered in big kid sizes and colors, this fabulous sneaker for boys from adidas is a perfect court and everyday shoe for kids. Colors include white and green, solid white, and white and blue in this shoe made of full-grain leather with rubber soles.
Expand to see more
The shaft from the arch is low-top, and the lining is soft comfortable Visa terry cloth material. It has a heel tab in a contrasting color and a mesh and leather upper that are breathable and soft. Included is the OrthoLite sockliner which limits odor in the shoe, lacing that is strong, and eyelets that are durable.

Benefits
The comfort of this shoe comes from the breathable mesh upper, terry cloth lining, and the supportive inner soles. Kids can wear these all day every day for comfort that lasts.

What We Like About It
The OrthoLite sockliner is a terrific item to have in sneakers, especially for kids. It is a feature of these shoes and keeps the foot odor to a minimum to hold down bacteria.

Cost and Value
Priced well below the average for items in this category and being an adidas product, these sneakers are a wonderful bargain because of the comfort and durable build.
Pros
Shaft from the arch is low-top
Lining is made of terry cloth
Includes the OrthoLite sockliner
Has strong lacing and durable eyelets
Is a good court and everyday shoe
Cons
A few said these crease plenty
Sizes may run big
6. Skechers Electronz Blazar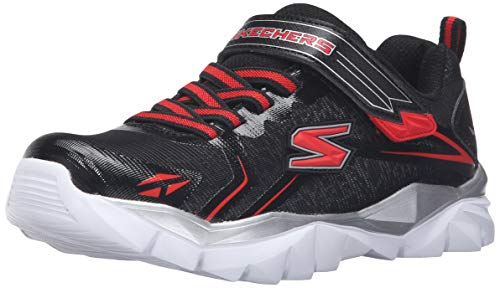 Offered in black-red, blue-lime, silver-black, and black-charcoal-orange mix, the Kids Electronz Blazar Sneaker from Skechers is a lightweight comfortable shoe with a durable rubber sole.
Expand to see more
It is an all-purpose shoe that can be worn every day and feels good enough to wear for extended periods of time without even noticing it is on. Available in little kid, big kid, and toddler sizes, it features strong thick laces and a sturdy Velcro strap over the top for support. The fashionable style and the high comfort level will have your kids raving and loving this sneaker with the fantastic color combinations.

Benefits
When footwear comes with laces and a Velcro strap, the manufacturer is ensuring that the laces stay secured when the shoe is on and extra support is given at the top of the ankle.

What We Like About It
We love the lightweight of this shoe, as sneakers are not always light on the feet. Sometimes kids must drag heavy shoes along with them to get great support for their feet. This is not a problem with these because they are really light.

Cost and Value
Costing under the average of shoes in this list, these Skechers sneakers are worth the price because of the fantastic colors offered and the strong closure features of the laces and Velcro strap.

Pros
Available in an assortment of sizes
Is lightweight and comfortable
Has a durable rubber sole
Features strong laces and a Velcro strap
Offered in several great color mixtures
Cons
Some said these get dirty quickly
Remarks of no traction and being slippery on smooth surfaces
7. New Balance KL574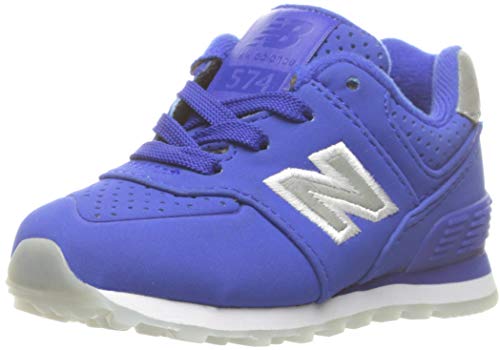 Made of durable suede and mesh materials for the breathable upper, the New Balance Kids' KL574 Sneaker has an all-rubber sole with wonderful traction. It includes an EVA lightweight midsole for
fabulous cushioning
and is offered in over thirty solid colors and color mixtures in teal, green, black, white gray, and purple.
Expand to see more
All of the colors have the New Balance logo on the side and feature a heel counter on the exterior. The flexible and strong materials used in the construction of these shoes are great for the growing foot of a child. Several closures and multiple widths are offered, and this is a highly popular model for the company with a famous history of success.

Benefits
Wide widths are not usually offered so much with children shoes for general use. these do have multiple widths and different closure options available for those that want and need them.

What We Like About It
It will be hard for any child to choose a favorite color out of the selection that is possible. There are colors listed to match any wardrobe, outfit, or school uniform perfectly.

Cost and Value
This is one of the higher-priced products on this list but not the most expensive. It is valued for its huge array of offered color combinations and its proven impressive history with the company.
Pros
Made of durable suede, mesh, and rubber materials
Includes an EVA lightweight midsole
Offered in over thirty solid colors and color blends
Different closures and widths are offered
Is a highly popular model
Cons
Complaints of being too narrow
Sizes were a problem for some kids
8. adidas Baseline CMF Inf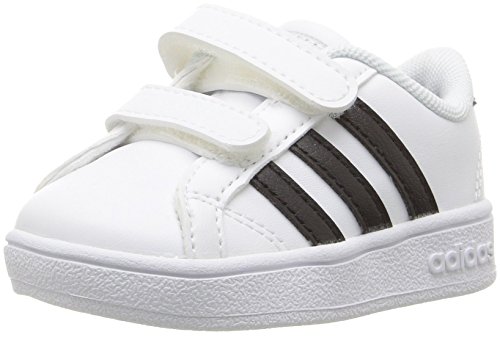 The adidas Kids' Baseline CMF Inf Sneaker is offered in infant, toddler, and big kid sizes and made of a leather and suede upper and rubber soles. The shaft from the arch is low-top, and it has Velcro closures for a secure fit and ease in access.
Expand to see more
This remarkable sneaker has the famous adidas three stripe pattern on the side in leather, and the lining is soft and comfortable. It comes in purple and gray, copper metallic, and black colors for a wonderful selection to fit your child's wardrobe and outfits.

Benefits
The Velcro straps on these sneakers make them easy to put on and take off of the child. For infants and toddlers, this is a huge plus in footwear because it is tedious to tie laces on such small shoes.

What We Like About It
The name adidas means so much partly because of the high-quality materials these use in creating their products. This sneaker is one of the best on the market in terms of materials used.

Cost and Value
Priced over the average but not the highest cost item here, these sneakers from adidas are valued for the strong materials and the easy Velcro closures.
Pros
Made of a leather, suede, and rubber
Shaft from arch is low-top
Has Velcro closures
Includes the famous adidas three stripes
Lining is soft and comfortable
Cons
Some parents said there is an inside bump in the toe area
The Velcro strap came off on a few shoes
9. Feetmat Waterproof Outdoor
Made of leather with a rubber sole and a PU fabric upper that is knitted and durable, these Waterproof Trail Sneakers from Feetmat are great running and everyday shoes for kids. The comfortable and breathable shoes are very flexible with flex grooves that allow natural motion and safety with the non-slip sturdy soles.
Expand to see more
They have a pull tab on the back of the heel for gripping, and walking is easier with the double-fixed back heel design. The style is impressive, fashionable, and durable plus easy to keep clean. The elastic laces are heavy-duty and sturdy, and there is a Velcro safety strip to lock in the closure and give support. Perfect for both boys and girls, this design is technologically advanced for optimum performance and comfort. Offered in several mixed color schemes of blue, black, and navy that are bright, colorful, and bold, these outstanding sneakers can be worn year-round.

Benefits
Having elastic laces and a Velcro safety strap for the closures, these first-rate sneakers will not disappoint in coming off the feet prematurely. These safety measures lock in the protection needed for small feet.

What We Like About It
These shoes come in color combinations that would excite any child and make them want more than one pair for variety. Several colors are featured on each pair to make them fashionable and popular with children.

Cost and Value
These are the lowest in price of the items here. The terrific qualities of the top-quality materials used, excellent comfort, cool style, and grand durability make them worth the cost.
Pros
Very flexible with flex grooves
Has a pull tab on the back of the heel
Features a Velcro strip and elastic laces
Perfect for both boys and girls
Includes the protection of a kick toe
Cons
Sizes tend to run big
Did not last long for a few kids
10. PUMA Unisex ST Runner NL
The PUMA ST Runner NL Velcro Kids Sneaker is offered in various sizes for little kids, toddlers, and big kids and available in eleven wonderful color combinations to
match most outfits
. Made of synthetic and textile materials they have a superb rubber sole and Velcro strip closures
for safety
and dependability.
Expand to see more
They feature a low-top from the arch to the toe and the classic PUMA stripe for brand recognition of an excellent product. This is a running or athletic casual
sneaker
that includes a completely rubber outsole for the best durability and grip. The heel clip allows the ideal stability, and the classic style will match with any clothing. These are unisex and will suit both boys and girls perfectly well with the exceptional fit and splendid color choices.
Benefits
Kids' shoes with Velcro closures are the best, especially for those with tying troubles. When laces come undone, they are dangerous because of tripping possibilities. There are no worries with this model because they fasten securely and dependably.
What We Like About It
PUMA is always an outstanding choice for footwear, and these sneakers are just proof of that. The color choices of mixed colors are fabulous for kids to pick their favorites.
Cost and Value
With an above average price for these sneakers, this PUMA product is valued for its magnificent name brand reputation, running and comfort qualities, and easy Velcro closures.
Pros
Offered in little kids, toddlers, and big kids
Available in eleven wonderful colors
Features a low-top from the arch
Has Velcro strip closures
Includes a completely rubber outsole
Cons
Not for kids with wide feet
Some wearers experienced sole separation after a month of wear
Criteria Used in Evaluation of the Best Sneakers for Kids
Top-rated and most-purchased
We selected the best online sneakers for this buying guide that have the most feedback from customers and the highest ratings. The sneakers in this list that have both of these honors are from Adidas. They are one of the foremost leaders in shoe manufacturing today because of their superior products. The Kids' Superstar Sneaker has the most reviews and the Kids' Baseline CMF has the highest ratings of any sneaker in this category. Online consumers have overwhelmingly chosen all of these sneakers as the best of what manufacturers are offering, and the majority of them would purchase these again because of the very high satisfaction level.
Durability
Shoes for kids must be durable second to comfort. If they do not last for at least one school year, then parents will be dissatisfied and repurchasing sneakers again too soon. They must be durable in every part from the soles to the toes and heels to make them worthy of the cost. Since all of these sneakers are from the best makers of footwear, they will last a long time. These sneakers have outstanding craftsmanship in the stitching, selection of materials used, and manufacturing. You can count on the sturdiness of these products as they will stand up to the wear and tear from children and perform quite well.
Style
These are all the latest styles with the most updated and recent fashions that kids want and are eager to wear. Many of these have super choices in solid colors and color schemes for kids to pick their favorites. While most of these have tie shoelaces, we do highlight a few selections that feature Velcro closures for easy access and dependability in staying on the feet. Shoelaces come untied and can be a hazard for very active kids, so Velcro is an ideal option for safety for some children.
Comfort
The most important feature for a shoe is the comfort, especially sneakers for kids. These all have high levels of comfort because of the breathability, sole support, fit on the foot, and high-quality materials used. Children's shoes must be well-ventilated for them to not retain sweat and moisture buildup from high-powered activities. These sneakers are remarkably breathable and supportive of the various parts of the foot. The soles are cushioned and give great arch support for those high-impact jumps and quick foot movements. Only the best materials were used in the construction of these kids' shoes to make them dependable and durable to wear for an extended period of time.
Cost and Value
The price range for these sneakers for kids is $33 to $186 with an average cost of $79. When there was a price range for an individual item, we took the higher price for the best cost comparison. These prices are analyzed in each item's Cost and Value Section to highlight the main value points. Generally, Adidas, New Balance, and PUMA are the most expensive sneakers on this list because of their high-quality and terrific reputation as leading shoe manufacturers.
FAQ
Frequently Asked Questions
Q: Which of these sneakers are just for boys? Which are just for girls?
A: The sneakers here that are just for girls are the Keds School Days II Sneaker and the Skechers Kids Girl's Pepsters Colorbeam Sneakers. The only one specifically for boys is the Adidas Originals Boys' Stan Smith J Sneakers. All of the others are unisex and can be worn by either boys or girls equally as well.
Q: What is the age range for these shoes?
A: this varies with each offered item, but basically little kids and big kids can fit into all of the sneakers here. Some of them offer toddler and infant sizes, making them have a huge range of sizes available. We list the size ranges for each in the individual summary sections.
Q: Which ones have the best color choices for kids?
A: the products listed with the best color choices are the Adidas Kids' Superstar Sneaker and the New Balance Kids' KL574 Sneaker. They have many selections to choose from in solid colors and various color combinations sure to please any child and match any wardrobe or school uniform.
Q: What is the best way to clean these sneakers?
A: the manufacturers did not give any washing or drying instructions in the product descriptions, but we would assume that these sneakers are like other athletic and everyday tennis shoes and can be machine washed. Unless the package directions state specifically that they must be hand-washed and air-dried, it would be suitable to wash these in a machine. It is probably best to air-dry these sneakers to keep them in the best condition the longest.
Q: Which items have the best ratings from customers online?
A: the sneaker with the best ratings from consumers is the Adidas Kids' Baseline CMF Inf Sneaker. It is way ahead of all of the other items in this category. The Adidas company is known for its high-quality construction and material choices for its products.
Q: Do any of these shoes have safety features for kids such as reflectors?
A: No, these are all basic everyday wear sneakers for walking and running. They do not have any special features other than durability, comfort, breathability, supportive, and dependable. One product does have fantastically bright colors and sparkle on the Velcro lacing strap, which could possibly be seen in darker areas. This is the Skechers Girls' Pepsters Colorbeam Sneakers. The colors look neon, but we do not know if they do indeed glow in the dark or can be seen at night.
Q: What are most of these shoes made to make them last?
A: The majority of these sneakers are made of lightweight breathable materials that are suitable for kids to wear every day and all day long. These include leather, suede, rubber, and mesh materials for the outer parts. The inside of some of these items has a soft inner lining of a comfortable fabric such as terry cloth for cushioning and support. The Keds School Days II Sneaker for girls has a layer of memory foam on the inside for a wonderful foot experience kids will appreciate.
Q: About how long are these sneakers supposed to last kids? Should parents be buying more than one pair in a school season?
A: These are all products from the leading manufacturers in footwear, so the quality and durability are high. One pair should last a child throughout the school year easily, but this greatly depends on the amount of use and abuse the child puts the sneakers though. Sometimes kids may play outdoors after school with these on, which will be decreasing the amount of time they can be worn long-term. For children who wear others shoes periodically instead of these sneakers, they should experience longer lives with their shoes.
Sources
CHECK THE FIT,

Online Article

,
,
How to Fit Your Kid for Shoes,

Online Article

,
,
are your kids' shoes too small, too big or juuust right?,

Online Article

,
,