Your little boy is no longer a baby. By age 2, he is already a very active little explorer. He also has a variety of other developmental milestones that he needs to be able to accomplish before he reaches the third year of his life. And like any young child, 2 year olds will require toys and play activities to help them get through the next stage of their childhood development.
Looking for the most appropriate toys or gifts for a two year old boy is thus very important if you want them to grow and develop physically strong and agile, mentally and cognitively competent, emotionally stable, and socially responsible.
This is where we know we can be of help.
Our Top 3 Picks
30 Best Toys & Gift Ideas for 2 Year Old Boys
Tobbles Stack Toy By FatBrainToys
This truly is an abstract piece of art for a child. There will be years that follow with interest in sculpting that had the interest sparked through Tobbles the stack toy. The unique colors offer a way for children to work a visually stimulating toy.
Benefits– The rounded balls are weighted and quite unique in its sensation for a child to hold. It utilizes the best quality of materials on and in the product. This gives your child a sense of gravity play because they are extra weighted.
What We Like about It– The toy is excellent for helping 2 year olds develop mastery of their fine motor skills and hand-eye coordination while at the same time reinforcing their color recognition. The different colors can also help expand their dynamic outcome of everyday play with Tobble.
Pros
Pieces are big enough for little hands
Easy for toddlers to put together
Easily stored
Product is weighted
It can grow with your child
Cons
Balls break fairly easily
Count 'n Play Register by Little Tikes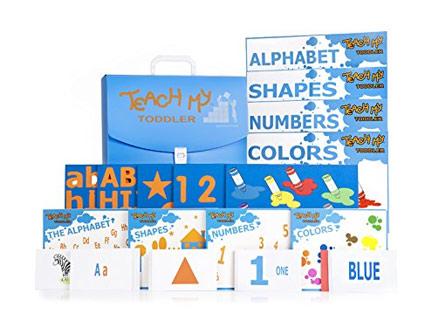 Composed of 4 beautifully designed board books and 4 educational posters, the Teach My Toddler Learning Kit is something that you would want to teach your 2 year old boy. It includes 68 pieces of learning materials to teach kids about the alphabet, shapes, colors, and numbers.
Benefits– As the ultimate learning kit, this product is ideal for toddlers aged 18 months to three years. The book is broken down into several sections on letters, numbers, and colors. The number flash cards go up to 10. The books and foam puzzle pieces are difficult for the toddlers to tear up, the posters, however, need to hanged up far from reach on the wall.
What We Like about It– It's a classic way of promoting kids' vocabulary and language, numerical skills, hand-eye coordination, spatial intelligence, and fine motor skills. The kit can also be a useful aid for teachers.
Pros
Educational
Colorful
Learning through receptiveness
Helps toddlers to start learning from a young age
Teaches matching, letters, numbers, colors, and shapes.
Cons
Colors aren't represented properly
Some letters look the same
My First Ball Building Set by Haba

Two-year-olds are just at that age where they want to touch and feel everything. This building set is perfect for the hands-on kids that are destined to delve in construction. This set features colorful connecting blocks that easily lock into place with pivots beneath the ball track.
This ball track building set creates the perfect link between free-building and stacking. The building will help your child build their motivation, independence and train their motor skills.
Benefits– The 'My First Ball' building set comes in a basic and a large pack. The basic package comes with, one ramp, six curves, eight connecting blocks, one block with bell, one regular ball, and one green ridged ball.
The connecting block pegs will ensure that the track remains stable. So, this ball track will remain in place while your toddler learns how to play.
What We Like About It– The My First Ball building set is easy to construct and can withstand most bumps. It's sure to keep your two-year-old busy for a while. The bell will delight your child to no end. Not only that, but this ball track set will grow with your child as it can be used with any of the other ball track sets by HABA.
Pros
Balls and track are made from solid wood
Quick to assemble
Can be used on any floor type
Encourages creativity.
Cons
Track isn't sloped enough
If it is over elevated, the balls roll off the track
Garages & Cars by Melissa & Doug

The Nesting and Sorting Garages and Cars set by Melissa & Doug will keep your toddler enthralled for hours. The match-and-stack set of seven wooden cars and seven stacking garages. This set will teach your two-year-old the concept of pairing by number, color, and size.
Benefits– The seven garages can be stacked to make a tower or make a colorful town. The compactness of this toy makes parents' life easier by having an easy cleanup. It offers two-year-olds endless opportunities for a mix-and-match, hide-and-seek, counting, stacking, and imaginative play.
What We Like About It– There are countless ways for your two-year-old to enjoy this Nesting and Sorting Garages and Cars set. This set allows parents to teach their toddlers about various things, including colors, sizes, numbers, and stacking. It teaches patience and artistic vision which enables the toddler's creativity.
Pros
Able to be used in multiple ways
Helps learn colors, stacking, nesting, and numbers
Educational
Durable – made with heavy duty cardboard
Lightweight
Cons
Some reports of ripped garages
Easily broken
3 in 1 Bike by Wishbone Design Studio

This multi award winning bike ensures that your toddler will learn to ride a bike fast. The 3 in 1 Original Wishbone bike is made from sustainably harvested eucalyptus and birch wood, a nontoxic glue and finish, and is packaged in recycled materials. This bike can be used both, indoors and outdoors and is sure to last for years to come.
Benefits– This bike can be transformed from a baby walker and push tricycle to a small balance bike to a large balance bike.
What We Like About It– We want the best for our toddlers, and this product ensures that we are able to do just that. It exceeds US, Australian and European toy safety standards. It is an award-winning balance bike. On top of that, converting the bike from any setting takes no more than five minutes, giving it thumbs up from us.
Pros
Grows with your toddler
Easy to assemble
Made with good quality materials
Worth the price
Built and looks great
Cons
Some reports of the front wheels not aligning properly
Some reports of the rear wheels being too close to the seat
Speedster Fire Truck by Schylling

The Metal Speedster Fire Truck will give your toddler a ride on toy experience. It features a vibrant red steel body, chrome accents, and real wooden ladders. On top of that, it also includes some prominent features like plastic fenders, a working steering column, rubber tires and a horn. Toddlers are sure to enjoy the fire department markings and the engine bell sounds that this fire truck features.
Benefits– It features a working steering column to allow toddlers to learn more about stability and practice their motor skills. The real wood ladders can be removed. It also has an attached cord that plays a fire engine bell sound.
What We Like About It– This fire truck is perfect for use indoors and outdoors, giving the toddlers plenty to play with. The tires have a rubber tread which ensures that there won't be any accidents of them marring indoors floors.
Pros
Very well made
Has excellent details
Easy for toddlers to ride
Easy to assemble
Can be used indoors and outdoors
Cons
Paint chips off easily
Some reports of missing parts
Shopping Cart by Little Tikes

For the pint-sized shoppers, the Shopping Cart by Little Tikes is perfect. It features a colorful, and durable, cart that is able to hold even the smallest of things. The deep basket ensures that your two-year-old will be able to carry around many things. They can even bring along their favorite stuffed toy to ride along through their shopping journey in the fold down seat.
Benefits– This shopping cart lets your toddler carry around their favorite toy along with tons of their other 'groceries'. It has a plug at the bottom to make it more sturdy and stable – making it the perfect option for two-year-olds or even older.
What We Like About It– The sturdiness of the shopping cart along with how much it can carry for two-year-olds is really great. Though there is some assembly required, it gives hours of playtime for your toddlers.
Pros
Well-built and sturdy
Easy to assemble and use
Built to last
'Child' seat is a great addition
Children will love dragging, pushing, and crashing it
Cons
Not great to push over carpet
It could be higher off with bigger wheels
Gas 'n Go Mower by Little Tikes

For those toddlers that love to watch routine tasks being done, this is perfect for them. With this Gas 'n Go Mower, your two-year-olds can 'help' you get the job done even faster. This product enables a hands-on mowing lawn experience that's perfect to convince your toddlers. It encourages your kids to play and get moving.
Benefits– Though it feels like the real experience for two-year-olds, the sounds are all mechanical, thus also meaning that no batteries are needed for operation. As our child pushes the mower, the beads inside start moving around.
What We Like About It– The mower features a clicking key, movable throttle, and a removable gas can. Two-year-olds can open the gas cap and pretend to fill up their mower. It really gets them excited about doing simple tasks.
Pros
Design is very realistic
Easy to assemble
Good volume of sound
Gender neutral
Works well on wood and tile
Cons
Handles aren't adjustable
Doesn't work well on grass
Drill & Learn Toolbox by VTech

Most toddlers just want to get their hands on everything and anything. This Drill and Learn toolbox lets your two-year-old roleplay with a toddler friendly toolbox. Two-year-olds can play around 'fixing' bits and pieces around the around. It includes a working toy drill, fix-it tray, screws, nails, wrench, and a hammer.
Benefits– The working drill can drill the screws and spin the gears into the tray holes. Your toddler will relish in hearing the mechanical clicking sounds while they build their motor skills. The toolbox also features light up buttons which play fun sounds.
What We Like About It– Not only does this toolbox amuse your toddlers, but it also teaches them about colors and numbers. Simply add the double-sided instruction cards and they'll learn while pretending to repairs bits around the house.
Pros
Educational yet still quite fun
Helps toddlers get a feel of 'real' tasks.
Drill doesn't require batteries
Toddlers love the sounds it makes
Interactive cards make it more educational
Cons
Nail are too small so it's a choking hazard
Drill doesn't fit into the toolbox
T-Ball Set by Little Tikes

With this product, those future baseball stars will surely shine bright. The T-Ball set will make baseball a fun game for those just starting to bat. It has an adjustable height 'T' that can adapt as your toddlers grows.
Benefits– Not only does it have an adjustable height which ensures that it will be of use for many years to come, but it's also a toy that is an easy clean up. While your toddlers play, they will learn more about coordination and batting.
What We Like About It– The easy storage solution ensures that it won't be on the floor or take up too much room to store. It will help your toddler with their coordination, motor skills and batting skills – all of which will come in handy as they grow up.
Pros
Easy to assemble
Bright colors
Easy cleanup
Lightweight
Easy to use
Cons
Quite breakable
Some reports of no balls in the packaged set
Turn & Learn Driver by VTech

For those tiny toddlers that are ready to step out into the world, this Turn and Learn Driver steering wheel toy will get them prepared. As your two-year old learns to drive, the adorable dog character will move around. Your toddler can press any of the five colorful buttons that will introduce your two-year-old to different vehicles and animals.
Benefits– This steering wheel toy by VTech will encourage your two-year-old to play through their imagination. It features a gear shifter that pulls and pushes to introduce opposites to your child. It even has a signal lever that triggers fun music and sounds while your toddler drivers.
What We Like About It– This steering wheel toy encourages your toddler for imaginative play. It features three playing modes so that your two-year-old can choose to either learn in music, driving or animal mode.
Pros
Bright colored buttons
Learn about different types of transportation and animals
Can be played anywhere
Three modes
Available to play in three modes
Cons
Sounds and words can be confusing at times
Some reports that it stopped working
Loops 'n Swoops Park by Fisher-Price

Though two-year-olds aren't the ideal candidates for roller coaster rides or theme parks, this Loops 'n Swoops Amusement Park Playset by Fisher-Price is the perfect toy to get them excited. It's just over two feet tall so it makes so perfect fun for your toddler. Your two-year-old can have the time of their life as the wheelies zoom down the ramps really fast.
Benefits– This playset features a 360-degree loop that is sure to keep your child occupied for some time. They'll be persistent in getting the wheelies around that loop every time.
What We Like About It– This is a perfect all-around toy that will keep your two-year-old busy. It features multiple mini vehicles that are perfect for their little hands. On top of that, its packed with activities perfectly appropriate for your toddler.
Pros
Easy to assemble
Made with strong plastic
Music plays as the car reaches the end
Sturdy
Bright colors
Cons
Takes up a lot of space
Some reports of missing parts
What parents should know
2 year olds are explorers by nature. They learn by doing, by touching, and by feeling. Playing gives them the perfect opportunity to use their developing senses. Toys can help toddlers develop and practice their newly acquired skills. The types of toys that your child has available to them, can help shape their development.
Most times, it seems quite simple to go and choose a toy. That couldn't be further from the truth. There are a huge number of products that are in the market nowadays, making it overly overwhelming when searching for toys for a two year old. Parents want toys that will keep their child entertained but also something that will kick start their education. So, we rounded up some of the best products on the market that will be both educational and fun for your child. It will grow with your child and challenge him into continually learning. The toys should cultivate your child's social, emotional, language, physical and thinking skills.
Criteria Used to Evaluate the Best Toys for 2 Year Old Boys
As you read above, two-year-old boys go through various developments that affect the products that they choose to play with. Below are the criteria that we used while researching the best toys for your growing child.
Toys They Can Build
Toddlers relish in being able to take apart toys and then try to put them back together. They love pulling items out, putting them back in, adding onto them and simply building things. So, choosing toys that are considered as open ended will encourage your child to play through their imagination. They can choose to play a number of games through that one product.
Wooden or interlocking blocks are very popular amongst two-year-old boys as they can be used to make several things, such as a spaceship, a bridge, a zoo, or even just a road. Building toys like these encourage your child's imagination and ensure that he develops logical thinking and problem-solving skills.
Grow with Your Child
Children, especially ones that are two-year-old, can have a short attention span. As we mentioned above, research has shown that a two-year old boy will have an attention span of roughly six minutes. That's not enough time for a product to show its full potential, but to a child – that's a lifetime.
Most, if not all, parents have had the misfortune of buying a toy that seems exciting – only to have your child play for a short amount of time before getting bored of it. To overcome that, you can look for toys that will grow with your child, such as the 3 in 1 bike by Wishbone. Toys that can offer something for your child at the different developmental stages will be the ones that last.
Examples of toys like these include – dolls, stuffed animals, vehicles (dump trucks, trains, etc.), dollhouse (toddler friendly ones), action figures and other plastic animals.
Encourage Problem Solving and Explorations
Toys and playtime give toddlers the time to continually practice their skills. They help them gain independence by mostly figuring out the toys on their own. It can aid in building their logical thinking skills which lead to enhanced problem-solving skills. Toys that are excellent at problem-solving and explorations include playdough, crayons, art materials (e.g. clay), nesting blocks, blocks, sorting shapes, and puzzles.
Most toys also aid toddlers in developing specific useful skills. They develop their fine motor skills and hand-eye coordination by using their small muscles in their fingers and hands. They develop their spatial relation skills through the understanding behind how different objects fit together.
Imitate 'Real' Things
Toddlers these days are advancing at a pace that is unlike any other. They are able to pick up on simple everyday tasks a lot quicker than some of us would like to admit to. Tasks such as figuring out the light switches and television remotes are becoming straight forward for toddlers. Not to mention how advanced they are getting at figuring out our cell phones.
So, getting them toys that imitate those everyday tools can really help them with their spatial relations, fine motor, and problem-solving skills. Some great toys for this specific purpose can include brushes, dustpans, mops, brooms, instruments, toy phones, and toy keys.
Encourage Activeness
Toddlers are at the most active point in their lives. They are getting more confident and stronger, therefore, leading to more physical tricks taking place. To encourage your child activeness, some toys will keep your child playing. These can include boxes made into tunnels, pull toys, basketball hoops, bowling sets, scooters, tricycles or even just balls of different shapes and sizes.
Basics of Research for this list
We know how challenging it is to determine which kind of toy is appropriate for 2 year olds. Not to worry because we have partnered with some of the nation's leading child developmental psychology experts to give us a helpful overview of what we need to look for in the most useful, most developmentally-appropriate, and most educationally-beneficial toy you can ever give to two year old boys. We have taken the learnings to heart and couple this with our extensive research into the safety and design quality of the individual toys. We also had to look at the first-hand experiences of parents and other consumers of these toys so we will have an idea how well they sit with the world's most demanding customers – kids. These, together with the credibility of toy manufacturers, make up the rubric of how we evaluated each toy for 2 year old boys.
We are optimistic that you will find our list very helpful whether you are looking for some gift suggestions for somebody else's child's birthday or toys for your own kids.
2 Year Old Boys, Development, & Their Toys
Two year olds are enjoying their new-found freedom as they no longer have to depend entirely on Mom and Dad to learn the different things around them. Unfortunately, their attention span is quite short, literally, and as such do tend to get bored and distracted easily. On the average, a 2 year old boy will have an attention span of roughly 6 minutes. This can be a real challenge, especially when looking for a toy or a gift item. It is crucial to make sure that it is capable of sustaining the 2 year old's interest, lest he discards it and moves on to the next toy.
Another interesting area that you need to understand about two year old boys is that they now have an idea of object permanence. This means that even if something is hidden from view, they know that it is still there, only obstructed from his view. As such, you may see your 2 year old looking for his favorite toy at the bottom of his toy box.
Physically, your two year old boy is already beginning to show mastery of his balance and coordination. He may also begin participating more actively in some physical activities like kicking the ball or even running. Toys that work best in this regard are trikes, scooters, and balance bikes although any other toy that can help foster the development of his larger groups of muscles will also be beneficial.
One very remarkable achievement of 2 year olds is their language and communication skills. While it is true that they are still learning connecting or linking different words together, they are now capable of expressing or communicating their thoughts. They may show sense in the meanings of certain words by pointing to the object when you ask them to. Unfortunately, if your kid's language and communication skills lags behind his more advanced thought processes, he may become easily frustrated because he simply cannot express what he has in his mind. That is why it is very important to choose toys that allow them to expand their vocabulary and learn the basic meanings of words so they will be able to communicate their thoughts a lot better.
Two year olds have fantastic imaginations. Towards their third year, they are already trying to establish the different between what is real and what is fantasy. Make-believe play sets or toys that allow them to use their imagination can be very beneficial in this respect.
Choosing the right toy or gift item to give a 2 year old boy is crucial to his optimum growth and development. Hopefully, our list of the best and most popular toys for two year old boys is instrumental in helping you make the correct choice.
FAQs
Frequently Asked Questions
Q. Where Can I Buy Toys For 2-Year-Old Boys?
A: If you are on the hunt for a new toy for your toddler, there are many places to look. Either online, in store, or even from people who are selling their own toddler's used toy. It all depends on your own personal budget, and if you can find good coupons or discount to help with your purchase.
The best place to browse for toddler's toys is online. There are several websites online that carry a vast collection of toys for your two-year-old boy. Amazon is of course at the top of that list. It can offer you most products at reasonable prices. Most of the toys that are mentioned on the list above are available on Amazon. There are a few other well-known sites, such as Walmart, Fredmeyers, Target, and Radioflyer.
Q. How Do I Find the Most Reasonable Prices for The Toys?
A: We would personally recommend visiting the various online retail stores that are on the web today. If you prefer to see the product before you purchase it you could go to any physical department, retail, or specialized toy stores.
Q. What Do I Do If I Don't Want to Spend a Lot of Money Buying Toys That My Child Will Outgrow?
A. If you would prefer not buying new toys every year, we would recommend buying toys that will grow with your children, such as stuffed animals, toy trucks, doll houses, or even action figures. We would also recommend searching through many websites to find the best prices, or if you like looking at products before buying anything you can search through multiple stores.
We would also recommend asking peers and peers to find out what stores they buy their toys at, or even better you will find out that they're selling their toddlers out grown toys.
Q. Why Are Some Toys So Expensive?
A.  The price for toys always is equivalent to the quality of the product's materials, and the way it is made. The materials that are used to make the wagon will determine the product's strength, durability, and where the supplies came from in the beginnings. Shipping from overseas can be very expensive. Children's toys are usually manufactured at high rates, with this you are paying for the parts of your wagons, the paint, employees to assist the job, and the cost to operate the equipment during manufacturing.
A children's toy could cost from $5 to $300 brand new. Though some toy stores across the country could have them priced for less. If you are on a budget, there are multiple options to find a children's toy.
Q. What Are the Benefits of Music, Lights, And Sounds?
A. Many toys for toddlers are full of music, lights, levers, buttons, etc. Most of the time these toys are labeled as "developmental" because the toy can do so many things. Unfortunately, that isn't the case. The more the toy is able to do, the fewer things your child can do. If your child sits and watches the toy perform it is likely to be less educational and more entertaining. If a toy starts playing music randomly, or it is not clear what made the lights start flashing, your child is not learning which one of his actions (the cause) produced the music and the flashing lights (the effect). The more children have to do physical work, the more they will learn.
Q. Can Toys Make Your Toddler Smarter?
A. Be sure to be careful when it comes to these products. Most products that state these claims haven't been scientifically proven to do as they say. In fact, some of our most common household items make the best learning tools such as old clothes for dress-up, pillows for climbing and piling up to make a cave, and plastic bowls for filling and dumping. Remember' the more your child has to engage in mental and physical work they need to develop their own ideas and problem solve.
Sources
Parents.com – How to Improve Attention Spans
Zerotothree.org – Tips for Choosing Toys for Toddlers