10 Best Toys and Gift Ideas for 6-Year-Old Girl In 2019
last updated
Aug 05, 2019
Thinking of gifts to give 6-year-old girls can sometimes be challenging. Some would give children's books while others would give kids' fashion jewelry and accessories. Still, others would give a pretty girl dress or even something they can use in school.
For a great majority, however, toys will be at the top of their minds as these playthings are some of the most important instruments which children can use to augment whatever they have learned in school and in their daily interaction with other people. This is because toys are tools for helping children develop their emotional, social, cognitive, and psychomotor skills. That being said, we have committed ourselves to bring you the 10 best toys for 6-year-old girls. The process was never easy but it was well worth it.
In a Hurry? The test winner after 34 hrs of research
HedBanz Game
Why is it better?
74 cards
24 chips
6 headbands
Clock timer and rules included
Easy to play
In a
Hurry? Editors choice:
Test Winner: HedBanz Game
30
Researched Sources
34
Hours Researching
26
Products Evaluated
Design
Physical Development
Ease of Use
By Default
10 Best Toys & Gift Ideas for 6-Year-Old Girls Reviewed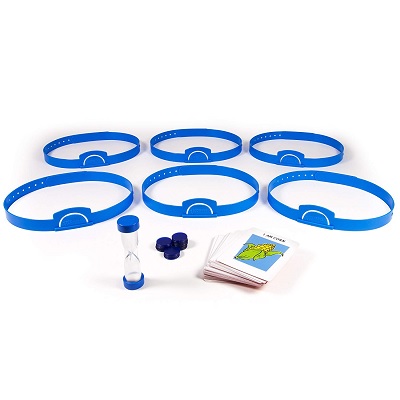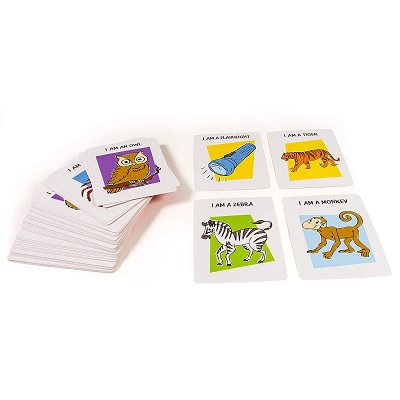 74 cards
24 chips
6 headbands
Clock timer and rules included
Easy to play
Can only be replayed so much/so often before children have memorized the cards
HedBanz takes a pretty universal game and upgrades it.
Read more
Design
Spin Master Games has created a beautiful card deck complete with graphics and included six headbands and a timer. The game is made for two to six players, and there is a Junior edition available as well for especially young ones.
Physical Development
Kids will learn vocabulary, categorical skills, and critical thinking as they piece together the puzzle of what exactly they're supposed to be. In HedBanz, everyone knows but you. This is great for kids that love riddles, puzzles, and deductive reasoning games.
Ease of Use
Players each pick a card that they do not look at and slip it into their headband for other participants to see. During their turn, they ask yes or no questions of the other players until the winner cinches victory by guessing what the cartoon on their card is.
2

. Learning Resources Pretend & Play
The setup is very organized
The carrying case offers a lot of storage space to store assignments in
Vibrant colors of the carrying case are appealing to children
The white board is set into the board and is not removable
Promotes role playing developmental skills
The white board marker is not included
Workbook included all the same copies of the same worksheet
If you have a little school teacher to be at home this is the perfect setup for her to get a head start.
Read more
Design
The authentic school bell that rings with delight create a structured school environment. Hand out hall passes or makeup assignment with the crayons provided; there is a sturdy yellow pouch that secures what you need it to like the whiteboard marker. There is a good-sized whiteboard that kids know means business.
The carrying case for all of your classwork is sturdy and with really nice colors. With a map of the USA that has a neat color sequence across the board to help your kid remember where each state is at.
Physical Development
There is nothing better than giving a toy to a six-year-old girl that will encourage their imagination and highlight all their developmental milestones heading into grade school. Watch as they use the tools included in this school set to engage in role-playing. It will be as fun and exciting to watch them engage with this kit as it is for them to play with.
Ease of Use
This can be a great instructional tool to offer kids who need to prepare for their first 'real school' setting or those who are homeschooled. All of the supplies make the set easy to use over and over again. In fact, the carrying case allows your little one to play school anywhere.
3

. The Everything Kids' Science Experiments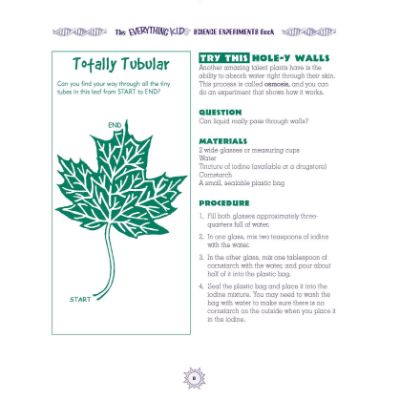 Promotes STEM learning
Suitable for children between 6 to 12 years old or those in grades 3 to 7
Encourages patience through the use of the scientific method and delaying instant gratification
Includes dozens of experiments designed to work with easy-to-find materials
Many of the experiments require adult supervision and assistance in order to perform
Lacks colored illustrations that may cause children to become easily bored
If burning questions about measuring gravity or turning off magnets keep your little one coming back to you over and over for answers, then This gift for 6 year old girl may be right up your daughter's alley.
Read more
Design
This 144-page manual includes dozens of experiments designed to teach your child some of the most fundamental aspects of science and engineering in a fun and interesting way.
Physical Development
STEM-based learning is a huge focus of many schools across the country right now due to the future need for skilled scientists and engineers that will pave the path for new technologies to come. Science experiments are a fun way to introduce many early science, technology, engineering, and math concepts using thought processes and fun creations that can stimulate your child's creativity.
Ease of Use
Most of the experiments in this book require very little prior knowledge and can be completed using simple household materials.
4

. Wonder Workshop Dash Coding Robot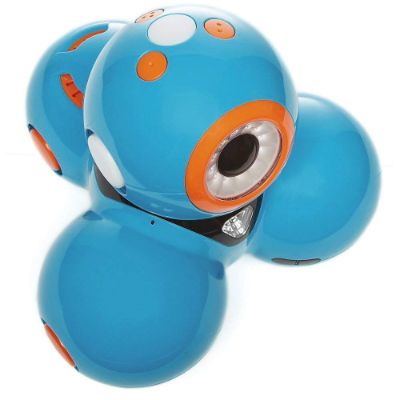 No assembly required
Includes Dash robot, challenge cards, catapult launcher kit, and power cord
Responds to voice commands, sings, draws, and moves
Works with 5 unique smart device apps to teach coding
Adult supervision and assistance may be required in order to perform more advanced controls
Some reviewers reported issues connecting Dash via Bluetooth
Software coding is a growing field that shows very little sign of slowing down over the next decade.
Read more
Design
You can help your future Madame Curie get her start with the Wonder Workshop Dash, a Coding Robot for Kids! Combined with the Dash companion apps, a free to download a set of games and coding lessons available for both Android and iOS devices, your little one will be presented with a set of challenges to overcome. By placing the block-like coding pieces in the right order your little girl can command Dash to dance, loop, move, and even respond to voice commands.
Physical Development
This can help stimulate your child's innate curiosity and creativity when it comes to science experiments, technology, engineering, and math. It can also provide an outlet for the development of social skills and friendships.
Ease of Use
Thiese gifts for 6 year old girl come preassembled and includes all the parts and pieces your child needs to set Dash singing and spinning right out of the box. The apps use a simple to understand interface that appeals to younger children and requires no prior coding knowledge to understand.
5

. Draw Like A Pro Artist Studio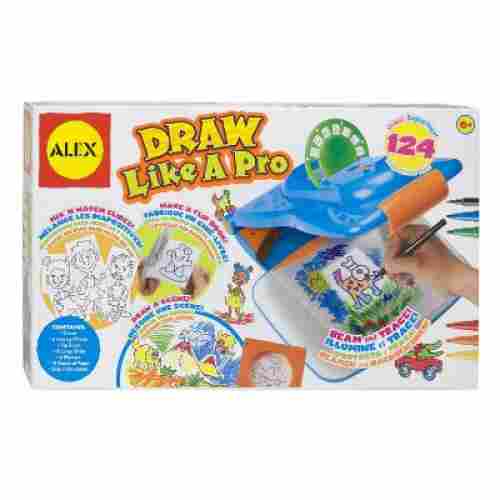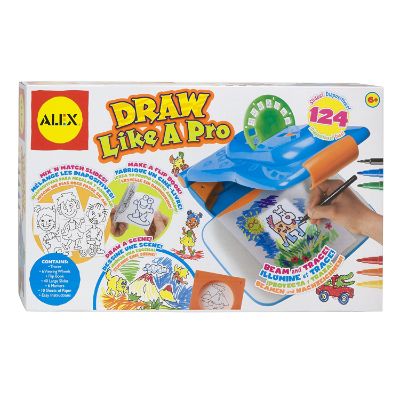 Perfect for beginners.
120 slides
Mix and match slides
Carrying case.
Boosts fine motor skill development
Drawing these days with pencils and markers almost seems like a 'lost art' with all the tablets and computers that we have on hand.
Read more
Design
Included with the set is 124 preprinted slides that will inspire them to create three different kinds of artwork. In the box, you will also find markers, paper, and easy to follow directions. The projector and preprinted slides allow users to trace the slides to create great looking pictures without the frustration. It projects the image down on the paper to make creating fun characters and wacky drawings fun.
Physical Development
Building and practicing fine motor skill development is usually only thought of with toys or using technology-driven products, but this kit brings back the use of pencils and markers with paper.
Ease of Use
With these gifts for 6 year old girls, it takes learning to draw and makes it easy. Once they are done using the set it has a drawer that is built in to store everything which makes clean up and storage stress-free. Inspire your six-year-old to draw like a professional with this simple to use kit.
6

. Kahootz Fashion Plates Deluxe Kit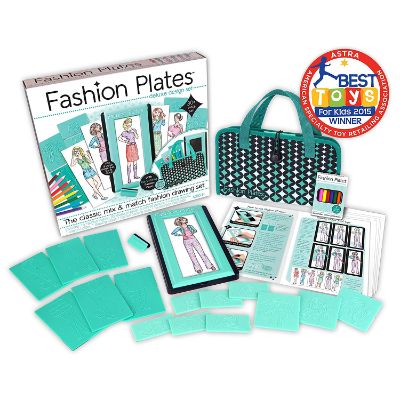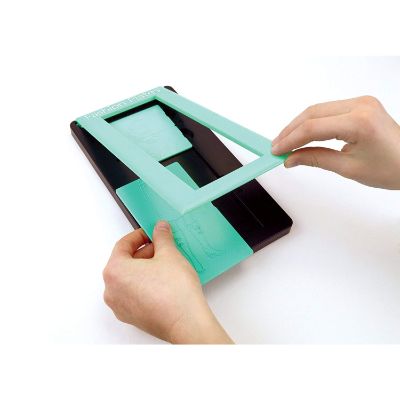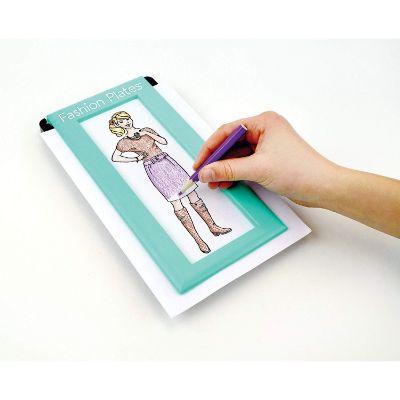 30 piece fashion set.
Comes with carrying case.
Mix and match design plates.
Rubber design plates.
Promotes the development of fine motor skills
Limited amount of paper.
Frames that plates sit in bend easily, use with care
If you want a different kind of stencil art to give as gift to a 6 year old girl, then give her the Fashion Plates Deluxe Kit.
Read more
Design
The kit comes with more than 30 pieces of fashion art materials including 15 interchangeable fashion plates, 8 colored pencils, 20 sheets of drawing paper, rubbing crayon with holder, a drawing tablet, and a fashionable carrying case. It also comes with an idea booklet to provide inspiration to kids as they create their very own fashion designs.
Physical Development
Using colored pencils and stencils will increase your child's fine motor skills and hand-eye coordination.
Ease of Use
Easy to use stencils with countless combinations will start hours of great fashion ideas. Some color pencils included in the kit but it doesn't have to stop with just 8 colors. Easy to use instructions can guide a girl into a world of individuality.
7

. Stick'n Style Crystal Clutch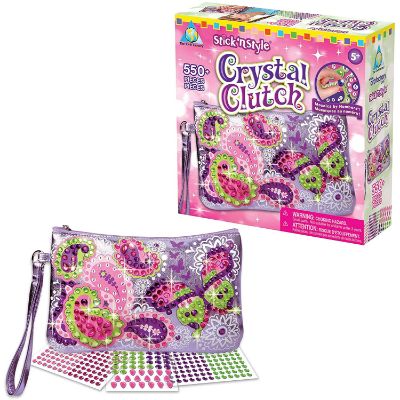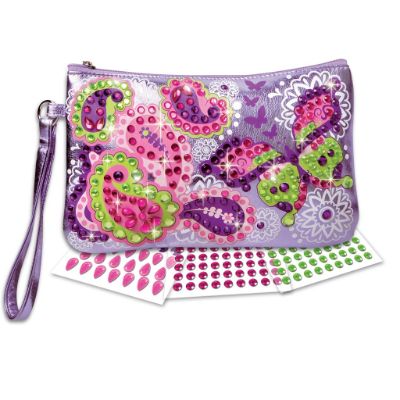 Lots of jewelry pieces to help style.
Comes with a clutch purse.
Great arts and craft gift.
Great for beginners.
Promotes hand-eye coordination
Only one clutch purse to style.
Design on the purse is predetermined with color coded design
Girls love almost everything that glitters and shines.
Read more
Design
With more than 550 pieces of sparkling jewelry and a clutch purse, 6-year-old girls will be able to design their very own glitzy and glamorous clutch purse.
Physical Development
500 plus jewel pieces will influence any creative mind to try their hands on something new. Not to mention, it will strengthen her hand-eye coordination as well as her fine motor skills.
Ease of Use
It is as easy as sticking the jewelry pieces like a mosaic. The pieces can also be used to adorn or decorate other mosaic craft kits from The Orb Factory.
8

. Wear So Many Headbands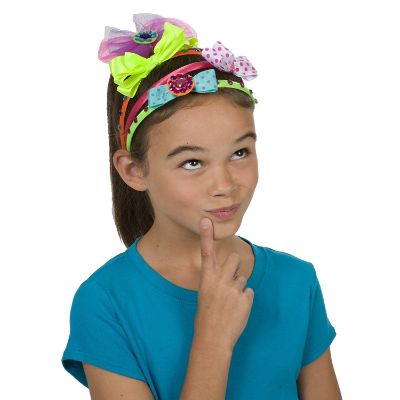 Ten headbands come with the kit.
Colorful accessories.
No glue required.
Comes with headband case.
Encourages self-expression through creative crafting
Limited amount accessories.
No adhesives included in the kit if wanting to attach decorations
While it is generally considered a throwback to the mid-20th century, many young girls still prefer using headbands not only as a hair accessory but also as a fashion statement.
Read more
Design
With the So Many Headbands, 6-year-old girls will now have 10 highly customizable headbands to work with. The set comes complete with a variety of accessories and craft materials to make a really fashionable headband. It includes ribbons, shoelaces, ribbon straps, tulles, fabric flowers, gem stems, felt, sticky gems, rubber bands, and of course 10 headbands.
Physical Development
The customized headpiece is a creative outlet that empowers six-year-old girls to express their inner selves with fun colors and bold styles. Whether they are matching their outfits or creating hairpieces for pretending to play this kit is a great way to get girls creating with their minds and putting their hands to work.
Ease of Use
With no glue required, crafting a stylish headband is easy and mess free. All your little one has to do is wrap it and stick on their desired accessory.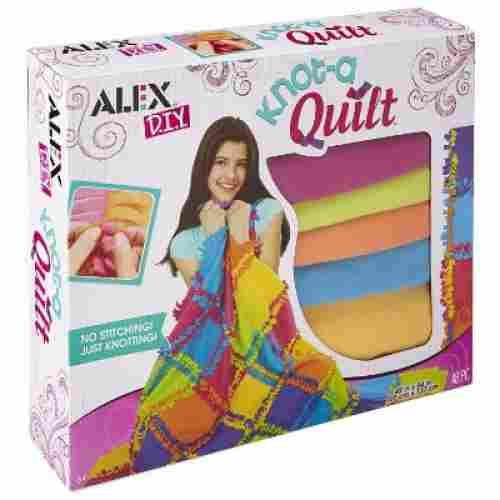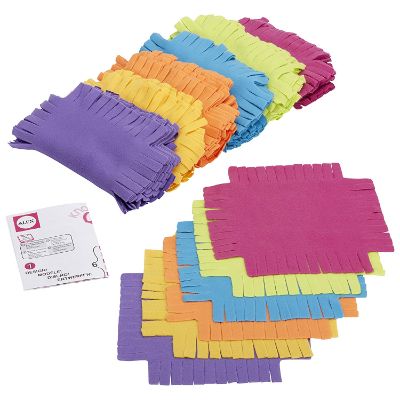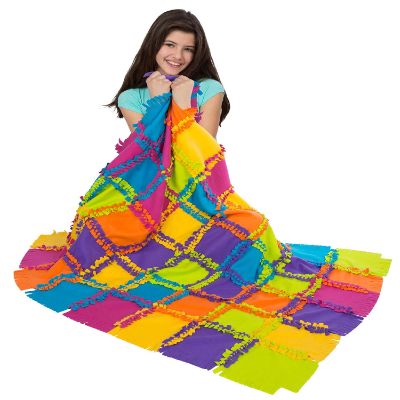 No cutting or sewing required
Suitable for children from age 6 and up
Finished quilt measures 42 by 54 inches
Winner of the Parent's Choice Approved Award
Requires a lot of patience which may cause children to lose interest partway through
Some reviewers reported that they had trouble tying the knots
With the ALEX DIY Knot A Quilt kit, your little one will have the opportunity to design and create a blanket all of her own.
Read more
Design
Forty-eight pre-cut and fringed squares in a multitude of colors come together to create and super-soft and comfy blanket that measures 3.5 by 4.5 feet, perfect for a twin-sized bed.
Physical Development
The repetitive tying motion is also an excellent way to bolster fine-motor coordination skills and build hand and wrist muscle flexibility.
Ease of Use
Knotted quilts are easy to use even for children as young as 6 years old. Your child can separate the squares and choose her design, lining them up by color or mish-mashing the squares throughout the quilt. Whatever suits her fancy! Once designed, simply knot the fringed edges of each square together until the entire blanket is formed.
Once finished, the blanket is fully machine washable and ready to use! Give your girl the gift of self-creation this winter with this cuddly DIY kit!
10

. Osmo Genius Kit for iPad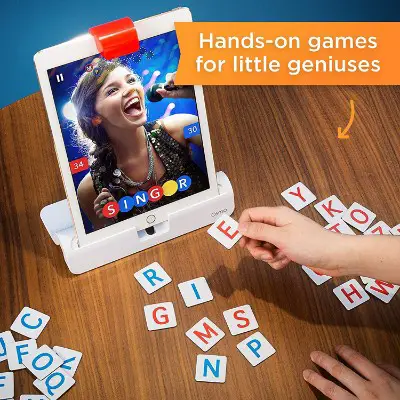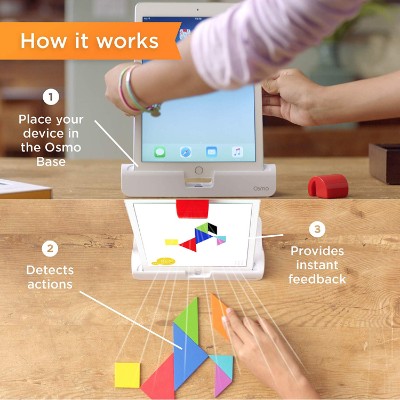 Compatible with Ipad
Multi-playing pieces included
Adjust to different age groups from 5 and up.
Encourages fun learning for math, spelling and problem solving
Kit includes a base to hold Ipad, skill pieces, and storage containers that stack
Not for android tablets
Requires an email address to set up an account to begin
Want your 6 year old kid to learn and interact with her iPad without having to touch the screen? With the Osmo Genius Kit, the boundary between the digital world and physical play has just been made torn down.
Read more
Design
The kit comes with 5 ingenious games including Tangram, Numbers, Words, Newton, and Masterpiece. Each of these gift ideas for 6 year old girl is well-encoded into the Genius Kit base which also doubles as a dock for iPads including the Mini, the Retina, and the Air versions. It also comes with the patented reflector which snaps right in front of the iSight.
Physical Development
It's an educational alternative to keeping the kids entertained as opposed to just watching a movie on the Ipad. Kids can learn on the go. Kids can tackle one subject at a time instead of multiple subjects.
Ease of Use
It is easy to travel around with this device.
Criteria Used for Evaluation
Design
As in any selection process, there must be certain criteria on which to base products. In our search for the 10 best toys for 6-year-old girls, we utilized five parameters including developmental appropriateness, safety, quality, reputation, and customer satisfaction.
When looking at the overall design of each toy, we paid close attention to the materials used, level of durability and the overall safety of the toy. The structure is important at this stage of development. Exposure to the arts will help in that department as well.
Children like to make different shapes and designs and we have some toys that will allow them to do just that. Making their own bracelets and/or designing their own headbands will allow the creativity in each child to soar within themselves and in front of those around them.
The fashion accessories will let little girls show off their individuality and show great accomplishment in what they crafted. With this extensive research, we are optimistic that you will find something from our list that will serve as the perfect gift for your 6-year-old.
Physical Development
Six year olds are at a wonderful stage of development. One of the most striking developmental milestones of 6-year-old girls is the development of an understanding of how certain things around them work. It is therefore important to choose toys that will enhance this understanding.
Role-playing activities are very important to them. And since they now have a greater appreciation of how things should be, they can carefully make plans for the role-play. They now have a more detailed understanding of how different roles need to be played.
Six-year-old girls also are becoming very detailed in their drawings as well as other creations. This is due in part to their understanding of the world around them and partly because of their increased observation of other people and objects. This helps them create more realistic interpretations which can be readily seen in their drawings and other creations.
Physically, their activity levels are several notches higher from previous stages. They are now able to move with greater precision, balance, and control. Their gross-motor skills are vastly improved. Their ability to coordinate their movements also greatly improves. This makes biking and skating as potential activities for this age range. Any and all kinds of activity is crucial to the development of hand-eye coordination.
Regarding their social and emotional development, 6-year-old girls will already have an emerging sense of identity. It is, therefore, crucial to choose toys that allow them to express their identities in a manner that is consistent with what they have envisioned their selves to be.
She needs to feel confident about her identity and this is often expressed by associating herself with just a few of her acquaintances who may share the same qualities or "identities" as hers. This creates a sense of belonging and can be best enhanced through cooperative play.
Ease of Use
Children are eager to try new things which will lead them to want more exposure to novel playthings as well as ideas and concepts. Although some toys do come with instructions, these toys were chosen to help the child engage in their own unique ability to problem-solve. Whether going to an ice castle or coming up with a great dress design for a make-believe fashion show, your little girl will have tons of hours to play and develop their problem-solving skills.
From what color to use to how they want some to look, your little girl will amaze you and herself with the discovery of her abilities. While the toy does require your child to think they are still easy to use. Each toy has the ability to provide your child with effortless fun.
Most Important Criteria
(According to our experts opinion)
Experts Opinion
Editors Opinion
Users Opinion
By Default

Parents, Did You Know?
As your child begins to enter first grade they will become better at reading. They will develop strategies to figure out words that are unfamiliar.
Parents, Did You Know?
Typically, six-year-olds now have the ability to count backward from twenty and forwards to 200.
Other Factors to Consider

Social Development
While 6-year-olds at this stage seek comfort in playing with same-gender friends, our toys will help encourage single and multi-friend interaction. With active imaginations, children will be exposed to collective creativity from their peers. These can lead to learning the meaning of sharing with other children.
While playing, children can assign themselves roles on who will be responsible for what toy and game, and even what character. This will start the teaching of patience and respecting others' feelings as well as wanting their respect in the same way.
Frequently Asked Questions
q:

Are these toys safe to play with?

a:

We know that your child will enjoy any and all the toys that are located on our website. There is a variety of toys for your child to choose from. There are gifts for 6 year old girls that encourage mental stimulation both with themselves and others. With these toys, there is an age requirement of 6 and up to avoid the chance of any harm to a child who is too young for the toys.

If you think that the toy is unsafe by looking at it, then it is recommended that you not purchase the toy. While we would love for your child to have any one of these toys listed on our site, the safety of the child is our first concern. If the toy was not safe, we wouldn't endorse it.
q:

How will the toy affect my child's interaction with friends and family?

a:

Our toys are meant to encourage interaction with other children. This is a bonding experience that a child can share and lead to friendships based on interaction. All of our toys do not require your child to have a friend in order to use them.

Whether playing with others or playing solo, we understand that there is nothing more precious than a child and his or her learning ability. One mission of our toys and gifts for 6 year old girl is to bring together family and friends to enjoy the little moments in life. Our toys will never harm the mental stability of a child but enhance it to a greater degree.
q:

It is required to purchase more than one toy from your site?

a:

While we would love for you to find enjoyment in all the toys that are available, it is not a requirement for you to purchase all the toys from our site. Your child can easily be happy with all the toys listed or just one. We believe in the quality of our toys and stand behind that quality 100 percent. From learning tools to play with the active imagination, we believe the quality of the toy will speak for itself. Most of our toys can grow with the child's mental and personal growth.
q:

What can we get from your toys that we can't get anywhere else?

a:

Reassurance. We take pride in the toys that we endorse because we believe in the product and what it stands for. The people who created these toys thought long and hard about what they were trying to create and why. We, as a company, stand behind their product.

From the littlest LEGO piece to the biggest scrapbook accessories, we understand that kids need to be entertained. We guarantee that our toys for 6 year old girls will not only entertain but motivate your child to be more independent and creative.
q:

Why do some of the toys have so many pieces?

a:

Giving a child a piece of paper is not ideal. Giving a child pieces of paper with crayons and stencils motivate a child to be creative. LEGOs encourage an active imagination.

It is true that some of our toys have many pieces but each piece is essential for child development. No matter how big or small, each gift for 6 year old girl is a child's guideline to embrace their creative side and share it with friends and loved ones.
q:

Do these toys require supervision from an adult?

a:

With 6 and older being the appropriate age for the usage of the toys and gift ideas for 6 year old girl on this list, it is not required that there be adult supervision. Instead, we look at it as a bonding experience between a child and their loved ones or amongst their friends.

One benefit to your child playing with one of these toys is personal fulfillment through self-acknowledgment and pretend play. One thing that brings joy to a child is knowing that they have someone who can share in their experiences and we believe that our toys will do just that.
q:

What developmental skills are most important to feature when buying a gift for my 6-year-old?

a:

It is important that the toys that you buy for your 6-year-old feature the development of fine- and gross motor skills, but also start building on their own level of independence and responsibility. During their day, they are becoming more independent and what better way to reinforce that than through play.
q:

Where can I purchase the toys and gifts listed for 6-year-old girls on this webpage?

a:

You can purchase the gifts for 6 year old girls by clicking the link directly located below the product. The link goes directly to the website where the items can be purchased and shipped to a location of your choice.
q:

Should the toys that I give my 6-year-old challenge her mentally or physically?

a:

Toys that you give your child should always challenge them mentally and physically but not always at the same time. It is great to offer them different toys that challenge them in different ways. That way, the toys can be used at different times. During quiet times, mentally challenging toys can be used and when it is time for playtime more physical toys should be used. This gives them a great balance of both.
q:

Are all the toys that are listed on the page for 6-year-old girls reviewed by your team?

a:

Each of the toys listed on our site has been reviewed. This ensures that the toys are not only correct for the age group that we suggest them for, but also safe too. Each of the toys goes through several types of evaluations before making the list.