"Screen time" has something of a bad reputation these days, and we'd like to dispel the myths that any time your child is sitting in front of technology, they're essentially frying their brains or losing valuable time. Many tablets these days are designed with apps that are specifically geared towards improving your child's academic success and helping them along developmentally. If you're still on the fence, take a look for yourself: below, we've gathered ten of the most popular kids' tablets on the market. Load these up with games you feel good about! It doesn't always have to be work OR play; sometimes it's just both.
Our Top 3 Picks
Fire 7

Our rating
7
Price:

See Here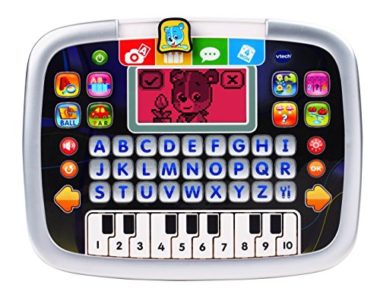 VTech Little Apps

Our rating
12 Educational Apps
Price:

See Here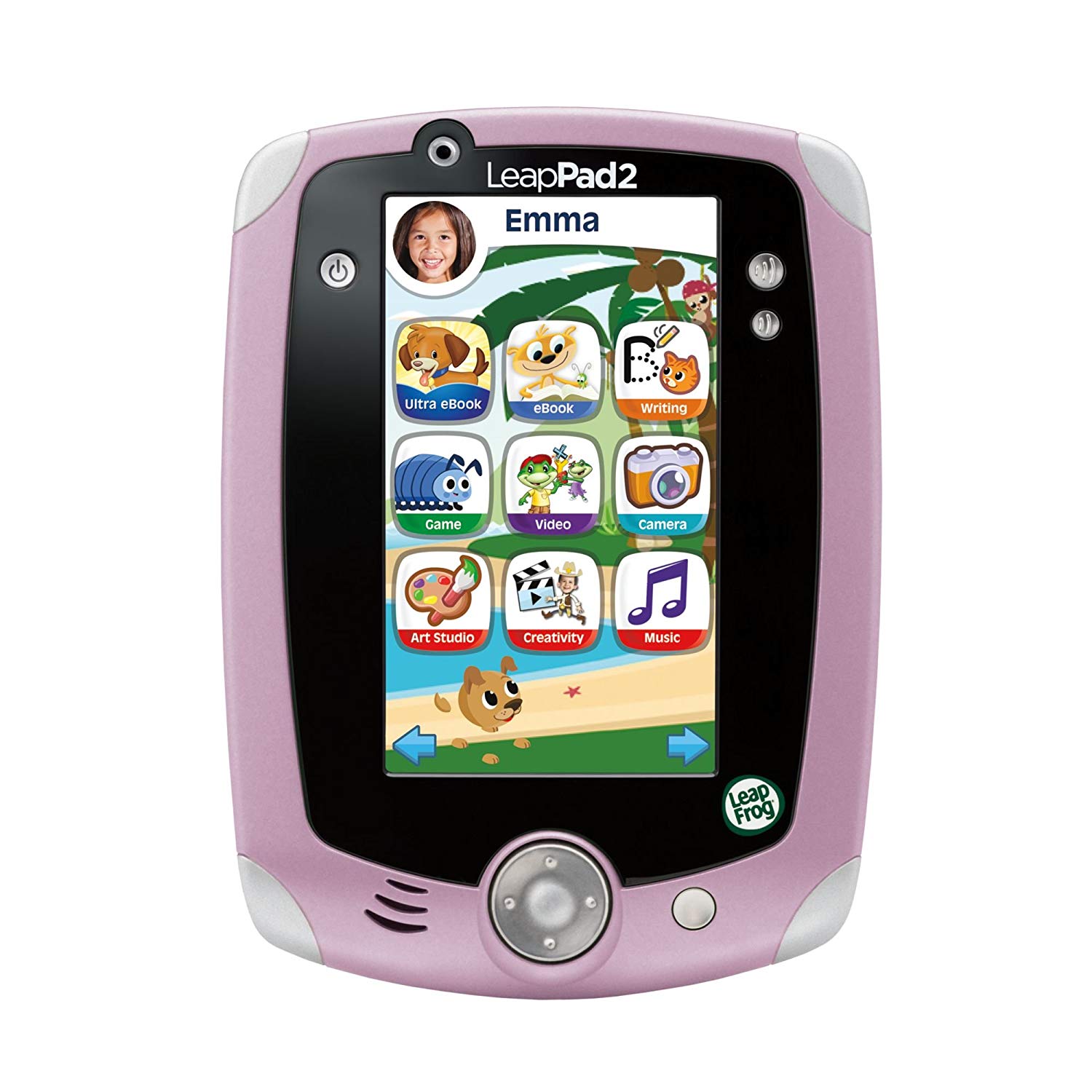 LeapFrog LeapPad2

Our rating
5 Fun Learning Apps
Price:

See Here
Fire 7 Kids Edition Tablet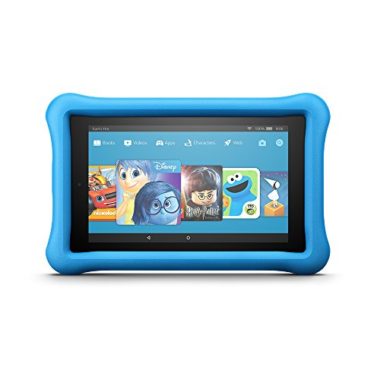 LeapFrog LeapPad2 Explorer
All-New Fire HD 8 Kids Edition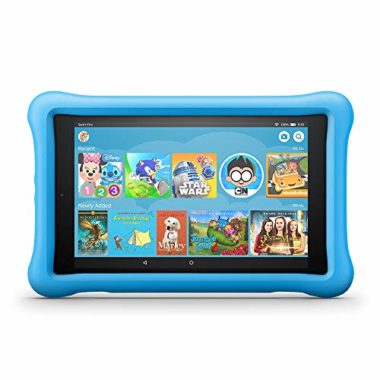 Age Range: At least 3 years old
Galaxy Tab E Lite Kids 7 Inch Tablet by Samsung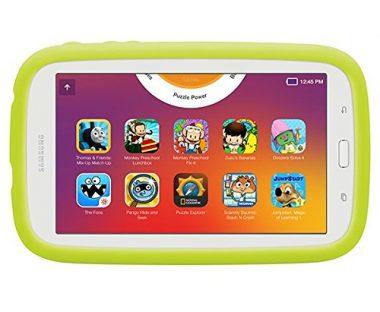 Age Range: 3 to 10 years old
VTech Light-Up Baby Touch
Age Range: 2 to 6 years old
7 Inch Kids Tablet Disney Edition
Age Range: 3 to 8 years old
Age Range: 1 to 3 years old
Write and Learn Touch Tablet
Age Range: 3 to 6 years old
Fisher-Price Laugh & Learn Smart Stages
Age Range: 2 to 6 years old
Criteria Used in Evaluation of the Best Kids Tablet
Kids in the modern age are exposed to technology at younger and younger ages. We let our children use old phones and devices to play with. Our children watch us use our devices and they try to imitate us because they want to be like us. We should provide our children technology designed for kids to allow them every advantage technology today can provide. Each generation is more technology advanced than the last. Our younger generation has more and more influence on our technology for tomorrow.
While making this list, one of main goals, was to ensure the safety and education of your child while using a tablet. Children love games and we want to make sure parents have the best educational games and tools tablets today can provide. When we make sure our younger generation has the best education and tools we can be sure humanity will benefit was a whole. Digital parenting is now the norm in society. Parenting is easier today with the tools we have to save time on shopping or running errands.
We choose these tablets on this list depending on the amount parents can spend, how much educational content you would like to provide your child, and your child's technical ability. We also kept in mind parents technical ability and preferences. We also kept security of your child in mind. So we made sure to add tablets that had no wifi to tablets that were full featured with bluetooth technology.
BASIC RESEARCH
Our research is based on kids needs and how technology can be tools to assist modern parents today. With some parents concerned kids are experiencing technology in excess, they just do not know there are tools in place such as parental controls and password protection to give parents the full control they need to protect their children. We wanted to provide parents with the knowledge they need to make the informed decisions of using digital parenting tools confidently and safely.
What Determined the Best Tablets for Kids in Our List
Coming up with a collection of the best tablets for kids has been a real challenge since there are a lot of products that can easily vie for the title. However, we had to look at several things to help us provide you with a comprehensive list.
First on our list of parameters was the overall reception the product has generated over the course of its availability in the market. While those that have garnered thousands of positive reviews were automatically included in the final listing, we still looked at the performance of other products with respect to how well consumers evaluated them.
The second parameter in our list is the child-friendliness of the tablet's user interface. Since tablets are touch-sensitive devices, it was crucial that the screen be sensitive enough to allow for ease of navigation and scrolling. Furthermore, it should also have adequate child-proofing technology especially if the device is primarily intended for younger kids. Adequate protection against sudden impacts and accidental falls were of paramount importance. For devices designed for older children who may already have a basic understanding of how to properly care for their electronic gadgets, shock proofing is not an absolute necessity but is nonetheless, a welcome option.
Third, we had to look at the educational content of these kid friendly tablets. While everything can be accessed on the internet, we thought that tablets with dedicated child-friendly websites and apps are a lot better alternatives to mainstream online content; although parental filtering options can still be setup. In addition to the educational value of these devices, we also looked at other built-in features which we think will benefit children in their discovery of the world around them. The developmental benefits of these features were individually analyzed to match the developmental patterns of the recommended age group of the device.
Tablet Technology and Kids' Development
While there are some groups who strongly advise against the use of mobile technology in today's child care and education, experts believe that we can still safeguard our children against some of the many pitfalls of these technologies. As there are risks, there are also a lot of learning benefits of tablets especially on kids' development. Here are some of the things that today's tablet technology can contribute to children's development.
The use of touchscreen technology greatly improves children's motor skills including fine motor control, spatial intelligence, and hand eye coordination. The tactile nature of tablet screens can also aid in optimum sensorimotor development.
Learning content found in tablets can help children with their reading and writing skills as well as give them the opportunity to try out their problem solving and numeracy skills through apps and games.
For younger children, tablet apps can help lay the foundation for the recognition and mastery of letters, numbers, colors, and shapes which will form the basis of different cognitive processes in the future.
Tablet applications can also help stimulate children's imagination and creativity. This can help build their divergent thinking skills as well as logical and rational reasoning. These are crucial in the development of scientific problem-solving skills.
Tablet apps and programs can also expand on real-life experiences by providing your child with the opportunity to use the device in conjunction with both imaginative and physical play.
The Bottom Line
With education leaders and child care experts already weighing in on the issue as to whether a tablet or any other internet-enabled device is beneficial for kids or not, it's not surprising that more and more parents are scrambling to find the best tablet for their kids. Just look at our 10 best tablets for kids and we guarantee you'll find one just for your child.
You May Also Like
6 Best iPad Cases For Kids
10 Cool Gadgets For Kids
FAQ
Frequently Asked Questions
Q: Is Siri included in the iPad Mini?
A: Yes! Press and hold the home button anytime you need to use Siri.
Q: Does the iPad Mini have an HDMI slot for connecting to another device like a TV?
A: No. Unfortunately there is no HDMI support available.
Q: Does the iPad Mini have iOS7?
A: Yes! Check the manufacture date on your device to confirm.
Q: Is the Galaxy Tab E Lite Kids Tablet by Samsung water resistant?
A: Unfortunately no. While there are cases you can buy to make this water resistant, the tablet itself is not.
Q: Does the Laugh and Learn Smart Stages Tablet by Fisher-Price have wifi?
A: No. But that's also the best part. The internet can not be accessed by this tablet so you know your kids are safe from any hackers or inappropriate content on the internet.
Q: Is the stylus attached to the LeapFrog LeapPad Glo Kids Learning Tablet?
A: Yes! Its is conveniently attached to the tablet by a string.