10 Best Dinosaur Toys in 2019
last updated
May 20, 2019
Dinosaurs are one of those timeless toys. No matter how old your child is when they see a dinosaur they stop to check it out. I mean what is not to love about them. They are prehistoric creatures that are huge and downright cool. Whether your child is an inspiring paleontologist or just loves to play with dinosaur toys this list has been created for them. The options are endless and the possibilities are timeless, but making a decision on what dinosaur toy to buy them is still a challenge. We have compiled a list of the Best Dinosaur Toys because we love dinosaurs, too.
In a Hurry? The test winner after 42 hrs of research
Lego Creator Mighty Dinosaurs
Why is it better?
3 different types of dinosaurs
Made of durable plastic
There are many different parts and features so kids can create imaginative dinosaurs
Bright colors make up the different dinosaurs
In a
Hurry? Editors choice:
Test Winner: Lego Creator Mighty Dinosaurs
21
Researched Sources
47
Reviews Considered
42
Hours Researching
23
Products Evaluated
Design
Entertainment Value
Value
By Default
10 Best Dinosaur Toys Reviewed
1

. Lego Creator Mighty Dinosaurs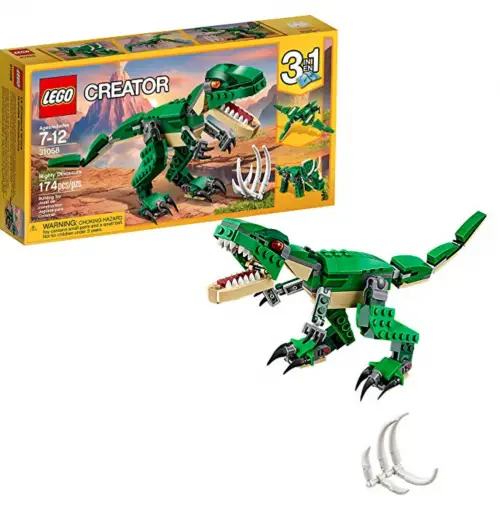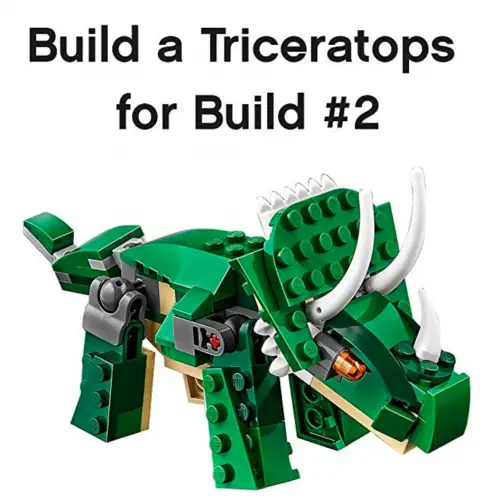 3 different types of dinosaurs
Made of durable plastic
There are many different parts and features so kids can create imaginative dinosaurs
Bright colors make up the different dinosaurs
This toy has a lot of small pieces
Not suitable for all ages
The best part about this playset is it is a 3-in-1.
Read more
Design
It can be transformed into a Pterodactyl, Triceratops and T Rex. Kids can even mix and match with all the different pieces, creating their own type of dinosaur. All of the pieces are made of durable plastic, so it is difficult to break. The pieces are small, so toddlers should be kept away from this toy.
Value
Relatively inexpensive, this toy is great for a gift or present. Kids will enjoy getting to play with more than one type of dinosaur and delving into their imaginations for the land before time. Plus, these creatures will last your children for a while as they can endure wear and tear.
Entertainment Value
Bright orange eyes, big teeth and large claws - oh my! While these dinosaurs could be scary if they weren't toys, they are entertaining for kids 7 and up. This can inspire imaginative play and keep little ones occupied for hours. Plus, with three different dinosaurs to build, kids will be constantly entertained with the ability to mix and match.
2

. Mega Fossil Mine – Dig Up 15 Real Fossils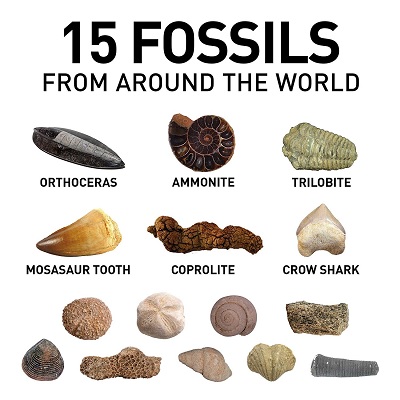 Features detailed fossils of 15 different items
Set includes a chisel, magnifying glass, and brush
Complete learning activity with a guide that illustrates fun fossil facts
Promotes strong hand-eye coordination development
Encourages cognitive-building exercise
Some sets do not include 15 different fossils
Stone that fossils are featured in is very hard, some adult supervision may be required
There is something so fun about digging for fossils that are over a million years old at your kitchen table with your kids. This set is a paleontology-inspired set that includes all the fun tools of the trade--chisel, magnifying glass, and brush.
Read more
Design
Everything that is needed to excavate the incredibly detailed fossils has been included and is ready to go. Also featured in this set is a learning guide that has 16 pages of illustrated fossil facts. The facts include details about how fossils are formed and how to identify each different specimen. This is a complete learning set that is guaranteed to keep them digging for more information.
Entertainment Value
Whether you have an inspiring young paleontologist or a kid that just loves to get their hands into things, this is just the set for them. The exciting science factor, tools, and learning guide make this a great learning experience that is not only a wonderful cognitive-building exercise but promotes strong hand-eye coordination development. This is sure to be an experience that your child will always remember.
Value
This is a great activity for the whole family. Everyone will love having a chance to find something different while using the cool tools that are included. This is an all-around good buy.
3

. Dinosaur Toys for Boys and Girls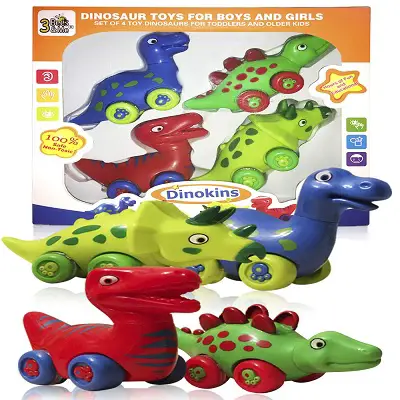 Set includes four different prehistoric dinosaurs
Each dinosaur is constructed from kid-friendly materials; BPA-, lead-, and phthalate-free plastic
Brightly colored using primary color schemes
Encourages fine-motor-skill development
Promotes imaginative and creative playtime activity
Dinosaurs feature wheels as legs; wheels are constructed from thinner plastic
One dinosaur features spikes on the back, spikes can be broken off easily
For those dinosaur lovers-in-the-making, this is a toddler-friendly and super-cute set of four dinosaur toys. Each of the dinosaurs has been constructed from kid-friendly plastic (BPA-, lead-, and phthalate-free) and feature all the cool details of the prehistoric age. The bright colors used like red, blue, and green make them easy to see and they can be used as educational toys in many ways.
Read more
Design
They have been well-constructed, making them super-sturdy and durable for the littlest hands, plus they easy to grasp and carry along anywhere. This set of dinosaurs is something that you will find even your older kids playing with. They are just as kid-friendly as can be.
Entertainment Value
Toys are an awesome way to provide kids with an interesting learning tool that enhances the experience. This cute set of four dinosaurs is great for the little guys and girls to get started learning about prehistoric times and the history of our Earth. The advantage of using fun and playful toys always enhances their development of motor skills and creativity.
Value
Toys that meet the needs of a large age span are always a nice thing to purchase for a growing family. This set is a great addition, not only to the play time activities but also they bring together some fun educational inspiration as well.
4

. Pretex Realistic Dinosaur Pack of 12

12 different types of dinosaurs
Made of bright colors
The dinosaurs are made of durable plastic
The book provides facts to keep kids occupied
The paint on the dinosaurs comes off after a lot of use
Some of the dinosaurs are made of hard plastic
Not only does this set come with 12 dinosaurs, it also comes with a book so your kiddos can learn about these giant creatures.
Read more
Design
Bright colors and based on real dinosaurs, these are great for educational and play purposed. The book itself is made of strong paper and has many bright colors, so kids will enjoy looking at the book even if they can't read.
Value
12 dinosaurs and a book that provides education facts about dinosaurs - what more could a parent ask for? Plus, this item is on the lesser expensive end of our choices on this list, so it is of great value. With a variety of dinosaurs to choose from, you get more bang for your buck!
Entertainment Value
Kids will enjoy using these 12 dinosaurs with imaginative play scenarios. There are dinosaurs with different shapes and colors, big and small, scary and nice-looking - this set really has it all! Then, after playing with all of the different dinosaurs, kids can learn about the dinosaurs they just brought to life. The book is entertaining and educational.
5

. Kidtastic Dinosaur Building Play Set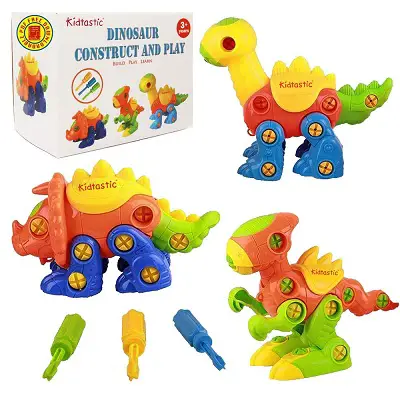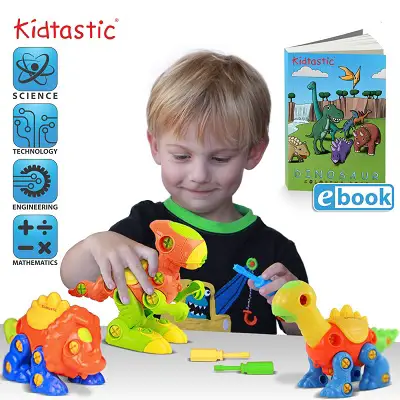 Set features three buildable dinosaurs
Includes 106 pieces
Packaged dinosaurs come fully assembled
Features downloadable coloring book
Enhanced STEM learning experience
Pieces that make up the dinosaur are small in size
Hard to get apart for the first time
This is an early-learning toy that will offer hours of endless play options. This set includes all the parts, tools, and guides to create three different dinosaurs. There are moe than 106 pieces in the entire set. When they come to your little one, each of the dinosaurs are completely built and ready to play with. When your children are ready to explore, they can take the models apart and rebuild them.
Read more
Design
The kid-size dinosaurs come with kid-sized screws and screwdriver, plus they have also included a bonus downloadable coloring book for some extra play time fun. All the pieces that the dinosaurs have been constructed with are washable so don't be afraid to let them get them dirty. Whether building or playing with these, the kids will have a blast.
Entertainment Value
These dinosaurs offer an educational experience that provides them with a STEM learning experience. The development of the brain and their childrens' success starts at birth. Providing children with toys that focus on their success in a positive environment provide learning experiences that test their skills and boost that cognitive development.
Value
Often when kids receive toys, they either need to be built or they are not meant to come apart, but this is completely different. It totally changes the toy game and they love it.
6

. Giant T-Rex Dinosaur Stuffed Animal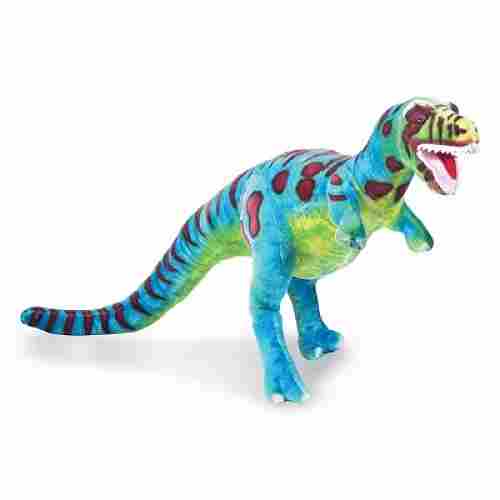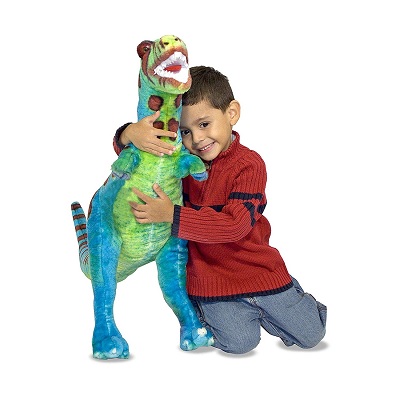 Super plush T-rex dinosaur toy
Constructed from top-quality detailed polyester fabric
Features a durable and sturdy design that is great for kids of all ages
Figure stands upright on two feet
Promotes imaginative playtime
Constructed with a wire frame that can come out of the fabric
Legs can easily break
Prehistoric fun and king of the playroom! This adorable plush T-rex is a great addition to any kid's toys collection. The plush toy is very soft and has been created from top-quality, colorful and detailed fabric.
Read more
Design
The details in the fabric display all the cool features of the prehistoric dinosaur. The construction of the dinosaur is super-sturdy and durable, yet still super-soft, making this T-rex not only fun to play with, but rewarding for hugs as well.
Entertainment Value
The Melissa & Doug Giant T-Rex Dinosaur is a great addition for your child's dinosaur toys. The stuffed toy will last a lifetime and survive the washing machine thanks to its quality strong construction. It's lifelike size can give your child a personal connection to T-rex because it'll feel real to them. As big as it is, there's no need to worry about the toy getting in the way because it can stand on its own two legs. The toy also helps encourage the imagination because this toy can become your child's best friend.
Value
The soft, cushiony materials make it ideal as a sleeping aid especially for young children. It has a very colorful body which can help kids reinforce their color recognition. Also ideal for imaginative and make-believe play.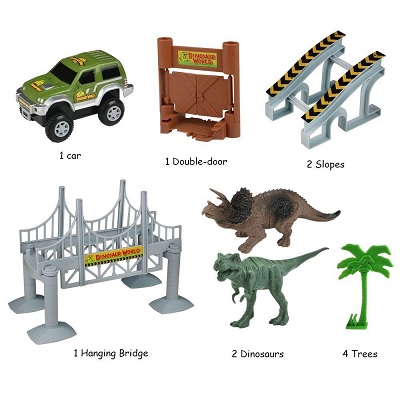 Dinosaur themed race car track set
Flexible track can be turned, twisted, and formed to make different tracks
Constructed from environmentally friendly materials
Set includes track, dinosaurs, car, trees, door, slopes, and bridge
Encourages development of creativity
Car eats through batteries quickly
Hanging bridge does not stay together well
Creating and designing a customized dinosaur track is fun with this set. It is a premium race track that will spark their curiosity and stimulate their minds. The track easily twists, flexes, and snaps together to create many different combinations. The track can even be looped in a 360 degree circle to create a rolling forward track.
Read more
Design
The possibilities are truly endless. All of the tracks have been designed to be able to be put together easily and also taken apart easily. Plus they are also compatible with other magic tracks that are available on the market. From running the car, hitting the doors, rushing over the bridge, then in and around the dinosaurs this track is going to be a huge hit with the little and big ones. The toys included with this set have been constructed from environmentally friendly materials and are not harmful to anyone playing with them. Included with the set you will find 142 pieces of race car track, 2 large dinosaurs, a car, 4 trees, a door, and one bridge that hangs. From tracks to dinosaurs this set will be loved by everyone.
Entertainment Value
Toys are a wonderful way to stimulate kids' minds and also allow them to be able to express their creativity. This dinosaur themed race track with flexible race track is great for that. They can create and explore with the different ways that the track bends and flexes. Once set up their imaginations will go wild.
Value
This dinosaur themed track set is wonderful for everyone in the family. It can be played with by big and little kids and the dinosaurs that come with the set are neat and have a lot of details.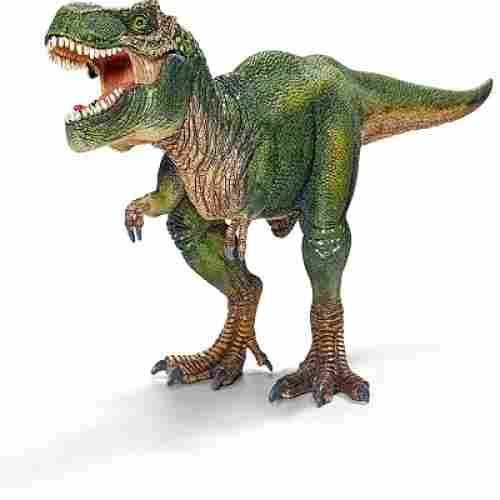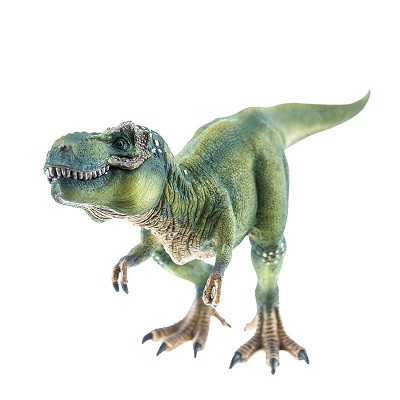 Enhances creative thinking
Encourages the imagination
Sense of realism
Easy to operate
Quality, strong build
Movable jaw might become stuck
Might be too small for some children
If you want a realistic-looking Tyrannosaurus rex, then you simply have to get the toy dinosaur from Schleich. This very realistic replica of the most fearsome and most famous dinosaur of all time can help your kids expand their full imaginations as they pretend roaming the jungles of the Jurassic Period in search of the T-rex's prey.
Read more
Design
Hand-painted with such realism, the Schleich T-rex makes for a very interesting display piece. It's made of high-quality vinyl plastic. The Schleich Tyrannosaurus Rex offers a strong sense of realism which can help your child develop a better understanding of dinosaurs.
Entertainment Value
Made out of a quality, strong build, the toy can last a lifetime and the easy operation can help your child's fine-motor skills develop. The toy enhances creative thinking and can encourage the imagination by being a great asset in a child's pretend play. Your child we come to love and appreciate the popular T-rex dinosaur.
Value
The sense of realism is extraordinary. This can help enhance the imaginative and make-believe play of children and can help strengthen their counterfactual reasoning and divergent problem-solving skills. It is also ideal for encouraging creative thinking.
9

. Light Up and Walking Realistic Dinosaur with Sound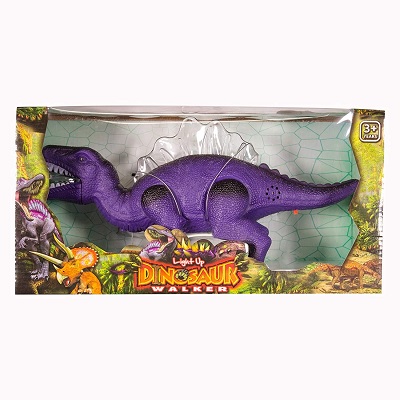 Interactive dinosaur--lights up, walks, and roars
Features LED lights--red, green, and blue
Light-up features in clear spike down the back, eyes, and tongue
On-off switch to control sound, lights, and movement
Promotes fine-motor-skill development
Dinosaur sounds play the entire time it is on
Batteries come too lose in the compartment
It walks, talks, and lights up. What a truly magically experience kids will have playing with this dinosaur. The Jurassic experience will really be felt when they are playing with this one. It walks on its own, roars like a fearless dinosaur, and lights up the room. The LED lights are blue, red, and green and are used to illuminate each of the clear spikes that run down the whole back.
Read more
Design
It also has flashing lights in the eyes and tongue. It comes in purple and black. The on and off switch is used to get it up and moving, roaring and lighting up. It is best suited for children over the age of 3. It takes three AA batteries that have been included. If you are looking for a dinosaur that has offered an interactive experience, then this is just the one for your little one.
Entertainment Value
Playing with an action figure or small toys on the floor or at a table stimulates the movements in the body that practice motor-skill development. Movements that are used with the hands and fingers are great practice for fine-motor skills. Picking up and moving the figures and toys around is one the best movements to hone in the developmental skill.
Value
Lights, sounds, and action-packed playing come with this dinosaur. It lights up, roars, and moves along the floor. It offers an interactive experience that most plastic dinosaurs on the market don't.
10

. Dinosaur Collector Toy Box & Play Set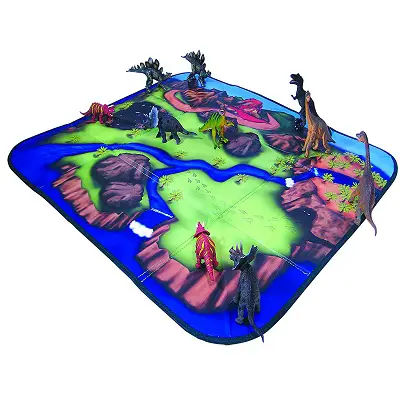 Collector box that holds up to 160 dinosaur toys
Constructed to be stackable, strong, and sturdy
Converts into a fun play mat with prehistoric graphics
Features two dinosaur action figures with a set
Promotes imaginative playtime
Box sides are secured with Velcro that can become loose over time
Review dimensions before purchasing, the box is made to be storage-and-carry friendly
Taking their dinosaur collection with them can be a challenge, but not with this collector box. Not only can they take the toys along, but once there, the box unzips into a colorful and fun play mat. The play mat features graphics that display a prehistoric scene that inspires play time. The collector box has been constructed to be stackable, sturdy, and strong.
Read more
Design
Featured with the collector box are also two dinosaur figures that come along with the set. Each box can hold approximately 160 or more dinosaurs along with other toys. Storing and taking their toys along will never be as easy as this collector box makes it.
Entertainment Value
The ZipBin 160 Dinosaur Collector Toy Box & Play Set is a great way for your child to keep their dinosaurs in place. The convertible box provides ease of use as it can go from a storage box to a colorful play mat. It also provides easy storage and can fit perfectly within closets and corners. The play set also helps encourages the imagination with two included dinosaurs that can be used with the playmat which mimics prehistoric earth. It's also easy to clean, just wipe and go!
Value
It already comes as a toy box so that in itself is already a very big plus. Additionally, the idea that it can be converted into a play mat is something that is also extraordinary. At the very least, you don't have to worry about buying a separate play mat.
Criteria Used for Evaluation
Design
Dinosaur toys should be educational. An educational dinosaur toy can help a child to develop an appreciation for dinosaurs. So many children are taught that dinosaurs were big and scary and while it's true that plenty of dinosaurs were predators, it's also true that dinosaurs were an integral part of the earth's ecological and biological systems. An appreciation of dinosaurs can teach children to respect dinosaurs' modern-day descendants such as the crocodile and komodo dragon.
Entertainment Value
Dinosaur toys should help encourage and enhance a child's imagination. Imagination is an important key in a child's playtime and a dinosaur figure that doesn't invoke the imagination could destroy a child's interest in dinosaurs. Dinosaur toys that give great imagination are colorful, realistic, lifelike, and come with extras if possible. Such things can help a child who loves dinosaurs to create their very own Jurassic Park world.
Value
Choosing the best and most popular dinosaur toys for kids is not really easy. Sure, everyone knows the T-Rex and the other species of the Jurassic and Cretaceous periods but we also had to look at other giant creatures like brachiosaur, triceratops, brontosaur, and pterodactyl, just to name a few. Of course, these are merely toys but we had to make sure they are nevertheless developmentally appropriate for the age group that they are designed for. We then had to look at the toymaker's reputation and credibility. If there are any indications of awards or certifications related to the design and manufacture of such toy dinosaurs, then we had to carefully consider that as well. Of course, we had to look closely at what other people are saying about these products. Overall, the whole process of identifying and scrutinizing each product took us quite a long time to complete. Nevertheless, we were able to accomplish it giving rise to our now famous top 13 dinosaur toys for children of all ages.
Most Important Criteria
(According to our experts opinion)
Experts Opinion
Editors Opinion
Users Opinion
By Default

Parents, Did you Know?
Studies have shown that kids that LOVE dinosaurs helps develop their curiosity and sparks the imagination-based play. Both developmental skills are known to help them explore other topics later in life.
Parents, Did you Know?
Having an intense interest in dinosaurs does not necessarily mean that your child will become a paleontologists, better yet it helps them explore their interest is so many other things. There are so many things that goes into exploring the world of dinosaurs.
Other Factors to Consider
Frequently Asked Questions
q:

What kind of dinosaur toys are available?

a:

There are a variety of dinosaur toys for you child. Dinosaur toys based on movies and shows are very popular and dinosaur toys that are made for STEM learning are another great option. Selection in dinosaur toys goes beyond the theme of the toys and can focus on detailed options such as the colors, material, size, and even if the toy is solid or hollow.

Dinosaur toys can be either interactive, non-interactive, or even a combination of both and dinosaur toys can also be collectible figurines or plush toys as well.
q:

How can dinosaur toys help my child?

a:

Dinosaur toys can help your child to learn about dinosaurs. Learning about dinosaurs helps to develop an appreciation for Earth's biological and ecological system and all of the creatures that come with its past and present. Dinosaurs toys can also help your child to build a foundation in science as the dinosaurs are one of the first science lessons your child will learn in school. Dinosaur toys can give your child an academic advantage as well.
q:

What's the difference between interactive and non-interactive?

a:

Interactive dinosaur toys are usually battery-powered and come with extras such as apps for smartphones and tablets. Some interactive dinosaur toys also come with remote- control ability, light-up features, and even special effects.

Non-interactive dinosaur toys are not battery-powered and do not come with any electronic extras. Non-interactive dinosaur toys are usually hand-held and soft and if they do come with extras, it's analog extras such as a coloring book or playmat.
q:

What are the benefits of interactive and non-interactive dinosaur toys?

a:

Interactive dinosaur toys can teach your child learn how to use electronics, which helps develops your child's problem-solving skills. Interactive dinosaur toys also can help develop your child's fine-motor skills because such toys usually come with a variety of devices with buttons to operate.

Non-interactive dinosaur toys can help develop a child's imagination and creativity because such toys can be easily touched and used. Non-interactive dinosaur toys are usually colorful, soft, and manageable so your child can play with them easier and without fear of breaking them. Non-interactive dinosaur toys can be taken anywhere and can help develop a child's senses plus their cognitive skills.
q:

Does it matter the size of the dinosaur toy?

a:

It only matters to your tastes and preferences. Small dinosaur toys can be great for display purposes, storage, and portability–Your child can easily take a small dinosaur toy to the park with them. Large dinosaur toys can be great for play room enhancement, lifelike play buddy, and a body pillow during nap time.
q:

Where else can I discover dinosaur toys?

a:

Start with the dinosaur toy list: Click the link of the dinosaur toy that interests you and when you arrive at the Amazon page for the dinosaur toy, scroll down to the "Customers Who Viewed This Item Also Viewed" OR "Customers Who Bought This Brand Also Shopped For" lists. Those two lists can give you a great starting point in discovering other dinosaur toys.