Dinosaurs are one of those timeless toys. No matter how old your child is when they see a dinosaur they stop to check it out. I mean what is not to love about them. They are prehistoric creatures that are huge and downright cool. Whether your child is an inspiring paleontologist or just loves to play with dinosaur toys this list has been created for them. The options are endless and the possibilities are timeless, but making a decision on what dinosaur toy to buy them is still a challenge. We have compiled a list of the Best Dinosaur Toys because we love dinosaurs, too.
Our Top 3 Picks
Tyrannosaurus Rex

Our rating
Incredibly Realistic Detailing
Price:

See Here
Schleich Tyrannosaurus Rex

Our rating
Movable Lower Jaw
Price:

See Here
The Good Dinosaur 6 Figure Play Set

Our rating
For Children Ages 3+
Price:

See Here
Our Picks For The Top Dinosaur Toys Your Kids Will Love
Fisher-Price Imaginext Ultra T-Rex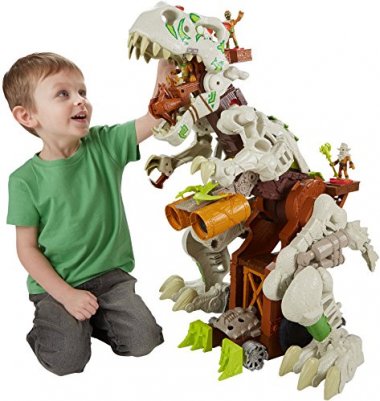 Mega Fossil Mine – Dig Up 15 Real Fossils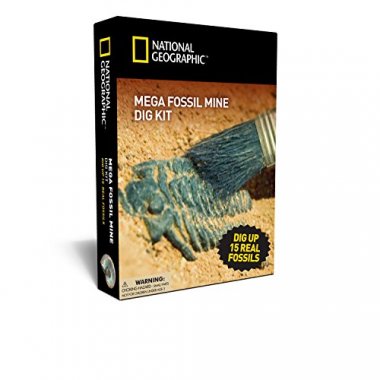 Dinosaur Toys for Boys and Girls
LEGO Creator 3in1 Mythical Creatures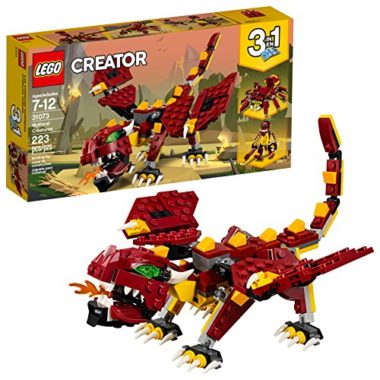 Age Range: 3 to 15 years old
Light Up and Walking Realistic Dinosaur with Sound
Age Range: At least 3 years old
Kidtastic Dinosaur Building Play Set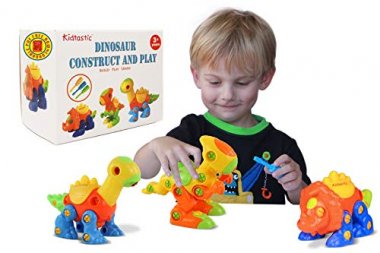 Age Range: At least 4 years old
Giant T-Rex Dinosaur Stuffed Animal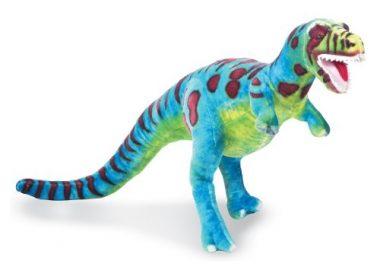 Age Range: 3 to 15 years old
Dinosaur Collector Toy Box & Play Set
Age Range: 3 to 8 years old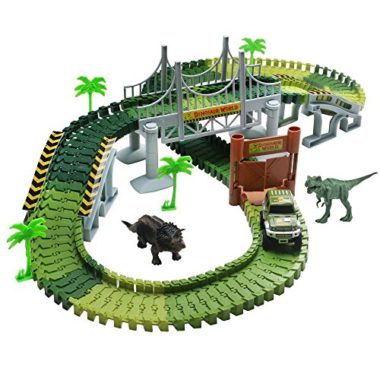 Age Range: At least 3 years old
Criteria Used in Evaluation of the Top Dinosaurs
Educational
Dinosaur toys should be educational. An educational dinosaur toy can help a child to develop an appreciation for dinosaurs. So many children are taught that dinosaurs were big and scary and while it's true that plenty of dinosaurs were predators, it's also true that dinosaurs were an integral part of the earth's ecological and biological systems. An appreciation of dinosaurs can teach children to respect dinosaurs' modern-day descendants such as the crocodile and komodo dragon.
Safety
Dinosaur toys should be safe and toxic-free like any other toy. There are dinosaurs toys that are cheaply made, resulting in toys that are toxic and unsafe. There are an abundance of reviews from parents of dinosaur toys coming apart after a few uses because the toy components were simply glued together. An unsafe dinosaur toy could damage a child's love for dinosaurs forever.
Imagination
Dinosaur toys should help encourage and enhance a child's imagination. Imagination is an important key in a child's playtime and a dinosaur figure that doesn't invoke the imagination could destroy a child's interest in dinosaurs. Dinosaur toys that give great imagination are colorful, realistic, lifelike, and come with extras if possible. Such things can help a child who loves dinosaurs to create their very own Jurassic Park world.
Age Appropriate
Dinosaur toys should be age-appropriate. Not all dinosaur figures are made for children. Some are made for hobbyists, collectors, and the classroom. An age-appropriate dinosaur toy for a child can be touched, played with, and taken anywhere. There are also display-only dinosaur figures that aren't made to be toys and some dinosaur figures can be so complex and advanced that it might end up boring the child instead of exciting the child.
Child Development
Dinosaur toys should help with a child's development. Dinosaur toys for toddlers can help a child develop their creativity, problem-solving and motor skills, and cognitive abilities. This is especially important for interactive dinosaur toys that are battery-operated and include extras such as educational tools or app features. Non-interactive dinosaur toys, however, still have an important role to fulfill in a child's development even if it is as simple as developing the child's ability to play pretend.
What Determined the Top Dinosaur Toys in Our List
Choosing the best and most popular dinosaur toys for kids is not really easy. Sure, everyone knows the T-Rex and the other species of the Jurassic and Cretaceous periods but we also had to look at other giant creatures like brachiosaur, triceratops, brontosaur, and pterodactyl, just to name a few. Of course, these are merely toys but we had to make sure they are nevertheless developmentally appropriate for the age group that they are designed for. We then had to look at the toymaker's reputation and credibility. If there are any indications of awards or certifications related to the design and manufacture of such toy dinosaurs, then we had to carefully consider that as well. Of course, we had to look closely at what other people are saying about these products. Overall, the whole process of identifying and scrutinizing each product took us quite a long time to complete. Nevertheless, we were able to accomplish it giving rise to our now famous top 13 dinosaur toys for children of all ages.
From Jurassic Park to Kids' Imaginations
Dinosaurs always have had a very fearsome reputation. Some of their direct descendants still roam the planet in pretty much the same way as they once did. For example, the largest-known lizard, the Komodo dragon, has a very terrifying character. However, you don't even have to travel to Indonesia to know that the dinosaur's most distant relative, the crocodiles, caymans, and alligators, all have equally fearsome reputation. These creatures strike fear in many of today's children. Animal experts all agree that it is up to us to help educate children about these animals.
Enter the non-threatening environment of Barney and Friends, the Land Before Time, and Dinosaurs and our children today have a more or less positive experiences related to dinosaurs. Child developmental psychologists say that the toned-down approach to learning about these prehistoric animals can be quite effective, especially among children. The use of friendlier tones of voices plus the use of vivid colors can all help to project a more non-threatening nature of these animals. This allows kids to approach such living organisms with a much more open mind simply because they are no longer dictated by preconditioned fear.
Compared to adults who may think that dinosaurs are vicious man-eating creatures, the gentle nature of many toy dinosaurs present these animals to children in such a way that their imagination is brought to the fore. Sure T-Rex will still have its gnarly menacing razor-sharp teeth but these have all been subdued in such a way that they resemble the teeth found in ordinary human beings. If you don't believe us, try imagining Barney, Baby Bop, or even B. J. complete with razor-sharp canines and lateral incisors. Do you think kids will learn to love them? The point is that much of today's children's dinosaur animation has clearly tamed the wild in these animals, making them friendlier than a pitbull terrier or even a squirrel.
Playing with dinosaurs can have two very important benefits for children. First is the realization of the existence of prehistoric animals that once ruled the Earth. All of these animals are no longer around for us to really appreciate them. The closest children will ever get to see a real-life dinosaur is by visiting one of those museums of natural history where they exhibit fossil remains of these ancient animals. Unfortunately, doing so will leave a lot of things to the imagination. The young mind will have to fill in the gaps and spaces with makeshift flesh and hardy leather-like skin complete with scales and other anatomic features. Now, of course, the second best thing is to really play with toy dinosaurs that mimic their sound as well as their movement. This helps children realize that these animals are essentially just like any other living organism. They still require food and water and they needed to have some form of protection against predators in the wild.
The second benefit is primarily focused on the use of children's imaginations. It is through imaginative and make-believe play that children can create their very own fantasy world where dinosaurs roamed the Earth and humans were merely another part of the larger ecosystem. They can start pretending to be Little Foot or even Dino from the Flintstones. It is in using their imaginations that kids tend to begin appreciating causal relationships and the power of deductive reasoning and of establishing patterns of predictions. They begin to understand some of the unique characteristics of certain dinosaurs that make them ideal in certain ecosystems. This allows them to explore their creative and imaginative thinking.
When played with other children, toy dinosaurs can be a great conversation piece. Children can expand their vocabulary allowing them to better communicate their thoughts and feelings to fellow children as well as to their parents and other grownups. As they harness their language and communication skills, they begin to understand the importance of social interaction and how this can lead to improved self-confidence and self-esteem. In a way, it is through social interaction that children learn to appreciate their own happiness and sense of contentment.
The Bottom Line
There are many reasons why people look to toy dinosaurs for inspiration, especially in terms of helping their children grow and develop to their optimum potential. From toy dinosaurs to lovable children's dinosaur TV shows and computer games, these toned-down versions of ancient animals have become a major centerpiece in helping children grow healthier and more developmentally attuned. With our list of the top 13 toy dinosaurs for children of all ages, we are confident that you too will feel more empowered taking care of your kids.
FAQ
Frequently Asked Questions
Q: What kind of dinosaur toys are available?
A: There are a variety of dinosaur toys for you child. Dinosaur toys based on movies and shows are very popular and dinosaur toys that are made for STEM learning are another great option. Selection in dinosaur toys goes beyond the theme of the toys and can focus on detailed options such as the colors, material, size, and even if the toy is solid or hollow.
Dinosaur toys can be either interactive, non-interactive, or even a combination of both and dinosaur toys can also be collectible figurines or plush toys as well.
Q: How can dinosaur toys help my child?
A: Dinosaur toys can help your child to learn about dinosaurs. Learning about dinosaurs helps to develop an appreciation for Earth's biological and ecological system and all of the creatures that come with its past and present. Dinosaurs toys can also help your child to build a foundation in science as the dinosaurs are one of the first science lessons your child will learn in school. Dinosaur toys can give your child an academic advantage as well.
Q: What's the difference between interactive and non-interactive?
A: Interactive dinosaur toys are usually battery-powered and come with extras such as apps for smartphones and tablets. Some interactive dinosaur toys also come with remote- control ability, light-up features, and even special effects.
Non-interactive dinosaur toys are not battery-powered and do not come with any electronic extras. Non-interactive dinosaur toys are usually hand-held and soft and if they do come with extras, it's analog extras such as a coloring book or playmat.
Q: What are the benefits of interactive and non-interactive dinosaur toys?
A: Interactive dinosaur toys can teach your child learn how to use electronics, which helps develops your child's problem-solving skills. Interactive dinosaur toys also can help develop your child's fine-motor skills because such toys usually come with a variety of devices with buttons to operate.
Non-interactive dinosaur toys can help develop a child's imagination and creativity because such toys can be easily touched and used. Non-interactive dinosaur toys are usually colorful, soft, and manageable so your child can play with them easier and without fear of breaking them. Non-interactive dinosaur toys can be taken anywhere and can help develop a child's senses plus their cognitive skills.
Q: Does it matter the size of the dinosaur toy?
A: It only matters to your tastes and preferences. Small dinosaur toys can be great for display purposes, storage, and portability–Your child can easily take a small dinosaur toy to the park with them. Large dinosaur toys can be great for play room enhancement, lifelike play buddy, and a body pillow during nap time.
Q: Where else can I discover dinosaur toys?
A: Start with the dinosaur toy list: Click the link of the dinosaur toy that interests you and when you arrive at the Amazon page for the dinosaur toy, scroll down to the "Customers Who Viewed This Item Also Viewed" OR "Customers Who Bought This Brand Also Shopped For" lists. Those two lists can give you a great starting point in discovering other dinosaur toys.
The "Frequently Bought Together" section on an Amazon product page can help too.
Another option is to visit science based shops, dinosaur museums (gift shop), and toy catalogs with a focus on STEM as such places offer dinosaur gifts to purchase as well.