Best Pedal Cars & Trucks for Kids Reviewed in 2019
last updated
Aug 20, 2019
Many generations of children have enjoyed riding on or in pedal cars. Even though we have come a long way with children's ride-on toys, the classic pedals cars and trucks are still desired. The one thing that all these models have in common is having fun. The pedal cars on our list are designed to be safe for kids. They have been constructed from solid framed materials, painted with kid-friendly paints, and have included safety features like seat belts. The only difficult task that you may find is selecting what pedal car is perfect. We searched and found the best pedal cars for kids on the market. It is a complete guide with information about each including features, benefits, and what we like about them. we narrow down the choices for you and present only the best of the best for your shopping experience.
In a Hurry? The test winner after 58 hrs of research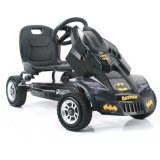 Hauck Batmobile
Why is it better?
Superhero themed pedal car
Features three point steering wheel for responsive, quick actions
Bucket seat is adjustable
Features handbrake for rear wheels
Encourages physical exercise
In a
Hurry? Editors choice: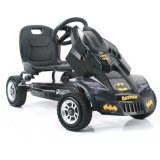 Test Winner: Hauck Batmobile
23
Researched Sources
58
Hours Researching
19
Products Evaluated
Ease of Use
Entertainment Value
Physical Development
Design
By Default
10 Best Pedal Cars & Trucks for Kids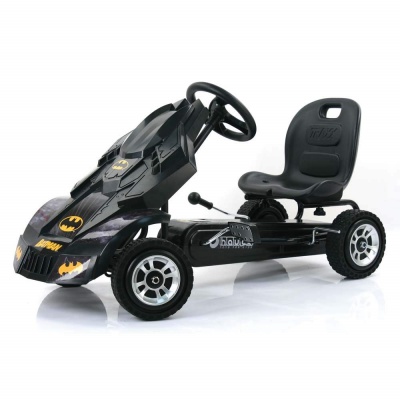 Superhero themed pedal car
Features three point steering wheel for responsive, quick actions
Bucket seat is adjustable
Features handbrake for rear wheels
Encourages physical exercise
Front plastic piece pops off very easily
Some assembly is required
The ultimate pedaling power goes kart is here. This pedal car is made up of the things that kids dream of.
Read more
It is superhero themed and created with super features that made it one of the best pedal cars. It features a steel tube frame that is sturdy and durable. The wheels have a low profile design that really gives it a stylish look. This superhero pedal car has been designed for the super kid that is 4 years or older. The lightweight design with the race style steering wheel and low profile tires give it a grip that is desired for all those high speed races. The physical exercise tones and works all the muscles in the body along with building their stamina.
Ease of use
Driving is easy with the adjustable seat that goes both forward and backward on a sprocket system. Even the smallest of children will be able to drive and manipulate this vehicle easily.
Entertainment value
It has truly been designed to give all the crime-fighting kids of the neighborhood the look that they desire with the features that make it possible to fight crime at a moments notice.
Physical development
Pedal cars have been around for many years and these days with all the new designs and cool features they really encourage kids to get out of the house and engage in physical exercise.
Design
Superheroes are someone that we can all look up to as kids and pretending to be one while riding a super cool pedal car is right up there with a great time. The themed pedal car is awesome for any little crime fighters in your life.
Stylish classic designed pedal car with a nostalgic look
Features adjustable pedals to accommodate different heights
Rubber tires with chrome centered hubcaps
Weight capacity of 70 pounds
Encourages development of gross motor skills
Pedaling the car can be harder for smaller children
Assembly is required when you receive it
Your little one will be riding around in style in this pink pedal car. The pedal car has been created to look like a car from the past; the nostalgic look really gives it an old time fashion feel.
Read more
It has been constructed from solid steel throughout the whole frame. Each of the details of this car brings back many memories of a time before now. All of the cars are carefully created and have been painted with lead-free paint. All of the tires feature rubber around the outsides and chrome middle for the hubcap. The rubber tires give the car a smooth ride and a great classic look. With a weight limit of 70 pounds, this car can accommodate children for many years.
Ease of use
With adjustable pedals, the car is able to adapt to different stages of life for kids. Move them each time the child grows more and more to accommodate the growth spurts that happen at young ages.
Entertainment value
All the details, adjusting pedals, and classic 1950s look to make this pedal car the head turner in your neighborhood. Everyone will want to ride in it and join in the fun of watching it go.
Physical development
Pedaling a pedal car develops the gross motor skills. The leg movements along with also steering with the arms work the upper and lower body to move in one movement allowing them to learn how to smoothly operate a pedal device. It is also a great form of exercise for the little ones.
Design
This pretty in the pink pedal car is as sweet as the 1952s were. The look of the car seems like it was made back then but the features are more modern and offer a smoother ride.
Available in blue or pink for each gender
Cartoon cars grill motif stickers
Realistic gas cap feature
Off-road wheels rotate fully
The door does not firmly latch
This item from the get-go engages all of the senses of a toddler. The distinctive contrasting colors of gold and navy immediately draw them in.
Read more
It has rugged-feel off-road tires for light gravel; a realistic gas cap that will help in future socialization. The Cozy Truck comes equipped with a working horn in the steering wheel, and usable to tailgate for storing. Unlike other models of pedal car, this Little Tikes product grows with your child enabling use for up to five years of age. It is made possible through the removable floorboard. We like that it has all of the features that a future driving experience can incorporate.
Ease of use
Parents can push this adorable car for their toddlers, or they can let them power it themselves. Either way, the child can enjoy many hours of simple and fun play with the bright and colorful aspects.
Entertainment value
Kids will really feel like they have their very own real vehicle with this wonderful product. It looks so real and has some features that make it come to life with functions of driving and managing a car.
Physical development
It helps to socialize a child as early and possible, and the push feature brings the higher possibility for parent-child bonding situations. Kids will learn to trust the parent who is doing the pushing and guiding them along.
Design
The grill is reminiscent of the Pixar film cars with friendly anthropomorphic features that are inviting to a child. they will love owning something that reminds them of the characters in the movie.
4

. Hauck Lightning Go Kart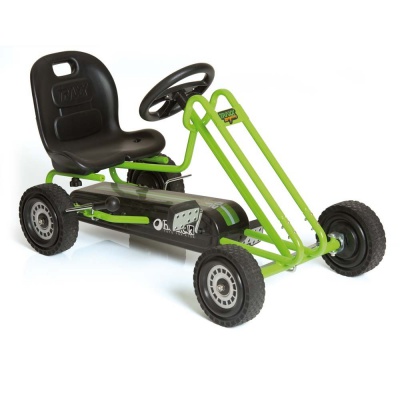 Tires are fully rubber and not a hybrid
The assembly is easy
Sturdy and long-lasting
Back wheel handbrake for quick stopping
Joints don't tighten securely
The go-kart has three-point steering that gives it accuracy and precision customarily reserved for motorized vehicles.
Read more
This is good practice in helping your child take those sharp turns and when he eventually graduated to gas or battery-powered go-kart. The bucket seats adjust as your kid grows. It has a large racing style wheels that you might see at the Grand Prix. That combined with the skid brakes give a smoother ride and gentle stop-start transitions. The product dimensions are 38x20x20. The quick-response steering helps to build greater coordination.
Ease of use
Starting and stopping are so easy with this amazing go kart since it has simple qualities for both. With practice, they will be zooming around like a pro with their heightened coordination and skills.
Entertainment value
Formed just like a race car in the professional races, this terrific product will keep your child busy for hours with driving and steering motions. Both boys and girls love to pretend drive in races, and this item will help them do that.
Physical development
This is a stylish import! Its green coloring is something that makes it initially appealing. It's a good training item to help kids in their coordination and quick-response reflexes.
Design
The bucket seats are ergonomic with a high backrest for long stretches of activity. The skid handbrake helps to regulate speed, especially when going downhill.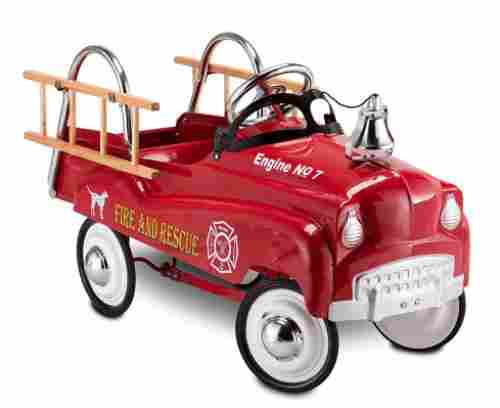 The authentic design makes it a nostalgia piece
The possibility of becoming a collector's item
Can bear up to 70lbs of weight
Non-toxic paint
Ladders are not attached by clips
Chemical smell and difficult assembly
This is a beautiful all-metal replica of a fire truck that drives in the 1940s. In fact, it might just be a replica of a similar pedal car that was made in the era of the 40s and 50s.
Read more
The steering wheel is chrome, as well as the functional alarm-siren bell. The side ladders are removable. It has rubber tires and chrome hubcaps that give it the impression of whitewall tires. The steering wheel is easy to handle, and the steel construction is hefty -- and, at 40 lbs., making it virtually unbreakable. This item can be purchased with any number of other firefighter accessories to aid in your child's imaginative play scenarios.
Ease of use
The paint is lead-free, and the pedals adjust for the size of your child. This helps in making it last until they cannot fit in it anymore, since it is this age range where growth spurts are the most rampant.
Entertainment value
The detailing is authentic with the symbols of the fire department along with the depiction of a Dalmatian dog mascot on the side of the truck. Kids will delight in seeing this and knowing it is theirs.
Physical development
Climbing all over this incredible fire truck and driving it will help build muscles and coordination in even the smallest of children. It is sometimes the simplest toys that are of the most benefit.
Design
This is an item that parents, grandparents and children alike can relate to. The retro all-metal construction is a benefit since this is an item that remains in a family and is passed down.
6

. Schylling Metal Speedster Fire
The chair has two seat adjustments
The steering column is strategically placed for simplicity
An accurate detailing of fire department decals
Excellent gift for a child that has an interest in fire trucks
Too small for larger children
Schylling gives us this simple little red fire truck. No bells and whistles! No pun intended. Well, at least it has one bell. It has a sleek bullet design that makes it aerodynamic.
Read more
The steering column stands directly adjacent to the seat, with two small wooden ladders behind it. A chrome alarm bell sounds with a rope pulley. It has simple rubber tread tires that are good on hardwoods and linoleum. We enjoy its simplicity -- from the steering column to the seat. It has an all-metal frame that guarantees that it can last for years and it's built by a company that prides itself on quality craftsmanship. This is a good fire truck for kids that 18 months to two years.
Ease of use
It doesn't have pedals, so it's easy to maneuver and can help with younger kids to get their bearings and balance. Coordination practice and dexterity in the movement are important to learn early.
Entertainment value
Fire trucks are quite entertaining even for girls too. They love the sirens, red coloration, and excitement that a fire truck emits when it is seen in real on the street. Kids can pretend with this item for hours.
Physical development
Kids gain plenty of physical skills when they engage with such products as this one. They enhance their gross abilities, balance, dexterity, and coordination of the hands and the eyes over and over.
Design
It has the classic red styling, with a pure white initialed fire department logo to make it look authentic and believable. The cute wooden ladders add the most delightful touch to an already super-cute vehicle.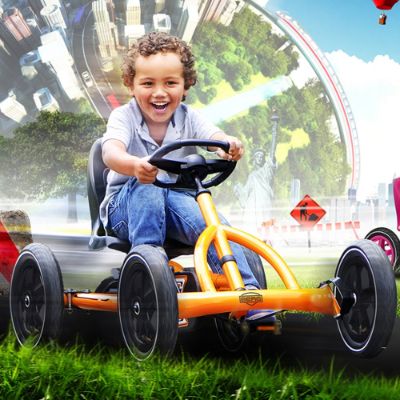 Durable steel frame
Strong pneumatic tires
BRF hub gives lots of control
Supports up to 150 pounds
Sealed bearings keep wheels low-maintenance
Some customers were missing parts in their package and had to wait several months to receive them
The BERG Junior Buddy Pedal Car is intended for children ages 3-8 years old. It has a weight capacity of up to 150 pounds. A powder-coated tubular steel frame keeps the pedal car lightweight but durable. The car itself weighs 40 pounds in total, making it sturdy but easy for parents to move as necessary. Pneumatic tires allow a smooth ride and can hold up against the wear and tear of the road.
Read more
Ease of Use
The sealed bearings in the wheels keep them running effortlessly and mean you don't have to lube them frequently. A BFR hub lets kids pedal forward, coast in static, and pedal in reverse enough to turn around. Assembly time takes roughly half an hour and doesn't require putting many pieces together.
Entertainment Value
Kids will be soaring on the open road in their BERG Junior Buddy. This car gives them lots of control to move forward, backward, and just to coast and enjoy the fresh air. Give them the chance to drive just like mom and dad but in a controlled and safe environment.
Physical Development
Pedal cars are a fun way to get kids out and moving. They let children go fast while still giving them control of their speed and path. This car will work their little leg muscles, get their hearts pumping, and give them confidence to explore. Steering will help them to understand balance and build motor skills.
Design
This pedal car comes in two different colors. You can get your Berg Buddy in a black or orange frame. The open frame lets them get lots of sun and enjoy the wind in their face and hair. The BFR hub gives them full control of their car no matter where they're going. Three settings allow children to adjust the car based on their height.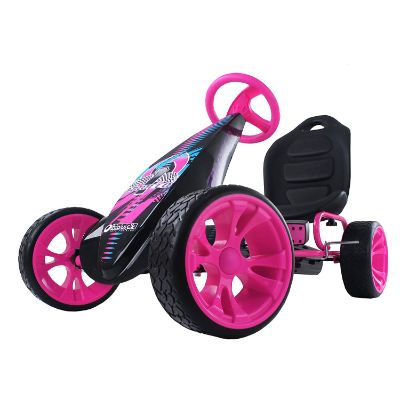 Rubber tires
Lightweight, durable frame
Comes in two colors
High back, comfortable seat with three settings
Auto-clutch free-ride design
Some users had trouble deciphering instructions and assembling this unit
The Hauck Sirocco Go Kart is the perfect car for little ones looking to hit the tracks early! This low-riding pedal car features rubber tires, an adjustable seat, and an auto-clutch, free-ride design. It comes in pink and green and allows children to control just how fast they're driving and where they want to go. The ergonomic seat features a high back rest for comfort and safety. A steel powder-coated frame makes this car lightweight but durable, weighing just 28 pounds with the ability to withstand rough rides.
Read more
Ease of Use
Some users had a little trouble with assembly but there are instructions included and other customers reported it only took them roughly 20-30 minutes to put the whole thing together. It helps if you're handy with tools, as you may need to replace certain pieces with wear and tear and if you can do some maintenance yourself, you avoid having to buy a new unit sooner rather than later.
Entertainment Value
Hit the track (or the yard) and enjoy the day! This pedal car lets kids control their speed and gets their hearts racing for more than one reason. Kids will love having the autonomy and independence to drive their own cars and adults will love keeping their kids active, teaching the valuable driving skills, and doing it all within a controlled environment.
Physical Development
Designed with an auto-clutch free ride function, this go-kart is up to date and fun to drive. Kids will work their leg muscles, increase their cardiovascular strength, condition their motor skills, and more! Pedal cars also work core muscles and they do it all while kids are having a blast.
Design
This pedal car features an adjustable seat so children can continue to drive it even as they grow. It comes in a pink frame or a green frame and the seat sits low to the ground to give kids more control as they steer. The 8-spoke rims each contain two bearings to help keep rides smooth and steady.
9

. Radio Flyer Steer 'N Stroll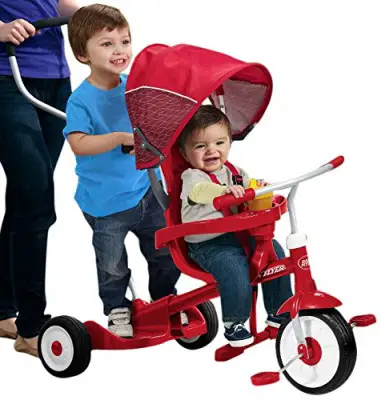 Upgraded tires from previous models
Handle extends to 2 feet in length for comfort
Excellent alternative to a traditional stroller
Quick and easy assembly
Front wheels wobble and hinder traction
Now if you used to think that Radio Flyer only made wagons--well, think again! This little dynamic coupe gives your kids options they never dreamed of with the old wagon style.
Read more
The first option presented is one of parent-child interaction. It's designed for the parent to give that little extra boost, literally. The second option is to adjust the handle for your child to push the car on their own. And the third option is for them to be the passenger. For the last purpose, there is a seat belt for added safety, along with imitation dials--speedometer, horn, ignition--to help them feel more in the driver's seat. We enjoy that it's part of a long line of classic products made by Radio Flyer. This is one example of how the company does its best to remain relevant. This is a very convenient product for both parent and child.
Ease of use
The removable footrest gives your child the ability to mobilize, and the quiet-ride tires won't squeal or burnout. It is a high-quality item that your child can enjoy for several years because it is adjustable.
Entertainment value
Whether you push the child in this vehicle, or they can physically operate it themselves, it will bring squeals of joy and delight as they play with and interact with this incredible movable toy.
Physical development
Even if you just push the infant or toddler in this vehicle toy, they will still be taking in the sights and developing their brain according to what they see and feel. When they are older and driving themselves, the physical part can become more.
Design
This is a toy car that can grow with your child for the first three to four years of life. As early as 1 year old, they can be safely installed in this mini car and pushed by a parent.
10

. Schylling Silver Metal Speedster
Instructions are easy to follow and understand
Future potential as collector's item
The steering wheel has a rubberized grip
Sheet metal construction throughout the bod
Tires are made of hard plastic rather than rubber
"Go speed racer! Go speed racer!" This is the replica that every cool race car ever built has been modeled on.
Read more
These speedsters were some of the first to ride in the Grand Prix at the time of their advent. So, like it or not, your child is in for an education in the history of mechanics with this one. Schylling showcases a beautiful silver bullet sleek design. The engine exhaust grill is accurately placed. It has a maximum weight capacity of 42 pounds and measuring 29 inches long, so this is more appropriate for toddlers. The car is priced just right for its design and educational value. In the future, this could quickly become a collector's item and increase in resale value. It is low and long enough for toddlers ranging from the ages of 2 to 3.
Ease of use
This speedster vehicle is easy to push, pull, or power with little legs. It is one of the simplest items we feature here since it is for the littlest members of the family. Toddlers will love its colors and features.
Entertainment value
Kids in the young toddler range will love riding in this incredible car whether they move it themselves or you push them along for a free ride. It is the excitement of the movement that they like best.
Physical development
When toddlers push themselves in such products, they develop their leg muscles, coordination, and balance in the simple motions of pushing the vehicle. It is a great way to begin the progress of these talents in a fun way.
Design
We like that it's simple and straightforward in its construction -- no bells and whistles! It doesn't add any unnecessary complications or more than your child can handle all at once.
Criteria Used for Evaluation
Ease of Use
All of the tires on our picks are of high quality! Most are made of genuine rubber, rather than synthetic material. The beauty of that is that it provides more traction. All of the product tires have been treated to go easy on the kitchen and hardwood floors. And, with a product from a company such as In Step, the additional bonus comes in design, from the chrome hubcaps to the faux white walling to get that 1950s effect. Whether you push or pull them, these designs are all simple to use and enjoy.
Entertainment Value
The mini vehicles are super-popular and along with their popularity have come new safety features and designs. The cars have come a long way in portability with many of them having lightweight designs that allow the kids to take the cars to the park or even to a friend's house. Each one of these amazing vehicles is painted in bright and bold colors and designs to enchant kids of this age range and make them want to ride in them for hours and hours. Some of them are replicas of fire trucks, police cars, or hot rods, which is pretty wonderful considering their small size. Toddlers will enjoy these the most because they can relate to them well.
Physical Development
Moving around in a pedal car is easy. It is as simple as it sounds, pedal the car. This is great for all kids. It allows children of different ages and skill levels to be able to enjoy the fun of the pedal car. Most of these selections are this type but a few have the option to push or pull the vehicles to operate them. Kids will benefit from building motor abilities, coordination, and balance talents that they need for further physical development.
Design
With brands like InStep, Schylling and Radio Flyer, we've done our best to give you old durable body design that makers of old once put into their pedal cars. In essence, they would manufacture it the same way that was done on the assembly line of any auto factory. Now, without the same amount of labor put into it, these same brands are made of corrugated steel that is guaranteed to take a good beating without much of a scratch. Instead of bolts, a new seamless welding technology has been utilized to get the same effect at a quicker turn-around rate.
Most Important Criteria
(According to our experts opinion)
Experts Opinion
Editors Opinion
Users Opinion
By Default

Parents, Did you Know?
If possible, make sure to treat both the tires and chassis with a treating agent. These can be purchased at your local hardware store or auto parts store.
Parents, Did you Know?
One thing that pedal cars and Big Wheels have in common is in helping your child's coordination and leg strength. After a day of play with either, they'll be the better for it.
Other Factors to Consider
Age Range
As you can probably guess, the age range for these products is quite low. They will only physically allow small kids to fit inside that are of the infant to toddler range. This is because they lack any kind of motorization or real way to power them that would be confusing to such a young child. They are simply beginner cars and vehicles to get them in the act of play driving to learn the motions and physical functions.

Value
We know how important the use of color is to keep your child's neuro-receptors engaged. The color of each product evokes the emotion or familiar association that was intended. The flames of our hot rod definitely have some metaphorical smoke coming off them. The paint on the products are both acid- and lead-free; and, specially treated to prevent cracks, chips, or peeling. All of these featured items are the best of this category online and has the most reviews. Buyers have decided with their comments and feedback that they are worth recommending to others and purchasing again.
Frequently Asked Questions
q:

Is there too young of an age to buy a pedal car for a kid?

a:

That all depends. The cars that are pedal-powered and adjustable are probably more suitable for kids that are 2 years old and up. This is due to the gross motor skills and physical strength required to use the pedals. Of course, it doesn't hurt to buy one as early as possible and allow your child to get acquainted and grow into it. There are two or three push and scooting mobility options that we chose for our list. These options help to build up to the pedal-powered cars. They also help to develop a stronger imagination and interactive skills.
q:

Will the metal rust on these products?

a:

There is the possibility that it will rust. It is highly unlikely that this will occur for some years. We do recommend that you keep these cars out of the elements and not leave them outdoors overnight. Not only is that good in preventing the metal from rusting out, but it will also prevent the rubber of the tires from rotting as well.
q:

Is there more benefit to a pedal car as opposed to a push car?

a:

Both have unique attributes and benefits to them. The difference has more to do with the age of the child who will use it. A push car is more like the training wheels version of the real thing. It is more suited to infants and toddlers just learning to walk and gain leg strength. The benefit of that is that it's giving them a feel for being in a vehicle and getting a curbside vantage point. It's also an excellent opportunity for interaction with parents and caretakers. The Radio Flyer push car that we've listed helps in making the full transition from push to pedal over the course of your child's early development.
q:

How easy is it to repair these cars if they get damaged?

a:

With the durability of these pedal cars, the reality of them sustaining any serious damage seems unlikely. That said, each one of the manufacturers offers both a warranty and a full refund within a specified term. We would also say to treat this product as you would a regular car. Any dings or scratches that it takes are normal and can be quickly dealt with through a trip to the Home Depot or Autozone. The inner tube tires can be replaced with no sweat, and plenty of Youtube tutorials can be found to fill in the gaps.
q:

How good is the traction on these cars?

a:

They're all in good condition for the sidewalk, light gravel, and hardwood or linoleum flooring. With indoor riding, you might want to be more cognizant of the effect that the tread will have on your floors with time. On some models, there are original rubber tires, and others have a rubberized hybrid material for the tires. This can make them quieter and smoother on the floors. We don't recommend them for use on lawns or dirt; the traction can be pretty dicey on these terrains.
q:

Are these cars better than Big Wheels?

a:

That's like the difference between apple and oranges. These pedal cars might be a better start than Big Wheels, or vice versa! It's hard to say. But, the reality is before your child can handle a three-wheeled vehicle, they will already have some sense of motion through perambulation. Push cars and pedal cars are just continuations of what they are already familiar with.