Pedal cars and trucks are still the most fun and original items that a kid could have or desire. The fact that this is not a new toy is just a testament to the lasting value that this car has produced in generations for the last 120 years or so.
Our list ranges from the classic models that are constructed of steel and manufactured by companies that were in on the original designs of the 1950s and 1960s, to more contemporary plastic models with designs more relatable to millennial children.
Our Picks of The Best Pedal Cars Rated & Reviewed in 2018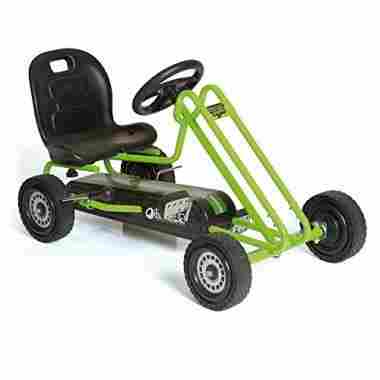 Schylling Metal Speedster Fire
Radio Flyer Steer 'N Stroll
Schylling Silver Metal Speedster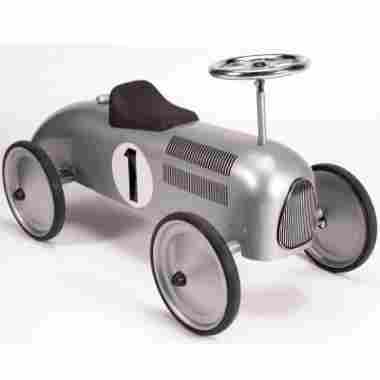 Criteria Used In Evolution of the Best Pedal Cars and Trucks for Kids
History of Pedal Cars
One of the primary uses of toys has been as a tool for early socialization for kids. This runs the gamut from toy houses, dolls that express leisure and professional life, action figures, toy weaponry, animals in nature and modes of transportation from buggies to airplanes. Some of the options tend to be more interactive than others. The pedal car is an interesting toy in particular that has had a somewhat quiet but dramatic evolution. The first ones came into being in the 1890s shortly after the invention of the automobile. Like the automobile itself, it was a rarity since the prevalence of horse-drawn carriages and wagons was still the dominant mode of transportation. Only the wealthy could afford an automobile — and, by extension, their children had the privilege of owning a child-sized replica.
Even with cars becoming more affordable, the trend of only the wealthy gifting their children pedals cars continued. It wasn't until the Baby Boom of the 1950s that manufacturing of pedal cars became cheaper while median family incomes rose out of post-war prosperity. The early model cars used the same manufacturing techniques as the auto industry, corrugated steel, and original rubber tires and chrome. The 1960s and 70s saw the takeover of plastic models and the invention of the Big Wheel cycle. We've done our best to give you the same quality as the classic models made of steel for a lasting riding experience that can be passed down for generations.
Style and Design
Chassis
With brands like InStep, Schylling and Radio Flyer, we've done our best to give you old durable body design that makers of old once put into their pedal cars. In essence, they would manufacture it the same way that was done on the Assembly Line of any auto factory. Now, without the same amount of labor put into it, we these same brands are made of corrugated steel that is guaranteed to take a good beating without much of a scratch. Instead of bolts, a new seamless welding technology has been utilized to get the same effect at a quicker turn around rate.
Tire Function
All of the tires on our picks are of high quality! Most are made of genuine rubber, rather than a synthetic material. The beauty of that is that it provides more traction. All of the product tires have been treated to go easy on kitchen and hardwood floors. And, with a product from a company such as In Step, the additional bonus comes in design, from the Chrome hubcaps to the faux white walling to get that 1950s effect.
Color Coding and Paint
We know how important the use of color is to keep your child's neuro-receptors engaged. The color of each product evokes the emotion or familiar association that was intended. The flames of our hot rod definitely have some metaphorical smoke coming off them. The paint on the products are both acid and lead-free; and, specially treated to prevent cracks, chips, or peeling.
FAQ
Frequently Asked Questions
Q: Is there too young of an age to buy a Pedal Car for a kid?
A: That all depends. The cars that are pedal powered and adjustable are probably more suitable for kids that are two years old and up. This is due to the gross motor skills and physical strength required to use the pedals. Of course, it doesn't hurt to buy one as early as possible and allow your child to get acquainted and grow into it. There are two or three push and scooting mobility options that we're offering. These options help to build-up to the pedal-powered cars. They also help to develop a stronger imagination and interactive skills.
Q: Will the metal rust on these products?
A: There is the possibility that it will rust. It is highly unlikely that this will occur for some years. We do recommend that you keep these cars out of the elements and not leave them outdoors overnight. Not only is that good in preventing the metal from rusting out, but it will also prevent the rubber of the tires from rotting as well. If possible, also make sure to treat both the tires and chassis with a treating agent. These can be purchased at your local hardware store or auto parts store.
Q: Is there more benefit to a pedal car as opposed to a push car?
A: Both have unique attributes and benefits to them. I would say that the difference has more to do with age. A push car is more like the training wheels version of the real thing. It is more suited to infants and toddlers just learning to walk and gain leg strength. The benefit of that is that it's giving them a feel for being in a vehicle and getting a curbside vantage point. It's also an excellent opportunity for interaction with parents and caretakers. The Radio Flyer push car that we're offering helps in making the full transition from push to pedal over the course of your child's early development.
Q: How easy is it to repair these cars if they get damaged?
A: With the durability of these pedal cars, the reality of them sustaining any serious damage seems unlikely. That said, each one of the manufacturers offers both a warranty and a full refund within a specified term. We would also say to treat this product as you would a regular car. Any dings or scratches that it takes are normal and can be quickly dealt with through a trip to the Home Depot or Autozone. The inner tube tires can be replaced with no sweat, and plenty of Youtube tutorials can be found to fill in the gaps.
Q: How good is the traction on these cars?
A: They're all in good condition for the sidewalk, light gravel, and hardwood or linoleum flooring. With indoor riding, you might want to be more cognizant of the effect that the tread will have on your floors with time. On some models, there are original rubber tires, and others have a rubberized hybrid material for the tires. This can make them quieter and smoother on floors. We don't recommend them for use on lawns or dirt; the traction can be pretty dicey on these terrains.
Q: Are these cars better than Big Wheels?
A: That's like the difference between apple and oranges. These pedal cars might be a better start than Big Wheels, or vice versa! It's hard to say. But, the reality is before your child can handle a three-wheeled vehicle, they will already have some sense of motion through perambulation. Push cars and pedal cars are just continuations of what they are already familiar with. One thing that Pedal cars and Big Wheels have in common is in helping your child's coordination and leg strength. After a day of play with either, they'll be the better for it.