This early, thousands of parents are already making their shortlist of the perfect Christmas gift to buy for their kids. There are those who are thinking of buying the usual stuff like dolls and craft toys for girls and building block toys and toy guns for boys. Now, if you really want to go big and fabulous in the Christmas gift of your kids, then you have to consider getting them an electric dirt bike. Since it is electric, you'll never have to worry about it being harmful to the environment. Best of all, you won't hear any of your neighbors complaining because of a very loud motor. Electric dirt bikes are simply the hottest Christmas presents you can ever buy this year.
Our Top 3 Picks
Razor MX350

Our rating
Super quiet
Price:

See Here

Razor SX500

Our rating
Dual suspension
Price:

See Here

Razor MX650

Our rating
Ages 16 and older
Price:

See Here

And to help you choose the best one for your kid, we have here the world's top 10 electric dirt bikes for your consideration.
Our Best Electric Dirt Bikes for Kids:
Dirt Rocket Motocross Bike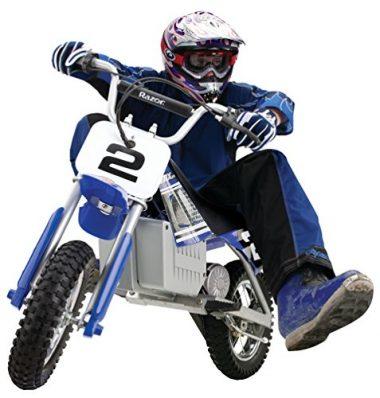 Age Range: At least 13 years old
McGrath Dirt Rocket Motocross Bike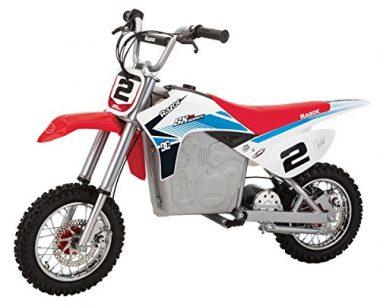 Age Range: At least 14 years old
MX650 Electric Motocross Bike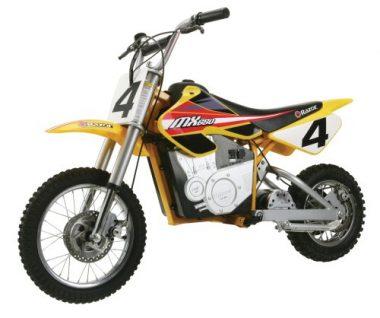 Age Range: At least 16 years old
Moto Tec Electric Dirt Bike
Age Range: At least 12 years old
MX500 Motocross Dirt Rocket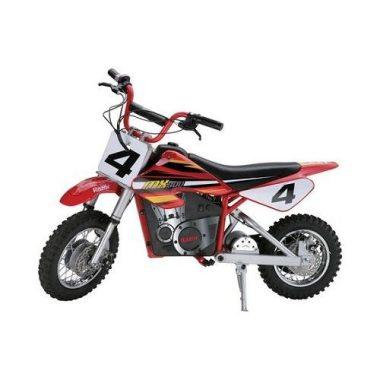 Age Range: At least 14 years old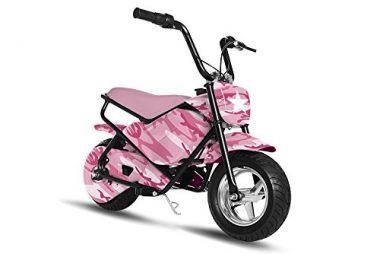 Age Range: 8 to 14 years old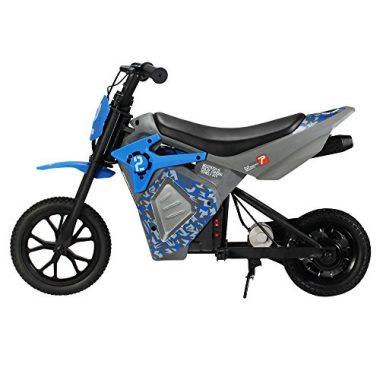 Age Range: At least 8 years old
Criteria Used to Evaluate The Best Electric Dirt Bikes for Kids
Ever since we were rocked with the news of exploding batteries in self-balancing scooters and hover boards, plus the recent Samsung Galaxy Note 7 debacle, consumers are getting really worried about purchasing electronic items especially rechargeable systems. This is the main focus of our research of the top 10 electric dirt bikes this 2016. Since all of these products run on an electric motor, it is imperative that we choose only bikes that have passed the rigorous testing of the Underwriters Laboratories. At least, we can also guarantee you that the dirt bike you're going to buy for your child will not go up in flames while charging or will not explode right under your kid's bottom. That would simply be unacceptable.
We then looked at its construction. Since our object of interest is a dirt bike, suspension is critical. This need to be very sturdy and can withstand the roughness of off-road and rocky terrain. We really would like kids to have a very comfortable ride while they are using the dirt bike either in their exploration or in their exhibition. To complement the comfort provided by the suspension system, it is a must that the tires provide excellent traction as well. This is very important because an uneven terrain will often spell spills and wipeouts. And we don't want that, do we?
Maneuverability, charging efficiency, and the overall ride time had to be considered as well. It would be pointless charging a dirt bike for 24 hours only to use it in under an hour. Additionally, if the dirt bike has a speed limiting system in place, then we have to consider this as well especially if you're considering on giving it to a young child.
We then read the comments, feedbacks, and even questions of customers regarding the product. We had to make sure that our choices also reflect the sentiment of the general public. The reputation of the company was also taken into careful consideration. If the company can provide a long warranty or guarantee period for its products, then this is a very positive sign that they stand by the quality of their products.
With these we were able to come up with a shortlist of the top 10 electric dirt bikes for kids.
You will notice that all of these dirt bikes are tailored for different age ranges and abilities associated with these ranges, such as how many miles per hour are achievable or whether there are variability settings.  This isn't just a matter of physical safety, what's also factored in is the level of confidence and commitment.  There's the question of what is motivating your child?  Is he or she a daredevil?  Do they give in to passing fancies, trends, or fads?  Do they lose interest quickly, or do they get locked in and obsessed over what they're doing?  Since motocross is such serious sport, many manufacturers and enthusiasts look at these things even on a micro level to help in achieving a bottom line that satisfies themselves and their profitability, the parent, and the child.  Believe me, some parents even go as far as to enroll their child into a dirt bike riding school!
The experience of a dirt bike is a timeless one!  With everyone of the recent generation now influencing the society-at-large, we have a become a largely gaming and I-phone oriented culture.  Most things are indoors….and, if outdoors it may not be too different!  There's phone nearby that someone is staring at or taking a picture with!  The dirt bike experience brings the individual child to the present and focused!  It aids in strengthening motor-neural connections.  It can help in developing a mechanical aptitude or affinity.  Most importantly, it can help them build endurance.  The sunshine, open road, and physical activity develops greater heart and lung capacity, releasing endorphins and thereby creating a happier, healthier, child!
The color scheme and construction of the bike were paramount!  Clearance from body to road on each chassis is vital given the age and ability of each rider.  This had to taken into consideration for the sake of safety, fun and the best riding experience.  Of course dual suspension, balance, speed variables and braking are equally important — but the whole point of a dirt bike is the fun of kicking up some sand!  And, we have a bike for every temperament!  This is the reason for the variety, ranging from the hardcore McGrath Dirt Rocket to the Junior E-Bike Jetson and the more manageable E-Motorcycle.  With a pink option, a camo option, and heart design option, being just as important as the speed variables and the throttle mechanisms in the construction, there's a match for each personality.  A child can either create from their own imagination, or pick up inspiration that can last a lifetime from a living motocross legend!
Basic Research
At it's core, the meaning behind the activity of motocross, or dirt biking, for your child is the significance of how this activity will develop character and be the building blocks for a life of health.  This can leads not only to better brain function, better hand-eye coordination, and better social skill, but also better choices in life through healthier habits formed early on.  It develop a healthy sense of competition in the child, and outlet for emotions!  It has been shown that such activities can bring shy kids out of their shell, overcoming social anxiety, and maybe even facing some of their deepest fears for the first time!  For the most part motocross can be a solitary sport, but as time goes on and interest increases, children will eventually understand the meaning of being in a team and team building based on mutual interests and a common goal.
Safety Tips for Kids when Riding Electric Dirt Bikes
Just like riding any two-wheeled ride-on toy, it is imperative that children riding dirt bikes, be it gas-powered or electric, should always adhere to certain safety rules. If your child is too young to comprehend the need for such rules, then maybe he or she is not yet fit to be riding one of these toys. If you insist on letting your child play with these kinds of playthings, then you must be responsible enough to always keep a watchful eye on your kid; lest you invite danger which is just lurking in any corner.
Here are some tips to help your kid stay safe when riding his or her electric dirt bike.
Always check the laws, rules, and regulations in your country, your state, and the city where you live in. Many countries today already have their respective E-Bike laws to provide guidance on what can be considered safe and unsafe riding practices.
Make your child wear the correct protective gear such as helmet, knee pads, elbow pads, gloves, and even a full body clothing to help protect your child against scrapes and bruises should he or she lose control of his or her electric dirt bike.
Teach your child to play only in clearly designated areas such as dedicated dirt tracks for motocross bikes and similar vehicles. As much as possible, don't play in the streets where there's vehicular traffic.
Always check the skill level of your child and use speed limiters according to this level.
Make sure to follow manufacturer's recommendations on charging times including the correct handling and storage of the electric dirt bike's power supply unit.
The Bottom Line
Giving your kid one of the top 10 electric dirt bikes in our list this Christmas will surely make his or her holiday season very memorable. Just make sure you are also going to order accessories for your child especially those that will keep him or her safe.
FAQ
Frequently Asked Questions
Q. My child has shown a strong interest in motocross, and I want to foster it more!  Where can I find a Dirt bike school for him to improve, and what is the cost?
A: There are dirt bike riding schools throughout the country! They range from $150 sessions to well over thousands of dollars in investment! You can send your child to clinics, camps, academies and boot camps!  It all depends on the drive, passion and interest expressed in your child! Once you evaluate ability based on age, start him or her off with the right model bike, see how far it goes and be as encouraging a parent as possible!
Q. How was the mph range factored in based on age?
A: The age range and the mph variable may seem very slight based on age, but in some regards that extra 2 mph in regards to that extra two years in a child's life can sometimes make all the difference.  It's just as we know that a 14 year old can be miles ahead in cognitive ability from a 12 year old!  That being said, not all kids are the same!  Some mature at a quicker pace than others.  That's we leave it at the discretion of the parent, in whatever manner they want to handle it.  This can either take the form of buying a product with locked-in speed variables, or simply opting to purchase a more advanced upgraded model.
Q. I've never heard of the Razor brand who are they and are their products of high quality?
A: Razor is a 17 year old company that was originally based out of Southern California. The founders took their outdoorsy dirt biking roots and managed to translate it into the business that now produces top of the line electric bikes.  Since 2001 they have won three awards for their designs: Toy of the Year, 2001; Top 15 Award from Playthings, 2006; and, FlashRider 360 Outdoor Toy of the Year finalist, 2013.
Q. What is the earliest age I should buy my child a dirt bike?
A: The products we offer have a minimum age range of 8, but 6 can also be a good age!There are models of bike that have a speed limit of only 5 mph which is probably the more safer option.  The Junior E-Bike and E-Motorcycle are the safest options we have to offer. There is also the option that parents have of purchasing training wheels as well for their dirt bikes, which can be easily found through a Google search.
Q. Why is riding gear sold separately?
A: Often with manufacturers such an expense might exceed the overhead of the business.  Therefore, they're not equipped to produce it.  Then, there's the question of marketing branding.  This can spell headaches for some simple operations that just want to tool around with the mechanics and create great bikes!  But, the lack of this can be turned into an advantage for parents and children alike!  There's an entire separate industry dedicated to not only selling gear, but giving you the unique flair to rock your child's style however they see fit on the trails!
Q. The concern for battery safety was mentioned before, how rigorous are the standards for the Underwriters Laboratory?
A: Since it's founding over 120 years ago, the UL now has over 22 billion products which it has endorsed!  Some of the leading corporations and government agencies have invited the UL to oversee their operations for above-and-beyond standards and specifications.  The UL certification mark has become a gold standard.
You May Also Like
12 Cool Wagons For Kids To Ride On
15 Of The Best Kids Electric Cars
10 Best Electric Scooters For Kids
15 Cool Ride On Toys For Toddlers