Dirt bikes are bikes that have been motorized and designed to be operated on dirt roads or pathways instead of on the street or pavement. Dirt bikes come in four different types; motocross, trail, mini, and dual purpose. When determining what is the best-suited dirt bike for your young rider it is best to figure out their level of riding experience and then determine what they intend to use the bike for. Each rider has different levels of experience when it comes to riding. There are many benefits to having young riders who express an interest in riding to learn how to ride and operate a dirt bike at a young age. Along with the benefits also comes the responsibility of the rider and the adults assisting them. The benefits not only help them physically but mentally as well.
There are four different kinds of dirt bikes to review before purchasing the best one for a young rider. There are motocross, trail, mini, and dual-purpose bikes that are sold for all ages. Some are gas powered while others are made to run from a battery. Each different kind of dirt bike offers a set of advantages for different types of terrain. A trail bike is best suited for riding in wooden or sandy areas like forests or beaches. Motocross-style is a bike that is designed to be used on a track and in a competition.
Those kind of tracks usually are somewhat paved and the tires on the bike do not have the traction that trail bikes offer. Dual purpose bikes are unlike any other kind of dirt bike. They can be taken on and off road, even ridden on the streets with a tag. Then there are mini bikes. These are smaller lightweight dirt bikes that are great for younger riders and have small less powerful engines. Often these are the best type of bike to start a young enthusiast out with. This allows them to understand how to ride, the development that needs to happen, and the safety regulations. No matter what type of bike that they start with just makes sure that it is best suited for the rider and the environment they are riding in. And to help you choose the best one for your kid, we have here the world's top 10 electric dirt bikes for your consideration.
Our Top 3 Picks
Razor MX350

Our rating
Super quiet
Price:

See Here
Razor SX500

Our rating
Dual suspension
Price:

See Here
Razor MX650

Our rating
Ages 16 and older
Price:

See Here
Our Best Electric Dirt Bikes for Kids:
6V Electric Kids Ride On Dirt Bike
Razor MX650 17 MPH Steel Electric Dirt Rocket Motor Bike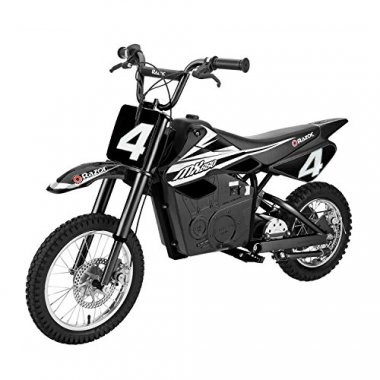 Aosom 6V Kids Ride On Electric Motocross Dirt Bike – Red
Razor SX500 McGrath Dirt Rocket Electric Motocross Bike
Dirt Rocket Motocross Bike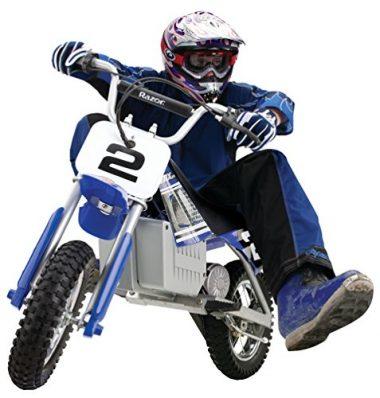 Age Range: At least 13 years old
McGrath Dirt Rocket Motocross Bike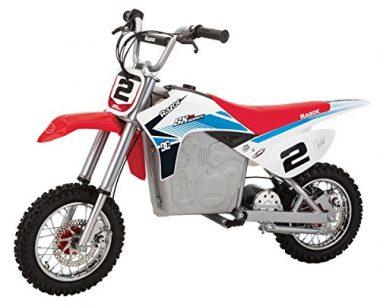 Age Range: At least 14 years old
MX650 Electric Motocross Bike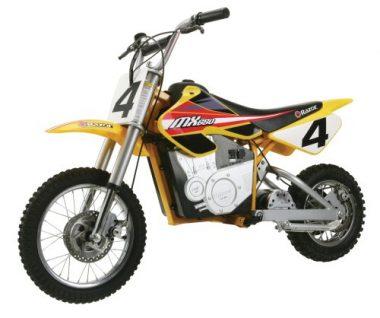 Age Range: At least 16 years old
Moto Tec Electric Dirt Bike
Age Range: At least 12 years old
MX500 Motocross Dirt Rocket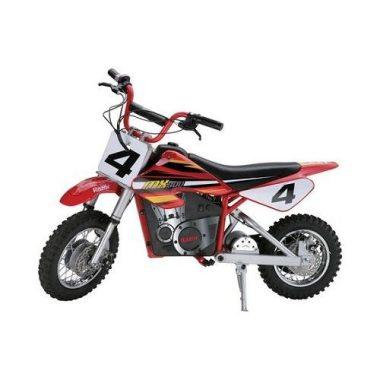 Age Range: At least 14 years old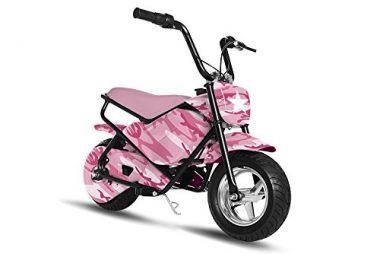 Age Range: 8 to 14 years old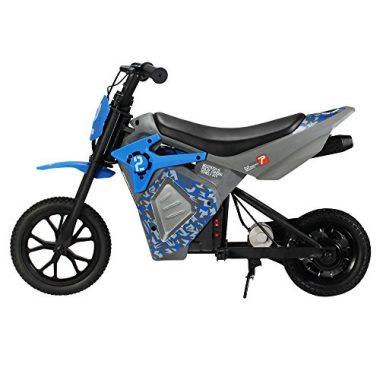 Age Range: At least 8 years old
Criteria Used to Evaluate The Best Electric Dirt Bikes for Kids
When we create a list of top items there are several factors that come into creating the list. The 10 Best Dirt Bikes for Young Riders we focused on bikes that were small enough for young riders but also offered the appearance of full scaled dirt bike along with the safety factor. Looks and safety are always a concern for our team of experts. We want to make sure that any item that is listed will be safe for your child along with providing hours of fun. The bikes listed are all small enough for young riders to be able to ride themselves. We provided bikes on the list for both new and learning dirt bike riders. This makes sure that we are able to suggest dirt bikes that meet the needs of all young riders.
Once we constructed the list of great rated small dirt bike our team of experts then reviewed the list to suggest only the best dirt bikes with the highest safety and customer ratings. Both safety and customer ratings are reviewed to help compose the list. We want to make sure the bike is safe and also that it will meets the needs of young riders. The list displays 10 of the Best Dirt Bikes for Young Riders that our experts could find. We hope that you are able to review the items and find a bike that is best for your young rider.
Developmental Benefits of Riding Dirt Bikes at a Young Age
Riding dirt bikes at a young age offers many developmental benefits. The benefits are both physical and mental. The physical benefits of riding a dirt bike at a young age are; increased balance control, better endurance during physical activities, and promote an active lifestyle outdoors. All of the physical benefits lead to a more active and healthier lifestyle for young riders. Physical development is just an important as mental development in young children.
When young riders are able to ride it mentally helps their development with increased brain stimulation and adds to their cognitive dexterity. These mental benefits activate parts of the brain when riding that improves their cognitive functions. The amount of brain stimulation is directly linked to people who have higher test scores and perform well in and out of school. Riding a dirt bike offers many benefits to both their physical and mental development for young riders.
Encouraging Competitiveness through Riding Dirt Bikes
When young riders are able to practice and perform well on a dirt bike many engage in competitive riding. Encouraging young riders to compete on a track with other riders promotes positive social interaction that helps build a young person's self-confidence and self-esteem. Dirt bike riding is a great competitive sport that allows the riders all of the different skill levels to perform at different levels. This sport offers fun for many riders regardless of their skill level or age.
Encouraging young riders compete adds to their self-esteem and self-confidence. This allows them to compete in an environment where it allows them to do something they are passionate about while also benefiting physically and mentally. Also, encourage lots of practice and safety when helping a young riding enter the world of competitive riding. This is something that is very important.
Dirt Bikes and Engine Sizes
When selecting the best-sized dirt bike and engine size for your young rider it is important to consider the following; their experience level, their height, and their weight. These three factors all add into the equation that allows you to select the most comfortable and secure bike for the young rider. When you have a bike that is too small or too large for the rider it can really become unsafe.
Experience level, height, and weight are all factors that need to be considered when purchasing a bike for a young rider. The more experienced and more the rider weighs the bigger bike and engine riders are able to handle. Choosing a dirt bike can be easy if you make sure that you consider all three factors when selecting. The smaller the person, the less the weight, and experience the smaller the engine and bike. The bike should always be in direct relation to the size and experience of the rider.
FAQ
Frequently Asked Questions
Q: Are dirt bikes safe for young riders?
A: Dirt bikes are safe for young riders when the size of the bike is correct, when they are able to understand the safety of proper dirt bike riding, and when they are taught under adult supervision. Dirt bike riding can be safe along with a lot of fun for young riders. It encourages a fit and active lifestyle that is important in the development of young children.
Q: At what age is it best to allow a rider to start riding dirt bikes?
A: Children as young as the age of three can start with riding small electric dirt bikes and small engine gas powered dirt bikes. It is a very exciting and beneficial sport for young children.
Q: What are the different types of dirt bikes?
A: There are four different types of dirt bikes; motocross, trail, mini, and dual purpose. Each of these different styles of dirt bikes is designed for different environments and terrain. It is important to research and understand the different types before presenting a dirt bike to a young rider.
Q: What type of dirt bike is best for a young rider riding in the backyard?
A: An electric powered dirt bike is best for backyard riding. This kind of dirt bike is very quiet and also is not as powerful as other gas powered dirt bikes. They are ideal for smaller areas and offer smaller bikes for younger riders.
Q: Where can I buy the dirt bikes listed on the 10 Best Dirt Bikes for Young Riders?
A: You can purchase the bikes listed on the 10 Best Dirt Bikes for Young Riders by clicking the link to Amazon below each picture of the product. This link will take you directly to Amazon where you can purchase the dirt bike.
Q: What are the differences between electric powered and gas powered dirt bike engines?
A: The difference between electric and gas powered dirt bikes is the fuel for the engine. Gas powered engines require gas while electric powered dirt bikes use to recharge batteries.
Often gas powered dirt bikes have a longer riding time, but always require more and more gas to be operated. Battery powered of electric dirt bikes have a shorter runtime, but can just simply be recharged for the next ride.
You May Also Like
12 Cool Wagons For Kids To Ride On
15 Of The Best Kids Electric Cars
10 Best Electric Scooters For Kids
15 Cool Ride On Toys For Toddlers