Best Toy Dirt Bikes for Kids Reviewed in 2019
last updated
May 05, 2019
Go Speed Racer, go! If your child is a speed demon in the making, give them something to be excited about with these dirt bike toys. We've scoured the market for the highest-quality replicas and toys to add to your kid's collection. With a range of products varying in price, durability, and purpose, these items will get you and your family started on the road to fun. Choose from a variety of stock, including detailed replicas of dirt bikes used on the professional racing scene. If your little one is already zooming around the house pretending to be their favorite racer, why not equip them with their own (much too tiny to ride, and thus very safe to race indoors) motocross bike?
In a Hurry? The test winner after 3 hrs of research
New Ray Yoshimura Factory
Why is it better?
1:12 size replica
Vibrant, quality coloring
Stickers included
Beautiful die-cast (with some plastic parts) model
In a
Hurry? Editors choice:
Test Winner: New Ray Yoshimura Factory
5
Researched Sources
150
Reviews Considered
3
Hours Researching
10
Products Evaluated
Design
Entertainment Value
Ease of Use
Educational Value
By Default
In depth review top 10
New Ray Yoshimura Factory
Moto Ktm 450 Sx F Red Bull
NewRay 1/12 SUZUKI RM-Z450
New Ray 1:12 2012 Kawasaki
NewRay 44093S 1:12 Scale
Table of contents
Criteria Used for Evaluation
Other Factors to Consider
Frequently Asked Questions
Sources
5 Best Toy Dirt Bikes Reviewed
1

. New Ray Yoshimura Factory
1:12 size replica
Vibrant, quality coloring
Stickers included
Beautiful die-cast (with some plastic parts) model
Good old Bubba Stewart is an American motocross racer who earned the nickname "The Fastest Man on the Planet" thanks to his daredevil tactics and need for speed.
Read more
Design
Your little ones are probably still too young for you to even want to start thinking about them driving a real motorized vehicle, but this toy replica is a great way for them to safely live out their dreams of zooming around the track.
Entertainment Value
The New Ray Yoshimura Factory Suzuki RM450 is a 1:12 scale replica of James Stewart's actual bike. The product comes blank, with a sticker pack included so your children can decorate the bike just like their favorite pro's.
Ease of use
Take some time out from that speedy track to sit down and decorate this toy together. Crafts are a great way to bond. Pull up a picture of James Stewart's bike, bring it to the table with your child, and see how close you can match the product to its real-life inspiration.
Educational Value
Your child can unleash their creativity and decorate their toy dirt bike using the included stickers. Children can easily carry the bike around as it weighs just over 12 ounces.
2

. Moto Ktm 450 Sx F Red Bull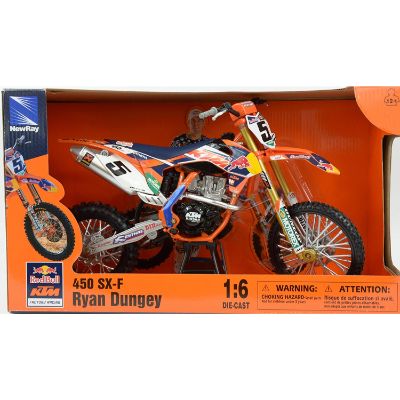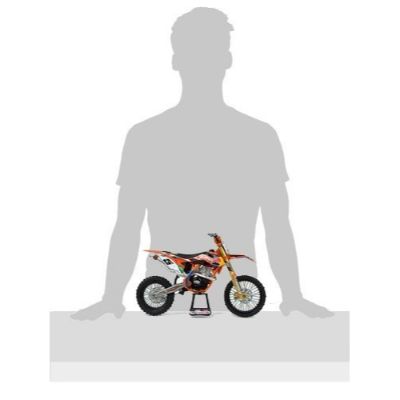 Accurate, rolling miniature
Modeled after Red Bull Racing's Ryan Dungey's Ktm 450
Box doubles as a display case
Die-cast body, made to last
Some brands not included, meaning some slight variance between this bike and its real-life counterpart
With the Moto Ktm 450 toy dirt bike, your child can imagine they're riding. Designers modeled this toy after Ryan Dungey's team. The included stand and various parts of the bike are designed with the Red Bull logo, which is Dungey's sponsor. The bike is packaged in a cardboard box with a clear plastic window.
Read more
Design
The clear window gives you and your child the option to keep the bike in its original packaging. If you wish to display the bike out of the packaging, the included stand will allow the bike to stand freely.
Entertainment Value
Children 12 and up can enjoy playing with this toy if they are not interested in displaying it. Your child can engage in pretend play and stimulate their imagination by rolling their bike on any terrain.
Ease of use
It is a 1:6, thus making it easy for smaller hands to grasp. The die-cast body gives the bike a high level of durability to survive countless adventures with your child.
Educational Value
This sturdy dirt bike miniature will enthrall your child, and captivate their imagination as they pretend they're a professional rider.
3

. NewRay 1/12 SUZUKI RM-Z450
Gorgeous detailing
Vivid, pigmented paint job
Comes with stand for display
1:12 scale replica; big enough for play and display
Does not come with a rider
With great attention to detail, NewRay offers a line of products that closely resemble the very real bikes that inspired them. This replica of the 2014 Suzuki RM-Z450 comes beautifully crafted, each element a close replica of the original. It features a shiny, smooth yellow body, with a black and red accent lining the seat. A kickstand helps hold the bike up for display for when your children are done with imaginative play for the evening.
Read more
Design
They're known for their incredibly detailed and high quality work. This particular product is intended for ages 5 and up, due to small pieces that can be disassembled and choked on.
Entertainment Value
The model is actually to scale. It's not just a cheap plastic toy with random schematics; it's modeled after a true professional dirt bike and it shows in the craftsmanship.
Ease of use
NewRay is a company specializing in die-cast and plastic toys and replicas. They're based out of Hong Kong and have been around since 1987 with offices rapidly spreading to the United States and China.
Educational Value
The combination of the beautifully crafted design and the durable material allows your child to enjoy this bike as a toy or place on display in their room. Whether they take it out for a spin around their bedroom floor or leave it sitting on their shelf, it will stimulate their imagination. Your child will increase their fine-motor skills as they grasp the bike. The bright yellow color will not only appeal to their sensory awareness but also makes the bike easy to spot.
4

. New Ray 1:12 2012 Kawasaki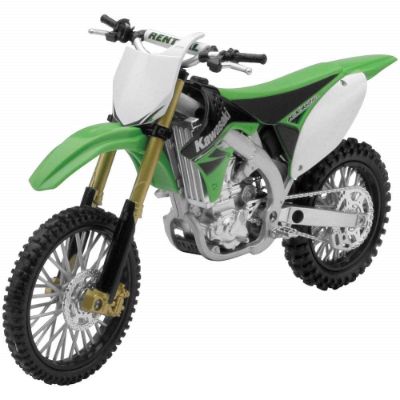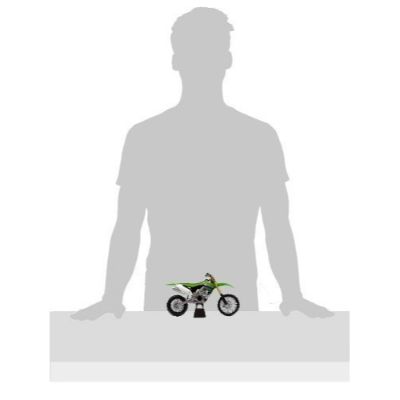 The die-cast design is made to last
Display case packaging
Accurate decals and colors
Functioning rubber wheels and suspension
Another great option from New Ray, this miniature is designed like a 2012 Kawasaki 450F. If you have a young Kawasaki fan, this accurate and functional miniature will fit the bill for them and further their indoor or outdoor excursions..
Read more
Design
This set comes with a dirt bike, a stand, and a see-through package that will double as a display case for their Kawasaki when they aren't playing with it
Entertainment Value
The flashy bright green color will have children super-excited to play with or display this bike.
The textured rubber tires will make it easy for your child to push their bike over any terrain.
Ease of use
The diecast material gives the bike a high level of durability, thus allowing your child to enjoy it for years to come. Scaled down to 1:12 makes it easy for smaller hands to grasp the bike.
Educational Value
Your child can enjoy pushing their bike through the grass, sand, or concrete as the working wheels are textured and rubber. The bright green color gives the bike a super-stylish look and makes it easy to spot.
5

. NewRay 44093S 1:12 Scale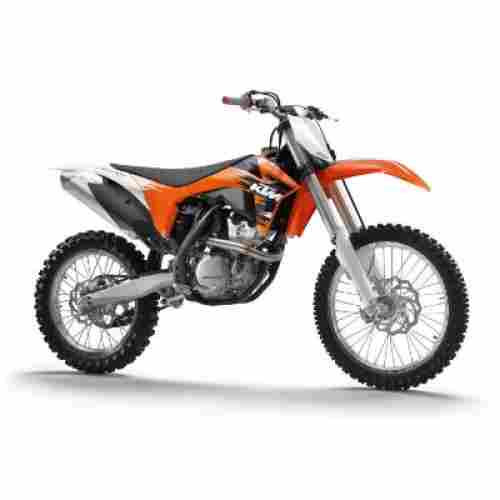 Built-to-scale KTM miniature
Functioning parts
Die-cast frame
Highly detailed design
If they want accurately scaled KTM miniatures, then you can trust New Ray with this great product, modeled after the 2011 KTM 350 Sx-F.
Read more
Design
The attention to detail in this toy bike makes it possible for it to serve as a display piece. From the bright orange fender to the engine block the accurate details give your child a realistic close up look of the parts of a dirt bike.
Entertainment Value
If you ride a KTM yourself, it's obvious why they want a miniature of their own, but if they have an independent interest in outdoor sports and ATVs, this product is perfect for them.
Ease of use
Whether your child chooses to use this for display or as a toy, the die-cast material makes the toy bike durable enough to last for years to come. A stand isn't included but also is not needed as the bike is designed to stand freely on its own.
Educational Value
This product is a great addition to their library of miniatures, another staple toy depicting one of their favorite real world off-road machines.
Criteria Used for Evaluation
Most Important Criteria
(According to our experts opinion)
Experts Opinion
Editors Opinion
Users Opinion
By Default

Parents, Did You Know?
This sort of play will help them develop a stronger relationship with these high-level athletes, and also help them adopt some of the mannerisms and strategies associated with their role models. And this relationship can also work in reverse: the children, as they obtain new bikes, will find new strategies to observe and emulate on their own miniature or dirt bike. A whole repertoire of successful, high-level athletes are competing at the apex of extreme sports, and these items can help your child create new role models and observe the most successful behaviors possible within their field of interest.
Parents, Did You Know?
Travis Pastrana has won multiple X Games gold medals and competed at the highest levels across several sports platforms, including motocross, supercross, freestyle motocross, and rally racing. Ken Roczen is a motocross and supercross world champion, and Ryan Dungey has won every major American title in motocross or supercross, making them more than qualified to serve as proper role models for your aspiring rider or enthusiast. The accomplished careers of these men will help your young rider aspire to a greatness of their own, whether it is in motocross or in some new interest that takes them in the future.
Other Factors to Consider
Emotional Development
If you are a dirt bike rider or even just an enthusiast, there should be no question as to why your child has developed their own penchant for the sport. But if you aren't particularly interested yourself, these toys can also help you to learn about the interests of your child and share this with them. Shared habits develop deeper and more enthusiastic relationships, and when you pretend at racing with your child, you get the chance to interact in their education and interest. You will not only have a better understanding of what interests your child but a better understanding of why it interests your child and how you can both use it to make them a stronger person. The world of outdoor and extreme sports is one that comes with some risk, but this risk actually fosters a more honest relationship between your child and danger in the world. When you give them toys and play with them through dangerous scenarios, you are a guide for them through the proper course of action.

Social Development
A child is constantly interacting with new people and ideas, and they bring home new hobbies almost as often as they bring home new pets. When we give them the proper tools for their free play, we can help them imagine themselves in the boots of their heroes and imagine themselves to be a bit more like their favorite people. These toys are designed to be fun to look at and play with, fun to collect, organize, and trade, but they also improve the imagination of your child when they play with them. Let them make their own road, or join in with them and take part in the process of learning how to ride. We chose the products because of the potential benefits that they may offer you and your children, because of the role that proper avatars and role models can play in making your child grow into a stronger human being.
Frequently Asked Questions
q:

How old should they be before I let them play with these?

a:

For most of these toys, the suggested age is around 5 and up. Some of the dirt bikes don't appear to have any small, swallowable parts, however, it is always a good idea to supervise your children when they are playing with these items.
q:

How old is too old?

a:

All of these bikes are intended for grade school-aged children, but they also might interest them as collector's items as they grow older. You can never be too old to be a collector!
q:

What are some good examples of teaching opportunities?

a:

hese toys, outside of play, can also be utilized as a model for you to teach proper technique and etiquette to your young rider. Show them proper following distances, show them how to lean into turns, show them how to take jumps, and most importantly, show them how to land them. You can also simulate the negative consequences of bad behaviors and mistakes: show them what happens they apply too much pressure to the front brakes or explain to them the dangers of whiskey throttle.
q:

Are these items made of plastic?

a:

Partially, yes, but most of them contain die-cast parts and rubber wheels as well.
q:

Are any of these toys self-propelled?

a:

No, these products are all solely kid-propelled or stationary.