Go Speed Racer, go! If your child is a speed demon in the making, give them something to be excited about with these dirt bike toys. We've scoured the market for the highest-quality replicas and toys to add to your kid's collection. With a range of products varying in price, durability, and purpose, these items will get you and your family started on the road to fun. Choose from a variety of stock, including detailed replicas of dirt bikes used on the professional racing scene. If your little one is already zooming around the house pretending to be their favorite racer, why not equip them with their own (much too tiny to ride, and thus very safe to race indoors) motocross bike?
The Best Toy Dirt Bikes for Kids Reviewed
Moto Ktm 450 Sx F Red Bull
NewRay 1/12 SUZUKI RM-Z450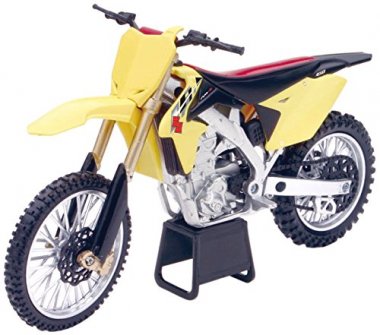 New Ray Yoshimura Factory
New Ray 1:12 2012 Kawasaki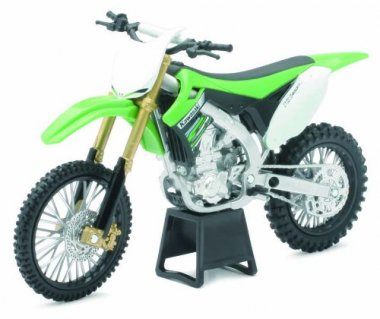 Criteria Used in Evaluation of the Best Toy Dirt Bikes on Our List
Introduction
Your kid uses toys to explore and expand their imagination when the larger counterparts to these toys might provide a bit too much risk for them just yet. Or maybe they are perfectly old enough to ride, but climate conditions or injuries on the track are preventing them from pursuing greatness outdoors. Toys like dirt bike miniatures are designed for this purpose, taking the place of other, larger mechanisms that young minds want to explore and encompass within their growing library of interesting things. From action figures of their favorite fictional or real-world characters to the artifacts and accessories involved with their favorite activities, toys will help your child grow mentally and develop the correct sorts of self-images for themselves as they create and play their way through imaginary scenarios around the house. This is beneficial to them and beneficial to you because it will help them constructively fill time when they aren't at school or out on the trail themselves. Following is an extensive overview of the exact reasons we decided to include these items on our list.
Imagination Building
Open-ended play in a safe environment allows a child to explore the liabilities and opportunities of prospective decisions at a micro-scale, helping them to build their decision-making skills and confidence without all the associated risks of experiencing these things themselves. When they make imaginary jumps on their toy dirt bike, they actually simulate and better understand the real-world physics and consequences of attempting them. When they conduct pretend races between their own imaginary competitors, they develop strategies and etiquette that they can then convert onto the real course. You can assist in this process, taking part in the imaginative play of your child while helping them to establish good habits for the real world. These bikes will entice and excite your child, but they will also foster imaginative and constructive habits within them, especially when used in the correct way.
Creating/Emulating Role Models
If your child is developing an interest in dirt bikes or motocross, you've probably noticed that they've also developed a keen interest in the most prominent players in this arena. This is healthy for them, and the connections they can create with these figures can help them sculpt a better self-image and develop higher goals for themselves in the future. Many of these toys are either designed in the image of the bikes of famous competitors, helping them to bring these role models into their play.
This sort of play will help them develop a stronger relationship with these high-level athletes, and also help them adopt some of the mannerisms and strategies associated with their role models. And this relationship can also work in reverse: the children, as they obtain new bikes, will find new strategies to observe and emulate on their own miniature or dirt bike. A whole repertoire of successful, high-level athletes are competing at the apex of extreme sports, and these items can help your child create new role models and observe the most successful behaviors possible within their field of interest.
Travis Pastrana has won multiple X Games gold medals and competed at the highest levels across several sports platforms, including motocross, supercross, freestyle motocross, and rally racing. Ken Roczen is a motocross and supercross world champion, and Ryan Dungey has won every major American title in motocross or supercross, making them more than qualified to serve as proper role models for your aspiring rider or enthusiast. The accomplished careers of these men will help your young rider aspire to a greatness of their own, whether it is in motocross or in some new interest that takes them in the future.
Shared Interests
If you are a dirt bike rider or even just an enthusiast, there should be no question as to why your child has developed their own penchant for the sport. But if you aren't particularly interested yourself, these toys can also help you to learn about the interests of your child and share this with them. Shared habits develop deeper and more enthusiastic relationships, and when you pretend at racing with your child, you get the chance to interact in their education and interest. You will not only have a better understanding of what interests your child but a better understanding of why it interests your child and how you can both use it to make them a stronger person. The world of outdoor and extreme sports is one that comes with some risk, but this risk actually fosters a more honest relationship between your child and danger in the world. When you give them toys and play with them through dangerous scenarios, you are a guide for them through the proper course of action.
Conclusions
A child is constantly interacting with new people and ideas, and they bring home new hobbies almost as often as they bring home new pets. When we give them the proper tools for their free play, we can help them imagine themselves in the boots of their heroes and imagine themselves to be a bit more like their favorite people. These toys are designed to be fun to look at and play with, fun to collect, organize, and trade, but they also improve the imagination of your child when they play with them. Let them make their own road, or join in with them and take part in the process of learning how to ride. We chose the products because of the potential benefits that they may offer you and your children, because of the role that proper avatars and role models can play in making your child grow into a stronger human being.
FAQ
Frequently Asked Questions
Q: How old should they be before I let them play with these?
A: For most of these toys, the suggested age is around 5 and up. Some of the dirt bikes don't appear to have any small, swallowable parts, however, it is always a good idea to supervise your children when they are playing with these items.
Q: How old is too old?
A: All of these bikes are intended for grade school-aged children, but they also might interest them as collector's items as they grow older. You can never be too old to be a collector!
Q: What are some good examples of teaching opportunities?
A: These toys, outside of play, can also be utilized as a model for you to teach proper technique and etiquette to your young rider. Show them proper following distances, show them how to lean into turns, show them how to take jumps, and most importantly, show them how to land them. You can also simulate the negative consequences of bad behaviors and mistakes: show them what happens they apply too much pressure to the front brakes or explain to them the dangers of whiskey throttle.
Q: Are these items made of plastic?
A: Partially, yes, but most of them contain die-cast parts and rubber wheels as well.
Q: Are any of these toys self-propelled?
A: No, these products are all solely kid-propelled or stationary.