What's the perfect toy to get your busy toddler? Something that they can ride on! If you're looking for something to help motivate and keep your active tot busy, ride-on toys are the perfect toys for them. While it also gives them a head start to practice safety, parents will want to make sure that wherever their child is riding these toys that they have enough space without having to worry about bumping into anything. We're here to help you get started with some of the best ride-on toys on the market, spanning on all kinds of ages, skill levels and enthusiasms.
Our Top 3 Picks
PlasmaCar

Our rating
Improves Spatial Coordination
Price:

See Here
Cozy Truck

Our rating
Realistic Grill
Price:

See Here
Step 2 Coaster

Our rating
High Back on Car
Price:

See Here
Step 2 Up & Down Roller Coaster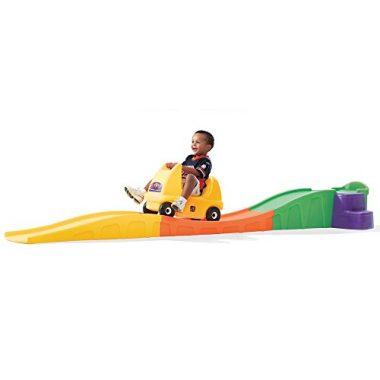 Fisher-Price Power Wheels Lil' Quad
Power Wheels Thomas & Friends Thomas Train
VTech Sit-to-Stand Alphabet Train
Step2 Easy Steer Sportster
Little Tikes Rocking Horse
Little Tikes Go and Grow Lil' Rollin' Giraffe Ride-on
Mega Bloks Caterpillar with Excavator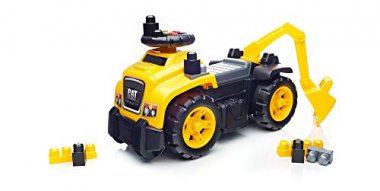 When choosing the best ride-on toy for toddlers, it can be a little overwhelming for parents especially when you might not know what you're exactly looking for. We are optimistic that if you take a look at our list you will find one toy that will be perfect for your busy little tot.
Criteria Used to Evaluate the Best Ride-On Toys for Toddlers
While finding the perfect toy for your child it's not always easy to do. Especially, with younger children as their interests begin to flip-flop and change constantly. To help parents pick out the best products for their child, conducted thorough research so that all parents have to do is choose the right toy for your child. A good rule of thumb to remember is the younger your child is, the simpler the toy should be.
Safety Features
Safety is always the #1 priority when it comes to children and toys. Most toys in the market can pose a form of risk to your child, including tipping over, colliding with obstacles or even falling. However, you can minimize these risks if you know the safety features of the products before you can purchase them. Most of the simpler toys (non-motorized) won't require or feature brakes as they are mostly stationary, and children are able to stop the toy themselves. Motorized toys, on the other hand, are generally a bit faster than younger children are used to. These toys including motorized scooters, bikes, and ride-on cars, and come with safety features to make the toy safer for younger children to use. Some of these safety features include seat belts, or hand and pedal brakes. These toys also pass safety standards for toddlers which also includes the toy's maximum speed.
Balance
Balance is incredibly important when it comes to ride-on toys for children. If a toy has any risk of tipping or falling over while your child is on it, the toy is not safe. For that reason alone, you should choose products that have a low center of gravity. When doing this there are several ways to check the balance of the ride-on toy which includes making sure that the wheels are wide enough to support your child's weight. By checking the width of the wheels you can ascertain the toy's stability. Another test is to push the toy gently from side to side to check to see if it stays upright. Parents should check the safety and balance of the toy before your child uses it.
Battery Versus Manual Power
Most of the toys on our list are either powered by battery or require your child to pedal/ push the toy by using their feet. The motorized toys are suited for slightly older children since they are able to control and handle the toy a little bit better than a younger child. Self-propelled toys tend to wobble or tip over if your child can't balance themselves while steering.
On the other hand, there are battery-operated toys on our list that your child only has to steer to move the toy into the direction they want to go. No matter which one parents choose, your child should still be supervised during use. This will prevent your children from driving into any obstacles and avoid any mishaps from occurring.
Age Appropriate
Age appropriateness is something to consider when choosing a toy for your child. Some of the toys on our list are suited for younger children while others are best for older. On top of that, you should also consider your child's balance and coordination skills when purchasing a toy because that will play into effect as well.
Longevity
The quality and the price of the toy generally correlate with one another. The higher the quality, the higher the price. Some ride-on toys for toddlers might have a tendency of being on the higher end of the price scale. It's important for parents to research the toy fully and comprehensively before deciding if that is the toy they want to purchase.
If you view the toy as an investment instead of a gift, you're more likely to buy products that will have use for multiple years, rather than simply being used for just a couple of months or a few seconds before your child loses interest. Parents should consider products that your child will gravitate toward, including the color, style and functions.
Classic Toys
No matter how advanced toys get, classic toys have proven to be timeless. Though these toys are generally not known for their complexity or their functionality, they are still able to provide your child with endless hours of fun.
For younger toddlers, wagons and rocking horses have proven to be a favorite throughout generations. For slightly older toddlers, bicycles and tricycles have been a favorite to play with for hours.
Correct Sized Toy
Aside from the stability of a toy, the size is the next important thing. A child won't play with or ride-on toy that they cannot reach or feel stable on. It's important for your child's feet to be able to reach the floor comfortably. This will encourage them to try to get on the toy themselves as well as feel safe getting on and off.
With battery/motorized toys, your child's knee should not touch the steering wheel. The toys that can be adjusted are perfect for your child to continue playing with as they get older. All in all, you should consider your child's height when choosing a toy.
Benefits of Motor Development
One of the developmental tasks of toddlers is related to their motor development. By the time they reach 18 months up until 3 years, they need to be able to show proficiency in their gross-motor skills as well as other related bodily movements. They need to know how to maintain balance and make full use of their senses to coordinate bodily movements.
The physical development of toddlers is so important that their mastery of motor skills can have an impact on their emotional, social, and psychological health. It is therefore very important to choose toys that help toddlers develop and master their motor skills.
FAQs
Frequently Asked Questions
Q: Where can I find these ride-on toys?
A: As with most of our lists, we strive to ensure that the products we recommend are accessible to you. As such, all the products that are listed in the list above, are available for purchase on Amazon. If you want to find the best deals for a specific toy, we recommend you do a thorough search so that you are able to find the best prices. The first step to finding the best prices though is to know what your budget is. After you know that, there is a large range of appropriate ride-on toys that are available at different price points.
Q: What is the maximum weight capacity of these ride-on toys?
A: Though each of these kids' ride-on toys has different weight capacities, the average weight limit is 50 pounds. For more information on each different toy's weight capacity, either look above on our list for the information or visit the company's product pages.
Q. How can I ensure that the product I purchase is authentic?
A: We try our hardest to only list products that have great reviews and ratings. If you are looking elsewhere, the best place to look for the authenticity of a product is through the comments and reviews made on the product page. If all else fails, the best place to buy if you are unsure is to buy the toy from its own manufacturer's website.
Q: Why do the motorized ride-on toys only go at slow speeds?
A: The slower speeds are to ensure your child's safety. If they go any faster, they become a hazard to your child. They would also not pass safety standards if they were higher.
Q: Why is there such a difference in prices among these products?
A: As these toys are all from different manufacturers, the price points are also all different. The price also varies depending on the quality of materials that were used or how/where it was made. The higher the strength, durability, and supply costs are, the higher the sale price of the product. This also means that there is a wide range of price points to suit any budget. So, no matter what your budget it, you'll still be able to find a toy that suits your needs and your budget.
Q: What do I do if I need replacement parts?
A: The availability of replacement parts for these products solely depends on the manufacturer. If parts are available, they will be available on the manufacturer's own website or through third-party sellers. Buyers only need to research to find the best quality and priced replacement.