10 Best Scooters for Toddlers Reviewed in 2019
last updated
Jul 09, 2019
A fun and active way of transportation for your toddler is by getting them their very own scooter. Many parents fail to remember that scooters have been around for decades, in fact, the very first scooters were actually made of wood. Unlike today, parents don't have to worry about whether or not a scooter is safe for their tiny tot as many scooters in today's industry are made of durable material and are extremely lightweight.
In a Hurry? The test winner after 16 hrs of research
My First by Radio Flyer
Why is it better?
Wide base helps with balance
Textured deck provides traction and stability
Turning radius designed with young children in mind
Strengthens muscles and increases fine-motor skills
In a
Hurry? Editors choice:
Test Winner: My First by Radio Flyer
15
Researched Sources
234
Reviews Considered
16
Hours Researching
13
Products Evaluated
Safety
Physical Development
Durability
By Default
10 Best Scooters for Toddlers Reviewed
1

. My First by Radio Flyer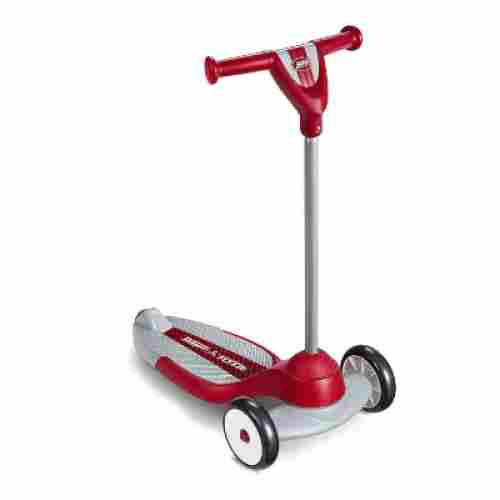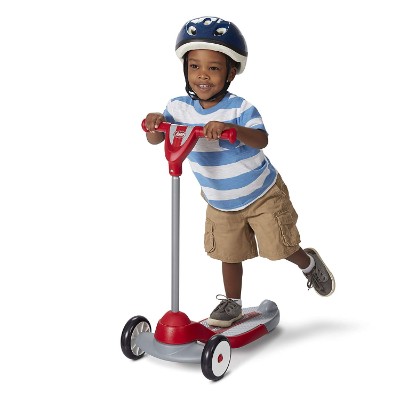 Wide base helps with balance
Textured deck provides traction and stability
Turning radius designed with young children in mind
Strengthens muscles and increases fine-motor skills
The Radio Flyer scooter is the perfect ride for beginners. Designed with two wheels in the front, your child will have a more stable and safe ride. The wide base provides plenty of foot room, thus improving your child's balance and coordination. The turning radius has been designed specifically with younger children in mind as it makes it easy for them to turn without compromising mobility.
Read more
Safety
The textured deck provides traction for your child's feet. The padding on the handlebar will give your child a firm and comfortable grip.
Physical Development
Your little one will strengthen the muscles in their legs, arms, and core as they ride their scooter. Gripping the handles will increase their fine-motor skills.
Durability
The wide base, two front wheels, and the specially designed turning radius make this a great scooter for beginners.
2

. Razor Jr. Folding Kiddie Kick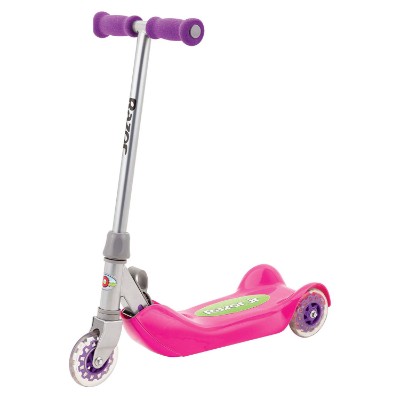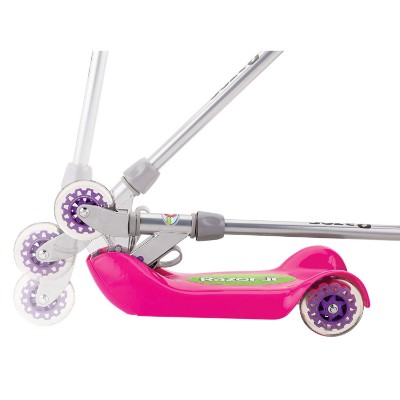 Travels well
Available in two colors
Assembles easily (no tools required)
Back wheel fenders help prevent feet and clothes from getting caught
Handlebar height is not adjustable
Back wheels provide for better scooter balance but rides less smoothly
Available in blue and pink, the Jr. Folding Kiddie Kick Scooter is an engineering marvel as the steering column can be easily folded for easy storage. The body is made of high-grade aluminum and steel construction to give it maximum strength, durability, and rigidity without necessarily making it too heavy for young kids.
Read more
Safety
Because the three wheels make this scooter less tippy, toddlers won't be as fearful of falling (and parents can rest a little easier) as they work on balancing and coordinating their leg movements. We love the wide wheelbase for stability plus the folding mechanism is a sure hit for parents who may have issues with storage.
Physical Development
The Razor Jr. Kiddie Kick enables young girls and boys to scoot along with a ride that looks like one of the big kids'. It's a terrific solution for toddlers who really want a scooter but just aren't quite ready for the two-wheel version. It's perfect for helping kids develop their sense of balance, coordination, and gross motor skills.
Durability
It features 3 colorful urethane wheels with a wide wheelbase in the rear. This provides for optimum stability so toddlers won't fall off balance easily. The deck is made of slip-resistant polypropylene material for added safety. Comfort handling is ensured with foam handles. It has a weight limit of 45 lbs.
LED flashing lights
Learn-to-turn steering
Adjustable handlebars with comfy grip
Fold-up seat
Great for kids ages 2-12
Seat option can only accommodate children four and under
Your little one can't decide whether they want to sit or stand? The Skidee Scooter offers the best of both worlds. This toddler-friendly design features an adjustable handlebar for growing kids as well as a fold-down seat for those that are still learning how to balance. The Skidee comes in six fun colors and is kid-approved!
Read more
Safety
Toddlers still learning how to balance may find the seat helpful as they learn the mechanics of scooting along. The seat can safely hold up to 110 pounds and then can be flipped up to allow older children to ride the scooter while they stand. This design is lightweight but sturdy, made from aluminum alloy for durability.
Physical Development
Riding scooters helps children to refine gross motor skills such as balance and coordination. The learn-to-turn technology on the Skidee helps kids understand how to navigate and also protects against sharp turns so kids stay upright longer and more often. Plus, scooting around is a great way to get exercise, work their cardiovascular systems, and build little muscles!
Durability
Each scooter comes with a built-in one-year warranty as well as an option to upgrade to a five-year warranty. These scooters are made to last for years and years. The design allows them to grow with your child and the construction is sound, utilizing materials that are durable and hold up under rough play.
4

. Micro Maxi Kick with T-Bar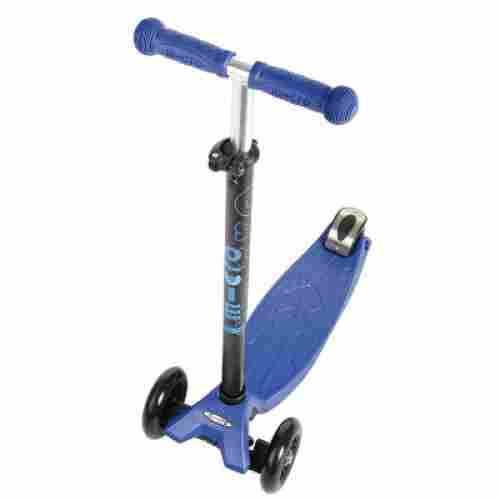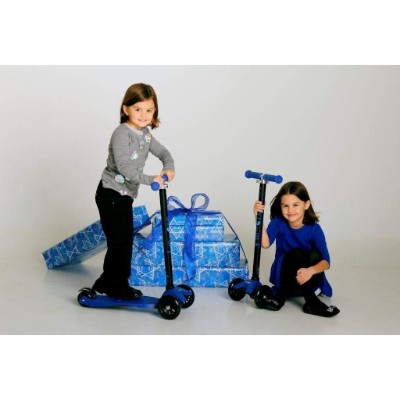 Comes in ten different colors
All parts are replaceable if they get damaged
Includes hex wrench for handlebar-tightening
Top-grade PU wheels provide a super smooth ride
T-bar handlebar is interchangeable with the joystick style (sold separately)
The Micro Maxi Kick Scooter with T-bar is the bigger brother, although not by much, of the Micro Mini Kick Scooter. It is able to accommodate up to 50 lbs. of weight and comes in 9 different color variants. It has the same Swiss-designed steering system, a fiberglass-layered deck, and polyurethane wheels with low ground clearance.
Read more
Safety
The rubbery hand grips and two-wheel braking system add to the quality and safety of this scooter. Kids can learn how to ride the scooter, while parents don't have to worry.
Physical Development
The Micro Maxi Kick Scooter is very solidly built. Coupled with the fact that the handlebar is extendable, it can literally provide years of entertainment and exercise for the growing child.
Durability
The Maxi is excellent for growing kids. If you are worried that your toddler can easily outgrow his or her Micro Mini, then you have to give him or her the Micro Maxi. It's perfect for developing muscle coordination and balance. It's also tons of fun.
5

. The Original Flying Turtle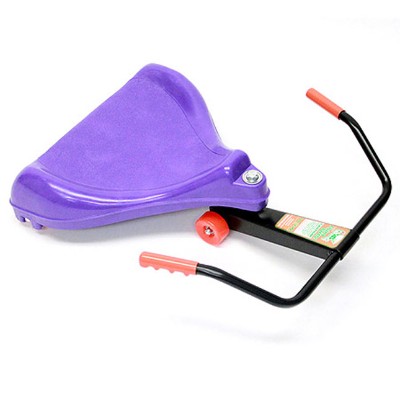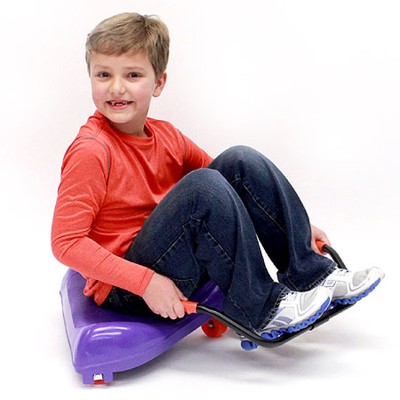 Comes fully assembled
No motor or battery necessary
Durable materials and design
Update on an old classic
Can hold up to 150 lbs
Easy to grip the steering wheel
It'll be a learning curve for young kids as they figure out how the scooter moves and gains speed
While usually a turtle's mantra is "slow and steady wins the race," this particular Flying Turtle Scooter is anything but a drag. To ride it, simply prop your feet up on the handlebars, grip them, and then steer it side to side. The momentum of the movement propels riders forward without needing an engine or push the power from little feet.
Read more
Safety
This scooter is simple, compact, well designed, and fun. It's not a traditional standing scooter, but what makes it unique is also what attracts many children to this particular design, as they get to sit and steer. This also makes the scooter safer, so they can learn to steer before standing up.
Physical Development
This scooter helps children practice balance, fine motor skills, coordination, and basic physics. Take the opportunity to explain to them the principles behind this friction-powered speedster.
Durability
Updated from the 1970's design, this concept has been around for decades and is tried and tested as a fan favorite. The toy is suitable for hardwood or linoleum floors, as well as on concrete and pavement. The polyethylene seat can hold up to 150 lbs, and the polyurethane wheels are stable and speedy. Hold onto your shells!
6

. Fisher-Price Laugh & Learn Smart Stages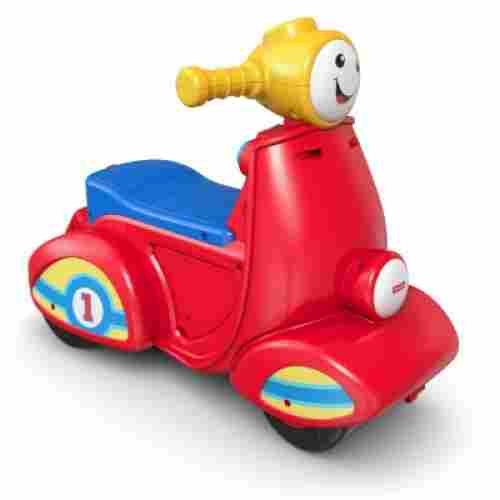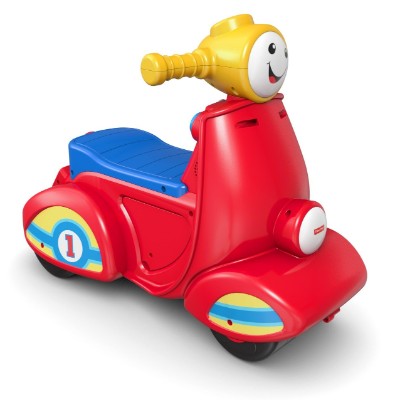 Rolls well on most surfaces
Does not topple easily
Features three Smart Stages Technology learning levels
Easy to clean
Batteries and some assembly required
Has fixed handlebars
While it is definitely not the kind of scooter you may have in mind, the Vespa-inspired Fisher-Price Laugh & Learn Smart Stages Scooter is nonetheless powered by the kid's legs and feet; hence, it qualifies as a kick scooter.
Read more
Safety
What makes this safe is the learning center, which has several different age settings. Its learning activity center features 3 levels of play designed for 12-18 months, 18-24 months, and 2-3-year-olds.
Physical Development
It's the perfect gift for very young children as it can help develop their language skills, color recognition, numerical skills, as well as shape recognition. It's also great for enhancing fine and gross motor development while the learning activities for 3 year olds will be helpful in encouraging imaginative play.
Durability
The Smart Stages Scooter instantly entices with all its buttons, bright colors, and fun sounds. The dashboard can be set according to age-appropriateness, and while toddlers will love discovering what happens when they push buttons and click keys, parents will love that the volume can be turned down. The littles can sing, get acquainted with colors and numbers, and strengthen leg muscles--all at the same time!
7

. The Original PlasmaCar by PlaSmart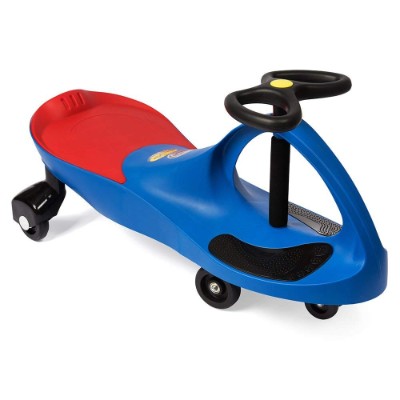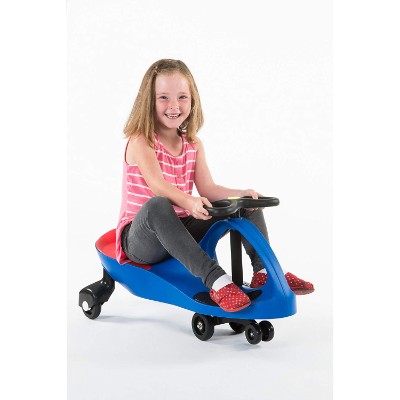 Sleek design with safety seat and steering
Low center of gravity and wide-wheel base will keep them upright and rolling
Comes in eight bright colors, perfect for boys and girls
Great for indoor or for outdoor scooting
They will grow out of this scooter more quickly than stand up scooters, but these are great first scooter options
This highly inventive scooter from PlaSmart is a great option for your toddler's first ride. This kid-powered, futuristic-looking little device is great for indoors or for outdoors and will have your toddler scooting around for the first time. Get their legs working and get them adventuring with ease!
Read more
Safety
This product is fun to ride and safe for your child as they learn their way around the road. It is low to the ground, so they can stabilize themselves easily.
Physical Development
This sleek design has fun colors and is a joy to ride. Kids will develop key muscles and sensory skills needed for everyday life.
Durability
Make their first ride their favorite with this award-winning scooter. Give them freedom of movement, and give yourself freedom from stress with this safe and toddler-friendly product from PlaSmart.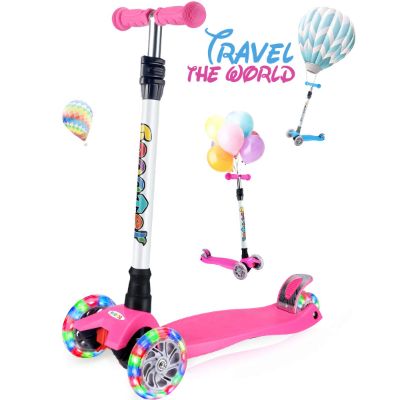 Lots of fun color options
Super shiny light up wheels
Learn-to-turn navigation
Adjustable handlebar
Wide baseboard
Some customers received units with defunct or disappointing wheels
With light up wheels and six different colors to choose from, the OUTON is easily one of the most stylish scooters on the market. 4 PU high-rebound wheels shine even greater than the usual 3 LED wheels on other scooters. Learn-to-turn technology allows kids to use their body weight to maneuver as they steer and each scooter can hold up to 120 pounds.
Read more
Safety
This scooter can grow with kids until they reach roughly 120 pounds. The learn-to-turn feature allows children who are still getting the hang of balancing to ride easily. Light up wheels makes kids easier to see during nighttime or evening rides and ABEC-7 bearings keep their ride smooth and fun-filled!
Physical Development
A safe wide deck allows even young children to get the hang of riding this scooter. Riding helps to boost children's confidence, sense of autonomy, balance, hand-eye coordination, and more. Children may see increased cardiovascular health and toned muscles as well due to increased interest in exercise.
Durability
The handlebar can adjust from between 23.5 and 33 inches in height to accommodate growing children. All you need to do is twist the middle lock to adjust. Aluminum alloy makes up the structure of this scooter and allows it to be lightweight while also withstanding bumps and bruises.
9

. Radio Flyer Scoot-About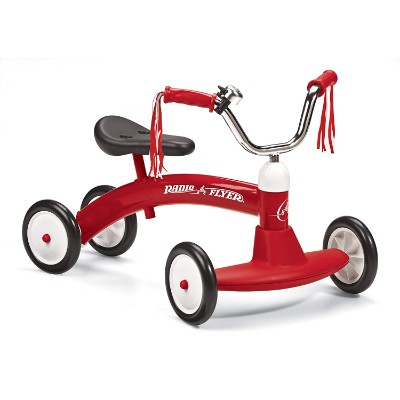 Very sturdy
Features streamer-adorned handlebars that steer
Seat is adjustable
Has smooth gliding wheels
Steel frame makes it on the heavier side
Longer-legged toddlers may overreach and hit the back wheels with their feet
Consider the Radio Flyer Scoot-About as a kiddie trike without pedals and with 4 wheels. Well, that's the most apt description we can ever think of. It is nonetheless a very sleek and beautiful quad cycle sans pedals. The front wheels have an extra-wide wheelbase for excellent stability.
Read more
Safety
The handlebar and seats are designed pretty much like that of a bicycle, making it safe and cushiony. The frame is made of high-grade steel and the steering handle is polished with chrome. It also includes streamers and a ringing bell.
Physical Development
The design is intended to introduce very young kids to the joys of trike riding and eventually biking. It is thus helpful in developing muscle strength of the legs while allowing for hours of fun.
Durability
There are lots to love about the scoot-about: its durability, sweet retro look, and wall-saving bumper are just a few of its perks. As far as the little ones are concerned, it looks and seems like a big kid bike (and that's reason enough to make them proud to ride it).
Three wheels and a wide base
Easy step-on brake in back
Big, comfy handlebars
Curved handlebars to allow a better center of gravity
Perfect for beginners
The wheels are plastic, so they will scratch and make noise
If it looks a little funky, that's because it is a little funky, but in all the best ways. YBike has updated the GLX's design to be even more stable and savvy than ever before.
Read more
Safety
A wide base leaves room for riders to stand as they please, and a curved front bar provides the room for them to explore gravity and find their center of balance. Big, smooth handlebars make this easy to hold and steer for hours at a time. A quick break on the back means easy stopping.
Physical Development
Promotes and refines gross motor skills, provides a fun way to exercise, and gives children the chance to steer, balance, and navigate on a safe scooter.
Durability
The scooter holds up to 44 pounds and is made from durable, kid-friendly materials to make this the ideal scooter for beginners. Choose from raspberry, blue, turquoise, and orange color schemes to add a personal sense of flair to your child's ride.
Criteria Used for Evaluation
Safety
Safety was our main concern when it came to finding the perfect scooters for our top ten list above. We needed to check each and every manufacturer and make sure that they all put enough time and care into thinking about your toddler's safety. We looked into making each manufacturers reputation when it came to their scooters making sure that only the best of the best was on our list above. We know that when it comes to anything mobile safety is always a concern for parents – especially when small children are involved. Every single one of these scooters on our list are 100% safe for your tiny toddler.
Physical Development
While it's shown that you need a little kick start to get the scooter starting, it actually takes more balance technique to continue making the scooter more mobile. Depending on how many swift kicks your child does, the faster they might be able to go – this also can help strengthen their fine motor and coordination skills. It's extremely important for children – especially young children – to develop these certain skills because it helps all other physical activities in the future that may also require balance or coordination.
Durability
Bicycles, tricycles, and scooters are all excellent means of transportation, exercise and entertainment for young children, but they should not be treated as equals. These scooters were selected for their durability, especially when considering the wear and tear toys go through with young kids.
Most Important Criteria
(According to our experts opinion)
Experts Opinion
Editors Opinion
Users Opinion
By Default

Parents, Did You Know?
Having a sense of direction requires a lot of movement when it comes to a scooter. Your child will need to turn the handle left or right which are two important directions your child will use every day for the rest of their lives. While it also might not be well –known this can actually help your child's pre-reading skills as well. We know that books are always printed from left to right, having your child learn those sets of direction can actually be beneficial to your child as they can master the art of reading.
Parents, Did You Know?
We took everything into consideration and then our top ten list was formed. We are sure that you will find the perfect scooter that will get your child actively involved and be beneficial to them in the long run. We're sure that you will find the perfect one that matches your family's needs and wants.
Other Factors to Consider
Support
We also had to consider toddler's balance as we know that a newly walking toddler wouldn't necessarily have the balance that an experienced walker would have. We also had to consider that while your toddler may seem to have a good enough balance on their own that their balance isn't actually fully developed yet. We believe that these devices can actually be beneficial to your toddler and help them gain and perfect their balance while having a scooter helps strengthen their other developmental skills as well.
Frequently Asked Questions
q:

Where can I get warranty and repair information for the Micro Kickboard Mini Kick Scooter?

a:

All Micro Kickboard scooters come with a two-year warranty. Be sure to register yours here. The company can also send replacement parts. For additional info, you can call them at 888-236-5657.
q:

I can't decide whether to buy a two-wheeler or three-wheeler. Any tips?

a:

The advantages of the toddler three-wheel scooter ("kickboard") are more stability and surfboard-style steering. Traditional two-wheel scooters, on the other hand, allow for quick, defined turns and more movability. Additionally, two-wheelers are more portable (although they can't stand alone as can the three-wheelers). Ultimately it comes down to the athletic ability and balance of the intended user. If there is any doubt about his or her competency and level of confidence, then the three-wheel kickboard scooter is probably the better bet. Or, consider getting a convertible model, such as #12 on our list.
q:

Will a kick scooter rust if left outside?

a:

It can. Depending on the type of material(s) they're made of, some are more susceptible to rust than others. It's best to bring scooters indoors after use (garages are perfect) to prevent the elements from shortening their lifespan. Rust and mud in the wheels/bearings can lead to tarnishing, as well as a slower, uneven ride. Although wheels and bearings are replaceable, keeping a scooter clean and dry is the best way to give it a long, healthy life.
q:

Don't Radio Flyer products come with a warranty?

a:

Yes, Radio Flyer scooters are eligible for a free two-year warranty if you register your purchase here.
q:

My two-year-old really, really wants a stand-up scooter and I'd like to buy her one, but how can I make that she won't hurt herself?

a:

There's always a potential for kids to get hurt whether they're riding bikes or scooters, or simply running down the sidewalk. However, for optimum scooter-riding safety, we recommend that kids wear properly sized knee pads, elbow pads, and helmet, along with closed-toe shoes with rubber soles. We also advise riding on smooth, even surfaces to minimize the possibility of spills due to bumps in the road. Three-wheeled scooters (two wheels in front, one in back) with wide bases offer the most stability and are therefore the safer choice for beginners. Even with all these precautions, parental supervision is a must for young children learning how to navigate a scooter.
q:

How can I get streamers for my daughter who really wants them for her scooter (which didn't come with any)?

a:

For a girls scooter you can either make your own by using wooden golf tees, eye screw, thumbtacks, and ribbon or, you can purchase them on Amazon.