10 Best Fisher-Price Toys Reviewed in 2019
last updated
Jul 29, 2019
Creating over 5,000 toys since its inception in 1930, Fisher-Price has become a world leader in children's toys around the world. With a commitment to quality, the company's focus has always been to manufacture products that are strong in construction and value for the cost. Known for their product line called Little People, they also have other popular hits such as Power Wheels, Rescue Heroes, and the Rock-a-Stack.
If you are searching for an excellent toy for your child, we highly recommend one from the Fisher-Price collection. Each of these selected fisher price toys has been judged by parents as the best-rated of this particular category. We bring them to your attention to save you the trouble of searching for the items that both you and your child will like the most. Making this informative list was a challenge because Fisher-Price has so many great playthings for children.
In a Hurry? The test winner after 28 hrs of research
Brilliant Basics Rock-a-Stack
Why is it better?
Five rings of colors to stack and grasp
Includes a rocker bat-at base
Smaller ring has beads that rattle and swirl
Promotes stacking and relative sizing
Aids with hand-eye coordination and motor skills
In a
Hurry? Editors choice:
Test Winner: Brilliant Basics Rock-a-Stack
30
Researched Sources
28
Hours Researching
26
Products Evaluated
Educational Value
Design
Physical Development
Age Range
By Default
10 Best Fisher Price Toys Reviewed
1

. Brilliant Basics Rock-a-Stack
Five rings of colors to stack and grasp
Includes a rocker bat-at base
Smaller ring has beads that rattle and swirl
Promotes stacking and relative sizing
Aids with hand-eye coordination and motor skills
Rings can only be stacked one way
The top ring is hard
Need to ensure the optimum development of your baby's psychomotor and cognitive skills? Then the Brilliant Basics Rock-a-Stack is simply perfect.
Read more
There are five rings of different colors to stack and grasp that promote the concepts of stacking and relative sizing. It includes a rocker bat-at base that wobbles for added fun and discovery of objects. The smaller ring at the top has a reflective shiny surface on the inside that includes beads that rattle and swirl. This wonderful toy aids with hand-eye coordination and motor skills and teaches biggest to smallest with the stacking. It is a best toy for babies six-months-old to two-years-old.
Educational value
Learning how to stack objects may seem quite simple and not important, but this is a terrific concept for babies to grasp early in life. The colors, shapes, and sizes add to the fun and education that kids can obtain.
Design
With colorful stackable rings, rattle beads in one of the rings, and a rocking bottom, this is one adorable plaything that is guaranteed to shape the full potential of the young brain.
Physical development
Gross motor abilities will get a good workout when children play at stacking and sorting these rings on and off the base. As they grab and place the rings, they will also work their muscles, balance, and coordination talents too.
Age range
Recommended for kids six months to two years, this incredible stacking fisher price toy will most likely be their first item that aids with the development of such an assortment of skills and capabilities.
2

. Learn with Me Zebra Walker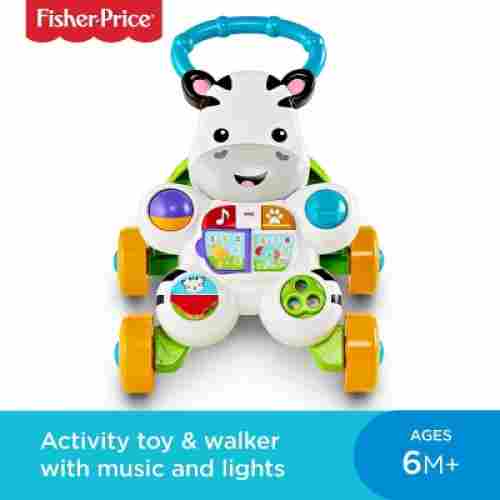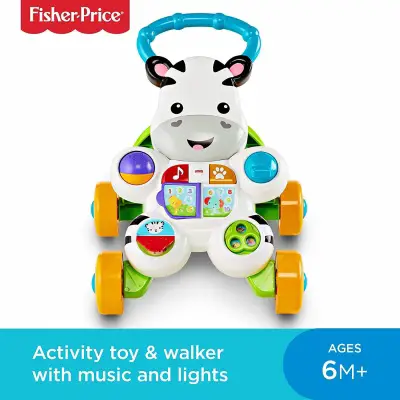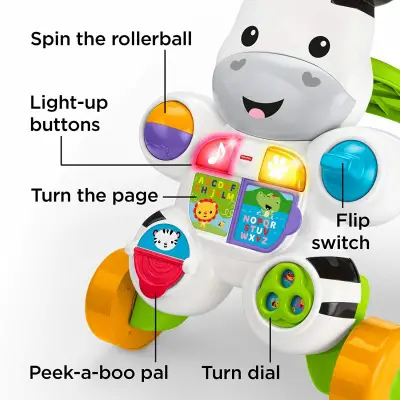 Encourages kids to walk early
Has plenty of activities
Is colorful and exciting
Kids can sit or stand to use it
Is durable and long-lasting
Toy slips easily – has little traction
Paint on the bottom came off easily for a couple of people
With the fisher price learn with me zebra walker, kids can stand and walk with the toy or sit and play. It has plenty of activities to explore with the hands, such as book pages, lights, buttons, phrases and songs for children six-months-old to four-years-old.
Read more
This cute plaything encourages walking and keeps the child moving with encouraging sounds, music, and phrases. Included are a four-wheel sturdy base and handles that are easy to grasp with little hands. Fisher price toys teach numbers and the alphabet plus more. Fine and gross motor abilities are exercises along with balance and muscle building with this very colorful and exciting toy. It is great for sensory skills in hearing the sounds and music and seeing the lights in action.
Educational value
The large buttons will give the child plenty of mental challenges with the lights, phrases, and sounds that they will see and hear. The simple concept of cause-and-effect is just one thing that will be gained with this walking toy.
Design
With its sturdy and wide wheelbase supporting its body that's filled with a lot of buttons that plays songs, the alphabet, and many wonderful lights, it's a great way to learn with the Zebra Walker.
Physical development
Walking is a challenging talent for infants to master in the few years they have to learn it. toys such as this cute walker aid them and encourage the activity to make this process easier and quicker.
Age range
For children six-month-old to four-years-old, this is one terrific plaything that they can learn a lot from. There are just so many activities to do with this incredible toy that they will never be bored.
3

. Brilliant Basics Baby's First Blocks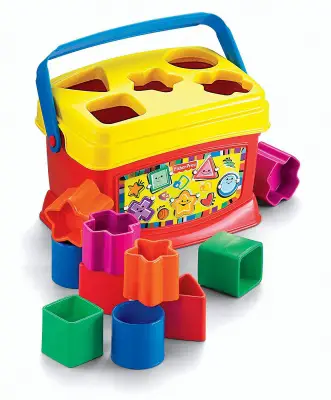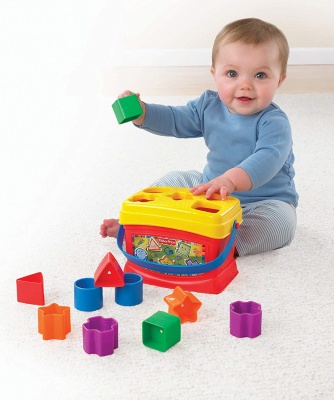 Includes five different shapes with the blocks
Aids with identification abilities, stacking, and sorting
Easy for toddlers to grasp, place, and hold
Sorting lid can be used with or without the bucket
Has an easy handle for carrying
The lid does not stay on well
Kids might be more attracted to the bucket that the lid and blocks
Including five different shapes with ten colorful blocks, the Brilliant Basics Baby's First Blocks toy aids with identification abilities. Kids can identify the shapes and match them to the holes in the box.
Read more
Stacking and sorting are exercised with these fisher price toys as well as hand-eye coordination and gross motor talents. Learning of putting the blocks in and taking them out of the bucket is good too since all the blocks fit well inside the container. Easy for toddlers to grasp, place, and hold, the blocks are quite colorful. The bucket has a big handle that makes carrying the toy easy. The sorting lid can be used with or without the bucket for playing with the blocks.
Educational value
Sorting, organizing, and stacking are important concepts for kids to learn when they are still in the infant or toddler range of life. These simple blocks have much to teach the young child in a fun and playful manner.
Design
For the little kid, this 'simple box' can mean a lot of things. It's got holes with certain shapes that kids will have to figure out which hole will accommodate a colorful block in the activity cube.
Physical development
Gross motor abilities, balance, coordination, dexterity, and muscle building are all enhanced with this wonderful plaything. These abilities are gained all at the same time but over a long time period for proper development.
Age range
Infant and toddlers are the best candidates for this sorting and stacking fisher price toy. As soon as the child starts to take an interest in the objects and surroundings around them is the perfect time to begin introducing such items.
4

. Brights Beats Dance & Move BeatBo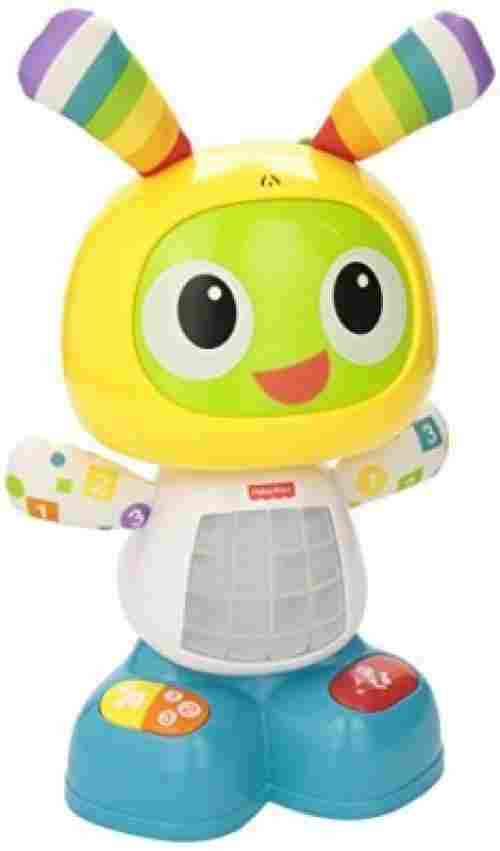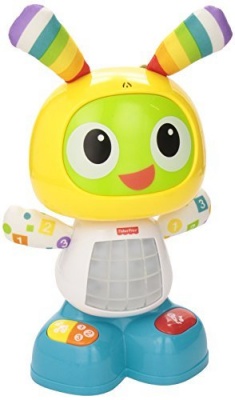 Activation buttons on the feet to operate
Three growth modes of dancing, singing, and learning
Good to teach cause-and-effect principle
Cute colorful face and antennae
Has an award-winning design
Did not last a year for some folks
The motor was very loud for a few people
With three growth modes of dance and move, games and learning, and sing-along, the Bright Beats Dance & Move BeatBo robot has a multi-colored large grid LED tummy and a cute, colorful face and antennae.
Read more
Pressing the buttons on the feet or the tummy will make the toy dance, play songs, and emit learning content for the child. Kids are encouraged to dance in the dance and move mode when the robot plays music, nods his head, and shakes his hips to the beat. The learning mode explores numbers, the alphabet, and counting. In the mode of sing-along is for recording phrases that the device will turn into a song. Your child can enjoy these adorable fisher price toys for toddlers for a long period as they captivates the attention of infants and toddlers with its antics.
Educational value
This product is good to teach the cause-and-effect principle and has an award-winning design. The arms have various numbers on them, and the feet have the activation buttons.
Design
BeatBo sure can dance while lighting up its tummy with a fabulous display of LED colors. He bops his head and shakes his hips while giving your kid a chance to grow optimally.
Physical development
Dancing is a good way to get the body of the infant and toddler moving in a positive way. They will naturally sway and move in an automatic response to the music of BeatBo when they hear it.
Age range
Both infants and toddlers will gain many skills playing and interacting with BeatBo as he dances and moves around to entertain. Kids of this age are easily excited by such a colorful and playful toy.
5

. Little People Lil' Movers School Bus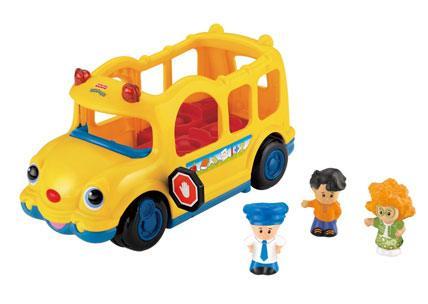 Lots of accessories
There is a plane, Sofie, Eddie the bus driver, and Koby and a wheelchair play piece
Enhances imagination
Durable plastic
Some people mentioned that it can be an annoying toy
Sooner or later, your child will have to learn more about life and about his or her world in school. You have to prepare your kid to understand what the school bus is for.
Read more
Educational value
Fisher fisher-price little people lil' movers school bus should come in as a wonderful tool to help introduce your child to the vehicle that will take him or her from home to school, and vice versa. The Baby School Bus is a great classic toy introducing children to the next most important vehicle in their young lives.
Design
The Baby School bus comes with three lovable characters, Carlos the bus driver, and Michael and Maggie. Like all Fisher Price products, the Baby School Bus plays songs, phrases, and action lights as well.
Physical development
These wonderful best fisher price toys are going to get your little ones away from the TV and video games, and into the world of imagination and active play.
Age range
The school bus' recommended age range is 24 months - 5-year-old kids.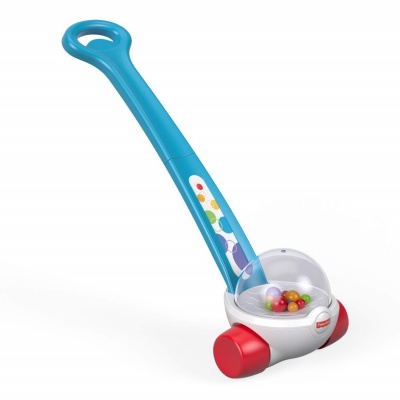 Offered with differently colored handles
Exciting popping action and sounds
Teaches cause-and-effect
Works the muscles and visual senses
Balls pop at the speed the child moves
Only pops when going backward
Does not have enough balls in it for constant popping
The well-known and long-time favorite Corn Popper is now offered in a selection of differently colored handles.
Read more
It has exciting popping action and sounds of the balls that is great for one to three-year-olds to enjoy. Gross motor abilities are strengthened in pushing and walking with this item that also teaches cause-and-effect. The bright colors aid with sensory development, as the toy also works the muscles and visual senses. It is fun to note that the balls pop at the speed that the child moves the toy when walking with it. once they discover this, they try to walk fast and even run to make the balls pop even faster.
Educational value
The colors of the balls are good for infants and toddlers to practice as well as counting them. the most valuable mental challenge this toy poses is cause-and-effect in pushing the toy to get it to make the sounds and action of the balls.
Design
As kids push the time-honored and exciting Corn Popper push toy, colorful balls bounce up and down the plastic dome, creating wonderful popping sounds. These new fisher price toys for toddlers are still going strong after decades of being a top seller.
Physical development
Developing the gross motor skills of children is an essential step towards their mastery of the art of walking. Adding a fun element to each step is ensured by the Corn Popper.
Age range
Kids aged one to three will love this toy the most since they are in the transitional stage of going from crawling to walking. This popper encourages them to walk by providing an incentive to do so.
7

. Rock-a-Stack and Baby's 1st Blocks Bundle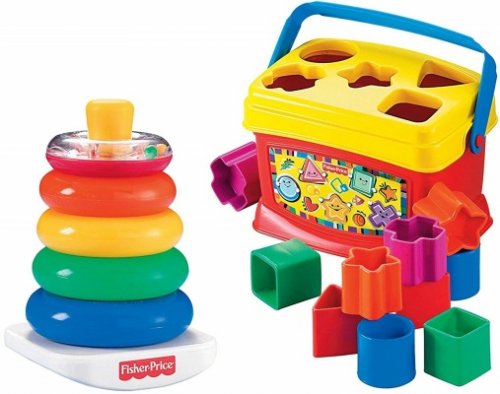 Teaches cause-and-effect and motor abilities
Plenty of colorful pieces to enjoy
Pieces are easy for little fingers to hold
Promotes shapes, colors, and counting
Exercises coordination, stacking, and sorting
Lid could have a better closure
Center stick prevents the rings from being stacked wrong
Need an excellent combo play set for your baby? You've got to try the Rock-a-Stack and Baby's 1st Blocks Bundle.
Read more
Each one goes about teaching the concept differently to keep the learning interesting and lively. With the Rock-a-Stack, there are five rings of varied colors that infants can grab and stack on the form. The entire toy rocks because the base is beveled to induce curiosity in little ones. The top ring has beads in it and is clear for the child to watch them.
The other toy is the Blocks Set in which the child places the ten varied-shaped blocks into the bucket using the shape sorter lid. There are five shapes in different colors that the child can learn to identify. There is a large handle to grab for easy transport and storage.
Educational value
Infants and toddlers will learn how to recognize shapes, sort them out, and stack them up with both of these incredible toys. Hours and hours will be spent in happy and productive play with them both.
Design
Although these two fisher price toys can be purchased separately, it can be quite advantageous to buy this combo package. It makes an ideal gift for the baby in your life or as a present for a baby shower or new parents.
Physical development
It's a set that's specifically designed to stimulate the continuing development of your baby's gross and fine motor skills, color and shape recognition, balance, visual-spatial coordination, and sorting abilities.
Age range
It is wise to begin introducing such fisher price baby toys to infants as soon as they show an interest in their world. They can see the colors and shapes and start to feel the difference in the blocks and rings of these two toys.
8

. Rattle and Rock Maracas Musical Toy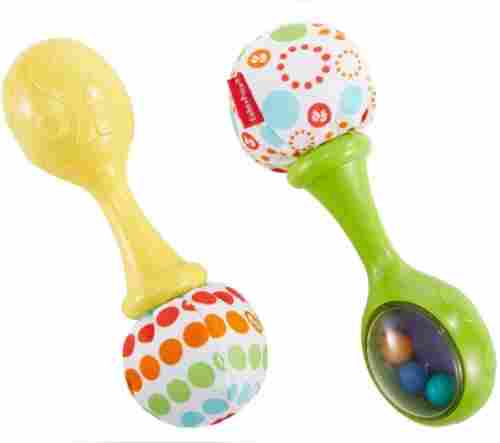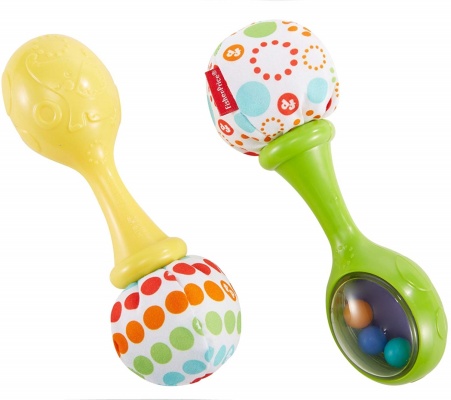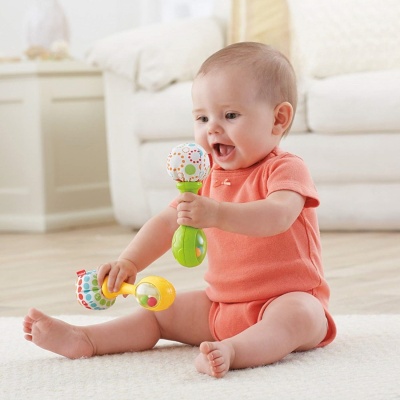 Several color combinations for the handles
Perfect size for infant to hold, grab, and shake
Includes colorful beads in the ends
Pom-poms are soft for teething and mouthing
Gross motor and sensory skills are increased
Beads do not make much noise as expected
Soft part is not stuffed a lot
Offered in several color combinations for the handles, the fisher price rattle and rock maracas musical toy is the perfect size for an infant's hands to hold, grab, and shake.
Read more
It includes colorful beads in one end and a pom-pom that is soft for teething and mouthing on the other. There are rattle sounds with the beads when the item is shaken. Gross motor talents and sensory skills are increased with the relaxed play of these cute little hand toys. Babies learn how to drop them on purpose for fun just so they can pick them up again in glee.
Educational value
These sensory fisher price toddler toys are important for babies' optimum brain development. By adding a musical element to the toy, the other areas of the brain are also developed and expanded in simple play.
Design
This Rock Maracas Musical Toy sports soft pom-poms and colorful beads that will help provide auditory, tactile, and visual stimulation for your child. Babies also love to chew on the soft tops for teething.
Physical development
You might not think that shaking an item is a good form of progressive play for infants, but they will be building their muscle tone and developing their motor abilities with this activity.
Age range
Infants and the youngest of toddlers will enjoy these new fisher price toys for toddlers the best. They like the sounds of the rattling beads, the size of the short handles, and the soft tops that they can chew.
9

. Brilliant Basics Boppin' Activity Bugs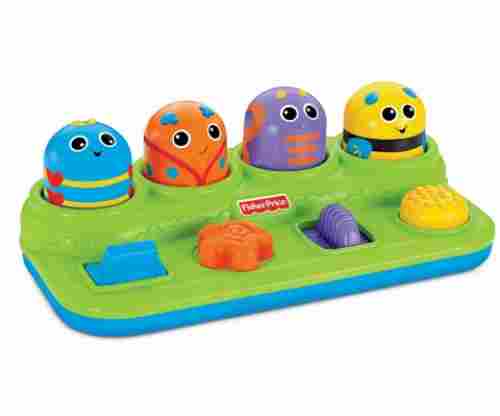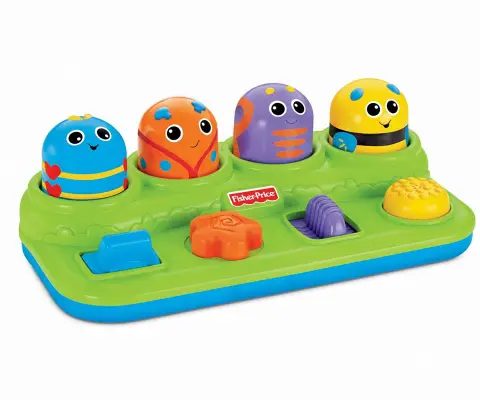 Exciting sounds and pop-up activity
Four various shapes to activate the bugs
Bugs make their own sound when popped up
Promotes cause-and-effect principle
Develops fine motor abilities and dexterity
Might not challenge an older toddler much
Some of the springs may not catch well
Extremely colorful with each part a varied hue, the Brilliant Basics Boppin' Activity Bugs Playset has bright smiling faces on each bug creature that is adorable.
Read more
The exciting sounds and pop-up activity are good for ages six months and older and develop fine motor abilities. Included are four various shapes for buttons to slide, turn, and push to activate the bugs. The four bugs all make their own unique sound when prompted to pop up, so they promote the cause-and-effect principle. Sounds include a ding, squeak, boing, and a click. This item also exercises dexterity and hand-eye coordination with regular play.
Educational value
Cause-and-effect is a very important life concept that babies learn early on in life. Toys such as this one are vital in giving kids practice with it, as well as being exposed to the wonderful colors and shapes of this incredible plaything.
Design
These bugs are not going anywhere, but they may bop their heads up and down every time your kid bats them or pushes the different buttons on the Boppin' Activity Bugs Play Set.
Physical development
Dexterity, coordination, and motor talents will all get a good workout when your child interacts with this super-cute toy. Just the pressing and moving of the buttons and levers will gain these abilities.
Age range
Six-month-olds will love this brightly colored toy that will hold their attention for hours. It will take them a while to figure out how to manipulate the bugs with the controls, but there is much fun in the process.
10

. Bright Beats BeatBowWow
Face and ears are very colorful and attractive
Includes over 25 phrases, tunes, and songs
Tail wags, ears wiggle, head moves back and forth
Ears are floppy and soft
Teaches numbers, counting, and colors
Can be very loud
Does not do enough says parents
One foot button is for music and the other is for learning on this Bright Beats Dance & Move BeatBowWow item. The face and ears are very colorful and attractive with a cute comical face.
Read more
The grid tummy is multi-color, LED, and large, and the tail has LED lights and wags to the music. It includes over 25 phrases, tunes, and songs for kids to learn and react to as it teaches numbers, counting, and colors. The ears are floppy and soft, while the variety of textures is good for tactile development. Great for ages nine months to three years, this terrific product has a head that moves back and forth, and the ears wiggle to the music.
Educational value
Teaching the basics of numbers, colors, and counting, this cute pup will become your child's new best friend quickly. As they interact with the toy, they will pick up the concepts fast.
Design
Meet the adorable BeatBowWow puppy toy. He's a friendly-faced pooch with numbers written all over his ears and two buttons on his front paws for exciting and thrilling learning and fun.
Physical development
Push one and BeatBowWow plays music, tunes, and learning phrases. Press the other and your kid is treated to some fun learning. His waggly tail comes with LED lights, too.
Age range
Older infants and toddlers will play with these fisher price toys for hours at a time because they are so attractive and appealing. They will build the skills as they enjoy the antics of the incredible toy.
Criteria Used for Evaluation
Educational Value
Fisher Price toddler toys are some of the most educational and trusted items you can find reliably on the market today. They give the child hands-on experience with important concepts such as cause-and-effect and learning of colors, shapes, and numbers. Pattern and object recognition are part of the usual blend of talents a kid can gain from playing with this company's toys also. With the sounds, music, and audible phrases, our little ones learn so much from Fisher-Price as their teacher.
Design
You can see that all Fisher-Price toys have great designs and concepts in their manufacturing. They are simple to use but deep in their creativity. In this way, the child gains a lot by interacting with the product with just normal play. It happens over time very gradually without the kid knowing it, but parents can see the capabilities of the child grow daily and eventually outgrow the toy. The special fisher price toys are responsible for this rapid learning and physical growth.
Physical Development
Motor skills can be obtained will all of these listed products because they all generate movement from the infant or child. with lights, music, and sounds, kids are enticed into acting with the toy in creative play. Fisher-Price is genius in its motivation of kids in these thoughtful ways. They realize what will make such a young child be excited and intrigued into reacting with the product. Other abilities exercised with these fisher price toys are dexterity, coordination, and balance. These are important to master early for proper development.

Age Range
As you can see, all of these fisher price baby toys are for active infants and early toddlers to have and enjoy for a couple of years. As they grow, they will interact with the toys more and more to get more out of them with extended use. It is best to introduce these products as early as you can in the kid's life, so they can grow with it and reap all of the benefits it has to offer. Otherwise, they will be bored early on and not like it very much.
Most Important Criteria
(According to our experts opinion)
Experts Opinion
Editors Opinion
Users Opinion
By Default

Parents, Did You Know?
New fisher price baby toys are some of the safest and most rewarding toys to purchase for kids of various ages. You can rely on their designs and materials to be the best for independent play.
Parents, Did You Know?
Every toy that Fisher-Price makes comes with a suggestion for the correct ages that should be using that particular item. Parents will save themselves and their children much stress and disappointment if they heed these age levels and purchase accordingly.
Other Factors to Consider
Entertainment Value
The many colors, shapes, and patterns of these toys are all so exciting and intriguing that adults want to try them out too. Even in choosing the products for our guides, we love looking at the Fisher-Price innovations that are so amazing. Kids are attracted to these fisher price toddler toys because of the fantastic appearance of each one. they will keep kids busy for many long periods in productive play.
Safety
Fisher-Price uses high-quality materials and innovative designs to ensure that kids can play with their toys safely and without any issues. The fisher price baby toys do not have sharp edges, harmful paints, or many loose parts. There are no swallowing hazards with these beneficial playthings, so children can play alone without supervision as they get older.
Frequently Asked Questions
q:

Which items are the most helpful for learning?

a:

The thing about fisher price toys for toddlers is that you cannot find one that does not teach a child something. As a matter of fact, they all teach various concepts in both physical and mental forms that the infant and toddler can use and build on in life. Each one of these toys is highly beneficial for kids to have and use in their regular playtime activities. Just be mindful of the age recommendations to get the most from the toy in the time that the child has to enjoy it.
q:

Which toys are ideal to use for parent-child time together?

a:

Since the majority of these items are for the younger age ranges, it is best for parents to introduce the toys to the child and then monitor them with the item thereafter. This ensures that the child is getting the most from the time they spend at play and that the toy is being used properly. Just watching the kid play with the toy is good enough for safety measures. Not to mention that watching an infant play with a new toy can be one of the most rewarding parts of being a parent.
q:

Which products would be good gifts?

a:

For infants and little ones, these would all make a wonderful present or baby shower gift for new parents. They are exceptional, high-quality toys that are well known for outstanding features and great designs. When you give a fisher price toy to someone's baby or child, they realize that you want to give the very best. These are not cheap toys that will deteriorate quickly but are long-lasting and meaningful items that suggest you respect quality. The parents will love that you chose this brand for their child to have.
q:

Are any of these items good for keeping children occupied in the car or traveling?

a:

The Rattle and Rock Maracas and the Activity Bugs Playset are the best toys for using in a vehicle or while away from home. The others need to be placed on a floor or have too many pieces to be used successfully in a moving vehicle. These two items have just a couple of pieces and would be hard to misplace when traveling. Kids can hold on to them easy also, even in a car seat.
q:

What is the most often negative remark from parents concerning these playthings?

a:

Since most of these new fisher price toys for toddlers and little ones have just the basic ideas of learning and moving, parents often feel like the toys are not worthy of the cost. Once their child masters the concepts and movements of the item, they do not want to play with it any longer. Kids are going to outgrow their toys, and this should be expected. It just sometimes happens much sooner than we might like, and we feel like we have wasted our money. It is a good thing when the child outgrows the toy and moves on to other more challenging items. This is why it is best to ensure that you are not purchasing a toy below the age level of the child. They will have less time to enjoy it when you do.
q:

Are there any products that are particularly for one sex or the other?

a:

No, all of these items are great for either gender of a child. That is one terrific thing about Fisher-Price toys is that they do not discriminate based on gender for their items. The colors are neutral, and the designs are equally fabulous for both boys and girls to love and enjoy. To ensure that your child has a well-rounded education from their first toys, introduce a wide variety of items for them to explore. You never know which ones they will prefer to play with and interact with, as they might not be the very ones you would pick for them.