When you've got a baby on board, you want to make sure that every safety precaution you can manage is properly in place. That's why investing in the right car seat for your family is so important. There are plenty of different kinds of car seats out there, and your needs may vary based on how often you'll be switching the car seat between vehicles, how old your child is, and what additional features you're looking for. Below, we've gathered a variety of options that we think will cover all your bases, so sit back and scroll through to see which car seat is your perfect fit.
Our Top 3 Picks
Evenflo AMP Booster Car Seat

Our rating
2 Cup Holders
Price:

See Here
Graco Atlas 65

Our rating
2-in-1
Price:

See Here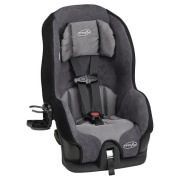 Evenflo Convertible Car Seat

Our rating
100% Polyester
Price:

See Here
Our Picks Of The Top Car Seats For Kids
Sprocket Big Kid AMP Booster by Evenflo
Saturn Tribute LX Convertible by Evenflo
Jameson Chase LX Harnessed Booster by Evenflo
Graco Extend2Fit Convertible Kenzie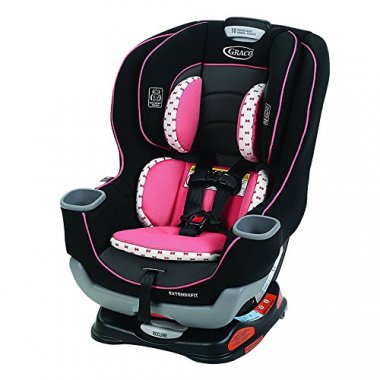 Mouseketeer Minnie APT Convertible by Disney
Evenflo Symphony Elite All-In-One
Safety 1st Grow and Go 3-in-1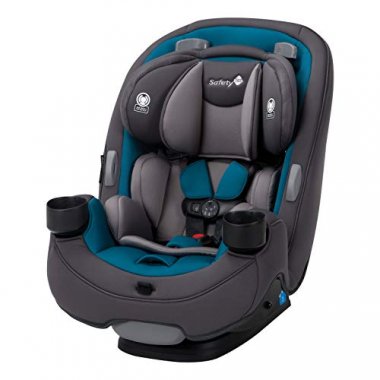 Evenflo Maestro Booster Thunder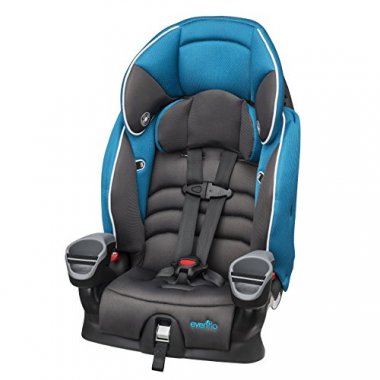 Evenflo Chase Harnessed Booster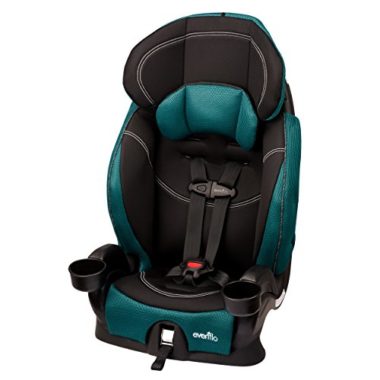 Criteria Used In Evaluation of The Best Car Seats for Kids
Safety
The most important feature of a car seat for your child is that it provides the safety level needed to keep your child free from harm in the event of an accident or collision. Child car seats are also important to keep kids in place even when impact does not occur, such as when you must slam on brakes to avoid an accident. Manufacturers have implemented plenty of safety gadgets on their car seats from safety latches to secure harnesses and straps. Most of them are created with a protective shell that covers the sides and back to give the best resistance upon side impacts. The best safety is achieved for your child by arming yourself with all of the information available on the vast number of car seats on the market.
Comfort
Comfort for your kid is almost as important as the safety level. Children that are not comfortable in their car seats will cry and complain until you make them comfortable. They must be satisfied while you are driving because you cannot always stop to make adjustments to suit them. The seats we feature here all have several options for comfort such as armrest padding, removable seat pads, extra padding on the sides and back, reclining positions, and cup holders for snacks and drinks. Comfortable children are happy children, and you want them very happy while you are driving.
Versatility
Many of these car seats have wonderful adjusting positions for shoulder, neck, and head heights, various harness and buckle positions, and backrest modes. Most, if not all of the models, do allow alterations in the car seat to change with the growth of your child. They can be used as rear-facing seats for infants, forward-facing seats for toddlers, and belted booster chairs for older kids. These changes occur when the child reaches the age or weight limit for the various positions allowed. In the booster option, these seats can be used for years, allowing the child better vehicle-belt positioning and window viewing.
Ease of Operations
Car seats should be easy to install, remove, and change from vehicle to vehicle. Sometimes families can only afford one car seat but have two vehicles. This means plenty of changing the car seat for various trips that would be very aggravating if the seat was hard to remove and position. Even though all of the seats are held in place with the vehicle seat belt, they do not all attach or use it in the same manner.
Some have very easy installation, making it trouble-free and easy to handle. Others are a little harder to loop into place with the seat belt, but very much worth the effort when it comes to the increased safety. Almost all of the car seats, once installed, allow simply clicking the child from the harness or belt to remove them or put them in.
Children, Car Seats, and Car Safety
In 2016, the Centers for Disease Control and Prevention reported that there were 723 children aged below 12 years of age who died because of motor vehicle accidents and more than 128,000 injured. What is more troubling is that close to 618,000 children between the ages of 0 and 12 years old rode in cars, trucks, and vehicles without the safety provided by kiddie car seats, booster seats, or even standard seat belts. Of the 723 children who lost their lives in auto accidents, 35 percent were reported to have not been using seat belts nor in a child safety seat.
These figures are alarming considering that the use of dedicated, well-designed child safety seats have been proven by many government and private groups studies to reduce the risk of death by as much as 71 percent among young infants aged less than 1 year old and by as much as 54 percent among toddlers aged 1 to 4 years old. Among preschool and young school age children aged 4 to 8 years old, the risk of serious injury or even death has been shown to be significantly reduced by as much as 45 percent when the correct and proper child safety seats are used. For older children 8 to 12 years of age, the risk is reduced by as much as 50 percent. Studies also revealed that increasing the age requirement for the use of kiddie car seats to 8 years old can greatly reduce the risk of incapacitating injuries by as much as 17 percent.
The government, child safety advocacy groups, and car seat manufacturers are working hand-in-hand to help educate the public in the proper use of child restraint systems. This is important because studies show that 23 out of 50 safety seats for kids are misused and this can significantly impair their effectiveness. This accounts for 20 percent of booster seats and a whopping 59 percent of kiddie car seats. Does this mean 59 percent of us clearly don't know how to properly use these supposed car safety seats?
It's a really scary thought considering that everyone knows the value of using child car seats in helping save the lives of our young passengers only to fail miserably simply by not knowing how to use these devices properly. It is, therefore, our responsibility to make sure that the kiddie car seats we buy for our children are not only properly secured but, more importantly, are used in the correct manner.
Government agencies, child car safety advocates, and child development experts recommend adherence to a set of car safety guidelines every time we take our kids for a ride.
One of the most important things we have to do as parents is to learn the different types of child restraints in cars and other vehicles as well as how to correctly position them.
For young children below 2 years old, we need to position the kiddie car seat in the back seat of our vehicles. Additionally, the kiddie car seat must be facing the rear. This rear-facing car seat position has been shown to reduce the severity of injuries sustained by the very young passenger in case of a frontal collision. Using a five- or six-point harness can also help increase the level of security.
For children between the ages of 2 and 5, they can now use the same kiddie car seat they used when they were still younger (below 2 years old). The only difference is that they are now facing forward. We can also opt for a five- or six-point harness for added security.
For children who have outgrown their kiddie car seats but are not yet fully prepared for the adult-standard car seat belt, we can use a car seat booster instead. Booster car seats are quite different from kiddie car seats in that we will be using the seat belt built-in into the car itself to restrain our kids. The function of the booster seat is to add height to our kids so that the car seat belt will fit perfectly.
It is important to understand that kiddie car seats can come in different configurations. Experts that we have talked to highly recommend getting convertible children's safety car seats such as a forward- and rear-facing convertible as well as a forward-facing-and-booster convertible. At the very least, you will be using the car seat for a really long time. So this should provide you with great value for your money.
Additionally, it is important to observe the following guidelines.
Always read the kiddie car seat manufacturer's directions on how to properly secure the child seat in the seat of your car. This includes the height and weight limits for each particular type, brand, and model of car seat. If you are not sure about the correctness of your installation, you can ask help from a Child Passenger Safety Technician who has been duly certified to install such devices. You can then ask different questions on how you can uninstall and reinstall them yourself.
Always put the kiddie seat, both rear-facing and forward-facing, in the back seat of your car. Whenever possible, always place children in the middle section of the backseat as studies have shown that this is the safest spot for children inside the car or any vehicle for that matter.
Do not put children in the front seat or anywhere near a deployable airbag. Studies have shown that children placed in front of these deployable airbag systems have resulted in more deaths than those children placed in the back seat, even if the kiddie car seat is a rear-facing one. The point is to always seat children in the back seat.
If you have to use the car's seat belt, make sure that the sash belt is not under your kid's arm or behind his or her back. Sash belts should always form a diagonal from the shoulder of your kid to the one near his or her lap.
Make it a habit to always put your seatbelts on even before turning the ignition on. This means for every trip that you make, you have to make sure that both you and all of your passengers, particularly young children, are properly secured in their seats. It is our responsibility to make sure that we won't be going anywhere unless everyone is fully buckled.
With these, together with our list of the top 10 car seats for kids, we are optimistic that you can ensure the safety of your kids every time you sit behind the wheel.
FAQs
Frequently Asked Questions
Q: What is the age range for these safety devices?
A: These devices are suited for a wide range of children. Not all have the same range but on average they range from infant to toddler. There are some that can be adjusted and resized to be used as your child gets bigger. They can be adjusted to go from a car seat to a booster seat.
Q: Are they sized to fit in all cars?
A: The majority of these seats are suited to fit most vehicles. There are a couple that are very large and are not suited for small vehicles with limited space.
Q: Can they all be used as rear-facing?
A: Most of these safety devices are versatile enough to be adjusted and used as front-facing or rear-facing. There are a couple that are not capable of doing so, but they do provide a number of other benefits.
Q: Can these seats be used for a boy or girl?
A: These safety devices come in a variety of color or gender-neutral designs giving you versatility in the child you plan to shop for. There is however one absolutely adorable option suited entirely for little girls in mind.
Q: Do these seats offer good head support?
A: While it's true that not all of these provide the same benefits, there are a number of seats that provide ample comfort and head support for those long bumpy road trips.
Q: Can they be made to recline?
A: All these seats offer adjustable features to provide your child with the most comfort and safety. While they do not all include the option to recline the majority of the rear-facing seats do.