A car seat for your child is probably one of the toughest choices you will make for your kid's safety and also one of the most important. Having a car seat mounted in your vehicle with your kid strapped in safely will lower their risk of dying in a car accident by 71%.
Car seats for kids are just as diverse and numerous as there are makes and models of vehicles on the market. However, you must somehow choose the perfect car seat to protect your child while you drive down the road.
Our picks feature the safest models that manufacturers are producing currently. Car seats are intended for infants to older kids around the age of four-years-old. How old a child is, and how much they weigh determines the way their car seat will face in the vehicle.
Generally, infants and kids up to two-years-old are placed in a rear-facing position. Once the child is in the two to four-years-old, then the forward-facing position is best in the vehicle. At this position, the child should weigh no more than 40lbs. Children 4-8 years old will be in a booster seat.
Explore our findings of the best-reviewed and best-rated kids car seats on the market today in 2018.
Our Top 3 Picks
Evenflo AMP Booster Car Seat

Our rating
2 Cup Holders
Price:

See Here
Graco Nautilus Harness Booster

Our rating
3-in-1
Price:

See Here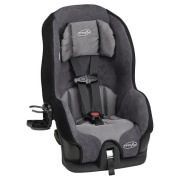 Evenflo Convertible Car Seat

Our rating
100% Polyester
Price:

See Here
15 Best Car Seats for Kids Reviewed in 2018

Sprocket Big Kid AMP Booster Car Seat by Evenflo


If we didn't knew, we'd seriously think Evenflo's Sprocket Big Kid AMP is a kiddie version of a high-end racing seat. At just 8.2 lbs. yet capable of seating children with weights between 30 and 110 lbs. the Sprocket Bik Kid AMP is one serious car booster seat. Here's the best part – the high back rest can be easily removed so that it functions as a no-back car booster seat. This simply means that your kid's back will be conveniently resting on your car's back rest.
The Sprocket Big Kid AMP features a height adjustment mechanism that can be operated with a single hand. It comes with 6 different height levels of adjustment so your kid can actually use it as he or she grows. The booster seat features a thick foam liner that has been designed to absorb impact and compression forces as well as other forms of energy. This can provide for an excellent level of comfort and safety for your child.The seat pad can be removed and machine washed so it will keep on looking clean. It also features 2 molded-in cup and bottle holders on the high grade solid plastic seat frame.
Benefits – This item provides two seats for the price of one. The back is removable to make a booster seat for older kids that need added height so that they can properly fit in the vehicle's seat belts.
What We Like about It– Six head positions make this the ideal booster seat your child can grow with. You can make adjustments with just one hand from a high-back seat to a low-back seat to suit your changing needs.
Pros
Sleek design
Lightweight
Supports between thirty and one hundred and ten pounds
Features a removable back rest
Pad is removable and machine washable
Cons
The height can not be adjusted.
Needs more padding in back part
Matrix Nautilus 65 LX 3-in-1 Harness Booster by Graco 

Graco has always been known for creating high quality kids' products and the Matrix version of the company's Nautilus 65 LX 3-in-1 booster car seat is no exception. In fact, this car seat can be used by kids in 3 different ways – as a forward facing booster car seat, as a high back rest car seat booster, and as a no-backrest or backless car seat booster. Using it on your car means you can configure it any way you like, depending on the size of your kid. The forward facing car seat booster can accommodate a child weighing anywhere between 22 and 65 lbs. while the high back rest car seat booster can conveniently seat a child weighing 30 to 100 lbs. The backless or no-back rest car seat booster is perfect for kids weighing anywhere between 40 and 120 lbs.
Here's the best part of the Nautilus 65 LX, the height of both the harness and headrest can be easily adjusted with just a click of a button with its Safe Adjust Harness System. This gives your child optimum security as you can easily adjust his or her position relative to the rest of the Matrix Nautilus. It also features a reclining system that allows it to be adjusted in 3 different grades of incline. It has also been tested for side-impact safety and, together with its beautiful armrest, should provide additional comfort and security.
Benefits – This car seat has three reclining positions to give the most comfort to your child while traveling. Even the textured, body supports can be removed as your child grows.
What We Like about It – We love the fact that the Matrix Nautilus can be used in 3 different ways. At the very least your kid will be able to use it as he or she grows. And if you do get the chance to have another child, then he or she, too will be able to use it. The easily adjustable harness is remarkable as well.
Pros
It's versatility offers three uses
Tested for side impact safety
Features a reclining system
Features an easily adjustable headrest
Supports a range of weight
Cons
Crotch buckle may present some problems with adjustments
Saturn Tribute LX Convertible Car Seat by Evenflo

The Tribute LX Convertible car seat of Evenflo is a very comfortable car seat for kids. It can be used in two different ways to accommodate your growing young child. In rear facing mode, the Saturn is excellent for providing absolute comfort for young children below 2 years of age or whose height ranges anywhere between 19 and 37 inches or 48 to 94 centimeters. By the time your baby has reached toddlerhood or a height of between 28 and 40 inches or 71 to 102 centimeters, you can then use the Saturn as a forward facing car seat.
Combine this with a fully adjustable shoulder strap position of up to 4 different modes help ensure that the Saturn will be used by your growing kid. It also features a highly accessible harness adjustment as well as buckle release for ease of adjustment. The Saturn Tribute have exceeded all federal safety testing including a very strict side-impact test. In fact, it boasts of a 100 percent increase in safety based on the standards of the Fedeal Crash Test.
The seat pads are made of energy-absorbing foam liner to provide maximum comfort for both your baby and your toddler. The head pillow and the buckle and harness covers are made of soft and plush materials for added comfort especially on unusually long rides. These can also be easily removed for machine washing. The metal and plastic parts of the Saturn Tribute can be easily cleaned with mild soap and water.
The whole system can be easily installed using Evenflo's patented Lower Anchors and Tethers for Children (LATCH) system. It's also lightweight at only 9 lbs. so you can bring it with you even to the airport or on any other travel.
Benefits – This item has been tested for side impacts, which would be important in the event of car crashes. Your child would have this extra protection, plus the foam liner that absorbs energy for cushioning.
What We Like about It – The safety features of the Saturn Tribute is something to be joyous about. It's ease of installation, maintenance, and adjustability also make strong points for considering this as one of the top car seats you can ever buy for your child.
Pros
Fully tested for safety
Features shock absorbing foam
Easy to install and clean
Features fully adjustable shoulder straps
Available in a variety of colors
Cons
Does not offer much padding
Item has tilting issues
Jameson Chase LX Harnessed Booster by Evenflo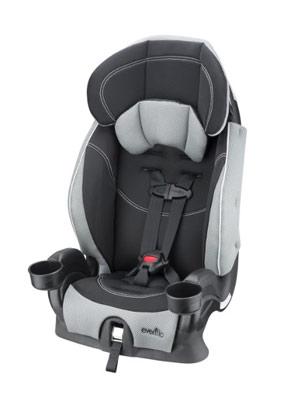 When Evenflo designed the Jameson version of its Chase LX car seat booster, they only had children's maximum safety and comfort in mind. The Chase LX can be used 2 ways depedning on the weight of the child sitting on it. If the child weighs around 22 to 40 lbs., then the Chase LX is used as a 5-point harnessed car seat booster. For older or heavier children weighing around 40 to 110 lbs., then the Chase LX converts to a belt-positioned booster.
It also features Evenflo's sophisticated and highly ingenius LATCH system to allow for ease of installation. There simply is no more waiting for the whole car seat booster to be installed before it can be used by kids. It has also passed rather convincingly a variety of federal crash tests including its side-impact and collision and structural integrity tests. This alone is proof that this booster from Evenflo deserves a spot in our top 10.
Both arm rests of the Chase LX feature cup or bottle holders at the tip. At the very least, you can focus on driving while your kid can naturally help himself or herself to his or her favorite drinks. The headrest as well as side walls of the car seat booster envelopes your kid in a very safe and secure half-shell.
Benefits – This safety device is designed for optimal safety and comfort. It is easy to install and adjust. Thus, your convenience doesn't have to be compromised in order to ensure the best for your child. Features a five point safety harness offering your little one with a fully functioning layer of protection. The headrest has extra cushioning to provide your child with an ideal level of comfort. It also adds more cushion for improved safety. The two different uses support twenty two to forty pounds, and forty to one hundred and ten pounds.
What We Like about It – The LATCH system makes it really a breeze to install. Perhaps the best thing about the ChaseLX is its superb safety profile particularly its twice Federal level ratings. It's also lightweight at 11 lbs. although not the lightest in our list.
Pros
Designed to maximize safety and comfort
Provides an easy installation
Features an extra padded head rest
Weighs eleven pounds
Features a five point harness
Cons
Some reviews have stated this product is cheaply made. May not have the same durability as other items on this list.
Seat tends to move around a bit more than desired
Graco Affix Youth Booster Seat with Latch System

Clearly the lightest in our list at only 7.6 lbs., the red on black AFFIX Youth car seat booster with a patented latch system is one of the most convenient car seat boosters you can bring with you in your travels together with your child. The AFFIX can be used two ways – as a high back rest car seat booster or as a backless car seat booster. The high back rest car seat booster can accommodate children weighing around 30 to 100 lbs. or are 38 to 57 inches tall while the backless mode can accommodate children standing 40 to 57 inches tall or weighing between 40 and 100 lbs.
Graco's unique one-hand latch adjustment system located in the front of the AFFIX  allows for ease of operation, accessibility, and convenience. For more independent kids, this secure and easy latch system can be buckled safely by your kid himself or herself. The AFFIX also comes with a cup holder and a pull-out storage compartment underneath the seat. The armrest, headrest, and backrest are made of plush materials for superb comfort so kids will have a really pleasant ride for hours.
Benefits – This car seat has a latch system to lock it in place on the seat of the car and a front adjustment on the front for easy and quick tightening. This will prevent the car seat from moving on the vehicle seat while the vehicle is in motion.
What We Like about It – The unique latch system allows for ease of installation. Additionally, we love the hidden storage compartment. What really sold us to this car seat booster is that it is the lightest in our list of the top 10.
Pros
Weighs seven and a half pounds
Serves two uses
Easy adjustment
Made of plush materials
Features a hidden storage compartment
Cons
May be difficult to install
Some buyers were missing the cup holders
Mouseketeer Minnie APT Convertible Car Seat by Disney

If you have a little girl, then you might want to get her Disney's Mouseketeer Minnie model of the APT Convertible car seat. This is one of the lightest full kiddie car seat, not a booster, at only 9.3 lbs. It features a 5-point harness system complete with a front-adjusting mechanism. This allows the APT to be easily adjusted even by the child herself. The APT has also been rigorously tested for side impact protection and structural integrity so you won't have to worry about the security and safety of your child.
The APT is designed 2 ways, either forward facing or rear facing. For babies 5 to 40 lbs. in weight, they can use the APT in its rear facing position. For toddlers weighing about 22 to 40 lbs., they can use the APT in its forward facing position. All materials used in the construction of the APT are made only of the highest quality for maximum comfort for your child. Its patented LATCH system also allows for ease of installation and optimum security. It also comes with 2 cup holders.
Benefits – This cute Disney car seat has an upfront adjustment to make changes much simpler and a five-point harness, so almost any child regardless of size can strap in securely.
What We Like about It – We love the cute and comfy design of the APT. Its safety profile is also remarkable. These 2 points are enough reason for getting the APT especially if you have a little girl to think about.
Pros
Weighs roughly nine pounds
Features two cup holders
Made of comfortable and soft materials
Tested for safety
Features a five point harness
Cons
May be difficult to install
A few buyers had issues with buckles not releasing at all
Windmill High Back Booster by Cosco

This booster seat from Cosco is a very lightweight and very versatile. The Windmill High Back booster car seat features a 5-point harness that allows excellent security for your child. The harness can be easily adjusted up front so there's no need for reaching behind the back of this beautiful booster seat.
It can be used either as a forward-facing kiddie car seat or as a full booster car seat for your growing kid. When used as a car seat, it can accommodate kids who weigh up to 40 lbs. When used as a belt positioning booster seat, the Windmill can accommodate up to twice the weight limit of the forward-facing car seat at 80 lbs. It should be remembered that it does have a recommended minimum weight of 22 lbs. or roughly 10 kilograms.
The Windmill also features a fully removable cup holder so your precious kid can have instant access to his or her beverages. The cup holder is conveniently located at the side of the booster car seat for easy access. The high back and head rest means your kid will be a lot safer tucked-in in the Sprocket.
Benefits – If you're searching for smooth adjusting, this one is top-of-the-line. It has a harness with five points for very small kids, and then as the child grows, the seat can change to a booster seat.
What We Like about It – It is very lightweight that it can actually be carried to almost any type of transportation. It's also FAA-approved so you can bring it inside an airplane so your kid will have a more comfortable flight.
Pros
FAA Approved
Features a removable cup holder
Features a front adjustable harness
Features a five point harness
Supports up to forty or eighty pounds
Cons
May not be comfortable for long car rides.
Latch clips could have issues with connecting
Safety 1st Grow and Go 3-in-1 
Parents must look for the simplest yet effective car seat for their kids to keep them safe and secure on the road. Making sure the removal of the seat and the child is easy and trouble-free is a requirement too. This seat has impact protection on the sides and a seat pad to hold them snugly in place. With three reclining positions for placing and locking the seat in place in the vehicle, a great fit is almost guaranteed.
Harness holders in the seat make getting the kid in and out quick and easy. This easy-to-clean car seat can accommodate kids anywhere between five to one hundred pounds in the various stages of a baby's and toddler's life. It is a 3-in-1 model that quickly changes from a rear-facing seat for infants to a forward-facing chair for toddlers, and then to a car-belt positioned booster for older kids. This position is most like a regular seated position in a vehicle, but with the added height so kids can see out of the windows. This is a fabulous car seat for parents that want a trouble-free way to transport their children.
Benefits – A seat pad that is detachable easily by way of snaps is a major plus for those times when cleaning the car seat is necessary. Just undo the snaps to get it free and machine wash and dry for the perfect cleaning.
What We Like about It – Most car seats do not come in a large variety of colors like this one from Safety 1st does. Parents have nine colors to choose from to best match their vehicle upholstery or just their favorite color.
Pros
Can be rear-facing, forward-facing, or belt-positioned
Can accommodate kids from 5 to 100 pounds
Has protection from side impacts
Three reclining positions ensure a good fit
Harness holders make in and out easy
Cons
Harness straps may be hard to tighten
Some claim the seat is hard to install
Thunder Maestro Booster Car Seat by Evenflo

One of the heaviest booster car seats in our list, the Maestro car seat booster weighs 14.5 lbs. yet has an excellent design that actually looks like a high-end racing seat. When used as a 5-point harnessed forward facing car seat booster, it can accommodate children weighing 22 to 50 lbs. Its belt-positioning car seat booster mode allows it to sit kids weighing 40 to 110 lbs.
The headrest of the Maestro is beautifully contoured to assist the belt for your kid's shoulder and neck to assume a perfect fit. The plush and soft materials can be easily removed to be cleaned in your washing machine. The Maestro also comes with fully integrated cup or bottle holders complete with flexible bands to help secure bottles and cups.
The Maestro has been accredited by the Insurance Institute for Highway Safety as the the Best Bet in child passenger safty. Additionally, it has successfully passed all federal structural integrity and vehicular crash tests with flying colors.
Benefits -This seat is well suitable for Latch systems so you can simply move the seat from vehicle to vehicle without much trouble getting it latched in the car. This is a major point of issue addressed in this model as most parents must transfer the car seat to different family vehicles.
What We Like about It – We love the idea that it's considered the best bet for optimum child car safety by one of the nation's leading organizations in highway safety. This alone is proof that the Maestro deserves a spot in our list.
Pros
Features a comfortable head rest
Accredited by the Insurance Institute for Highway Safety
Machine washable
Comes with cup holders with flexible bands
Made of high quality materials
Cons
Flaps may be flimsy, not meant for longevity.
Plastic pieces that hold down the fabric in front come off easily
Coda My Ride 65 LX Convertible Car Seat by Graco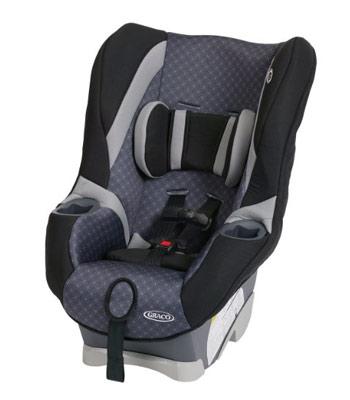 Graco's Coda model of its My Ride 65 LX line of convertible car seats is one of the heaviest in our list at 15.8 lbs. It can be used as a rear facing car seat for babies weighing 4 to 40 lbs. as well as forward facing car seat for older children weighing 20 to 65 lbs. It comes with Graco's patented LATCH system for ease, convenience, and security of installation. It features a 5-point harness with a fully adjustable mechanism in the front. It has been duly tested and exceeded federal tests for side impact collisions, structural integrity, and even extreme vehicle interior temperatures.
The My Ride 65 features an EPS energy-absorbing foam. It also comes with a machine washable seat cushion and cover. The plastic and metal parts of the My Ride can be easily cleaned with ordinary mild soap and water. The harness strap and buckles can be easily cleaned using only a damp piece of cloth. It also features to built-in cup or bottle holders so kids can have ready access to their beverage.
Benefits -Kids should ride in car seats as long as they can in the rear-facing position. This car seat will support your child in a rear-facing position until he or she is up to forty pounds in weight. This is much longer than most standard seats on the market.
What We Like about It – The safety features of the My Ride make it a great convertible car seat for kids no heavier than 65 lbs. We love the fact that the cushion and cover can be easily removed for ease of cleaning.
Pros
Heavy Duty product
Made for durability and longevity
Features a patented latch system
Machine washable
Tested for structural integrity
Cons
May be difficult to install
Has some movement once child is strapped in
Graco Backless TurboBooster Car Seat, Galaxy


Kids that are older than toddlers, yet younger than big kids still need a booster seat in vehicles. These aged kids are still too short for vehicle seat belts and too short to see adequately out of the windows without just seeing the sky. This backless booster is just perfect for these kids. It will accommodate children from four to ten-years-old. Regarding weights, it is best for children from forty to one hundred pounds. There are padded armchair rests and a movable cup holder on each side of the seat. The seat is detachable and machine washable for convenience and easy cleaning, and it is available in five colors and patterns making it stylish for kids, as well as comfortable. This is one of the most top-rated car booster seats on the market and a must for anyone that does not need the car seats with the backs.
Benefits – Proven equipment for safety with proper testing is beneficial for knowing you are buying a product that will live up to its potential when you need it most. This car seat has exceeded U.S. safety testing for impacts in trial runs to give you a very safe product.
What We Like About It – This is an awesome car seat without the back piece, directed towards older kids being able to ride safely, with a great window view. A booster seat is needed for those in-between years of being a toddler and an older child that can use the regular seat belts like an adult.
Pros
Helps transport the big kid easily and safely
For ages four to ten or forty pounds to one hundred pounds
Consumer magazines claim this car seat is top-rated
Comes in five colors
Is stylish and comfortable for kids
Cons
Seat cover material is thin for some buyers
Buckles were a problem for a few parents
Safety 1st Alpha Omega Elite 

A great car seat is one that will grow with your child from infant to toddler to large kid. This one does just that. Use it in the rear-facing mode as long as you can because this is the safest position of all three for your child. Upon impact, they are protected from the front seat, which is at their back. This is the position for infants.
The forward-facing position is used next for toddlers. Once kids outgrow that position, then the car seat can be used as a booster chair for older kids to give them the proper fitting for the car seat belts. These three positions will grow with your child from five pounds to one hundred pounds in weight. This car seat has been tested for side impact and meets U.S. safety standards for protection. You can adjust the height of the harness with just one hand because of the five-point system implemented. For added comfort, the seat has rotating armrests and a cup holder that is detachable. Besides that, the item is easy to clean and quite versatile.
Benefits – Vehicle seats are not all created the same, so car seats for kids must be quite versatile to get the perfect fit on seats. This lovely item from Safety 1st is very versatile with three reclining positions to get the best fit.
What We Like About It – We all like to get the most for our money because we work very hard for it. This amazing car seat has plenty of added amenities that will make you happy. Two of the best features are a removable head support for infants and a pillow for added comfort.
Pros
Has three modes of seating
Available in seven colors and patterns
Has protection from side impacts
Features three positions of reclining
Has a removable head support, a pillow, and absorbing foam padding
Cons
Some had problems securing seat to vehicle
A few were not happy with the head support for older kids
Britax Marathon ClickTight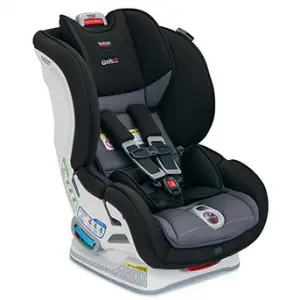 This car seat is built for impacts and shock absorbency with its deep-absorbing shell that encompasses the seat for safety and security. It contains a steel frame, a base that will absorb impacts well, and a side layer of impact protection. Kids five to sixty pounds can ride in comfort in a rear-facing or forward-facing position.
Seven reclining positions are possible with this highly versatile car seat for child comfort and easy installation. With this many positions, the perfect fit in any vehicle is possible. A two-position buckle provides an easy adjustment as your child grows, plus the harness features fourteen positions for fastening.
The ClickTight feature makes fastening the seat to the vehicle a breeze, and the seat height can be adjusted just as easily with a simple push of a button. For comfort, style, and wonderful choice of colors, this car seat from Britax is a real winner!
Benefits – What sets this car seat apart from the rest is the patented ClickTight technology the company implements in the product. This allows the simplest installation possible by just looping the car seat belt through the slots for a perfect, tight fit.
What We Like About It – Nineteen colors to choose from for a car seat seems unbelievable! Any vehicle upholstery can be easily matched with this assortment of color and design for a look you will love.
Pros
Has 19 color options available
Features the simple ClickTight installation
Includes seven reclining positions and 14-position harness
Contains a removable pillow
Change the height of the seat with a button
Cons
Some were disappointed with the size – too small
A few complaints about the padding shifting out of place
Cosco Apt 50

This product from Cosco can be used as rear-facing or forward-facing seat to accommodate kids forty to fifty pounds in weight. Children should be positioned rear-facing as long as possible to give them the best protection in the vehicle. When they are old enough to use it forward-facing, then they can be positioned just like an adult in the vehicle seat.
Protection from side impacts is well-designed in this model, and the front harness is latch equipped and has a five-point center. Six colors are available for this car seat that includes two cup holders for drinks and snacks.
The easy-to-clean seat pad is removable and machine washable for convenience. The versatility of the harness, buckle and seat cushion make this a car seat you will treasure for years.
Benefits – Kids come in all shapes and sizes, and sometimes it is hard to fit them comfortably and securely in a car seat that will last. This wonderful product has six heights for the harness and three locations for the buckle to ensure a secure fit.
What We Like About It – The manufacturer encourages buyers to use this car seat on airplanes probably because it is so lightweight and easy to use. If you travel plenty on airplanes, then this is the seat for your child.
Pros
Six colors are available
Provides protection in rear-facing and forward-facing modes
Easy to clean seat pad is removable and machine washable
Has six heights for the harness and three locations for the buckle
Is certified to use on airplanes
Cons
Top plastic frame may crack easily
Might be hard to install
Chicco KidFit Booster Car Seat
The KidFit Booster seat is a marvel for the height adjustment technology. Kids old enough to sit in a regular car seat can still use this seat because of the way the manufacturer made the seat adjustments. The positions change from the waist up in ten different poses for optimal comfort and fit. Shoulders, neck, and head are supported wonderfully with this car seat for kids up to four-years-old. The head and shoulders are also protected well from impacts. The seat is contoured and padded with double foam for the best comfort. A backless model can be fixed by removing the back of the seat for a booster chair for older kids. There is a two-position backrest to fit vehicle seats the best, as well as force-multiplying tighten technology and latch connectors. Three various color patterns are offered in this model that has a detachable and machine-washable seat pad and armrests. For the car seat that truly grows with your kid from infant to older child, the KidFit Booster is a marvel for busy parents.
Benefits – The height adjustment controls on this car seat move the back up from the waist and not just the neck and head. This lets kids use the seat much longer as they age.
What We Like About It – The folding, removable cup holders are really a nice feature that other car seats do not have. Most of them have cup holders that move out of the way, but these fold up against the seat for a neat look.
Pros
Available in three color combinations
Has head and shoulder protection from impacts
Seat and armrests pads are detachable and machine-washable
Seat converts to a backless model for a booster for older kids
Features a two-position backrest for fit vehicle seats best
Cons
Some had problems with the seat staying in place
Belts came undone a lot for a few buyers
Criteria Used In Evaluation of The Best Car Seats for Kids in 2017
Safety
The most important feature of a car seat for your child is that it provides the safety level needed to keep your child free from harm in the event of an accident or collision. Child car seats are also important to keep kids in place even when impact does not occur, such as when you must slam on brakes to avoid an accident. Manufacturers have implemented plenty of safety gadgets on their car seats from safety latches to secure harnesses and straps. Most of them are created with a protective shell that covers the sides and back to give the best resistance upon side impacts. The best safety is achieved for your child by your arming yourself with all of the information available on the vast number of car seats on the market.
Comfort
Comfort for your kid is almost as important as the safety level. Children that are not comfortable in their car seats will cry and complain until you make them comfortable. They must be satisfied while you are driving because you cannot always stop to make adjustments to suit them. The seats we feature here all have several options for comfort such as armrest padding, removable seat pads, extra padding in the sides and back, reclining positions, and cup holders for snacks and drinks. Comfortable children are happy children, and you want them very happy while you are driving.
Versatility
Many of these car seats have wonderful adjusting positions for shoulder, neck, and head heights, various harness and buckle positions, and backrest modes. Most, if not all of the models, do allow alterations in the car seat to change with the growth of your child. They can be used as rear-facing seats for infants, forward-facing seats for toddlers, and belted booster chairs for older kids. These changes occur when the child reaches the age or weight limit for the various positions allowed. In the booster option, these seats can be used for years allowing the child better vehicle belt positioning and window viewing.
Ease of Operations
Car seats should be easy to install, remove, and change from vehicle to vehicle. Sometimes families can only afford one car seat but have two vehicles. This means plenty of changing the car seat for various trips that would be very aggravating if the seat was hard to remove and position. Even though all of the seats are held in place with the vehicle seat belt, they do not all attach or use it the same.
Some, like the ClickTight from Britax have very easy installation, making it trouble-free and easy to handle. Others are a little harder to loop into place with the seat belt, but very much worth the effort when it comes to the increased safety. Almost all of the car seats, once installed, allow simply clicking the child from the harness or belt to remove them or put them in.
Children, Car Seats, and Car Safety
In 2013, the Centers for Disease Control and Prevention reported that there were 638 children aged below 12 years of age who died because of motor vehicle accidents and more than 127,000 injured. What is more troubling is that close to 620,000 children between the ages of 0 and 12 years old rode in cars, trucks, and vehicles without the safety provided by kiddie car seats, booster seats, or even standard seat belts. Thirty-eight out of 100 children who lost their lives in the 638 deaths were reported to have not been using seat belts nor in a child safety seat.
These figures are alarming considering that the use of dedicated, well-designed child safety seats have been proven by many government and private groups studies to reduce the risk of death by as much as 71 percent among young infants aged less than 1 year old and by as much as 54 percent among toddlers aged 1 to 4 years old. Among preschool and young school age children aged 4 to 8 years old, the risk of serious injury or even death has been shown to be significantly reduced by as much as 45 percent when the correct and proper child safety seats are used. For older children 8 to 12 years of age, the risk is reduced by as much as 50 percent. Studies also revealed that increasing the age requirement for the use of kiddie car seats to 8 years old can greatly reduce the risk of incapacitating injuries by as much as 17 percent.
The government, child safety advocacy groups, and car seat manufacturers are working hand in hand to help educate the public in the proper use of child restraint systems. This is important because studies show that 23 out of 50 safety seats for kids are misused and this can significantly impair their effectiveness. This accounts for 20 percent of booster seats and a whopping 59 percent of kiddie car seats. Does this mean 59 percent of us clearly don't know how to properly use these supposed car safety seats?
It's a really scary thought considering that everyone knows the value of using child car seats in helping save the lives of our young passengers only to fail miserably simply by not knowing how to use these devices properly. It is therefore our responsibility to make sure that the kiddie car seats we buy for our children are not only properly secured but, more importantly, are used in the correct manner.
Government agencies, child car safety advocates, and child development experts recommend adherence to a set of car safety guidelines every time we take our kids for a ride.
One of the most important things we have to do as parents is to learn the different types of child restraints in cars and other vehicles as well as how to correctly position them.
For young children below 2 years old, we need to position the kiddie car seat in the back seat of our vehicles. Additionally, the kiddie car seat must be facing the rear. This rear-facing car seat position has been shown to reduce the severity of injuries sustained by the very young passenger in case of a frontal collision. Using a 5- or 6- point harness can also help increase the level of security.
For children between the ages of 2 and 5, they can now use the same kiddie car seat they used when they were still younger (below 2 years old). The only difference is that they are now facing forward. We can also opt for a 5- or 6- point harness for added security.
For children who have outgrown their kiddie car seats but are not yet fully prepared for the adult-standard car seat belt, we can use a car seat booster instead. Booster car seats are quite different from kiddie car seats in that we will be using the seat belt built-in into the car itself to restrain our kids. The function of the booster seat is to add height to our kids so that the car seat belt will fit perfectly.
It is important to understand that kiddie car seats can come in different configurations. Experts that we have talked to highly recommend getting convertible children's safety car seats such as a forward-and rear-facing convertible as well as a forward-facing-and-booster convertible. At the very least, you will be using the car seat for a really long time. So this should provide you great value for your money.
Additionally, it is important to observe the following guidelines.
Always read the kiddie car seat manufacturer's directions on how to properly secure the child seat in the seat of your car. This includes the height and weight limits for each particular type, brand, and model of car seat. If you are not sure about the correctness of your installation, you can ask help from a Child Passenger Safety Technician who has been duly certified to install such devices. You can then ask different questions on how you can uninstall and reinstall them yourself.
Always put the kiddie seat, both rear-facing and forward-facing, in the backseat of your car. Whenever possible, always place children in the middle section of the backseat as studies have shown that this is the safest spot for children inside the car or any vehicle for that matter.
Do not put children in the front seat or anywhere near a deployable airbag. Studies have shown that children placed in front of these deployable airbag systems have resulted in more deaths than those children placed in the backseat, even if the kiddie car seat is a rear-facing one. The point is to always seat children in the backseat.
If you have to use the car's seat belt, make sure that the sash belt is not under your kid's arm or behind his or her back. Sash belts should always form a diagonal from the shoulder of your kid to the one near his or her lap.
Make it a habit to always put your seatbelts on even before turning the ignition on. This means for every trip that you make, you have to make sure that both you and all of your passengers, particularly young children, are properly secured in their seats. It is our responsibility to make sure that we won't be going anywhere unless everyone is fully buckled.
With these, together with our list of the top 10 car seats for kids, we are optimistic that you can safeguard the safety of your kids every time you sit behind the wheel. This is just one way of ensuring the joys of parenthood as your kids will be staying with you for a long time.
FAQ
Frequently Asked Questions
Q: What is the age range for these safety devices?
A: These devices are suited for a range of children. Not all have the same range but one average they range from infant to toddler. There are some that can be adjusted and resized to be used as your child gets bigger. They can be adjusted to go from a car seat to a booster seat.
Q: Are they sized to fit in all cars?
A: The majority of these seats are suited to fit most vehicles. There are a couple that are very large and are not suited for small vehicles with limited space.
Q: Can they be used as rear facing
A: Most of these safety devices are versatile enough to be adjusted and used as front facing or rear facing. There is a couple that are not capable of doing so, but they do provide a number of other benefits.
Q: Can these seats be used for a boy or girl?
A: These safety devices come in a variety of color or gender neutral designs giving you versatility in the child you plan to shop for. There is however one absolutely adorable option suited entirely for little girls in mind.
Q: Do these seats offer good head support?
A: While it's true that not all of these provide the same benefits there are a number of seats that provide ample comfort and head support for those long bumpy road trips.
Q: Can they be made to recline?
A: All these seats offer adjustable features to provide your child with the most comfort and safety. While they do not all include the option to recline the majority of the rear facing seats do.
You May Also Like
Like What You See? Please Rate This Post And Let Us Know What You Think!
[yasr_visitor_votes size="medium"]