As you're shopping for car seats, you may notice a lot of qualifiers appearing on the ends of titles. "Front-facing," "rear-facing," "convertible." If you need a quick rundown, allow us to step in:
For roughly the first two years of car rides, most children will be in rear-facing car seats. Rear-facing seats provide optimum protection for little ones. When they're jarred upon impact, rear-facing car seats keep their heads and necks supported. This is highly important, especially when they're still a little too young to naturally hold their head up of their own accord. Many seats are now being fashioned to withstand higher weight capacities, allowing children to remain rear-facing for longer.
Eventually, however, all children will have to transition to a front-facing seat. When we drive and ride around as passengers sans booster seats, we're all forward-facing; children eventually need to get used to this practice as well. Buying a heavy-duty rear-facing seat, only to have to shuck that investment two years later to switch to a forward-facing booster seat can take a budgetary toll.
This is where convertible seats come in. Companies are now creating sturdy, safe car seats that allow infants to transition from rear-facing to forward-facing rides, all without having to purchase new equipment to keep the precious little cargo safe. All of these seats still apply the five basic principles of safety–they keep occupants inside the vehicle, establish contact at the strongest points of the body, spread the force of impact out as much as possible, and for as long as possible (rather than a sudden and concentrated jarring), and protect the head, neck, and spinal column. Our top 10 convertible car seats are listed below, all tested for durability, safety, and ease of use. Buckle up!
Our Top 3 Picks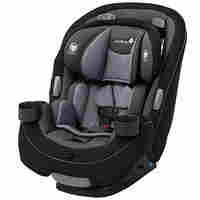 Safety 1st Grow and Go

Our rating
BUILT TO GROW
Price:

See Here

Evenflo Tribute LX

Our rating
Made in the USA
Price:

See Here

Mouseketeer Minnie

Our rating
22 to 40 pounds
Price:

See Here

The Best Convertible Car Seats Reviewed in 2018
Safety 1st Grow and Go 3-in-1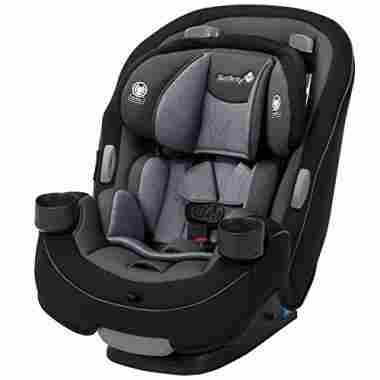 Disney APT, Mouseketeer Minnie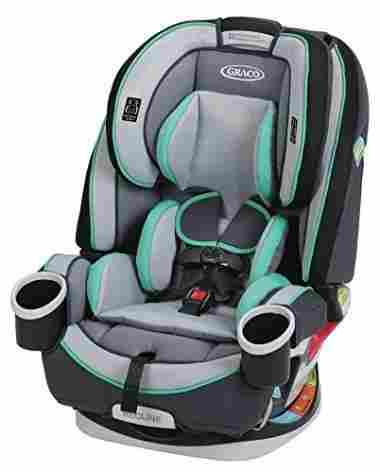 Evenflo Symphony DLX All-In-One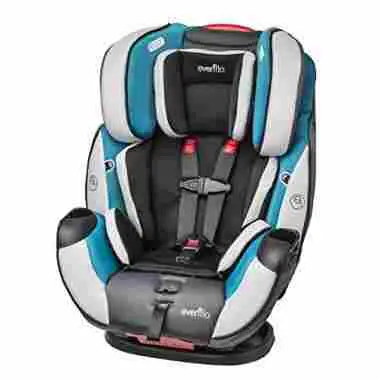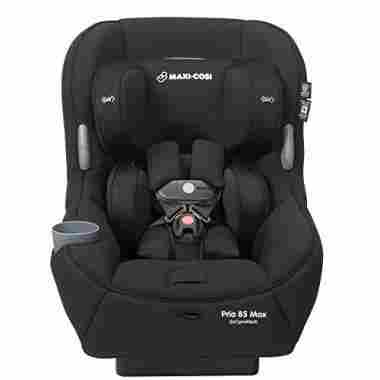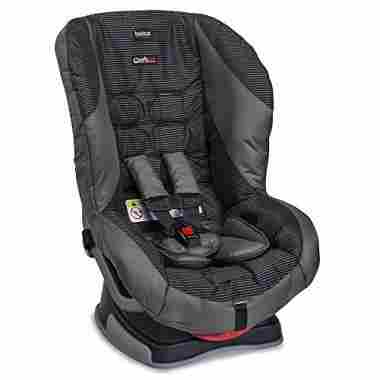 Britax Marathon ClickTight
Criteria Used in Evaluation of the Best Convertible Car Seat
There are many things to consider when looking for a good car seat to protect your little bundle of joy. First, remember that the price does not necessarily indicate the best quality or safety. Find a seat that fits your needs and lifestyle and is fairly easy to use. Is your child older than newborn? Do you need a car seat you can easily move between cars? Do you travel a lot? These are all good things to consider when looking for the perfect car seat.
Newborn infants will need to ride rear-facing for at least the first year or two. Rear-facing positioning is the safest option to keep them in for as long as possible. The American Academy of Pediatrics recommends you keep them rear-facing for at least the first two years of life or even a little longer. After the first year or two, you can switch it to front facing. When they get older they will be ready for a booster seat. The most attractive feature of a convertible car seat is that it may be the only child car seat you will ever need to buy. They are designed to last up to 10 years and grow with your child's needs.
Most convertible car seats usually stay in the car, which may be inconvenient if you are a family that will need to move it from car to car often. You will want to keep an eye out for a more lightweight option if that is the case. It will also occupy more space in your back seat and may be hard to adjust straps in that confined space, but the benefits clearly outweigh the disadvantages.
When you are purchasing any children's car seat, be sure to check the expiration date. Make sure they are up to date with all the government standards and guidelines for safety. Be sure to return the registration forms when you purchase a new seat so that the manufacturer can contact you with any updated information about safety notices or recalls. Also make sure the store will either let you try the seat in your car before you purchase it, or they have a good refund policy in case it does not fit. Not all seats are compatible with all vehicles.
You will want to find a seat that has a five-point harness system, one that attaches at the shoulders, the waist and between the legs. The lowest harness position should be below the baby's shoulders. You will also want one with straps that are easy to adjust as your baby grows.
Check for seats that offer side-impact protection–air pads or extra foam padding on either side of the baby's head for protection. There are also many models that have multiple types of accident-impact protection. When you are transporting your loved one, this protection could not be more valuable. You will also need a seat that is compatible with LATCH systems which is the ability to secure the seat into your vehicle without using seat belts. Keeping all these tips in mind, you should be ready to venture into the adventurous world of infant car seat shopping. Best of luck in finding your baby's "sweet ride."
FAQs
Frequently Asked Questions
Q: What does LATCH stand for?
A: It stands for Lower Anchors and Tethers for Children. It is required on most car seats and vehicles made after September 2002.
Q: How long does my child need to use a rear-facing infant car seat?
A: You should use a rear-facing seat until your baby is at least 40 to 45 pounds. When the top of your baby's head is within one inch of the back of the seat, you can turn it to face forward. Most models can accommodate up to 65 pounds.
Q: Is the Evenflo model FAA-approved?
A: It does have a tiny sticker saying it is approved for flight, but you may want to double check with the specific airline just to be absolutely sure.
Q: Does the Disney car seat come with a base?
A: No, but it does come with anchors to secure it safely in the vehicle.
Q: Does the Graco car seat have a handle so you can carry it out if your baby is sleeping?
A: This seat is fairly stationary and would be cumbersome to take in and out of your car. There are other models that might be better suited to your needs.
Q: Does the Evenflo Symphony DLX fabric retain heat? Will it hold up against high temperatures?
A: The Outlast Fabric is available on the platinum model and seems to hold up well against heat waves. It's soft and will cool down much quicker than the faux-leather of regular car seats. Most customers living in hot or humid parts of the world have commented on the Symphony being a good choice to keep the kiddos cool.