For parents, it can be especially hard trying to find that perfect toy for your active 4 year old. Especially finding a toy that's excellent at helping your child explore their imagination and increasing their creativity. It also can be challenging to figure out what your 4 year old likes or what they will lose interest in. That is why we are here to help you find the perfect toy for your busy little one. Whether it's a toy that has high educational value or if you're just looking for one that's a blast for your child to play with and will keep him busy for hours, we've got you-–and your 4-year-old boy-–completely covered. Let's face it, toddlers are highly active so you're going to want a toy that both encourages physical activity but also is mentally stimulating for them as well. This is why we have created our list below of the best 21 toys that will be perfect for you to take home for your little one to play with.
Our Top 3 Picks
Hop & Squeak Pogo Jumper

Our rating
Improves Dexterity
Price:

See Here
VTech Little Apps

Our rating
Color Changing Screen
Price:

See Here
Matchbox Cars

Our rating
All-Ages
Price:

See Here
Top 21 Toys & Gift Ideas for 4-Year-Old Boys
Foam Pogo Jumper by Kidoozie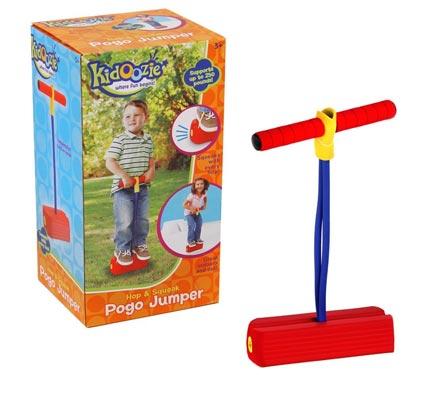 For kids who would like to imitate Tigger's bouncing playfulness across Hundred Acre Woods, giving them the Foam Pogo Jumper will be an excellent decision. The pogo stick is made of high-quality materials with cushiony soft base and comfortable handle. It also makes a squeaky sound as little boys hop around with it. It's sturdy enough to accommodate even parents up to 250 pounds.
Benefits – This foam pogo stick keeps your child physically active whether inside or outside. Thanks to the foam material, it is safe and clean.
What We Like about It – It's excellent for stimulating kids' interest in enjoyable physical activities. It also helps develop their mastery of hand-eye coordination, balance, and dexterity. It can also help strengthen the core muscles.
Pros
Develops hand-eye coordination
Physically stimulating
Durable
Classic
Safe
Cons
Squeak may bother sensitive ears
Less group oriented
National Geographic Little Kids First Big Book of Why
Help them expand and explore their imagination and the world around them with this great book from National Geographic. A 4 year old is constantly why, and this product is designed to help them find answers to all their questions in the most fun possible way. With games, crafts, recipes, and the sort of great photography National Geographic has been offering since you were a child yourself, give them a gift they'll love and a helping hand in answering questions that you'll love.
Benefits- This book is a must-have for any young brainiac, giving them constructive activities and accurate answers to all the questions that they have about the world around them. Teach them how cars operate, how cookies are made from dough, and so much more! This is a great, low-tech option for your child that will intrigue them and enhance the way that they interact with their world.
What We Like About It- This book is a simple and easy way to entertain as well as educate your child about the world that they live in.
Pros
Big, clear design made easy to read
Games, recipes, crafts; several constructive activities for them and you
Accurate and scientific answers to all their big questions
National Geographic photography and artwork
Cons
Paperback version not available in English
Little Apps Tablet by VTech

 In a world that is defined by technology, it is often a no-brainer to choose an electronic device as a gift for 4-year-old boys. The Little Apps Tablet from VTech is an electronic learning activity center that comes with 12 different learning activities, each one progressively more difficult than the one preceding it. It comes with an LCD screen with a backlight that changes colors as well as a fully functioning piano keyboard to play different fun phrases, melodies, and children's songs.
Benefits – This dynamic toy introduces children to the world of technology. Not only that, but the Little Apps Tablet does so through a creative, incremental process. It offers niche interests that can help your child discover his interests.
What We Like about It – It has an auto-shutoff feature so you won't have to worry about the battery draining fast. It's great for enhancing children's vocabulary, speech, language, and communication skills while enhancing their mastery of fine motor skills and hand-eye coordination.
Pros
Multifunctional
Challenging
Creative and Intellectual Stimulation
Catchy appearance
Plenty of replay value due to its 12 different activities
Cons
Battery dependent
Less group oriented
Sounds can be bothersome
Take-A-Part  Car by Liberty Imports

With a colorful yellow and blue futuristic body, the World Racing Car by Liberty Imports is a must-have for any 4-year-old boy. The kit comes as a disassemble-reassemble race car with 5 different car parts and a complete set of extra tires. The set also comes with a power drill and several screws.
Benefits – The World Racing Car promotes curiosity and in-depth thinking by introducing your child to the interior, mechanical process of a car. If your son nags you with the question, "Why?," this toy shows why and how a car can move and introduces the principle of cause-and-effect.
What We Like about It – The toy is designed for make-believe play, teaching 4-year-old boys about car making and repair. It also introduces kids to different parts of the car while helping to enhance their creative thinking, memory, and imagination. It's also excellent for reinforcing hand-eye coordination and fine motor skills.
Pros
Hands-on interactive
Modifiable
Classic
Catchy appearance
Good for group play
Cons
Might lose a piece
Drill is battery dependent
Harley Tough Trike by Fisher-Price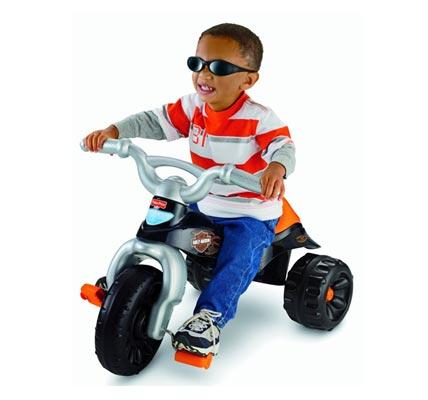 There is a certain mysticism surrounding the Harley-Davidson bike. And when you give a 4-year-old boy his very own HD Tough Trike, you can surely boost his confidence roaming every inch of your backyard. The trike features 2 smaller yet wider rear tires and a larger and thinner front tire. The chassis is modeled after the original Harley-Davidson complete with its distinct logo. The orange pedals are large enough to be stepped on by little feet.
Benefits – Adding a set of wheels to your son's sense of exploration will get him eager to play outdoors and meet friends. The Tough Trike brings an imaginative dimension to growing up cool.
What We Like about It – It's a ride-on toy with an attitude, pretty much like what serious bikers get when they roam the streets of the world. Kids will strengthen their leg and arm muscles, as well as help, reinforce balance and muscle coordination.
Pros
Physically and imaginatively engaging
A great reason to get outside and explore
Entry level trike
Catchy appearance
Confidence booster
Cons
Somewhat pricey
Child may physically grow out of this model
Manual assembly
Play Fishing Set by Learning Resources

One of the essential characteristics of a 4-year-old boy is his growing interest in dress-up play. With the Pretend & Play Fishing Set, kids will now be able to mimic the great outdoor fun of fishing performed by Dad. The kit comes complete with a fisherman's vest, a rod, and reel with a line attached to a magnetic bait, and a fishing net. It also comes with worm baits and 3 colorful plastic fishes with mouths open to a magnet inside. There's also a fisherman's carry box to keep things organized after a day of fishing.
Benefits – Another great way to get your kid interested in the outdoors, this dynamic set will make your son a fledgling angler. Promotes hand-eye-coordination, role-playing, and writing. Also, a great way to start planning your family fishing adventure.
What We Like about It – The toy set is excellent for pretend play and can help in the development of divergent problem-solving skills. It's also excellent for reinforcing fine motor skills.
Pros
Promotes mathematical skills and safety
A great reason to get outside and explore
Multifunctional
Great for playing with others
Fun for bath time too
Cons
Might lose a piece
Small items may pose a safety hazard to younger siblings
TotSports T-Ball by Little Tikes

Four-year-old boys are becoming very active. You can cultivate this with the TotSports T-Ball Set by Little Tikes and let them practice taking a swing at the baseball. The kit comes with a tee supported by a wide supporting base which can also double as a storage space for the 2 balls, the tee, and the bat. The tee can be adjusted according to the height of the kid.
Benefits – Find out if your son has an interest in sports by starting out at home with this Tee-Ball Set. If he is already set on trying out for Little League, then get a leg up by physical exercise and improving hand-eye coordination.
What We Like about It – It's good for improving accuracy, hand-eye coordination, and arm muscle strength. Who knows you might just churn out the next Babe Ruth right in your own backyard?
Pros
Promotes sports enthusiasm
Improves motor skills and coordination
Easy way to bat
A cool feature that hangs on the wall
Cons
Hard plastic may hurt
Sometimes flimsy
Car Gift Pack by Matchbox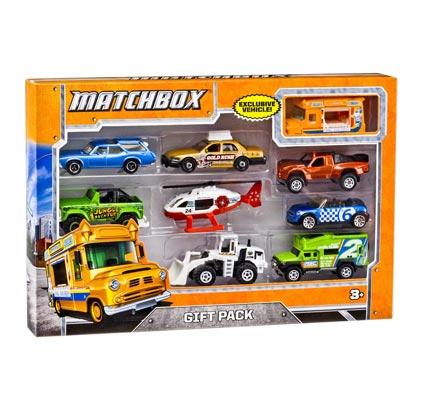 Young boys love playing with vehicles. Now, you can give them the 9-Car Gift Pack by Matchbox to expand their collection of miniature toy cars. The die-cast models are scaled 1:64 making them ideal for transportation or city playsets. Different gift packs feature different vehicles but will always include an exclusive decoration car.
Benefits – A great way for your child to start a collection of cars, which will require organization and systematizing. Both of which are strong features of analytical thinking.
What We Like about It – It's a toy enjoyed by everyone of all ages, not just 4-year-old boys. Serious toy vehicle collectors can use the pack as an expansion set.
Pros
Collections create a sense of pride and identity
Promotes interest in cars, mechanics, and design
Vibrant colors on the cars
Durable wheels
Cons
Potential slippage hazard if left unattended
Can cause clutter
Kiddie Kick Scooter by Razor

By 4 years old, boys already have a fair control of their muscle movements. This means they are now more than ready to take the three-wheeled Jr. Folding Kiddie Kick scooter. The 3 polyurethane wheels provide great stability while the handles are wrapped in soft and easy-to-grip foam. The body is made of high-grade aluminum and steel and can be easily folded for easy storage.
Benefits – A viable alternative to the Tough Trike, the Kiddie Kick Scooter gets your child working their leg muscles and coordination.
What We Like about It – It runs on leg power so it's great for strengthening the muscles of the lower limbs while at the same time fostering foot-hand-eye coordination as well as maintaining balance. It is also helpful in enhancing gross motor skills.
Pros
Safe, durable, action-packed
Compact
Catchy design
Easy assembly
Cons
Somewhat pricey
Requires additional cost of a helmet
No height adjustment
Kidizoom Smartwatch by VTech

Almost everyone wants to have wearable technology devices as gifts or presents for their birthday or on any special occasion. Four-year-old boys can now wear their own technology with the Kidizoom Smartwatch which comes complete with many of the features of a real wearable technology. It comes with a camera capable of shooting pictures and videos in 0.3-MP resolution. It also features fun games and a voices recorder. The kiddie smartwatch has a variety of clock face designs any kid will surely love.
Benefits – This Smartwatch is a cool, stylish way to build technology intelligence. Additionally, the creative ability of the camera feature can be your child's first foray into the world of photography.
What We Like about It – The wearable gadget is a unique way to stimulate creative and imaginative play. It's also great for introducing concepts of technology which can provide the stepping stone for improving cognitive skills.
Pros
Accessorizing builds fashion sense
Promotes creativity and memory skills through photography
Easy to keep up with and builds responsibility skills
Cons
Somewhat pricey
Limited storage space
Toysery Dinosaur Bubbles

If you have an active 4 year old, this is the perfect toy for them. Not only does this dinosaur comes with LED lights that illuminate while the bubbles start forming, but this toy is also made out of clear plastic so your child can see how bubbles are formed This product is perfect to help your child with their fine-motor skills and hand-eye coordination.
Benefits – This colorful dinosaur is fun for all ages and helps promotes hand-eye coordination and grip strength as well as full-body exercise as your child can try to pop or catch all the bubbles that form.
What We Like about It – We love this product because it is fun and promotes healthy exercise for your child. Your child will have so much fun trying to catch all the bubbles and watching them form that they'll forget they're exercising as well.
Pros
Illuminating bubbles
Easy to assemble
Encourages exercise
Includes bubble soap
Boosts hand-eye coordination skills
Cons
Sound doesn't stop, can be a little loud
Mini Trampoline by Little Tikes

The trampoline is one plaything that is great for all ages. You can introduce the joys of jumping up and down by giving 4-year-old boys the three-foot Little Tikes Trampoline. It comes with a sturdy center handle wrapped in soft material for kids to hold onto.
Benefits – Trampolines get your kid jumping around by himself or even with a siblings or a friend. What is great about this trampoline is the safety handle feature that lets him hang-on and bounce at the same time. It fits in well with other fun features of the playroom. Plus, it is a great way to burn off energy while staying inside.
What We Like about It – It's one fun way to help build confidence in little tikes as they master jumping up and down the trampoline, first holding onto the rails, then progressing without it. Great for developing leg muscle strength and coordination.
Pros
A way to stay inside on a rainy day and still burn energy
Safe
Quick assembly
Durable
Boosts coordination
Cons
Can be raucous for the indoors
55 pound maximum
Glow in the Dark Stomp Rocket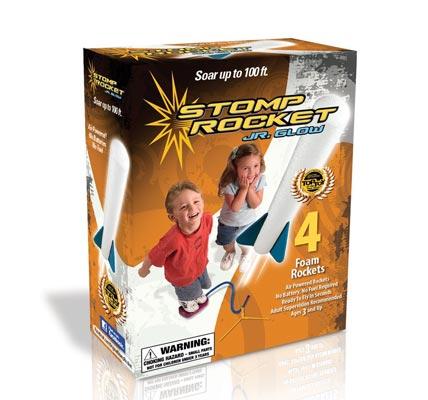 Teach 4 year old boys about the physics of rocket propulsion with the Jr. Glow in the Dark Original Stomp Rocket. The set comes with four pieces of colorful stomp rockets that are made of foam and a stomp launch pad. Watch kids stomp on the launch pad with all their might and see the rocket hurtle skywards for up to 100 feet.
Benefits – The Stomp Rocket gets your child thinking about aerodynamics and physics while still having a stomping good time. Great for backyard play, kids tend to compete to see who can launch the rocket the farthest and will chase after the rocket for the opportunity to send it to space. All of this makes for a great spectacle of watching kids engage in friendly competition and physical fun as well as develop an interest in science. To top it off, these rockets glow-in-the-dark like stars or fireflies, reminding us all of nature.
What We Like about It – The glow-in-the-dark design means it is best to play the set in a darkened environment. This should be great for early evening playtime activities. Excellent for strengthening leg muscles and for stimulating accuracy of hitting the launch pad.
Pros
A way to play outdoors at night
Easy to locate a launched rocket
Good for groups and social events
Develops interest in science
Boosts coordination
Cons
Gears by Learning Resources

With about a hundred colorful gears to help boys build structures to their hearts' content, the Gears! Gears! Gears! by Learning Resources toy set is an exciting way to stimulate creativity especially for kids who are naturally inclined in engineering activities. It comes in six colors with eight extra base plates that interlock to form the foundation for the building and construction project. It also comes with several six-way axles and an easy-to-follow instruction guide.
Benefits – Considered a STEM toy, Gears! excites scientific, mathematical components within a child's development. What makes Gears! the recipient of so many accolades is its vast scope, its ability to unleash depths of creativity. An enhanced version of the tinker toys older generations grew up with, the gears themselves and their function as cogs promotes project management, architecture, engineering, and the various colors of the pieces makes assemblages a work of art and creativity. Not only that, Gears! provides moral lessons, such as patience and dedication.
What We Like about It – Construction sets are great for stimulating the development of divergent problem-solving skills as it helps facilitate open-ended play. Additionally, the set can help children master their fine-motor skills as well as creative and imaginative thinking.
Pros
STEM toy
Creative, artistic project
Boosts patience
Highly dynamic
Intuitive to use
Cons
With so many pieces, some can go missing
Kids Outdoor Set by Back 2 Nature

In this one set, kids receive binoculars, a lensatic compass, a flashlight, and a magnifying glass–the best introduction to the basics of campings. Teach your child how to navigate with the compass or show them the pleasure of bird watching with the 4×30 binoculars, the Outdoor Set will make a naturalist or ecologist out of your four year old. It comes with a carrier bag for easy transportation and makes any child feel like they are part of the expedition.
Benefits – Kids love to play outside and feel wild, so help awaken your child's curiosity for the great outdoors with this dynamic starter kit. The Binoculars and magnifying glass boost scientific inquisitiveness. Plus, the flashlight makes night time a experience of safety and hand-eye coordination. Stimulating a sense of adventure will foster your kid's imagination and curiosity as well as keeping them physically engaged.
What We Like about It – Binoculars, compass, magnifying glass, and flashlight: the kit makes any walk through the park a scientific excursion. Great for groups and also for solitary exploration. There is a carrier bag to keep everything all in one tidy place.
Pros
Multifunctional
Binoculars zoom easily
Encourages kids to think about nature
Sturdy items
Intuitive to use
Cons
Scribble & Write by LeapFrog

With a unique take on the classic trace-and-draw method of learning, the LeapFrog Scribble and Write is excellent for teaching 4-year-old boys how to write. The writing surface lights up with the letter or number selected. Kids simply have to trace the lights.
Benefits – An intuitive, fun way to enhance your child's writing and reading abilities. A toy that solidifies the basics of writing mechanics is essential to any childhood. Its easy grip stylus turns writing into a smooth, comfortable process. Leapfrog Scribble also solidifies basic number awareness, and its correlative technology draws connect between math and language.
What We Like about It – The toy helps develop kids' mastery of the different letter and number strokes to prepare him for more complex writing. This also helps in enhancing fine motor skills while helping with language and communication skills.
Pros
Improves basic writing skills
Reinforces the rudiments of numbers and counting
Hand-eye coordination and cognitive connectivity
Comfortable stylus
Cons
Can be frustrating to children who do not follow the pattern exactly
KidiBeats Drum Set by VTech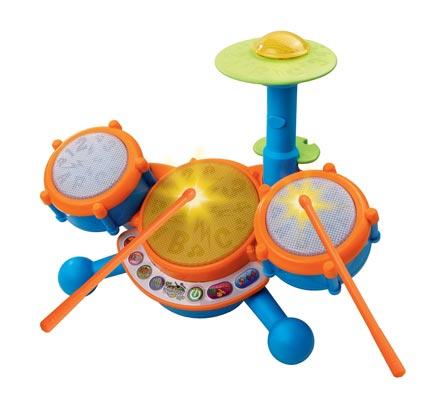 Experts agree that kids who play the drum grow to become highly talented and emotionally intelligent individuals. Give kids the KidiBeats Kids Drum Set and let them discover the joys of creating beats and rhythms. The set comes in four different modes of play including free play, follow-along, letter, and numbers. It comes with three drums, a cymbal, and two drumsticks.
Benefits – Playing drums builds amazing coordination, rhythm, and cardiovascular endurance. Developing rhythm will aid children as they learn more complex speech patterns and engage with social cues. Drums is also an amazing artistic enterprise, and beginning at an early age could ignite your four-year old's musical talent. The play-along feature expands the child's sense of musicality by having nine different melodies as teaching devices.
What We Like about It – It's a whole body workout for kids as they attempt to beat the drums to the rhythm of the melodies. The interactive LED lights add to sensory stimulation while the melodies can help in brain development.
Pros
Improves hand-eye coordination and rhythm
A creative outlet for energy
Unique sounds for sensory development
Many options
Cons
Take-A-Part Airplane by Battat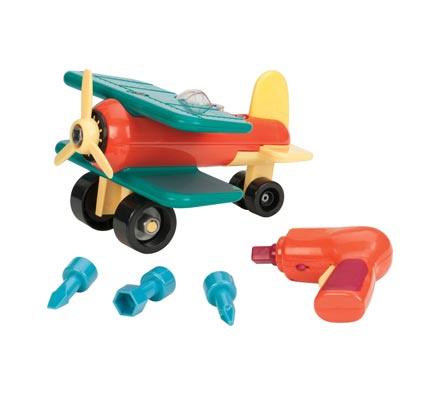 Airplane mechanics are one of the most technically proficient specialists in the world. You can introduce the world of airplane mechanical technology to 4-year-old boys with the Take-A-Part Toy Airplane. The kit comes with a model biplane with 21 different interchangeable parts which kids can take apart and then reassemble using the accompanying power drill with attachments.
Benefits – The Take-A-Part Airplane promotes curiosity and in-depth thinking by introducing your child to the interior, mechanical process of a toy. Take-apart toys show inner mechanisms, explain how things work, and introduces the principle of cause-and-effect. A child who takes to this toy may well become the teenager who enjoys taking apart radios, or bikes, or cars, or actual airplanes! The colorful design aids the creative process of disassembly and reassembly.
What We Like about It – The toy is excellent for stimulating make-believe play, developing problem-solving skills, and enhancing control of fine-motor skills. It's great for enhancing imagination, too.
Pros
Hands-on interactive
Modifiable
Develops critical thinking
Improves motor skills
Cons
Mega Crane Playset by Dickie Toys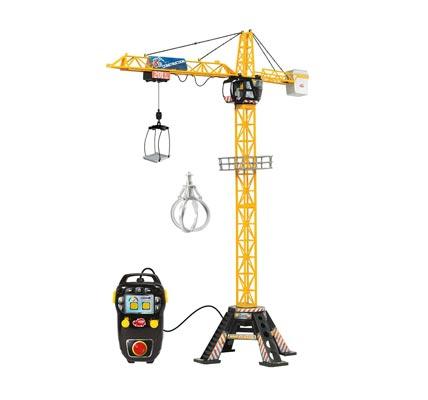 With a height of 4 feet when fully built, the Mega Crane and Truck Vehicle and Playset is a mammoth toy for mammoth fun. The crane is fully operational complete with a winch and trolley as well as a rotating cabin. The set also comes with a construction truck and other accessories for optimum simulated play.
Benefits – The Mega Crane and Truck playset transforms the playroom into a construction site. If mechanical toys are prominent in the playset, The Mega Crane stands out due to its tall stature and remote control. Kids have fun testing the might of the crane by using the claw to pick up other toys. The Mega Crane is like an experiment in weight, balances, and durability.
What We Like about It – It's one of the largest toy tower cranes you will ever find; perhaps even taller than most 4-year-old boys. It's outstanding for make-believe play which can help develop divergent problem solving skills as well as counterfactual reasoning.
Pros
Constructive
Large, durable
Tests imagination
Remote control, dynamic arm
Cons
VTech 3-in-1 Race and Learn

A 4-year-old boy might be a bit too young to play and fully understand video games, but they're not too young to have fun playing a racing game! The VTech 3-in-1 Race and Learn offers three different ways to play–with a car, motorcycle, and a jet. All three provide equal educational value and will make your child feel like they're actually driving, with a fun twist–they'll be learning in the process! This VTech toy will teach your little boy all about shapes, numbers, letters, and how to spell; the list doesn't end there, though. This steering wheel features real gear-shifting noises that make for a super realistic experience and will have your child on the edge of his seat for sure!
Benefits – The realism is not lost on this VTech toy. The steering wheel vibrates to simulate real-life driving effects and in combination with this toy's sound effects, your child will have a blast.
What We Like About It – For some reason, little boys are fascinated with racing cars and things that go "vroom." Now, they'll have control of their very own toy that will do the same thing AND teach them things at the same time!
Pros
Realistic sound effects and feel
Three-in-one toy
Fun to play as well as educational
Will teach kids a variety of different skills
Fun and engaging
Cons
The digital display screen is somewhat dark
USA Toyz Kids Play Tent – "Rocket Ship"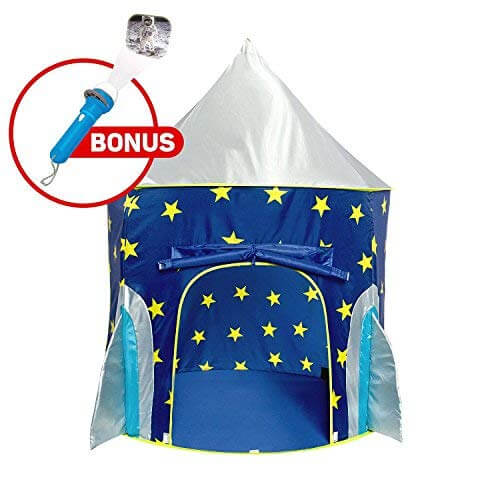 Think back to when you were a child. Do you remember your first hideout, treehouse, or even pillow fort? It was such a cool feeling to have a place that was hidden and all your own; a spot where you could go and play with friends or be alone with your favorite toys. Now, you can provide your child with that same experience but kicked up a notch–the Rocket Ship Play Tent by USA Toyz is a super fun when to give your kids a specific space that's all their own. Any little boy would be ecstatic to come home and find this tent set up in their room or playroom, and it can even be taken outside. The tent itself is durable and made of high-quality material, and can fit several kids inside. It sports a fun outer space theme but that's not all it does! With the purchase of a tent, you'll also get a flashlight slide projector. This means that when it's dark out and your child is in his tent, he'll be able to turn on the flashlight and project images on the ceiling and walls. It's a blast for sleepovers and provides the perfect amount of well-lit support your little one needs if they're not comfortable yet in the dark. All around, this is a great toy with a lot of potential for the adventurous and creative toddler.
Benefits –  As opposed to some other tents that can feel a bit stuffy and closed in, this one features mesh windows that allow for fresh air. It's perfect both indoors and outdoors and would make a great asset to any sleepover party.
What We Like About It – This tent is a perfect basic tent for kids who love the idea of camping out indoors or just love having their own space. The projector is a nice added touch for a bit of imagination and play time encouragement.
Pros
Fun theme
Easy to clean
It comes with a projector
Perfect for groups of kids
Great for boosting imagination
Cons
It won't last a long time with highly active children
Criteria Used to Evaluate the Best Toys for 4-Year-Old Boys
For your busy 4-year-old, their high energy is just the beginning along with developing new social skills. If they haven't already, your child will become more outspoken since they are getting a better hold on language, they're becoming much more independent, creating their own games and even designing their own activities. This stage in their life can be fun at times but it can also be a struggle because now parents will have one more opinion to consider and one more set of feelings to worry about when it comes to dinner plans and the world of play. Your 4-year-old will begin to explore the importance of family structure as they discover their own place and it's important for you as their parent to properly foster and help develop their sassy ego at home.
For toys and gadgets, your 4-year old's interested in, you're going to notice a maturing taste as well, especially if they have an older sibling. They're going to begin to notice not only their siblings' tastes and interests, but yours as well and your little one will most likely imitate those favorite hobbies throughout the family.
This is why when choosing the items for our list, we made sure to keep the development for your child involved in the picking, as well as keeping in mind their safety and overall enjoyment! This stage in life is very important as your child is developing their interests, strengthening their personality and social skills and the toys that you give them to play with will help steer their mind down certain developmental paths.
Cognitive Development
To help organize our list, we carefully considered choosing toys that would benefit your child as well as keep them fully entertained. From books with all the answers to their endless questions of "whys?" and "hows?", to mini take-apart cars that will begin to have you questioning whether or not they're interested in mechanics. Toys like both of these are especially great for your child's development. Even toys that may seem like they're focused on physical activity are beneficial to your child. Exercise has of course proven to be preventative for mental disorders like depression as well as other more obvious ones like diabetes. Even if you give your child a toy that helps them burn energy when playing, it also helps their brain run more efficiently and helps develop new paths when it comes to problem-solving.
Eventually, your 4 year old will enter preschool, if they haven't already, where they will be thrown into new situations that include new friendships and friendly competition. With your child being further along in their developmental process, it will give your child the best chance to stick out from the pack and succeed in their current and future educational endeavors. Some of these toys, like the t-ball set from Fisher-Price, are bound to help them make friends and get into new sports and other activities that will help improve their social skills. By doing this, this will essentially create positive connections that you can see between the mind and the body of your child and many of the toys on our list are designed to help assist your child during that process.
Physical Development
As your 4 year old continues growing, the process only becomes more complex. But the development associated with this age is some of the most entertaining, and the talk and behavior of your child will become precocious and sometimes even irreverent.
They are prone to make hilarious and honest observations about the world and people around them, but they are also building up all sorts of kinetic energy in their little bodies. They are almost constantly in need of an energy-burning activity, whether it be a card game that stimulates them mentally or a game like tag or hide-and-seek that exhausts them physically.
This is a big part of their development, a high-energy and high-importance portion of their upbringing during which you won't want to make many mistakes. Many of the toys on this list are designed to help them burn through all the excess energy, helping them to be more agreeable and calm during conversations and confrontations.
The physical exertion is good for their social skills as well as crucial to their mental health and future physical fitness, and there are fun and easy ways to keep them highly active through this period.
Conclusions
Four-year-old boys are beginning to display those most delightful little indications of individuality that we all can remember from our own childhood. A first blanket, a favorite toy, a story that they love to tell–these are all outward signs of a deeper mind working beneath the surface.
These developments are a joy to behold as a parent, a beautiful and vibrant reminder about the importance of individuality and self-expression. The toys that they interface with will play an important part in the cognitive development in their future, and these toys have been selected and organized to help you find the best toy for your 4 year old right now.
FAQ
Frequently Asked Questions
Q: Will any of the toys on the 21 Best Toys & Gift Ideas for 4-Year-Old Boys offer a well-rounded developmental experience for my child?
A: Yes, our team has specifically sought out toys that are designed to enhance the intellectual, emotional, creative, and physical aspects of your child's development.
Q: Now that I have narrowed down the search for the perfect gift, how do I make the best decision?
A: Depends on what your child likes and also on what you are trying to accomplish. Toys can be a source of fun, and also of education. Being mindful of the intention and direction behind a toy will help you pick the right gift.
Q: Will these products work for children under 3?
A: We recommend abiding by our age recommendation. We have designed this list with attention to safety and brain developmental stages. Some products have a warning about small parts that can pose a safety hazard. Feel free to check out our lists curated for younger and older children.
Q: Do these toys require batteries?
A: Some, like the VTECH tablet require batteries, others are simply kid-powered.
Q: Are these toys safe around my child's smaller sibling?
A: For the most part yes, although you may want to keep toys like the gears away from smaller children.
Q: How long should I have them at physical activities like jumping and kicking?
A: The CDC advises at least 60 minutes of exercise for your child every day, but not all of this needs to be vigorous or intense. Walking, climbing, running, jumping, and playing games are all valid options that will help you keep them in shape moving forward.
Q: Are these toys good for both boys and girls?
A: If they like it, they can play with it. Most of these toys are packaged and advertised as boys' toys, but if you have a daughter who loves stomp rockers, of course, she can play with them. In houses with multiple siblings that are boys and girls, toys tend to get tossed around and used by whoever is most age-appropriate for them.
Q: Can a child over 4 years old keep playing with these toys?
A: Some of these toys are designed more specifically for the mind of a 4 year old, and they will not be quite so interesting to them in the future. Some of the games they will have mastered and will have moved on to more complex games, but other more physically oriented toys can go with them through the years.
Other Age Ranges
1 Years Old
2 Years Old
4 Years Old
6 Years Old
7 Years Old
8 Years Old
9 Years Old
10 Years Old
11 Years Old
12 Years Old
13 Years Old
Gifts for Teenage Boys