10 Best Kids' Scooters Reviewed in 2019
last updated
Aug 22, 2019
Are you looking for ways to get your child active outdoors? Have you thought about getting them a scooter? No matter what age your child is, a scooter will encourage your child to be active. Riding a kids scooter is easy to learn and will provide your child with an outlet to burn off energy.
Teaching your child how to ride a scooter will make the process of learning how to ride a bike so much easier. As they master the art of scooting, they will learn how to balance, steer, and stop, all of which they will use when riding a tricycle or bike.
In a Hurry? The test winner after 3 hrs of research
My First by Radio Flyer
Why is it better?
Wide base helps with balance
Textured deck provides traction and stability
Turning radius designed with young children in mind
Strengthens muscles and increases fine-motor skills
In a
Hurry? Editors choice:
Test Winner: My First by Radio Flyer
16
Researched Sources
35
Reviews Considered
3
Hours Researching
19
Products Evaluated
Brand
Safety
Physical Development
Entertainment Value
By Default
10 Best Scooters for Kids
1

. My First by Radio Flyer
Wide base helps with balance
Textured deck provides traction and stability
Turning radius designed with young children in mind
Strengthens muscles and increases fine-motor skills
The Radio Flyer scooter is the perfect ride for beginners. Designed with two wheels in the front, your child will have a more stable and safe ride. The wide base provides plenty of foot room, thus improving your child's balance and coordination.
Read more
Brand
The Radio Flyer Scooter is one of the best scooters on the market. Known for its bikes, Radio Flyer is popular amongst parents and kids alike. This scooter is designed with beginners in mind, so they can develop their balance and coordination slowly. Plus, kids will look adorable on their first scooter!
Safety
The turning radius has been designed specifically with younger children in mind as it makes it easy for them to turn without compromising mobility. The textured deck provides traction for your child's feet. The padding on the handlebar will give your child a firm and comfortable grip. The wide base, two front wheels, and the specially designed turning radius makes this a great scooter for beginners.
Physical Development
Your little one will strengthen the muscles in their legs, arms, and core as they ride their scooter. Gripping the handles will increase their fine-motor skills, but so will learning how to steer this scooter. Kids will learn skills and increase muscle stimulation. They will be able to build their endurance and stamina as they cruise through the streets with this scooter. Kids will also learn how to balance on this scooter.
Entertainment Value
Scooters will always been entertaining for little ones. They can spend hours cruising through the neighborhood on their cool, new scooter. The Red Flyer Scooter is designed for kids ages 2-5, but even kids a little bit older will be entertained with this scooter. It is great for beginners, but even better to help kids grow into more confident scooter riders.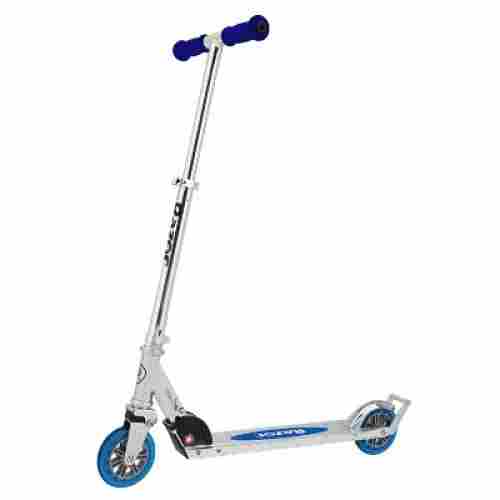 Designed for convenient travel
Comes in a variety of colors
Made of high-quality materials
Includes a carrying bag
Comes in a range of colors
Product may be a bit spendy
Not all classic scooter models have a wheelie bar to do tricks, but this Razor A3 certainly does. Children who have already had some experience with scooters can perform fantastic tricks in skateparks or just on pavements with a few props. The A3 is fantastically sturdy with its aircraft-quality aluminum material.
Read more
Brand
The wheels, which are made of urethane, can absorb plenty of shock from bumps and landings. The handlebar folds down quickly and easily to carry or to store. Several color choices are available, so get your child's favorite color and let them practice their scooter skills.
Safety
The rear brake on the fender allows your child to stop the scooter quickly and safely. Your child will simply need to step on the back fender and the scooter will immediately stop
Physical Development
This model is made for kids who are 5 years old and older because it can hold up to 143 pounds. Smaller children must practice their balancing and coordination abilities before trying one of these sleeker scooters.
Entertainment Value
. The aluminum material gives this scooter a high level of durability and will allow your child to enjoy riding it for years to come. You won't have to worry about your child's hands becoming covered in calluses. The handlebars are padded, thus providing your little one with a comfortable grip.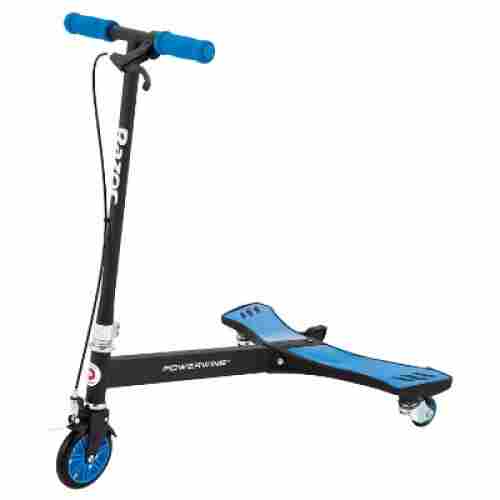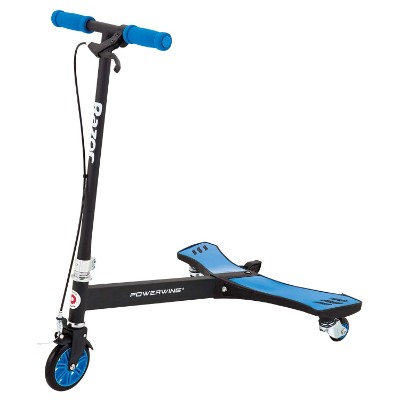 Capable of supporting around 143 pounds
Wheels turn 360 degrees
Comes in a variety of colors
Foam handlebars
Features a unique design
Product may be smaller than anticipated
May not be large enough to support older children
Designed primarily to appeal to younger riders, the PowerWing Caster is an entirely different style of scooter. Instead of a linear deck, it spreads outwards like a gullwing toward the rear of the ride-on device. This affords children optimum stability as the wide stance allows for a certain steadiness that is perfect for beginning scooter riders. Razor says that the PowerWing is an excellent trick scooter but we believe kids will have to practice and train making those kick-outs, spin-outs, and side drifts.
Read more
Brand
Part of the superb trick-playing abilities of the PowerWing is the use of caster wheels on the rear gullwing platform. These allow 360-degree rotation making for tighter turns and even side drifts with a combination of the front-steering column. The wheel on the front has a diameter of 125 millimeters and is made of high-quality polyurethane. The frame is made of premium-grade steel so it actually grows with your kid.
Safety
Stopping power is initiated by a beautifully designed handbrake integrated into the handlebar that has been wrapped in soft foam for optimum comfort while maneuvering.
Physical Development
This scooter features a unique design that differs greatly from that of the traditional scooter. It not only has three wheels but two are on the back and are widespread. This provides your child with greater stability and balance. As the wheels are capable of spinning 360 degrees, your child is able to turn with greater mobility and added range for making sharp turns
Entertainment Value
It comes in a range of colors--blue, black, silver, daisy, and sweetpea. The foam handlebars provide your child with extra padding for ample comfort. Conveniently located on the handlebar is the brake, which provides your child with a safe, manageable braking system.
4

. Fuzion X-3 Pro Scooter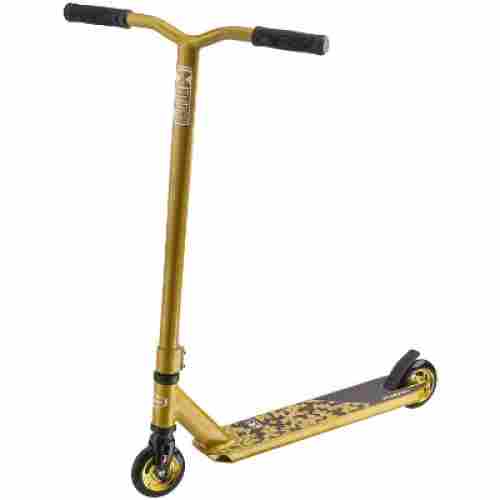 Many colors to choose from
Top selling pro scooter
Durable and lightweight
Custom brake is noise-free
Has a concave deck
Handlebar would not turn properly after use for some buyers
A few comments of item making noise as it rolls
This is a pro scooter for beginners, meaning that it is the model that best affords the moves needed to become a professional scooter rider. It is a learning model that can be manipulated into the movements of tricks, such as tail whips and board slides. This model features upgrades found in higher-priced scooters, and it is the top-selling pro scooter on the market.
Read more
Brand
When kids can ride well enough to start doing tricks, then this is the scooter to get. It is still for the beginner, but its sleeker design gives more movement options than some of the others.
Safety
This item can be used in skateparks or in the street to prepare the novice for stunt riding. The deck is constructed of aircraft-quality aluminum, and the brake is noise-free and durable. Assembly requires just the tightening of three bolts, so the scooter is ready to ride right out of the box.
Physical Development
When kids reach the level of stunt driving with scooters, they will gain the skills of excellent coordination, balance, flexibility to execute the movements. This scooter can help build those abilities to the professional level.
Entertainment Value
Great tricks are permissible with this lightweight scooter because of the concave deck and sleek build. If you want to take your scooter abilities to the next level, then this is the ride for you.
5

. Razor A5 Lux Kick Scooter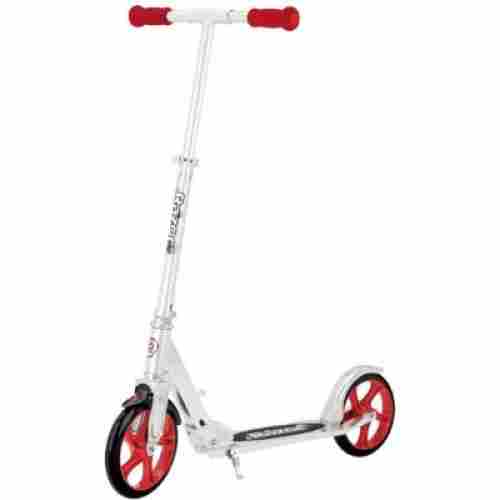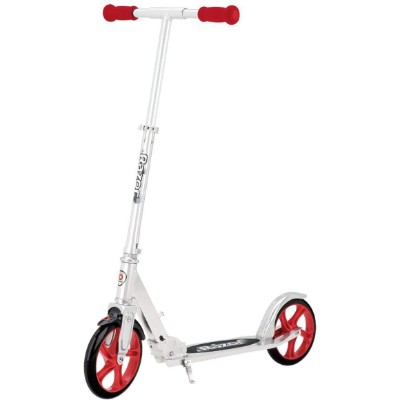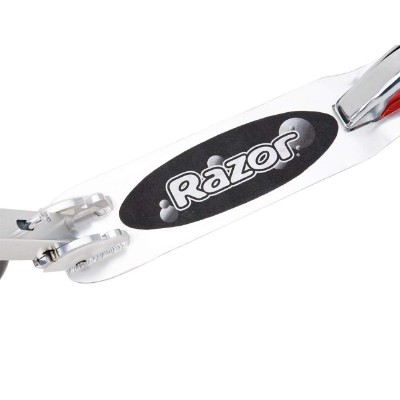 Made for taller kids with larger wheels
Comes in several colors
Has foam grips
No assembly is required
Same as the A model but larger
Replacement parts are hard to get
A few had issues with the screws coming loose after use
With a heavy-duty aluminum steering column and deck, this kick scooter is a sturdier item than previous models. It can take weights of up to 220 pounds because of its larger wheels. It is easier also for taller kids with the adjustable handlebars. The firm foam grips on the handlebars make balance and coordination trouble-free. There are a rear fender brake and an operational kickstand. Even though it is made of sturdier materials, it is not a burden to carry when you are not riding.
Read more
Brand
The Razor A5 is lightweight and durable. Its special build allows the product to be folded when carrying or storing. Several colors are available for your choice. If you have an older or taller child who loves to ride scooters, then this scooter will be a more comfortable ride than regular scooters on the market.
Safety
The extra-large 200mm urethane wheels provide a smooth ride for your child on a variety of terrains. The back wheel is designed with a fender brake to make stopping easy and safe.
Physical Development
The blue model is equipped with a retractable kickstand that allows the scooter to stand freely when not in use. The slim base will improve your child's balance and coordination. The padding on the handlebars will allow your little one to ride for hours as they will have a comfortable grip.
Entertainment Value
This scooter model comes already assembled and it is easy to fold up. Simple care like this is a wonderful reason to buy this durable scooter.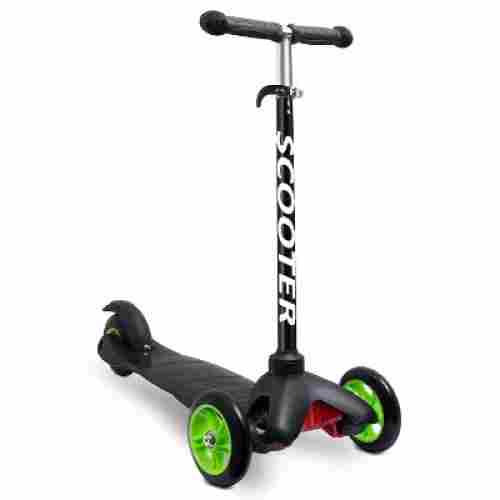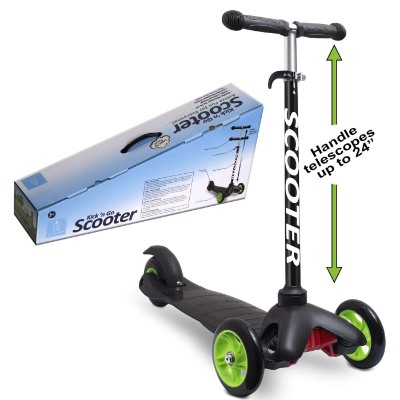 Ideal for riding around neighborhoods and driveway use
Offers 3 wheel design; 2 in front, one in rear
T-Locking adjustable handlebars
Wide deck accommodating for any skill level
Promotes the development of complex gross motor skills
Rear brake often has an issue with popping off
Base is constructed from nylon and plastic
Let your kids zip around the neighborhood in style on this scooter. The design features three wheels. Two are in the front for added stability and one in the rear. T-style handlebars constructed from metal are adjustable and firmly lock into place where needed. Along with metal the scooter construction also features durable nylon to give it a long lasting life.
Read more
Brand
Wide neck design on the front of the scooter gives little feet just the right amount of space to balance on plus accommodates riders at any skill level. The wheels are made from plastic with bearings that give it a smooth and quiet ride.
Safety
Brakes are easy to use by just simply pressing down on the rear wheel and it brings it to a speedy stop. The brake pads are reinforced with aluminum to quick and timely stopping. If you are looking for an adjustable scooter with style then this is the one.
Physical Development
Riding a scooter is an ideal form of exercise that increases gross motor skill development. Scooter riding requires riders to perform a smooth action with their feet to push the scooter along and also to keep the momentum going. The movement with the legs to keep the scooter rolling along with learning to break is an ideal for practicing the more complex gross motor skills.
Entertainment Value
This adjustable scooter is great for many members of the family and is very accommodating to the smallest members. The handlebars move easily and lock in nicely for a great secure ride.
7

. Micro Mini Deluxe Scooter
New anodized T-bars with 8 fun new deck colors
Duel-injection deck incorporating anti-slip silicone micro logo
Safety certified by CSCP
Learn-to-steer steering design
Only suitable for ages 2-5
Isn't adjustable for older kids
The Micro Mini Deluxe Scooter is one of the best-rated scooters for kids ages 2-5. It comes in a variety of colors, and it is made specifically for kids learning to ride for the first time. This smooth ride is a great introduction to scooter riding.
Read more
Brand
A Swiss company, Micro is known for its scooter making abilities. It is specifically geared towards kid and adult scooters, and it has created specific safety measures and designs. The adjustable t-bar helps accommodate little ones as they grow, so it can grow as they do. Plus, this scooter is award-winning!
Safety
The Micro Mini Scooter can accommodate up to 75 pounds, but it also has an adjustable t-bar so the scooter can grow as your child grows. The stable steering system makes it easier for children to steer, thus making it safer. It also has anti-slip footing and low-to-the-ground deck, so kids can keep their balance with ease. It is also safety certified by the CPSC.
Physical Development
The learn-to-steer design is perfect for beginners. Kids can develop their fine motor skills with this awesome scooter. Riding the scooter will build endurance, and the steering will help balance and coordination.
Entertainment Development
This scooter comes in eight, fun deck colors. Kids will love that they can pick out what color they get. Cruising through the town has never been more fun with the Micro Mini Scooter. Plus, it has high-quality wheels for ultimate gliding ability.
8

. Micro Kickboard Maxi Kick Scooter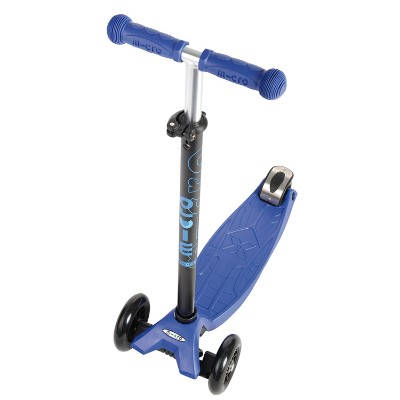 Available in eight assorted colors
Comes with a wrench for handlebar
Parts are replaceable
Two steering options are available
Perfect for younger kids
A few complaints about the handlebar options
Some did not think it gave a smooth ride
The long-lasting and durable design of the Micro Maxi Scooter has wheels that are constructed of high-quality materials to give your child the best ride possible. The best feature of this scooter is that it has two steering options. You choose which suits your child best.
Read more
Brand
This model, which is made for young kids, is available in eight different colors. This scooter comes with a wrench to tighten the handlebar, which is certainly needed if you decide to purchase both handlebars.
Safety
Even on sidewalks or pavements that have many holes or bumps, this versatile ride can handle it. Made with the best quality materials, it is one of the best beginner scooters you can purchase for your child. It has an interchangeable handle bar which allows for children to grow and learn what type of bar they like best. As always, your child should wear a helmet and pads while riding the scooter.
Physical Development
By riding a scooter your child will strengthen their muscles and work on their motor skills as well. Scooters are a great way to develop fine motor skills, as well as build endurance and balance. The wider board on this scooter will make it easier to balance, thus giving your child the confidence they need to continue scootering. Additionally, they will be able to zoom through the neighborhood as they develop more physically.
Entertainment Value
The one for easier balancing is the T-Bar, which is the traditional bar. The other is the Joystick that is better for curving. Getting both will allow different riding styles. It has the format of two wheels in front and one wheel in back, which according to some parents is the best design. When the two wheels are in the back, some kids might have trouble pushing the scooter. All the parts of this scooter are replaceable. This means that you can custom design your scooter by changing out the pieces you do not like or want to improve.
9

. BELEEV Kick Scooter for Kids
Grows with your child with adjustable steering wheel
Lightweight and easy to steer
Wide design of board offers stability
Rear wheel foot brake makes it easy to stop
Colors might not appeal to all kids
The BELEEV scooter is a great starter scooter for your little one. With bright colors and adjustable heights, this scooter also grows with your little one. And the best part? It is extremely safe for your children, although they should wear a helmet when using any scooter.
Read more
Brand
BELEEV is known for its quality products and fun colors. The brand aims to inspire confidence in your child, so they can learn and grow with the product. This scooter, in particular, is made to grow with your child - from ages 3 to 14.
Safety
the BELEEV Kick Scooter for Kids has a variety of safety measures. With a non-slip deck, this scooter is a smooth ride for little ones. Additionally, it has Lean-to-Steer technology which makes it easier to control and balance. It also has a rear-wheel foot brake, making it easy for children to stop when they need to. This scooter is lightweight too, so it makes it even easier to steer. The wide design offers more stability and durability.
Physical Development
Scooters can be extremely beneficial for physical development. In particular, the BELEEV Kick Scooter for Kids helps children learn valuable fine motor skills like muscle control and reflexes. Scooters can teach kids stability, especially when they have a wide enough base. This scooter also helps little ones learn how to steer and provides great physical exercise!
Entertainment Value
With bright colors, the BELEEV Kick Scooter for Kids provides hours of entertainment for kids and adults alike. Kids can learn valuable lessons on physical exercise and have fun with friends. Kids can explore and move fast on this scooter, so they can see more of wherever they go. The bright colors are great for boys and girls, and it comes in a variety of colors.
10

. LaScoota 2-in-1 Kick Scooter
Choice of three various colors
Design for kids that are just beginning to scoot
Strong, durable construction
Has an adjustable, removable seat
Manipulated by leaning rather than steering
Some claim the seat does not support much weight
A few had issues with the handlebar
With flashing wheels that light up while in motion, the LaScoota is one of the best scooter options for very small kids. The greatest feature of this scooter is that it comes with a removable, adjustable seat. When they are ready for the standing position, simply remove the seat. The seat has two options for height, and the handlebar has four height optionsThe ideal ages for this scooter are kids two to eight-years-old.
Read more
Brand
With stainless-steel construction, this scooter can withstand rough play. It is easy to set up and folds quickly for storage or travel. The extra-wide deck has room for both feet, and the front tires are large to handle bumps smoothly.
Safety
Children as young as two-years-old can sit and scoot in safety and confidence, as they build the talents needed for using a scooter while standing.
Physical Development
This model can last for years, as your child grows through the development stages it will accommodate.
Entertainment Value
Whether sitting or standing on the LaScoota, kids will develop the skills of coordination, balance, and motor abilities quickly and easily because of its versatility and simple design.
Criteria Used for Evaluation

Brand
Every model we highlight on this page has a high approval rating and plenty of positive feedback from satisfied parents. Good reviews mean great products and we have handpicked the best scooters for you that are on the market. Your child deserves the best products, and we save you the time of sorting through models that may not be the best option for your child. These scooters are the best choices that parents and kids are selecting today.
Safety
Safety issues aside, scooters are one of the best ways to develop a kid's proprioceptive sense as this essentially helps the brain establish the body's position in relation to its surroundings. This becomes the basis for the enhancement of the child's sense of equilibrium or balance. This can lead to the more successful accomplishment of other physical activities in which absolute concentration to maintain balance is required. For example, gymnasts will have to strengthen their core muscles as well as the muscles of the legs to maintain balance for significantly longer periods of time. Riding a scooter can help in this aspect.
Physical Development
Scooters are a type of ride-on toy for which balance and coordination are very essential especially among beginning riders. One wrong move and you might injure yourself, suffer a scratch or a bruise, or, worse, get a sprain or even a fracture in the process. That is why if you are going to purchase any type of scooter for your kid, it is always important to purchase safety gear such as a helmet and elbow and knee pads.
Entertainment Value
Now, it is essential that the scooter is of the kick type and not electronic. Electronic scooters don't require foot propulsion so there is no way kids will be able to strengthen their leg muscles and train a lot better about coordinating their lower body movements with the actions of their hands and the things that they see. On an electronic scooter, the child will be more focused on maintaining balance. On the other hand, a kick scooter will develop a child's sense of muscle coordination-– one-foot kicking and one foot stabilizing the rest of the body on the scooter's deck-–while also maintaining balance. Additionally, the speed of the scooter will be entirely dependent on the strength of the kick.
Most Important Criteria
(According to our experts opinion)
Experts Opinion
Editors Opinion
Users Opinion
By Default

Parents, Did you Know?
Scooters are one of the best gifts you can give your child this coming holiday season. With our list of the top 10 kids scooters, it is now a lot easier to choose which one to give.
Other Factors to Consider

Ease of Use
Manufacturers made the riding and steering of these models as easy as possible, so your child can enjoy riding as they learn the skills needed. The ones for toddlers do not have much steering ability because kids at this stage of life cannot yet coordinate their balance and the balance of a large object. They must have a three-wheeled scooter that can stand on its own. The child can then concentrate on his or her balance and ride the scooter that just goes forward. Advanced models do have the lean-to-steer mechanism where kids can lean into a turn. The scooter will go in the direction the child leans. When steering abilities are learned and balance is no longer a problem, a scooter with a turning handlebar is the best choice. All models are easy to ride for the intended user. We even feature a model with a removable seat for the toddler that must still sit and scoot.
Durability
Each scooter here is made of high-quality materials to provide the best riding experience for your child. They are durable and long-lasting to endure rough play and abuse from normal childhood activities. Some of the models even have the growth of your child in mind because the handlebar is adjustable for height as your kid grows. They will get the best use of these scooters because they will still be riding them after several years. Safety was a major goal in the creation of these rides, as a few of them are for very young kids who are just learning the basics of balance.
Age Range
All featured scooter models were designed with the child in mind. We chose models that are for toddlers beginning with the age of 2. These are simple kids scooters with no versatility in the handlebar so that kids can learn the basics of balancing and coordination. Other models go to the next level where some control of steering is possible, and then more-advanced designs allow total control in steering and trick abilities. Each scooter has safety mechanisms for the age level of the child for whom it is intended.
Very young kids who start out with the basic toddler scooter models will grow with each phase of the scooter. They will eventually obtain all necessary abilities to maneuver the larger, more-sophisticated models in time.

Educational Value
Riding scooters don't only develop kids' psychomotor skills but also their cognitive abilities, particularly their spatial intelligence and understanding of causal relationships. Performing a variety of scooter tricks requires the rapid processing of information by the brain so that these can be fully integrated into the different motor movements. More importantly, riding a scooter helps children feel happy especially if they are able to perform tricks.
This helps to enhance their self-esteem and also boosts their self-confidence. This becomes that fuel for them to succeed in any given endeavor. Moreover, it can also help them deal with their peers or fellow scooter riders in a more positive way, paving the way for healthier social relationships.
Frequently Asked Questions
q:

Will these scooters provide my child with comfort?

a:

They feature foam handlebars that provide your child with a comfortable and ergonomic grip. Most of these have tires that are meant to be shock absorbent.
q:

Where can I find replacement parts?

a:

Most parts can be purchased online and some come under warranty to provide you with peace of mind.
q:

Do these items come with a warranty?

a:

Most manufacturers provide a warranty policy providing you with peace of mind in case something goes wrong with your product. There are also websites that offer their own separate warranty so this will give you a double layer of security in assuring you are satisfied with the results of your discrepancy.
q:

What is the weight limit?

a:

All of these scooters are designed to support from around 100 pounds to roughly around 200. While there are a few items on this list that are meant to be a starter scooter for your young child, there are some more-sophisticated products that give children who are a bit older, taller and heavier the chance to enjoy this product as well!
q:

Is assembly difficult?

a:

The scooters for kids include an assembly manual to help make it hassle-free. The majority of these devices are simple to assemble because they are designed to simply collapse and fold out again.
q:

Can the handlebars be adjusted?

a:

Most of these kids scooters have foldable handlebars and necks for convenient storage and travel. Some include folding or adjustable handlebars. In addition to convenience, this provides your child with customizable comfort meant just for them.