School is almost out for the year, and the summer fun of outdoor play is just about to begin! Kids will be outside enjoying their freedom from education and books to explore our wonderful everyday world. They will want to use their pent-up energy in exciting activities such as riding bikes, skateboards, and scooters. These are our choice picks for the best-rated scooters for kids on the market today. Scooter models are many and varied, depending on the age and capabilities of the child and the versatility of the item.
There are scooters with removable seats and non-turning handlebars for the toddler on the go, and some that have a lean-to-turn ability to help guide the toddler in steering. We also feature models that will allow older kids the opportunity to perform tricks and jumps just like a pro. No matter what your child's age is, we have a scooter highlighted especially for you.
Scooters for very young kids must have certain features that make the ride just as safe as it is fun. Toddlers have yet to learn all there is about balancing themselves so scooters with two front wheels are the best choices for stability. Depending on their navigation talents, a handlebar with limited movements may be the best beginner option. All models here are lightweight, and most can be folded for easy carrying and storage. Scooters for toddlers and young kids have wide, low decks where both feet can stand.
As children grow, their mobility skills improve, and they can advance to scooters with more freedom of control. All scooters will exercise a child's talent for balance and coordination in handling a moving ride. The models with adjustable handlebar are wonderful options that can grow with your child.
Scooters are some of the most fun toys a child can have to ride around the neighborhood, on sidewalks, or at skateparks. Summer is almost here, so give your child a great, physical activity this season with a fun scooter to ride. They are wonderful exercise and a fun reason to get outdoors. Here are the best-rated scooters for kids in 2018.
Our Top 3 Picks
YBIKE GLX Cruze Scooter

Our rating
3-Wheeled
Price:

See Here
Razor A3 Scooter Clear

Our rating
Aircraft-Grade Aluminum
Price:

See Here
Razor PowerWing Caster Scooter

Our rating
Rear Caster Wheels
Price:

See Here
Razor A Kick Scooter by Razor
Age Range: At least 5 years old
Age Range: At least 6 years old
Age Range: At least 3 years old
Razor A5 Lux Kick Scooter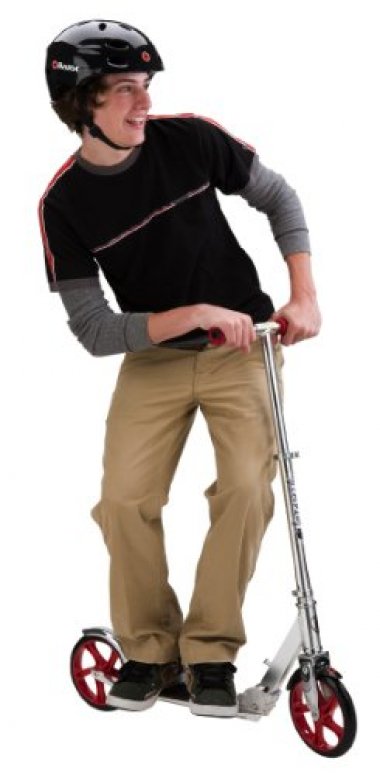 Age Range: At least 7 years old
Micro Maxi Deluxe Scooter
Age Range: At least 5 years old
Age Range: At least 8 years old
Razor Jr. Lil' Kick Scooter
Age Range: At least 7 years old
Razor Berry Kick Scooter by Razor
Age Range: At least 5 years old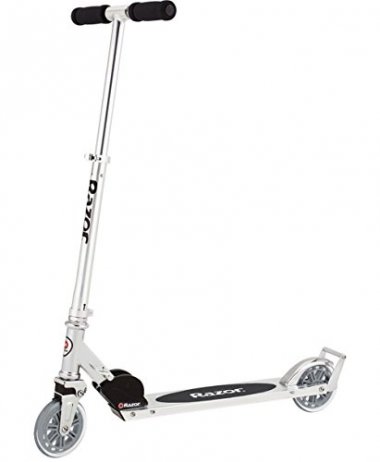 Micro Kickboard Maxi Kick Scooter
LaScoota 2-in-1 Kick Scooter
VOKUL Mini Kick Scooter Glider 3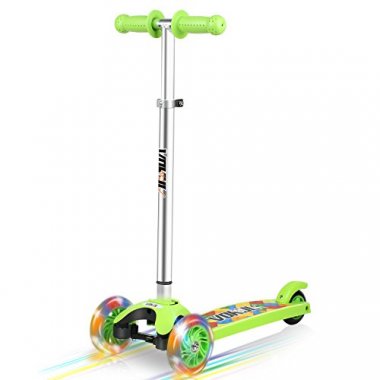 Globber Primo 3 Wheel Adjustable Height Scooter
Criteria Used in Evaluation of The Best Kids Scooters
Made for Especially for Kids
All featured scooter models were designed with the child in mind. We chose models that are for toddlers beginning with the age of two. These are simple scooters with no versatility in the handlebar, so that kids can learn the basics of balancing and coordination. Other models go to the next level where some control of steering is possible, and then more advanced designs allow total control in steering and trick abilities. Each scooter has safety mechanisms for the age level of the child it was intended. Very young kids that start out with the basic toddler scooter models will grow with each phase of the scooter. They will eventually obtain all necessary abilities to maneuver the larger, more sophisticated models in time.
Have High Rating and Reviews
Every model we highlight on this page has a high approval rating and plenty of positive feedback from satisfied parents. Good reviews mean great products and we have handpicked the best scooters for you that are on the market. Your child deserves the best products, and we save you the time of sorting through models that may not be the best option for your child. These scooters are the best choices that parents and kids are selecting today.
High-Quality and Durable
Each scooter here is made of high-quality materials to provide the best riding experience for your child. They are durable and long-lasting to endure rough play and abuse from normal childhood activities. Some of the models even have the growth of your child in mind because the handlebar is adjustable for height as your kid grows. They will get the best use of these scooters because they will still be riding them after several years. Safety was a major goal in the creation of these rides, as a few of them are for very young kids that are just learning the basics of balance.
Easy to Steer and Ride
Manufacturers made the riding and steering of these models as easy as possible, so your child can enjoy riding as they learn the skills needed. The ones for toddlers do not have much steering ability because kids at this stage of life cannot yet coordinate their balance and the balance of a large object. They must have a three-wheel scooter that can stand on its own. The child can then concentrate on his or her balance and ride the scooter that just goes forward. Advanced models do have the lean-to-steer mechanism where kids can lean into a turn. The scooter will go in the direction the child leans. When steering abilities are learned, and balance is no longer a problem, a scooter with a turning handlebar is the best choice. All models are easy to ride for the intended user. We even feature a model with a removable seat for the toddler that must still scoot and ride.
Kick Scooters and Your Child's Development
Scooters are a type of ride-on toy where balance and coordination are very essential especially among beginning riders. One wrong move and you might injure yourself, suffer a scratch or a bruise, or, worse, get sprained or even fractured in the process. That is why if you are going to purchase any type of scooter for your kid, it is always a lot better to also purchase safety gear such as a helmet and elbow and knee pads.
Safety issues aside, scooters are one of the best ways to develop a kid's proprioceptive sense as this essentially helps the brain establish the body's position in relation to its surroundings. This becomes the basis for the enhancement of the child's sense of equilibrium or balance. This can lead to the more successful accomplishment of other physical activities where absolute concentration to maintain balance is required. For example, gymnasts will have to strengthen their core muscles as well as the muscles of the legs to maintain balance for significantly longer periods of time. Riding a scooter can help in this aspect.
Now, it is essential that the scooter be of the kick type and not electronic. Electronic scooters don't require foot propulsion so there is no way kids will be able to strengthen their leg muscles and train a lot better about coordinating their lower body movements with the actions of their hands and the things that they see. In an electronic scooter, the child will be more focused on maintaining balance. On the other hand, a kick scooter will develop a child's sense of muscle coordination – one foot kicking and one foot stabilizing the rest of the body on the scooter's deck – while also maintaining balance. Additionally, the speed of the scooter will be entirely dependent on the strength of the kick.
Riding scooters don't only develop kids' psychomotor skills but also their cognitive abilities particularly their spatial intelligence and understanding of causal relationships. Performing a variety of scooter tricks requires the rapid processing of information by the brain so that these can be fully integrated into the different motor movements.
More importantly, riding scooter helps children feel happy especially if they are able to perform tricks. This helps enhance their self-esteem and also boosts their self-confidence. This becomes that fuel for them to succeed in any given endeavor. Moreover, it can also help them deal with their peers or fellow scooter riders in a more positive way paving the way for healthier social relationships.
The Bottom Line
Scooters are one of the best gifts you can give your child this coming holiday season. With our list of the top 10 kids scooters, it is now a lot easier to choose which one to give.
You May Also Like
10 Best Electric Scooters For Kids
10 Best Balance Bikes
10 Best Roller Skates For Kids
10 Top Go Karts For Kids
FAQ
Frequently Asked Questions
Q: Will they provide my child with comfort?
A: They feature foam handlebars that provide your child with a comfortable and ergonomic grip.
Most of these have tires that are meant to be shock absorbent.
Q: Where can I find replacement parts?
A: Most parts can be purchased online and some come under warranty to provide you with peace of mind.
Q : Do these items come with a warranty?
A: Most manufacturers provide a warranty policy providing you with peace of mind in case something goes wrong with your product. There are also websites that offer their own separate warranty this will give you a double layer of security in assuring you are satisfied with the results of your discrepancy.
Q: What is the weight limit?
A: All of these scooters are designed to support from around one hundred pounds to roughly around two hundred. While there are a few items one this list that are meant to be a starter scooter for your young child, there are some more sophisticated products that give children a bit older, taller and heavier the chance to enjoy this product as well!
Q: Is assembly difficult?
A: They are available to include an assembly manual to help make hassle free. The majority of these devices are simple to assemble because they are designed to simply collapse and fold out again.
Q: Can the handle bars be adjusted?
A: Most of these scooters have foldable bars and necks for convenient storage and travel. Some include folding or adjustable handlebars. In addition to convenience this provides your child with customizable comfort meant just for them.