Best Toys and Gifts for 2 Year Old Girls In 2023
last updated
Jun 13, 2020
Ah, the terrible two's. For their difficult reputation, we also know they're not all bad. Kids are curious, sensitive, loving, and just downright adorable. But two can be a tricky age to buy gifts for; plenty of younger kids are still accustomed to sticking whatever they please in their mouth, whenever they please, regardless of consequence.
This means it's extra important to buy them gifts that are safe for their age group, as well as being designed to help challenge and improve their growing skillsets. We've gathered some of the best toys for 2 year old girls out there, all listed below for your gifting convenience. We know birthdays and holidays can be stressful, so let us do the legwork to make sure all of your options are truly the best the market has to offer.
This is the best product on our list that is currently in stock: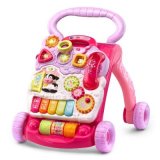 VTech Sit-to-Stand Learning Walker
Why is it better?
Develops musical ability
Promotes walking activity
Highly interactive features
Teaches colors and shapes
In a
Hurry? Editors choice: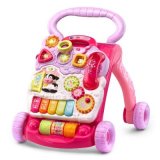 Test Winner: VTech Sit-to-Stand Learning Walker
26
Researched Sources
37
Hours Researching
20
Products Evaluated
Design
Physical Development
Ease of Use
By Default
20 Best Toys & Gift for 2-Year-Old Girls Reviewed
Criteria Used for Evaluation
Design
In looking at the design of each toy we paid attention to two main factors: safety and durability.
Safety
When judging the overall safety of a toy we look for durable products free of harmful additives, like BPA, and how the product rated with other parents. Because safety is the top priority for parents, we felt that it should be our top priority also.
Durability
For gifts for 2 year old girl to be truly safe, they need to be durable. If a toy can't handle more than a few rounds of rough playtime without breaking then it's a major health hazard. This is especially true for plastic toys that could break off into smaller, sharp pieces.
Physical Development
Little girls at 2 years will already exhibit good balance such as the ability to jump on two feet; although it is not uncommon to see smaller kids able to hop on one foot while maintaining balance. They can now participate in more active playtime activities like riding a scooter, a trike, or even a balance bike as well as playing ball games. It is important for us parents to support 2-year-old girls as they try to learn the limits of their physical abilities. This can help them feel more confident about themselves. We included a variety of toys that will stimulate your child's physical development.
Best toys for 2 year old girls that move around or engage or child's movement exercise their gross-motor skills. For example, stacking toys, motorized toy cars, or sports, engage your child's body during playtime by making the child move or think about their movements. By engaging your child's brain in this fashion, they refine their movements and begin to develop more complex motions. We want our children to reach their potential and toys that incorporate key learning concepts help achieve this goal in a fun, entertaining way.
Ease of Use
In order to ensure that your child is receiving the developmental benefits of each toy we wanted them to be easy to use. While your little one should have little to no trouble grasping and lifting the toys many of the items on the list are easy for you to clean and store. Its a win for everyone.
Most Important Criteria
(According to our experts opinion)
Experts Opinion
Editors Opinion
Users Opinion
By Default

Parents, Did You Know?
Two-year-old girls also need to expand their vocabulary and develop their language and communication skills. That is why toys about the alphabet, fun phrases, musical toys, numbers, and other toys that allow them to learn new words are often considered highly beneficial. Improving their vocabulary can help improve their ability to communicate what they want or what they are thinking or feeling.
Parents, Did You Know?
Toys that sing to your child or engage their sense of hearing improve your child's comprehension abilities. Examples of this would be toys that play classical music or make animal sounds. Toys for 2 year old girl like these aid children who have trouble speaking with others. It's not that they don't know how to speak, they just don't know how to listen. Auditory toys will give your child the critical-thinking tools to understand the sounds around them and make sense of their meanings.
Other Factors to Consider
Materials
For material or materials to be sustainable, the organic matter that goes into producing the toy must not be at risk of over-farming/extinction. For example, when a toy manufacturer claims that they only used sustainable wood for their products, that means the forest where the wood was collected is not under threat of annihilation. If the best toys for 2 year old girls claims reclaimed or recycled materials were used for the production of thee toys, then that means no new materials were taken out of the environment.
Frequently Asked Questions
q:

How is a one year old different from a two year old mentally? How does this affect the types of toys they will enjoy?

a:

A 2 year old can understand more complex concepts such as time and begins to understand verbal communication. Because of these complex processes going on in their heads, toys for 2 year old girls that speak to your child are optimal for developing their speaking and comprehension abilities.
q:

My daughter wants to play with boy toys. Will this affect her development?

a:

No, a little girl playing with toys for 2 year old boys will not adversely affect her development. If your daughter wants to play with action figures or more masculine toys, then let her. There has been no research stating the practice is harmful, but there has been research that suggests allowing your child to make decisions like what toy they want to play with initiates positive growth.
q:

Are girl toys any different than boy toys?

a:

From a developmental standpoint, girls and boys toys are very much the same. Aesthetically the difference is striking, but besides that, it's up to the individual child. Some research has shown that boys aren't as emotionally developed as girls, so you might want to consider purchasing toys that help your son understand emotions.

Toys for 2 year old girls are actually very good for this purpose. Because dolls are typically for imaginative play, children act out domestic scenes with them. This allows the child to act out certain emotions and learn healthy responses to these emotions.
q:

What safety features do I need to consider when buying battery-operated toys?

a:

The greatest concern with battery-operated toys is ensuring that the child cannot access the batteries. Due to the levels of sulfuric acid within batteries, breaking one or ingesting one will cause serious damage to your child. All battery-operated toys should be childproof and durable enough for rough play. Before purchasing a battery-operated toy, be sure that the only way to access the batteries is with a screwdriver. This ensures that young children cannot reach the batteries.
q:

What does BPA-free mean?

a:

BPA-free means that a product is free of the plastic additive Bisphenol-A. This additive has been linked to infertility in both men and women if the BPA levels are of a substantive level. Because of this danger, it's best to limit your child's and your own exposure to BPA.
q:

Should I purchase toys from sustainable companies/manufacturers?

a:

Whenever you have the option, you should most definitely buy toys from sustainable manufacturers. This ensures that environmentally conscience companies stay in business and keeps potentially dangerous materials away from our children. Sustainable toy manufacturers are BPA-free and only use materials that are safe for both the world and our children. So if the option is presented to you, please help sustainable manufacturers and make a difference!
q:

What types of toys are best for intellectual stimulation?

a:

The best toys for intellectual stimulation are toys that engage their vocabulary and critical-thinking skills. For instance, toys that speak to your child or ask them questions help both their speaking ability and their ability to understand conversational thinking.

If you can, look for toys that ask your child open-ended questions with no definitive answer. This will give your child the opportunity to think critically about what they're being asked and help develop their evaluative skills.
q:

At what age should I purchase educational toys geared towards school?

a:

It's never too young to start thinking about your child's education and brain development. The sooner you can start your child on educational toys the better. The ideal starting point is 4 to 6 months for educational toys. This is because the child begins to develop memories and begins to understand the world around them. By exposing them to educational toys for 2 year old girl sooner, you give them a headstart on their development.
q:

My daughter loses interest in her toys fast. What types of toys would best keep her attention?

a:

As a child gets older, their needs for toys changes. If you want to keep your child interested in their toys for longer you might consider investing in toys that will grow with your child. Toys that offer some type of developmental function usually grow with your daughter by providing them with fun and engaging play suited for their growing brains. Leapfrog is a company that specializes in educational toys that not only stimulate your child but grow with the child by offering age-specific functions in their toys.
q:

What toys would be best for an autistic child's growth?

a:

Each child is different, and the same is true for autistic children. While one autistic child might love a particular toy, another might abhor the toy in question. To truly gauge which toys will be best for your child and their unique way of thinking you must study your child.

Do they react well to sounds? Lights? Movement? A combination thereof? Are they overstimulated easily? Once you've identified what your child gravitates toward and how he or she reacts toward certain stimuli, you can then decide what toys fit them best.

In most cases, and usually for high-functioning autistics, toys that perform a single task work best. If a toy lights up, makes sounds, and moves all at once, the child might become overstimulated. This is simply a generalization, and by no means can suffice for properly understanding your child's specific needs. The generalization is meant to be a starting point or somewhere you can grow from for ideas and inspiration.
q:

When is it time to "retire" my child's toys?

a:

If there is nothing physically wrong with the toy and it poses no threat to your child, we recommend letting your child play with it until they have decided they've outgrown it. If the toy is broken and therefore dangerous to the child, remove it from the child's reach as soon as possible. They will probably pitch a fit and cry for a good while, but safety comes first. And, ultimately, every toy a child plays with should be safe and remain safe for years to come.
q:

How do I clean my child's many different toys properly?

a:

Kids love having a horde of all different types of toys. From stuffed animals to dolls to dress-up clothes, children need a variety of play to stimulate their growing imaginations. But this can make clean-up difficult on the parents. Whenever you purchase a new toy for your child, be sure to keep the cleaning instructions in a secure place for reference. If the cleaning instructions aren't available to you, look online or on the website for further instruction. If you still can't find a straight answer on how to properly clean something, use these tips as a guideline.

For plastic- or acrylic-based toys, a gentle cleaning solution mixed with warm water is best to lift up grime and dirt. If the toy is just caked in filth from a mud bath extravaganza, dip an old toothbrush in the cleaning solution and rub away with circular motions to loosen the dirt.

For cloth-based toys like stuffed animals or dress-up clothes always look at the tag attached to the toy. The tag should inform the buyer of all the proper care instructions like washing. If the tag has no information on washing, a good hand washes in lukewarm or warm water with a sulfate-free cleanser does the trick.