Newborns, crawlers, and toddlers all have one thing in common, diapers! They are used every day multiple times a day. The yucky job of cleaning them falls on parents and caregivers everywhere. Imagine if you had to have your bum exposed and wiped down multiple times a day. It doesn't seem very pleasant. How can you make diaper changes easier and more comfortable for baby? You can purchase one of the baby wipe warmers on our top 10 list of diaper wipe warmers. These warmers will make babies' bums a comfortable temperature instead of wiping your squirmy munchkin down with a cold cloth. Why not spring for an affordable warmer? Warm wipes can help to keep baby comfy and they do a better job of cleaning sore bums than cold wipes.
A baby wipes warmer is a great addition to every nursery. Parents will be happy they made the leap to buy a reasonably priced diaper wipe warmer. This baby essential will keep baby's wipes warmed to an optimal temperature without sacrificing the needed moisture found in a diaper wipe. Your baby will thank you by fussing less and maybe even squirming less during those dreaded diaper changes. You will be grateful that you bought a warmer during those midnight diaper changes. Baby will be less disturbed and will ease comfortably back to sleep when they don't have to deal with a wet cold bum. Warm baby wipes will help alleviate some of the stress of diaper changes.
Not only will a warm diaper wipe keep your bundle of joy comfortable, and it will keep you comfortable too. Wet baby wipes often feel cool and slimy on your hand making diaper changes feel even worse. A warm diaper wipe will feel as nice against your skin as it does on baby's bum. You don't have to use warm baby wipes on just their bum, you can use the diaper wipes from these warmers to clean babies hands and face post meal time or to quickly wipe down a play area. The warmer liquid will evaporate more quickly making clean up a breeze and allowing your little one to get back to playing faster.
10 Best Wipe Warmers Reviewed
1. Munchkin Warm Glow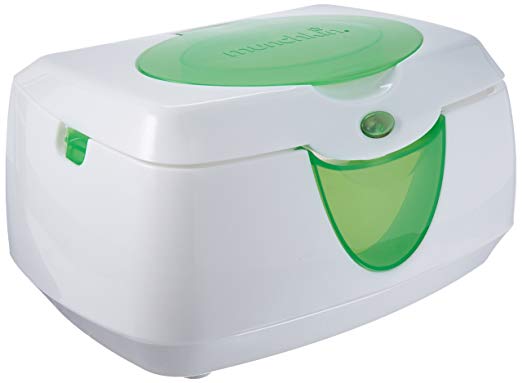 Our number one pick is the Munchkin Warm Glow Baby Wipe Warmer. It has convenient built-in features to help with night time changes.
Expand to see more
The warmer will keep you and baby comfortable during diaper changes. This energy efficient device will keep your baby happy and not run up your electric bill. Munchkin has thought of many great design features to help make diaper changes a breeze.

Benefits
This warmer has a wonderful night light feature to make those pesky night changes a breeze. It shuts off after ten minutes so baby can go right back to a peaceful clean diaper sleep. This warmer warms the diaper wipes from the top down so they don't brown on the bottom. It has the capacity to hold 100 baby wipes at a time. The front has a convenient viewing window so you know exactly when to replace the diaper wipes and won't be left in the lurch mid-change. This warmer has many wonderful benefits to make diaper changes as easy as possible for stressed parents.

What We Like About It
The flip top baby wipe dispenser is similar to the containers you find in the store. It will fit all standard style diaper wipes. Baby's wipes will come out easily and you won't have to fuss with the lid during crazy diaper changes. This is a convenient diaper wipe warmer!

Cost and Value
This warmer is a fantastic value it has a multitude of features to make changing time easier and it is at the low end of our lists price point. This is why Munchkin tops our list!
Warms every diaper wipe
Nightlight
Glowing power light
Energy efficient
Viewing window
2. Hiccapop
Our number two pick is the Hiccapop Baby Wipe Warmer. The Hiccapop company partners with independent designers to bring you innovative
durable baby product
s.
Expand to see more
They have not disappointed with this diaper wipe warmer. It is super convenient to use and will be a staple in your house even after the baby is out of diapers. You can place it near your toilet and have warm flushable toilet wipes for cleaning toddler and adult bums. This is an essential product you do not want to go without.

Benefits
This low energy warmer is super safe to keep in the nursery. It has a night light for middle of the night messes. The front is equipped with an interchangeable viewing window. You won't have to worry about running out of diaper wipes mid change anymore! It has a top-down heating method to keep the baby wipes at the top the warmest. This is an innovatively designed product built with babies and caregivers in mind.

What We Like About It
The best feature of this innovative dispenser is that it has silicone seals to prevent heat and moisture from escaping. From the first baby wipe to the last you will have a warm moist diaper wipe to clean up your baby's messiest diapers.

Cost and Value
It has a mid-range cost when compared to other items on our list. The value is apparent when you look at all of the innovative features. This baby wipes warmer will be money well spent. It will be a diaper changing staple for all of your babies.
Pros
Innovative silicone seal
Top-down warming
Energy efficiency
Nightlight
Wipe viewing window
Multiple baby wipes may come out at a time
3. Prince Lionheart Warmies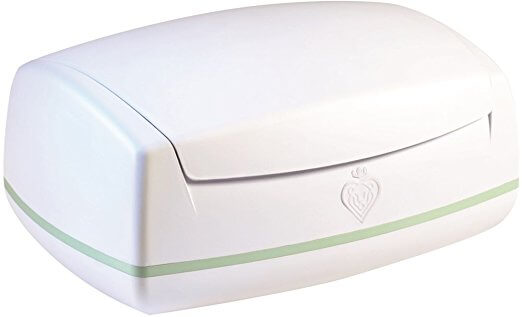 This is the perfect warmer for the eco-conscious family. It is a baby wipes warmer specifically for cloth diaper wipes. Yes, you read that correctly, cloth diaper wipes! Cloth diapering caregivers rejoice.
Expand to see more
No more cold cloth baby wipes for your baby's bum. This device will keep your cute little cloth diaper wipes a spa-like warm temperature for baby. You will have less fussiness at diaper changes. A win-win for everyone! This is the perfect gift for a cloth diapering family. No more eco-guilt as you throw more trash away with each diaper change. Just throw these diaper wipes in your laundry machine with your cloth diapers.

Benefits
Using cloth diaper wipes keeps yucky trash out of the landfills. Typical baby wipes do not fully biodegrade so the diaper wipes you use now are still around when you have grandkids. This warmer is specifically designed to be used with warm bamboo-derived cloth baby wipes. It can be used with other cloth diaper wipes as well just roll or fold them to fit into your warmer. The electrical outlet can be detached from the warmer completely for easy disinfecting. This is a fantastic warmer for the family that is environmentally conscious.

What We Like About It
The best thing about this product is that you don't have to throw out dirty baby wipes after every poop. If you are cloth diapering family just throw the diaper wipe in with your diaper laundry and reload the moistened baby wipe warmer with clean baby wipes.

Cost and Value
This warmer is in the middle price point. The amount of money you will save from buying disposable diaper wipes will pay for this warmer with extended use. Lionheart made a great diaper wipes warmer that is a great value for eco-friendly families.
HIgh quality
For cloth diaper wipes
Includes an antibacterial sponge for moisture
Power light so you know it's working
Easy to clean
Holds fewer baby wipes than traditional warmers
4. Motif Malilly Daylilly
The Motif Maylilly Daylilly diaper wipes warmer has snagged our number four spot. This state of the art baby wipes warmer has many convenient features. It is state of the art with modern electronic features.
Expand to see more
This warmer will keep your babies bum from getting chilly during changes. The many features included in this warmer will make your baby's diaper changes easier. Your changing area won't be complete without this warmer.

Benefits
This warmer has a convenient LED temperature display so you always know the baby wipes are the optimal temperature for baby's bum. The heating method this diaper wipe warmer uses is ideal. It heats the baby wipes using steam so each one is sufficiently warm and moist to keep baby comfortable.

What We Like About It
You can select from three temperature settings to ensure that your diaper wipes are the perfect temperature each time you grab one.

Cost and Value
This warmer is at the top of our price point for this list. This machine's value comes from the great features of steam heating and LED temperature display it offers caregivers.
3 temperature settings
LED display
Steam heating
Pop top lid
Easy setup
Diaper wipes cool quickly
5. Prince Lionheart Ultimate
Our number five pick is the Price Lionheart Ultimate baby wipe warmer. Prince Lionheart has thought of many helpful details for this product. Your baby will thank you for using diaper wipes from this warmer.
Expand to see more
This warmer is easy to keep clean and will evenly warm your wipes. Your baby will thank you because their bum will be warm, and they will be comfortable.

Benefits
This warmer has a power light that doubles as a nightlight. Easy one-handed use will allow you to keep a hand on your baby while you are cleaning their bum. This warmer comes with a special antimicrobial sponge that is used to assist with keeping the baby wipes moist. This sponge will help to alleviate troublesome bacteria.

What We Like About It
The sleek design will match any nursery decor. The antimicrobial properties will keep troublesome bacteria at bay. This warmer will keep both baby and caregivers happy.

Cost and Value
The Ultimate wipe warmer comes in at the middle range for pricing on our list. It is a fantastic value for your money.
One-handed changing
Antimicrobial heating
Power light
Large capacity
Easy setup
Takes 3 hours to get to top heat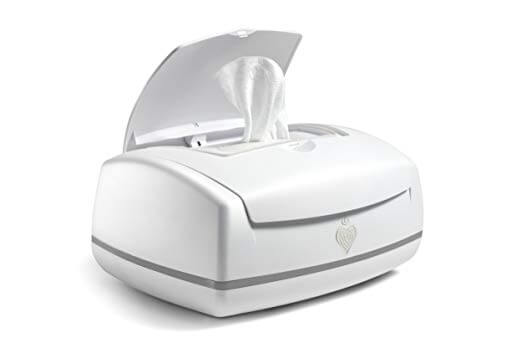 Number six on our list is the Prince Lionheart Premium baby wipes warmer. This warmer has some fantastic features to make diaper changes easier.
Expand to see more
It is antimicrobial and will keep bacteria at bay. It will hold an entire standard package of diaper wipes. This warmer will be a great feature in any nursery.

Benefits
The plastic material used to make this warmer included an antimicrobial additive that is EPA approves. You can rest easy knowing that bacterial growth is being inhibited in your warmer. The EverFresh system found in Prince Lionheart warmers will keep your baby's wipes moist and fresh feeling for diaper changes at all times of the day. The power indicator light acts as a nightlight for late night changes. This warmer 's many features will make parenting easier.

What We Like About It
This warmer will hold a large number of diaper wipes and it will keep them at an optimal temperature. This will keep your baby comfortable for the many diaper changes you will inevitably be doing throughout the day and night.

Cost and Value
This warmer is called premium, but it comes at a lower price point than other warmers on our list. Premium quality for a lower than premium price makes this warmer one item you should add to your little one's nursery.
Antimicrobial
Moisture retention
Works for all types of diaper wipes
Patented EverFresh system
Nightlight
7. Prince Lionheart Compact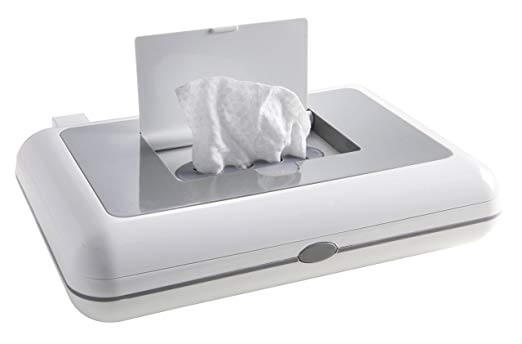 Our number seven pick is the Prince Lionheart Compact warmer. This warmer takes up less space than the typical warmer. It offers a sleek and fashionable design
for any nursery
.
Expand to see more
It can be used on the go for the active family. This warmer doubles as a diaper bag baby wipe carrier. The convenience of portability makes this a perfect addition to your baby must-haves list.

Benefits
You can plug this warmer into a typical outlet in the nursery or into your car using the included adapter. It will keep diaper wipes warm as long as it is plugged in. Now your baby and toddler can have comfortable diaper changes while at an older brother or sisters sporting events or while at the park. Just take them out to the car and you will have warm cozy baby wipes. This is perfect for those cool fall and winter games you bring the entire family to see.

What We Like About It
This compact holder is antimicrobial and holds 35 diaper wipes. It is perfectly sized for the diaper bag and will take up minimal space in your car while out and about.

Cost and Value
This cute portable warmer will keep you and your little ones happy during diaper changes on the go. The price point is a little higher than the others on our list. The value of this warmer is apparent the first time you are able to use a warm baby wipe when you are away from your baby's nursery.
Portability
Antimicrobial
Diaper wipes don't dry out
Compact
Includes a car charger
Fits in a diaper bag
Cools quickly when unplugged
8. DexBaby Dual
DexBaby created our number eight pick. The DexBaby Dual Deluxe Warmer will be a great addition to your nursery. This warmer is sized perfectly to fit on your changing table.
Expand to see more
The energy-efficient design will give you a peace of mind knowing the low voltage power adapter is better for fire safety. You can rest assured that this manufacturer has thought of a variety of safety features.

Benefits
You don't need to purchase additional expensive moisture pillows or sponges to keep in the bottom of this warmer. Diaper wipes from this warmer are guaranteed to not brown or dry out with daily use. It uses a top heated design to keep baby's wipes heated through. You and baby will appreciate the thoughtful design of this warmer. You can change one-handed and baby will have a warm cozy change.

What We Like About It
Just add ½ cup of water each time you add baby's wipes and this warmer will always be ready to use. You can use both standard style and pop up style diaper wipes in this warmer for optimal cost savings.

Cost and Value
This energy efficient warmer is at the higher end of our lists pricing. You will end up saving money over brands that require you to buy moisture pads. This is a one and done purchase, making it a great value for your baby's nursery.
Insulated
Reinforced lid
Large size
Low voltage
Top heating
Must keep full for optimal temperature baby wipes
9. OXO Tot Perfect Pull Wipes Dispenser, Gray
If you're looking for a simpler changing schedule when it comes to your newborn, take a look at this lovely Oxo perfect wipes dispenser. Not only does this product warm wipes for you but it also keeps them nice and fresh. Your baby will fuss a little bit less when having this perfect little box within arm's reach. It comes with a nice little pop-up so that when you grab a wipe during those bulk changes, the next one will already be there waiting for you. It makes it easy to grab when trying to deal with your squirmy tot.
Expand to see more
This means that no matter what, a next wipe will always be up and ready for you to grab onto, making changing and grabbing things in a limited time frame a bit easier for parents. It's plastic so it's also easy to clean and the design goes along great with any style.
Easy to use
Holds 100 wipes
Pop-up feature
Durable
Keeps wipes fresh and moist
BPA-free 
Some customers think it's overpriced for the size of container
10. Prince Lionheart EVO
The EVO warmer by Prince Lionheart rounds out our list at number ten. This newly refreshed warmer will keep your baby's wipes warm and fresh all the time.
Expand to see more
The warm diaper wipes from this warmer will keep your baby's bum happy. A happy baby makes for a happy caregiver. This baby wipe warmer will increase your happiness and your babies comfort level during diaper changes.

Benefits
This product has EPA approved antimicrobial materials embedded in the container. The device heats the baby's wipes quickly and evenly. It includes a water reservoir to keep the diaper wipes moist during storage. You can't go wrong with this convenient warmer.

What We Like About It
The best feature of this warmer is the EverFresh pillow that helps keep everything fresh and moist inside. Just rinse and wet the pillow once a week when the warmer for a fresh clean warmer.

Cost and Value
This warmer is near the top end of our price range for this list. It is well worth the value because it will keep your baby comfortable during all of their regular diaper changes. No more cold bottom!
Power indicator light
EverFresh pillow
Antimicrobial
Water reservoir
Quick heating
Lid will not stay up during use
Criteria Used in Evaluation of the Best Wipe Warmers
Easy to Clean
One last thing that parents want to worry about is having to clean one more thing. Especially, when dealing with a newborn baby. It seems that cleaning is all new parents do. All these warmers have easy-to-clean containers and they take little to no time at all to keep sanitary.
Safety Features
Wipe warmers can sometimes become hazardous if they don't have the proper safety features. Safety is always a concern for any parent and making sure that your child is safe is a top priority. The warmers on our list come equipped with power indicator lights, auto shut off and low-voltage features. These features make it so that they are 100 percent safe to keep in your baby's nursery.
Size
Sizing is important because we wanted to make sure that any warmer on our list would also be able to fit on a standard size changing table. We made sure that each warmer would hold a large number of wipes so that parents wouldn't have to worry about needing to add to the container so quickly. The last thing that parents want to do is to have to refill their warmer every day. We made sure that the standard size warmers on our list will hold at least 80 to 100 wipes. If you use bulk wipes, however, we highly recommend that you keep the extra wipes in a large zipper-top plastic bag for easier access when the time comes to refill your warmer.
Style
Parents spend hundreds of dollars making sure their baby's nursery is perfect. It is very important that your nursery make both you and your baby feel comfortable and relaxed. The wipe warmers on this list will add a great convenience factor to diaper changes and look nice on your changing table. We were careful to select diaper wipe warmers that are stylish and sleek enough to fit with any decor.
Top Tips
Wipe warmers should be kept full of wipes at all time. Make sure that you rotate the old wipes to the top when refilling. They should be unplugged any time you will not be using it for more than 24 hours. Your warmer should be kept moist either by adding water or using a moistening sponge. Check your manufacture directions to find out the recommended way to keep your machine moist. You should always plan to clean your diaper wipe warmer when your baby is sleeping so that they do not have to have a cold wipe diaper change. We highly recommend buying two or more warmers so your little one can always be changed in comfort. As your baby grows it can become more difficult to always change them in the nursery. You should also check with any out-of-home caregivers and make sure that they have a diaper wipe warmer so that diaper changes will always be comfortable for your little bundle of joy.
There are some safety measures you should take to keep your warmer running optimally and so it doesn't pose a potential hazard. Remember to never place a plastic package of wipes in your warmer. Always remove the wipes from any outer package and make sure that there are no plastic separators that have made it into your machine. When plastic is heated to a high temperature it can create harsh chemicals that will harm your baby. Also, ensure that there are about 2 to 3 inches of space cleared around your warmer so that it does not overheat. Never cover your warmer with anything. All of these practices can be very dangerous and cause safety concerns in your baby's nursery. It is very important that you keep safety in mind with a new baby around. If these simple steps are followed you will be able to keep your little one safe and can rest easy that warm wipes will be available at every diaper change.
FAQ
Frequently Asked Questions
Q: Do I need a wipe warmer?
A: Some parents will tell you that a wipe warmer is a luxury item. We disagree, a wipe warmer is a comfort item and who wants to compromise their baby's comfort? In the middle of the night when your baby has an uncomfortably yucky diaper, you want to do everything you can to restore their comfort and get them back to sleep quickly. A warm wipe is a quick and easy way to keep your baby as comfortable as possible during the uncomfortable moments of a diaper change.   
Q: Can warm wipes harm my baby?
A: Baby wipe warmers have safety controls in place so they do not overheat the wipes. Your baby should always get a wipe that is warm, not hot to the touch. If you notice that your wipes are hot to the touch you should contact your manufacturer because it is probably a mechanical defect and could cause further harm. You will not have to worry about baby's safety with a wipe warmer as long as you keep it clean and follow the included manufacturer directions.
Q: How do I clean my wipe warmer?
A: The first step to proper hygiene with your diaper wipe warmer is to unplug the machine. Second, you must remove all of the baby wipes. Next, look into your warmer–is it just in need of a weekly cleaning or do you have some build up because you are a new parent and got too busy to clean it for a few weeks? If it is in need of a regular weekly cleaning, then you can wipe the outside with a disinfecting cleaning wipe or a soft cloth and some natural cleaner. After you wipe the outside down make sure to wipe the inside once the machine has cooled down. Allow the machine to dry. Once everything is sanitary and dry replace the moisture cushion or fill the reservoir with water, add fresh diaper wipes, and plug in your machine. Your wipes will be ready to use in no time. If the machine has a little bit of caked-on crud, we recommend that you use a nonabrasive sponge, some elbow grease, and a natural cleaner. As always, make sure the warmer has cooled before cleaning the inside, so you do not get burned. For further details on how to keep your wipe warmer like new, refer to your instruction guide. If you no longer have your guide, check out the manufacturer's website for advice on how to keep your warmer clean. We highly recommend cleaning your diaper wipe warmer while your baby is sleeping either at nap time or during the night. You can unplug it when you change their diaper just before putting them down. Once you have baby asleep, check the temperature and follow the above directions to have the warmer cleaned and ready for use by the time baby is in need of another diaper.
Q: How do I keep bacteria out of my warmer?
A: Bacteria grows in wet dark places, it is a fact of life. Not all bacteria is bad, and its growth can easily be kept under control. You will need to clean your warmer weekly according to the directions above. To keep bacteria at bay, make sure you check your direction booklet for manufacturer-specific advice. If your warmer comes with a moistening pillow or sponge, make sure to rinse it out weekly and replace it according to your manufacturers directed replacement schedule. If your warmer has a water reservoir, you will need to empty it and allow it to completely dry once a week. To keep bacteria at bay, make sure you check your direction booklet for manufacturer-specific advice.
Q: Are warm wipes beneficial for babies?
A: We wash our face and body with warm water because it is comfortable and it helps to kill any bad germs. Warm water also helps to open up your pores so bad bacteria can escape. A baby's bum needs to be kept comfortably clean. Warm wipes will keep baby clean and comfortable. The bacteria of a dirty diaper mess will be quickly wiped away with a warm diaper wipe. Not only will a warm wipe open their pores for a thorough clean it will keep them comfortable.
Q: Can my baby burn themselves on my wipe warmer?
A: Your newborn should not be able to get close enough to your warmer to get burned. Your wipe warmer should be kept up out of the reach of your baby. When you are not using it for an extended period of time, it should be unplugged and wipes removed. This will help prevent overheating. All of the warmers on our list should be cool to the touch on the outside unless there is a default in manufacturing. You can feel safe knowing that your little one will not burn themselves if proper precautions are taken with your wet wipe warmer. As with any electrical appliance, you must make a convenience vs. safety decision.
Conclusion
No one likes the feeling of something wet and cold touching their most sensitive skin. Babies deserve to have the highest level of comfort you can afford to give them. After all, they have just gotten out of the really warm, cozy self-sufficient home a mother provides for nine months. Your baby's bottom deserves the best care. A diaper wipe warmer will alleviate the need to use wet cold wipes to clean your precious bundle of joy.
Diaper wipe warmers will keep wipes at the optimal temperature for your baby's superior comfort level. They can create a warm moist wipe that is ready to go as soon as you pop open the lid. The warmers on our list are the best of the best, and they will not let you down in your time of need. You will find a warmer to meet your needs on this list.
We have found warmers that are high quality and safe for use in your baby's nursery. These warmers will help to soothe your baby's bum when they get a rash. No one likes to wash with a cold cloth, so why use cold wipes on your lovely little one?