10 Best Toys & Gift Ideas for 10 Year Old Girls in 2019
last updated
Aug 11, 2019
We know that the "terrible twos" have a rival when it comes to awarding the pickiest age group: the dreaded preteen. Preteens can be fussy; they're at the age where they're starting to concern themselves with their reputation and image, but they're still young enough that they possess natural creativity and sense of wonder. When gifting for ten-year-olds, we suggest items that promote self-sufficiency, creativity, and an ability to show off what they've learned or made.
Books, crafts, and science kits are great ways to go! Below, we've collected a variety of the most popular and successful gifts for 10 year old girls (though truly, we think many of these can be enjoyed by everyone). Enjoy!
In a Hurry? The test winner after 37 hrs of research
Be Amazing Toys Big Bag Of Science
Why is it better?
Real scientific toys.
Step-by-step instruction book with photos/illustrations.
Strong focus on STEM.
70 plus more science projects.
In a
Hurry? Editors choice:
Test Winner: Be Amazing Toys Big Bag Of Science
28
Researched Sources
37
Hours Researching
24
Products Evaluated
Educational Value
Entertainment Value
Materials
By Default
10 Best Toy & Gift Ideas for 10-Year-Old Girls Reviewed
1

. Be Amazing Toys Big Bag Of Science
Real scientific toys.
Step-by-step instruction book with photos/illustrations.
Strong focus on STEM.
70 plus more science projects.
Multiple choking hazards.
Limited amount of project explanations.
Ten-year-old kids love to experiment and your little girl is no different. Give her the Big Bag of Science kit and she will be learning some concepts in science the fun and easy way.
Read more
Educational Value
These gifts for 10 year old girls are a fun way to augment what she has learned in school about science. It's great for helping her cognitive skills flourish especially her problem-solving skills.
Entertainment Value
Science makes things possible and opens up a world of endless fascination and learning to kids. This kit will help grow and expand their science knowledge and they'll have a ton of fun using it — they may even realize that learning can be fun!
Materials
It comes with several test tubes including a geyser tube as well as insta-snow powder, magnifying glass, pipette, and other resources to make her science experiment. The toy also comes with a fun booklet to guide your little girl in the performance of the experiment.
2

. Educational Insights Nancy B's Science Microscope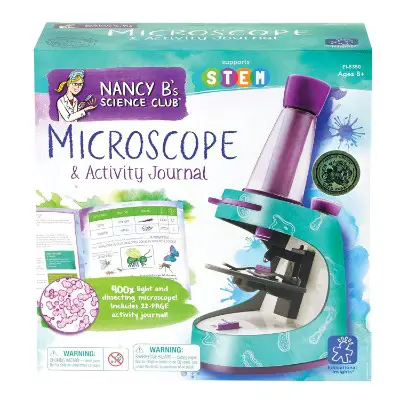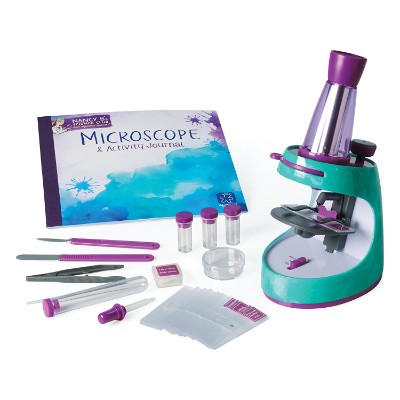 STEM focused.
Independent, parent-free learning.
Hands-on experience.
Encourages a love of science.
Batteries not included.
Choking hazard due to small parts.
Does your 10-year-old girl feel like being a CSI lab technician? Now, she can follow in the footsteps of professionals working with microscopes using the Nancy B's Science Club Microscope and Activity Journal.
Read more
Educational Value
These gifts for 10 year old girl helps encourage microscopic exploration and appreciation for microbiological sciences. We love the idea that the microscope can actually be one of the greatest gifts you can give your science-inclined child.
Entertainment Value
Let your kids lose to explore the world around them and satisfy curiosity with their very first microscope. The world becomes infinitely more interesting when you realize how much there is to see and learn about, and your child will be thrilled to engage with their surroundings.
Materials
The set comes with an ocular that can magnify objects by as much as 400x. The platform can serve as a light microscope or a dissecting microscope complete with all the tools your kid will need including an activity journal to jot down notes of her microscopic observations.
3

. Women in Science: Pioneers Book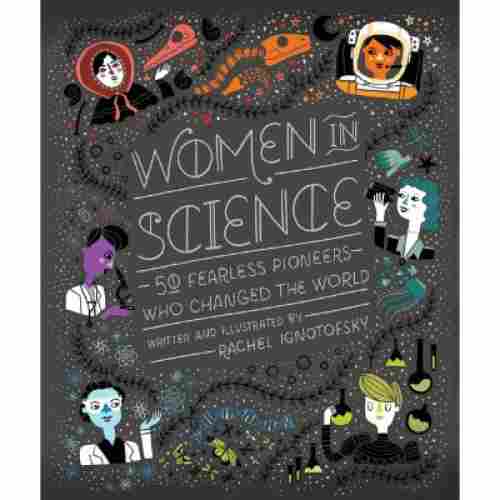 Beautiful, unique artwork
Infographic about lab equipment and other relevant topics
Covers famous and lesser known women scientists
Fifty write-ups total
NYT Best seller
Lacks full/accurate definitions for some glossary terms
Extra facts and infographics can be distracting from the main passages
This New York Times bestseller is a hit book about fifty of the most influential women in science. It highlights the contributions of these women in the STEM (science, technology, engineering, and mathematics) fields.
Read more
Educational Value
With fun, vibrant illustrations and a wealth of empowering knowledge, this book will leave any budding scientists, engineers, and mathematicians fascinated with the history that has brought us to where we stand now in STEM fields, and the importance of women's contributions to these valuable career paths.
Entertainment Value
Books are great gifts for 10 year old girl. Even if you have one that isn't crazy about reading long passages, the illustrations and infographics in this one should keep their attention. Representation matters, and we think it's awesome that there are sources out there to show the women who have paved the way for our girls now.
Materials
The artistic style is colorful, unique, and will appeal to children. Relevant infographics include important features about lab equipment, the rates of women currently working in STEM fields, and more. From primatologist Jane Goodall to the less known contributors such as Katherine Johnson, the African-American physicist who first calculated the trajectory of Apollo 11's 1969 mission to the moon.
4

. Fat Brain Toys Fold Origami Brainteaser
Very unique variety of outcome for the puzzles like the Lotus of Heart.
Vibrant and colorful design.
Stimulates geometric interest and ability.
It is suitable to kids even younger than what is stated on the package if someone is able to just assist.
Shipments could take a bit on this product although it is unusual for this to happen.
A major reason why these origami kits are the best gifts for 10 year old girls is purely due to the fact that there are just 10 finished puzzles that they can take their time to master taking as much or little time as they need to. The puzzles included are actually brainteasers to stimulate the inventor and engineer in your kid.
Read more
Educational Value
Kids really learn how to utilize the beauty of art while working with the FOLD kit. There are many different outcomes for these origami puzzles. Each of these different outcomes will push your child to use artistic abilities in creating multiple different pieces that he or she can be proud of the puzzles are basic enough for most kids to master.
Entertainment Value
Really is a good art kit to help kids learn patience and how to stick a project out until the end result is completed. The great thing is that kids don't feel discouraged at all if their final product is slightly different at the finish than what the directions show. Although it is very easy for kids to master the right outcome.
Materials
Need a good tool to entertain your child on a long road trip? This is the perfect solution to quieted seated play. With many bold colors to work with your child will gain a lot of growth artistically. Especially in the light of patience; many kids have a hard time learning patience as skill. FOLD is here to help mastery of patience, math-focused thinking, the ability to think logically, and how to overcome a challenge. This kit includes a variety of challenge puzzles such as; the Flexi Twist and Lotus of the Heart.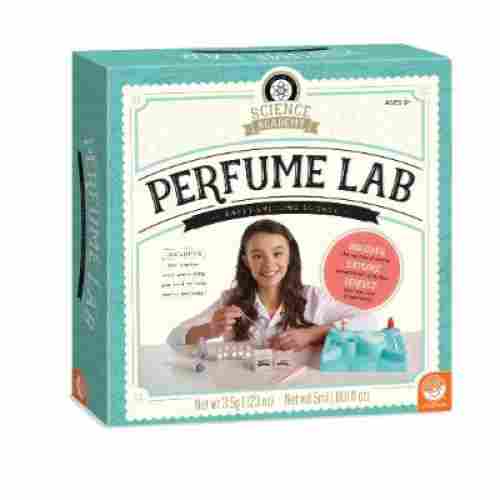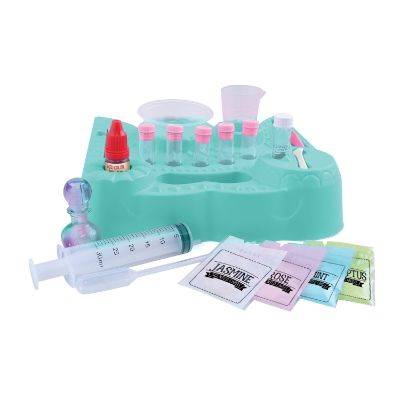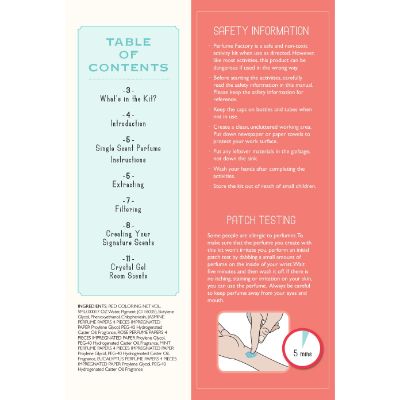 Includes a lab kit
Detailed instruction guide
Great STEM toy
Teaches safe science practices
Kids can wear the perfumes they make
Scents are not very strong
Chemistry isn't all periodic element tables and monotonous charts. Kids can enjoy the wonders of science too, even from an early age. The Mindware Perfume Lab is a toy that teaches. These toys for 10 year olds girl allows children to safely explore the chemistry of extracting essential oils and mixing scents
Read more
Educational Value
This kit teaches children about chemistry in a fun and interesting way, while also allowing them to be creative and responsible. Serves as an excellent present to your kid's 10th birthday or for Christmas.
Entertainment Value
Your child will love getting to make the very perfume they wear. Kids are proud of their projects, and this kit sets them up for success to show off their hard work!
Materials
Little scientists also become little designers as they hone their own line of perfumes. A colored guide book provides step-by-step instructions, tips, hints, and a chart for collecting data to record your favorite formulas. It includes a lab station, four base scents, a bottle, beaker, stirring sticks, color pigments, labels, crystals, socium polyacrylate, and more. Learning can be fun if you only have the right resources at your disposal!
6

. Click n' Play 9 piece Doll Puppy Set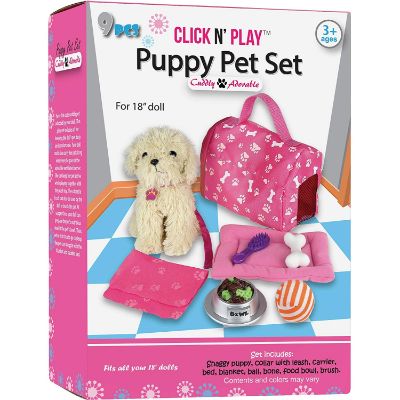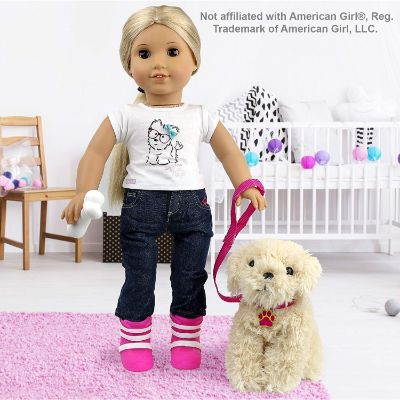 Perfect size to go with existing American Girl Dolls
Can be used on its own
Comes with all the necessary puppy accessories
Easy to use leash that attaches with velcro
Toy may be mistaken for a life-sized dog when it's meant to accompany American Girl dolls
Every little girl loves puppies and kitties! It's an unwritten rule that every kid asks for one from their parents for the holidays and birthdays and now you can give them one better — a puppy or kitten for their dolls!
Read more
Educational Value
Encouraging imaginative play is vital in the life of a 10-year old girl since she's at an age where her imagination is at its most creative. This puppy made be plush but it'll open up a world to pet care and open up more options for the dolls she already has.
Entertainment Value
Even though this cute Labrador is intended for use with American Girl dolls or dolls or the same proportions, the realistic aspect is hard to ignore. This dog is a great addition to any doll with enough accessories to make your child feel as though it's as real as can be.
Materials
This adorable Labrador is originally suggested to accompany the American Girl dolls, however, it can be used for virtually any doll of any size or even as a mini teacup puppy for your little girl to play with and take care of. The Click 'n Play puppy comes with all the accessories that your child needs to properly take care of her own pretend pet, including a leash, pet carrier, a bed, a blanket, a tennis ball for playing, a bone for chewing, a food bowl and even a brush to groom.
Whether your child is playing with this puppy on her own or teaching her dolls how to care for a pet, she'll have a blast with all the realistic accessories that make this feel like a live puppy. This toy encourages imagination helps them come up with their own fun, making it the perfect gift for 10 year old girl with a love for dolls as well as animals.
7

. Klutz Make Your Own Soap
Comes with everything you need
Includes a pretty scent
Easy to use
Not super messy
Teaches kids about science basics
Parental help is suggested when melting and shaping
Hear us out on this one — Just because something has to do with soap doesn't mean it can't be tons of fun! The Klutz kits have a great reputation for being great fun because everything is provided, the instructions are simple, and kids can become very invested in what they're creating. Yes, this one has the main goal of creating soap, but what makes it so entertaining is the process.
Your little girl won't just be creating a hygiene product, she'll be creating a work of art that's all her own that she can keep for herself or use as a gift.
Read more
Educational Value
Soap-making, and any creativity-centered kits, really, are a great way for kids to be artistic. This kit will allow kids that freedom while still teaching them basic chemistry which makes it a lot of fun with a lot of learning.
Entertainment Value
These kids are what everyone remembers about their first real science experiments. They make the process easy, entertaining, and give kids an artistic edge when learning various scientific processes, as well as providing them with a result they can be proud of.
Safety
This kit allows kids to experiment with color and shape and truly gives them the freedom to be as creative as possible. It includes everything you need to make your own colorful, crazy soap, and is totally safe. This would be a blast for a sleepover or even an after-school activity and lends itself to hours of craft-making fun.
Her soap will even smell like coconut and papaya when she's all finished with it! With a little practice forming shapes, some fun colors, and maybe even some glitter, your child will be perfectly happy with this 2017 National Parenting Center Award-Winner of a soap-making kit.
8

. Creativity for Kids Fashion Studio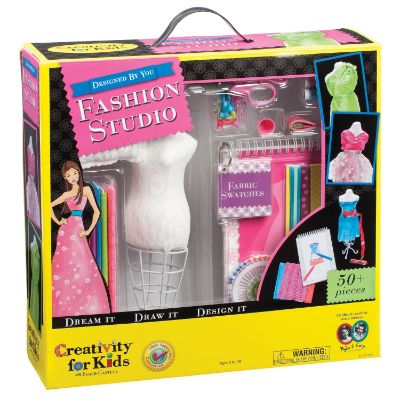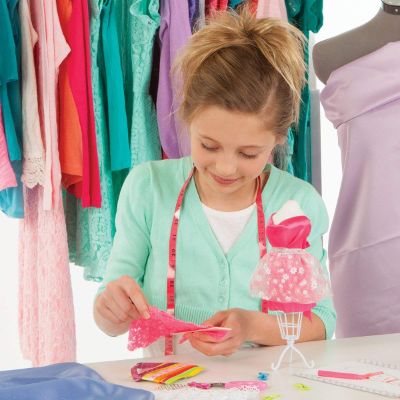 Step-by-step instructions.
Non-toxic components.
Diverse selection of fabric and details.
50 plus more pieces to create from.
Real scissors, needles and pins (Adult supervision suggested).
Choking hazard due to small parts.
Schools may not teach sewing in Home Economic anymore, but that's no reason that you should keep your child from learning a useful and important skill! You Fashion Studio came up with a brilliant idea that encourages sewing while engaging in welcoming them into the world of fashion design.
Read more
Educational Value
The toy really inspires creativity and imagination, as well as help, reinforce your kid's mastery of her dexterity. This helps strengthen the control of her fine motor skills.
Entertainment Value
Unleash your daughter's inner vogue with Creativity for Kids by You Fashion Studio! With 50 plus more pieces to choose from and a diverse fabric selection that includes lace, ribbon, and rhinestones you kid can launch their own little fashion line! Markers can be used to add color and there's a sketchbook for your kid to unleash their designs! The kit comes with step-by-step instructions to allow for easy creation.
Materials
For starters, Creativity for Kids comes with everything your little girl needs to pursue her dreams of a future fashion designer, including a mini lace-covered dress mannequin, all the essentials for sewing, a sketchbook, fabrics, swatch booklet, trims, ribbons, and even fancy embellishments for a personal touch.
You can make that lucky 10-year old in your life feel like a real-life clothing designer and help foster their dreams of the runway and high fashion. Once they've learned the essentials with this kit, there's no stopping them when it comes to life-sized clothing and accessories. What may seem like a fun way to pass time could mean a future path for them! If you have a daughter, niece, sister, etc., who is constantly drawing clothing and accessories, this gift may be the perfect thing to unlock their true creativity.
9

. Spirograph Deluxe Design Set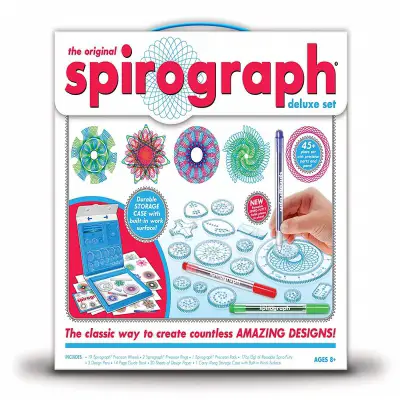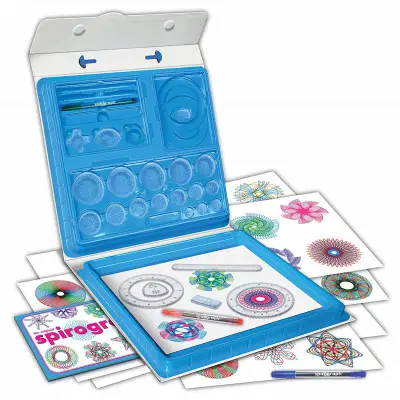 Works with standard pens, markers, and pencils.
Pieces held securely on paper with Spiro-Putty.
Durable carrying case.
Built-in drawing surface.
Choking hazard due to small pieces
Purchase replacement parts and tools separately.
Spirographs help kids to create modern-day mandalas. It's human nature to be mesmerized and fascinated by intricate designs that seem to be endless, and now your kids can have the power to make their very own with the Spirograph Deluxe Design Kit.
Read more
Educational Value
The spirograph can be a great gift to your kid as it can greatly enhance her creativity and imagination. When designed with friends, this can be an excellent way to foster social relationships.
Entertainment Value
Classic toys are making a comeback, and not just in the video game genre. Spirograph is bringing back traditional hands-on art, and your child will love developing their talent and opening their minds to new creative methods.
Materials
Kahootz promises hours of fun with 45 pieces to this art kit that make complicated-looking swirls and geometric patterns and an absolute breeze to create. By simply traces one of 19 different patterned rings your child can design virtually any spiral shape they can think of. The art of Spirographs lies in the technique of layering and using alternating colors — by layering two, three, or even four various ring shapes over the other, patterns become more intricate and even more beautiful than just a singular spiral.
When different colors are added these pieces become eye-catching and transformative pieces of art that kids will be proud to bring to school or show off to their family and friends.
This art kit is considering one of the most successful classic toy relaunches, and there's a reason for why their reputation precedes them. In the carry-along case, you have everything you need to create spiralized art: 19 wheels, two rings, one rack, spiro-putty, three pens, a 14-page guidebook to get you started, and design paper. Talk about fun for the entire family!
10

. Alex DIY Friends Forever Bracelet Kit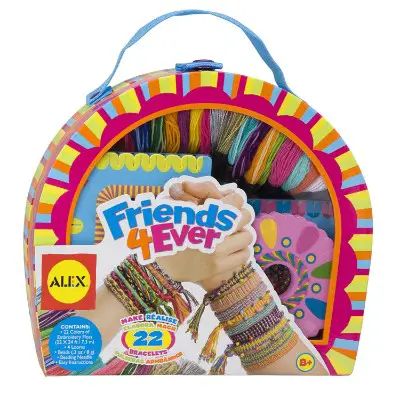 Convenient take-me-anywhere case.
Clear instruction guide for correct and safe usage
Can be used with other string.
Friendship wheel makes for easy, simple weaving.
Limited amount of string.
Could require adult help.
Choking hazard
To a 10-year old girl, affirming long-lasting best friends is super important. We all remember the days back in elementary school when we'd exchange handmade gifts or secret handshakes to prove our everlasting devotion to our best friends, and these days girls are still the same. Friendship bracelets will never go out of style simply because they're a physical representation of how strong a girl's friendship promise is — and they're cute to wear!
Read more
Educational Value
It's excellent for bringing out the creativity and artistic talents of your kid. Completed friendship bracelets can also help nourish social relationships which can aid in the enhancement of your kid's emotional health.
Entertainment Value
Girls love the feeling of bonding with their best friends and friendship bracelet are the 10-year old girl's equivalent of an adult's girl's only lunch date. By creating bracelets together they'll be learning a skill while creating memories and something that they can hold onto for years to come!
Materials
ALEX Toys knows how important it can be to form a pact amongst friends and if you have a daughter who loves being with her best friends and crafting, we've got the perfect gift for you. The DIY Wear Friends 4 Ever jewelry kit comes with everything the fashionista in your life needs to create pretty bracelets that she and all of her closest pals can sport wherever they go. This kit comes with four color-coded looms for easy bracelet-making, 22 colors of embroidery floss for tons of options and colors, beads and a beading needle for customization and glam, as well as an instruction booklet. This bracelet making kit truly is perfect for sleepovers and get-togethers and even comes with its own carrying kit, so your child and her friends can take the fun anywhere they go!
11

. Your Décor Water Bottle by Horizon Group USA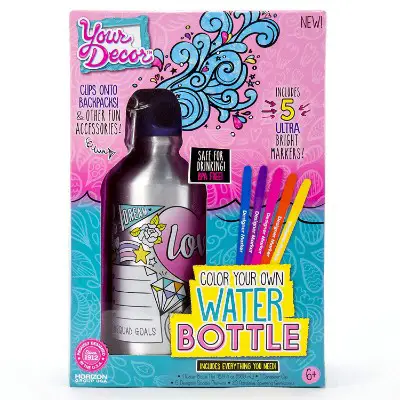 Smart way to keep kids hydrated
Appealing to girls with two unique and fun designs
Gemstones for added bling
Non-toxic and BPA-free
Comes with markers for coloring
Coloring may fade and gemstones may fall off after long use
An issue that's common with kids is getting them to drink enough water. In times of sports drinks and soda that comes in every flavor imaginable, encouraging kids to drink just plain 'ol water is an increasingly difficult task. That's why this BPA-free, DIY water bottle by Horizon Group is such an amazing gift for kids; not only is it a cool looking water bottle that's all their own, but it can be fully customized!
Read more
Educational Value
Having to twirl the strips of paper will teach mastery of skill and enhance the control of fine motor skills of your kid. This is also excellent for reinforcing her creativity. Best of all, you can always turn the finished project as a wall décor in your 10 year old girl's bedroom.
Entertainment Value
The creativity behind this designable water bottle is truly genius when it comes to keeping kids hydrated. Your 10-year old has two designs to choose from, fun flowers and hippy peace signs or fashionista chic Barbie.
Materials
This water bottle is fully tailored and designed for the hip artist who loves to color and create, and the great news is that they'll stay hydrated in the process. This cool aluminum bottle comes covered in black and white designs that are just waiting to be filled with color by the five non-toxic markers that come with the design kit.
Included with those markers are 25 faux gemstones that can be glued to the outside for extra bling and customization. The handy water bottle features a clip that can be hooked to a backpack, pants loop, or any other messenger bag. The standard size allows it to fit comfortably in a backpack bottle holder or a car or bus cup holder, so your child can bring it anywhere she goes.
Criteria Used for Evaluation
Educational Value
When it comes to the best gifts for 10 year old girls, the educational value of the toy plays an important role. If it's a science toy, does it have a focus on STEM? If it's a reading toy, does it have a focus on building vocabulary? Of course, this just doesn't apply to academic-related toys, it also applies to toys that relate to talent and other non-academic ways. If the toy is an artistic toy, for example, does it have a focus on proper artistic skills such as painting or even sketching? Likewise, if it's a toy about personal and life enhancement, does it focus on etiquette, self-care, or even goal setting and discipline?
Ten-year-old girls are usually one year away from middle school where the academics are more advanced (compared to elementary school) and the lifestyle is more unique. Therefore, it's imperative that the toy prepares ten-year-old girls for such a huge change.
Entertainment Value
Ten-year-old girls are at that developmental stage where they can become bored quickly. Whereas much younger children can be entertained by just a ball, ten-year-old girls need toys that will not only excite them but hold their interest as well. A toy must strike a balance for ten-year-old girls: Not too childish that it will embarrass them, but not too mature that it will be too hard for them. Therefore, a toy for a ten-year-old girl must have a toy that addresses their ever-growing active lifestyle and growing interest in being unique and creative.
If a toy for a ten-year-old girl can make her feel one of a kind while also boosting her developing confidence, that toy can create positive changes that last a lifetime.
Entertainment Value
The educational value is truly important when it comes to kids, but so is the level of fun they'll provide! Everything on this list has been carefully evaluated for that in addition to all of the positive benefits they'll bring to a child's life. It's just important for your child to have toys that keep them entertained and happy as it is to have toys with strong educational value. Imaginative play and creativity are two things that will steadily improve the mood and temperament of your child and help to boost their confidence and give them the freedom to express themselves.
At the young age of ten years old, kids have the need and strong desire to begin the discovery of who they are and what they like and dislike, which is really a creative process. Having toys, kits, and crafts that can encourage them to do that are crucial in their development stages between preteen and a full-blown teenager. It's also a very tender age for a little girl, and that much-needed independence can do wonders to improve her self-esteem and encourage her to be whoever she wants to be.
With these gifts for 10 year old girls, she can play on her own or with friends and be her own person, which is so important when growing up. Being a preteen can be tough sometimes, but playing and having fun shouldn't be!
Safety
We know how challenging it can be to come up with a shortlist of the best girls toys to give as gifts or presents to your child. As such, we took it upon ourselves to perform in-depth research as to the toys that are not only developmentally-appropriate but are also made of the highest quality and safest materials. Additionally, we made sure that the toy manufacturer is someone you can trust. Lastly, we listened to what other parents have to say regarding these gift ideas for 10 year old girl. Hopefully, our list of the 10 top selling products will be very useful for you and your little princess.
Most Important Criteria
(According to our experts opinion)
Experts Opinion
Editors Opinion
Users Opinion
By Default

Parents, Did You Know?
Ten-year-old girls are either experiencing puberty or getting close to it, so the desire of parent free independence grows stronger everyday within them. Gift for 10 year old girl that nurture and enhance the independence value are usually quite popular with ten-year-old girls.
Therefore, it's best to choose toys that require little to non-adult supervision. If a toy does require adult supervision, let it be a toy that involves a grown-up skill like operating the oven or sharp objects. Of course, it can be a great time to teach your ten-year-old daughter how to operate such objects herself for future usage if you deem her mature enough to do so.
Parents, Did You Know?
The best toys with independence value are usually toys that are highly artistic or highly active. Such toys for 10 year olds girl usually require fewer instructions and enhance the imagination and the imagination can be a great door to independence because that's where your ten-year-old daughter truly rules.
Other Factors to Consider

Social Development
Social value is very important for your ten-year-old daughter. This is the time phase where your ten-year-old daughter learns the importance of friendships, starts to craft friendships, and might even start to experience friends breaking up. Toys for ten-year-old girls that foster friendships and even teach the importance of friendships are a great option for her social development.
Of course, it doesn't end at friendships. Friends or not, it's important your ten-year-old daughter knows how to treat adults, classmates in general, teachers, and even strangers with common courtesy and respect. So, gifts for 10 year old girls that make use of involving others and sharing with others are great for social value in your ten-year-old girl's life.

Logic
One of the most striking developmental milestones of 10-year-old girls is their increased proficiency and competence in planning, prediction, and the use of logical reasoning and critical thinking skills to help them explain certain phenomena, particularly inferential relationships. Toys, therefore, must be able to provide the correct stimulation for the continued enhancement of these skills.
Toys for 10 year olds girl must be challenging enough to allow for more complicated thought processes that require multiple solutions to a particular problem. Additionally, 10-year-old girls will require toys that provide them with hypothetical or simulated situations where they can employ their increased problem-solving, critical thinking and inferential abilities. They need toys that will give them the opportunity to think out of the box and to employ their planning skills.
Creativity
Ten-year-old girls are also very keen about specifics. They are very meticulous and would desire nothing less than the best. They also take pride in their creations and can already make very objective assessments and evaluation of true quality. As such, they will need toys that will help them draw out their creativity.
They need toys that will give them the opportunity to create something new and to share this particular passion with the rest of their friends. By this time, cooperative play is very important. Toys that facilitate such kinds of play should thus be included in your little girl's collection of playthings.
Part of this creativity is the creation of lingo that is uniquely theirs. This helps them establish their own identity as well as the peer group to which they associate themselves with. This makes interacting with the 10-year-old girl quite fascinating as she often has a lot of stories to tell. It is therefore important to look for toys that help expand the vocabulary and communication skills of the 10-year-old girl.

Physical Development
On the physical side of things, a 10-year-old girl will already exhibit good control of her body including repetitive motions, coordination, and balance. They may show interest in a particular skill. For example, they may engage in more physically demanding sports like swimming and dancing, among others. It is, therefore, crucial to provide your 10-year-old girl with toys that will help them discover their hidden talents.
Choosing the best toys as gifts or presents for a 10 year old girl should not be that difficult. We are nevertheless hopeful that we were able to provide you with the kind of information that you seek so you will be more successful in your search of the best toy for little princesses.
Frequently Asked Questions
q:

Where Can I Buy Toys For Ten Year-Old Girls?

a:

Anywhere toys for 10 year old girls are sold you can buy toys for your ten-year-old girl. Amazon, Toys R' Us, Wal-Mart, your local toy store, toy catalogs, gift shops, etc; the possibilities are endless! The most popular choices are usually Amazon, Toys R' Us, Wal-Mart, and local toy stores.
q:

How Can I Know A Toy Is A Great Choice For My Ten Year-Old Girl?

a:

The answer to that question requires a variety of even more questions: What does your ten-year-old daughter like? What have been her favorite toys in the past? What toys does she talk about the most? What toys does she beg you to buy? What are her interests, skills, abilities, talents? The questions can go on and on…

To determine if a toy is the best choice for your ten-year-old girl, you need to not only talk to her to determine preferences but also take the time to read reviews on sites such as Amazon. Also, if you can make a great decision by using our own personal criteria and research info when choosing a gift.
q:

Are There Any US Made Toys For Ten Year-Old Girls?

a:

Why yes there is! If you're shopping for gifts for 10 year old girls and have a preference for US-made toys, you can discover such by a simple Google search or if you are ever in a retail toy shop, a simple question to one of the employees will suffice.

All American Toys
American Plastic Toys
Fractiles
Green toys
MiniMe Geology
Pajaggle
Wikki Stix

And so many more…
q:

What Are The Top Toy Companies For Ten Year-Old Girls?

a:

If the location of where toys for 10 year old girls are produced doesn't matter and you just want the best regardless, here is a list of the most popular toy companies to buy from.

Hasbro
Mattel
LeapFrog Enterprises
K'Nex
Learning Express Toys

Please keep in mind that some toys that are still on market were originally produced by toy companies that are now defunct and are being produced by other companies. Also, do not get so stuck on brand names. Some of the best toys, especially for ten-year-old girls, are from toy companies that have little to no recognition.
q:

How Can I Discover Even More Toys For A Ten Year-Old Girl?

a:

If you desire more than what the top 10 list of best gifts for 10 year old girls had to offer, there are a few options you can take. You can start with the top 10 list itself: Click on a link of a toy that interests you from the list and when you arrive at the Amazon page for the toy, scroll down to the "Customers Who Viewed This Item Also Viewed" OR "Customers Who Bought This Brand Also Shopped For" lists. Those two lists can give you a great starting point in discovering other great toys for a ten-year-old girl.

Also, the "Frequently Bought Together" section on an Amazon product page can help too.

Another option is to speak with others, specifically parents, who have ten-year-old girls. Teachers (especially art and science teachers), babysitters, and even after school program supervisors could possibly help in choosing some great toys for a ten-year-old girl.

One more option that might be quite fun is to take your ten-year-old girl to a toy store and let her pick and choose and from there, you'll be able to discover more.
q:

Will these toys last years or are they easily worn out?

a:

All of the toys that we've listed here are of the highest quality by some of the most trustworthy toy brands out there. Eventually, some toys will get worn out, paints may fade or chip, they may get dirty, and some will break from handling over time.

It's normal for gifts for girls age 10 to suffer from wear and tear in the hands of children and even need replacing every few years. However, by the time these toys get worn out it will most likely be time to begin finding toys for your child that comply with older age.