10 Best American Girl Dolls Reviewed in 2019
last updated
Jun 03, 2019
American Girl Dolls give little ones an educational companion toy that is both like them and quite different from them. The American Girl stories often center around learning important lessons or coping with big life events. Many of the characters deal with grief and hardship, but always in ways that are instructive and healthy. The books' characters are solid role models for children and the corresponding dolls are surprisingly durable. Whether you're a lifetime fan or purchasing your very first American Girl Doll, we know there's a lot to sort through. Here, you'll find 10 of the best dolls available on the current market. Dolls often cycle through, and can disappear quickly, so keep an eye out! If you're looking for a specific doll and she's not available presently, she might make a comeback soon! After all, the American Girl Dolls have proven to be iconic and eternal!
In a Hurry? The test winner after 34 hrs of research
BeForever Julie Albright
Why is it better?
Includes standard 18-inch American Girl Doll
Comes with novel about Julie's life
Features 1970s-style outfit
Brushable hair and posable limbs
Good role model for kids
In a
Hurry? Editors choice:
Test Winner: BeForever Julie Albright
22
Researched Sources
34
Hours Researching
18
Products Evaluated
Design
Educational Value
Creativity
Emotional Development
By Default
In Depth Review Top 10
BeForever Julie Albright
WellieWishers Willa
WellieWishers Camille
BeForever Samantha Parkington
WellieWishers Kendall
WellieWishers Emerson
WellieWishers Ashlyn
BeForever Rebecca Rubin
BeForever Josefina Montoya
Luciana Vega - 2018 Winner
Table of contents
Criteria Used for Evaluation
Other Factors to Consider
Frequently Asked Questions
Sources
10 Best American Girl Dolls Reviewed
1

. BeForever Julie Albright
Includes standard 18-inch American Girl Doll
Comes with novel about Julie's life
Features 1970s-style outfit
Brushable hair and posable limbs
Good role model for kids
Hair comes out easily, brush gently
Julie Albright is a young woman fighting for equality in 1974. She's a good student and loves spending time with her friends. She also plays on the basketball team - the boys' basketball team.
Read more
Not only is this doll made of high-quality materials, colorful clothes and shiny hair but her personality helps incorporate education about the 1970s and the women's equality movement.
Design
This doll is the standard 18-inch American Girl Doll, with posable limbs and hair ready for brushing and styling. She comes in a groovy 1970s outfit, and with a paperback novel that lets you follow along with her awesome adventures!
Educational Value
Julie is a responsible, respectful protagonist. She introduces young children to the fight for women's equality, and teaches them about the need to balance your responsibilities and decide what you can happily take on.
Creativity
Creative play is shown to benefit children's development in a whole host of ways. This doll is perfect if your child needs a basketball inspiration, a powerful role model or just a grooming partner for many play pretend activities.
Emotional Development
For healthy emotional development, children need a relatable companion. Julie is ambitious and passionate and sometimes takes on too many projects, but always manages to figure out how to balance her many commitments in the end.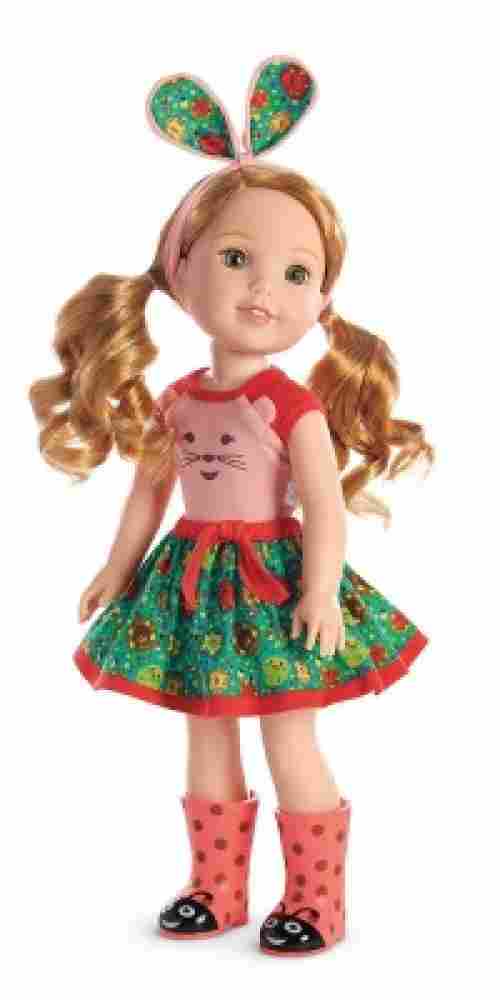 More outfits for Willa are available online.
It's easy for little girls to change out the doll's clothes.
There is a little matching backpack that can be found online for purchase.
A separate nature set goes with this doll: it includes binoculars, a compass, canteen and more.
Introducing the lovely Willa. Her hazel eyes and brushable strawberry blond hair makes Willa a fan favorite. Willa has such a beautiful smile that she can cheer up any little girl.
Read more
Little girls lose their mind during the holidays when they open their gift and see their American Girl doll. It's the ideal doll to buy for girls between the ages of 5 to 7 years old.
Design
She is a 14.5" doll and adores animals. Her tee shirt includes a super cute hedgehog face and she wears a matching skirt and a bunny eared headband. She wears rain boots that look like red and black ladybugs.
Educational Value
Willa teaches children about the importance of being kind and gentle towards animals. Her nurturing and caring personality inspires children to explore the environment and take care of nature.
Creativity
This doll comes with a separate nature set which includes binoculars, a compass, canteen, and other accessories for many play-pretend scenarios that can be imagined in your own home or backyard.
Emotional Development
She is a good role model for children because she has a natural look to her face which she wears with confidence. It's not covered in colorful makeup, and her freckles make her look extra adorable.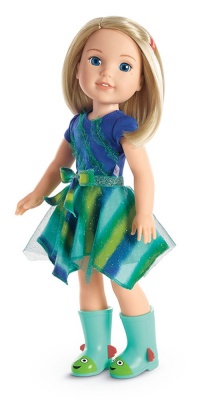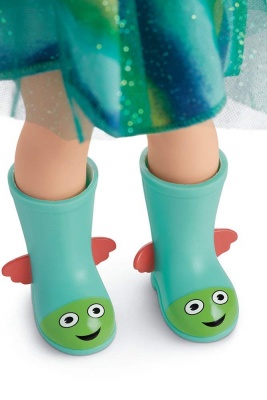 The company made Camilla a mermaid dress that is usually bought frequently together.
Her hair is smooth and silky, this makes it manageable and easy to take tangles out.
She makes a great gift for birthdays and holidays.
Other Wellie Wisher dresses and outfits fit Camille because they are all 14.5" tall.
Her book is not included with the purchase of this doll, but it is easily found online.
Camile is the doll for girls who have an affinity for the ocean and all it's glory. Her boots are like rubber rain boots that resemble fishes with little fins coming out from each side.
Read more
When a little girl becomes 8-years-old, she can graduate up to an 18" version. But until then, she'll probably never want a replacement. However, she'll be more than happy to let her loved ones get her more dolly friends for Camille to play with.
Design
She is as "mellow as a mermaid". Camille has a starfish clip on her hair that can be shared with her friends. She has long blond hair and an ocean colored outfit. She is a 14.5" tall doll with blue eyes and one single freckle on her cheek.
Educational Value
Since we are living in times when our oceans are more polluted than ever, it is important to introduce our children to role-models such who inspire them to get educated about the importance of preserving the underwater life.
Creativity
Camille is a doll that is easy to take care of. As a WellieWisher, she can be trusted to be well-made and can handle children's rough pretend-play activities. Her hair can be brushed and styled any way her little buddy wishes.
Emotional Development
Mermaids are mythical creatures that look after the sea world and take care of underwater beings. The brand designed a special mermaid dress so girls can imagine swimming without fear and saving the oceans together.
4

. BeForever Samantha Parkington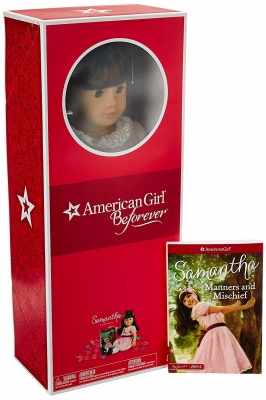 Standard 18-inch American Girl Doll
1900s period-appropriate outfit
Posable limbs and brushable hair
Comes with her own paperback book
Great for teaching children about the balance of manners and mischief and the importance of friendship
Not the original make of this doll
Cheaper on the American Girl website (check availability!)
Samantha is one of the very first American Girl Dolls. She's been revamped a little, but still maintains the same impish, loving spirit. She's the perfect companion for all kinds of playtime activities!
Read more
It's 1904 and Samantha Parkington is ready to bend some rules and lend a helping hand. One of the original American Girls, Samantha is so excited to be back with brand new adventures!
Design
She comes in a lovely pink 1900s dress, white stockings, black patent leather shoes, and with a bow in her glossy, curly brown hair. Made of high-quality materials, she has a movable head and limbs made of quality vinyl.
Educational Value
Samantha will help teach children about the importance of finding the right balance between following rules and knowing when rules are wrong or silly. She's friendly, generous and full of heart, just like your little one.
Creativity
Samantha loves the outdoors and climbing trees, even if that isn't perhaps the kindest activity when it comes to laundering her pretty pink dress. Children can be inspired to embark on a wild and whimsical imaginary journey.
Emotional Development
She is learning to strike the balance between manners and mischief while always on the lookout for new friends. This is very important so girls can feel empowered and free to get out of the box society created for them.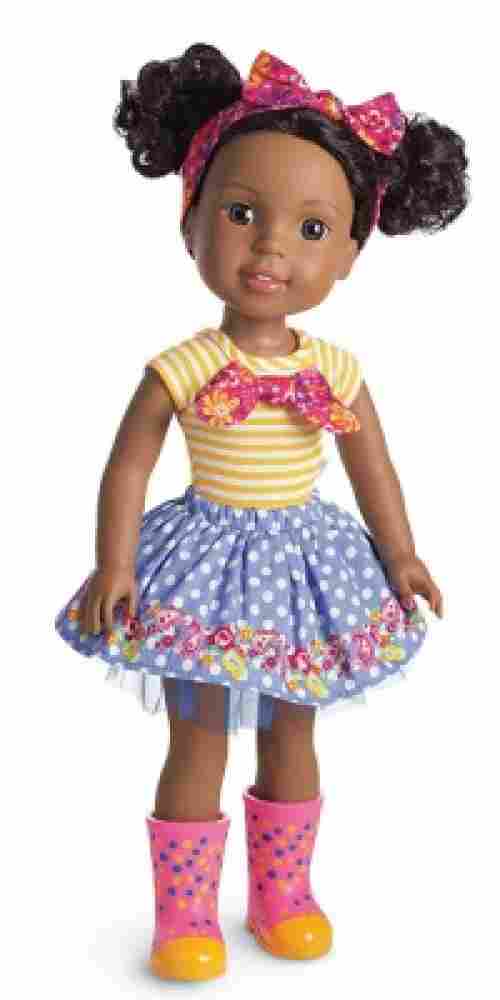 She is so well-made that she looks like a real little girl with a smiling face.
The toolset is available online for purchase.
She is sold in her original American Girl box.
Girls can learn how to sew their own clothes for their dolls.
Regular American Girl outfits don't fit Kendall; she wears outfits designed for Wellie Wishers.
Your child can create many inventions with Kendall! She is a 14.5" doll with lovely deep brown eyes and super curly hair. Kendall is such a pretty doll, and her hair can be styled in many ways.
Read more
Not only she has a lovely smile but her overall design is quite captivating! If you also purchase Kendall's tool-set, you can help your girl awake her inner genius and practice her talents with this iconic doll by her side.
Design
Kendall is a beautiful doll with a great personality. Her outfit is colorful and it matches so well. She wears a yellow striped top, a blue polka dotted skirt; and her rainboots, shirt-bow and headband match.
Educational Value
This doll is not only adorable but also smart and skillful. She teaches girls that any job can be handled by a woman. Girls can feel independent knowing that they can fix, make and engineer their own stuff.
Creativity
Kendall is the perfect match for girls who like to create and invent new things. She goes with a building set that includes a hammer, tape measure, goggles, scissors and an apron that acts like her tool belt.
Emotional Development
Kendall does a great job of raising a little girls self-esteem. Little girls draw their strength from Kendall. She likes to patch things up between quarreling friends, and she does this with smiles and patience.
Emerson can help girls learn to love the stage and combat stage fright early in life.
Emerson is a WellieWisher doll, which makes her perfect for girls under 8-years-old.
She is easy to clean because of her vinyl skin.
Her hair is longer than it appears in pigtails, it falls past her shoulders.
The backs of her shoes are open, but little girls don't seem to mind too much.
Emerson is the star of the show. She loves the stage, lights, and cameras and they love her back. She is a star in the making and her little best friend is going to help her get ready for their close-up.
Read more
Girls love playing with Emerson's hair. After a month of playing with it, it still looks nice (almost brand new). This doll has a bunny nightgown online available for purchase.
Design
She has shiny black hair that is held in pigtails, and her dress is stripped on top with a pink sparkly star skirt. Her shoes are pretty pink ballerina shoes and her hair bows match. She is 14.5" tall and ready to sing and tell jokes.
Educational Value
Teaching girls to follow their passion in arts and theater is very important for children who need encouragement in expressing their inner voice. Emerson is a great role-model for talented girls that might be a little shy.
Creativity
She is a nicely made-doll that inspires creativity and front stage spotlighting. Kids start to enjoy playing as actors on stage or dancers in Broadway. This lovely doll can inspire many entertaining musical performances.
Emotional Development
Children who are artistic are often insecure and experience stage fright. This doll can help them express themselves, develop self-confidence and own their talents by practicing in front of their non-judgmental friend.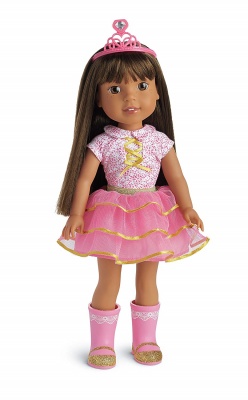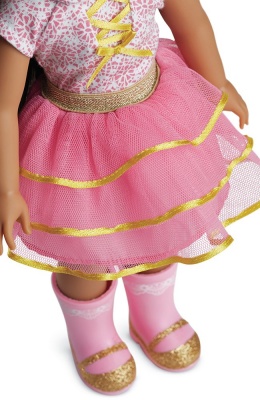 Ashlyn is the winner of the Best Toys by Parents Magazine in 2016.
She is also a winner of the 2016 Oppenheim Toy Portfolio Gold Award.
Kids as young as 5-years-old are a good fit for Ashlyn.
Ashlyn arrives in this pretty pink princess party outfit.
Her book is not included with the purchase of Ashlyn.
This WellieWisher is a dream come true. Her crown matches her dress and it has a diamond tip. She inspires girls to be their best and to do their best. She loves to plan parties and little girls will learn to love throwing parties too.
Read more
All hail princess-in-training, Ashlyn. Since almost every little girl wants to be a princess, you might as well buy her a loving doll that doesn't just look pretty but helps others in need as well.
Design
Ashlyn is a 14.5" doll with long brown hair, eyes, and complexion. She has a few freckles on her face and she is wearing a stylish pink dress. Her shoes are shimmer gold and her dress is pink with gold.
Educational Value
Princess Ashlyn needs a buddy to help her learn how to help others. It is important to teach girls that princesses are people who help their community, and she is going to need all the help she can get.
Creativity
Princess' should learn how to help others, but throwing parties is a surefire way to make people feel awesome. Your child can create many playful scenarios and invite other friends as well.
Emotional Development
Her boots mean that she is ready to help others no matter where they are or what they need. Getting a tiny bit dirty doesn't bother this princess one bit. She is a great role model for little girls.
8

. BeForever Rebecca Rubin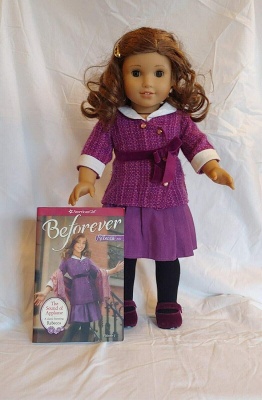 Standard 18-inch American Girl Doll
Styleable hair and poseable limbs
Beautiful 1914 rich purple dress
Includes novel about her acting adventures
Great for children who love the arts
Can purchase for lower price from the American Girl website if it's available there
Rebecca loves to user her talents to help people around her; the stage isn't the only place she shines. She loves to assist in celebrating the sabbath, lending a hand to her neighbors, and refining her skills for the silver screen.
Read more
Almost every child dreams to be an actor at some stage of life. We see our favorite characters on the screen and imagine their lifestyle. This doll can help young girls dream big and practice their talents.
Design
Remember Rebecca Rubin's name, because one day, you'll see it in lights! This little starlet is an aspiring actress in 1914. She comes dressed in a beautiful 1914 purple dress, and looks camera-ready straight out of the box!
Educational Value
Though she wants to be a famous actress, she understands the value and importance of using her talents to help others instead of herself and is a great role model for children engaged in the arts or who love the spotlight.
Creativity
Rebecca is full of energy, confidence, and imagination. Your little girl can get creative with her performances and invent new ways to express herself on the imaginary scene they will share together.
Emotional Development
Rebecca is a great example of following your dreams and using your talents in unconventional ways. She is a generous spirit and can help children practice charisma, imagination, and empathy.
9

. BeForever Josefina Montoya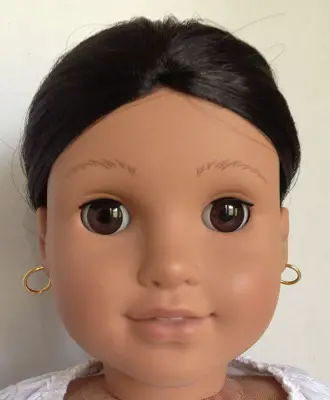 Standard 18-inch American Girl Doll
Brushable hair and poseable limbs
Features an authentic 1824-style dress
Josefina is an animal lover
Includes a novel about her responsibilities and generous nature
Not the original make of this doll
Josefina Montoya is a quiet young woman living on her family's ranch in 1824. She speaks Spanish, takes care of the animals, and loves to lend an ear and a helping hand.
Read more
This beautiful doll has a long black hair, a lovely colorful dress, and compassionate personality. Some consider her shy, but she has no problem showing those around her just how much she loves them.
Design
Josefina is one of the original American Girl Dolls, and her story spans an arc of dealing with grief and learning the importance of a tight-knit, loving family. She comes with her classic ranchero outfit and a paperback novel.
Educational Value
It's important for children to see toys and content that are diverse and representative of them and their friends. Josefina is a wonderful role model with a huge heart and a solid understanding of responsibility and solidarity.
Creativity
Children can embark on a whimsical journey filled on Josefina's ranch and imagine many play-pretend scenarios with the animals. They can also tell her all their secrets because she's a great listener.
Emotional Development
Josefina Montoya is responsible, respectful, and full of warm energy. She is an especially great companion for children who might consider themselves shy as well as animal lovers everywhere.
10

. Luciana Vega - 2018 Winner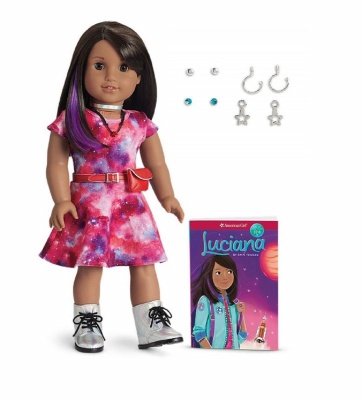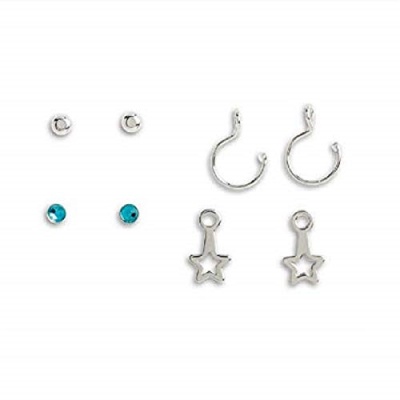 Standard 18-inch American Girl Doll
Brushable hair and poseable limbs
STEM doll with space-themed accessories
Teaches children about teamwork
2018 American Girl of the Year
Lower price on the American Girl Doll website (if available)
Luciana Vega is reaching for the stars. She's determined to be an astronaut and to touchdown on Mars. But before she can do that, she'll need to realize the importance of teamwork and how to reach out to others.
Read more
She's part of a STEM initiative, and American Girls' Girl of the Year, an honor awarded to one real-life girl each year, who then receives a doll and books modeled after them.
Design
Luciana is bright, determined, and passionate. She wears a galaxy printed dress and shiny silver boots. Her hair is brown with purple highlights. With her brains and her heart, she's truly out of this world!
Educational Value
STEM careers were, for some time now, thought to be a boys' world. Luciana Vega is proof that little girls take interest in those fields as well, and should be encouraged to explore their passions in all subjects.
Creativity
The only thing standing in the way of Luciana's dreams is a need to reach out and ask her teammates for help when she needs it. Little girls everywhere can help her on many imaginary space adventures.
Emotional Development
Luciana helps children explore their own aptitude, as well as the benefit of working alongside others. She helps girls imagine themselves working alongside other smart women in STEM fields.
Criteria Used for Evaluation
Design
The dolls on our list are all from the American Girl Doll collection. The company has produced many different dolls since they first started in 1986. Our list includes the best from the plethora of options from their most popular lines. These truly are top-of-the-line dolls appropriate for older children. All of them have gorgeous hair that is shiny and easy to manage. They all come with one starter outfit, with many more options easily found online.
Not all dolls are the same because they each have their own unique stories and backgrounds. There is a doll that appeals to just about every different type of American girl. There is a ballerina, director, actress, inventor, animal lover and a girl who loves the ocean, to name just a few. We hope that by providing a versatile list of different designs made of high-quality materials, you can find the most convenient doll for your little bundle of joy and inspire them to dream big and find their own purpose in life.
Educational Value
Each doll exemplifies a different type of personality, showing the wide range that exists within the American culture. Your children can now learn more about women through history and bond with each individual character. Many little girls don't know what they want to be when they grow up, but these dolls help them dream and wonder what it would be like to be her doll. What happens to a girl who learns to love animals? We hope they become veterinarians or do something that involves animals like own a pet shop.
Girls who grow up with Willa, the doll that loves animals, might become inspired to love animals too and take up a career in that field. This dolls will also inspire your children to read their backstories and educate themselves about these strong and empowering characters. By learning their hardships and struggles they might be motivated to overcome their own insecurities and gain self-confidence in making the right choices in life.
Creativity
Some girls will probably grow up with more than one doll, and that means they have more to dream about. Girls can play with a whole community of dolls and never be bored with them. They can imagine all sorts of adventures that their dolls can have. And when they do get a little tired of trying to come up with new stories, they can sit back and brush their doll's hair. Or decide what clothes their doll should wear next.
The possibilities are truly endless and the books that are offered by this brand can inspire even more play-pretend scenarios as children become more aware of the background of each character. Children have a vast imagination and they love embarking on magical adventures with their doll companions, so by giving them role-models that are portrayed with goals and ambitions, they are most likely to create a more profound vision for their future. After all, these are not typical dolls that just look cute and need to be nurtured. They represent strong, empowered female versions so your little girl can identify with them during the crucial years of self-discovery.

Emotional Development
A doll can easily become your child's best friend since they always listen and never judge. You can tell them all your secrets without fear that they will expose your inner insecurities to the outside world. Imaginative play-pretend scenarios are in their own form, therapeutic for our little ones since they can share their personal feelings and ambitions and have a safe space while they're growing. Many think that dolls are just created for pampering and grooming however they are actually your loyal companions during the years when you are learning to self-express your emotional side.
Although girls learning how to dress their doll and how they should wear their hair and play out their professions are also important life skills that girls need to learn. While girls play with their dolls, they are practicing how to take care of themselves and take responsibility not only for their items but their hygiene habits as well. These adorable little role-models will truly comfort and inspire your children to grow into a healthier and morally aware human being.
Most Important Criteria
(According to our experts opinion)
Experts Opinion
Editors Opinion
Users Opinion
By Default

Parents, Did You Know?
The American Girl Doll brand actually has a Doll Hospital to help your favorite dolls get back to life in case they have been worn out from intensive play-time activities. The "doll doctors" can help with replacing any missing parts or reattachment of the body, head, torso, loosen limbs as well as eye replacement with the same color as seen on the original doll. The hair of the doll will be brushed and her skin cleaned before discharged. She will be sent home to her owner in a hospital gown, with a hospital ID bracelet and a Good Health Certificate as well as a Get Well card.
Parents, Did You Know?
Not only you can find a lot of quality books for your little ones on their website, but The American Girl dolls can come with many educational and fun accessories as well. You can create a whole miniature world for your little companion by choosing from the many furniture options or recreate her looks by experimenting with fashion accessories. Pets, lunch boxes, sports equipment, school supply, and musical instruments are included. You can even find homes for your doll's pet, like dog houses or even terrariums. The creative play-pretend scenarios are truly endless.
Other Factors to Consider
Origin
American Girl Dolls first appeared in 1986, under the auspices of the Pleasant Company. The dolls are meant to imitate the likenesses of children between the ages of 8 and 11. The original line of American Girl Dolls featured young women from a variety of different cultures and time periods, with accompanying outfits, books, and accessories. The books educated children on the differences of other eras, cultural backgrounds, as well as child labor, racism, war, animal abuse, and slavery.
In recent years, the company has expanded to include young boys as well, and each year they feature a doll and novel starring a real little girl in today's day and age, focusing on her accomplishments and attributes. The brand is truly eternal and their iconic designs inspired many doll manufacturers to rethink their overall doll products in order to make them more meaningful and profound just as the American Girl Dolls.
Entertainment Value
While these dolls are quite exceptional when it comes to the educational value they offer, they are quite amusing for children. Not only they will accompany your little girl during long road trips or while she's adapting to sleep in a different room from her parents, but they will also provide many entertaining adventures as well. In order for the children to understand the moral lessons behind each book, they have to enjoy the whole learning experience.
Nobody wants to feel as if they are sitting in a mandatory history class after school. The whole point of these dolls is to make the educational bonding journey fun and enjoyable for little girls. They would love sharing the lessons they've learned with their friends and tell them more about the background of their new best friend. They might take care of the animals together or sing and dance until they fall asleep. The whimsical activities are truly endless!
Frequently Asked Questions
q:

Is the American Girl franchise here to stay?

a:

After 30 years of making history with their popular line of dolls, they're numbers show that they are here to stay. Their line of 18-inch tall dolls earned them $645 million in gross sales last year.
q:

What makes these dolls so popular?

a:

Girls around the age of 8 love these dolls. Each doll is exclusive and personal to each girl. And parents who grew up reading the American Girl novels want their little girls to share in their experiences.
q:

What are a few fun facts about the American Girl dolls?

a:

The creator of these dolls was inspired by a trip to the toy store in 1984. Pleasant Rowland was with her husband on one of his business trips when she saw that she loved the entire doll line up. She enjoyed the homes, the costumes, their accessories, etc. And she wished that schools did a better job of teaching history. So she put the two together and created her American Girl product line.
q:

How are the American Girl dolls better than Barbie?

a:

American Girl dolls have novels that correspond with the dolls and teach life lessons, Barbie does not. American Girls dolls look realistic and not like idealized girls. They are also diverse and teach about real historical hardships. These are serious dolls and girls appreciate that.
q:

What are Wellie Wishers?

a:

Wellie Wishers is a line of dolls from the American Girl collection. They are designed for girls who are too old for the Bitty collection but too young for the full 18-inch tall American Girl doll. Wellie Wishers are for girls who are not ready to take care of a $100 doll. Their vinyl bodies make them easier to clean and their eyes don't close like the taller dolls. But they do have the same type of gorgeous hair.
q:

Why are parents so upset about the new change they made to the dolls?

a:

The American Girl company decided to sell their dolls with permanent panties. Meaning that their undies are no longer replaceable because they are permanently sewn on. This upset many parents because they believe that the company should have left it alone.
q:

What is the BeForever collection?

a:

The BeForever collection used to be called The American Girls Collection. They are released yearly with facts about an American period they represent. They are created with several books that follow the viewpoint of the doll's character.
q:

Can these dolls only wear American Girl designs?

a:

No, they can wear DIY designs. There are plenty of people online who enjoy sharing their creations. One of the American Girl fans made her doll a dress with the Eiffel Tower print. It looks well-made and there are many more like that online.