10 Best Pet Cameras Reviewed & Rated in 2019
last updated
Sep 27, 2019
Have you ever left the house and found yourself wondering what your dog or cat is doing? If this has ever been you then it sounds like you could use a pet cam. These devices have a very similar look to webcams and can be placed virtually anywhere in your house due to their WiFi capabilities. Pets can lead interesting lives and sometimes they have a habit of getting into trouble. The cameras are easy to set up, relatively affordable, and easy to operate for those who have never used them. In order to cut out the middleman, we've taken on the search for you. If you're looking to get to know your furry best friend a little bit better, read on ahead to find the best way to start your very first pet surveillance video.
In a Hurry? The test winner after 10 hrs of research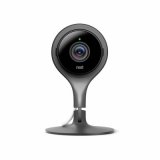 Nest Security Alexa
Why is it better?
24/7 remote monitoring
Specialized alerts
Allows you to speak through the camera
Can be set up anywhere
Works through Alexa
In a
Hurry? Editors choice: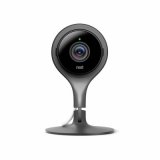 Test Winner: Nest Security Alexa
25
Researched Sources
10
Hours Researching
15
Products Evaluated
Ease of Use
Design
Value
By Default
10 Best Pet Cameras Reviewed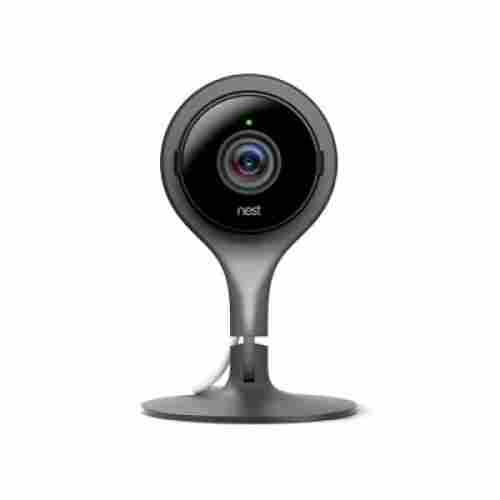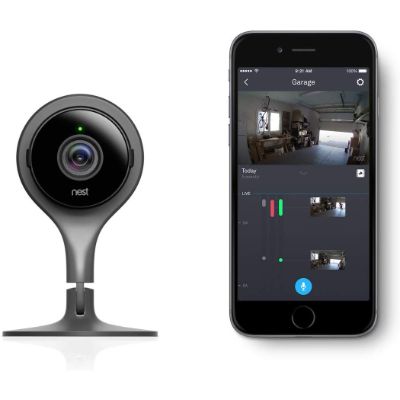 24/7 remote monitoring
Specialized alerts
Allows you to speak through the camera
Can be set up anywhere
Works through Alexa
You need to purchase the Nest subscription to store video footage
The Nest is known for being an outstanding brand when it comes to home monitoring and safety. Now, you can have that same technology when it comes to making sure your pet is safe when they're alone.
Read more
Ease of Use
If you already have Alexa then this camera is a no-brainer for your home. The Nest Security Camera responds to voice controls through Alexa in order to keep your home safe, but it's also a great way to keep an eye on your pup as well. The camera is designed to monitor actions in order to provide you with accurate alerts, knowing the difference between an intruder or your pup just casually jumping onto the couch. You'll also get outstanding audio with this camera system so that you can hear how often your dog barks or if your cat has a tendency to hiss at mice in the wall. The amazing thing is that the audio works both ways -- Your pets will be able to hear you, too! It's designed to be set up nearly anywhere and includes an additional upgrade that provides you with an outdoor-safe camera as well.
Design
The timeline feature will allow you to scroll back in your video footage and find out exactly what you might have missed when you weren't watching. The Nest logs significant activity and provides you with an alert so that you know what's worth checking and what's not.
Value
The Nest provides an easy way for you to keep an eye on the goings-on in your home even when you're nowhere near it. It's the perfect at-home system for monitoring every aspect of your house, including your pets, without needing an expansive installment or extra fees if you use Alexa already.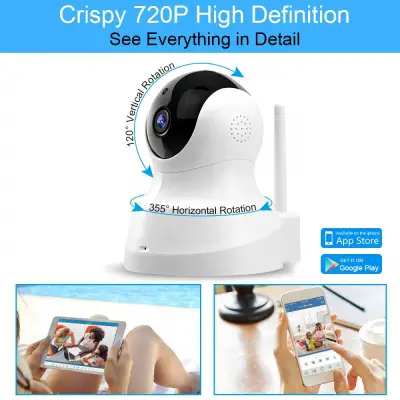 Full 360-degree view of a room
Two-way voice activation
Great night vision feature
Capacity to hold large amounts of video for two months
High-definition video
There were some security concerns regarding camera hacking
If you're looking for something a bit more simple, then maybe this option is for you! It comes with all the advanced features you'll need to keep a watchful eye on your pet, without anything confusing that could be frustrating to figure out.
Read more
Ease of Use
When you think of a "pet camera" you might not be associating that with an at-home security system, such as the TENVIS Camera. However, this is a powerful system that will not only monitor your home but will also keep a (360-degree) view on your entire home. It's easy to install by simply scanning the barcode that comes with the product and from there, the set-up is a breeze. You can store a large capacity of video footage which is great in the event that you need to refer back to a certain habit of your pet's, or even if you've caught a funny moment that you'd like to share. The two-way communication is great for comforting your pet or scolding them, should they find their way into the garbage or cabinets. All of the alerts get sent straight to your phone and also get sent out in an e-mail so that you can easily check while at work or away from your smartphone. Night vision makes it easy to monitor your home with all the lights off which saves you stress as well as an enormous electricity bill.
Design
The wide scope of this camera sets it apart from many others that claim they do 360-degree surveillance. It can easily watch the entire room with no effort and will respond to certain movements quicker than others.
Value
This software, unlike some others, is very simple to use and doesn't require and extra prescriptions or fees to use. It allows you to hold onto footage and look back when needed which is a great feature of this tiny, swiveling device.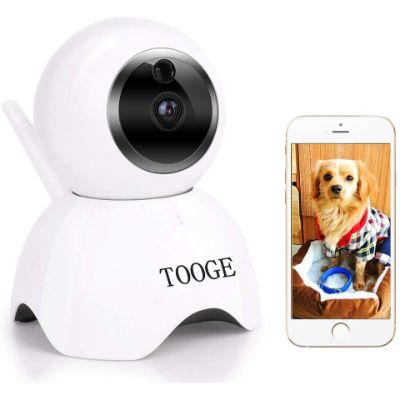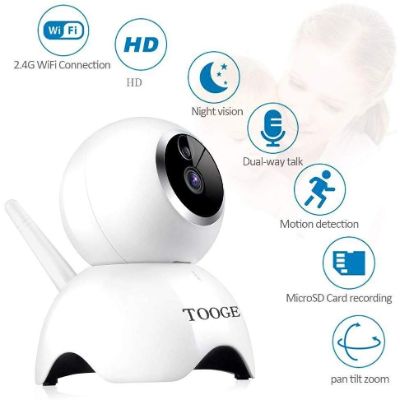 Ability to record the feed on a microSD chip
Great rotation and control of camera
Easy to use app and interface
Two-way talk capabilities
Night vision and motion sensor
Some users had difficulty with setup
The TOOGE Pet Camera comes with all sorts of cool features. This camera works via WiFi and allows you to check in on your little fur baby via your phones. It includes night vision, two-way talking, a motion detector, the ability to record to a microSD chip, and panning, tilting, and zooming action.
Read more
Ease of Use
With a 2.4G Wifi connection, you can check in on your pet wherever you go. Simply download the app and open it whenever you feel the need to peek. An anti-noise filter microphone helps you hear clearly when your pet is barking and you can set the camera to send you motion detection alerts. You can even adjust the level of sensitivity of the motion detector so you aren't being pinged all day when nothing out of the ordinary is happening.
Design
The HOOGE comes with a base and a rotating camera head. Control the view from your phone with 350 degree horizontal rotation, 80 degree vertical rotation, and a 112 degree wide-angle professional lens. Night vision keeps the dark from getting in your way and a two-way audio function lets you hear your pets and respond to them in real-time.
Value
This great pet camera is below the average price of our guide. It's on-par with many similar products but a more cost-effective option than some of the upper-end cameras on the market.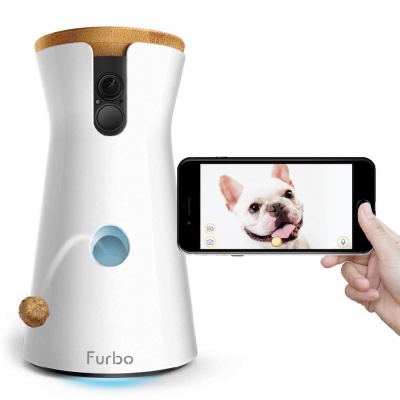 Sends real-time alerts
Treats can be tossed out with a single button
Features a bark sensor
Furbo software comes with a free trial
High-definition footage
You know you'll be able to watch your pet with these cameras, but would you believe you can actually feed your pup with this one, too? It's true -- Not only can you interact with your furbaby, but you'll be able to reward them with their favorite snacks remotely while you're at it.
Read more
Ease of Use
This treat-feeding camera is an adorable way to monitor your pup while also showing them affection while you're not at home. It features an HD camera, complete with night vision, to monitor your pet from their vantage point. Additionally, there's a front-facing sensor that picks up on barking as well as a speaker and mic so that two-way communication is made possible, even when you're not home. The "treat tosser" is found in the center of the device and can toss out a single treat at a moment's notice with the Furbo app. You'll also be pleased to note that this program will send specified alerts to your phone that tell you exactly when your dog began barking, while also giving you the option to watch him or her in real-time. This is an excellent device if you have a young pup or kitty at home or an elderly pet that needs a little extra TLC when you're not there to give it to them. Treat-tossing is also a great distraction for those times when they bark at the mailman or get distracted by other pets in the house.
Design
We love that when you get an alert that your pup is barking, you'll also receive an option to watch him or her. This is a great tool to use while training because if you know your pup's triggers, you'll be able to better know how to deal with them.
Value
You'll get a 90-day free trial of the full Furbo software, complete with every alert and a "day in 60 seconds" feature. All of these are what make the Furbo Dog Camera stand out in comparison to other, lesser cameras on the market.
5

. Wansview Wireless 1080P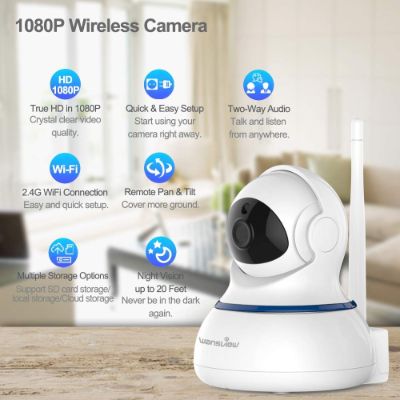 Two-way communication
Full control of viewing from a mobile device
SD-compatible
Works with an iOS device
High-quality footage
The camera sends off a loud "beep" when the WiFi connection is lost
This high-quality camera provides footage that's worthy of your pet as well as your home. It doubles as an in-home security measure as well, making it a great investment for both your house and your beloved pets.
Read more
Ease of Use
Using this camera is as simple as plugging it in and letting it record. Anything you need to monitor is sent straight to your phone and you'll be able to watch your pets in real-time, all while tracking their every move with full control of the viewing range.
Design
The Wansview is a unique little camera that provides you with the option to use an SD card in order to keep and review footage. You'll have the option for two-way communication as well, in addition to good-quality night vision up to 20 feet. The camera itself tilts when responding to motion and will give you a complete picture of what's going on in your home when you're not there. Since it responds to motion, this is a great pet camera to keep an eye on your furbabies. You can control the pan, view, and zoom of your in-home camera from your smartphone as well, allowing you full control of what you're seeing. It's compatible with all iOS devices, making it simple enough to control from your iPhone, iPad, or Mac. Another neat feature of this camera is the software it comes with; you'll have the option to add other cameras as well, just in case you'd like to monitor other rooms at the same time.
Value
The SD card feature allows you to save footage but also to upload it quickly and easily to your computer. This prevents the need for online storage and enables you to swap out memory cards in the event that one fills up.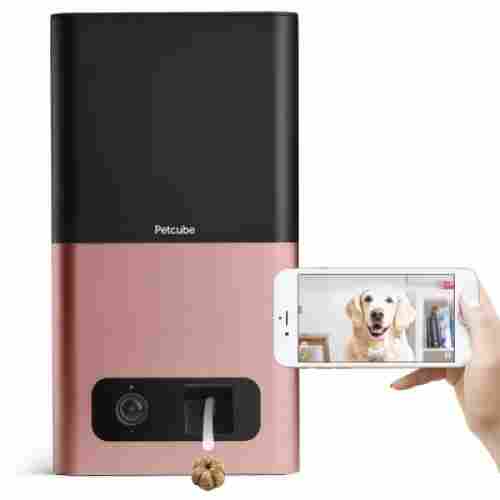 Can toss out treats on command
You can control the camera angles on your phone
Saves significant videos to your timeline
You can watch in real-time or review videos later
Responds to motion
Certain treats can jam the treat tosser
There are security cameras and then there's the Petcube. This device is intended for no other purpose than to watch and reward your pet, all from the convenience of your smartphone with an easy-to-use app.
Read more
Ease of Use
The Petcube Bites Pet Camera not only looks super cool, it actually is super cool. It's designed to be installed fairly low on a wall so it's non-invasive and will scope out the room from your pet's perspective. The accompanying software allows you to monitor all of your pet's movement right from your smartphone and with it, you'll have full control over the camera remotely. You can toss treats at will, hone in on what your pet is doing, and track their movements as you swivel the view scope around. The app allows you to refer back to the footage at the end of the day and will take the initiative to bookmark certain "events" that have been recorded. You'll be able to check your video library and re-watch certain footage that your camera has deemed worthy of saving, such as your pup displaying a strange behavior or being highly active or vocal. You'll also get real-time alerts that an "event" was recorded and that your pet was on the go.
Design
This camera could not be anymore pet-friendly. It's designed to monitor even the slightest of movements by your pet and will record them in real-time, saving them to your timeline afterward so that you can watch them.
Value
It can be really difficult to leave your pets at home, especially if they suffer from anxiety when you're not around. This camera and app will allow you to monitor their progress and even dole out treats when they need a little extra cheering up.
7

. Kamtron HD Night Vision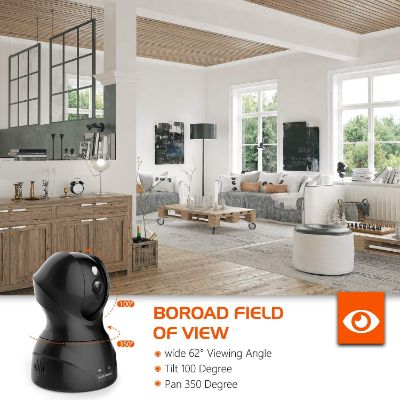 Very sensitive
Features two-way communication
Comes with night vision
Real-time alerts
The camera can be controlled straight from your phone
The professional installation option is very pricey
The KAMTRON sounds like something from a Transformers movie but it's actually a pretty user-friendly little device. You can couple it with a memory card in order to get full functionality out of it, making it a worthy investment for serious pet-lovers.
Read more
Ease of Use
It doesn't matter which camera you go with, they're all going to feature some type of smartphone app in order to monitor video footage and alert you to detected motion. This is a wonderful modern feature because it allows you to watch all things -- including your pets -- with the press of a button. The KAMTRON allows you to speak to your pet with a built-in loudspeaker and will also send mobile alerts straight to your phone if a motion is detected so that you have the option to respond. It also comes with an SD card slot so that you can record footage and save it straight to a memory card, making for easy reference later on. Additionally, this camera goes one step further and has lights to indicate its connectivity status, rather than annoying or loud beeping.
Design
This device is very sensitive to motion and features a front-facing sensor that will pick up on just about anything. It's useful if you have a pet that needs constant monitoring or a puppy who is still getting used to your home.
Value
If your goal has always been to chit-chat with your pup while you're not home, this camera is a good start. Whenever this camera picks up on motion, you'll be alerted.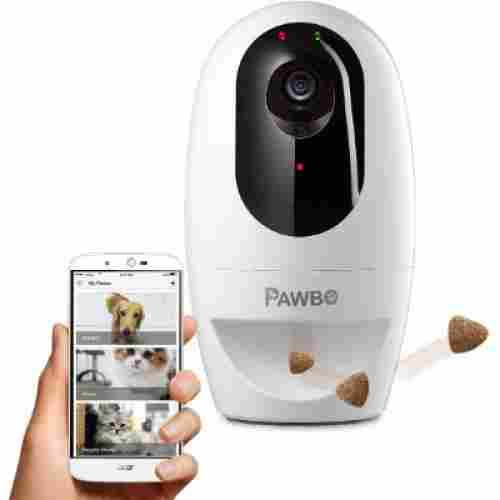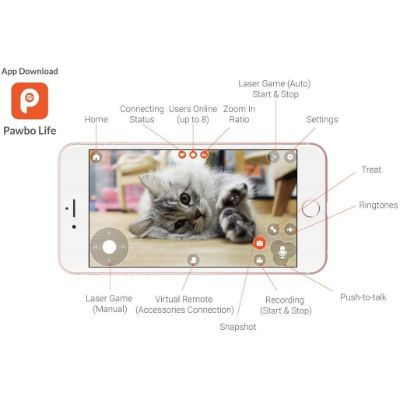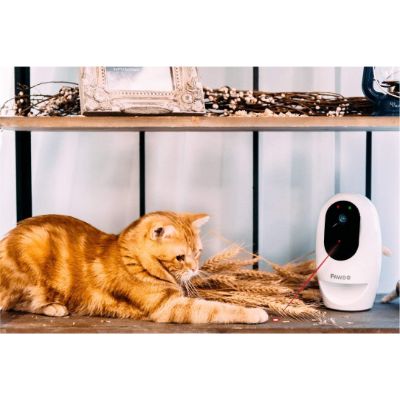 Remote laser game and treat dispenser
Ability to record feed
Easy to set up
Two-way talk
Motors are weak
Camera doesn't tilt down very well
Pawbo HD eases the suffering of both parties when you have to leave your favorite animal companion at home. This system works via a mobile app that allows you to check in on your pet throughout the day. Additional bells and whistles let you play with them through the app, dispense treats, record their activity, and talk to them.
Read more
Ease of Use
The main functionality issue with this camera seems to be the motor. Users complain about the motor deteriorating quickly, thus impacting the use of the laser pointer feature and the treat dispenser. There also appears to be some lag in camera response and quality. But the interface of the app is intuitive and it isn't especially complicated to set up.
Design
You'll want to figure out where you're going to put this pet camera before purchasing. The camera doesn't angle down so you'll need it to sit low but you don't want to leave it too out in the open or you'll risk animals knocking it over or trying to chew on it. It allows you to play laser games with them remotely, dispense treats, and you can record snippets of the feed if they're being especially cute and you want to save the memory.
Value
This camera is around the average price for our guide. There are certainly less expensive options on our list but the Pawbo HD provides additional features that make the extra investment worth it if you want to be able to interact more with your pet while you're gone.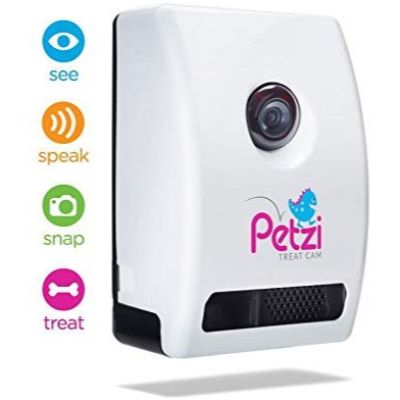 Dispenses treats
Ability to take pictures
Livestream with decent image quality
One-way talk function so pets can hear your voice
Easy to mount out of the way
Some connectivity issues
Can't record or playback footage
The Petzi Treat Cam is a wifi-enabled interactive pet camera. This cute little camera has the benefit of being much easier to setup than some of its clunkier competition. It has an iOS and Android compatible app you can use to watch your furry friend, say hello to them, and dispense treats. You can even snap pictures of them to save the memories!
Read more
Ease of Use
The app is pretty easy to download and navigate. It occasionally has connection issues but closing the program, waiting a bit, and reopening seems to solve that. Beware that it will disconnect when switching between WiFi and data. But the quality of image seems to be pretty decent and it's great that you can easily mount this and control it while away.
Design
This is one of the more straightforward pet cameras. It dispenses treats but lacks some of the flashier features of other items on the market, such as the ability to record them and the two-way talk function. We do like that you can set this up flush on the wall though, so it's out of the way but still at the right height for your pet to handle.
Value
This item is below the average price of our guide. It's more expensive than several cameras that offer similar features and more advanced technology. The main draw of this seems to be that you can easily mount it somewhere a pet can't knock it over or damage it.
10

. Anran WiFi Two-Way Audio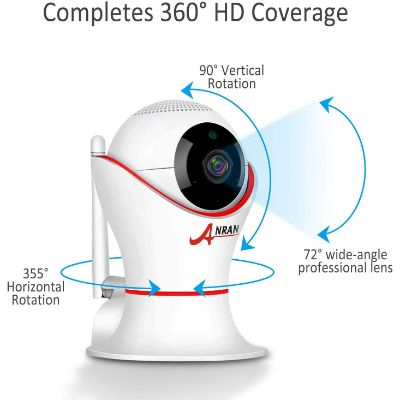 Compatible with SD cards up to 128G
Night vision up to 50 feet
Full rotation and tilt
Easy to set up and install
High-quality video
Will only save up to 15 prerecorded videos without an SD card
This affordable device can handle a lot more than it appears to, with the simple addition of an SD card. It actually has the capacity to function with one that holds 128G worth of video, making it useful over long periods of time.
Read more
Ease of Use
Last but not least is the ANRAN Surveillance Camera. This little cam will record your home in full HD and can be used via the accompanying app. The night vision allows you to see things up to 50 feet away from the camera, making it great for nights when you're working late or while you're on vacation and can't leave all the lights on. It also has two-way communication so that your pets know that you're always around to keep a watchful eye on them. In addition to the great audio features, this device can record anything in a 360-degree range with the unique swiveling and tilt lens. The camera can be used immediately upon unboxing after installing the compatible app so that you won't need to wait for another second to have your home monitored round the clock. It's designed to record any and all motion and will come to life the second your pet makes a move.
Design
This device can support any SD cards up to 128G which adds a significant amount of space. It will automatically record to the SD card with a simple change in settings, providing you with a customizable experience.
Value
The high quality of the video is not something that's often seen with cameras in this price range. We love that you'll get high-quality viewing without the massive price tag that's attached to some of the other brand names.
Criteria Used for Evaluation
Ease of Use
There are plenty of reasons for why you should consider a pet camera, but we'll get into more of that later on. For now, we just want to divulge a little bit about the process we used in order to find the best cameras available. Half of this research was based on brand name and camera type while the other half was heavily reliant on user reviews. With anything electronic, it's best to take into account the brand that has designed in and their reputation as well as the personal response from those who have personal experience with the product. This way, we're able to discern legitimate concerns from those that are personal preference as well as manufacturer bugs from personal pet peeves -- no pun intended!
The brands listed here have a great following for providing good video and audio quality, lasting recording time, as well as a camera that comes with a long shelf-life. Additionally, the reviews on each product backed these claims up by the company, which is how we arrive at our final ten choices. If the usage is not approved by those using it then what's the point, right? We listen to you, not just the brands that make the products.
Design
There are some pet cameras out there that not only allow you to view your pet, but also allow you to interact with them! This is great for pets who suffer from certain anxieties including separation anxiety, which is very popular amongst dogs. You have the ability to speak through the camera and watch as your voice soothes your pet even when you're not at home.
Value
Your pet doesn't need to be stared at all day long, especially if they're an adult. Additionally, your dog doesn't need to babysit you or constantly be by your side. A little independence is good for them and anyone who owns a cat knows that they're beyond independent as it is. It might be hard, at first, to leave your pet alone for long periods of time but it's really not as earth-shattering as it seems. This is where a pet cam can come in handy -- You'll be able to check on your pet and have constant reassurance, while they have free reign over the house while being partially watched.
This is great for introducing pets to alone time and allowing them space and freedom to wander around and have some separation. Otherwise, they can become very dependent on your presence and even form spiteful or fearful tendencies when you're not with them constantly. It's important to maintain a balance of affection and trust, which is exactly what you'll establish by coming home and rewarding them with all the head scratches in the world for being so good while you were out.
Most Important Criteria
(According to our experts opinion)
Experts Opinion
Editors Opinion
Users Opinion
By Default

Pet Owners, Did you Know?
Now, let's get into the fun stuff. Joking aside, pet cams are incredibly useful for owners who find themselves with a pup that's under the weather or who has a medical condition, for obvious reasons. The first being that you can monitor their progress and habits, whether they are eating, sleeping, or play time. By observing these, not only will you know where your pet is at but you'll be able to provide imperative visual accounts for your vet. This could prove to be very helpful as far as treatment goes because your vet will know exactly what to do.
Pet Owners, Did you Know?
Pets act and respond differently when their owners aren't around because they often feel a sense of loyalty, protectiveness, and comfort. While on their own, they might display behaviors that have yet to be seen and can be very telling.
Other Factors to Consider

Effectiveness
Occasionally, you'll have a pet who just can't help but get into things. You've seen the shows on Animal Planet about the pets that are seemingly horrors to live with (but that doesn't make us love them any less!) and you know it's possible. So what happens when you come home to find they've broken out of their crate, shredded the curtains, ripped holes in the couch, and spilled their food across the kitchen floor? You'll need to set up a camera, of course! It won't just help you get to the root of the problem, it'll show you exactly how your pet is getting into so much trouble and when. This will then help you decide what you need to change in order to break these bad habits.
Frequently Asked Questions
q:

Do these need to be plugged into an outlet in order to work?

a:

More advanced cameras operated on a battery charge so no, they do not need to constantly remain plugged in. Many of them are also equipped with WiFi to wirelessly send videos to a mobile or computer device.
q:

How can I position this to get the most benefit from a wide viewing range?

a:

We suggest positioning these in the corner of a room or at the furthest end of open space, fairly high up on the wall (such as a mantle or shelf) in order to get the most out of viewing. This way, you'll have an almost bird's eye view of what your pet is doing without the camera being too obvious or in their face. Of course, you can angle it however you want, depending on your reason for having it.
q:

Will these save footage after recording?

a:

Yes, most of them are designed to store footage as well as store it. You'll want to check under each item's summary, though, in order to determine how much footage each camera will store and for how long.
q:

Can this be connected to my phone so I can watch it in real-time?

a:

Several cameras on this list do have that option, yes. It's simple to set up and should take no time at all to make the connection between your mobile phone and your camera.
q:

Can they be used outdoors?

a:

We wouldn't recommend placing these cameras outdoors unless otherwise stated simply because they're not full security cameras. They're not designed to take a beating from the weather or function under very damp or icy conditions. They're mainly intended for indoor use to keep an eye on the interior of your house while you're away.
q:

Can I control features such as "record", "stop", "rewind", etc., through my mobile device?

a:

Something like this might require an add-on feature that's not specifically mentioned here. These cameras are basic to record your pets for a few hours when you go out and all offer timely playback and high functionality. While you can view some on your mobile device, being able to interact with the camera remotely is usually a separate service.