10 Best Toys & Gift Ideas for 9-Year-Old Boys in 2019
last updated
Jun 06, 2019
When buying gifts for a 9-year-old, focus on providing them with toys, games, and activities that are interactive and challenging. Presents that encourage physical activity are often a hit, given how much energy they have to burn, and their abilities to now understand and use their body's coordination. Gifts that involve crafts or projects are also popular, given that they require logic and creativity to use, which keeps young minds racing. They're now capable of games with slightly more complex rules and possess higher levels of reading comprehension. So make sure to get them something that will stimulate and involve them.
In a Hurry? The test winner after 36 hrs of research
Razor RipStik Ripster
Why is it better?
Available in blue, red, or blue RipStik/helmet combo
Compact and lightweight
No assembly required
Features high-performance ABEC-5 wheel bearings
In a
Hurry? Editors choice:
Test Winner: Razor RipStik Ripster
28
Researched Sources
36
Hours Researching
24
Products Evaluated
Educational Value
Entertainment Value
Materials
By Default
10 Best Toys & Gifts for 9-Year-Old-Boys Reviewed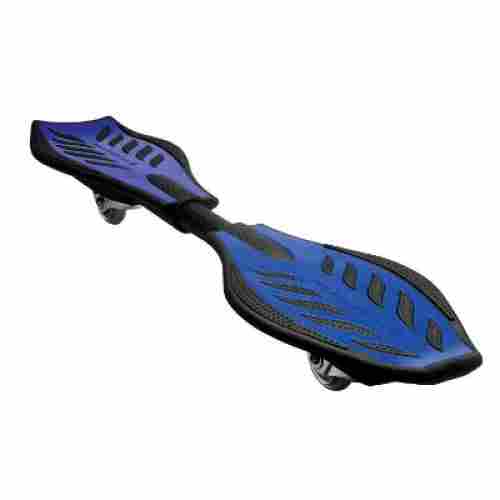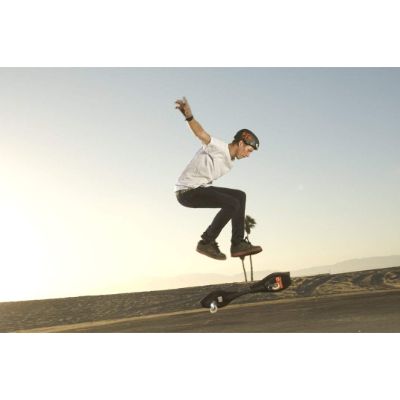 Available in blue, red, or blue RipStik/helmet combo
Compact and lightweight
No assembly required
Features high-performance ABEC-5 wheel bearings
May be too short for taller 9-year-olds
The riding/turning technique can take some time to master
Nine-year-olds can do more tricks with this board because it is compact and lightweight. It has a kicktail and nose and a rubber-padded torsion bar.
Read more
Educational Value
It's ideal for strengthening children's core muscles as they get to balance while using their own bodies to maneuver the Ripster. It's great for boosting kids' self-confidence as well as for mastering their coordination.
Entertainment Value
Another great feature of this smaller board is the concave deck that is slip resistant. This and the high-quality wheels improve traction and steadiness. The toy comes fully assembled and ready to ride. For something a bit different than a regular skateboard, get your kids to try this board out for a new adventure on wheels.
Materials
This smaller ripster is specially designed for kids around the age of nine. The board is shorter and easier to handle giving better foot control and a much easier ride. This makes turning and increasing speed easier without having to push so hard. Kids get a smoother ride because of the high functioning bearings, plus the ripster has deck plates that come off made of high-tech polymer.
2

. Crayola Light-Up Tracing Pad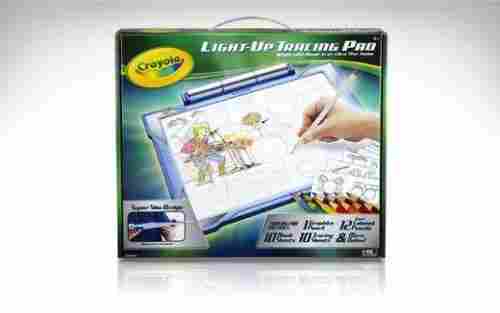 Has LED lights to illuminate tablet
Design is lightweight and slim
Includes over 35 art supplies, such as pencils and paper
Requires AA batteries – not included
Kids can download images online
One buyer could not get the battery case open to put in the batteries
A few complaints about not getting the paper with the item
Drawing and tracing pictures is fun for kids of all ages, but this tracing pad lets kids trace the pre-printed picture pages as the board is lit up. It is powered by AA batteries which makes it so portable and trouble-free.
Read more
Educational Value
Perfect for a rainy day activity or traveling anywhere, this tracing pad is a great quiet activity that kids can do by themselves for hours of entertainment. The batteries and compact size make this so travel-friendly it can be taken anyplace.
Entertainment Value
This drawing pad brings the old enjoyment of drawing to a whole new level! Drawings and tracing that light up are super exciting!
Materials
It comes with tracing paper and blank sheets for kids to explore their creative minds, but when the paper supply runs out, regular copy paper will work great. Tracing paper would give the best results, but plain white paper sized 8.5 x 11" will do just fine. A graphic pencil and some colored pencils are included with the board, plus it has a locking frame that holds the paper in place. Overall, 35 different items are with this product for boys to use on the illuminating board. The company provides extra images to trace that can be downloaded from an online site, so the drawing activities are endless.
3

. Disgusting Science Kit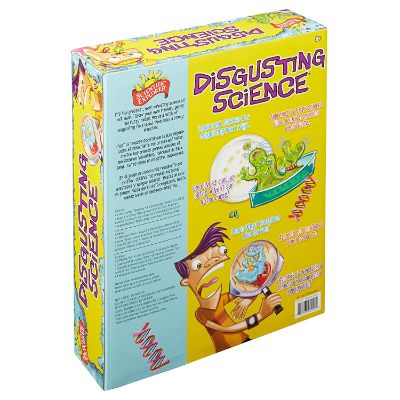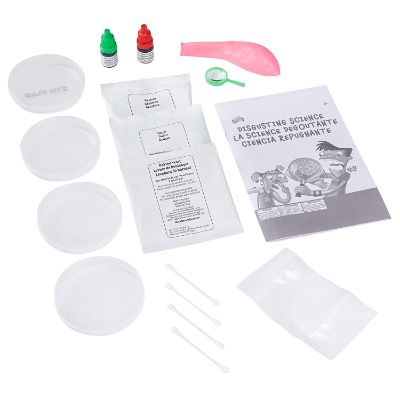 Educational
Includes everything from petri dishes to food coloring
Fun activity to do as a family
Gets kids excited about science
Requires adult supervision
Contains parts that may pose a choking hazard for younger siblings
If it is disgusting, then little boys will surely love it. As a matter of fact, the grosser something is, the more they like it. This science kit is disgusting, but it has plenty to teach children about their own bodies.
Read more
Educational Value
Inquisitive minds are active minds that want to learn about the world around them and the organisms that live in it. This kit will help answer plenty of questions that kids usually have about their own bodies and how they function.
Entertainment Value
It's a great way to make learning science more fun. This also helps kids to enhance their critical thinking skills through imaginative play. Their psychomotor and visual motor development can also be improved.
Materials
Over sixteen items are included in this toy along with easy-to-follow instructions for kids to explore the projects. Fun facts are provided about the human body parts, how they operate, and by-products that are produced. What grows on the human body is also examined, as well as making their own molds and bacteria in the Petri dishes. Boys will be excited with the projects that make slimy snot, fake blood, and even a stinky intestine. Parents will certainly be grossed out at some of the innovative things kids can do with this science kit, but the boys will absolutely love it. It is highly educational and loads of fun for all!
4

. Diggin DodgeTag Game Set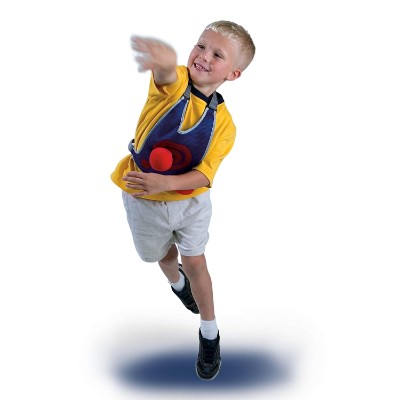 Easy to pack along for on-the-road entertainment
Soft, lightweight balls make indoor dodge tag possible
Simple to use and understand how to play
Vests can also simply be hung and used as targets for independent play
Care must be taken so that the sticky parts of the vests don't accumulate fuzz or other adhering materials thereby making them less effective when hit by the balls
Dodgeball has always been such a fun game that is played by many kids, but this one is just for two unless more than one set is purchased. For a fun, family activity outdoors, get this fantastic Dodgeball game for your kids.
Read more
Educational Value
Activities like Dodgeball keep kids active and involved with others in sports. This one is just for two players to practice coordination and timing abilities.
Entertainment Value
It encourages fair play, timing, hand-eye coordination, and the development of lightning-quick reflexes. The balls are soft so they won't hurt your kid.
Materials
This combination includes two adjustable, mesh vests that are well-ventilated so they will not make kids overheated and the balls for two players to throw. Each person tosses their balls at their turn to try to hit the other. When the ball hits, it will stick to the vest. It is a fun, safe game that adds new sparkle to the old game that parents played as children. This toy has caught the eye of many and is the winner of several honors, such as the Parent's Magazine Best Toy Award, the Family Fun T.O.Y. Award, the Fun Fare Best Toy Award, and the Learning Express Best Boys Toy Award.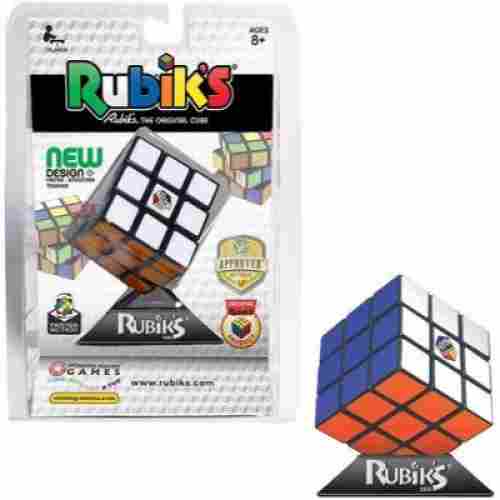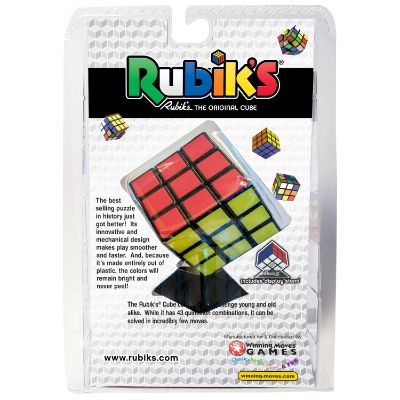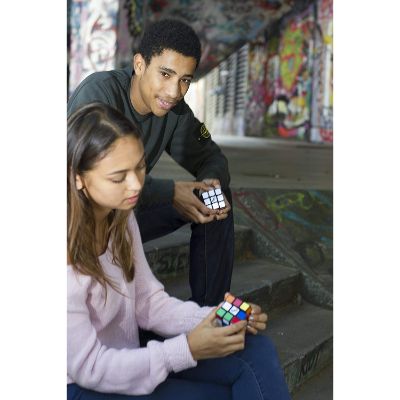 Small enough to take anywhere
Classic brain-stretcher
Turns smoothly
Standard size
May feel stiff until turned a few times and broken in
Invented in 1974, the Rubik's Cube is the world-famous creation by Erno Rubik. Since then, more than 350 million of these fantastic brain-teasers have been sold. Kids are tantalized by the simplicity of the small colorful cube and they can play with it for hours.
Read more
Educational Value
The classic Rubik's cube is well known for stimulating problem-solving skills, especially in understanding patterns. It's also great for reinforcing color recognition and dexterity.
Entertainment Value
Rubik's Cube is the top-selling puzzle of all time for a reason--make that reasons. It's the ideal boredom-buster, mind-challenger, and travel trinket. It's also a tradition worth passing on to the next generation.
Materials
The idea is simple – get all of one color on each side of the six-sided cube. It turns and swivels horizontally and vertically, but never diagonally to move the individual color squares in columns and rows. Once the colors are mixed up, it seems like it will never be solved. Many people have become masters at this puzzle and the fastest solving time on record is 4.59 seconds. Can your child beat this time? Buy them one and find out.
6

. Melissa & Doug Deluxe Magic Set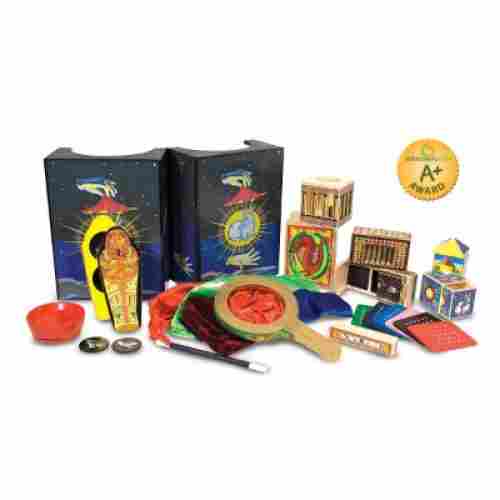 Comes with illustrated instructions
Safe, high-quality pieces
Wooden box can double as a mini stage
Includes magic wand
Contains small pieces which may pose a choking hazard for younger siblings
Does not include storage bag
Who doesn't love magic? With the Deluxe Magic Set, your 9-year-old kid can start training with a few magic tricks of his own to wow his friends as well as adult relatives.
Read more
Educational Value
This deluxe magic set contains a good variety of tricks. They're easy enough for 9-year-olds to learn, yet challenging enough to keep things interesting. Kids will be naturally driven to study the instructions carefully, practice performing the illusions, and hone their persuasive powers in order to impress a captive audience. Be awed as the magic--and confidence--begin to unfold.
Entertainment Value
It's ideal for helping kids boost their self-confidence as well as strengthen their visual motor skills and fine motor skills. Their reflexes will also be developed as many of these tricks require sleight of hand.
Materials
The kit comes complete with the basic paraphernalia of beginning magicians to perform the disappearing ball trick, the vanishing coin trick, and the magic number prediction trick, just to name a few. There are 10 magic tricks to learn and master.
7

. Build & Paint Your Own Wooden Cars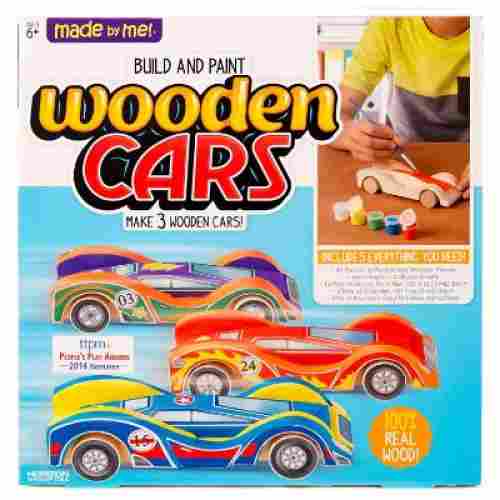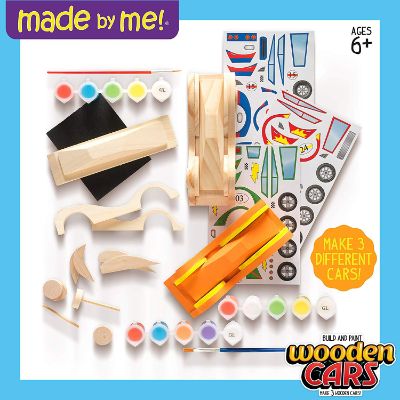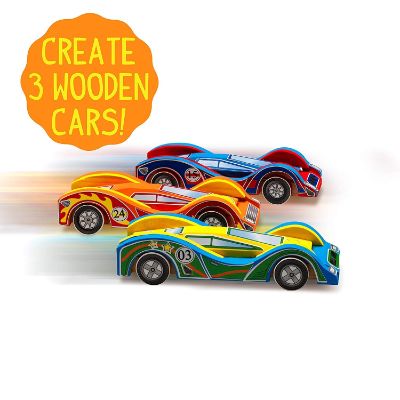 Real wood
Includes everything needed to build and paint three different cars
Comes with kid-friendly instructions
Pieces are pre-cut and sanded
Non-toxic paint
Stickers don't stick to the unpainted wood very well
Boys love to build things and then use what they created. These wooden race cars are perfect for the kids that like to be creative and do things on their own.
Read more
Educational Value
There's something truly gratifying about constructing and designing your very own toy. This Wooden Cars kit gives boys the opportunity to take pride in not only their building acumen but also in their creative attempts. Putting the pieces together improves dexterity and fine motor skills, as well.
Entertainment Value
It's a wonderful introductory kit for the beginning woodworker. No previous experience necessary! It makes an engaging craft activity for sleepovers or birthday parties, and the car wheels can really roll when construction is complete.
Materials
This item has all of the parts for three finished wooden cars that can really roll when put together. It comes with all of the pre-cut, sanded, wooden pieces to build the cars, plus all of the decorative things to make them unique. Included are stickers, paints, and glue to make each car bright and colorful to give your child a great feeling of accomplishment and pride in doing a job well done. These would even be wonderful for an activity at parties or gatherings, so kids can have a creative competition on whose car looks the best. Bring out the creative genius in your kid with these fabulous do-it-yourself racing cars for loads of fun and excitement.
8

. N-Strike Elite Strongarm Blaster
Holds six bullets at a time
Has long-range capabilities (75-90 feet)
Easy to reload
Compatible with N-Strike Tactical Rail accessories (sold separately)
No batteries required
Rotating cylinder won't advance if not properly aligned
If you have a kid who has a very active imagination as well as a knack for shooting games, then you need to give him the Nerf N-Strike Elite Strongarm Blaster.
Read more
Educational Value
Boys will love practicing their long-distance shots with the Elite Strongarm. They will appreciate its accuracy and ergonomic grip, whether they're shooting at targets or staging a shootout with friends. (Because it is a powerful blaster, wearing protective eye gear is highly recommended.)
Entertainment Value
This is excellent for imaginative play as well as for role-playing. This can then help enhance your 9-year old's cognitive skills, social skills, and emotional skills. While some may not agree with our choice of a toy gun as one of the best gifts you can give a nine-year-old boy, we can assure you that it's perfectly safe.
Materials
Modeled like a really big revolver reminiscent of Hellboy's powerful gun, the Strongarm packs a very powerful punch especially when its Slam Fire is activated to shoot 6 soft-tipped Elite darts in rapid succession. The Strongarm's barrel can be easily flipped for ease of reloading.
9

. Totally Gross: The Game Of Science
Award-winning Universal Game
Includes 140 science questions
Teaches about multiple disciplines of science
30 lab experiment cards
50 gross-out cards
The slime dries up quickly if you aren't careful
Has your 9-year-old ever seen something totally gross and NOT been immediately obsessed with it? This University Games set is a science game that combines the joy of learning with the joy of...well, disgusting things.
Read more
Educational Value
Through various activities, questions, and lab experiments, kids will be exposed to basic scientific facts and methods. It's appropriately gross and silly, and even older kids and adults will get a kick out of playing it.
Entertainment Value
This game is ultra-silly and easy to play. It helps kids learn fun facts and important scientific principles, but disguises all of the academia in gross, giggle-worthy antics. It's a great game for the whole family, and moves quickly, so you don't need to set hours aside to get through a few rounds.
Materials
With a game board, 140 question cards, 50 gross-out cards, 30 lab cards, four playing pieces, a die, and a jar of slime, your family is all set to compete and learn about biology, chemistry, geology, astronomy, anatomy, physics, and zoology. This game is meant for two to four players, ages 8 and up, and lasts roughly 15 minutes, but can be expanded by simply resetting and playing multiple rounds. With so many questions, facts, and activities, there are months if not years worth of material to learn and giggle over.
10

. Razor E100 Electric Scooter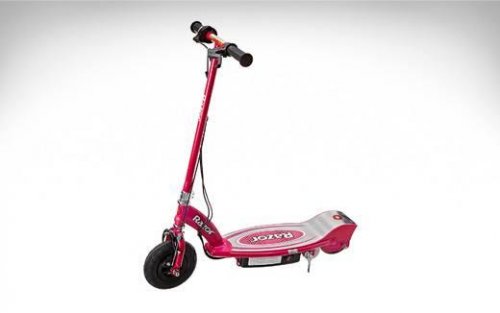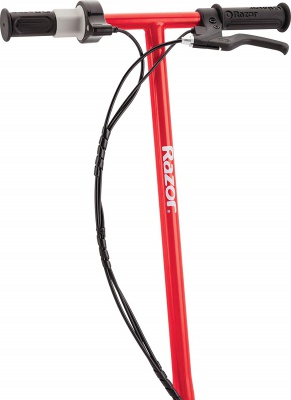 Available in six different colors
Has retractable kickstand
Includes battery charger
Can support up to 120 lbs.
Some assembly required
Does not fold
Give your 9-year-old boy the E100 Electric Scooter and he will be roaming the streets of the neighborhood in style.
Read more
Educational Value
If your 9-year-old boy is wanting to go places faster, the Razor E100 is sure to satisfy his need for speed. (Don't worry--the front hand brake makes for a quick stop! Strap on some knee/elbow pads along with a helmet, and little speed demons should be good to go.) The ideal size, sturdily built frame, and durable front and back tires ensure that this scooter is ready to roll with whatever 9-year-old adventures come it's way.
Entertainment Value
While we prefer the kick scooter, the E100 is nevertheless beneficial in enhancing kids' sense of balance as well as proprioceptive sense. This can help later on in the enhancement of other aspects of his physical development.
Materials
This ride on scooter comes with a fully rechargeable 24-volt battery that powers its chain-driven, ultra-quiet motor. It has a large 8-inch pneumatic tire in front and a smaller yet wider rear tire for optimum stability while cruising at a speed of 10 mph. All of the electronic components are UL-certified to guarantee they won't explode under your kid's feet. Electric scooters are very safe and great fun for kids!
Criteria Used for Evaluation
Educational Value
By age 9, boys are already expected to have a more advanced attention span which allows them to focus and concentrate on any given activity for significantly longer periods of time without getting bored or frustrated. This keen sense of focus allows them to examine closely the different aspects of a particular activity. When translated in terms of their cognitive development, this helps enhance their counterfactual reasoning and divergent problem-solving skills. This simply means that they are now able to look at a variety of scenarios for any given situation.
This one-problem-many-solutions approach is the classic hallmark of divergent problem solvers as they are able to integrate a variety of sensory and experiential information to come up with a variety of solutions to a single problem. In turn, this helps them better understand the concept of consequences by playing the what-if game. It is, therefore, crucial to give 9-year-old boys toys that help them really focus and concentrate on the task at hand. Building and construction toys, as well as craft toys, will be excellent gift suggestions for this purpose.
Entertainment Value
Alongside their increased attention span and concentration, 9-year-old boys will already show flashes of brilliance in their artwork. Most of their drawings will already depict realistic body parts as well as real-life objects. This is also an indication of the mastery of their visual-motor coordination, their spatial intelligence, and their fine-motor skills. It would be wise to provide them with toys that are as close to the real thing as possible but do not retract from the fact that these are toys. This is important so that kids will still use their imagination to help in a variety of pretend play or any other type of role-playing activities.
Materials
Coming up with the top toys for 9-year-old boys was never an easy feat. Our team of researchers had to work day and night scouring the pages of online toy catalogs as well as retailers for the best toys for 9-year-olds.
We listed each one and examined their developmental appropriateness. We had to make sure that the toys we put on our list are not only popular, but they also have to be developmentally appropriate for children as well. Additionally, we assessed the overall design of the toy especially if it has a couple of features that are not seen in other toys. We examined the safety of the materials used as well as any certification or award that may come with the product. We then looked at the reputation of the toy maker to make sure that it is well-respected, particularly for its design and manufacturing practices. We also had to listen to what other parents and consumers think about these products.
Most Important Criteria
(According to our experts opinion)
Experts Opinion
Editors Opinion
Users Opinion
By Default

Parents, Did You Know?
Some boys may already start showing signs of puberty by age 9, including changes in their voices, the beginning development of muscles, and the taking shape of the male form.
Parents, Did You Know?
Boys of this age typically have tremendous amounts of energy as a result of the sudden surge in hormones as well as in the development of the overall musculature of the body. As such, it is important to give them toys that allow them to foster and enhance these developments. Sports toys should do well to help 9-year-old boys' physical development.
Other Factors to Consider

Social Development
Common behavioral issues for 9-year-old boys include back-talking, acting out in response to not getting their own way, yelling, or doing something for the mere purpose of causing annoyance, such as engaging in potty talk. Well-chosen toys, especially ones that are educational, can help curb this kind of inappropriate behavior by redirecting negative mindsets and giving boys an objective to reach or means of taking ownership.
For example, if they decide to start talking about things like snot or bodily excretions in order to elicit an exasperated reaction (the more heaving the better, in their opinion), you can feign nonchalance and suggest that they gather some ear wax or boogers to examine under a microscope–just don't get too grossed out. You can also diffuse a hot-tempered situation by simply staying cool yourself and starting a collaborative activity that is sure to intrigue and pull him in (studies show that boys relate best while physically doing something). The toys in our list above take typical boy-parent struggles into consideration and can contribute greatly to a more positive home environment.
Nine-year-old boys are also known to be able to communicate their thoughts relatively well. Their language skills are enhanced both by their social interaction with their peers and by their increased reading skills. Giving them toys that help expand their vocabulary can help in this aspect. Additionally, toys that allow them to engage in cooperative or even dramatic play can help enhance their social skills.
Emotional Development
Although the physical, emotional, and cognitive growth of 9-year-old boys align closely with that of 9-year-old girls, there are some notable differences. For example, girls tend to show a greater command of words and language, whereas boys of this age tend to excel in their spatial abilities. While girls usually experience big growth spurts earlier in their puberty years, boys tend to go through them later (usually starting around age 14).
In general, however, the development of both boys and girls is marked with increased ability to focus on a given task, increased physical activities, improved social relations, and enhanced cognitive abilities as a result of the creative and imaginative play.

Physical Development
A 9-year-old boy can be a lot to handle because he's right on the verge of puberty, but also still a child. Because of this, he'll inevitably have tons of energy that needs to be let out on a daily basis and toys can factor into that in a big way. Here at Borncute, our mission is to provide your little boy with as much of an outlet as possible, while still occupying his time in such a way that's either beneficial or educational.
All of the toys we select for these lists are rooted deeply in our research of specific ages and what boys and girls need at that time during their lives. This list, in particular, contains many toy products that will either hold a 9-year-old's attention for long periods of time, or will encourage them to be highly active, moving around, or enjoying the great outdoors.
Many times, all a child needs is that one toy that lets them know it's okay to be a kid and be a little adventurous, and these are qualities that we believe make a great option for your child. If you notice that your little boy is just a bundle of energy, we have options on here that will allow them to work out all of their pent-up energy both indoors and outside. Building muscle and staying healthy through physical exercise is important no matter what stage of life you're at, but it's especially important for younger kids as they're still growing and progressing.
On the other hand, if you notice that your little boy is a bit quieter and isn't fully comfortable playing outside or getting involved in sports, we have toys on here that are based on high focus and critical thinking. Toys that involve building, construction, and focus, are all things that might be exactly what he needs to find something he loves. These toys can often lend the most educational value as well, offering your child a chance to learn about something fun that they might not know about yet.
Frequently Asked Questions
q:

For the Light-Up Tracing Pad, does it take batteries or does it plug in? What size paper does it use and will regular copy paper work when the paper it comes with runs out or do you have to get tracing paper?

a:

This toy runs on AA batteries, and no it does not plug into electricity. This is what makes it a wonderful travel toy. The paper size is regular 8.5 x 11 standard paper. Yes, regular copy paper is fine. Images can be seen in this paper okay. The tracing paper would work much better but it is not necessary.
q:

The Amazon notes on the electric Razor scooter say "kick-start." What does that mean? I thought electric scooters propel themselves via a motor.

a:

The kick-start feature adds an extra measure of safety and means the rider needs to physically kick off to get the scooter moving to a minimum of 3 miles per hour. The motor will take over from there.
q:

I'm birthday shopping for my nephew who's turning 9 and I'd like to get him a book in addition to a toy. Any recommendations?

a:

If your nephew is intrigued by science or you simply want to buy him reading material that's educational as well as entertaining, check out our 10 top science book picks (a book from this list would go well with the Disgusting Science Kit above). If he's a big sports fan, you may be able to find a book about a famous player. Find out what he's really into and go from there.
q:

The RipStik Ripster seems so unstable. How are you supposed to ride it?

a:

Just as with a bike, riding a RipStik takes practice to get correct positioning, good balance, and wiggling down pat and into one's muscle memory. Although some youngsters may struggle with it at first, the requirement for excellent balance is the main reason that we recommend the Ripster. Boys will find that the same balancing skills are necessary with other sports equipment, as well, be it surfboard or snowboard. There are several tutorials on YouTube that you might find to be helpful.
q:

Are extra missiles available for the Marky Sparky Blast Pad?

a:

Yes, they come in packs of five and are available on Amazon.