At each age, kids develop more skills and interests than the year before, and their abilities to accomplish these activities increases. The toys that interest boys at nine, like any other age, should keep them thinking and active, so they can progress positively towards adulthood. At this age, they become more inquisitive about how things work and the world they are in. Parents will notice an increase in attention span and toys that are more intricate.
It is at this age also that kids become stronger physically, having smoother and stouter muscle control. Nine is the age of competing, not only against peers but also against themselves. They strive to be the best, trying to master skills at almost anything they encounter. This is the reason that computer and video games are so popular for nine-year-olds. Kids not only have the physical motor abilities to conquer computer games, but also the understanding and cunning at age nine.
Nine-year-olds are more into complicated science projects, construction sets, and model kits than they were last year. This is the age of wanting to know how and why of everything happening around them. They are a sponge wanting to soak up all of the knowledge they can about everything. As parents, we should give them the education to acquire this knowledge, so we should also provide them with thought-provoking toys that will keep their brains active and their bodies in physical shape.
We feature some of the best physical toys for nine year olds, such as the Ripster Caster Board, Magnetic Dart Board, and Dodge Tag game that has a new twist. To keep the mind busy and challenged, we highlight some items that reviewers are currently raving about, like the Perplexus Epic, the Minecraft LEGO set, and the forever puzzling Classic Rubik's Cube. Nine year olds are also into plenty of creativity pastimes, so we spotlight a few here that would interest this age group of boys. Trendy right now for artistic fun is the Light-Up Tracing Pad, Colorful Scented Markers, and Wooden Cars to build and paint. These are only a few of our top picks for the Best Toys & Gift Ideas for 9 Year Old Boys in 2018.
Our Top 3 Picks
Ivan's Hinge

Our rating
Problem Solving Abilities
Price:

See Here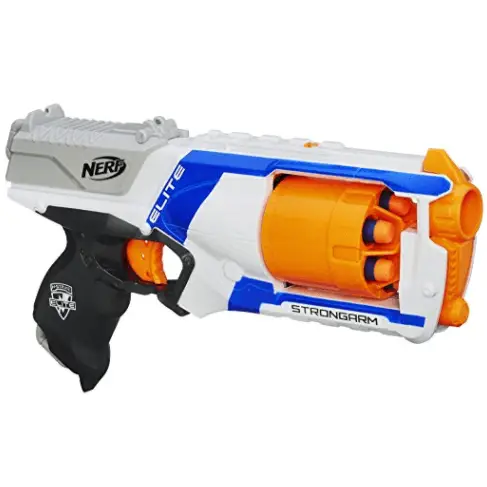 Nerf N-Strike Blaster

Our rating
Fires up to 90 ft
Price:

See Here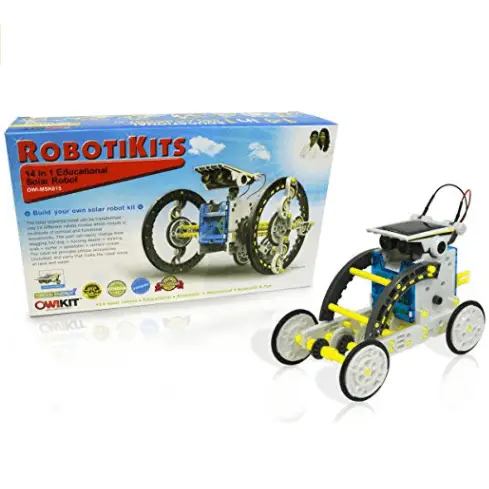 OWI Solar Robot

Our rating
No Batteries Required
Price:

See Here

Our Picks Of The Best Toys for 9 Year Old Boys:
Criteria Used to Evaluate The Best Toys and Gifts for 9-Year-Old-Boys
Coming up with the top 20 toys for 9 year old boys was never an easy feat. Our team of researchers had to work day and night scouring the pages of online toy catalogs as well as retailers for the best toys for nine year olds.
We listed each one and examined their developmental appropriateness. We had to make sure that the toys we put in our list are not only popular, they have to be developmentally appropriate for children as well. Additionally, we assessed the overall design of the toy especially if it has a couple of features that are not seen in other toys. We examined the safety of the materials used as well as any certification or award that may come with the product. We then looked at the reputation of the toy maker to make sure that it is well-respected particularly for its design and manufacturing practices. We also had to listen to what other parents and consumers think about these products.
Common Behavior Problems in 9-year-old Boys and How Toys Can Help
Common 9-year-old behavioral issues for boys include back-talking, acting out in response to not getting their own way, yelling, or doing something for the mere purpose of causing annoyance, such as engaging in the potty talk. Well-chosen toys, especially ones that are educational, can help curb this kind of inappropriate behavior by redirecting negative mindsets and giving boys an objective to reach or means of taking ownership. For example, if they decide to start talking about things like snot or bodily excretions in order to elicit an exasperated reaction (the more heaving the better, in their opinion), you can feign nonchalance and suggest that they gather some ear wax or bogers to examine under a microscope–just don't get too grossed out. You can also diffuse a hot-tempered situation by simply staying cool yourself and starting a collaborative activity that is sure to intrigue and pull him in (studies show that boys relate best while physically doing something). The toys in our list above take typical boy-parent struggles into consideration and can contribute greatly to a more positive home environment.
Nine Year Old Boys, Their Development, and Their Toys
Some boys may already start showing signs of puberty by age 9 including changes in their voice, the beginning development of muscles, and the taking shape of the male form. Boys of this age typically have tremendous amounts of energy as a result of the sudden surge in hormones as well as in the development of the overall musculature of the body. As such, it is important to give them toys that allow them to foster and enhance these developments. Sports toys should do well to help 9-year-old boys' physical development.
By age 9, boys are already expected to have a more advanced attention span which allows them to focus and concentrate on any given activity for significantly longer periods of time without getting bored or frustrated. This keen sense of focus allow them to examine closely the different aspects of a particular activity. When translated in terms of their cognitive development, this helps enhance their counterfactual reasoning and divergent problem solving skills. This simply means that they are now able to look at a variety of scenarios for any given situation. This one-problem-many-solutions approach is the classic hallmark of divergent problem solvers as they are able to integrate a variety of sensory and experiential information to come up with a variety of solutions to a single problem. In turn, this helps them better understand the concept of consequences by playing the what-if game. It is therefore, crucial to give 9 year old boys toys that help them really focus and concentrate on the task at hand. Building and construction toys as well as craft toys will be excellent gift suggestions for this purpose.
Alongside their increased attention span and concentration, 9 year old boys will already be showing flashes of brilliance in their artwork. Most of their drawings will already depict realistic body parts as well as real-life objects. This is also an indication of their mastery of their visual motor coordination, their spatial intelligence, and their fine motor skills. It would be wise to provide them with toys that are as close to the real thing as possible but do not retract from the fact that these are toys. This is important so that kids will still use their imagination to help in a variety of pretend play or any other type of role-playing activities.
Nine year old boys are also known to be able to communicate their thoughts relatively well. Their language skills are enhanced both by their social interaction with their peers and by their increased reading skills. Giving them toys that help expand their vocabulary can help in this aspect. Additionally, toys that allow them to engage in cooperative or even dramatic play can help enhance their social skills.
Although the physical, emotional, and cognitive growth of 9-year-old boys align closely with that of 9 year old girls. There are some notable differences. For example, girls tend to show a greater command of words and language, whereas boys of this age tend to excel in their spatial abilities. While girls usually experience big growth spurts earlier in their puberty years, boys tend to go through them later (usually starting around age 14). In general, however, the development of both boys and girls is marked with increased ability to focus on a given task, increased physical activities, improved social relations, and enhanced cognitive abilities as a result of creative and imaginative play.
Dealing With The "Almost Preteen" Year
A nine-year-old boy can be a lot to handle because he's right on the verge of puberty, but also still a child. Because of this, he'll inevitably have tons of energy that needs to be let out on a daily basis and toys can factor into that in a big way. Here at Borncute, our mission is to provide your little boy with as much of an outlet as possible, while still occupying his time in such a way that's either beneficial or educational. All of the toys we select for these lists are rooted deeply in our research of specific ages and what boys and girls need at that time during their lives. This list, in particular, contains many toy products that will either hold a nine-year-old's attention for long periods of time, or will encourage them to be highly active, moving around, or enjoying the great outdoors. Many times, all a child needs is that one toy that lets them know it's okay to be a kid and be a little adventurous, and these are qualities that we believe make a great option for your child. If you notice that your little boy is just a bundle of energy, we have options on here that will allow them to work out all of their pent-up energy both indoors and outside. Building muscle and staying healthy through physical exercise is important no matter what stage of life you're at, but it's especially important for younger kids as they're still growing and progressing. On the other hand, if you notice that your little boy is a bit quieter and isn't fully comfortable playing outside or getting involved in sports, we have toys on here that are based on high focus and critical thinking. Toys that involve building, construction, and focus, are all things that might be exactly what he needs to find something he loves. These toys can often lend the most educational value as well, offering your child a chance to learn about something fun that they might not know about yet.
Either way, you'll know that this list has been carefully thought-out and prepared with the utmost of consideration for what your child needs. Every child is different which is why we like to include such a wide variety of toy options, ranging in level between activity and educational value. What one child needs will always differ from the next, but each one of these toys can grow with your child and are timeless in the sense that they'll be used for years to come!
FAQ
Frequently Asked Questions
Q: For the Light-Up Tracing Pad, does it take batteries or does it plug in? What size paper does it use and will regular copy paperwork when the paper it comes with runs out or do you have to get tracing paper?
A: This toy runs on AA batteries, and no it does not plug into electricity. This is what makes it a wonderful travel toy. The paper size is regular 8.5 x 11 standard paper. Yes, regular copy paper is fine. Images can be seen in this paper okay. The tracing paper would work much better but it is not necessary.
Q: The Amazon notes on the electric Razor scooter say "kick-start". What does that mean? I thought electric scooters propel themselves via a motor.
A: The kick-start feature adds an extra measure of safety and means the rider needs to physically kick off to get the scooter moving to a minimum of 3 mph. The motor will take over from there.
Q: I'm birthday shopping for my nephew who's turning nine and I'd like to get him a book in addition to a toy. Any recommendations?
A: If your nephew is intrigued by science or you simply want to buy him reading material that's educational as well as entertaining, check out our 10 top science book picks (a book from this list would go well with the Disgusting Science Kit or AmScope Microscope Kit, above). If Pokemon is more his thing, take a look at the books on this list. If he's a big sports fan, you may be able to find a book about a famous player. Find out what he's really into and go from there.
Q: The RipStik Ripster seems so unstable. How are you supposed to ride it?
A: Just as with a bike, riding a RipStik takes practice to get correct positioning, good balance, and wiggling down pat and into one's muscle memory. Although some youngsters may struggle with it at first, the requirement for excellent balance is the main reason that we recommend the Ripster. Boys will find that the same balancing skills are necessary with other sports equipment, as well, be it surfboard or snowboard. There are several tutorials on YouTube such as this one that you might find to be helpful.
Q: Are extra missiles available for the Marky Sparky Blast Pad?
A: Yes, they come in packs of five and are available on Amazon.
Q: What are some things kids might enjoy seeing under the recommended AmScope microscope?
A: Everything looks way different under a microscope, however the following are especially fascinating: snow, moss, yeast, bread mold, algae, feathers, hair/fur, and spider web fragments.
Other Age Ranges
1 Years Old
2 Years Old
4 Years Old
6 Years Old
7 Years Old
8 Years Old
10 Years Old
11 Years Old
12 Years Old
13 Years Old
Gifts for Teenage Boys