If you are asking yourself what present to give a 9 year old boy for his birthday or even this coming holidays, you don't have to think hard. We know how difficult and frustrating it can be to choose from an ocean of toys and other gift items. So, allow us to help you decide on the best toy for your 9 year old with our list of the top 20 toys that we are very sure any kid will love.
Our Top 3 Picks
Ivan's Hinge
5 out of 5
Our rating
Problem Solving Abilities
Price:

See Here

Nerf N-Strike Blaster
4.5 out of 5
Our rating
Fires up to 90 ft
Price:

See Here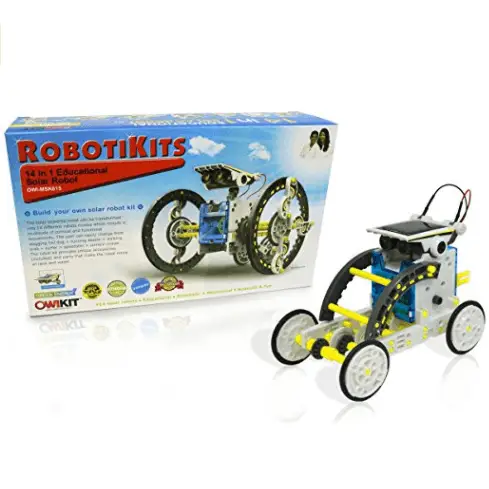 OWI Solar Robot
4.3 out of 5
Our rating
No Batteries Required
Price:

See Here

Our Picks Of The Best Toys for 9 Year Old Boys:
Ivan's Hinge
If you are looking for a fast solving kind of toy this is it. Your 9 year old will have a blast resolving this puzzle time and time again. Packed with vibrant colors to stimulate creative visual sensory. The hinges are set to work with 56 challenge cards! If your hinge is not aligned according to the puzzle then it is still really fun to get in there and keep on trying to solve the puzzle. For kids it's addictive even. This is the perfect toy to take in the car on a long road trip or even challenge your friends to a game of 'solve this puzzle the fastest' Ivan's hinge is a highly fun game. It is sure to stimulate the genius in every kid. It has been created and named after a famous creator of many types of puzzles; Ivan Moscovich.
BENEFITS
This is going to activate the all-time genius in your child. When you child accepts each one of the challenges in Ivans Hinge he will be pleased time and time again when the puzzle is solved. This leads to an overall sense of a goal being met and will make your child very happy in the end. This puzzle game ultimately builds confidence in your 9 year old.
Pros
The pieces are connected in a complete cycle making it an ultra durable puzzle to work with that is hard to ever break if accidentally dropped
Colors are neon looking
There are many different ways to solve this puzzle
Really nice textural sense for kids and the puzzle is a good weight to handle
It will help your child maintain fidgety energy while in places he needs to be sedentary like the car
Cons
Hinges could fall apart easily on some versions
Ivan's hinge will be a great hit for the fidgetty energy that kids have; this toy is just down right fun to keep trying at it even when you don't solve the puzzle the first time around. Your child will not become discouraged when a puzzle is not completed rather they will be glad to keep on trying until the puzzle is mastered.
Build & Paint Your Own Wooden Cars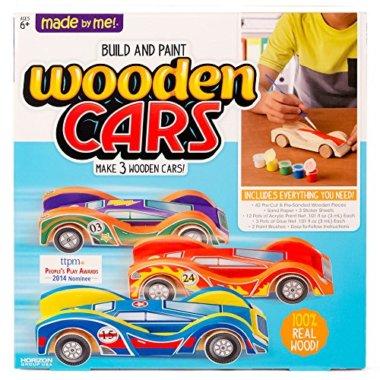 View More By Made By Me »
Build & Paint Your Own Wooden Cars
Summary
Made by Me (Horizon Group USA) has been around for decades and is known for their safe and innovative activity sets designed just for kids. The wooden cars kit especially is a hit with middle-school aged boys. It includes everything needed to build three different cars--42 wooden pieces, sandpaper, glue, reseal able acrylic paint, paint brushes and stickers.
BENEFITS
There's something truly gratifying about constructing and designing your very own toy. This Wooden Cars kit gives boys the opportunity to take pride in not only their building acumen, but also in their creative attempts. Putting the pieces together improves dexterity and fine motor skills, as well.
Pros
Real wood
Includes everything needed to build and paint three different cars
Comes with kid-friendly instructions
Pieces are pre-cut and sanded
Non-toxic paint
Cons
Stickers don't stick to the unpainted wood very well
It's a wonderful introductory kit for the beginning woodworker. No previous experience necessary! It makes an engaging craft activity for sleepovers or birthday parties, and the car wheels can really roll when construction is complete.
N-Strike Elite Strongarm Blaster
N-Strike Elite Strongarm Blaster
If you have a kid who has a very active imagination as well as a knack for shooting games, then you need to give him Nerf's N-Strike Elite Strongarm Blaster. Modelled like a really big revolver reminiscent of Hellboy's powerful gun, the Strongarm packs a very powerful punch especially when its Slam Fire is activated to shoot 6 soft-tipped Elite darts in rapid succession. The Strongarm's barrel can be easily flipped for ease of reloading.
BENEFITS
Boys will love practicing their long-distance shots with the Elite Strongarm. They will appreciate its accuracy and ergonomic grip, whether they're shooting at targets or staging a shootout with friends. (Because it is a powerful blaster, wearing protective eye gear is highly recommended.)
Pros
Holds six bullets at a time
Has long-range capabilities (75-90 feet)
Easy to reload
Compatible with N-Strike Tactical Rail accessories (sold separately)
No batteries required
Cons
Rotating cylinder won't advance if not properly aligned
This is excellent for imaginative play as well as for role-playing. This can then help enhance your 9 year old's cognitive skills, social skills, and emotional skills. While some may not agree with our choice of a toy gun as one of the best gifts you can give a nine year old boy, we can assure you that it's perfectly safe.
14-in-1 Solar Robot by OWI
14-in-1 Solar Robot by OWI
There's something about robots that really fascinates young boys. With OWI's Solar Robot, your 9 year old boy can now experiment with his very own robot that transforms into 14 different configurations. The best thing about the Solar Robot is that it will never require batteries in order for it to run as you will only have to make sure that it has access to plenty of sunlight. It also comes in 2 levels of building difficulty so kids can naturally work their way up creating their very own robot. Explore more cool robot toys by clicking here.
BENEFITS
The 14-in-1 Solar Robot has terrific educational value, as boys can learn about mechanics, robotics and solar energy as they build. If your little builder is already a LEGO or Transformer fan, he will love the challenge of creating all the different versions of the Robot--crab-bot, row-bot, quadru-bot, and more! Although the robot works best with direct outdoor sunlight, it may also be used indoors under a halogen light (50+watts).
BENEFITS
Educational
Robot formations have functional movement
Great parent/kid activity to do together
Introduces the concept of building your own mechanical four wheeled devices
Cons
The pieces fit together quite tightly, making them difficult for some kids to pull apart
Initial assembly requires first separating the pieces from their frames (filing down the parts' plastic tabs is recommended)
The number of transformations is astounding. This simply means that kids will have plenty of tie to tinker with the robot to create a new configuration. This helps them enhance their focus and concentration while strengthening their other cognitive abilities.
R/C Rock Crawler Extreme by Maisto
R/C Rock Crawler Extreme by Maisto
When your kid is an aspiring off-road racer, then you need to give him Maisto's 4-wheel drive Rock Crawler. This remote control car has 3 motors that allow it to be steered and maneuvered over hostile terrain. No incline is ever too steep and no rock is an obstacle for the Rock Crawler. It comes with fully articulated suspension system on all 4 wheels giving it superb traction on rugged terrain.
BENEFITS
Fourth-grade boys tend to enjoy pushing themselves--and their toys--to the limit. With the Rock Crawler Extreme, they can do just that. It's designed to climb and built to last, so boys can pass many fun-filled hours "driving" the truck of their dreams. It runs by pulling a trigger and steering the wheel on the remote which is beneficial for developing hand/finger coordination.
Pros
Has customizable torque
Controlled by steering wheel and push lever
Rubbery tires have great gripping capability
Ideal size (12" long)
Cons
Color may vary (contact seller if you'd like to request a specific color)
Requires batteries for both the vehicle and remote control
It's great for encouraging dramatic play while at the same time enhancing kids' visual motor skills, fine motor skills, and spatial intelligence. Also helps foster imagination.
Disgusting Science Kit
Disgusting Science Kit
If you have a 9 year old boy who is having difficulty understanding anatomy in his class, then maybe you need to make his learning more fun with the Disgusting Science Kit. One of the best selling 
science toys
available, this kit comes complete with all the science gizmos that kids will need to experiment with some things found in the human body. While it may gross you out, kids will surely love this.
BENEFITS
Boys seem to love coming up with ways to make others squirm, so why not let them learn something while they're at it? Whether you have a budding young laboratory technician or a kid who's struggling in science class, this kit is bound to pique his interest. The fun activities will really get him thinking about how the body works, too. It's a disgustingly good deal.
Pros
Educational
Includes everything from petri dishes to food coloring
Fun activity to do as a family
Gets kids excited about science
Cons
Requires adult supervision
Contains parts that may pose a choking hazard for younger siblings
It's a great way to make learning science more fun. This also helps kids to enhance their critical thinking skills through imaginative play. Their psychomotor and visual motor development can also be improved.
Colorful Scented Markers
Colorful Scented Markers
Foster your 9 year old boys' artistic inclinations with the Scent Markers by Mr. Sketch. This
cool art set
 of 12 colorful and wonderfully scented markers can help 9 years olds be as creative as they can be. The markers are certified non-toxic and each marker has its own unique signature scent. For example, the violet marker smells like grapes while the brown marker smells like cinnamon.
BENEFITS
Although these markers smell delectable enough to eat, young artists will be just as happy using them to add brilliant color to poster board, easels, or other artistic ventures. They will appreciate the chisel-style tips that are perfect for coloring in both fine and thicker lines, depending on the stroke they use. Parents will appreciate the longevity of Mr. Sketch markers, as they contain double the amount of ink as most conventional markers.
Pros
Certified AP non-toxic
12 vibrant colors
Water-based ink
Washable
Cons
Will bleed through thin paper
We love the scents. This can help kids to concentrate more on their artwork so they can create truly interesting masterpieces. It's a great sensory stimulus as well.
Ozobot 2.0 Bit by Ozobot
Ozobot 2.0 Bit by Ozobot
Remember what we said about kids loving robots? Now imagine if you can give them several Ozobot 2.0 Bits, they will surely be able to build miniature cities. The Ozobot can be easily programmed to perform what your kid will want it to do. It can dance, move in circles, or even race. The possibilities are endless.
BENEFITS
The Ozobot Bit makes coding and programming fun! Although there are plenty of interactive game options via Ozobot's apps and website, all that's needed are markers and paper to get started. Boys will have a blast dreaming up crazy things for the Ozobot Bit to do, and will probably want to get their friends in on the fun, as well.
Pros
Educational
Includes rechargeable battery, charger, and carrying case
Ozobot program is compatible with the Web, iOS and Android
Comes with free Web access to Ozobot games and activities for every level
Unique gift idea
Cons
Does not have Bluetooth capabilities
It's a very ingenious way of encouraging imagination and creativity in 9 year old boys. They can think of a million and one ways to put the Ozobot to good use. This helps foster critical thinking skills while at the same time enhancing their focus and concentration.
E100 Electric Scooter
E100 Electric Scooter
Give your 9 year old boy the E100 Electric Scooter and he will be roaming the streets of the neighborhood in style. This ride on scooter comes with a fully rechargeable 24-volt battery that powers its chain-driven, ultra-quiet motor. It has a large 8-inch pneumatic tire in front and a smaller yet wider rear tire for optimum stability while cruising at a speed of 10 mph. All of the electronic components are UL-certified to guarantee they won't explode under your kid's feet. Electric scooters are very safe and great fun for kids!
BENEFITS
If your 9-year-old boy is wanting to go places faster, the Razor E100 is sure to satisfy his need for speed. (Don't worry--the front hand brake makes for a quick stop! Strap on some knee/elbow pads along with a helmet, and little speed demons should be good to go.) The ideal size, sturdily built frame, and durable front and back tires ensure that this scooter is ready to roll with whatever 9-year-old adventures come its way.
Pros
Available in six different colors
Has retractable kickstand
Includes battery charger
Can support up to 120 lbs.
Cons
Some assembly required
Does not fold
While we prefer the kick scooter, the E100 is nevertheless beneficial in enhancing kids' sense of balance as well as proprioceptive sense. This can help later on in the enhancement of other aspects of his physical development.
Gravity Maze
Gravity Maze
One of the toys we highly recommend for nine year old boys is the Gravity Maze. The objective is quite simple – arrange the different color-coded towers on a 4 x 4 game grid to solve the puzzle on the challenge card. Kids drop a marble on the tower, see it run through the maze, and reach its target in the shortest possible time. The set comes with 9 towers, 3 marbles, and a target piece. It also comes with 60 challenge cards.
BENEFITS
The Gravity Maze is the perfect marriage of 3-D puzzle and marble run. It requires attention to detail, thinking ahead, and sequential reasoning to build routes that will get marbles their target. It also gives kids a good visual for how gravity works.
Pros
Can choose "challenges" according to level of difficulty
No batteries required
Cube pieces are easy to insert/remove from grid
Color-coded
Cons
Marbles pose a choking hazard
It's great for stimulating kids' critical thinking skills, spatial intelligence, planning skills, and of course, problem solving skills. It can also be played either independently or cooperatively.
Deluxe Magic Set
Deluxe Magic Set
Who doesn't love magic? With the Deluxe Magic Set, your 9 year old kid can start training with a few magic tricks of his own to wow his friends as well as adult relatives. The kit comes complete with the basic paraphernalia of beginning magicians to perform the disappearing ball trick, the vanishing coin trick, and the magic number prediction trick, just to name a few. There are 10 magic tricks to learn and master.
BENEFITS
This deluxe magic set contains a good variety of tricks. They're easy enough for 9-year-olds to learn, yet challenging enough to keep things interesting. Kids will be naturally driven to study the instructions carefully, practice performing the illusions, and hone their persuasive powers in order to impress a captive audience. Be awed as the magic--and confidence--begin to unfold.
Pros
Comes with illustrated instructions
Safe, high-quality pieces
Wooden box can double as a mini stage
Includes magic wand
Cons
Contains small pieces which may pose a choking hazard for younger siblings
Does not include storage bag
It's ideal for helping kids boost their self-confidence as well as strengthen their visual motor skills and fine motor skills. Their reflexes will also be developed as many of these tricks require sleight of hand.
Franklin MLB Pitching Machine
Franklin MLB Pitching Machine
Nine year old boys really need to enjoy classic ball games like baseball. With the MLB Pitching Machine, training for the Major League has never been made easier. The set comes with 6 Aero-White baseballs that are made of child-safe plastic. The ejector's height can be adjusted accordingly to allow for variation of pitches. There's a red LED indicator to help kids know when the baseball is going to be pitched.
BENEFITS
The Franklin Pitching Machine is a convenient alternative to a trip to the batting cages. With 10-second pitch intervals, it keeps boys on their toes while allowing just enough time to regroup for the next ball to catch or hit. (Must be used as directed. Beware of standing too close when machine is in use.)
Pros
Lightweight
Tilt is adjustable
Easy to assemble
Great activity for open outdoor spaces
Cons
Does not work with heavier-weighted balls such as tennis balls and standard baseballs
Batteries required
While this is not necessarily a toy, it is nonetheless a great gift for 9 year old boys especially those who are naturally inclined in sports. It's great for improving motor skills, accuracy, reflexes, and hand-eye coordination.
Active Dodge Tag by Diggin
Active Dodge Tag by Diggin
If your kids love dodge ball, they will surely love Active Dodge Tag. Consider it a wearable dodge ball tag. Opposing players will attempt to hit each other with 3 soft dodge balls per player. The balls stick onto the air-mesh vests that is worn by both players so there's no chance of saying one wasn't hit.
BENEFITS
Kids of all ages who want to enjoy this twist on the classic game of dodgeball can do so using the Diggin Active Dodge Tag adjustable vests and safe velcro balls. The balls will only stick to the target area, so kids will need to aim accurately (and sharpen those throwing skills) in order to make it count. We suggest buying an extra set in case players want to wear vests on both their fronts and backs, or play with two on a team.
Pros
Easy to pack along for on-the-road entertainment
Soft, lightweight balls make indoor dodge tag possible
Simple to use and understand how to play
Vests can also simply be hung and used as targets for independent play
Cons
Care must be taken so that the sticky parts of the vests don't accumulate fuzz or other adhering materials thereby making them less effective when hit by the balls
It encourages fair play, timing, hand-eye coordination, and the development of lightning-quick reflexes. The balls are soft so it won't hurt your kid.
Minecraft The Farm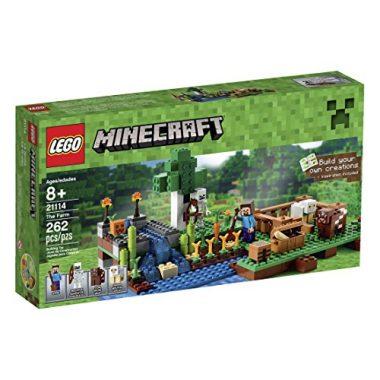 Minecraft The Farm
Kids – and adults – love playing the digital version of Minecraft. If your kid is already playing it, then you need to give him Minecraft Farm from LEGO. This 262-piece building set comes complete with the fundamental bricks of building a Minecraft world. It also includes Steve and a couple of other Minecraft characters.
BENEFITS
This kit contains easy-to-follow directions for suggested setup, but the builder can construct the farm however he fancies. The set is the fool-proof gift solution for boys who are equally devoted to LEGO and Minecraft, and parents will appreciate that this version of Minecraft is screen-free.
Pros
Full-sized set
Comes with mini torches, table, food, livestock, and chest
Can be combined with other LEGO Minecraft series sets
Good Minecraft choice for animal lovers
Cons
Contains only a few "dirt" pieces (not enough to build a hut or big mound)
Minecraft is such a hit since it helps kids create their own worlds. With The Farm, they now have a physical representation of their digital game. This is thus, excellent for encouraging dramatic play to help enhance cognitive abilities. Building toys can also help with dexterity as well as improve creativity.
Hamper Hoops by Wham-O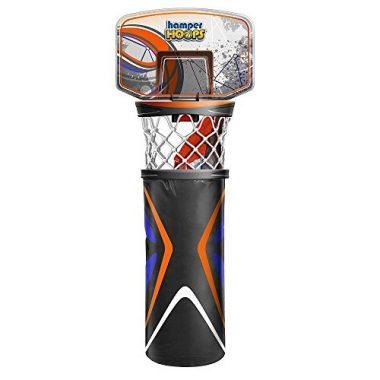 Hamper Hoops by Wham-O
Make laundry management more fun with Hamper Hoops. This door-mounted colorful basketball hoop with backboard and net can be attached with a laundry bag that unzips at the bottom for instant dumping of laundry onto your basket ready for the washing machine. Of course, they can always play with it as a regular basketball hoop.
BENEFITS
Getting dirty clothes in the hamper won't seem like a chore at all with the Wham-O Hamper Hoop! Boys can make balls of sizes out of socks and wadded T-shirts (or just use a regular ball). A toy that helps boys to be more responsible and get a better basketball arm is definitely a win.
Pros
Hamper detaches from hoop and unzips from the bottom
Hoop easily clips onto most doors
Laundry bag is detachable from hoop
Hoop can fold against backboard for storage/transportation purposes
Comes with foam to protect door edges
Cons
Some boys may not be tall enough to unhook the hamper from the hoop
It's a creative way to help teach kids about cleaning and tidying their rooms. It also helps improve hand-eye coordination as well as gross motor skills particularly of the arms.
M30-ABS-KT2-W Beginner Microscope Kit
M30-ABS-KT2-W Beginner Microscope Kit
If your kid is fascinated by all things that are not seen by the naked eye, then you have to give him the M30-ABS-KT2-W Beginner Microscope. This kit already comes with 52 pieces of accessories including prepared glass slides, test tubes, petri dishes, and microbiological media, among others. The microscope itself features a color filter wheel to go along with its mirror and LED illumination. The optics can magnify objects up to 1,200 times making it one of the favourite gifts for science-inclined 9 year olds.
BENEFITS
This is a great kit to get kids interested in science and lab activities. Boys will be thrilled to zoom in on everything from bugs to bogers, and parents will likely be tempted to have a look, as well. Getting familiar with how microscopes work before using them in biology lab at school is always a plus, too.
Pros
Educational
Microscope frame is made of durable stain-resistant metal
Everything can be kept neatly organized  in the closable hard plastic case
Rack-and-pinion style mechanism makes focusing easier for kids
Includes two AA batteries
Cons
Slides must be handled with care (will have sharp edges if broken)
The realism is superb. The prepared glass slides are also excellent for stimulating curiosity among 9 year olds. This is a great way to foster kids' fascination for microscopic sciences.
Razor RipStik Ripster
Razor RipStik Ripster
Do you think your kid can hang ten? Well, not on the surf but rather on his very own Ripstik Ripster. This
skateboard
-inspired adventure board features a steel torsion bar that has been carefully padded with rubber and a deck platform that is designed with a slight concavity for optimum slip resistance. Its wheels are made of high grade urethane and its deck plates can be easily removed.
BENEFITS
The Ripster is shorter than the classic RipStik, making it easier for younger boys to maneuver and practice tricks. As the sleek "in-line" cousin of the skateboard, it requires excellent balance and coordination to ride, and of course will make strengthen those skills even more. Use as directed along with protective head, wrist, and knee gear.
Pros
Available in blue, red, or blue RipStik/helmet combo
Compact and lightweight
No assembly required
Features high-performance ABEC-5 wheel bearings
Cons
May be too short for taller 9-year-olds
The riding/turning technique can take some time to master
It's ideal for strengthening children's core muscles as they get to balance while using their own bodies to maneuver the Ripster. It's great for boosting kids' self-confidence as well as for mastering their coordination.
The Perplexus Epic
The Perplexus Epic
For kids who love challenges, the Perplexus Epic is for them. This large almost 9-inch sphere features 125 challenges that will keep your kids busy for endless hours. It's all about flipping, spinning, and twisting the sphere to bring the silver ball to the target. If you've ever been to a labyrinth, the Perplexus is that, only it's contained in a sphere.
BENEFITS
The Perplexus Epic works well as both a mind exerciser and de-stressor. It's also a great toy for whetting concentration skills. And although normally used for solo play, family members can take turns trying to get the ball to that elusive finish line. For even more fun and giggles, set a timer and create distractions to make the opposing player(s) lose their focus on the ball.
Pros
Great traveling activity
Comes with removable base
Convenient size (close to size of volleyball)
Challenging for kids of all ages
Cons
The ball can become stuck if part of the track gets misaligned due to a fall or rough play
It's great for enhancing critical thinking and problem solving skills. It also helps enhance balance as well as hand-eye coordination as your kid will have to keep an eye on the ball.
Pro Mini Basketball Hoop
Pro Mini Basketball Hoop
With a polycarbonate backboard and a spring-action, professional-grade breakaway steel basketball hoop, you would think the Pro Mini Basketball Hoop is a kiddie version of what they use in the NBA. The set comes with an 8-loop nylon net made with 3-ply fiber. The 12x18-inch shatterproof and clear basketball backboard can be easily assembled be it on your kid's door or wall or even in the backyard.
BENEFITS
We've got your aspiring pro-athlete in mind with this one. With its professional look and feel, boys will enjoy shooting hoops in style--either solo or with friends. It can even work as a poolside game with the right setup.
Pros
Durable
Brackets and backboard are padded with foam to protect door when hung
Comes with all tools and parts necessary for assembly
Includes mini basketball
Cons
Basketball does not come inflated--requires a ball air pump (not included)
Ball is heavy enough to break things if used indoors
It's a fun way to train how to do a slam dunk for kids. It helps encourage physical activity while at the same time boosting confidence and hand-eye coordination.
Classic Rubik's Cube
Classic Rubik's Cube
Since 9 year old boys are known for their focus and concentration, you can help enhance these with the classic Rubik's Cube. This set comes with a stand so you can display the cube itself once your kid has finished it.
BENEFITS
Rubik's Cube is the top-selling puzzle of all time for a reason--make that reasons. It's the ideal boredom-buster, mind-challenger, and travel trinket. It's also a tradition worth passing on to the next generation.
Pros
Small enough to take anywhere
Classic brain-stretcher
Turns smoothly
Standard size
Cons
May feel stiff until turned a few times and broken in
The classic Rubik's cube is well known for stimulating problem solving skills especially in understanding patterns. It's also great for reinforcing color recognition and dexterity.
Criteria Used to Evaluate The Best Toys and Gifts for 9-Year-Old-Boys
Coming up with the top 20 toys for 9 year old boys was never an easy feat. Our team of researchers had to work day and night scouring the pages of online toy catalogs as well as retailers for the best toys for nine year olds.
We listed each one and examined their developmental appropriateness. We had to make sure that the toys we put in our list are not only popular, they have to be developmentally appropriate for children as well. Additionally, we assessed the overall design of the toy especially if it has a couple of features that are not seen in other toys. We examined the safety of the materials used as well as any certification or award that may come with the product. We then looked at the reputation of the toy maker to make sure that it is well-respected particularly for its design and manufacturing practices. We also had to listen to what other parents and consumers think about these products.
Common Behavior Problems in 9-year-old Boys and How Toys Can Help
Common 9-year-old behavioral issues for boys include back-talking, acting out in response to not getting their own way, yelling, or doing something for the mere purpose of causing annoyance, such as engaging in potty talk. Well-chosen toys, especially ones that are educational, can help curb this kind of inappropriate behavior by redirecting negative mindsets and giving boys an objective to reach or means of taking ownership. For example, if they decide to start talking about things like snot or bodily excretions in order to elicit an exasperated reaction (the more heaving the better, in their opinion), you can feign nonchalance and suggest that they gather some ear wax or bogers to examine under a microscope–just don't get too grossed out. You can also diffuse a hot-tempered situation by simply staying cool yourself and starting a collaborative activity that is sure to intrigue and pull him in (studies show that boys relate best while physically doing something). The toys in our list above take typical boy-parent struggles into consideration and can contribute greatly to a more positive home environment.
Nine Year Old Boys, Their Development, and Their Toys
Some boys may already start showing signs of puberty by age 9 including changes in their voice, the beginning development of muscles, and the taking shape of the male form. Boys of this age typically have tremendous amounts of energy as a result of the sudden surge in hormones as well as in the development of the overall musculature of the body. As such, it is important to give them toys that allow them to foster and enhance these developments. Sports toys should do well to help 9 year old boys' physical development.
By age 9, boys are already expected to have a more advanced attention span which allows them to focus and concentrate on any given activity for significantly longer periods of time without getting bored or frustrated. This keen sense of focus allow them to examine closely the different aspects of a particular activity. When translated in terms of their cognitive development, this helps enhance their counterfactual reasoning and divergent problem solving skills. This simply means that they are now able to look at a variety of scenarios for any given situation. This one-problem-many-solutions approach is the classic hallmark of divergent problem solvers as they are able to integrate a variety of sensory and experiential information to come up with a variety of solutions to a single problem. In turn, this helps them better understand the concept of consequences by playing the what-if game. It is therefore, crucial to give 9 year old boys toys that help them really focus and concentrate on the task at hand. Building and construction toys as well as craft toys will be excellent gift suggestions for this purpose.
Alongside their increased attention span and concentration, 9 year old boys will already be showing flashes of brilliance in their artwork. Most of their drawings will already depict realistic body parts as well as real-life objects. This is also an indication of their mastery of their visual motor coordination, their spatial intelligence, and their fine motor skills. It would be wise to provide them with toys that are as close to the real thing as possible but do not retract from the fact that these are toys. This is important so that kids will still use their imagination to help in a variety of pretend play or any other type of role-playing activities.
Nine year old boys are also known to be able to communicate their thoughts relatively well. Their language skills are enhanced both by their social interaction with their peers and by their increased reading skills. Giving them toys that help expand their vocabulary can help in this aspect. Additionally, toys that allow them to engage in cooperative or even dramatic play can help enhance their social skills.
Although the physical, emotional, and cognitive growth of 9-year-old boys align closely with that of 9 year old girls.  There are some notable differences. For example, girls tend to show a greater command of words and language, whereas boys of this age tend to excel in their spatial abilities. While girls usually experience big growth spurts earlier in their puberty years, boys tend to go through them later (usually starting around age 14). In general, however, the development of both boys and girls is marked with increased ability to focus on a given task, increased physical activities, improved social relations, and enhanced cognitive abilities as a result of creative and imaginative play.
FAQ
Frequently Asked Questions
Q: How many cars can I run simultaneously with the Maisto Rock Crawler Extreme Radio Control Vehicle?
A: It has three different channels, so two others can be controlled at the same time (three total).
Q: The Amazon notes on the electric Razor scooter say "kick-start". What does that mean? I thought electric scooters propel themselves via a motor.
A: The kick-start feature adds an extra measure of safety and means the rider needs to physically kick off to get the scooter moving to a minimum of 3 mph. The motor will take over from there.
Q: I'm birthday shopping for my nephew who's turning nine and I'd like to get him a book in addition to a toy. Any recommendations?
A: If your nephew is intrigued by science or you simply want to buy him reading material that's educational as well as entertaining, check out our 10 top science book picks (a book from this list would go well with the Disgusting Science Kit or AmScope Microscope Kit, above). If Pokemon is more his thing, take a look at the books on this list. If he's a big sports fan, you may be able to find a book about a famous player. Find out what he's really into and go from there.
Q: The RipStik Ripster seems so unstable. How are you supposed to ride it?
A: Just as with a bike, riding a RipStik takes practice to get correct positioning, good balance, and wiggling down pat and into one's muscle memory. Although some youngsters may struggle with it at first, the requirement for excellent balance is the main reason that we recommend the Ripster. Boys will find that the same balancing skills are necessary with other sports equipment, as well, be it surfboard or snowboard. There are several tutorials on YouTube such as this one that you might find to be helpful.
Q: Are extra missiles available for the Marky Sparky Blast Pad?
A: Yes, they come in packs of five and are available on Amazon.
Q: What are some things kids might enjoy seeing under the recommended AmScope microscope?
A: Everything looks way different under a microscope, however the following are especially fascinating: snow, moss, yeast, bread mold, algae, feathers, hair/fur,  and spider web fragments.
Other Age Ranges
1 Years Old
2 Years Old
4 Years Old
6 Years Old
7 Years Old
8 Years Old
10 Years Old
11 Years Old
12 Years Old
13 Years Old
Gifts for Teenage Boys