10 Best Wooden Toys for Toddlers & Kids in 2019
last updated
May 24, 2019
For hundreds of years wooden toys have been around and loved by millions. They've even received an award in The National Toy Hall of Fame as the "Oldest Toy in the World". Of course, in today's society parents often forget about the wonders of wooden toys when children can have toys that can light up or play some sort of song. It can actually be a wonderful thing to give your child wooden toys as it's the perfect way to strengthen your baby's growing hand and arm muscles.
If you're searching for a safer option for your baby or just want to encourage your little bundle of joy's creativity, we hope that one of the ten wooden toys on our list will be the perfect choice for you.
In a Hurry? The test winner after 13 hrs of research
KEVA Structures 200 Plank Set
Why is it better?
Promotes STEM
Easy to follow instructions
Blocks can be interchangeable
Enhances fine motor and logic skills
Boosts creativity
In a
Hurry? Editors choice:
Test Winner: KEVA Structures 200 Plank Set
15
Researched Sources
197
Reviews Considered
13
Hours Researching
16
Products Evaluated
Educational Value
Materials
Safety
By Default
10 Best Wooden Toys for Toddlers & Kids Reviewed
1

. KEVA Structures 200 Plank Set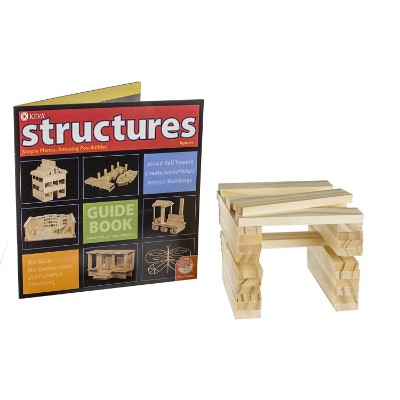 Promotes STEM
Easy to follow instructions
Blocks can be interchangeable
Enhances fine motor and logic skills
Boosts creativity
Some designs might require assistance
Keva is a wonderful educational brand that is perfect for any little future engineer. You and your children will be able to build towers that can be high enough to touch the ceiling!
Read more
Educational Value
You'll be amazed watching the different functions that planks can give to different builds. While this brand helps teach physics and basic engineering there's also simple designs like bridges as well.
Materials
This kit includes over 200 pieces and a booklet with easy to follow instructions on what to build. Your child will be able to have a first hands on experience being able to understand why and how things are built. You do not need glue to build with these blocks!
Safety
We love this product because it promotes STEM (Science, Technology Engineering and Math) skills with nontoxic materials. Meaning here that this toy is educational and will get your child away from those screens and thinking outside the box a little bit more! This is the perfect family activity for a rainy day or if you just have a love to build.
2

. Melissa and Doug Food Groups
Wood material grants each item a high level of durability
Introduces the basics of nutrition
Improves skills in color recognition, counting, and sorting
Easy to use for children three and up
Includes four crates
Reviewers find it to be expensive
The Melissa and Doug wooden food groups playset offers countless ways to play and learn.
Read more
Educational Value
With pretend food from all five food groups included in this set your child can learn how to plan a healthy and well-balanced meal. Not only will your child be introduced to the basics of nutrition but they can also increase their knowledge on sorting and counting by placing each food item in its correct group. In fact, your little one can use the four wooden crates included in the set to make sorting easier. For instance each crate can serve as one of the following categories; dairy, produce, grains, and meat. Discussing the color of each item will improve your child's color recognition skills. Your child's imagination will soar and their creativity will be unleashed as they engage in pretend play with this food set.
Materials
Both the food items and the crates are composed of wood. The wood gives each item a high level of durability, thus allowing your child to enjoy this set for years to come. The included crates makes storing the set easy when it is not being played with. The nontoxic paint used to color each item of food will give you the peace of mind you need to know that your toddler is safe if they happen to put the toy in their mouth.
Safety
The wood has been sanded down smoothly, thus your child's hands will be safe when playing with this set. The entire set weighs about 2.1 pounds making it easy to enjoy for children three and up.
Manufactured by a trusted company
Strengthens hand muscles
Relieves pent up energy
Includes a hammer
Colorful design
The pegs in this toy doesn't offer much resistance for your child to enhance finger dexterity and muscle development.
Toddlers just love to bang away at almost anything. It is one way of expressing their feelings. However, for the Deluxe Pounding Bench from Melissa & Doug, there is clearly a more important reason for this toy.
Read more
Educational Value
As your child pounds each peg with the included mallet they will learn about cause and effect. They will discover that when they push one peg down, another one will pop up to reveal its happy face. Each peg is painted a different color, thus you can work with your child on improving their color recognition skills. For instance, you can create a game where your child has to hit the peg of the color you shout out. Holding the mallet and pounding the pegs will increase your child's hand-eye coordination as well as their fine motor skills. The mallet is lightweight and designed to fit perfectly in tiny hands.
Materials
The mallet, pegs, and pounding bench are all composed of wood which gives this entire set a high level of durability. Your little one is free to pound the bench as hard as they please without worrying about the set breaking. The paint used to color the toy is nontoxic and safe for children. In the event that the paint chips off, your child will be perfectly safe.
Safety
With the pegs being built into the bench and not being able to be removed, you won't have to worry about your child putting any loose pieces in their mouth. Without any small parts children as young as two can enjoy this Melissa and Doug toy.
4

. Car Carrier Truck and Cars Toy Set
Compatible with standard wooden train tracks
Enhances motor skills and pretend play
Sturdy, child-safe materials
Requires no batteries
Cars are not compatible with other Melissa & Doug products
Small size may not be suitable for younger children
Load up and haul away cars with this delightful Melissa & Doug Car Carrier Truck and Cars Wooden Toy Set. You can even purchase a personalized version which will include your child's name or a short message on the truck door.
Read more
Educational Value
Perfect for transitioning from push cars into full pretend play, this car carrier is designed to stimulate your child's imagination. The hinged long ramp encourages exploration into the function of hinges while simultaneously enhancing coordination and developing fine motor skills.
Materials
Another brilliantly simplistic toy from the popular Melissa & Doug line, this Car Carrier comes with 4 wooden cars that can be raised and loaded onto two different levels. The sturdy construction can hold up to even the toughest toddler use and the cars also work with most standard train track sets as well!
Safety
Every little kid loves cars and this carrier truck provides them with not only new and highly compatible cars to add to their collection but also working,sturdy ramps to explore new ways to play!
5

. Hape All Seasons Dollhouse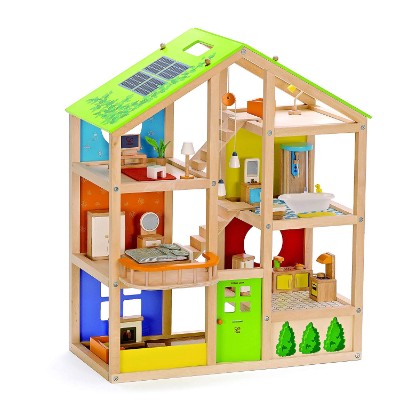 Features three floors with six open-style rooms
Each room comes fully furnished with everything from beds to bathtubs
Crafted using child-safe and toxin-free materials
Encourages creativity and imaginative growth
Made of a softer, thinner pine-like wood that may not hold up to rough or long-term play
Misaligned and missing drill holes can make assembly difficult
There is something childlike and almost magical about dollhouses. They allow our children the freedom to fully emulate and express themselves through play in ways that may not as readily obvious with other toys. We can put ourselves in our dolls' shoes, so to speak, when using a dollhouse. They can even teach valuable self-care lessons to our little ones as they practice things like giving their dolls a bath or putting them to bed.
Read more
Educational Value
Dollhouses are a great way to inspire your little one's imagination and give them the freedom to explore and play creatively. They can emulate common occurrences around the home that may give them a better sense of control and reduce the likelihood of tantrums. Playing with a familial unit can teach life and social skills such as how to communicate effectively and how to build friendships. Manipulating the small pieces is also excellent for the development of hand-eye coordination and fine-motor skills.
Materials
Hope is a well-known German toymaker that specializes in wooden toys. They have been committed to bringing a world of infinite possibilities to children through their toys since 1986 and have won several awards for their designs. Their All Seasons Wooden Dollhouse actually took home the prestigious Oppenheim Toy Portfolio Platinum Seal Award in 2011. This dollhouse is a joy to both look at and play with. Built with lightweight and easy-to-assemble materials, the house features six open-style rooms decorated in bright, kid-friendly colors. Each room comes fully furnished with solid wood accessories such as beds and tables. Several of these accessories are interactive with actions like slides, opening doors, and other moving parts. Hape also has dozens of add-ons available to give your little one's new dollhouse a truly customized feel!
Safety
This dollhouse comes with everything up to and including the kitchen sink, making it the perfect out-of-the-box gift for your preschooler! And with no chemicals used in the making of any of these toys, you can feel good about playtime.
6

. SainSmart Jr. Tetris Puzzle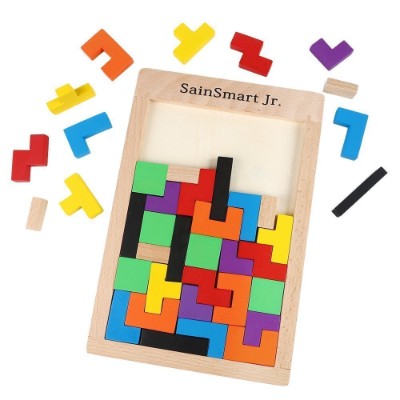 Composed of 100% beech wood and non-toxic paint
40 pieces include
Helps develop hand-eye coordination and color/shape recognition
Useful for both toddlers and the elderly
Pieces will not cover the entire board
Small pieces not suitable for younger children
If you grew up in the 1980's then this toy should look very familiar. Designed after the popular video game, SainSmart Jr.'s Wooden Tetris Puzzle is a creative and fun way to pass along a bit of your childhood while providing a pleasant alternative to screen time.
Read more
Educational Value
Connect the sturdy and colorful pieces inside the box without any spaces. You can remove the pieces and use them to create independent shapes as well! Hundreds of possible solutions will keep your child coming back to this toy time after time.
Materials
With several different shapes and colors, this delightful 40 piece puzzle will intrigue your child while helping them develop excellent hand-eye coordination as well as teaching problem-solving techniques.
Safety
This is a toy that can provide multiple hours of safe play time to both young and old. It helps develop your child's cognitive skills and can also help prevent brain degeneration in adults.
7

. Melissa & Doug Shape-Sorting Dump Truck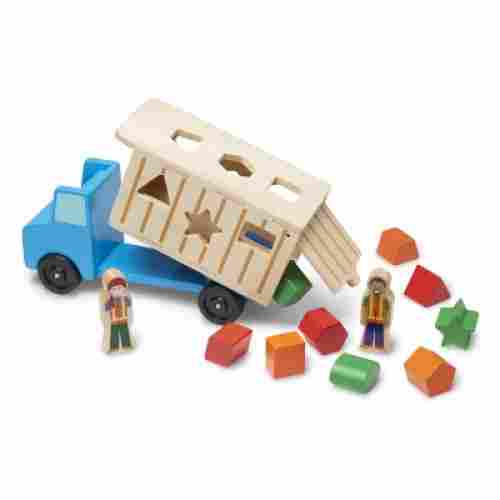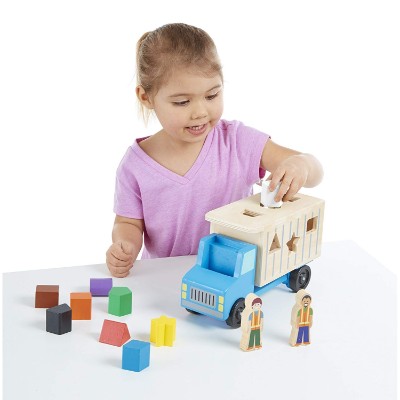 Educational
Helps with fine motor skills
Teaches shape and colors
Boosts imaginative play
Some customers received paint on the truck that was uneven
Melissa & Doug is one of the most popular brands in the industry today when it comes to wooden toys.
Read more
Educational Value
This shape sorter will not only grow with your child but will be beneficial to them as well as it will teach them shapes, colors, even counting. If you have an infant who's not quite ready to sort shapes yet but does like pushing trucks, this would even be perfect for them as well.
Materials
This truck is durable and made of high-quality craftsmanship. Your child will love sorting all of the shapes that come along with this educational toy. This truck will enhance your child's creativity skill, imaginative play, fine motor, and several other skills as well. It's the perfect gift for them!
Safety
We love this product because it's educational and safe. We wanted to make sure that we found something on our list that would be beneficial to your child.
8

. Manhattan Skwish Rattle and Teether
Crafted from dye-free and environmentally sustainable wood
Elastic and wood design allows the ball to flatten or bend before returning to its original shape
Encourages grasping and reaching
Beads slide along dowels for an all-in-one tactile/audible experience
The natural wood coloring may be uninteresting to some babies
Baby's arm can get stuck inside the ball and require adult assistance to remove it
Skwish it. Flatten it. Roll it. Chew it? The Manhattan Skwish Rattle and Teether ball is a classic wooden toy that has stood the test of time to become a favorite of parents and children for more than 30 years.
Read more
Educational Value
This wooden ball provides a unique tactile and audible play experience for your little one as they squish, shake, and slide it across the floor and through the air. The wooden beads make a pleasant clicking noise as they slide together that is reminiscent of wooden wind chimes. Being able to hear and see this rattle will encourage your little one to reach and grasp it, helping to develop important gross-motor control. The toxin-free and smooth surface of this rattle also makes it an excellent teether!
Materials
We love that this rattle and teether toy is made of sustainable wood! This is a great way to give your little one a toy that will stimulate their senses while still being environmentally conscious!
Safety
This wooden, environmental friendly toy has been crafted from all-natural wood sourced from sustainable forests to give your little one a toy that will outlast their attention because of its outstanding durability. A nontoxic water-based finish gives this ball a beautiful glossy shine and protects your baby's delicate skin from splinters. The Skwish features an ingenious design that combines elastic bands with wooden dowel rods and beads to create a ball that can be flattened, pulled, pushed, squished, and squashed without damage. It simply pops back to its original shape once released!
9

. Tegu Magnetic 14 Piece Block Set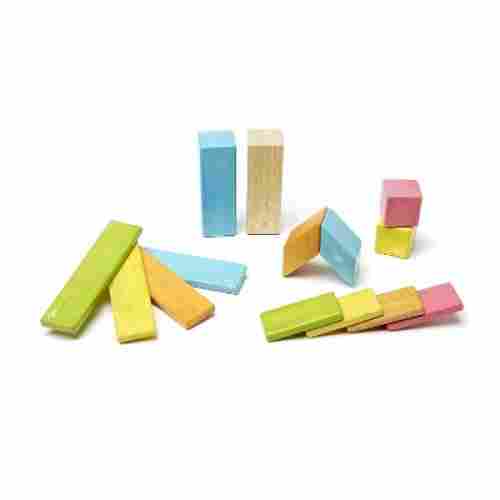 Composed of safe, non-toxic materials
Embedded magnets mean no small parts or choking hazards
Enhances fine motor skills, problem-solving, pattern recognition, and more
Fully compatible with all Tegu magnetic wooden sets
Smaller parts may not be suitable for younger children
Magnets located only on ends and can limit what can be built
Building blocks are an essential toy for every young child.
Read more
Educational Value
Toddlers are easily frustrated, from not being able to fully communicate their feelings to not quite having the hand dexterity to perform small tasks, there are a lot of ways that frustration can lead to tantrums throughout the day. This block set can alleviate some level of annoyance in your child as the magnetic pieces guarantee that they will be able to connect the pieces regardless of age or skill level. Furthermore, the blocks foster imagination and pretend play while helping build those ever-necessary motor skills.Your child can show off their color recognition skills as each block is brightly colored. Their problem solving skills will improve as they use their imagination and creativity to put the pieces together to form original creations. There is no limit to your child's creativity and the Tegu Magnetic Wooden Block Set is the perfect starting point for their building adventures.
Materials
This 14 piece block set is a great introduction to a huge line of magnetic wooden blocks. Smooth, durable, and child-safe construction along with the embedded magnet pieces mean you never have to worry if these blocks end up with a few teeth marks. With tons of additional sets available, this should become your child's go-to for wooden blocks.
Safety
Embedded magnets. Sustainable materials. Durable construction. Tons of add-ons for more creative play. Toss these in your diaper bag and you will never be left with a bored toddler again!
10

. Plan Toys Dancing Alligator
Won a prize for German Design
Fosters the development of gross motor skills
Makes noise upon movement
Manufactured to reduce waste
Made of non toxic materials
Contains small pieces that may present a choking hazard to younger children
A winner of the German Design Prize, the Dancing Alligator from Plan Toys is a pull-along toy that is composed of hinged segments that create a unique click-clack sound.
Read more
Educational Value
This plaything is excellent for beginning toddlers as they start to run about. The faster they pull on the Alligator, the more frantic the sound it creates. As such, it is a great way to help develop gross motor skills while at the same time help facilitate better coordination of the feet.
Materials
Everybody loves a pull-along toy, especially one that creates unique sounds that changes depending on your speed. It is also an excellent way to introduce toddlers to this type of animal and reinforce the color green and the round shape.
Safety
This adorable alligator will make a great companion for your toddler. This toy is made of non toxic and natural materials. You can have peace of mind knowing your child is being exposed to only the very best. This toy is versatile in fun and function. It provides support to your child as they master the art of balance.
Criteria Used for Evaluation
Educational Value
Whether it's the holiday season or you're just shopping to look for something more hands on for your children, finding the perfect gift can always be a struggle. We know most young children won't remember their first few holidays, but they will as they grow older. However, your child's earlier years are the most important when it comes to their development of cognitive abilities and the beginning of their physical development.
To help you with coming up with the top wooden play things for toddlers, we performed a very thorough research of all available products in the market today. We took into consideration the different aspects of toddler growth and development that these toys are designed to promote or encourage.
We made sure every product that comes on our list are of the highest quality. Additionally, we also looked into the different experiences of customers using the toys including sales data. Hopefully, you will find something that you know your own toddler will love.
Materials
Each wooden toy on our list are the best alternatives toys then plastic. These toys offer a more natural approach to your child while also having you worry less on if they're being exposed to any harmful chemicals. All wooden toys are 100% safe for your child to play with. They also offer several skills that's helpful in aiding brain development. Each activity is designed to help improve your child's hand eye coordination and fine motor skills.
Learning eventually becomes easier and easier for children the stronger their developmental skills become. These wooden toys provide early exposure to your children with shapes, letters, numbers and even colors. Your little one will have a jump start to understanding, the fundamentals of mathematics, science and language.
Safety
Toys can be made of plastic, metal, cloth, wood, or any other material. However, it is very important to choose a toy that is not only durable but also safe for your kids. And this is where wooden toys can come in. Wooden toys are safe because they don't contain any harmful chemicals like those found in plastic products. They are also durable and strong so they won't break or chip easily. Additionally, wooden toys can grow with your toddler so that even if he or she is already in grade school, your child can still pretty much enjoy the same wooden toys he or she played with in earlier years.
Most Important Criteria
(According to our experts opinion)
Experts Opinion
Editors Opinion
Users Opinion
By Default

Parents, Did You Know?
Wooden toys often facilitate more exploration of creativity and imagination. Free of electricity, flashy bells and whistles, and batteries, they ask children to truly engage in fun imaginative play.
Parents, Did You Know?
Wooden toys have been popular since the early 1900s! History credits Charles H. Pajeau and Robert Petit with their invention and introduction.
Other Factors to Consider
Sensory Stimulation
Finding the perfect toy that will help promote both cognitive and physical development isn't always an easy task. Parents often want to give their child a toy that is both engaging as well as educational. You also have to consider if your child will use this in the future or if it will just end up in storage completely forgotten about.
Frequently Asked Questions
q:

Are wooden toys safe for my child?

a:

Wooden toys are more durable than their plastic equivalents. They are also made of non-toxic and all-natural materials which make them safer than most plastic toys on the market.
q:

Do wooden toys provide educational benefits?

a:

While not all toys are designed with education in mind, all of the products included in our Top 10 list have been sourced with your child's development in mind and offer ample opportunities to learn through play.
q:

Are wooden toys safe to use around water?

a:

Each toy is unique so the best answer would be to defer to each individual manufacturer but typically wooden products are designed for indoor use as water absorption could result in cracking or splitting.
q:

How do wooden toys benefit my child compared to plastic ones?

a:

Wooden toys provide a plethora of benefits. They encourage interaction and are less distracting than the multitude of electronic gadgets on the market. They incorporate real-life skills that will help prepare your child for tasks they will need to perform as young adults. Finally, they are safer and more long-lasting than plastic.
q:

What milestone skills will these toys help my child develop?

a:

Wooden toys are perfect for enhancing fine-motor skills, cognitive development, color and shape recognition, hand-eye coordination, and pretend play.
q:

Are these toys eco-friendly?

a:

Most wooden toys are comprised of non-toxic materials and wood sourced from environmentally renewable resources.
q:

Is it easy to find replacement parts?

a:

Replacement parts are usually carried by the direct manufacturer of the product and are available through links to their return and policies pages. Whether or not a replacement part is available is up to the discretion of the manufacturer.
q:

Are wooden toys travel-safe?

a:

Many of the toys on this list are larger products not meant for your average trip to the grocery store, however, one of the major benefits of wooden toys is their durability so rest assured the toys that do end up making the trip are unlikely to crack or warp in the trunk.