Wooden toys have been around for hundreds of years, some say maybe even millions! The National Toy Hall of Fame has actually awarded the title "Oldest Toy in the World" to a wooden toy, a stick that dates back to the Neolithic era. It was believed that prehistoric children would use sticks and balls made of mud to play games akin to a form of baseball. There have even been wooden dolls found inside of Egyptian tombs! Wood was a readily available toy-making medium, easier to carve than stone and more durable than paper. It's easy to see that our fascination with wooden toys goes back really as far as toys themselves. In the modern age of lights, sounds, and batteries what do wooden toys really offer our children?
Most modern toys these days seem to be all about the largest amount of interactivity that a toymaker can fit into a single object. It can be a great thing to be able to give your child a toy that can play music and move and speak phrases in 12 languages but something is being lost when we play with these overly stimulating toys. We are slowly losing the art of play, the wellspring of imagination and creativity that comes from having to make something out of nothing.
Manipulating wooden toys is also a perfect way to build and strengthen your baby's growing hand and arm muscles. Grasping and reaching are effective gross-motor-control developers while more intricate pieces will challenge their fine-motor skills. Many wooden toys are also designed with minimal paints or finishes or specifically use toxin-free paints which makes them much safer than their more modern plastic equivalents.
Whether you are searching for a safer play option for your baby, have a desire for environmentally conscious toys, or just want to encourage your little one's developing creativity, we hope that one of our Top 10 Wooden Toys will be the perfect fit for you.
Our Top 3 Picks
M&D Deluxe Wooden ABC/123

Our rating
Word Recognition
Price:

See Here

Melissa & Doug Shape Sorting Cube

Our rating
12 Shapes
Price:

See Here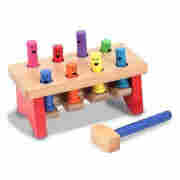 M&D Deluxe Pounding Bench

Our rating
Peeakaboo Design
Price:

See Here

Hape All Seasons Dollhouse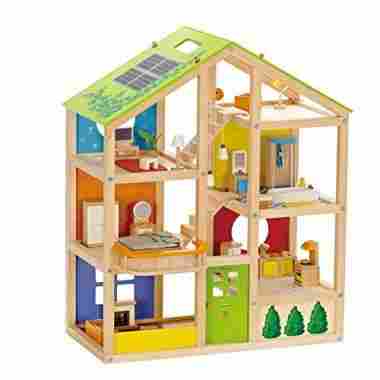 SainSmart Jr. Wooden Tetris Puzzle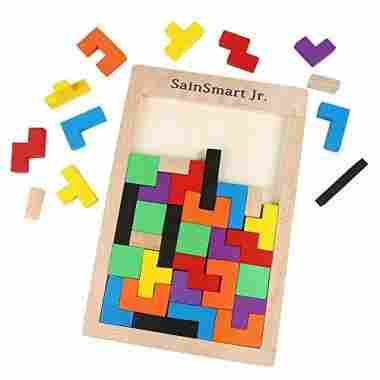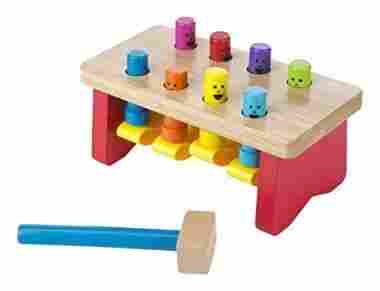 Geometric Stacker from Melissa & Doug
Solid Wood Project Workbench Play Set
Manhattan Skwish Rattle and Teether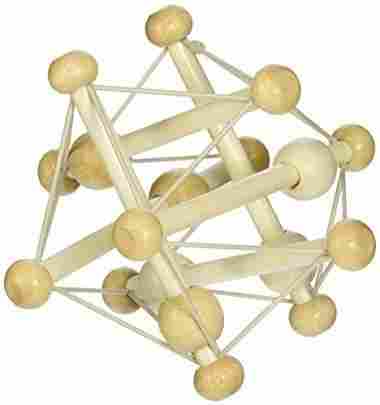 Plan Toys Dancing Alligator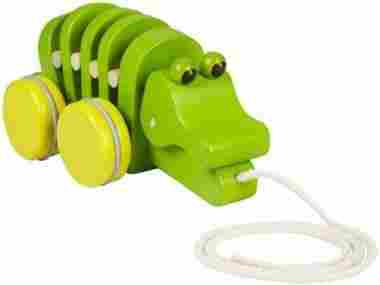 14 Piece Tegu Magnetic Wooden Block Set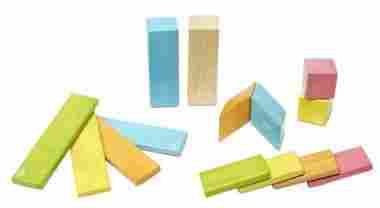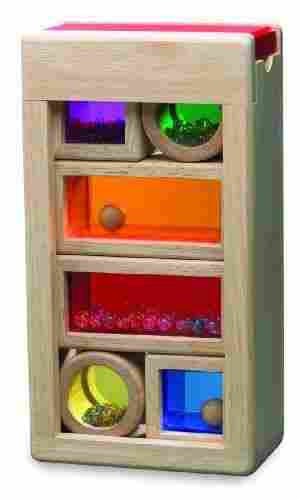 Car Carrier Truck and Cars Wooden Toy Set With 1 Truck and 4 Cars
These are the 10 best wooden toys for toddlers in 2018. We hope that we are able to provide you with an insight on what type of wooden toy you should get your toddler next.
Criteria Used in Evaluation of The Best Wooden Toys
Regardless of the time of year, there is always some kind of holiday right around the corner and finding the perfect gift is a feat most of us struggle to accomplish. The truth is, most young children won't remember their first few holidays as they grow older. This should take some of the pressure off as they really don't remember being disappointed. However, your child's early years are the most important for the development of cognitive abilities as well as the beginnings of the physical development as well.
This adds that stress right back on for you to locate a toy that is both engaging and provides the best educational benefits possible. On top of all that, you also have to consider that a lot of toys are still going to get the "mouth test" for a few more years so you want to make sure that your precious child is exposed only to the safest chemical compounds and eco-friendly products. Wooden toys are the best alternatives to plastic. They offer a natural approach to entertaining your child while also keeping harmful chemicals at bay and providing ample learning opportunities in an environmentally conscious way.
These wooden toys offer a number of skills helpful in aiding brain development. They feature activities designed to improve hand-eye coordination and fine-motor skills. In addition, they simultaneously introduce your child to a number of everyday concepts.
Improving fine-motor skills and finger dexterity activate the neurological pathways that stimulate healthy brain function. The pathways that are stimulated become strengthened and help improve memory.
Learning becomes easier for children the stronger these pathways become. These toys provide early exposure to shapes, letters, numbers, and colors. This, combined with a strengthened memory, is a powerful equation for success. You are sure to provide your little one with a jump start to understanding the fundamentals of mathematics, science and language. Using toys like these can help your child improve their logic and problem-solving skills. They can improve overall coordination and hand-eye coordination. These skills are essential to living a happy and healthy lifestyle.
These toys are an aesthetically pleasing way to introduce your child to a number of skills and lessons adept in promoting their development and providing them with hours of fun. These versatile toys not only provide your child with tons of educational opportunities, they also feature adorable kid-friendly designs. These cute and colorful wooden toys are beautifully crafted, purposed to engage and captivate your toddler. They are designed to harbor imagination and creative play. These products are durable and made of eco-friendly materials. In addition to this, there are no harsh chemicals.
What Determined the Best Wooden Toys

To help you with coming up with the top wooden play things for toddlers, we performed a very thorough research of all available products in the market today. We took into consideration the different aspects of toddler growth and development that these toys are designed to promote or encourage.
We made sure every product that comes on our list are of the highest quality. Additionally, we also looked into the different experiences of customers using the toys including sales data. Hopefully, you will find something that you know your own toddler will love.
The Value for Toddlers
Toys can be made of plastic, metal, cloth, wood, or any other material. However, it is very important to choose a toy that is not only durable but also safe for your kids. And this is where wooden toys can come in. Wooden toys are safe because they don't contain any harmful chemicals like those found in plastic products. They are also durable and strong so they won't break or chip easily. Additionally, wooden toys can grow with your toddler so that even if he or she is already in grade school, your child can still pretty much enjoy the same wooden toys he or she played with in earlier years.
FAQs
Frequently Asked Questions
Q: Are wooden toys safe for my child?
A.: Wooden toys are more durable than their plastic equivalents. They are also made of non-toxic and all-natural materials which make them safer than most plastic toys on the market.
Q: Do wooden toys provide educational benefits?
A: While not all toys are designed with education in mind, all of the products included in our Top 10 list have been sourced with your child's development in mind and offer ample opportunities to learn through play.
Q: Are wooden toys safe to use around water?
A: Each toy is unique so the best answer would be to defer to each individual manufacturer but typically wooden products are designed for indoor use as water absorption could result in cracking or splitting.
Q: How do wooden toys benefit my child compared to plastic ones?
A: Wooden toys provide a plethora of benefits. They encourage interaction and are less distracting than the multitude of electronic gadgets on the market. They incorporate real-life skills that will help prepare your child for tasks they will need to perform as young adults. Finally, they are safer and more long-lasting than plastic.
Q: What milestone skills will these toys help my child develop?
A: Wooden toys are perfect for enhancing fine-motor skills, cognitive development, color and shape recognition, hand-eye coordination, and pretend play.
Q: Are these toys eco-friendly?
A: Most wooden toys are comprised of non-toxic materials and wood sourced from environmentally renewable resources.
Q: Is it easy to find replacement parts?
A: Replacement parts are usually carried by the direct manufacturer of the product and are available through links to their return and policies pages. Whether or not a replacement part is available is up to the discretion of the manufacturer.
Q: Are wooden toys travel-safe?
A: Many of the toys on this list are larger products not meant for your average trip to the grocery store, however, one of the major benefits of wooden toys is their durability so rest assured the toys that do end up making the trip are unlikely to crack or warp in the trunk.