A lot of individuals find mathematics o be particularly difficult. It is thus, not surprising that some parents also find it challenging to teach their kids about math concepts. Learning numbers and math concepts are important among young children as it provides them with the much-needed skills in managing a lot of their daily activities when they grow up such as budgeting and money management. While teachers are in the best position to help kids understand fundamental math operations, it is up to us as parents to help provide for an environment that is conducive to enhancing the understanding and appreciation of such concepts. Good thing there are now a lot of toys and play things that are especially designed to help kids develop and master early math concepts. Here are the 15 top math toys for kids that parents the world over are now using to encourage their children to learn about these essential concepts.
Our Top 3 Picks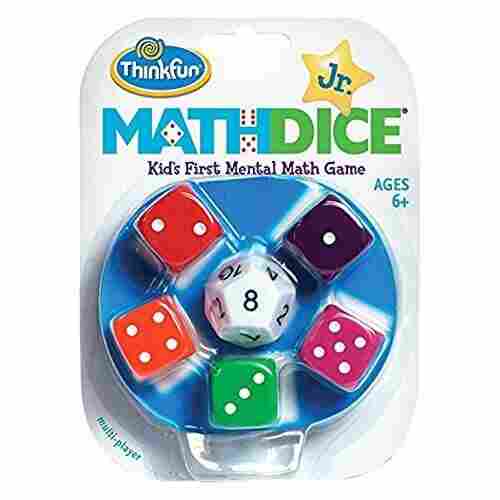 ThinkFun Math Dice

Our rating
Introduces Basic Math Concepts
Price:

See Here

Melissa & Doug Abacus

Our rating
Classic Math Learning Tool
Price:

See Here

Melissa & Doug Counting Caterpillar

Our rating
Perfect Counting Toy
Price:

See Here

Math Dice Jr. by ThinkFun
Learning Resources Sum Swamp Game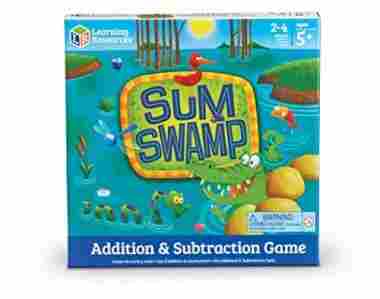 Wooden Number Magnets in A Box
Mathlink Cubes by Learning Resources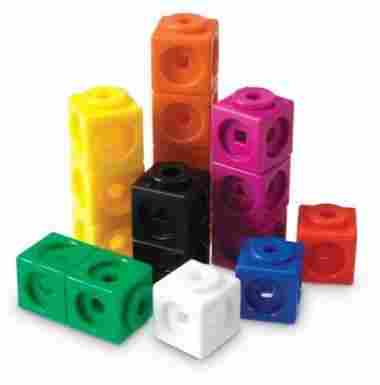 Transparent Color Counting Chips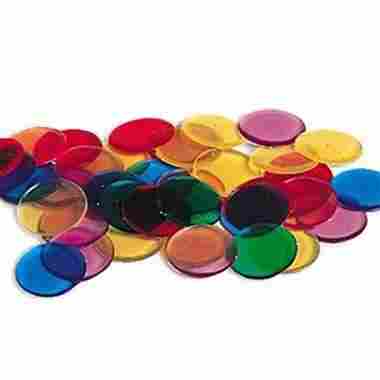 Rainbow Counting Bears with Matching Sorting Cups
The Learning Journey Match It!
Adding to 100 Game by Melon Rind
Fraction Tower Activity Set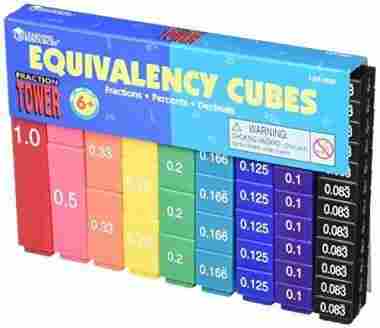 Think Fun Zingo 1-2-3 Bingo Game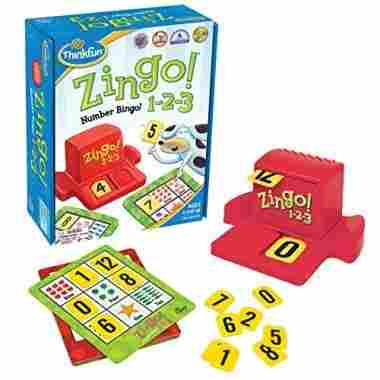 Stack & Count Parking Garage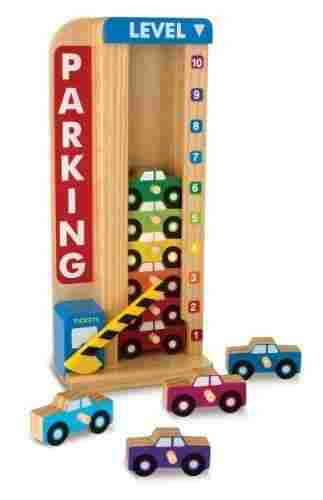 Criteria Used to Evaluate The Best Math Toys for Kids
It's a pretty common experience that most of us had a bad experience learning math as kids! What was the reason for that?! Typically, it was all theory and abstraction–written symbols on a page or a blackboard! Then, once we were outside, playing with toys, sorting things out or doing whatever, we got from our environment a different and practical understanding of what 2+2 was! This kind of split way of thinking was never fun, and, in a way kept many children handicapped into their adult years! This separation has kept a generation reliant on electronic calculators and now smartphones for the answers!
The key is that the learning was never fun, easy, or relaxing! It was never about just learning for the sake of itself! It might've always been tied to an end-goal! This is main missing ingredient that we wanted to add for our products! The consensus is that kids learn better and more easily when it's a game! Also, when they don't have to! Our toys are as spacious and interactive as possible.
Interactive, in regards to appealing to kids whose cognitive abilities might not be up to deeper abstractions. For these kids, we give them a more tactile platform on which to understand. These are also the best type of toys that can involve parents, guardians and teachers. The spaciousness of the toy involves giving it room to marinate in the subconscious and be learned more deeply–without pressure to learn, just coming naturally.
Basic Research
Math isn't as mystifying as a lot of us are made to feel that it is! Once this understanding, or misunderstanding, for adults has been cleared up, it becomes easier to make the most informed choice for children in how they develop mathematical skills, understanding and ability! Little is it known, but math is also closely tied to the development of children's dexterity and fine-motor skills. Once the brain develops an understanding of spatial orientation, it opens the door to more abstract awareness.
The pattern recognition of familiar shapes in the environment can be aided by parents that provide enough complex stimuli in the geometric toys and correlative number images. It's found that the best way is to let young children handle the objects that provide the stimulation and, if possible, give the additional bonus of a sound–such as a rattle, the click of an interlocking part, or any sound that might give a sense of completion.
FAQs
Frequently Asked Questions
Q: How can something like a dice game help my kid learn math?
A: It appeals to the all-important aspect of play! Once you can get your kid having fun, engaged and fascinated with something, that opens the door to explaining what the dots and symbols represent. With time, it gets into the muscle memory and subconscious of the child! First, be the example by taking a few rolls and showing how it's done, explaining the numbers as you go along.
Your child will mirror this. Then, count off the numbers, so they will eventually develop a pattern of recognition. With time, you will begin to be able to drill them with each roll of the dice, as they learn to call out the numbers as they see them!
Q: Isn't an abacus a little too complicated for a child?
A: You would be surprised at how easily kids can pick up on tools like that! Much of the confusion around an abacus is in trying to calculate large financial projects and accounts on one! For some reason there's the still fantasy of how all of Ancient Egypt and the Roman Empires were built and accounted for through the use of an abacus!
While we can't know any of that for sure, we definitely know that for the last 200 years it has not been the case! The use of the abacus for your child should simply take accounts and objects line for line on the frame of whatever is being counted. Also, it is meant to have the secondary purpose of giving your child sensory stimulus by gripping the bead and making the activity of counting a palpable experience.
Q: How does something like the car stacking toy help with math?
A: It lays a very basic and general foundation. It helps in keeping learning fun and gives an easy and stress-free way of relating to numbers quite subtly. Most kids like a sense of accomplishment and progression.
The car stacking activity presents this first and foremost. With the small knobs that your child will have to handle, already their neural pathways are being prepared deeper abstractions. This sense of building, stacking up, progression and the correlative colored numbers to the toy cars, all conspire to give your child an unforgettable lesson in math!
Q: Is it a good idea to introduce kids to math by counting money at this early of an age?
A: We say the earlier the better! It is probably the most practical benefit that they will get out math as they grow up, no matter who they are or what they become!
They will obviously mirror you and other adults in their environment, so they've already seen you handle money at the store or the ATM. Why not encourage them? We want each generation to be as savvy as possible! Savvier than the one preceding!
Q: Many of these toys are very concise, what are some creative ways to branch out with them?
A: Quite a few of the manufacturers offer complementary sets or accessories that you can use along with whatever set you purchase. Also, something like the Counting Cookies Jar can possibly be combined with the Clumsy Thief game and the Stacking Cars! It's all up to you and whatever storyline you want to create! This is the best part about interactive game–that the entire family can join in on!
Q: Is it common for many math toys to also be choking hazards?
A: Unfortunately, there is some inherent risk when dealing with small parts that develop manual dexterity and motor skills in children. The nature of these tools is about helping to facilitate discernment and differentiation. With the activities of building, stacking, sorting and separating, there will be small parts for small hands to handle. This is why with all of our products we strongly encourage continual adult supervision and participation.