10 Best Math Toys for Kids to Consider in 2019
last updated
Jun 19, 2019
Do you ever wish Math was more fun and games? We have too, and we know most kids out there feel the same. That's why we've collected ten of the best toys and games on the market, all centered around helping to improve math skills. We've gathered an array of options appropriate for many different ages. Whether your toddler is just starting to learn their numbers, or you have a little one in grade school working their way through basic addition, subtraction, multiplication, and division, we know that the best way to help kids learn is by also encouraging them to have fun. We think these toys and games do just that, and we hope your family agrees!
In a Hurry? The test winner after 27 hrs of research
Math Dice Jr. by ThinkFun
Why is it better?
Good educational tool that can be used with preschoolers
Extremely portable item thanks to the go-to bag and foldable nylon scoreboard
Can be made competitive with more than one player
Helps children learn math through visualization and counting out loud
There is both a longer and more abbreviated version of the game
In a
Hurry? Editors choice:
Test Winner: Math Dice Jr. by ThinkFun
25
Researched Sources
27
Hours Researching
15
Products Evaluated
Entertainment Value
Educational Value
Ease of Use
Effectiveness
By Default
10 Best Math Toys Reviewed
1

. Math Dice Jr. by ThinkFun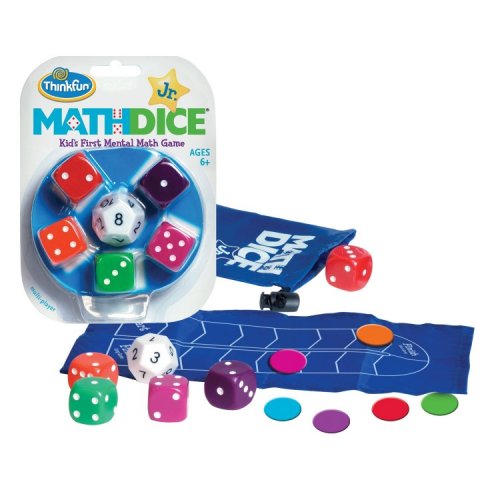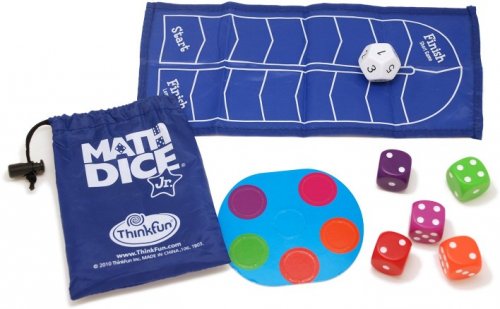 Good educational tool that can be used with preschoolers
Extremely portable item thanks to the go-to bag and foldable nylon scoreboard
Can be made competitive with more than one player
Helps children learn math through visualization and counting out loud
There is both a longer and more abbreviated version of the game
Dice can be too large for children's hands
Nylon gameboard gets crumpled, stays wrinkled and hard to keep smooth for play
With very simple gameplay, the Math Dice, Jr. makes for a fun way for kids to practice doing addition and subtraction in their minds. This helps reinforce beginning concepts in mathematics while fostering healthy social relationships.
Read more
Entertainment Value
Learning is fun when you turn it into a game. These 6 sided dice are designed to promote mathematical skills. Whether they are just learning to add or doing more complex equations these dice are loved by everyone. The set comes with one 12 sided dice, five 6 sided dice, a scoring pad, instructions for the game, and a carrying bag for it all
Educational Value
Best way to teach kids math by means of visualization!  Counting is a made a game with the tracker that's similar to a hopscotch diagram or a tic-tac-toe square.  Once the dots add up on the die that has been rolled, either advances forward or back!  It's that simple!  It all becomes ingrained by saying it, then counting it out.  Since the dice are brightly colored, as well, kids will be naturally drawn to them and remain engaged.
Ease of Use
It is easy to learn and the instructions included are super easy to follow, making it fun to set up and play. These are a great play to strengthen anyone's math game.
Effectiveness
Dice are a great way for your child to practice addition and subtraction. This math dice if set comes with little tiny buttons as well. This is a great way for your little one to learn to count if they are struggling. Parents will be able to help teach their child all kinds of counting techniques by creating fun games for their child to learn with.
2

. Abacus by Melissa & Doug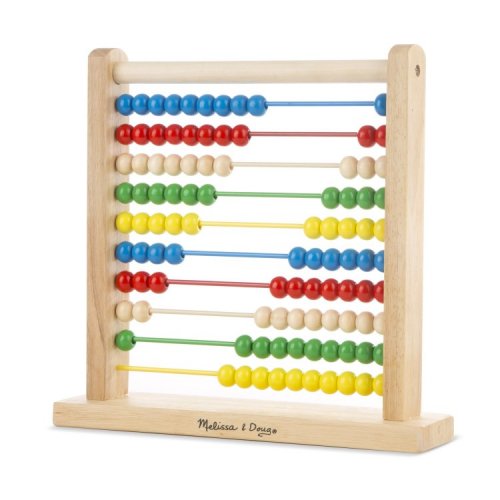 Traditional method of developing fine motor skills, sorting and counting
Brings into play colorful visual associations with numerals
Activity suggestions are included with the abacus kit
Good educational tool for classroom and special needs children
The thick wooden beads forms and enhances a tactile experience with mathematic concepts
Product may be smaller than pictured
Has some sharp corners that may cause injury
Melissa & Douglas Abacus is a great tool for teaching kids about basic math operations to develop their numeracy skills while serving to enhance color appreciation and fine motor skills.
Read more
Entertainment Value
The abacus is the oldest calculator in the world, able to provide instant and accurate calculations for many purposes. Children will find the Melissa & Doug Abacus to be particularly appealing since it simplifies counting and basic math operations with its color-coded beads.
Educational Value
The use of the abacus goes for thousands of years!  We know of its effectiveness, even if most of us have no clue how to use one!  People couldn't have been all wrong before the invention of the digital calculator or the I-phone!  This will give your kid a headstart in developing his or her own intelligence when it comes to issues of reason and logic.  They can develop an association of numbers and figures with easy to remember colors; and, it will also bring awareness to the task of sorting.
Ease of Use
Made of high-quality wood, the M&D Abacus can easily stand on a flat surface or conveniently held by your kid.
Effectiveness
An abacus is a great way for your child to learn about patterns, counting, fruits, and even their colors. As your child grows older it's also a wonderfully easy way for them to learn multiplication, division, addition, and subtraction. This is a perfect device for little hands and it's also a great way for your child to enhance their fine motor skills.
3

. Learning Resources Sum Swamp
Four cute swamp creature playing pieces
Beautiful, artistic gameboard
Easy to follow rules and gameplay
Works basic mathematical and numerical skills
Great for young kids
New boardgame design makes it difficult to win/reach the end
It's a cute way to keep kids' minds and math skills sharp. The game is bright and easy to play. (If you have the new version and have trouble exiting the loop, try doing like another player and ignoring the "land exactly on the last space" rule. It shortens the game considerably, but that's for the best when playing with especially young ones.)
Read more
Entertainment Value
Trek through the Sum Swamp to improve your math skills all while having fun! Choose from one of four cute, colorful game pieces, all modeled after swamp creatures. Players then journey through the swamp, using their math skills to guide them. Funny swamp creatures keep kids laughing, math challenges test their proficiency, and shortcuts make it a mystery who will win in any given round.
Educational Value
This game is kooky, but easy to play, and builds upon basic math functions and numerical skills. Young children will still be able to enjoy it, making it a solid tool for kids working their way through different math lessons in kindergarten and beyond.
Ease of Use
This set includes the game board, four game pieces, two number dice, and an operational dice (to determine what mathematical function players must perform). Sum Swamp is the winner of six awards, and ideal for two to four players ages five and up. Learning Resources is a company that prides itself on making academia fun, and not letting kids get bogged down in boring, standard educational practices, and Sum Swamp is a wonderful testimony to their success.
Effectiveness
A fun way to learn math is through a board game. This game is great for children ages 5 and up so that they'll be able to easily understand the instructions that the game comes with. It's ideally for 2 or 4 players. This board game will help teach your children the basics of math while having endless amounts of fun as well.
4

. Wooden Number Magnets in A Box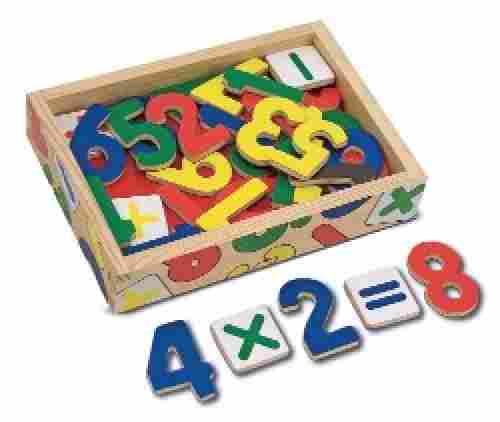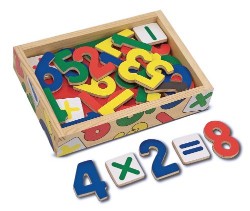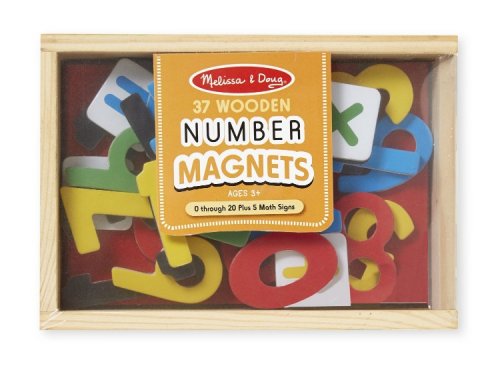 Easy to snap cutouts that lock until disassembled
Is a more interactive alternative to being shown or taught math by an adult
Brightly colored numerals will keep children engaged
Strengthens analytic and problem solving abilities
Numbers are large enough for children to keep a firm grasp on
Magnetic board is not included
The Wooden Number Magnets provide an easy solution to practicing basic math operations without the need for whiteboards or even paper. It's also helpful in refining kids' fine motor skills.
Read more
Entertainment Value
Math operations are very important concepts that all kids need to learn as much as possible. With Melissa & Doug's 37 Wooden Number Magnets in a Box, this is now made even more fun.
Educational Value
This is the best interactive learning tool for math that you can buy for your child!  Some kids are better at being shown, some are better at writing things out.  While both are beneficial, this can give them some more solid and tangible to work with, similar to using building blocks for construction.  You build up the problem to be solved, so to speak!  Melissa & Doug's have made simple, traditional, and durable toys like this for 25 years that help strengthen the motor skills and analytic abilities of children; the product can turn math into something wondrous and a subject for imaginative play!
Ease of Use
The package comes with math operators and the numbers 0 to 20, all made with high quality wood and embedded with superior-sticking magnets. The wooden figures are also generously-sized for children's smaller hands.
Effectiveness
Magnets are a wonderful hands-on approach for your children to learn effectively. Your child will be able to create and see their math problems on a magnetic board which might be perfect if your little one is struggling with math equations.
5

. Mathlink Cubes by Learning Resources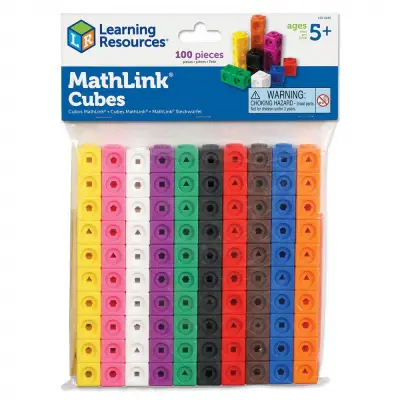 Offers a variety of ways to play
Easily snap together
Three-quarter inch cubes fit perfectly in the hands of small children
Your child can continue to use them as their math skills advance
Plastic absorbs odors very easily
Interlocking parts can be hard to snap into place
These math cubes provide tons of great benefits. They fit perfectly in the tiny hands and can easily be snapped together, which makes it easy for children to play independently. The cubes can be used as your child advances in math by changing how much each cube represents.
Read more
Entertainment Value
If LEGO had a big uniblock, this would be what the Mathlink Cubes are. Kids will first love the building brick-like interlocking design of the Mathlink Cubes before they will begin appreciating its true value in counting and clustering them into groups.
Educational Value
The cubes offer a variety of developmentally appropriate ways to play. Your child can improve their color-recognition skills by counting, stacking and sorting certain colored blocks. The blocks can grow with your child's math skills as each block can represent the ones, fives, tens, etc. Your little one will grow more familiar with geometric shapes as each block has a different cut-out shape on each of its sides. The pieces easily snap together so your little one will have no trouble playing independently. Measuring in at ¾ inches, they are the perfect size for tiny hands.
Ease of Use
The unique design of the cubes allows for interlocking on all six sides. What's more, each cube comes with geometric shape cutouts for additional patterning activities.
Effectiveness
Link cubes is also a way for your child to learn about shapes. These cubes will help your child count to 100 with different number groups like ones, fives and tens. This is a way for your child to learn different math skills at an easier approach. The sides of the cubes also have shapes which are a great way for your child to learn about geometry. This set is great for children ages 5 and up.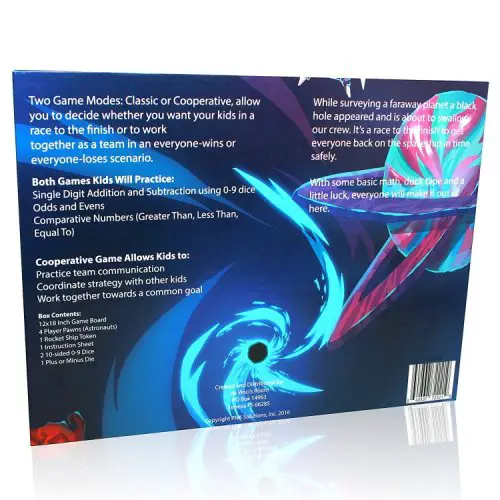 Two to four players
Great for a wide age range (ages five and up)
Competition and Co-operation rule sets
Teaches basic math skills
Multiple difficulty levels to choose from
Could use a little more humor or nuance to keep parents engaged
Dice are oddly shaped to support nine sides, and so roll a little strangely
This game is simple, straight-forward, and fun. It says five and up, but realistically, some younger children could play with a little help. Also, the space theme makes it extra cool and causes it to stand out in a sea of humdrum math board games.
Read more
Entertainment Value
This game is out of this world! To start out with, we find your team deep in space, looking for space crystals, when suddenly the planet they're mining begins to break apart. Players have to use their math skills to escape the planet and get home safely. With three specialty dice, players add and subtract numbers 0-9 to make it back to their getaway ship. This game also helps children to understand and assign numerical values (greater than, less than, equal to, etc.), and to learn their odd and even numbers.
Educational Value
Children often learn best through repetition and interactive play. This game allows kids to drill basic math principles while trying to save themselves from certain space-centric doom. It can be played competitively or co-operatively, and it has several levels of difficulty so kids can keep playing even as their skills expand.
Ease of Use
You can decide whether you want to play in classic or co=op style, with rules that let your kids compete in a race to the finish line, or work together towards a common objective. The co-operative play includes three difficulty levels so that children won't outgrow the challenges of this game too quickly. Recommended for two to four players ages five and up, Sums in Space is an inter-galactic romp through important academic skills!
Effectiveness
Another board game that will help your children with addition and subtraction. Your child will also learn numbers that are less than, equal to and greater than. This board game will even be able to teach your child about odds and evens as well. This game has two different versions for your children to play. There's a classic version and a co-op version. This game is great for 2-4 players and for children ages 5 and up.
7

. Rainbow Counting Bears with Matching Sorting Cups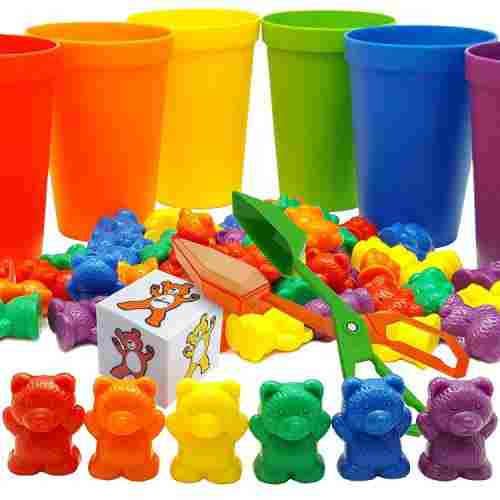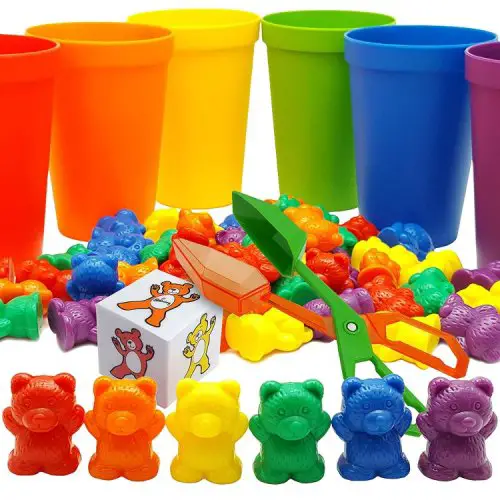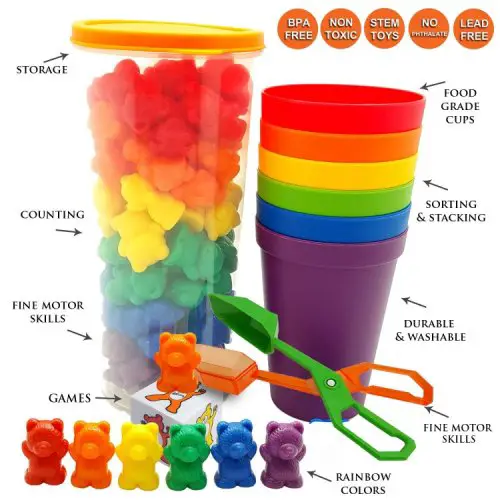 Pieces are durable and nontoxic
Encourages your child to use their creativity and develop their own way to play
Increases fine-motor skills, hand-eye coordination, and color recognition
The 60 adorable bears will get your child excited to count, stack, and sort.
Requires adult supervision as the pieces could pose as a choking hazard
Not only are these brightly colored bears super cute but they are also safe as they are non-toxic and BPA-free. While they are great for improving counting skills, they can be used in a variety of different ways. Your child is encouraged to get creative and develop their own way to play.
Read more
Entertainment Value
It's very rare to meet a kid who doesn't like teddy bears. And it's for this reason that Skoolzy's Rainbow Counting Bears make a great tool for teaching math concepts to kids since it uses something that they love and adore.
Educational Value
These adorable kid-friendly bears will not only have your child excited to play but they will also stimulate your child's creativity and allow them to develop a variety of ways to play. They can increase their color-recognition and counting skills as they put the colored bears in their corresponding cups. Gripping the bears, cups, and dice will improve their fine-motor skills and hand-eye coordination. Provide a challenge and encourage your child to count by twos, fours, or even fives. All of the pieces in this set are composed of a durable plastic that is non-toxic and free of BPA, lead, and phthalates.
Ease of Use
The miniature teddy bears come in six colors accompanied by matching sorting cups. The set comes with its own container for easy storage.
Effectiveness
These sorting bears are great for toddlers to start learning how to count. Not only will these rainbow bears help enhance your child's fine motor skills, but they'll also encourage your child t sort and teach them their colors. This is a great memory game for toddlers to play with as well.
Great game for boosting memory (cognitive) developmental skills
Aids in memorization of the equations
Encourages tactile learners and strengthens hand-eye coordination
Good educational classroom tool for preschool and occupational therapy
Can be used in "brain exercise" games where performance is timed
Pictures on cards can be confusing for children just learning their letters
Could have an extra string to criss-cross and solve more than one math problem
The Multiplication Keys are a handy tool for encouraging kids to test their mathematics abilities while allowing them to gain mastery of the basics of multiplication.
Read more
Entertainment Value
In an exciting twist of training and testing your kid's multiplication skills, the Learning Wrap-Ups Multiplication Keys offer a really fun and unique way of mastering this particular math operation.
Educational Value
This is one of the best ways for tactile and kinesthetic learners to understand math!  The weaving design makes it a great utility for fine motor skills and hand-eye coordination!  Not only this, it can prepare your child for handiwork that they might get into, such as arts and crafts!  It's also an easy visual way for parents to demonstrate the principles of math and their application.
Ease of Use
Factors on one side and products on the other are elegantly printed on each of these 10 plastic keys. Kids wound up a string from the factor side and connect it to the product on the other side.
Effectiveness
These keys are here to help your child with their multiplication. They do feature 6 different styles of math keys that parents can choose from for whatever subject their little one might be having difficulty with. This key will help teach your child over 120 different multiplication equations.
9

. The Learning Journey Match It!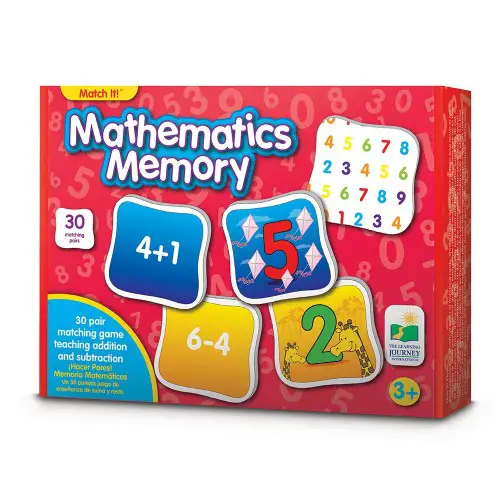 Pieces are very bright and colorful
Teaches addition and subtraction
It's usually fairly quick for kids to grasp the concept of this game
Great gift for kids aged 3-7
Kids may have a hard time staying interested in the game
if you're into a fair amount of organization then this is the setup for your family. Easy to put away and take out again; this game comes organized very well right out of the box.
Read more
Entertainment Value
Help your kid learn the basics of mathematics in a fun and bright way. The game is super stimulating as it asks the players to find the matches and then the card to complete the equation. With bright colors on the pieces, they make up a game that will not only help with math.
Educational Value
Most kids have played a matching game at least once in their lifetime. It's easy to introduce one new thing but multiple concepts at once prove to a bit more difficult. It's great that kids are already familiar with matching games.
Ease of Use
This game also helps develop memory, subtraction and addition are also what this game focuses on. You will have a great time playing this with your child or your kid and his friend can sit down for a round and have a blast challenging their minds.
Effectiveness
This counting game is a great puzzle for your child to learn which number comes next. It's a great puzzle for parents to purchase for their children if they are just starting out in school and for them to get ahead of the game. This puzzle will also help your child's motor skills as they'll have to pick up and grasp each place card.
10

. Clumsy Thief by Melon Rind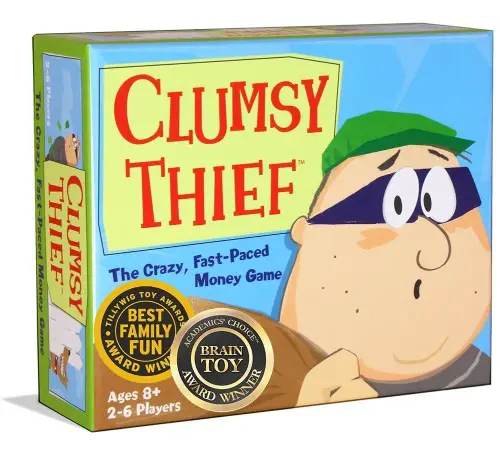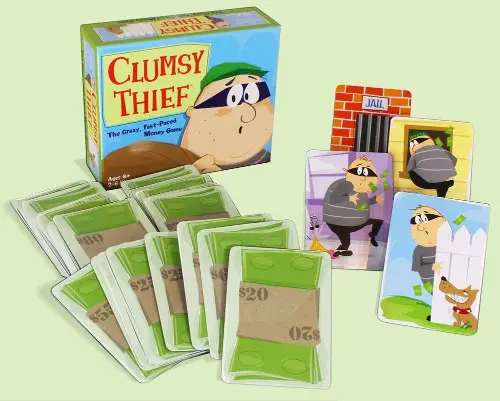 Introduction to the basics of finance
Develops an understanding in strategic and consequential thinking
Fun and humorous graphics on cards will keep kids engaged
Requires quick thinking and timed reaction
Encourages family bonding time
Cards may be smaller than pictured or describedGame can be boring for older children
It's a very entertaining and pretty hilarious way to stimulate children's strategic thinking while building their basic math skills.
Read more
Entertainment Value
You can always add fun to learning math by turning it into a game. With the Clumsy Thief, you get three different types of cards that you, your kid, and the rest of the family will have to use wisely.
Educational Value
This is one of the more fun and creative ways to teach math!  Because, what better way to understand it than through finance!?  When numbers are given the value to stuff -- which even a child can understand -- it takes on an entirely different meaning and perspective! It helps kids in developing strategic thinking, understanding consequence, and assessing the real value of things. The graphics on the cards are cute and dynamic to keep everyone engaged, smiling and rolling with laughter!
Ease of Use
Rack up the money to 100 and win the game. However, you'd have to be especially vigilant with Thief cards as these can cart away with your savings. Good thing there are Jail cards, too.
Effectiveness
Clumsy thief is another board game for children to enjoy. This is a great way to get your child excited about math, equations, and counting. This game ideally is great for 3 – 6 players and great for children ages 8 and up. This game will help your child learn how to count money as the object of the goal is to get to $100
Criteria Used for Evaluation
Entertainment Value
The key is that the learning was never fun, easy, or relaxing!  It was never about just learning for the sake of itself!  It might've always been tied to an end-goal!  This is main missing ingredient that we wanted to add for our products!  The consensus is that kids learn better and more easily when it's a game!  Also, when they don't have to!  Our toys are as spacious and interactive as possible.
Educational Value
Interactive, in regards to appealing to kids whose cognitive abilities might not be up to deeper abstractions.  For these kids, we give them a more tactile platform on which to understand.  These are also the best type of toys that can involve parents, guardians and teachers.  The spaciousness of the toy involves giving it room to marinate in the subconscious and be learned more deeply--without pressure to learn, just coming naturally.
Ease of Use
You would be surprised at how easily kids can pick up on tools like an abacus!  Much of the confusion around an abacus is in trying to calculate large financial projects and accounts on one!  For some reason there's the still fantasy of how all of Ancient Egypt and the Roman Empires were built and accounted for through the use of an abacus!While we can't know any of that for sure, we definitely know that for the last 200 years it has not been the case! The use of the abacus for your child should simply take accounts and objects line for line on the frame of whatever is being counted. Also, it is meant to have the secondary purpose of giving your child sensory stimulus by gripping the bead and making the activity of counting a palpable experience.

Effectiveness
If your little one is having trouble with math, having toys that can help them add, subtract, multiply and divide is a great way for your child to learn creatively and efficiently. All of the toys on our top ten list are wonderful tools for parents to use to help your child count and think a little differently if they're having some difficulty learning. This is a great way for your child to also get excited about math and learning. Having a hands-on approach to a subject that your child might be struggling with is a wonderful educational tool for parents to have at home as they'll be able to effectively see the problem they are trying to solve.
Most Important Criteria
(According to our experts opinion)
Experts Opinion
Editors Opinion
Users Opinion
By Default

Parents, did you know?
Math isn't as mystifying as a lot of us are made to feel that it is!  Once this understanding, or misunderstanding, for adults has been cleared up, it becomes easier to make the most informed choice for children in how they develop mathematical skills, understanding and ability!  Little is it known, but math is also closely tied to the development of children's dexterity and fine-motor skills.  Once the brain develops an understanding of spatial orientation, it opens the door to more abstract awareness.
Parents, did you know?
The pattern recognition of familiar shapes in the environment can be aided by parents that provide enough complex stimuli in the geometric toys and correlative number images
Parents, did you know?
 It's found that the best way is to let young children handle the objects that provide the stimulation and, if possible, give the additional bonus of a sound--such as a rattle, the click of an interlocking part, or any sound that might give a sense of completion.
Other Factors to Consider
Materials
Our panel of experts wants to make sure that only the best toys with the safest ratings make our lists. The toys with the safest designs that were constructed of solid materials used safe plastics and woods are listed.
Safety
Safety is another area that we had to concern ourselves of. Some products required the use of batteries and as such it was imperative for us to ascertain electrical safety. The materials used in the construction or manufacture of the product were also evaluated. Most of these are made of plastic. It is crucial to ascertain that these do not contain physiologically harmful substances such as phthalates, PVC, or even BPA. This is especially true if the child who is going to play with it still has the tendency to put everything held by his or her hands straight into the mouth.
Frequently Asked Questions
q:

How can something like a dice game help my kid learn math?

a:

It appeals to the all-important aspect of play! Once you can get your kid having fun, engaged and fascinated with something, that opens the door to explaining what the dots and symbols represent. With time, it gets into the muscle memory and subconscious of the child! First, be the example by taking a few rolls and showing how it's done, explaining the numbers as you go along.

Your child will mirror this. Then, count off the numbers, so they will eventually develop a pattern of recognition.  With time, you will begin to be able to drill them with each roll of the dice, as they learn to call out the numbers as they see them!
q:

How does something like the car stacking toy help with math?

a:

It lays a very basic and general foundation. It helps in keeping learning fun and gives an easy and stress-free way of relating to numbers quite subtly. Most kids like a sense of accomplishment and progression.

The car stacking activity presents this first and foremost. With the small knobs that your child will have to handle, already their neural pathways are being prepared deeper abstractions. This sense of building, stacking up, progression and the correlative colored numbers to the toy cars, all conspire to give your child an unforgettable lesson in math!
q:

Is it a good idea to introduce kids to math by counting money at this early of an age?

a:

We say the earlier the better! It is probably the most practical benefit that they will get out math as they grow up, no matter who they are or what they become!

They will obviously mirror you and other adults in their environment, so they've already seen you handle money at the store or the ATM. Why not encourage them? We want each generation to be as savvy as possible! Savvier than the one preceding!
q:

Many of these toys are very concise, what are some creative ways to branch out with them?

a:

Quite a few of the manufacturers offer complementary sets or accessories that you can use along with whatever set you purchase. Also, something like the Counting Cookies Jar can possibly be combined with the Clumsy Thief game and the Stacking Cars!  It's all up to you and whatever storyline you want to create!  This is the best part about interactive game--that the entire family can join in on!
q:

Is it common for many math toys to also be choking hazards?

a:

Unfortunately, there is some inherent risk when dealing with small parts that develop manual dexterity and motor skills in children. The nature of these tools is about helping to facilitate discernment and differentiation. With the activities of building, stacking, sorting and separating, there will be small parts for small hands to handle. This is why with all of our products we strongly encourage continual adult supervision and participation.