10 Best Kids Educational & Learning Books Reviewed in 2019
last updated
Sep 25, 2019
We know that getting your child to read isn't always easy to do. Parents often want to give their child something that's not only beneficial and educational as well. Reading can be so beneficial to your child as you can provide them with brightly colored books or with books that have textures to help with sensory, by doing this it will help not only encourage learning for your children but will also give them a love for reading as well. Researches also show that by reading or talking to your children at a young age is extremely important for their language and developmental skills. When you read to your little one as young as they are in a newborn stage it will help your child learn how to speak, read and even socialize as they grow older.
In a Hurry? The test winner after 22 hrs of research
My Book of Easy Mazes
Why is it better?
Develops fine motor skills
Designed for ages 2-4
Builds tracing skills and confidence before moving on to letter or number tracing
Encourages critical thinking and reasoning skills
In a
Hurry? Editors choice:
Test Winner: My Book of Easy Mazes
25
Researched Sources
22
Hours Researching
15
Products Evaluated
Effectiveness
Age Range
Educational Value
By Default
10 Best Educational Books Reviewed
Develops fine motor skills
Designed for ages 2-4
Builds tracing skills and confidence before moving on to letter or number tracing
Encourages critical thinking and reasoning skills
Simplistic maze format may quickly become boring for older children
The spine of the book is thick and pages may not lay flat
Children will get lost in this fun book of mazes! Meant for ages 2-4, it offers traceable mazes that work as a building block between Kumon's My Book of Tracing and My First Book of Mazes. Kids will love trying to find their way through the colorful, winding challenges. Great for promoting fine motor skills and establishing greater confidence, parents love the educational benefits of this book too! And if you have a little one in a maze craze, you can remove the pages and laminate them to allow them to work on these pages over and over again!
Read more
Effectiveness
Kumon's My Book of Easy Mazes is a charming paperback maze book that can introduce the concept of tracing and following a pattern to your toddler before they may be ready for more advanced concepts. This book is filled with a massive 80 pages of incrementally more challenging mazes in all sorts of entertaining shapes such as mermaids and stars.
Age Range
This tracing workbook utilizes the 'Kumon Method' of teaching which introduces learning concepts in a step-by-step approach, allowing your child to learn at their own pace in anxiety and frustration-free way. By starting off with simple mazes before introducing more complex tracing concepts such as letters or numbers, your little one can develop their fine motor skills and gain confidence in their writing and drawing abilities. This way, once they are ready to progress to the next level of challenge, they can focus more on learning the alphabet in letters tracing activity rather than on the act of tracing. This can also help motivate your child into performing this activity on their own which is a great pre-preschool stepping stone
Educational Value
The wide paths are designed to help your little practice drawing more sophisticated lines, angles, and curves regardless of their chosen writing implement. Many reviewers recommend using lamination or binder sheet covers to turn these maps into reusable wipe-off surfaces that will allow your child to practice drawing over and over again. Since each maze requires a bit of explanation in order for your child to understand how to avoid walls and make it to the end of the maze, it can help encourage critical thinking skills as well as familial bonding.
2

. Piano-K. Self-Teaching Piano Game
Fun game teaches beginner piano players to play
No prior experience with music necessary
Includes colorful workbook pages and stickers for piano keys
The captivating format encourages kids to practice
Teaches popular songs children to recognize by ear
Some parents reported that stickers for piano keys do not stick well
This has extremely high ratings and numerous positive reviews from parents, proving this workbook to be a successful tool in introducing children to play the piano. There are many piano lesson workbooks on the market, but this one is unique in that it incorporates a fun game which keeps children attentive and excited. As this is the first book in a 3-part series, it provides the opportunity for your child to continue learning with the more advanced levels of the same program.
Read more
Effectiveness
This piano workbook is the first level of a wildly successful, 3-book series that utilizes a game in which young kids can begin to teach themselves piano. This is the perfect introductory book for your child to learn the piano as it is fun and easy regardless of prior musical experience. Piano-K includes colorful stickers to label keyboard or piano keys that match the notes in the exercise book.
Age Range
Advanced children as young as three have begun to learn piano with this workbook, but it is appropriate for aspiring piano players up to the fifth grade. Young children will have fun while learning a new skill, which is important in encouraging them to follow through and continue learning. Music is universally enjoyed and celebrated by humans, regardless of culture, society, spoken language, or geographic location. Your child will thank you later on for introducing them to the piano at a young age… and this book is the perfect first step! All you need is this book and a keyboard or piano, and your child will be ready to play.
Educational Value
Piano-K utilizes a game format in which your child will be able to begin teaching themselves the foundation of playing piano and reading music. Learning piano with a program such as Piano-K assists children in the development of coordination and motor skills, creativity, rhythm, perseverance, and even provides emotional and mental benefits. Some studies show that children who learn the piano do better in school! Because Piano-K incorporates a fun game with colorful symbols and familiar songs, your child will have fun learning and practicing. As your child progresses and finds themselves playing songs successfully, they will experience a boost in self-confidence and be encouraged to continue on their musical journey.
3

. Trace Numbers Ages 3-5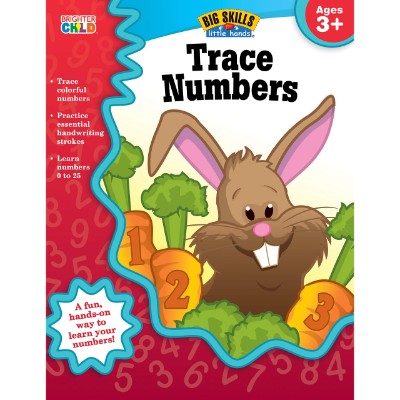 Helps develop fine motor skills
Provides a hands-on development of handwriting skills
Builds self-esteem
Increases academic readiness and confidence
Does not provide blank space for additional practice
Not enough pages for significant practice
Brighter Child's Tracing Numbers Workbook allows young children to practice tracing numbers 0-25. They'll learn proper technique for holding their crayon or pencil and explore fun activities along the way! This cute little workbook is guided by friendly animals, cityscapes, and colorful pictures. There's not much room for repetition though, so plan accordingly if you want to reuse the pages again and again.
Read more
Effectiveness
The book contains 32 tracing and review pages and can be completed in between 15-30 minutes depending on your child's interest and skill level. This makes it ideal for a homeschooling supplement or turning a trip to the store into a learning opportunity. Several parents also recommended using laminating sheets or plastic binder sleeves to turn these pages into reusable wipe-off pages.
Age Range
Trace Numbers Big Skills for Little Hands workbook is a fun and engaging way to practice number learning and writing with your toddler. Each page contains large numbers designed perfectly for little hands to trace as they learn. The numbers are repeated four times on a page in order to give your little one multiple chances to practice. At the end of each 1-10, 11-15, etc section there are review pages to trace along with each number one at a time while also learning where it falls in numerical order
Educational Value
This intuitive tracing workbook focuses on teaching early math skills through repetition and play. The oversized and brightly colored numbers will draw your child's focus while the repetition of each number over and over will help instill the shapes of the numbers in their mind. The milestone review pages serve as confidence boosters for little ones and also introduce the concept of sequencing and numerical order. While extra blank space is in short supply, this book does provide a large enough workspace for a variety of writing implements from crayons to wide tip markers. Practice with holding and using writing tool correctly can encourage fine motor skill development and build the handwriting skills that they will need for preschool or kindergarten.
4

. Lots and Lots of Letter Tracing Practice!
Teaches young children how to write English letters
Includes traceable uppercase and lowercase letters
Incorporates examples of recognizable objects that begin with each letter
Teaches proper step-by-step techniques for writing letters
Large sized letters can be too big for tiny hands
It is a perfect workbook for children who are learning to write letters. It is simple and foundational, using repetition in order to help your child fully grasp this new skill. Some letter writing workbooks separate uppercase and lowercase lessons, but we feel that including them together helps to introduce the understanding that uppercase and lowercase forms represent the same letter. This workbook is essential if your child is ready to tackle the challenge of learning to write.
Read more
Effectiveness
Lots and Lots of Letter Tracing Practice! is an introductory workbook that teaches young children how to write letters by tracing. It is easy and simple, providing 112 pages of letter tracing practice. The pages are printed in black and white with large traceable letters in both uppercase and lowercase.
Age Range
This is a simple workbook for young children between the ages of 3 and 6 years that provides over one hundred pages of letter writing practice by tracing. The ability to write letters, and eventually words, is one of the most foundational skills a child can learn that they will use for the rest of their lives. This workbook is a practice book, and so it utilizes repetition in order to solidify learning the new skill of writing. Repetition helps children grasp new skills by improving speed over time and strengthening neural connections in the brain until the skill becomes naturally ingrained.
Educational Value
The letters are printed with a light ink that children can trace over with a pen or pencil. For each letter, the workbook incorporates an example of a recognizable object that begins with that letter. Additionally, this workbook includes pages with actual words to trace that include more than one letter on each line. Additionally, the practice pages do not only include traceable letters, but they include step-by-step techniques for efficiently writing letters. For example, without laying out these steps, a child may trace the letters while lifting their writing utensil at different points that might make it more difficult for them to get faster at writing. This book focuses primarily on the development of fine motor skills, which involve the coordination of hand movements with sight. Upon completion of this workbook, your child will be better prepared to continue learning more advanced writing skills.
5

. My Book Of Numbers 1-30
Includes activities using different approaches to teaching numbers
Comes with a certificate of achievement to reward learning
Colorful pages with fun illustrations
Uses a step-by-step method to build progress
Includes 80 thick pages
Wide age range makes it difficult to gauge if your child is ready for it... some parents feel it is too simple, others feel it is too difficult
It is a workbook that focuses on an approachable amount of numerical information for children between the ages of 3 and 5 years. Whereas other number workbooks include a wider range of numbers, we feel that this option includes just the right amount of information which will ensure your child to learn successfully while enjoying the activities. The colorful pages bring light to this educational resource, making it less daunting to tackle the challenge of learning a difficult new skill.
Read more
Effectiveness
This book by Kumon is a workbook designed to teach young children between the ages of 3 and 5 years all about numbers 1-30. A respected leader in early childhood education, Kumon uses a teaching style designed with a carefully paced progression to teach children without overwhelming or frustrating them. This workbook is filled with colorful pages that captivate kids. It includes many different activities to introduce a variety of concepts about the numbers 1-30 such as numerical order, counting, and how to write each number.
Age Range
At the end of the workbook, there is a certificate of achievement to reward your child for learning a new skill. This book is a wonderful introduction to the world of numbers and teaches young children the foundational basics that will help them advance towards later skills such as telling time and math.
Educational Value
This is a great introductory workbook for your child to learn all about the first thirty numbers. This workbook includes activities that teach different numerical concepts, such as the order of numbers, counting, and how to read and write numbers. Learning about numbers is an important building block for further numerical knowledge and math. We read, write, and use numbers multiple times every single day. Grasping the foundations of numbers in the book will help your child expand their understanding of our world and jumpstart success in a wide range of skills
6

. National Geographic Little Kids First Big Book of the World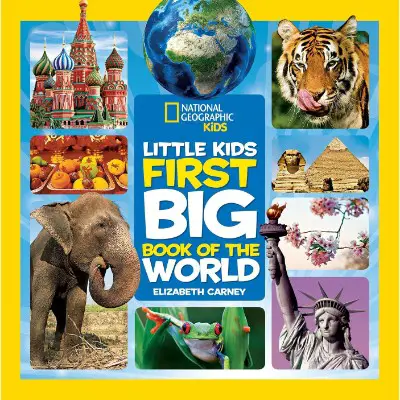 Includes over 100 colorful National Geographic photos
Teaches kids diverse information about the world
Incorporates activities to help kids grasp information
Captivating and educational
Parents find it simple for kids over the age of 6 years
This book teaches young children all about the world with real photographs, tons of interesting facts, and fun experiential activities. National Geographic is a widely recognized, reputable organization that is dedicated to spreading information about our world, and we believe this book from the 'Little Book' series is the perfect introduction to global exploration.
Read more
Effectiveness
National Geographic Little Kids First Big Book of the World introduces young children to an expansive perspective of the world. The colorful, picture-filled pages explore our world. The book teaches kids about the natural world, such as animals, landscapes, and weather.
Age Range
It also provides information on humanity and its accomplishments, such as different cultures, languages, and cities across the world. Nat Geo's Little Kids First Big Book of the World is an awesome, fun book in which your child will learn a massive amount of information from diverse fields of study.
Educational Value
National Geographic Little Kids First Big Book of the World is undoubtedly captivating for your young child as it is flooded with vibrant colors and includes over 100 photographs of scenes from all over the globe. Because it covers all kinds of interesting, educational information, your child will probably have a lower chance of getting distracted than from reading a single-topic book. Learning about the world at a young age helps kids to understand that our planet is diverse, meaning that there is truly an endless amount of information to explore that extends beyond what we know from personal experience.
7

. Get Ready for School: Pre-K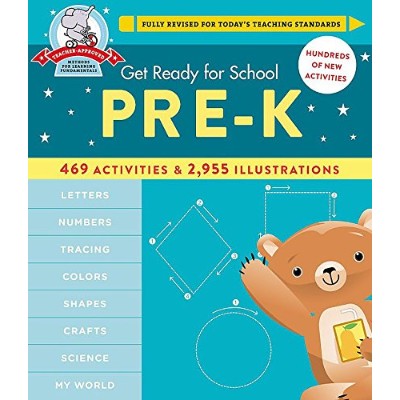 Over 300 fill-it-in activity pages
Spiral bound with perforated pages
Includes answer key and achievement certificates
Introduces early learning concepts
Does not contain practice pages for lower-case letters
Some pages have color variances that can cause confusion in young children (ie, circle all the blue objects, but the ink appears purple instead of blue)
Engineered by a teacher to promote parents and children working together at home, the Get Ready for School: Pre-K workbook is full of activities to help children build basic academic skills they'll need in school. This book covers tracing, letters, numbers, colors, days of the week, shapes, and seasons. It features over 300 interactive, fill-it-in pages for kids to explore. Spiral Bound with a hardcover, this book is durable and great to travel with, too!
Read more
Effectiveness
Get Ready for School: Pre-K is a homeschoolers dream workbook! This massive 300 + page book is filled from cover to cover with early learning concepts that reinforce preschool curriculums and introduce developmentally appropriate teachings. Instead of needing a book for each focus, such as shapes, tracing, uppercase letters, ect., this giant workbook combines all of these in a fun, brightly-colored, and attention-grabbing activity pages.
Age Range
The hardcover and spiral-bound format provide ideal durability to withstand the wear and tear of rough play while the pages themselves are perforated for ease of tearing. There are even achievement certificates for each section included that your little one can proudly display! All of the included activities and game suggestions are teacher approved and include everything your child needs to know before entering preschool. It can also work well as a distraction aid for use at restaurants or while waiting in line.
Educational Value
This activity book is specifically designed to provide 3 to 5-year-old children with engaging learning practice. The tracing sections can help improve fine motor skills and handwriting proficiency. The shape and alphabet sections can help develop language skills and build vocabulary. The achievement rewards will bolster your child's self-esteem and provide them with a sense of pride as they complete task after task. Game and activity suggestions littered throughout the workbook encourage familial bonding and provide a casual learning environment. All in all this workbook is the best way to help prepare your child for the lessons they will learn in preschool.
8

. Brain Quest Workbook: Pre-K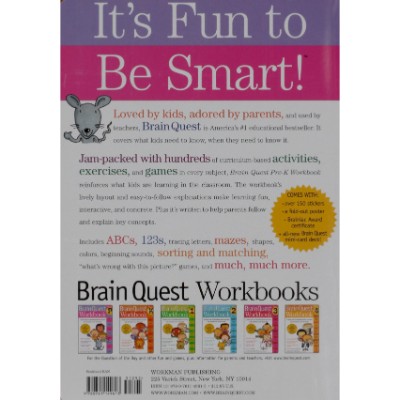 The comprehensive workbook covers a wide range of subjects
Comes with over 150 stickers
Comes with a colorful informative poster
Includes a certificate of achievement to reward learning
Contains 320 colorful pages of activities
Suitability depends on the individual child's level of development- some parents think it's simple, others think it's difficult
This workbook is a great option for young children who respond well to colors, pictures, and visual stimulation. It is beautifully designed, and truly comprehensive as it covers knowledge from many subjects. With over 300 pages, Brain Quest Workbook: Pre-K will keep your child busy with fun learning.
Read more
Effectiveness
Brain Quest Workbook: Pre-K is a 320-page, comprehensive workbook for preschool-aged children that covers many subjects. The highly-rated workbook is an excellent resource for young kids to learn a balanced curriculum through fun activities.
Age Range
This workbook contains colorful pages and illustrations, over 150 stickers, and a wall poster that bring an element of fun into learning. From the alphabet and numbers to colors and mazes, this book provides diverse lessons that will help your young child jumpstart their education.
Educational Value
This book is an interactive, comprehensive workbook that teaches preschool-aged children hundreds of lessons and skills with fun activities. The workbook is colorful and captivating, designed to keep your child attentive and entertained while learning an array of new information. Brain Quest Workbook: Pre-K is heralded by many parents and educators as a great resource for homeschooling, or for supplementary learning. Throughout their lives, kids will learn from numerous people, diverse perspectives, and countless disciplines. In learning so many different subjects through all kinds of activities with this Brain Quest workbook, young children will become adaptable and responsive learners as they progress in education.
9

. Phonics for Kindergarten Grade K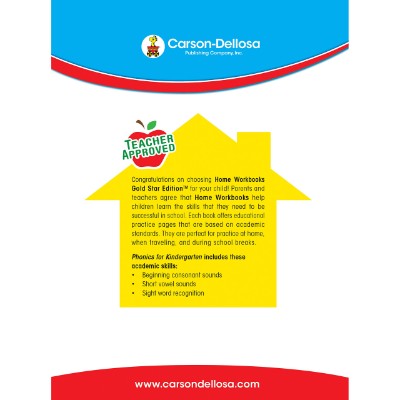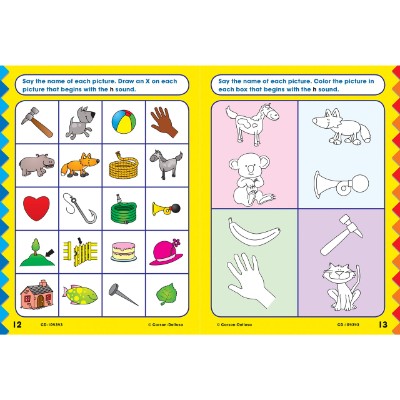 Colorful pages and illustrations
Includes different types of activities
Introduces sight reading and spoken sounds
Comes with stickers and a chart to mark progress
Advertised for kindergarten, but parents say it's more appropriate for preschoolers
Phonics for Kindergarten is a great introduction to phonics that covers an approachable amount of information that children between the ages of 4 and 6 years can easily grasp. We find that its colorful pages and organized layout help kids to follow through with the lessons with more ease. It has very high ratings and is acclaimed by teachers and parents alike as a trusted phonics resource.
Read more
Effectiveness
Phonics for Kindergarten is a workbook that teaches young children the basics of phonics, such as vowel and consonant sounds and identifying sight words. It incorporates a colorful design with fun illustrations to engage young learners. Although the title suggests that this workbook is for children in Kindergarten, we find that older preschoolers can also handle the subject matter
Age Range
This phonics workbook uses different methods to teach its concepts, such as activities and games. It comes with a progress chart and stickers to reward achievements in learning lessons throughout the book. Highly rated by parents, this phonics workbook will ensure your child will succeed in learning the basics of phonics.
Educational Value
This workbook provides a fun format for young children to embark on learning the foundations of phonics. Learning phonics is important for children because it helps them translate written words to speech with proper sounds. The English language can be complex and confusing. For example, the vowel "A" can be properly spoken with different sounds, depending on its placement in a certain word. By using this workbook, your child will learn how to read and speak correctly before wrong, uncorrected habits form in their minds.
10

. School Zone Preschool Scholar Deluxe Edition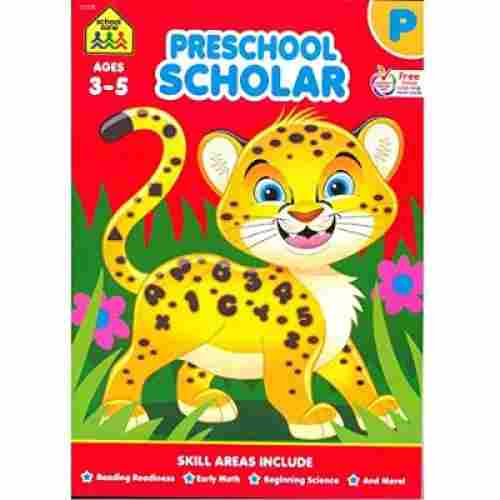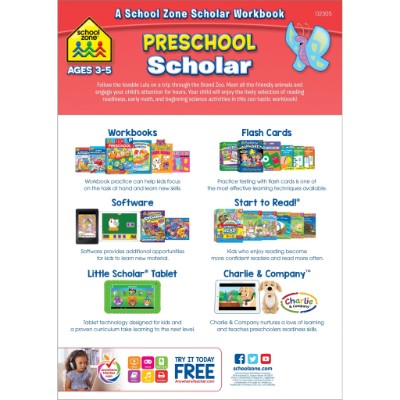 Comprehensive preschool workbook with a zoo theme
Colorful pages and illustrations throughout
Fun and educational
Includes age-appropriate activities
Short for a comprehensive workbook- only 64 pages
The School Zone Preschool Scholar is a 64-page workbook just bursting at the binding with adorable animals, lively illustrations, and exciting activities! This self-guided book helps children ages 3-5 learn to trace letters and numbers as well as distinguish colors and shapes. Each perforated page builds upon the skills learned before it so that kids never plateau. At the end of the book is a darling certificate you can personalize to award your child for finishing all of the activities.
Read more
Effectiveness
Preschool Scholar Ages 3-5 is a comprehensive workbook that incorporates the theme of the Zoo throughout all the learning activities. The workbook is colorful and filled with exciting animal illustrations. A bit less extensive than other comprehensive workbooks, this option focuses primarily on reading readiness, basic math, and basic science.
Age Range
This is an affordable workbook that is still an excellent learning resource for your young child. Whether this is used as a supplementary learning tool or as material for homeschooling, this workbook covers foundational lessons that your child will benefit from tremendously.
Educational Value
Preschool Scholar Ages 3-5 is a comprehensive workbook that follows a fun Zoo theme! This workbook does a great job of balancing fun and engaging with learning lessons in math, science, and reading. Although it is much shorter in length than the other comprehensive workbooks we included on our list, it can be less daunting for young children and can help instill perseverance in completing a goal. As it covers a range of information from many subjects, this comprehensive workbook will teach your preschooler in a way that prepares them for the curriculum of the elementary school and beyond. Completing this workbook will also assist in the development of fine motor skills by writing and circling responses.
Criteria Used for Evaluation

Effectiveness
With the ten books that we came up with on our list as the best learning books for preschoolers and older, we knew that it was important to look for books that established a positive connection with learning and enjoyment. We wanted to make sure we included books on our list that would make it fun for your child to learn and develop a love for learning. Each book on our list is fun and encourages your child with activities and exercises while also having them gain some knowledge.

Age Range
It's extremely important to make sure that you find a book that is age appropriate for your child. However, you also have to not only include your child's age but have to think of their developmental age as well. Developmental milestones mark skills and tasks that a majority of children can do at a specific age range. There are some books on our list of course that would not be appropriate for a child around the age of 3 but would be appropriate for a child older. We also have books on our list that are age appropriate for children around the age of three this is important for parents to pay attention to because each book that is on our list has activities that's suitable for that age range.
Educational Value
Knowledge is wonderful. The books on our top ten list above cover a huge range of subjects. Some of course on our list are meant for subjects on a specific topic while others cover various subjects. Books that have one topic is extremely ideal for children to obtain information as it's not scattered, and they won't feel overwhelmed with what they are learning. However, there are children who obtain knowledge better when learning various subjects especially if they become passionate about a certain topic. These workbooks are also wonderful if your child is homeschooled as they cover subjects just as a child would learn them in school.
Most Important Criteria
(According to our experts opinion)
Experts Opinion
Editors Opinion
Users Opinion
By Default

Parents, did you know?
Having a workbook is also a wonderful preparation if your child is about to enter kindergarten. While nobody wants to do work over the summer it can be wonderful practice and get your little one excited about their very first day of school. Every book on our list is age appropriate and foundational and a wonderful learning tool for whatever subject your child is passionate about.
Parents, did you know?
Many steps that seem like a regression in the acquisition of language and skills are actually signs that children are applying new reasoning skills to the arsenal of what they already know. For example, a child that first said "foots", then "feet", then went back to "foots", has gone from mimicking what they hear those around them saying to apply a new principle (plurals) to concepts they already understand. We know it may seem like they're reverting to old mistakes and sliding backward, but there's no need to worry! Children are bright creatures and absorb information quickly. You only need to consider taking action if certain habits and behaviors persist well past their projected learning curb.
Parents, did you know?
The books above on our top ten list are also wonderful ways for your children to develop new skills and learn new information. Each book on our list had the highest rating and recommendations from parents and educators as well.
Parents, did you know?
When you include various ways of teaching, the success rate for your child to obtain new ideas, information and skills is far greater as we're finding what way of learning works for them.
Parents, did you know?
Learning books specify the age range appropriate for the subject matter and level of difficulty. Each book has a different recommendation, but typically children become ready for learning with workbooks around the age of 3 years.
Other Factors to Consider

Brand
When coming up with our top ten list of educational books for children we knew that it wasn't easy. Our focus was to make sure that each book on our list matched our list of criteria as there were numerous books, we could have chosen that's in today's market. We looked at everything from reviews, highest ratings, to books that were age appropriate for your children. We're sure whatever kind of educational book you are looking for to help your child, you will find it on our list above.
Frequently Asked Questions
q:

Is it better to buy a comprehensive workbook or a learning book that focuses on one topic?

a:

It truly depends on your child. The comprehensive workbooks cover many subjects, while other workbooks zoom in and teach your child all about one subject. Buying a comprehensive book makes it so you only need to make one purchase for a variety of information, while a single-subject book can help your child learn a skill or concept they enjoy or maybe have difficulty with.
q:

Are these learning books textbooks?

a:

No. These learning books are not traditional textbooks describing information. These learning books all involve activities and exercises for your child to actively participate in learning. Most are workbooks that provide spaces for your child to fill in responses.
q:

What kinds of activities and lessons do these books employ?

a:

Different books specialize in different subjects and skill sets. Some are a broad overview of multiple subjects. Most of these books concentrate on tracing as a primary skill. This allows children to familiarize themselves with the shape of basic numbers and letters, as well as how to make them. It also builds fine motor skills and helps with pattern recognition. Many of these activity books include little games such as mazes and fun cartoon characters to help keep children interested in the lessons presented.
q:

Can my child use these learning books alone or do I need to help?

a:

It depends on the book and on your child's individual level of development. Most of the books on this list are targeted for young children between the ages of 3 and 6 years. That being said, many kids will need assistance in reading instructions or in understanding how to use the book properly.
q:

Educational books versus storybooks, what's better for my child's mental growth?

a:

This is a question without a definitive answer. Both styles of books are beneficial to your child's ability to learn. Storybooks present an opportunity to stir your child's imagination, to spark their creativity and their drive to learn by allowing them to emphasize and experience a fantastical world that is different yet similar to their own. Educational books or workbooks provide different learning opportunities geared more toward a specific developmental skill that they may be struggling with, such as addition or writing.
q:

Will educational books help encourage my child to read?

a:

The short answer is yes. Any books, all books, will encourage your child to read. The more you read to your little one and with your little one, they more insight they gain into language, culture, social skills, creativity, the list goes on. Educational books may help your child overcome specific adversities that may be holding them back from their true potential. If your child is struggling with reading because they don't recognize all of the letters, or perhaps because they are having difficulty with specific sounds or shapes or colors, this can be frustrating and may damage their self-esteem. Providing them with an educational book that focuses on this problem area can help improve their confidence and lead them back to the joys of reading.